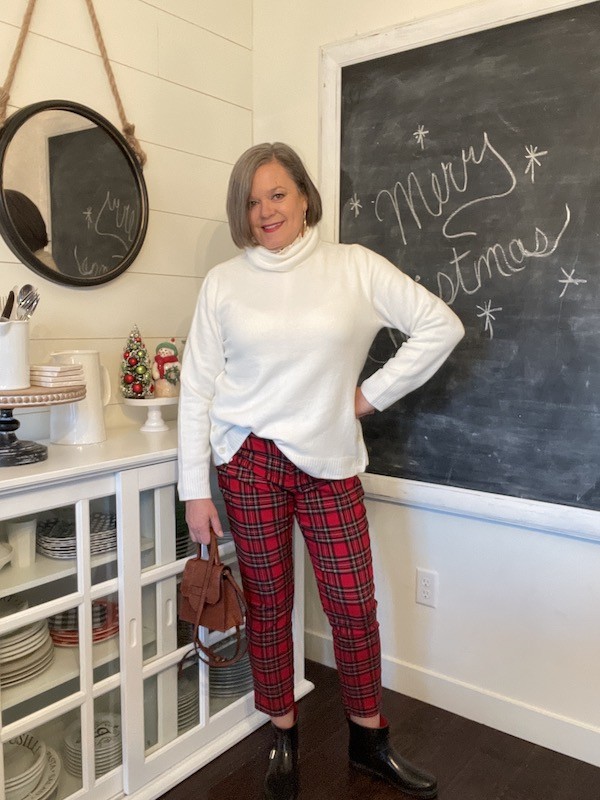 It is time to share with you how to style tartan plaid pants multiple ways!
Maybe you are saying to yourself…plaid pants?
I don't think I can wear plaid pants especially red tartan plaid pants!
But I am here to tell you yes yes you can! If I can wear them anyone can.
It is all about how to style them.
Red tartan plaid pants
First thing is let's talk about these red tartan plaid pants.
I bought them from Jcrew factory a year ago. They only have a few left but here are some similar ones from Macy's. Or these from Dillards.
They are super comfortable because they have some spandex in them. That is huge for me! I gotta have a little give especially in my waist!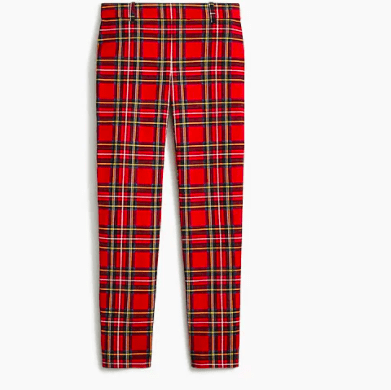 The pants feel like I am wearing leggings because they stretch and move with me but they look a little more polished than wearing just leggings.
They are short cropped which I didn't really love at first but now I am all about it!
Cropped pants look so cute with flats, sneakers and short booties as well as short rain boots.
Cream colored blouse with tartan pants
I just bought this gorgeous pleated and ruffled neck cream colored blouse from Banana Republic outlet.
This blouse is going to be a workhorse in my fall/winter wardrobe. It comes in a few different colors too!
PS. I just bought this same blouse in the navy too!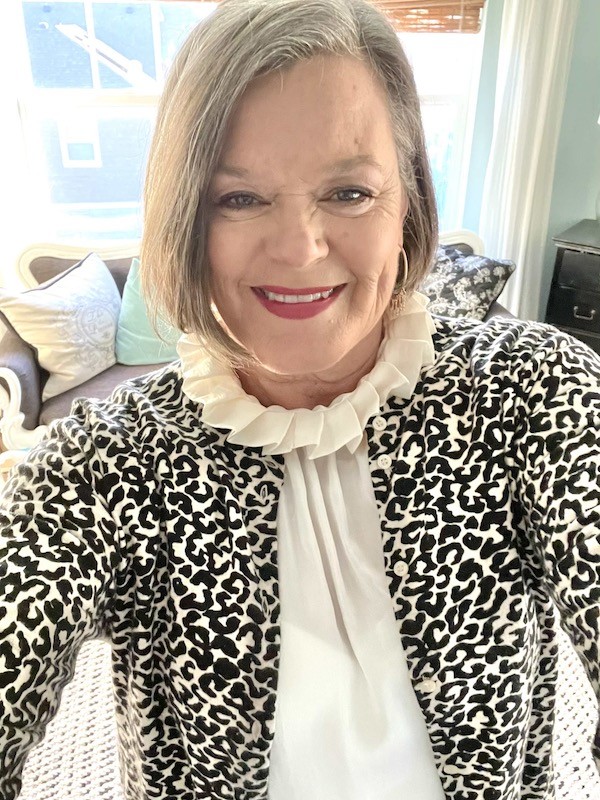 This has almost a t-shirt like feel to the sleeves and back but the front is silky and looks elegant on. The neckline is so pretty with the pleated ruffles.
It looks amazing with my red tartan plaid pants! The combination of a softer romantic top with the plaid pants creates a really pretty look.
Sweater options to style tartan plaid pants
I have put together a few sweater options to go with my red tartan plaid pants.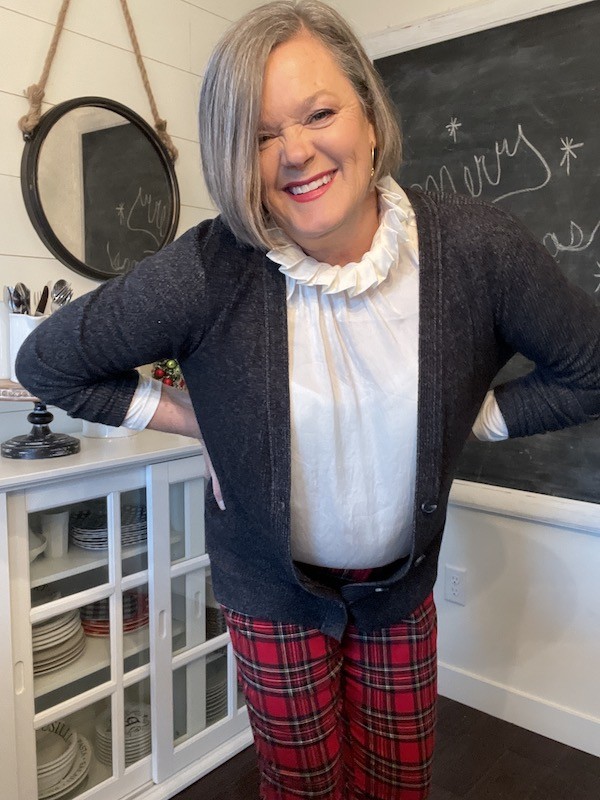 The first one is this super soft grey cardigan that I just bought. Wearing it over the silky cream blouse for a preppy look.
I think this would be a perfect outfit through out the winter season.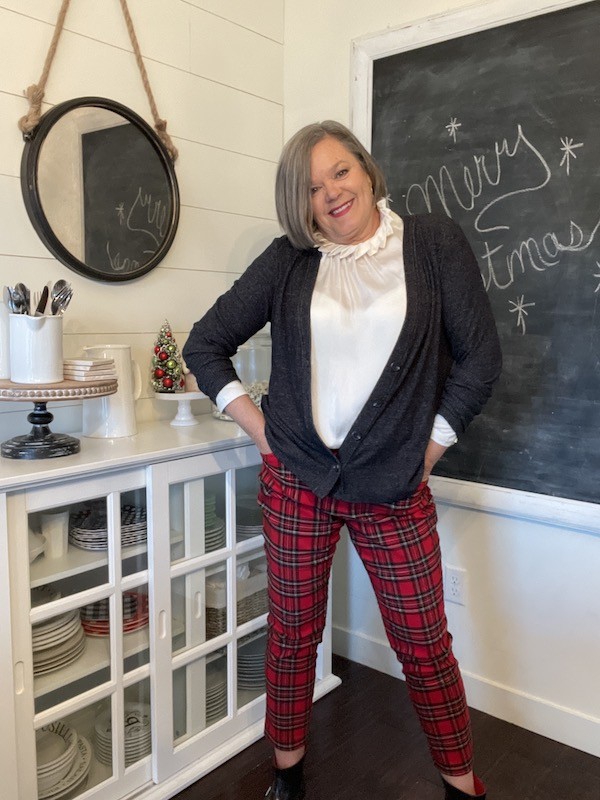 I have on my shiny black rain booties with this outfit but I could also wear flats like I did in this plaid pant outfit.
The next sweater option is this cream colored sweater with button on the sides from Jcrew factory. I am in love with this sweater! It is so soft and comfy!
I did a little half tuck with the sweater and I am also using my mini crossbody purse. Here is a similar one that is on sale now.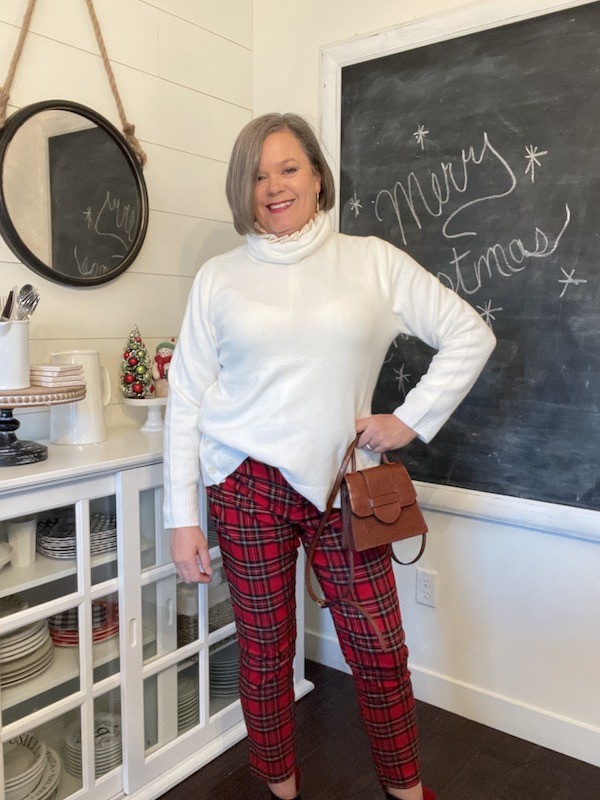 I just love the button details on each side of the sweater.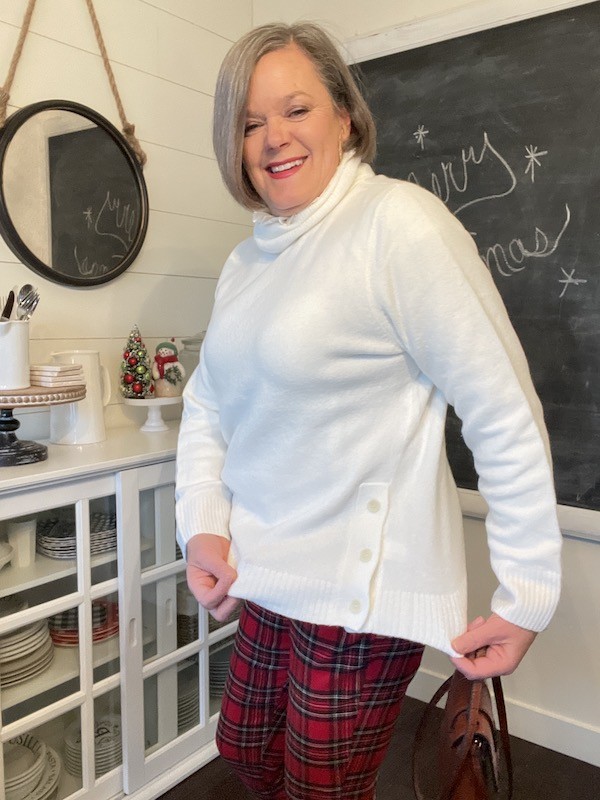 Black on black sweater combination
Wearing a black t-shirt with my charcoal cardigan sweater has a more causal look.
I paired my plaid pants with my white adidas sneakers.
Perfect to run around town.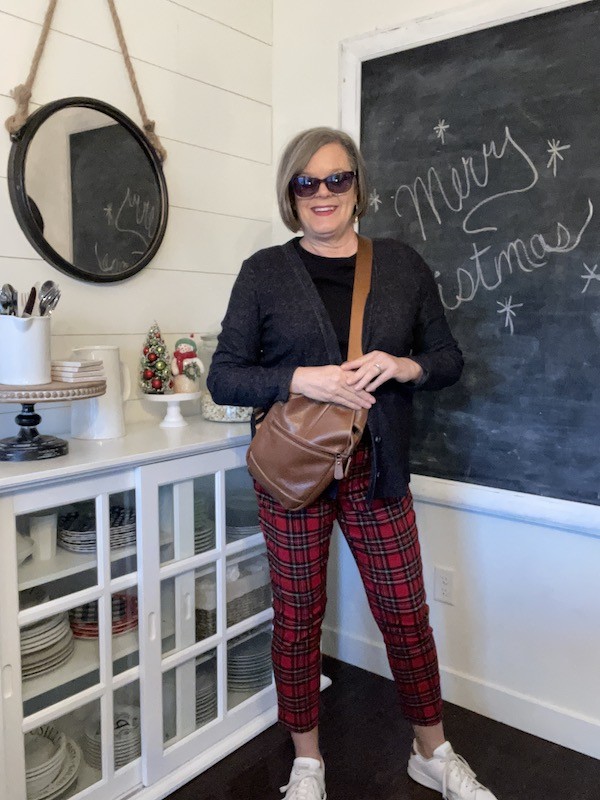 Too cool for school right here! hahaha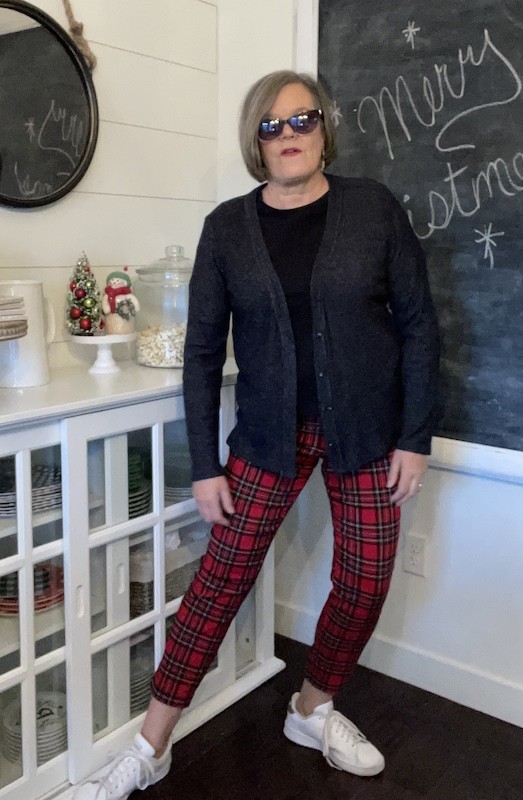 Cheetah sweater with tartan plaid pants
The next one is a bold fun look!
Fashion is meant to be fun so why not mix a plaid with a cheetah print!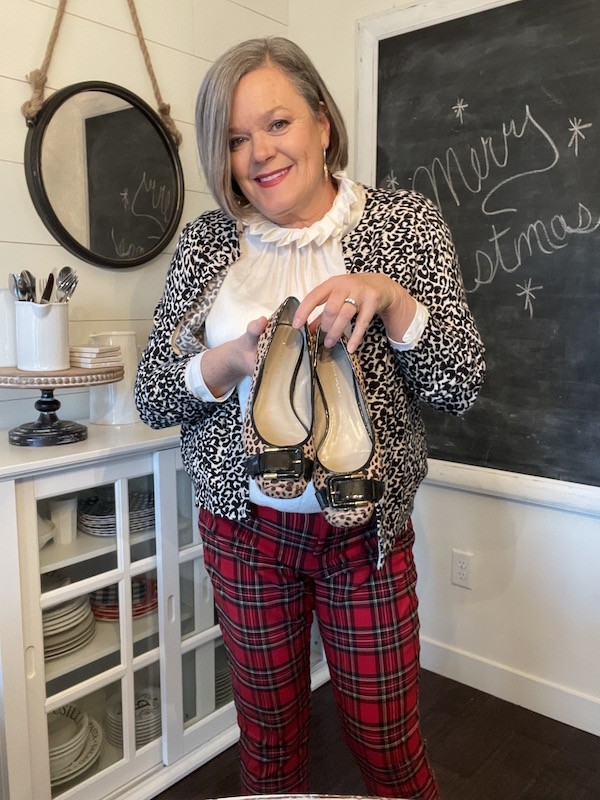 Isn't this just fun!
I paired the sweater with my new cream colored blouse and it just works!
My rain booties would work or I might just carry on with the cheetah look and wear my cheetah flats with this outfit. My flats are old but here is a very similar pair.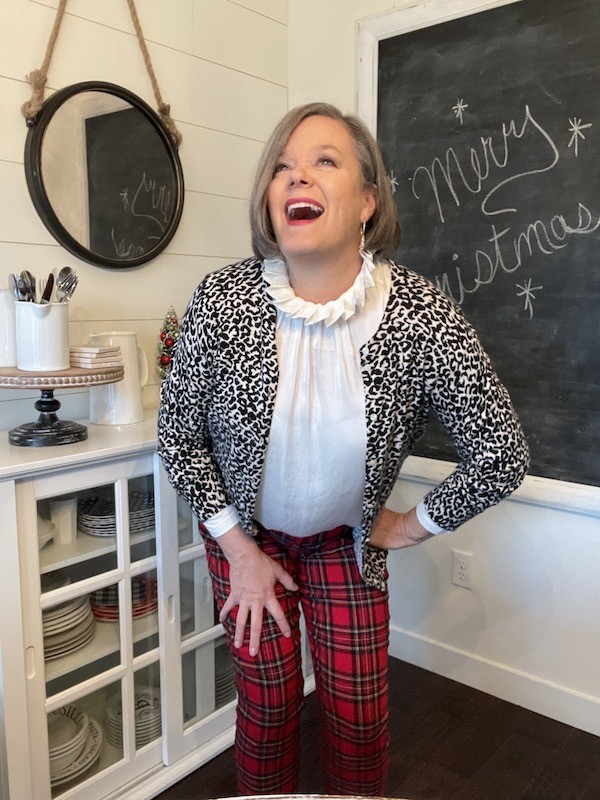 Even More tartan plaid pants outfits
You may remember my other post all about how to style JCrew tartan plaid pants not just for Christmas.
In that post I share 3 more ways to style these pants.
So now that I have shown you multiple ways to style red tartan pants are you going to be brave enough to get some?
I say Yes! Go for it!
I think I might even want another pair of tartan plaid pants in a different color combination because they are so fun!
More Fashion Posts
2 fun ways to style black jeans and white blouse
Long tunic over distressed jeans
Best striped shirt with jeans tucked into boots
How to kick up black jeans and white blouse
Leopard crew neck sweatshirt styled 3 ways
Eggplant and olive green outfit
Black jacket with gold buttons
Shop