Disclosure: The links included in this post are affiliate links.
Who said you can't wear j.Crew tartan plaid pants before or after the holidays? Not me!
They are not just for Christmas they can be worn long after the holidays are over.
I just love all things plaid!
Remember this cute red green and black Buffalo plaid Christmas tablescape I did for my grandkids?
I really love plaid pants and especially these red ones!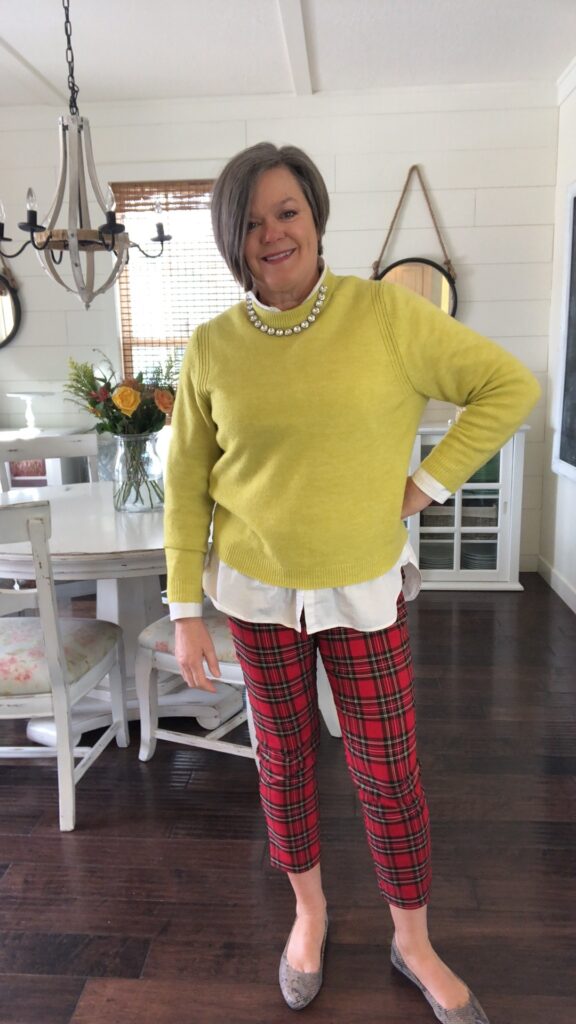 What to pair with red tartan plaid pants
These cute tartan plaid pants are hanging in my closet and I wear them at Christmas but I decided to wear them now too!
They are just so comfortable because they have a little spandex in them.
What did we ever do without spandex?
To make them less Holiday-ish I paired them with a long white blouse and a lime green/yellow sweater. This particular sweater has become a staple in my wardrobe. I have worn a similar one with a v-neck here with my houndstooth pants.
The pop of the yellow lime green sweater makes them feel fun and perky along with my black and grey snakeskin looking flats.

Here is a lime green/yellow long cardigan that I am thinking would be so fun for spring!
A lady at Hobby Lobby complimented me on my sweater today! She said we all need a little bright color in our life right now and I totally agree with her!
Add a little sparkle
To bring in even more sparkle I wore my favorite necklace from JCrew.
You can see it in this outfit too I mixed it with some longer necklaces and it looks so cute!
This darling brown leather backpack is the perfect accessory for this outfit! Backpacks are great because they leave my hands open for shopping 🙂 Here is a similar small backpack
I am sure my hubby agrees with that statement haha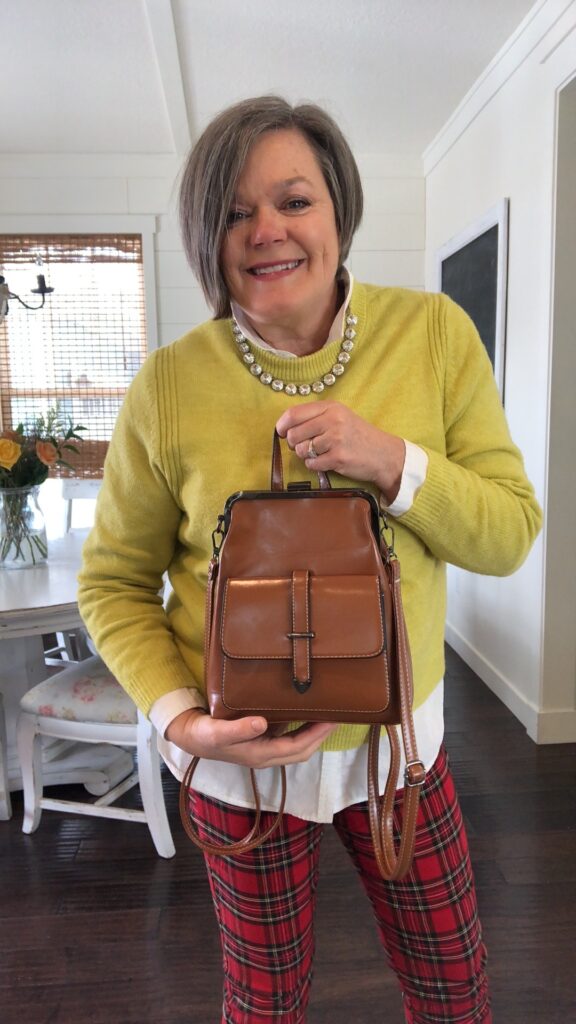 Add A Black Vest
There is still snow on the ground outside so when I run out to get the mail or go on a quick errand I don't need to wear my big coat.
A lightweight quilted black zip up vest is perfect! I love the lines of the vest over my sweater to give me a longer leaner look.
Being very short waisted I am always looking for ways to give the illusion of length.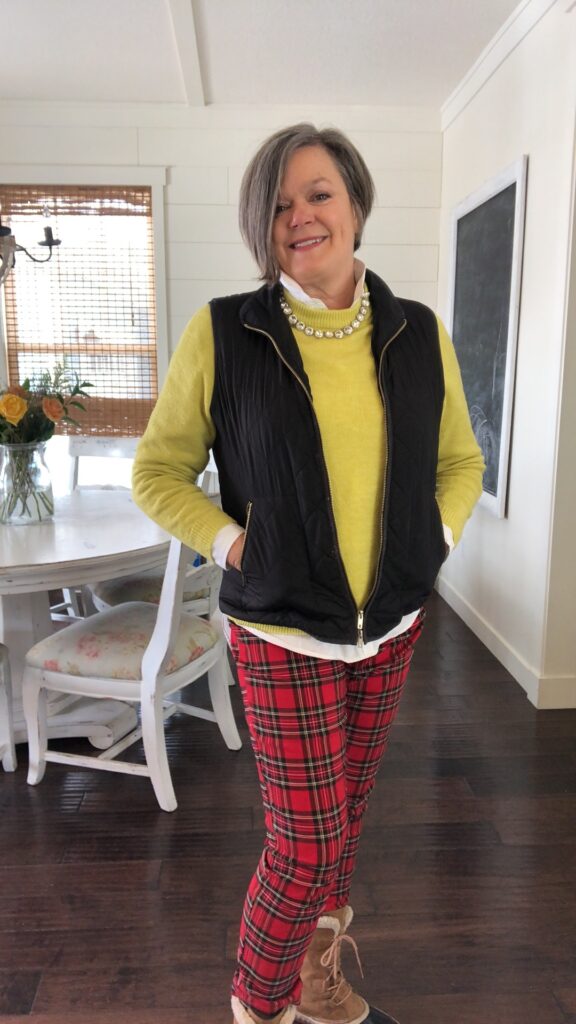 Trading out my snakeskin flats for my Sorrel boots that will keep my feet warm and toasty as I run around town and go out for walks around the lake.
I have had these boots for a couple of years now and they have held up perfectly!
Of course I keep the sparkle going on with the necklace.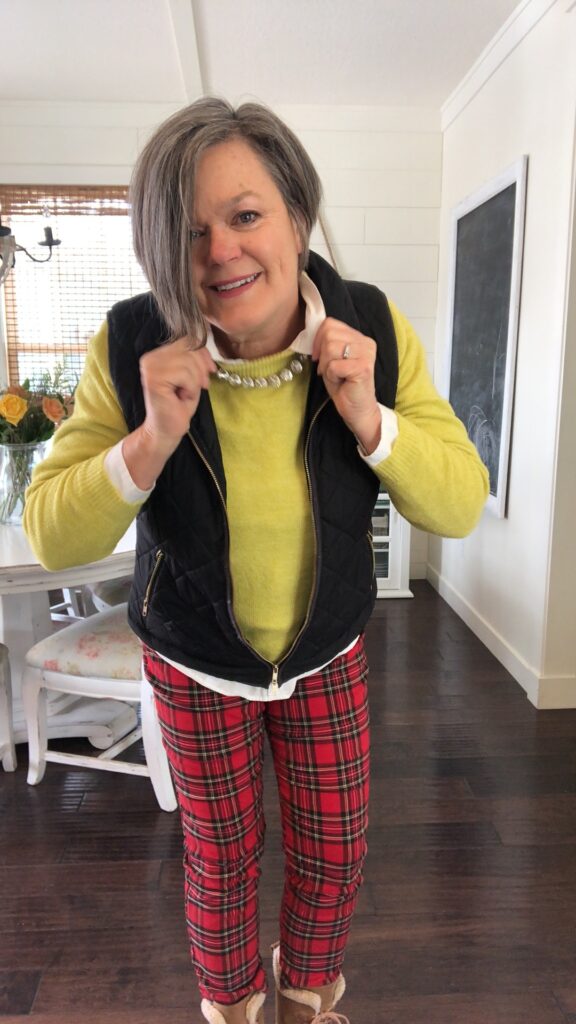 Big black Coat over the j. crew tartan plaid pants
When it is super cold and snowing I just throw on my big black coat.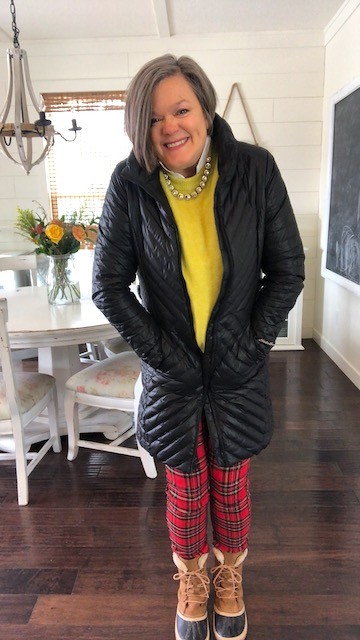 I love the length of this Eddie Bauer quilted coat. Here is a similar one for only $89!!
It keeps my legs and torso nice and warm.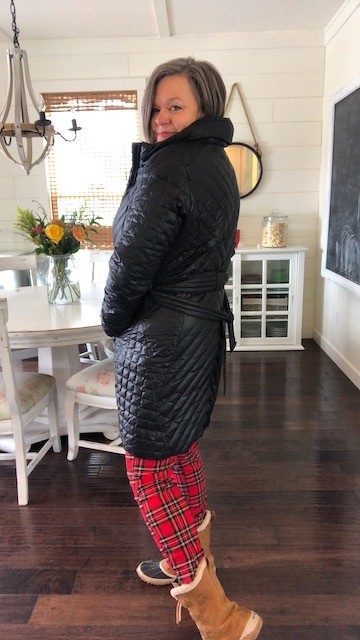 Big beige sweater over Tartan plaid pants
Of course the classic styling of red tartan plaid pants is with a chunky beige sweater and light blue denim shirt. I really love this look too!
Here is a similar creamy wool sweater from JCrew as mine is sold out.
So who said you can't wear plaid after the holidays?
Not me!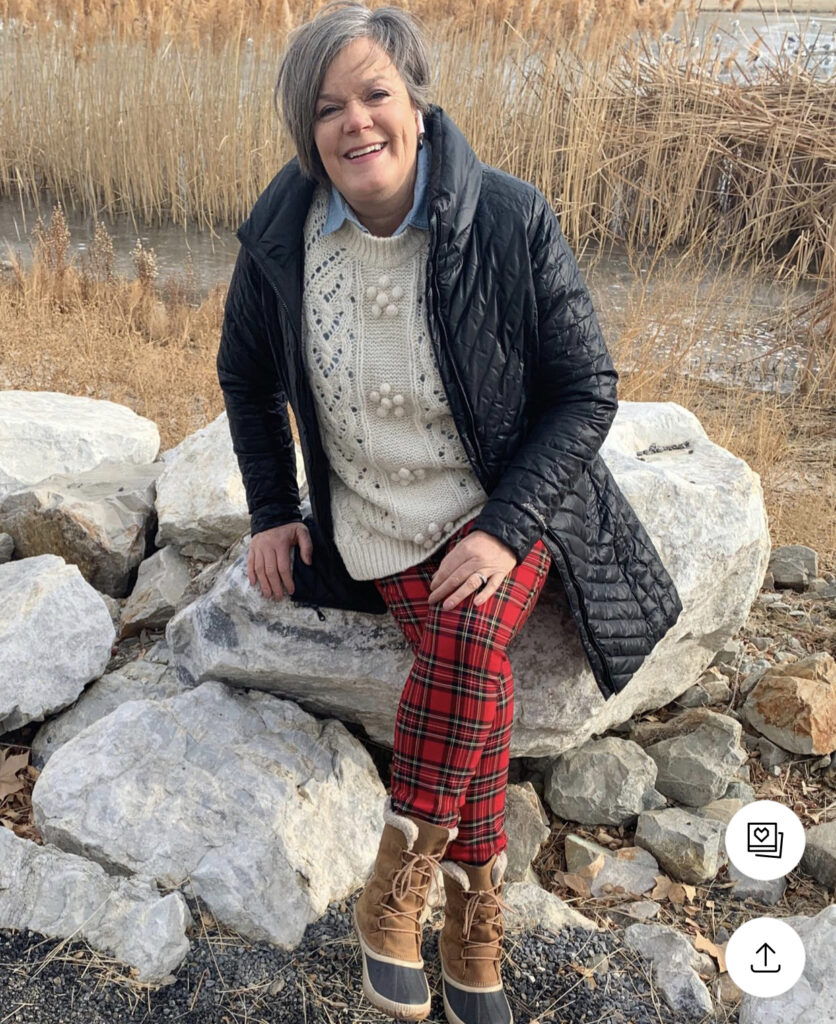 Other Fashion Friday Posts
Red and white striped maxi skirt outfit
How to style black jeans and white blouse
Shop Similar items