It is fall and I am ready to wear sweatshirts again!
Today I am sharing how to style a vintage leopard crew neck sweatshirt.
I found this adorable sweatshirt at Old Navy!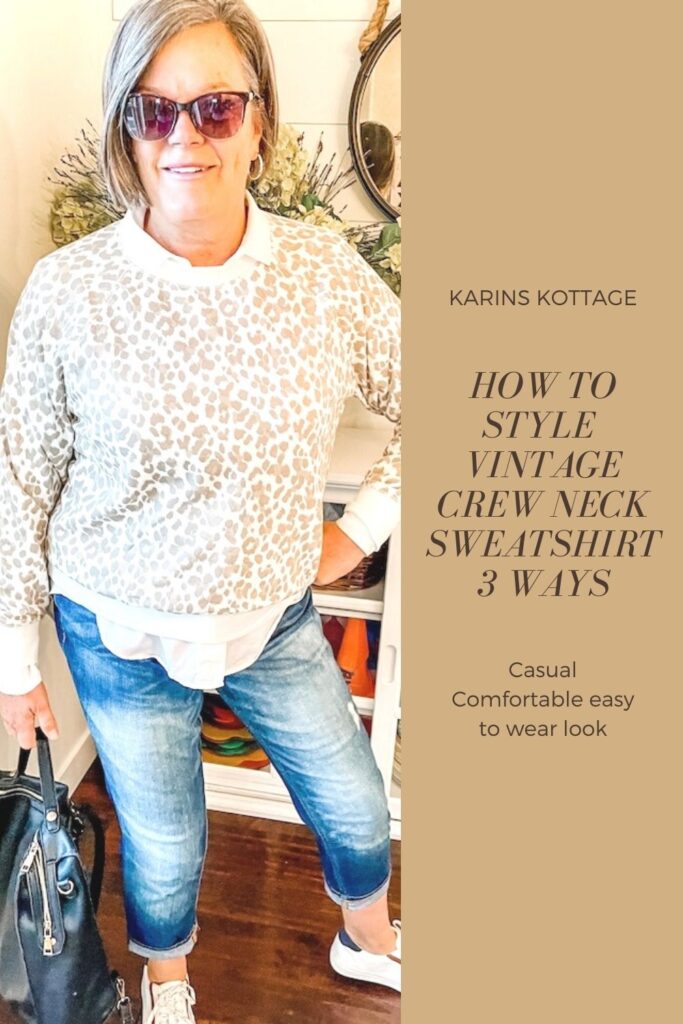 The first time I wore it I received compliments from multiple women aged 18-60!
How fun is that!
What makes this a vintage crew neck sweatshirt?
What does the word vintage even mean? I actually looked it up and it said "of age" Most antique dealers consider something over 40 years old vintage.
Does that mean I am vintage too?
haha yes….yes it does!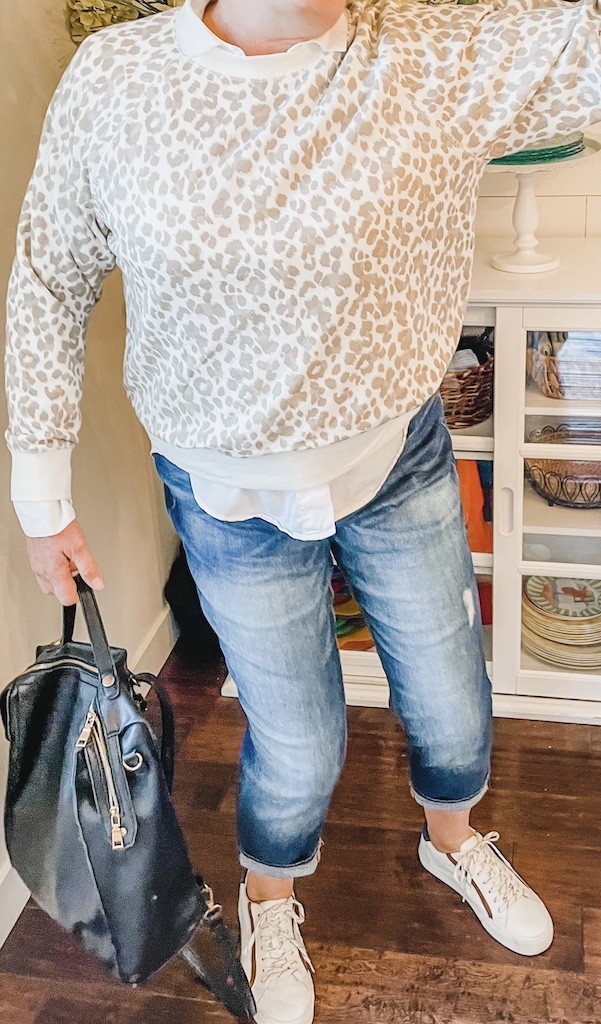 Back to my question about what makes this sweatshirt vintage. Personally I think it is the ribbed neckline, cuffs and hem plus the raglan sleeve.
I totally remember wearing sweatshirts as a teenager with the ribbing and loved that look.
Crew neck sweatshirt fabric
This sweatshirt is a new line of what Old Navy calls Vintage Vibes soft washed fleece.
It has that cozy feel of like a sweatshirt you have had forever.
The fabric is 55% cotton and 45% polyester so it should not shrink when washed.
How to style the sweatshirt
Under the leopard sweatshirt I wore a white blouse underneath and let the shirt tails hang out below the sweatshirt.
Ignore my crazy pose and my hubby in the mirror taking my pic, I was rocking out to "Ain't no mountain high enough" haha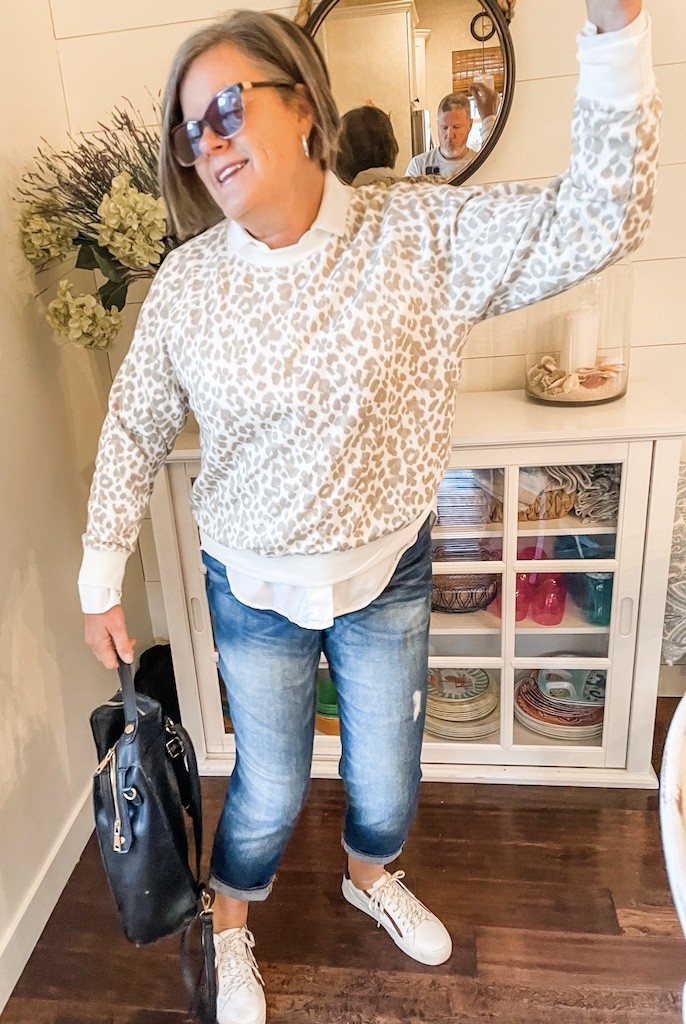 I paired the vintage crew neck sweatshirt with my favorite cropped light-washed jeans that have a small amount of distressing on them.
I was comfortable all day long!
Sidewalk sneakers and backpack
To complete my casual vintage look I am wearing some sneaks (as my dad would call them) and a black leather backpack.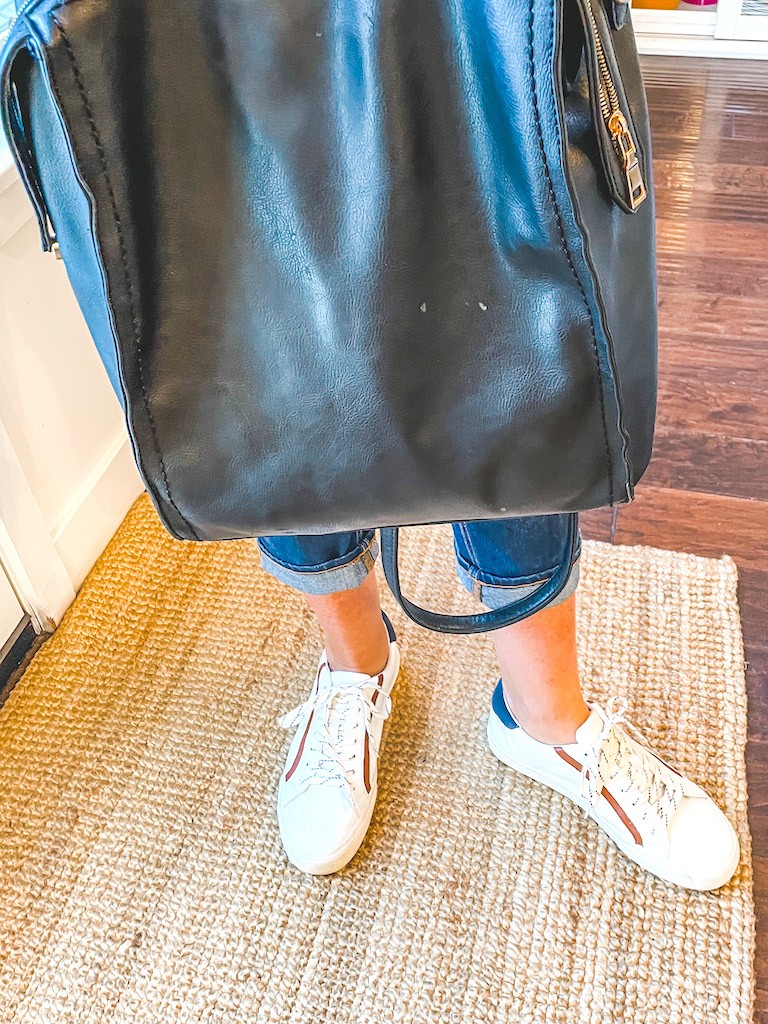 These sneakers are called sidewalk sneakers and are from Madewell.
They really are super comfy too!
I bought these at Nordstrom rack awhile ago so they don't carry them any more.
The black leather backpack I have owned for a few years now.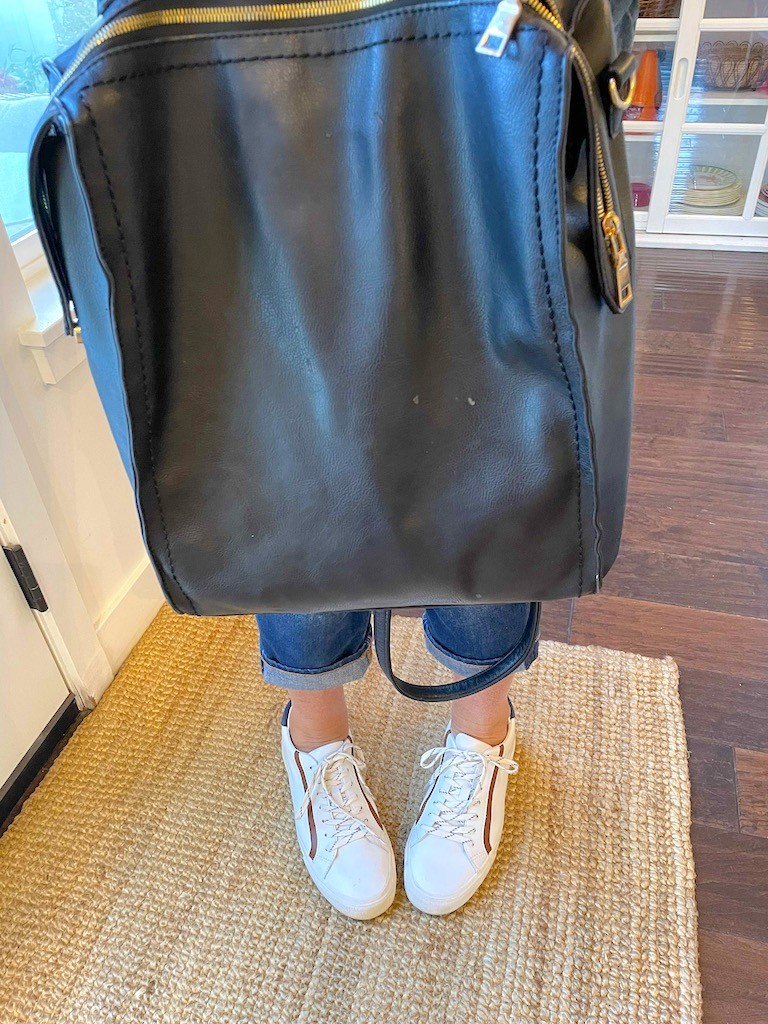 It is a must when we travel to Italy because it holds my lap top, water bottle, magazine, small zippered pouch with my cell phone plug, head phones and other random plugs that I seem to always need.
Plus it holds snacks, makeup and important documents etc..
The great thing about having a backpack is I love having my hands free when I travel or shop.
I found a similar leather backpack here.
Style the vintage crew neck sweatshirt with gingham
This sweatshirt is versatile enough to be worn with a blue and white JCrew gingham blouse.
Wearing it underneath like this and paired with my raw edge khaki pants is a fun mix of patterns.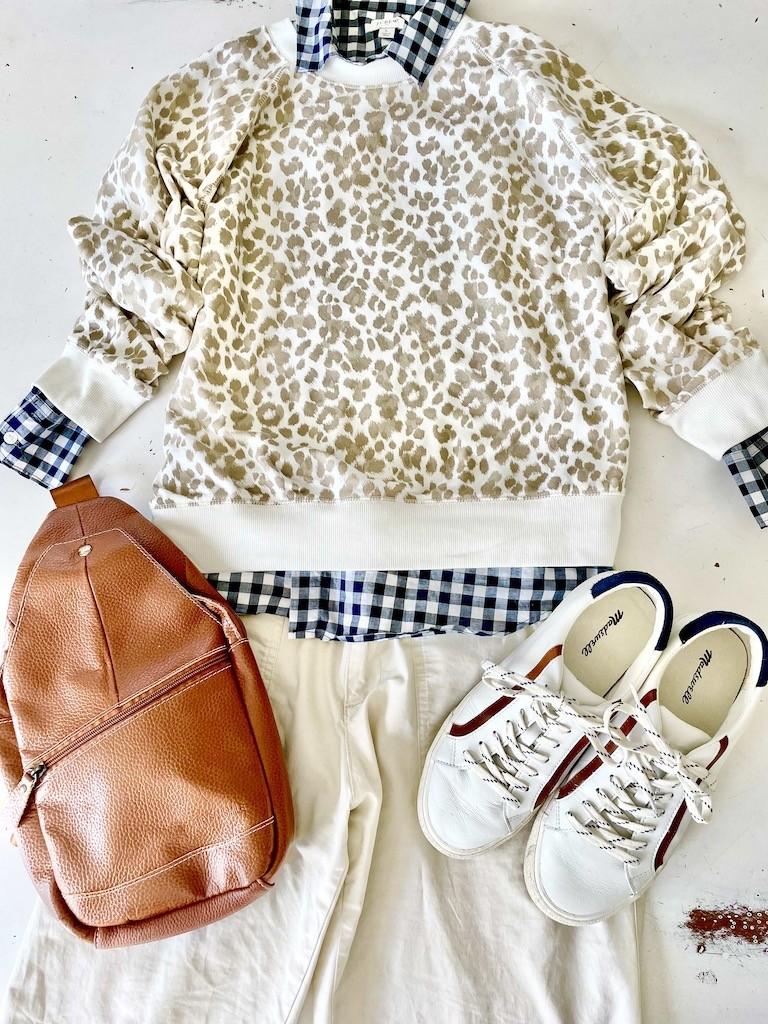 This brown leather sling crossover bag is fabulous when traveling when you don't want a large backpack. It comes in black too!
It has lots of zipper pockets to hold water bottle, ipad, phone with smaller zippered pouches to hold whatever else you might need.
The back of the bag has another zipper area that is great for holding your wallet.
I wore the crossbody bag with this outfit here too!
Crew neck sweatshirt with maxi skirt
I could even wear my sweatshirt with a maxi skirt and sneaks for a fun look.
You might remember this skirt when I paired it with my eggplant colored jacket here.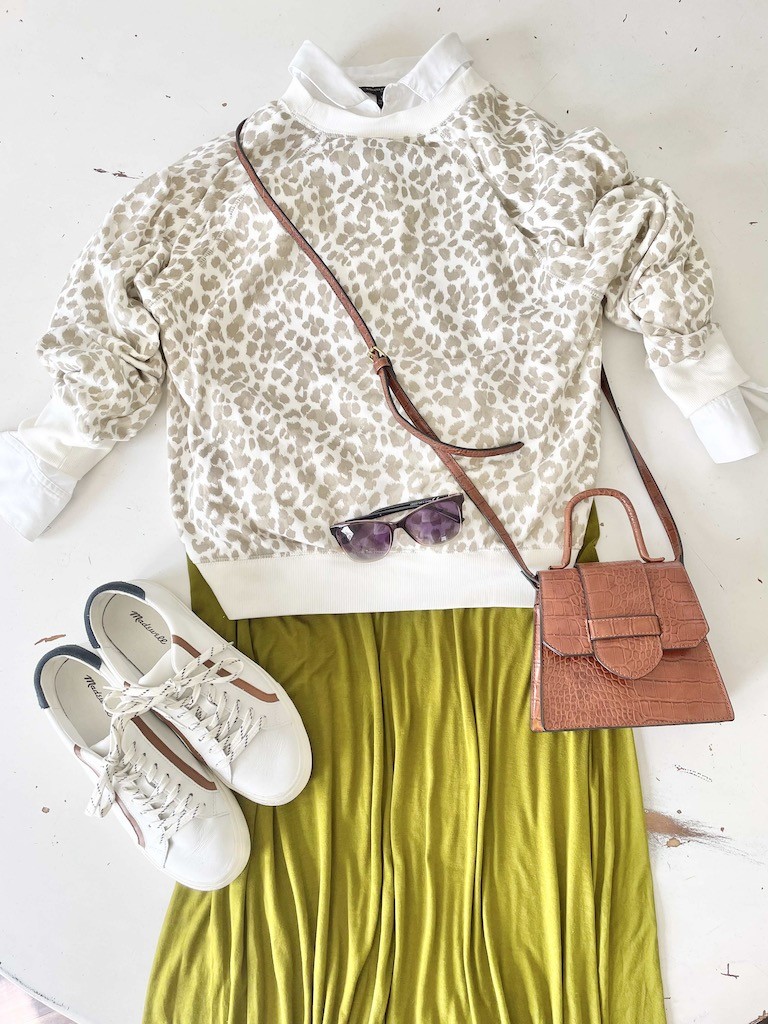 Or I could switch out the sneaks in late fall or early winter with some booties.
Super cute don't you think?
A cute mini crossbody purse is a little more dainty to wear with this outfit.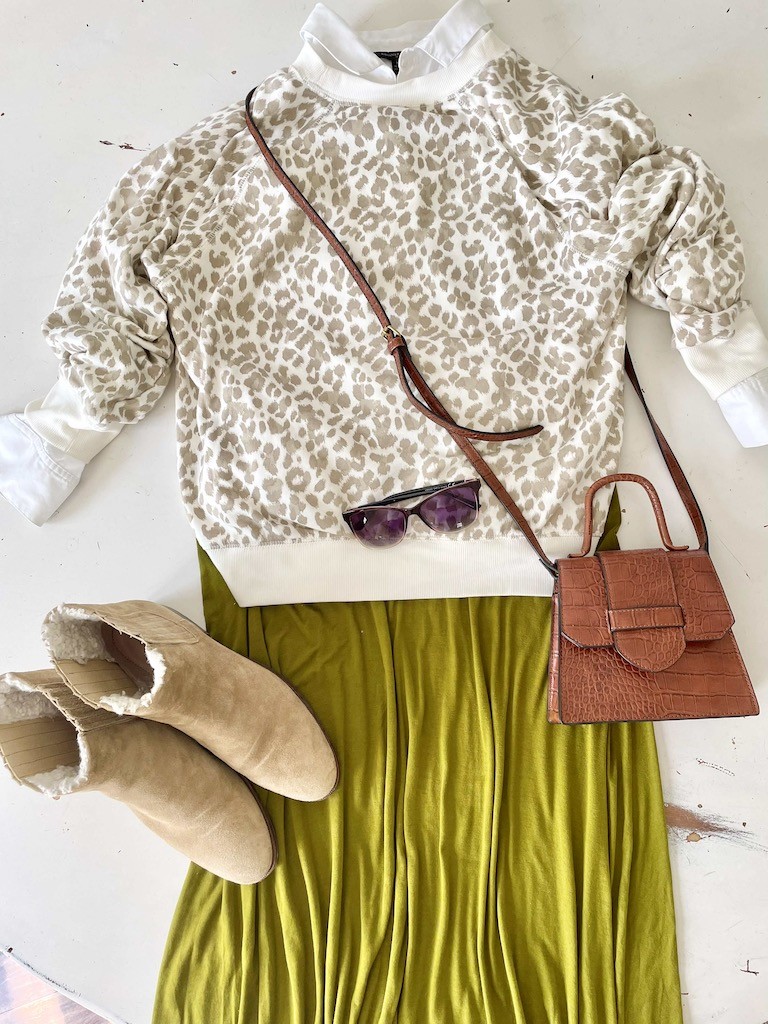 I think I will be wearing this leopard vintage crew neck sweatshirt a lot this fall and winter!
The outfit possibilities are endless!
More Fashion Posts
Two fun ways to style black jeans
SHOP THIS POST

PIN TO YOUR FASHION BOARDS