How to style H&M double breasted black blazer 3 ways
Recently I bought this fabulous black blazer from H&M. Unfortunately it is out of stock! Here is another one that is cream colored and perfect for spring and summer. Normally I do not shop there because the sizing in the past felt like it was for teens.
I was pleasantly surprised to find many things I really love. One of which is this double breasted black blazer.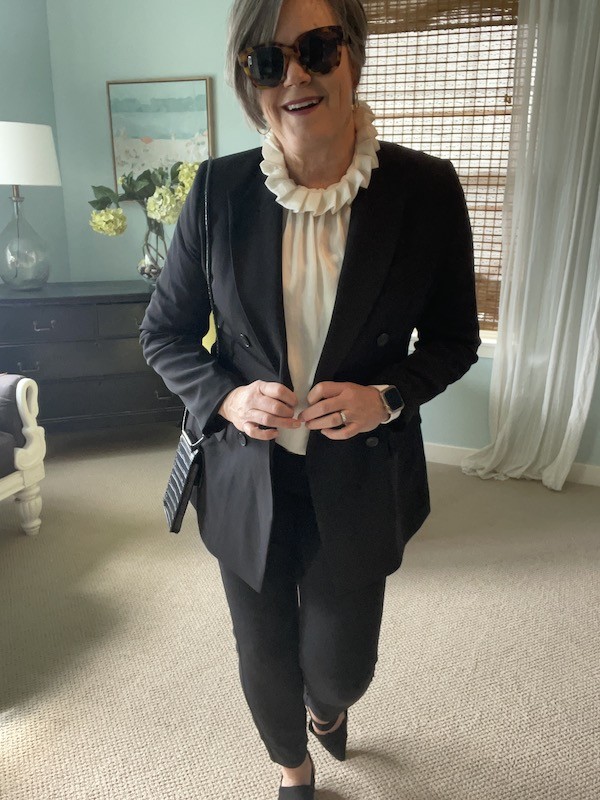 Dressing up the black blazer
For my first outfit I went with more of a dressier look.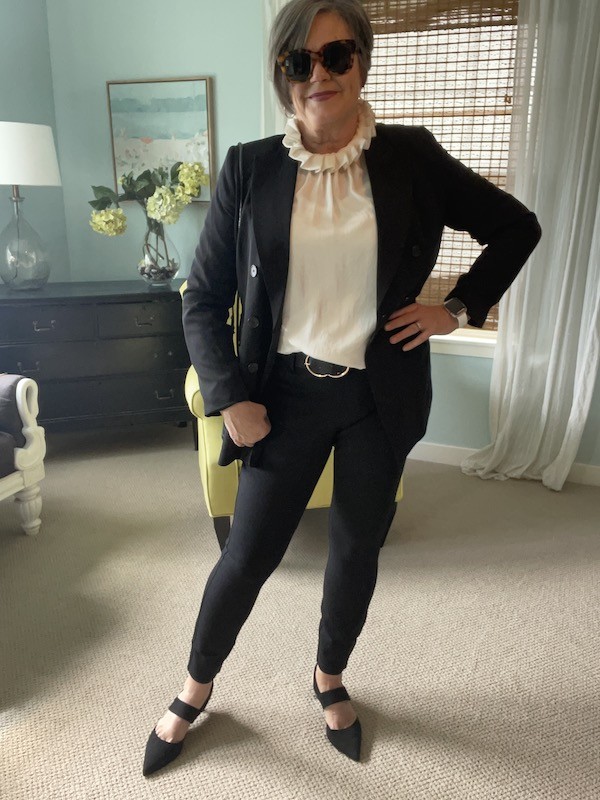 The creamy ruffle neck top from Banana Republic outlet is perfect way to dress up the blazer. They only have a few left too!
I have worn this top a lot.
Here in this outfit and with my plaid pants here. It is super versatile.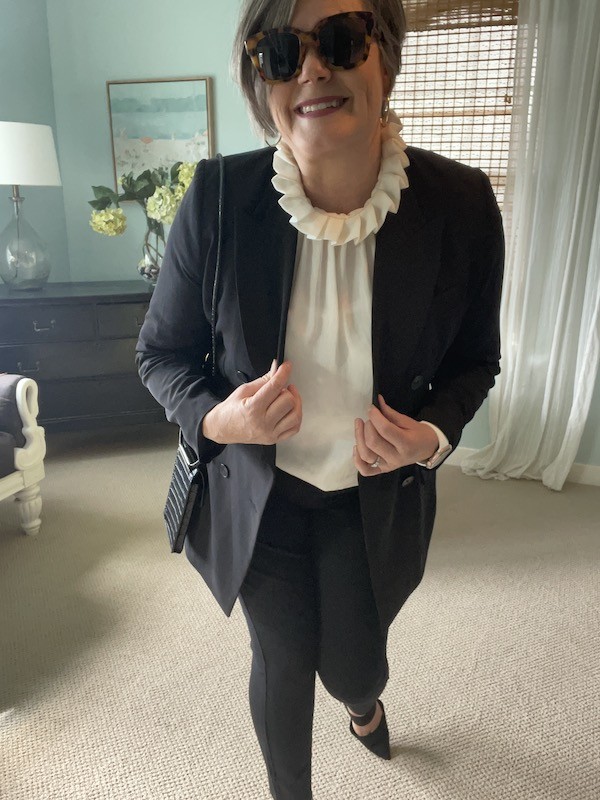 The jeggings are also from H&M and have pockets. I really like that there are belt loops so that I can wear my C shaped gold belt.
This also makes the outfit more dressy.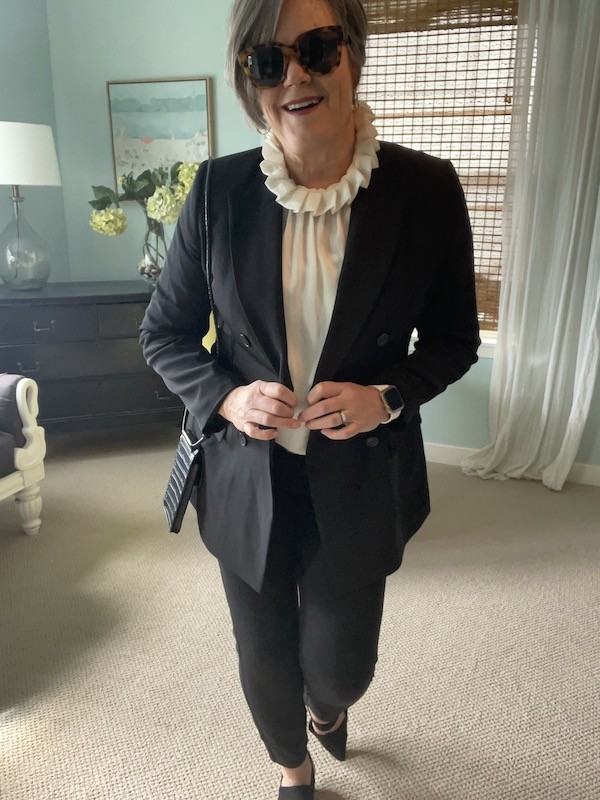 The black blazer is double breasted and a bit longer. I really like this style and I keep the jacket open. 
Pointy toe kitten heeled shoes.
Wearing a feminine pointy toe low heel also adds to the dressiness of the outfit. OH my gosh I have had sooo many compliments on these cute shoes! They not only look amazing but are really comfortable on my feet.
Plus I think a pointed toe shoe also makes your legs look longer.
 These are Ann Klein and I got them at DSW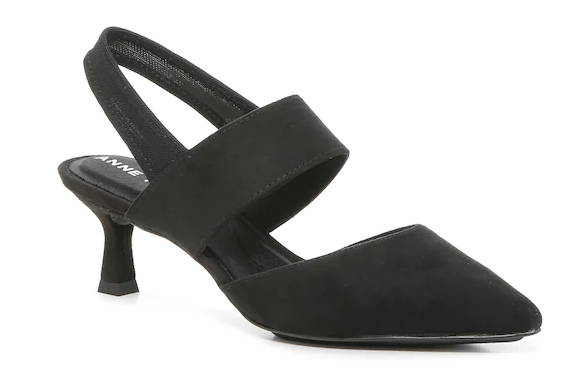 Black Blazer outfit number 2
For the second outfit I swapped out the ruffle collared top for a striped long sleeved top.
Added white Adidas sneakers and a scarf.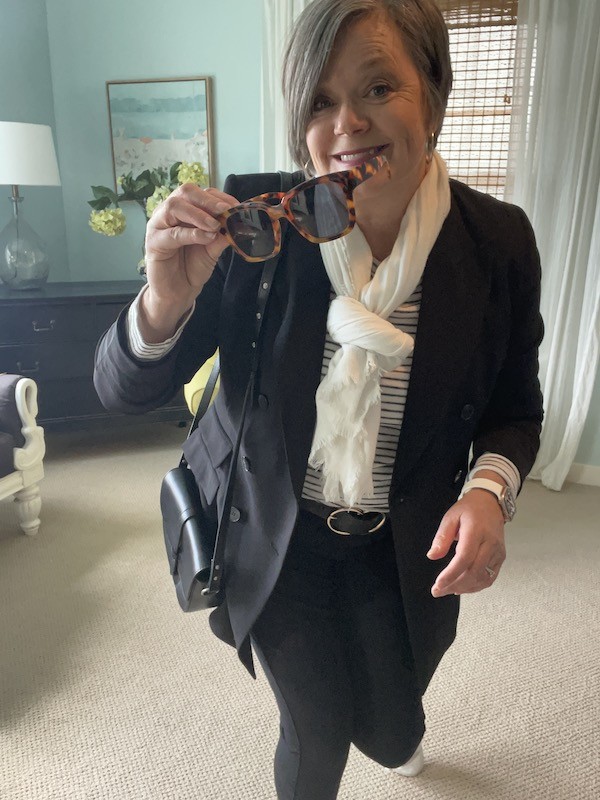 Keeping the belt just gives the outfit a little flair.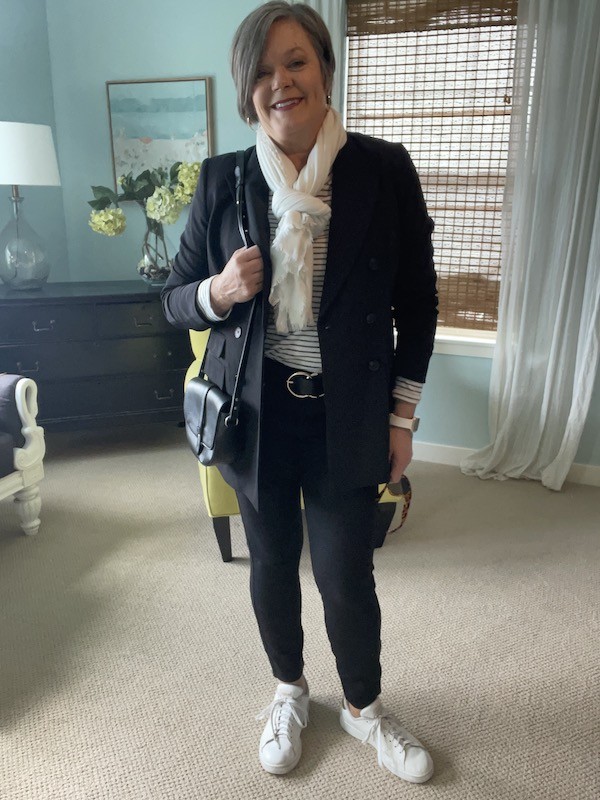 Just by switching out the top and shoes gives this a H&M black blazer a totally new casual cute look.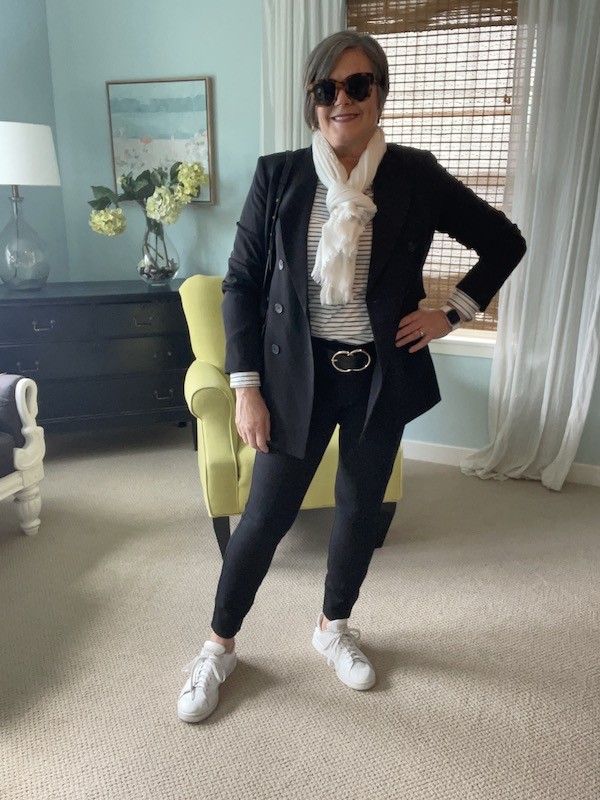 H&M double breasted Black blazer outfit number 3
Switching out the black jeggings for these girlfriend jeans really brings another fun casual look to the black blazer.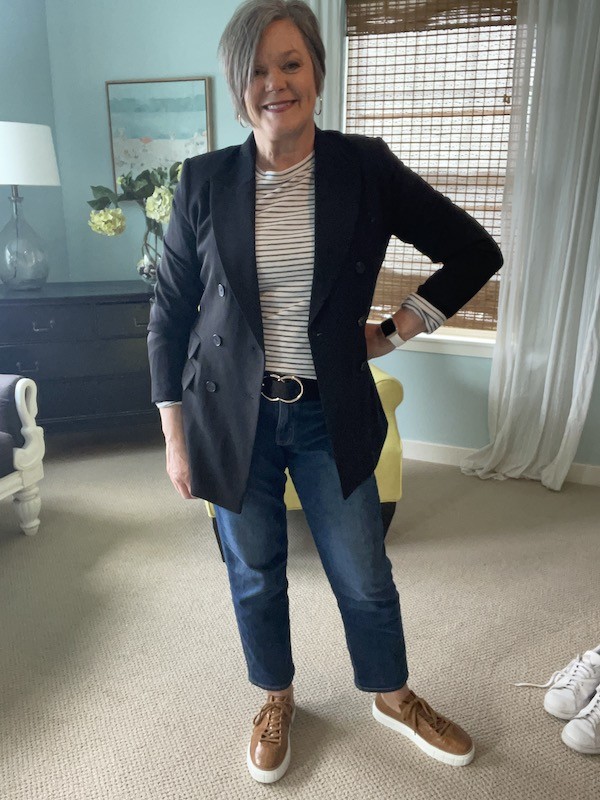 I kept the striped top, added a straw hat and small straw crossbody bag. 
My sunglasses are so much fun to wear. I bought them at Jcrew factory.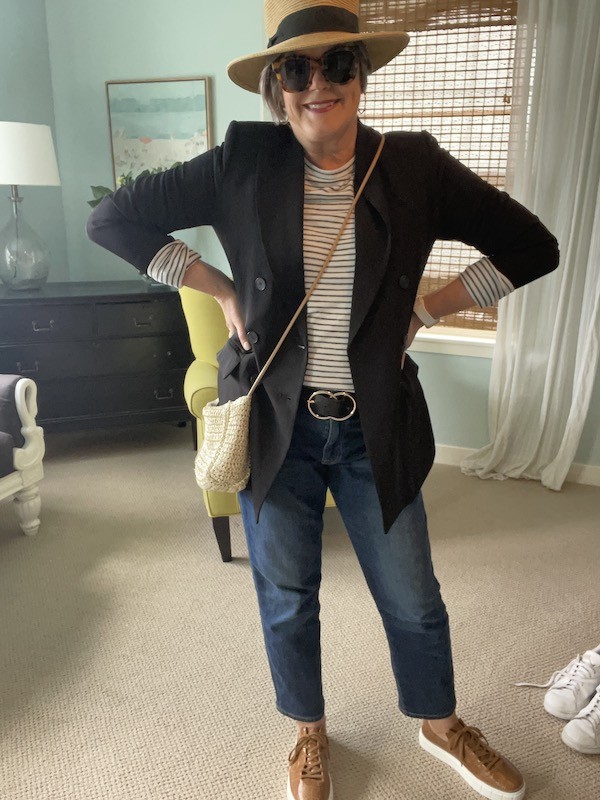 Even though the outfit is casual it has a pulled together classic look especially with a soft scarf tied around my neck.
Leather sneakers
To finish off this black blazer casual outfit I switched out the white sneakers with my leather sneakers.
I cannot even express how much I love these sneakers!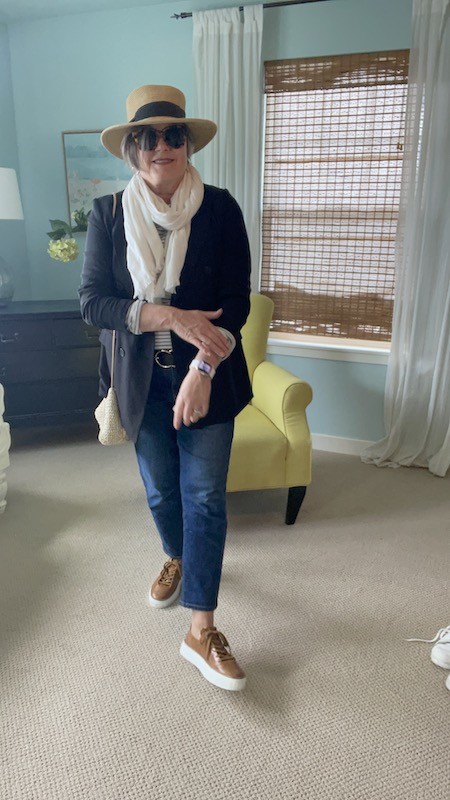 Trying to find a stylish yet comfortable sneaker is tough! I want a lot out of these… comfort is an absolute must, stylish and fun!
I have been wearing them a ton while here in Italy!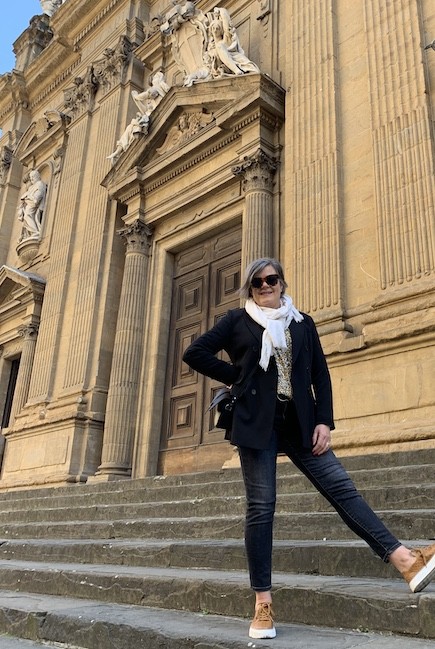 Pop on a pair of tortoise shell sunglasses and I am ready to beep bop all around whether at home or traveling.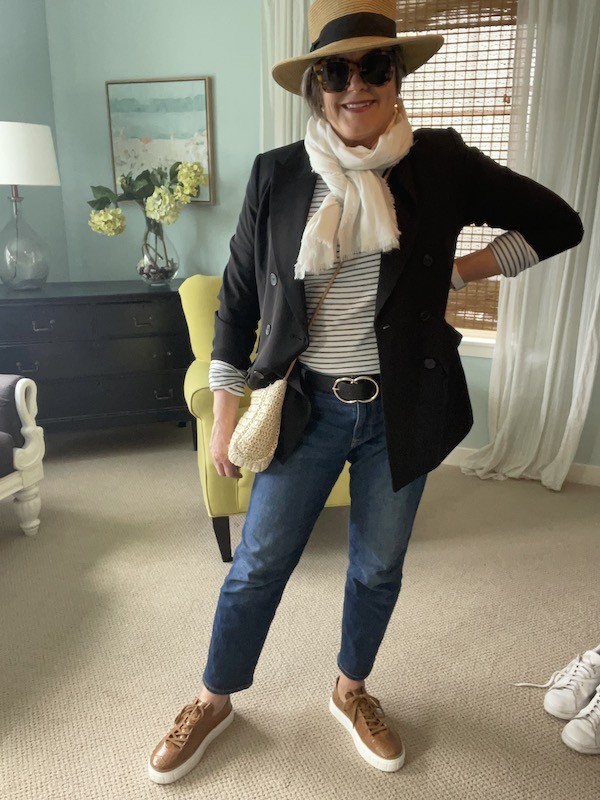 Hope this helps you with how to stretch your wardrobe by adding a cute double breasted black blazer.
More Fashion Posts you will love
Flattering swim suits and coverups for women over 50
Black pleated skirt styled 4 ways
3 ways to style a cheetah dress
Check out all my parties
I have hosted so many different kinds of parties here at the Kottage. Everything from kid birthday parties, Bridal and baby showers, Backyard Surf parties, Outdoor garden party for 20, A dinner party by the lake and more! Click here to see the parties.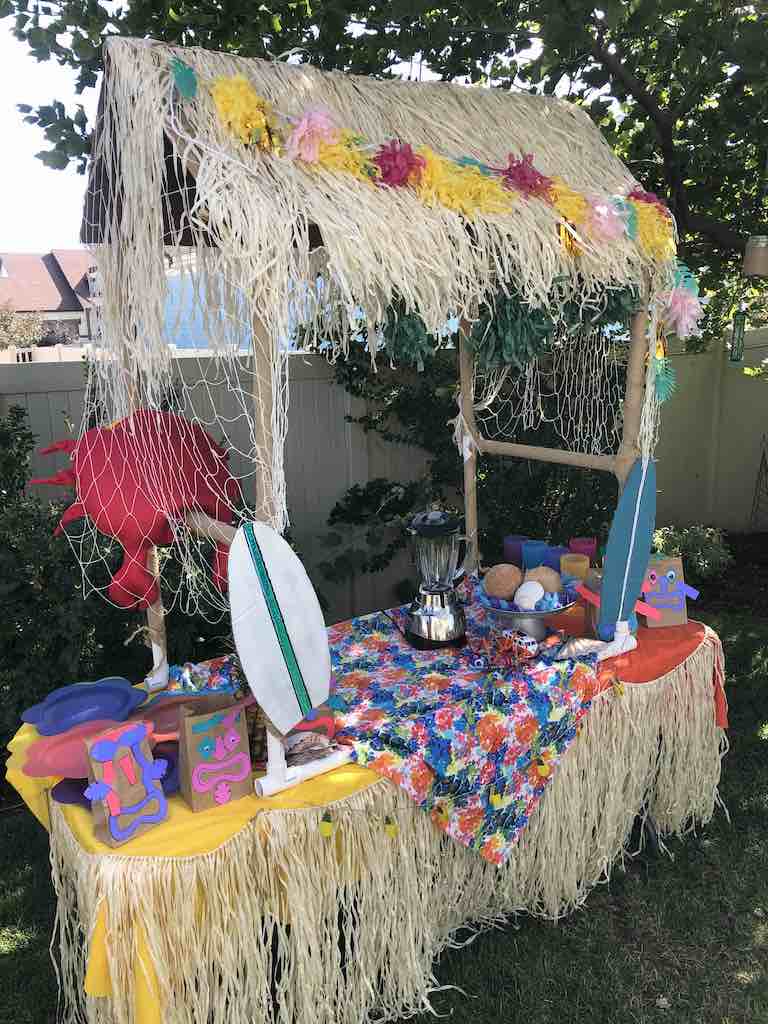 Shop this post