If you are looking to add a bit of pizzazz to your winter wardrobe? Plaid ankle pants are a great way to add a bit of fun and style to your look. Not only are they incredibly versatile, but they can be styled up in a variety of ways, depending on the occasion. Here, we'll be taking a look at 3 different ways to style plaid ankle pants for winter, using low shaft boots, flats, and snow boots, scarves, beanies, sweaters and jewelry.
Plaid cropped pant or ankle pants style are some of favorite types of pants to wear even in the winter season. You might be asking yourself how do you wear cropped pants in winter? In the colder months do your ankles get cold? How do you style cropped pants for over 50 gals? Today I am going to share my easiest way to style winter-friendly ways of wearing cropped pants.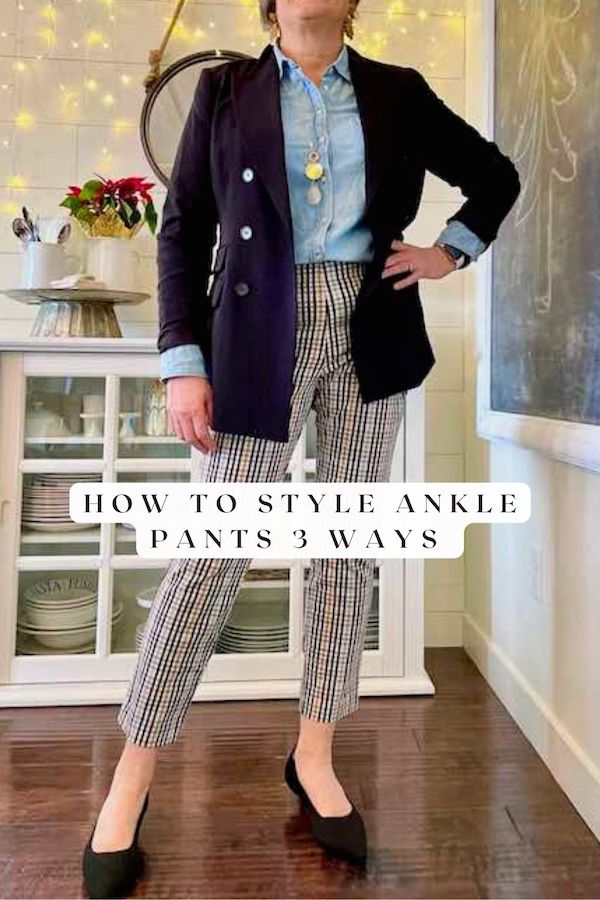 Plaid ankle pants and what to wear with them?
I just bought this pair of ankle plaid pants from Target! They are so cute! I think this type of pants is also known as cropped or capri pants and they are perfect to wear in winter months but can also be worn throughout the year. I guess I have a thing for plaid pants. You may remember my post about how to style red tartan plaid pants multiple ways that you can read here. I really like the multi colored plaid in this pair of pants because it is great way to help decide how to style them. Of course the classic white blouse will always be an option but today I am showing three different outfit ideas with my new plaid ankle pants and blue chambray shirt.
Starting with the plaid ankle pants and button down
I wanted to show you how I began to put this outfit together. Here I am barefoot in just the cropped plaid ankle pants and a some what wrinkled denim shirt. (just ignore the wrinkles) Plain and simple but I wanted to create a few different styles using this as my base. I could wear this outfit just the way it is with some flats or sneakers and a few simple pieces of jewelry if I was just staying home. A great option in warmer climates would be to wear sandals and tie the button down shirt at my waist. I have shown a tied at the waist idea here in this outfit.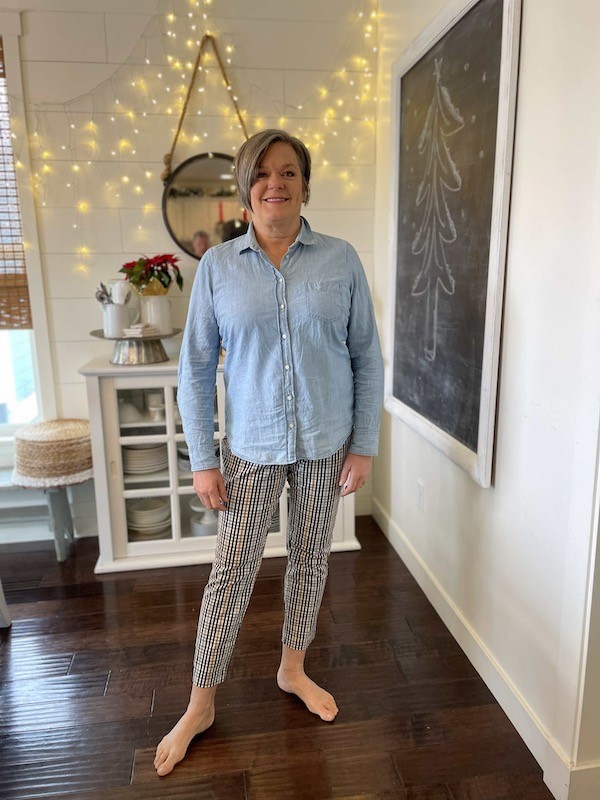 These pants are high-rise slim fit bi-stretch ankle pants. They are made of cotton blend fabric with some spandex in it. Pure comfort for me. They have some elastic at the waist as well as a side zipper. The have a very flattering fit and slimming effect. The white, black, blue and gold in the plaid work for any season too! This style of pants remind me so much of what Audrey Hepburn would wear in many of her movies.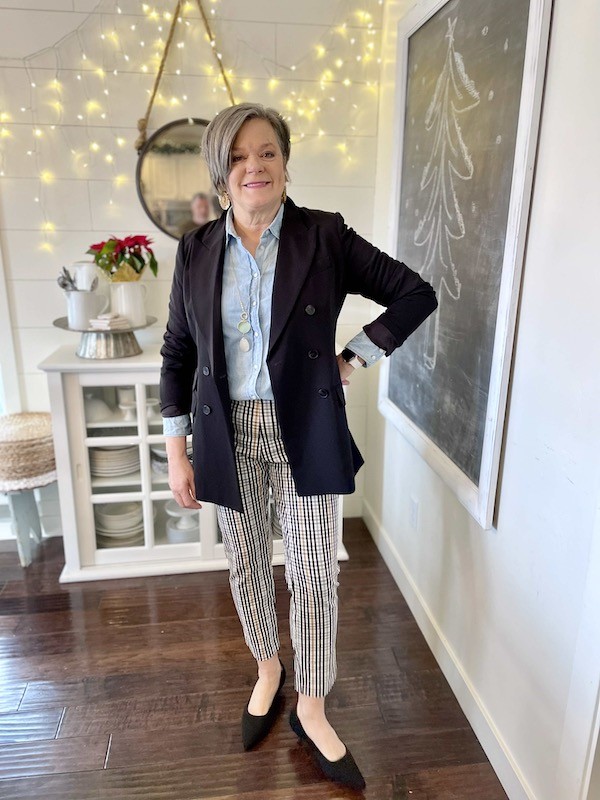 The denim button down blouse is from Jcrew and is a classic piece to have in your closet. It goes with everything and can also be worn all seasons. I could wear it over a white t shirt with the shirt open like a lightweight jacket. Wearing a white t shirt and tying the denim shirt around my waist and pairing with white sneakers is another great look. Casual and fun cute look!
Cropped pants for work
I wanted an easy way to dress up these plaid ankle-length pants and denim shirt. Just by adding my double breasted black jacket changed the entire look. Wearing a jacket that hits mid thigh is such a good choice for a dressier look. It also creates longer leaner look. A long chained necklace also helps to draw the eye down which is a must if you are short waisted like me.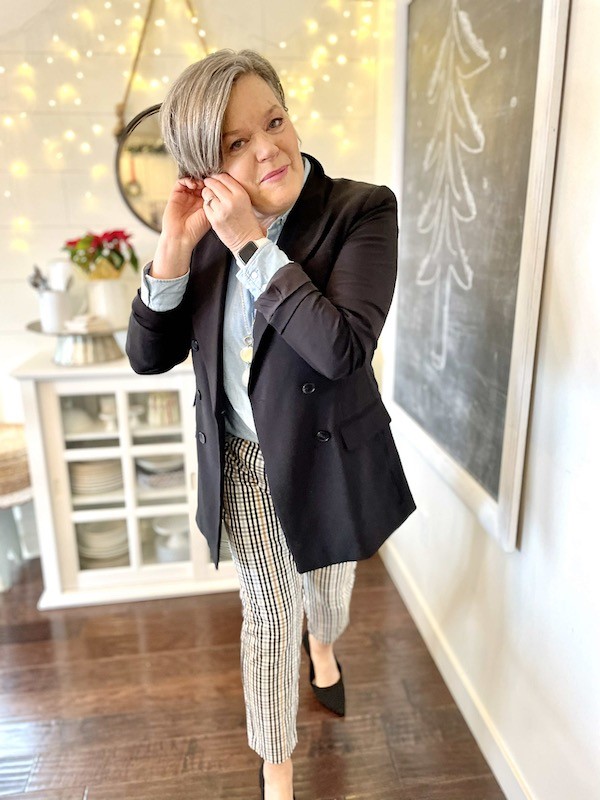 I like to push up my jacket sleeves to peep out some of the color of the cuffs. This breaks up all the black and provides some interest.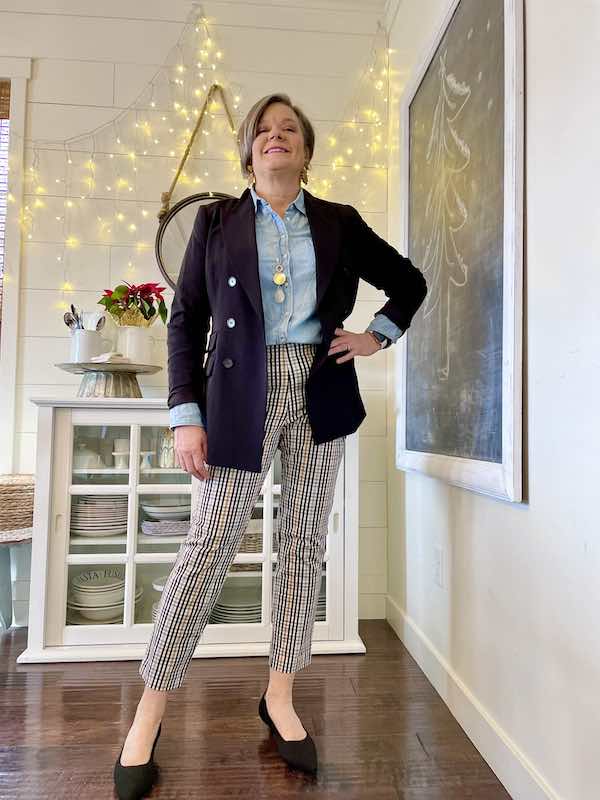 For my feet I chose a kitten heeled black pump. Not only do they provide comfort because of the low heel but they also make my leg look longer because of the pointed toe. They look feminine and pretty too.
I could probably get away with a pair of pumps with a low block heel.
Adding the longer jacket creates such a classy look. The cropped pants look more like dress pants and could even be worn for a date night with my hubby 🙂
Sweater and ankle pants option
On colder days I love wearing a sweater with my ankle pants. This green crew neck sweater also from Target is a great way to add extra warmth over the chambray button down blouse. The fabric is a knit cotton blend 60% cotton and 40% acrylic. It has a ribbed neck, cuffs and hem. I really like the texture and colors in this sweater.
This sweater would also look great with skinny jeans, skirts and wide leg pants. Leaving the shirt untucked lets some of the color show underneath and helps eliminate a blocky look.
Style tip- Scrunching up the sleeves of the sweater to let the cuffs show also shows off the blue shirt color and breaks up the solid color.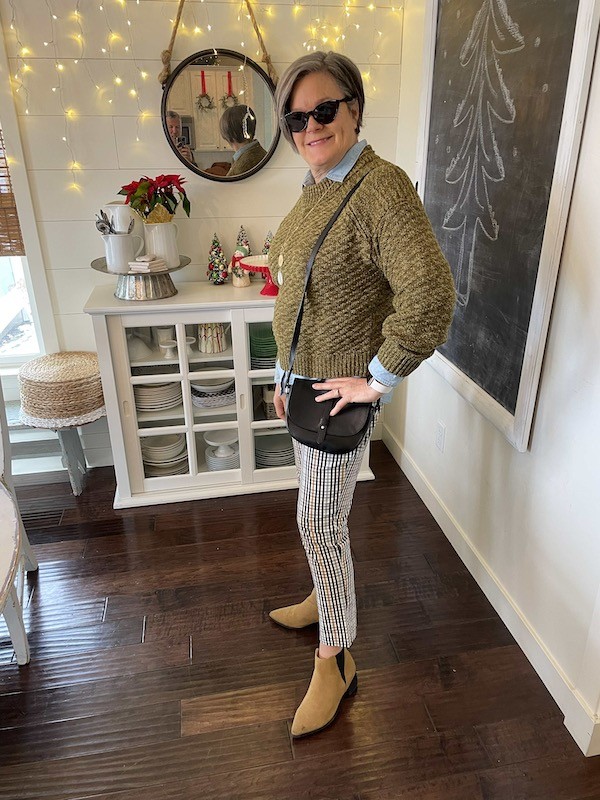 The best shoes to wear with this combination in my personal opinion is ankle booties. I am wearing a pair of tan suede low shaft ankle boots. The thicker textured sweater lends itself to a more winter look and ankle boots are the perfect way to get a cute look.
I wear a little sock in the boot but allow a little bit of my ankle to show. These boots keep me warm even with a little ankle showing. If there was a lot of snow on the ground I would opt for a higher shaft boot.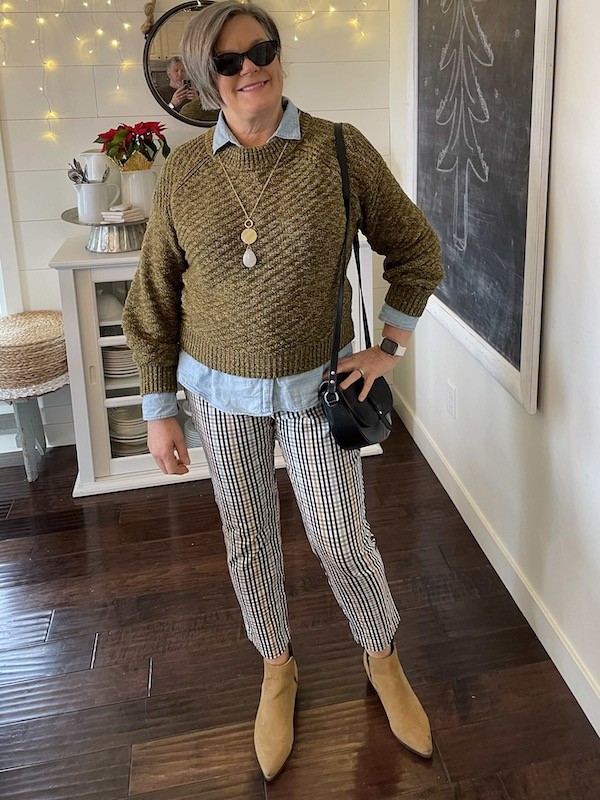 Outfit accessories
The other outfit accessories I am wearing are a longer length necklace to break up the solid color across my shoulders and draw the eye down. Adding a simple crossbody bag in black also helps breaks up the solid color sweater and draws the eye down. A dark pair of sunglasses makes me feel stylish. If you were going out on a cold night a fun moto jacket would really up the look of this outfit. There are so many different ways to style plaid cropped pants. If is fun to try on different looks to see what looks best on your body type.
Colder weather cropped pant outfit
Ok so now if you live in the colder area of the country you really need to style your outfit to stay warm. This outfit is a really good option for staying warm and looking cute while wearing plaid cropped pants and a denim shirt. I am wearing a really warm creamy colored v-neck sweater. My hubby bought it as a Christmas present for me 🙂 from Loft. It is longer in length which is a good thing for most body types. It is perfect over my chambray shirt.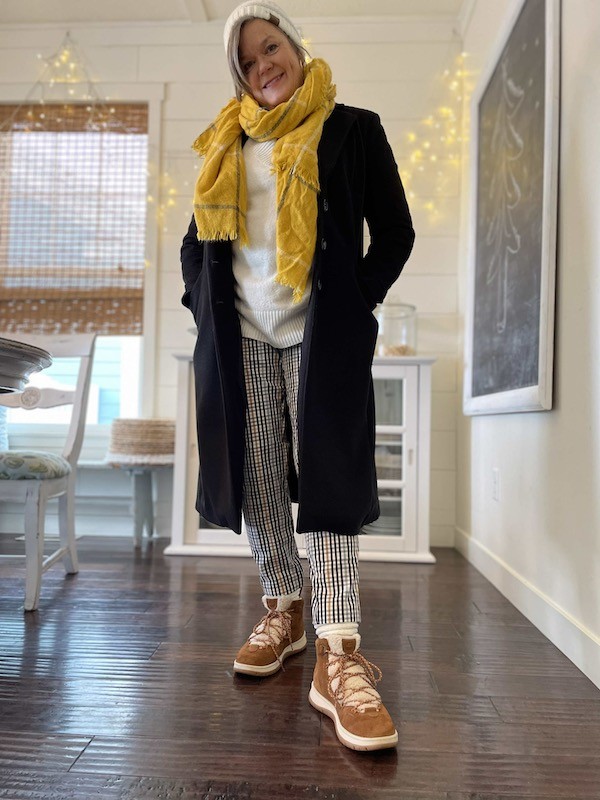 The yellow plaid scarf is the best way to add in a little color and more warmth. The pop of yellow color in this fun winter look brings a little brightness on a grey day. A cream colored cable knit beanie hat is the perfect grand and go must have winter wear item everyone needs to have. It goes with everything! You can smoosh it into your purse when you are walking around and get too toasty. It is great for a bad hair day too!
The kind of shoe to wear on a cold snowy day are Ugg's snow boots! I have talked about these boots are the best winter boots to have. They are seriously thee most comfortable snow boots ever! I am wearing some thick socks scrunched up at the end of my ankle length pants so you can see them peek through.
To top off this warmer winter outfit is a long black coat. The longer length of the coat makes you look taller and leaner. I am all about that! You will stay nice and warm using my style tips.
I am curious to know which outfit is your favorite? Leave me a comment below.
More fashion posts
How to kick up white blouse and black jeans outfits
Double breasted black jacket styled 3 ways
Tartan plaid pants are not just for the holidays
Shop my fashion finds
These are affiliate links and I make a small commission if you purchase any of these items at no extra cost to you. This helps me to keep my blog up and going and I appreciate your help.