Pleated midi skirts are a timeless fashion staple that will never go out of style. For today's post I am sharing how I am styling one of my favorite skirts! Styling a cream pleated midi skirt with a belted cardigan sweater. Pleated skirts are a great way to transition from season to season and can be dressed up or down. It will just depend on the occasion.
Styling a cream pleated midi skirt with a cardigan sweater and belt is the perfect way to create an effortless, yet polished look. To begin, choose a pleated midi length skirt in a neutral color such as cream, black, navy, or gray. This will be the base of your outfit, from here you can style it in different ways. It is important to pick a pleated skirt that fits well and flatters your figure.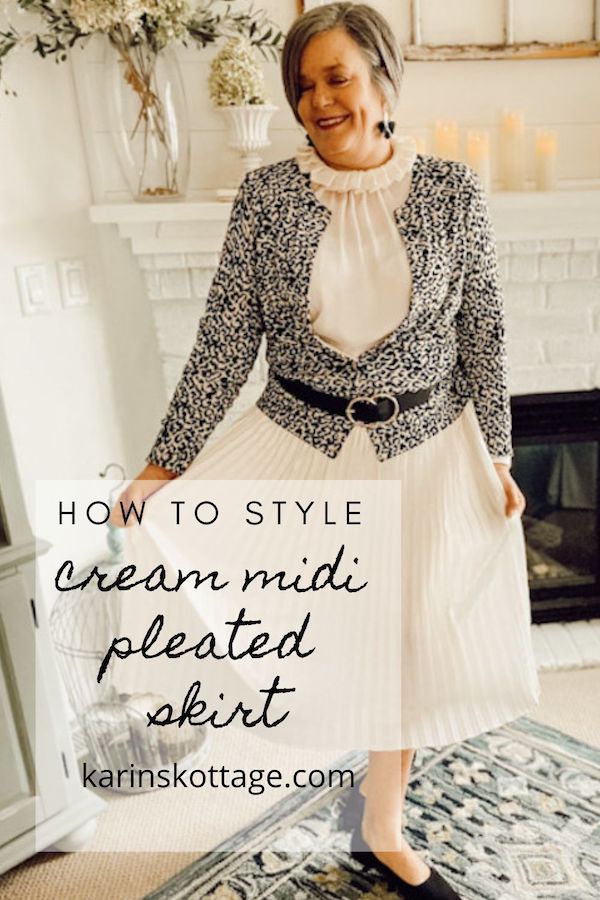 Cream pleated skirt
I love the accordion pleats in this skirt. It is so feminine looking and can be dressed up or down. The fabric has a satin finish. It is perfect for a date night with my hubby If I wear it with a pair of heels. If I wear this with a t-shirt and a denim jacket or oversized sweater and sneakers or ankle boots it would be perfect to wear as an everyday outfit. The elastic waist makes for a comfortable fit and the pleats lay down nicely instead of poofing out.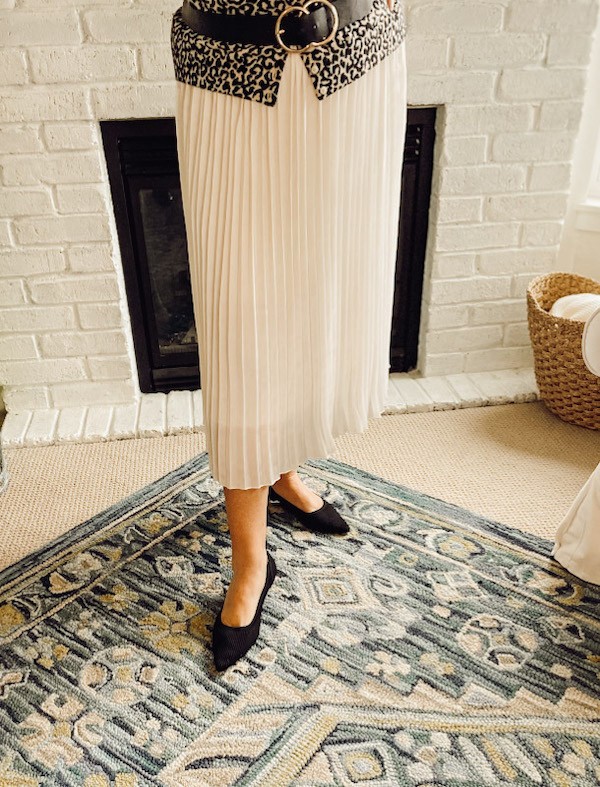 A pleated midi skirt is great classic piece because it adds a touch of femininity and sophistication to any look. You can find pleated skirts everywhere and at all different price points. I found mine at TJmaxx but Jcrew , Banana Republic, Ann Taylor and Amazon all have beautiful pleated-skirt outfits to choose from. (These are affiliate links and I make a small commission if you purchase any item at no extra cost to you. This helps me keep the blog going and I appreciate it sooo much)
Pretty blouse and cardigan sweater
What do you wear with a pleated midi skirt? For my look you need to choose a cardigan sweater to pair with your skirt. This can be any color or pattern you like, as long as it complements the color of your skirt. For a classic look, opt for a solid color, such as black or navy. If you want to add a bit of pattern to your look, choose a patterned cardigan, such as an animal print, plaid or argyle. Today I am wearing my leopard print cardigan from Jcrew. It has the same creamy color in it and looks amazing against the cream colored blouse and pleated skirt.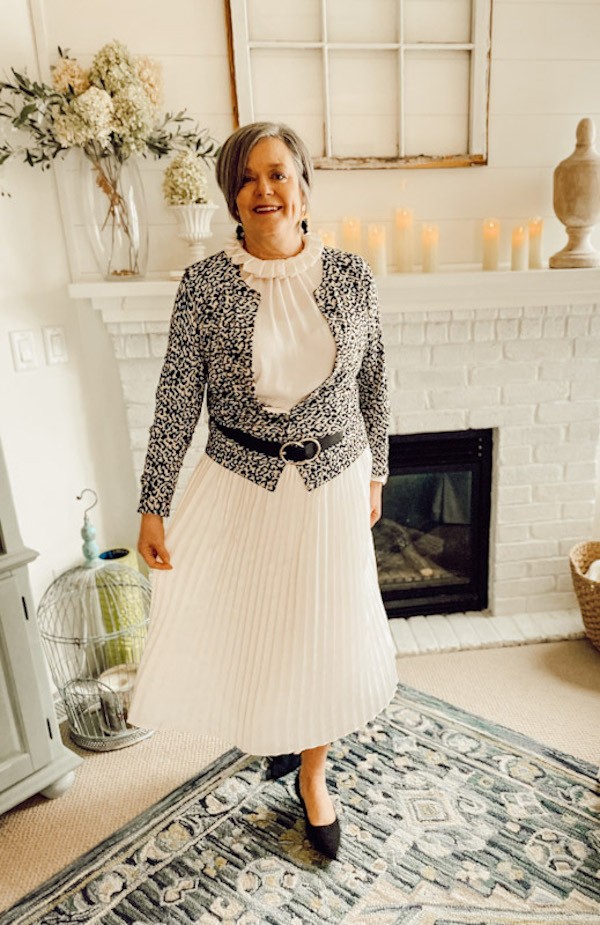 The ruffled neck blouse is from Banana Republic but they don't have it in stock any more. Here is a pretty one from Talbots. I have worn my ruffled neck blouse a lot! You might remember how I paired it with this black pleated skirt here or my black pants here and my red plaid tartan pants with this leopard sweater here. It is really a favorite piece of clothing that I have. Find yourself a pretty neutral colored blouse and you will wear it all the time.
I am always trying to figure out different skirt outfit ideas every week for church on Sundays. This cream pleated midi skirt outfit is one of my favorites.
Styling cream midi pleated skirt outfit with a belt
When I first put the outfit together I tried a couple of different style ideas. First I tucked in the blouse and left the cardigan open. I am very short waisted as well as thick waisted and it just wasn't looking like I hoped. Tucking in any shirts is always a trick when you are short waisted.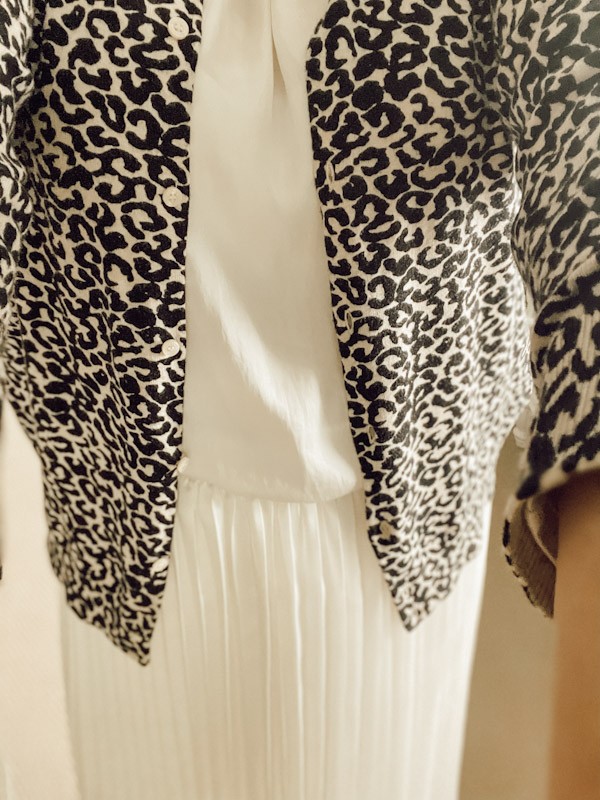 Next I decided to try and define my waist. I buttoned a few buttons close to the bottom of my sweater and added a belt over the sweater to complete the look. I left the last two buttons on the sweater unbuttoned. Once you have the belt on pull your sweater out just a bit so create a blouson look. This will help define your waist and create a more flattering silhouette especially if you are short waisted.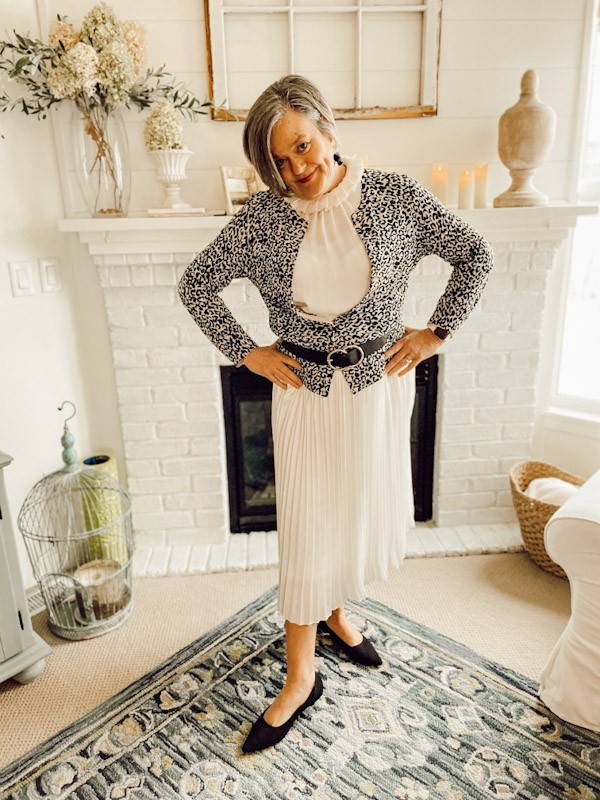 A semi wide belt with a gold buckle was the perfect way to define my waist and add a bit of structure to the outfit. You can choose a belt in the same color as your cardigan for a monochromatic look, or choose a contrasting color for a bit of visual interest. This is the easiest way to create an hourglass figure even if your body type is more of a rectangle like mine.
Accessories to wear with pleated skirt
Finally, accessorize with jewelry and shoes to complete the whole look. I am wearing some cute gold and black fan type earrings from Jcrew Factory. They add a little touch of elegance. I felt like I didn't need to wear a necklace because of the ruffled neck blouse and bold cardigan sweater. Keeping it simple but pretty is my mode.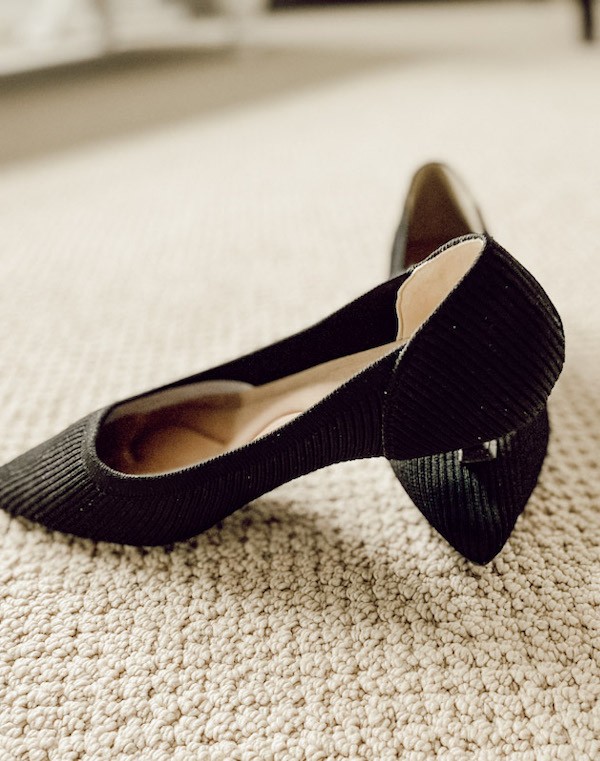 I thought about wearing a pair of boots but I decided to wear one of my personal favorites a pair of pointed toe black kitten heeled shoes. Super comfortable and look fabulous with this outfit.
Other ways to wear a pleated skirt
It's easy styling a cream midi pleated skirt depending on the occasion, and it's a great way to transition from season to season. I really want to try wearing this skirt with a graphic tee and white sneakers. Don't know if I can pull that off but I'd like to try especially when we travel. On colder days I am going to wear the skirt with knee-high boots and maybe a faux leather jacket for a more casual look. I will post those outfits once I put them together and decide if this 60 something can pull off those outfit ideas 🙂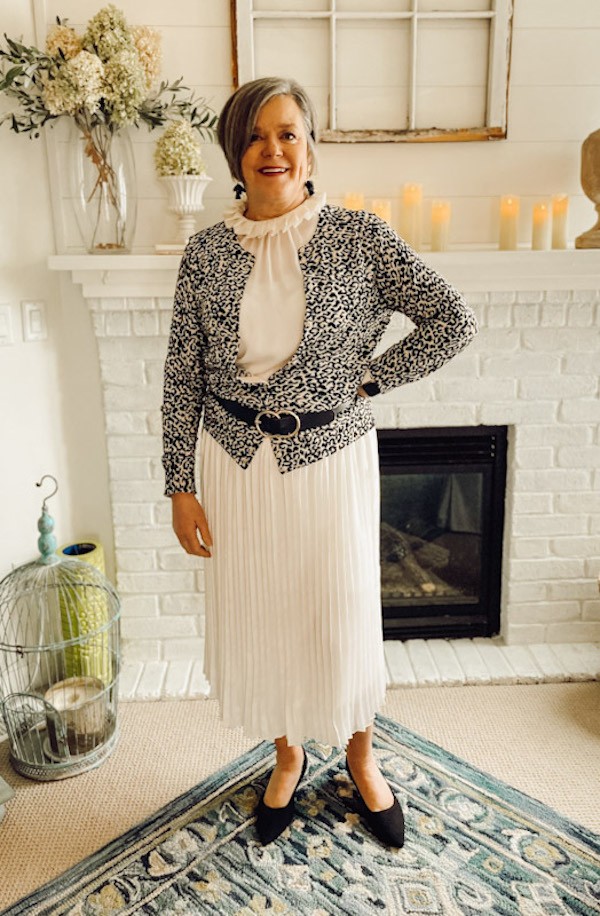 In any case I hope that with these tips, you can create an effortless, yet sophisticated look in no time. Let me know if you like this type of an outfit or what other outfit ideas you would like to see.
More Fashion Posts
Styling black jeans with white blouse
How to style girlfriend jeans 5 ways
Shop Similar Clothes