I love finding ways to style girlfriend jeans 5 ways or more!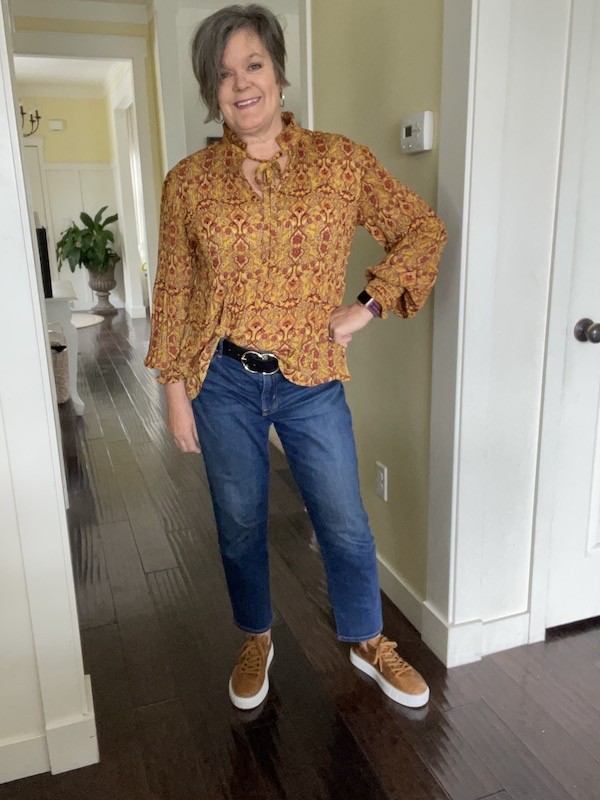 Welcome to fashion Friday where I love to share my tips and style ideas each week.
Don't you love wearing jeans? I sure do!
Jeans are my number one go to almost everyday. Whether they are skinny, wide leg, straight, boyfriend cut or girlfriend jeans they are fun to style.
What is so great about girlfriend jeans?
These particular jeans are from gap and I have had them for a few years. One of the great things about them is that they are roomier in the hips and thighs.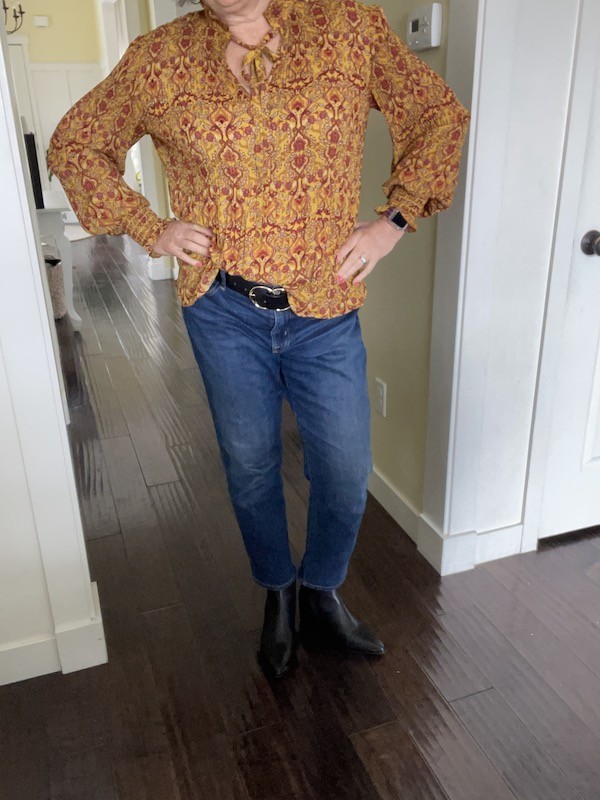 Slim through the leg and ankle and skims right above the ankle. Because they are relaxed you may need to size down.
I am wearing a size 12 and I could have gone down one size but I like the looser fit.
Girlfriend jean Style 1 idea
For my first style I chose this awesome gold flowy tie Neck Long Sleeve Floral Print Pleat Blouse from Nordstrom rack and it is so comfortable and looks stylish.
A little tuck in front shows off the cute C shaped belt and gives the illusion of a waist.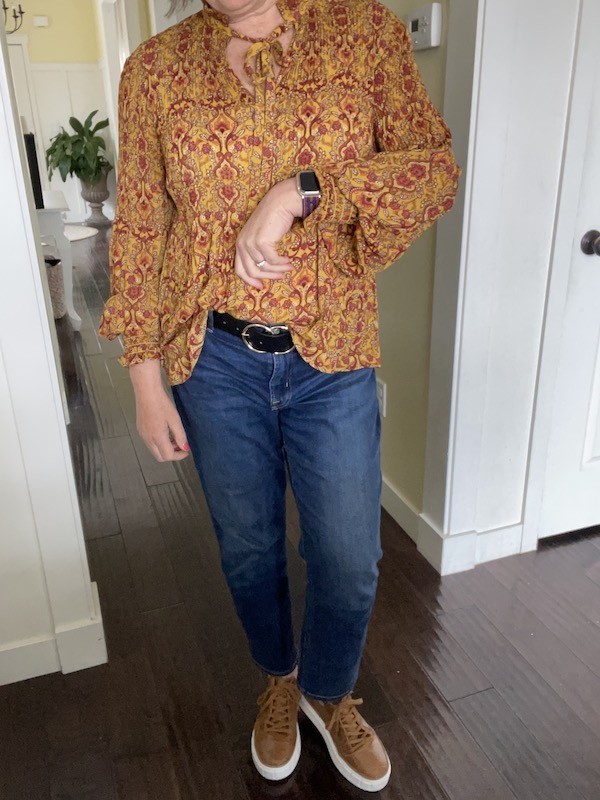 For $22 it is a steal because it looks more expensive.
I can wear this with my girlfriend jeans as well as skirts or nice slacks.
Lace up leather sneakers
I cannot tell you how excited I am to have found these leather lace up sneakers! SUPER comfortable and I will be taking them on my trip to Italy next week!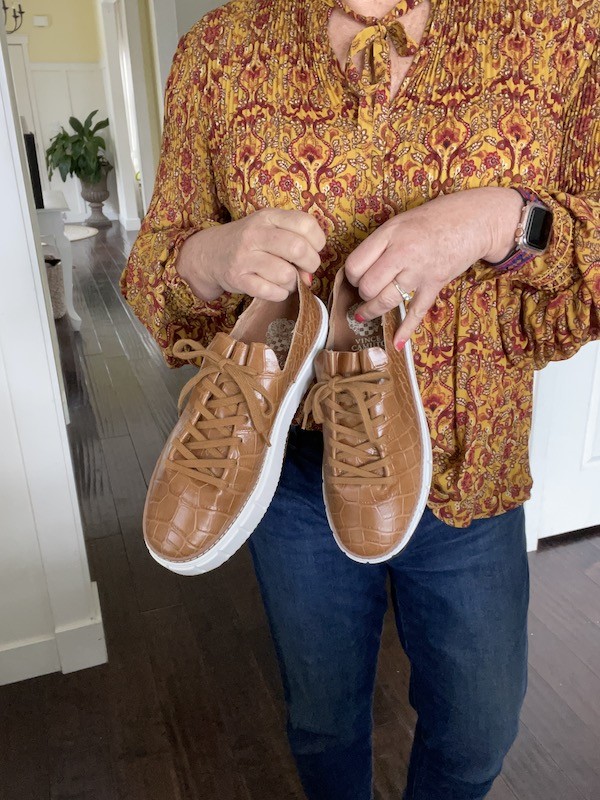 The older I get the more support I need in my shoes but I want cute shoes!
These are super stylish and fun.
Add a crossbody bag
I am all about the crossbody bags as long as they are small and easy to wear.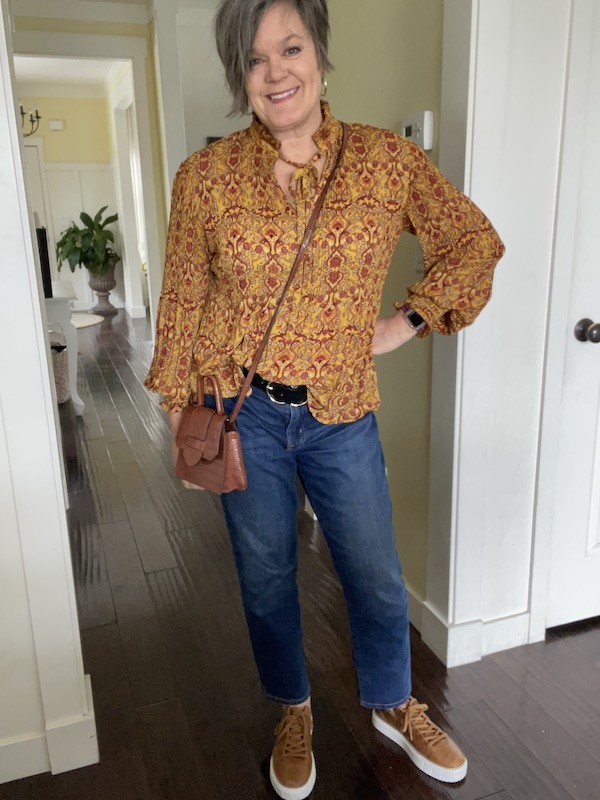 I just cannot handle large heavy leather bags or any large bags for that matter.
The one in the photo is one I bought a year ago from Walmart but here is a similar looking bag that you might like also from Walmart! You don't have to spend a fortune to still look cute and pulled together.
Girlfriend jeans style 2 and 3
To change up the look I have added some black Chelsea booties and a black puffer coat.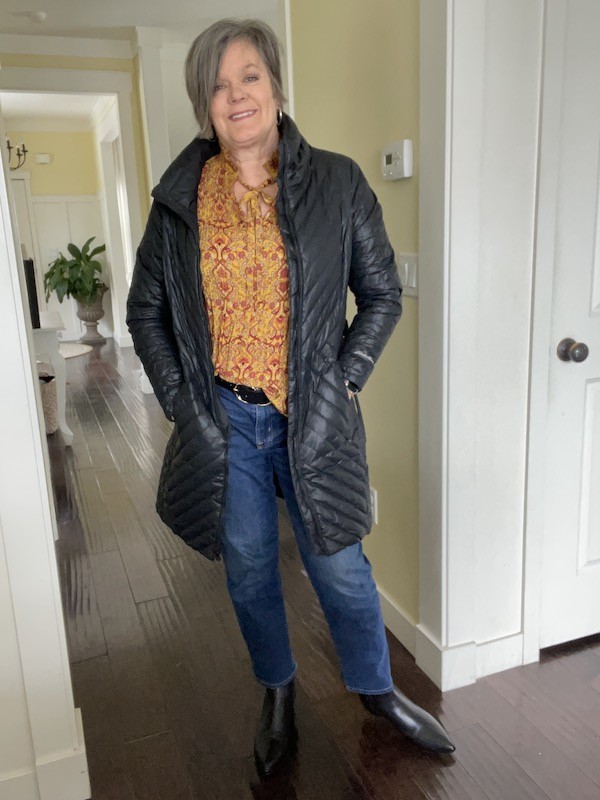 These girlfriend jeans hit just right to be able to wear booties with them.
You could probably roll up the hem just a skinny roll if desired.
Chelsea booties are super comfortable and keep your feet dry when there is snow or rain.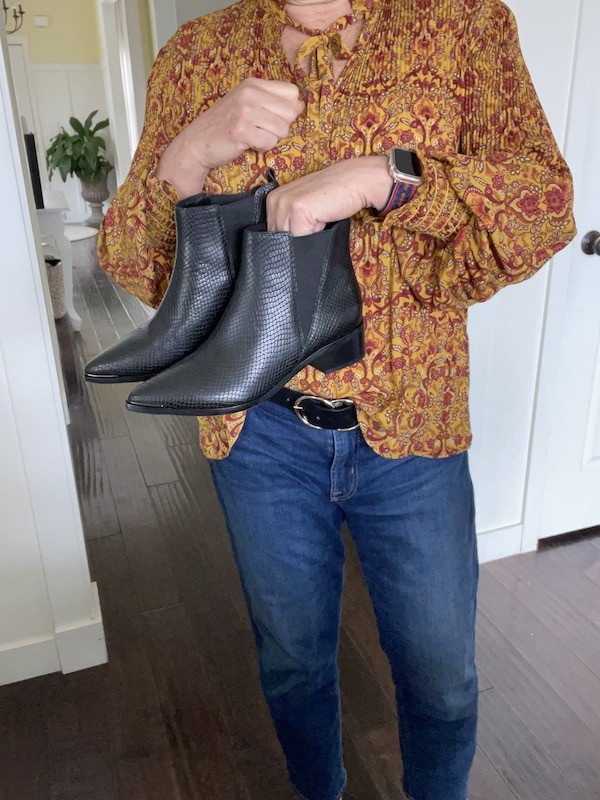 Black wallet phone purse
Now here is a very small wallet phone purse but I just love it! It holds my credit cards, phone and a few other items.
This works as an early spring outfit with just the flowy top and the booties. I could add a sweater or even just a scarf if it gets a little chilly.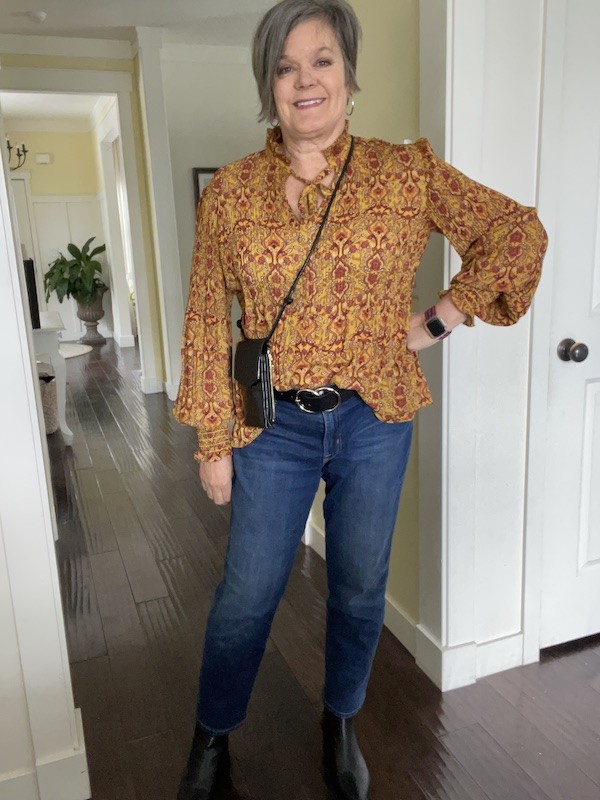 At night it does get pretty cold here in Utah and in Italy this time of year so the black puffer coat is definitely what is called for.
If you want to add a little color you wear a bright blue coat like I did here.
But really what more do I need when I am out and about shopping or touring around in Italy.
OH yeah some moolah! haha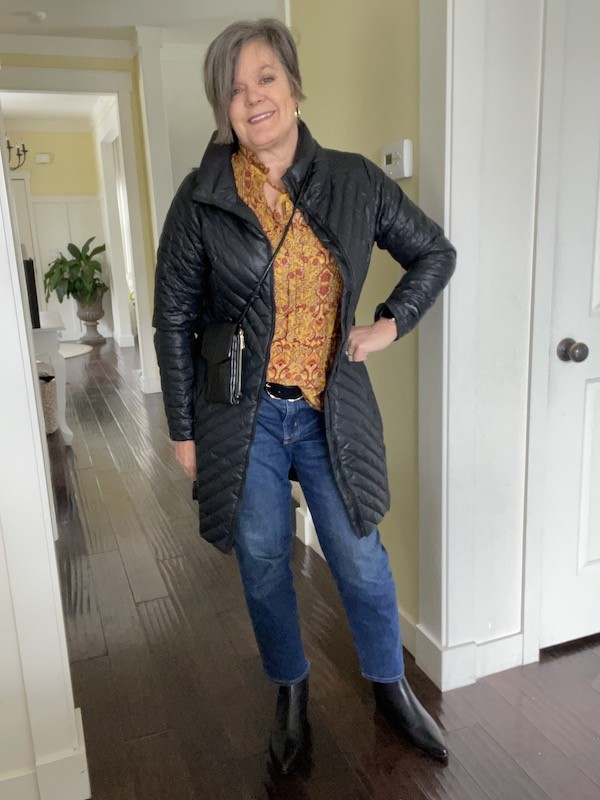 Girlfriend jeans style #3
How could I not include an outfit with a scarf? If you have followed me for any length of time you know I love wearing scarfs. Spring, Winter or Fall and maybe even sometimes in the summer.
They are like jewelry to me and add some style!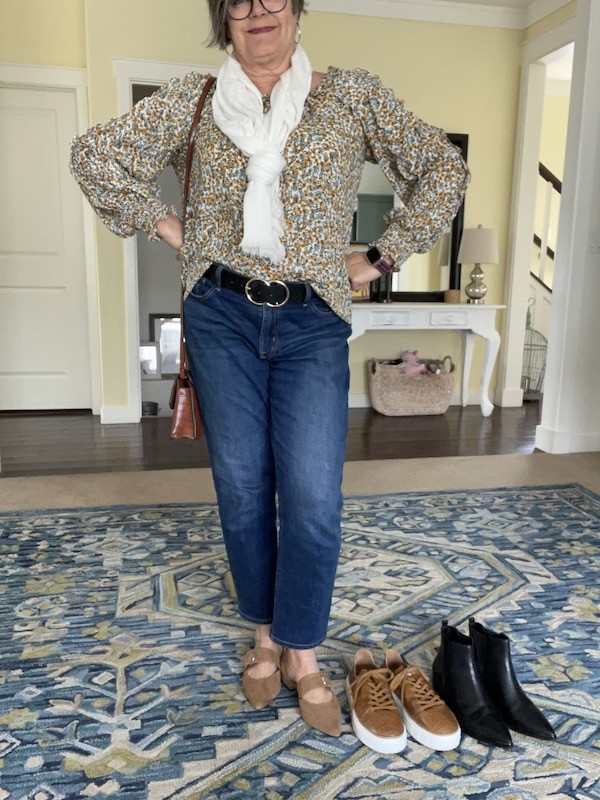 This adorable top is from Nordstom rack the Studio Max line which I adore! It is a long sleeved ruched cuff blouse. You can kind of see the ruching on the sleeves in the photo.
I could add my faux suede jacket over this for another look (you can see that in the video below)
Feminine pointy toed flats
I have been searching for some really cute comfortable feminine looking flats.
I found them!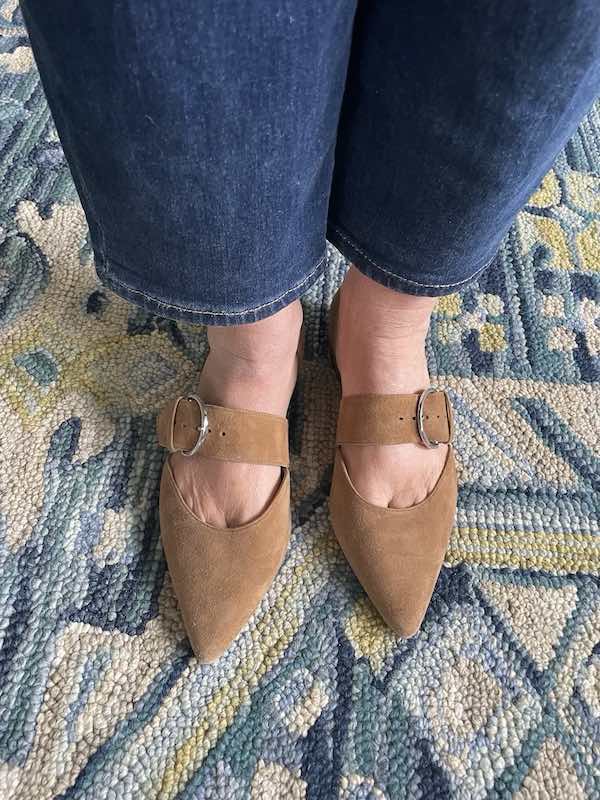 Nordstroms have these suede Linea Paolo Dean Pointy Toe Flats and I am dying over the cutness!
Just look at the buckles! They come in lots of different colors and patterns too!
I might want to get the red ones!
Styling girlfriend jeans #4
Remember the creamy white blouse with the pretty collar I blogged about here well I bought another one in navy!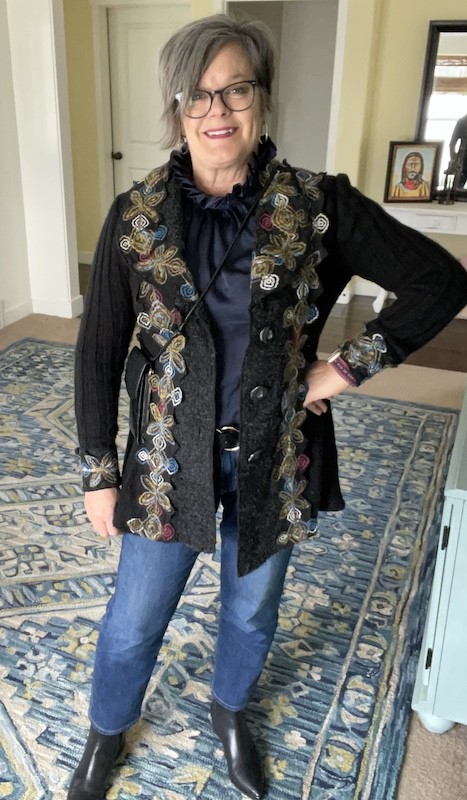 This blouse is what Banana Republic refers to as mixed media ruffle mock neck top. It is 60% cotton and 40% lenzing (whatever that is).
All I know is that it is comfortable, light weight and looks elegant.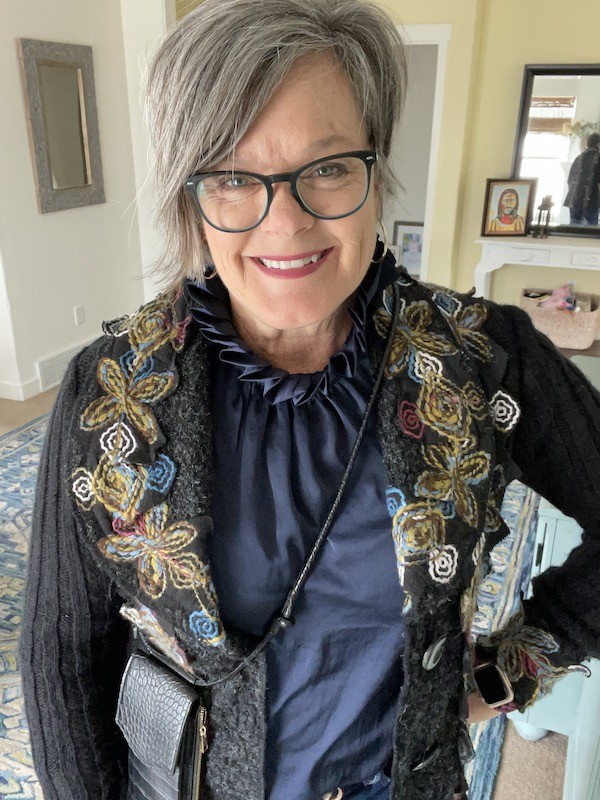 They have run out of the navy but they still have the cream and a pretty beet root color. It is on sale for $32!
I paired the navy ruffle top with this awesome embroidered sweater and my black Chelsea boots. Here is a similar embroidered sweater.
Girlfriend jeans style #5
I am mad for plaid in this outfit 🙂
How fun is this long tunic plaid sweater cotagan.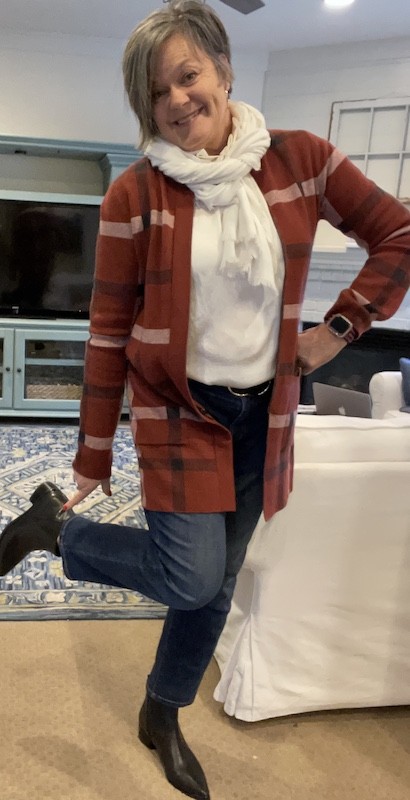 My creamy ruffle blouse (just like the navy one above) is perfect to wear underneath this long plaid sweater.
Adding a creamy soft scarf just makes the outfit complete!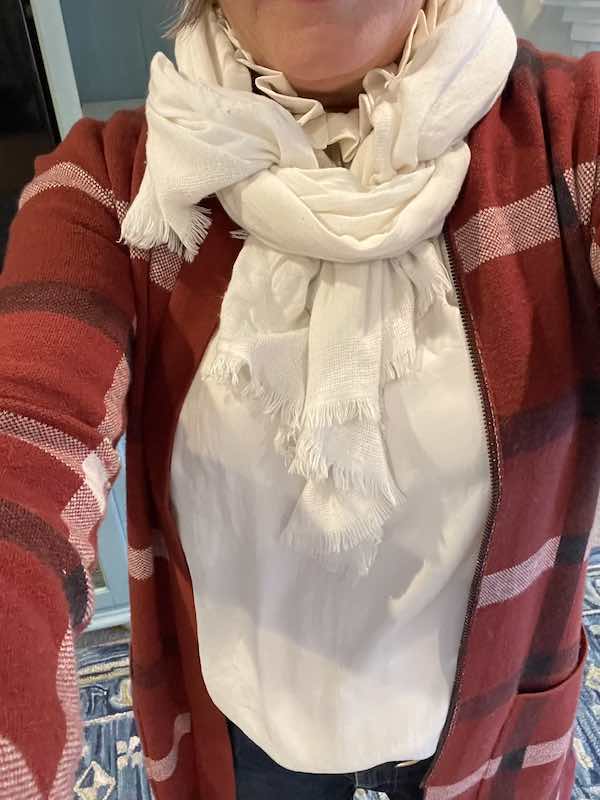 The Chelsea boots are perfect but I could either of the other pairs of shoes I have shown here in this post.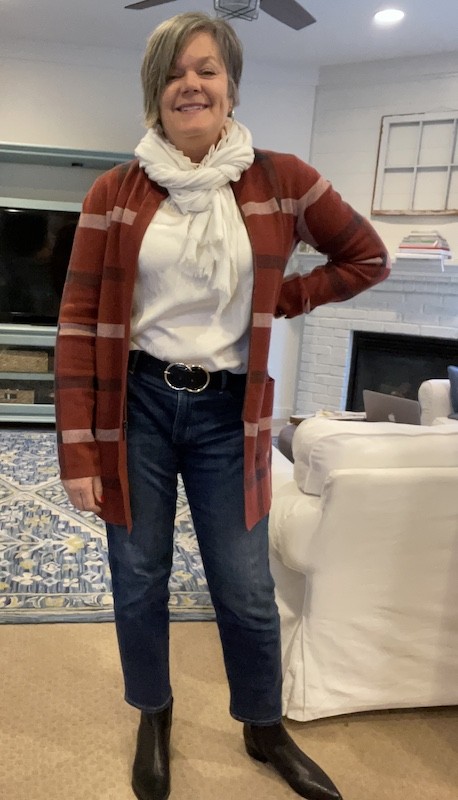 Well there you have it ladies. I hope this gives you some fun ideas on how to style girlfriend jeans.
You can always check out more of my fashion posts here
FYI- If your purchase any of these items I have linked I make a small commission at no extra cost to you.
5 wasys to style girlfriend jeans video
I created this quick fun video showing my 5 ways to style these girlfriend jeans from the Gap outlet.
Shop the clothes