Welcome to Fashion Friday today I am sharing 2 fun ways to style basic black jeans!
If you have been following me this week I have been sharing how to style black jeans and a white blouse multiple ways.
Don't you love it when you can get multiple outfits out of just a few basic pieces?
Me too!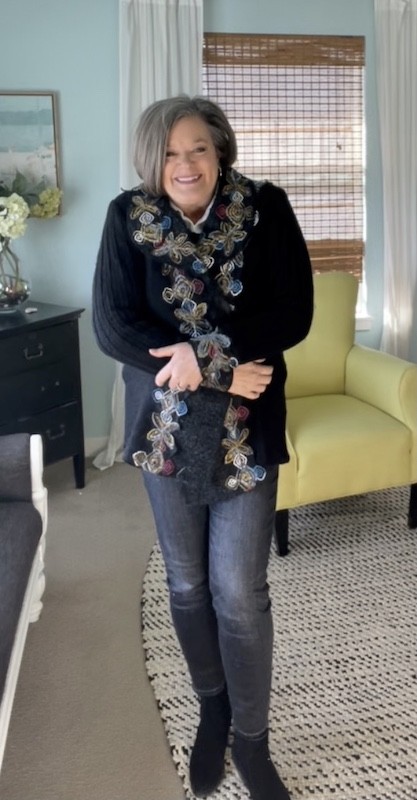 Earlier this week I shared this classic idea using a faux leather jacket and scarf combo with these jeans.
I also shared this beautiful long plaid cardigan sweater with a fun silver necklace that is a classic look.
Style Black jeans
Black jeans are always in style don't you think?
These particular jeans are Jcrew toothpick jeans with a 9″ high rise. These fit me so nicely.
I wear a size 12 or in Jcrew sizing it is a 31.
They have some stretch to the which is always appreciated.
I love to style black jeans with short jackets, long coats, cardigan sweaters and pullover sweaters with a blouse underneath.
Long embroidered cardigan sweater
I found this really unique embroidered cardigan sweater at TJMaxx and I am in love!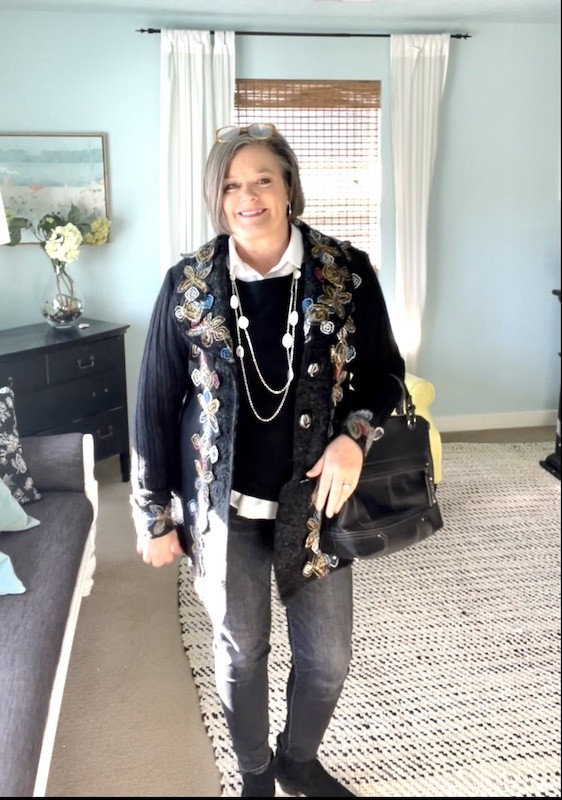 It is so unique with the all the detailing on it.
I could not find the exact one online but here is a very similar looking one from TJMaxx.
I created a little video so you could see all the detailing on this sweater even on the back!
2nd Fun way to style black jeans
A long winter coat is a must here in Utah. I have had this fairly long blue coat for a few years now.
Old Navy always has some fun very affordable coats. Here is one I really like and it comes in pink and gold.
I just love a pop of color and this bright blue does the trick for me.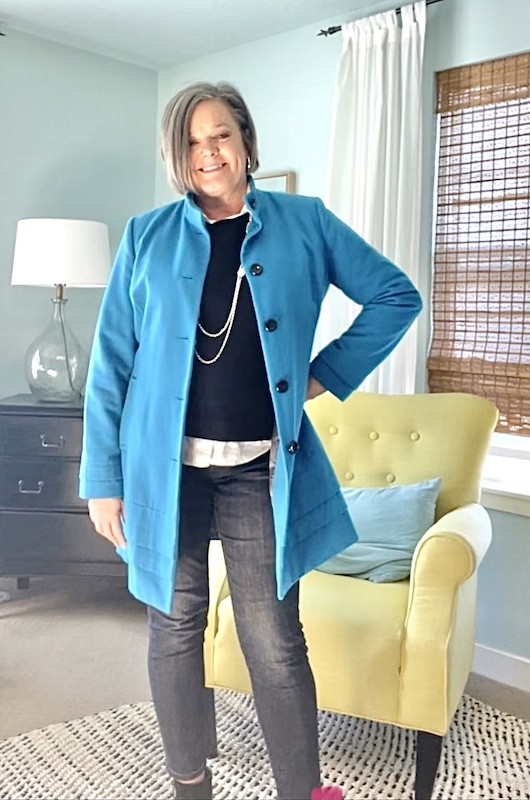 It looks great with black jeans, blue jeans, dresses and skirts.
Plus is keeps me nice and warm.
If you are looking for a fun long puffy coat you will love this plaid one from Banana Republic.
Long coats always give me the feeling of being put together.
Even if I only have on leggings and a sweatshirt underneath!
Long coats just have that "high" style look even if they are not expensive.
Other fun fashion posts
Tiered skirt with white belted blouse
My favorite cropped plaid pants
Long Tunic over distressed jeans
SHOP