We celebrated our youngest daughter Emily's 30 birthday last Monday! I want to share with you how to decorate for a fall dinner party that is really easy!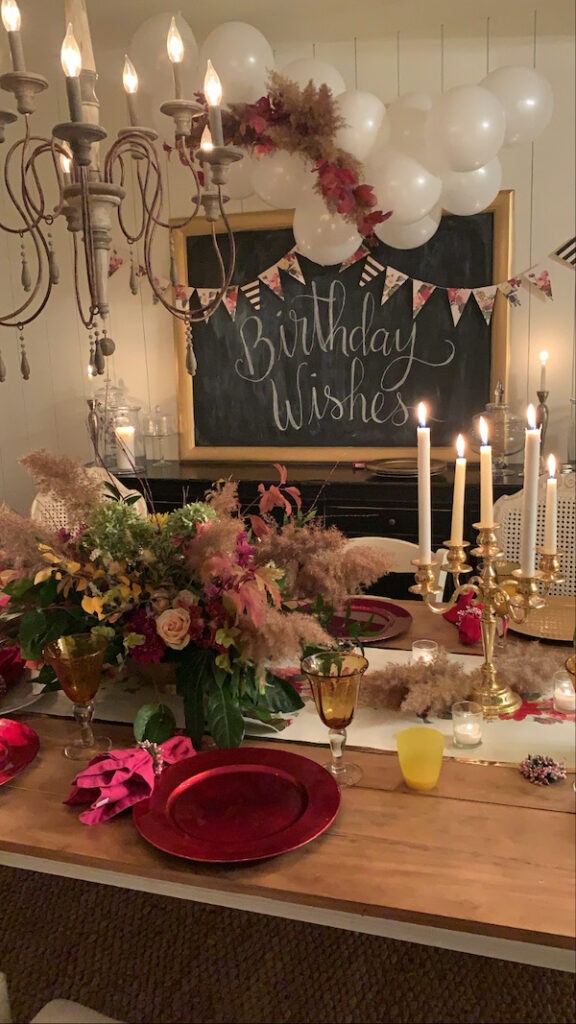 Emily is pregnant with her second baby and has had a lot of nausea 🙁
The only thing she is eating lately is waffles. So we celebrated by having a breakfast for dinner.
Waffles and fruit were the star. I will share how I make them yummy later in this post!
How to Decorate A Fall Dining Room
I started with the color scheme and it was easy to pull together using My Minds Eye paper botanical runner and matching Paper garland.
The botanical runner is so pretty with the red, pink and peach colored blooms and dark green leaves.
The edges of the runner are gold for an elegant look.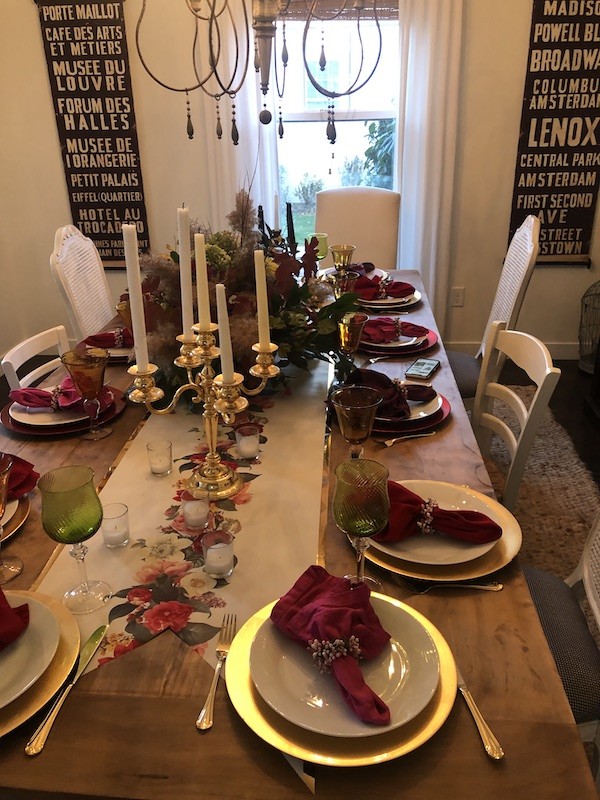 The botanical pennant banner has the matching floral printed on each pennant along with a few black and white striped pennants that really add a fun look!
I hung this pennant banner over my chalkboard.
You might remember when I used this chalkboard for Emily's peach and navy blue wedding reception as well as how I decorated it for Christmas.
Decorate with Balloon Garland
A balloon garland always adds some drama to any party. For this fall dinner party I used cream colored balloons and strung them together using a needle and thread.
I sewed them together where the knots are tied on each balloon and slid them along until I was happy with how many I had.
It is Super Easy!
To hang the balloon garland I used two push pins into the ceiling and tied each end of thread onto the pins.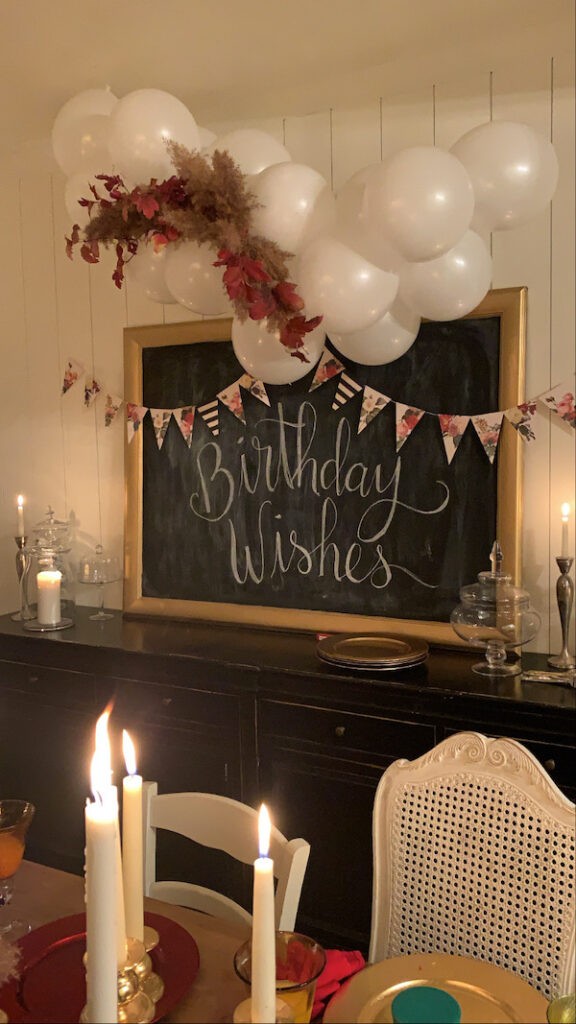 To bring in more of the fall look, my daughter Madeline took flowing fluffy grasses that we have growing down by the lake and created an arch using light weight wire.
It was a little tricky connecting the arch to the balloons.
We used white thread to wrap around each end of the arch and tied it onto the balloon arch.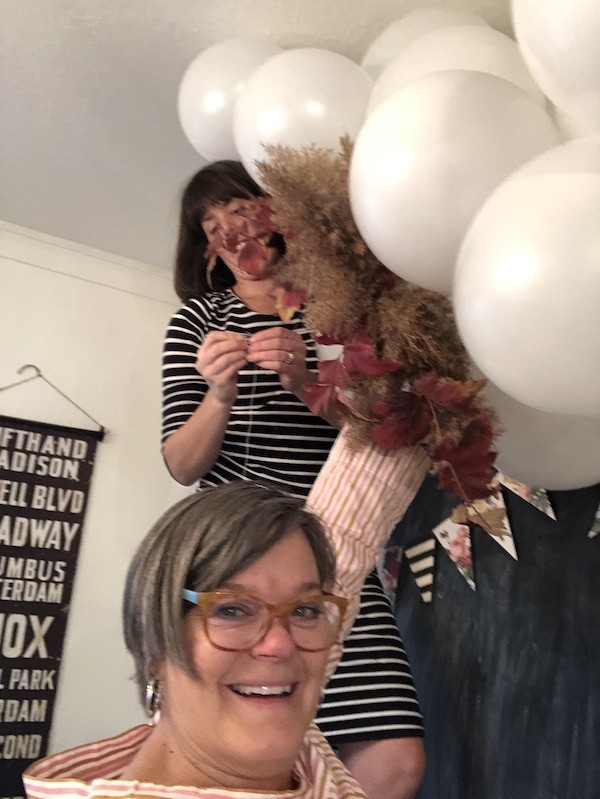 It was a little tricky adding the arch to the already hung balloon arch and we were laughing so hard.
I have also made a white balloon arch for my granddaughters Honey Bee themed 1st birthday party here and another pink and white one with faux flowers for our mother daughter party here.
Fall Floral Centerpiece
My other daughter, Madeline created a stunning flower centerpiece with grocery store flowers!
Madeline bought the flowers on clearance at the grocery store.
SCORE! We both love using inexpensive grocery store flowers to create centerpieces.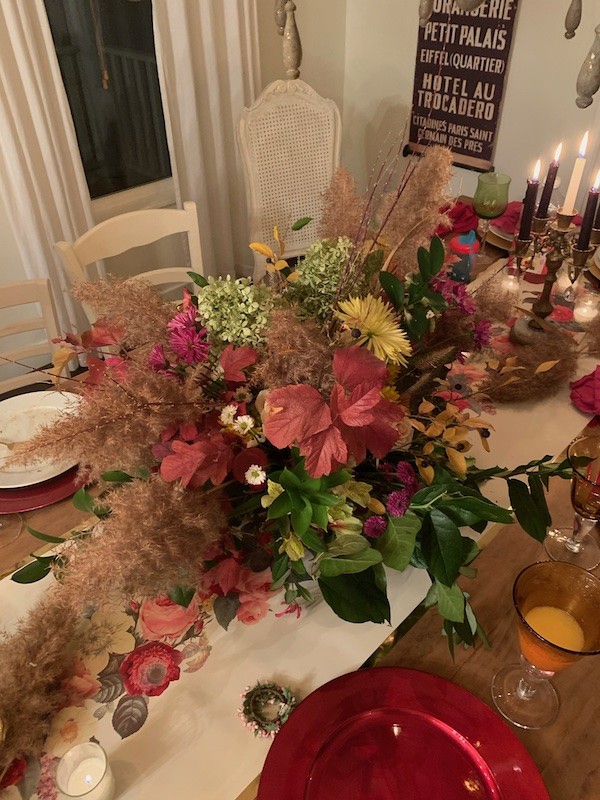 Then she added a few branches with fall leaves that she snipped from yard.
Down the by the lake there are these fluffy grasses and she clipped a few of those to add some texture and drama.
Amazing don't you agree?
Place Settings
You know how much I love to use my chargers, whether I used my gold ones for this Romantic outdoor tablescape, silver chargers on this beachy tablescape or red ones mixed with my white dinner plates and for this fall dinner party there was no exceptions!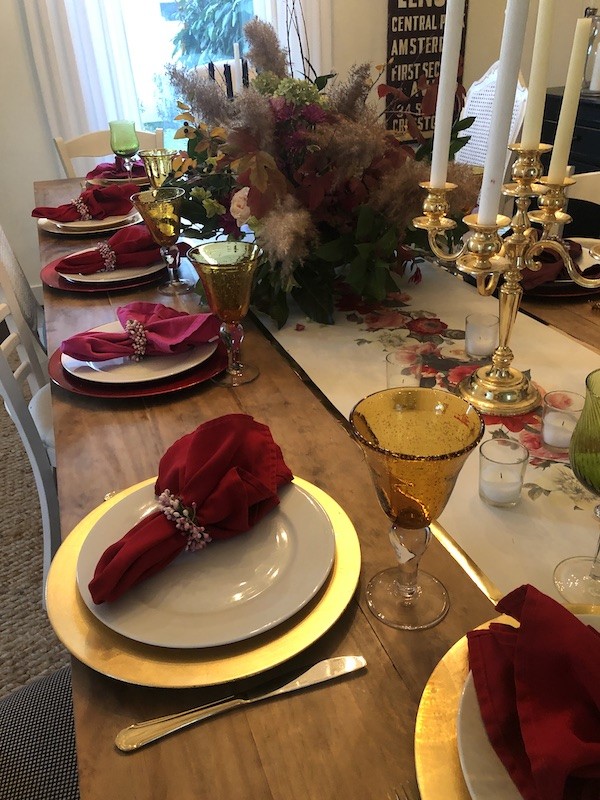 Because of the gold stripe on the table runner I used my gold goblets mixed with green goblets and gold flatware.
For the cloth napkins I used a mix of red, pink and purple colored ones. I cinched them with mini pink and white berry wreath napkin rings.
Adding Some Sparkle to Fall Dinner Party
Of course what is a dinner party without a little sparkle?
I brought out my thrift store candleabra's as well as lots of small votive candles and put them down the center of the table.
Do you remember how this dining room used to look? You can see it here when it was blue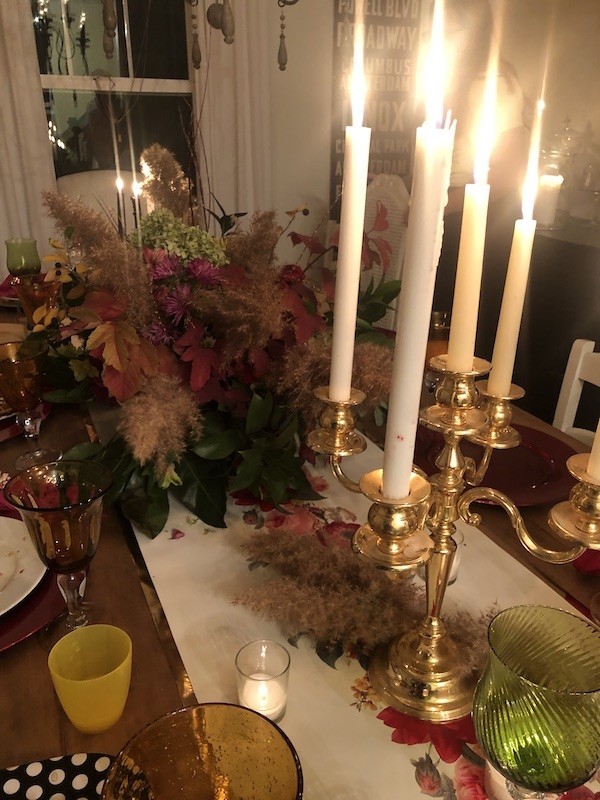 Waffle Recipe
It is so simple and yet makes a huge difference in the flavor.
I use Kruteaz buttermilk pancake waffle mix.
To make them yummier I use a mix of orange juice and milk, 2 eggs, vegetable oil and 1 tsp vanilla!
That's it! Try it and let me know how you like them!
I didn't take one picture of the waffles but I figure you know what they look like haha.
Elegant Fall Dinner Party Success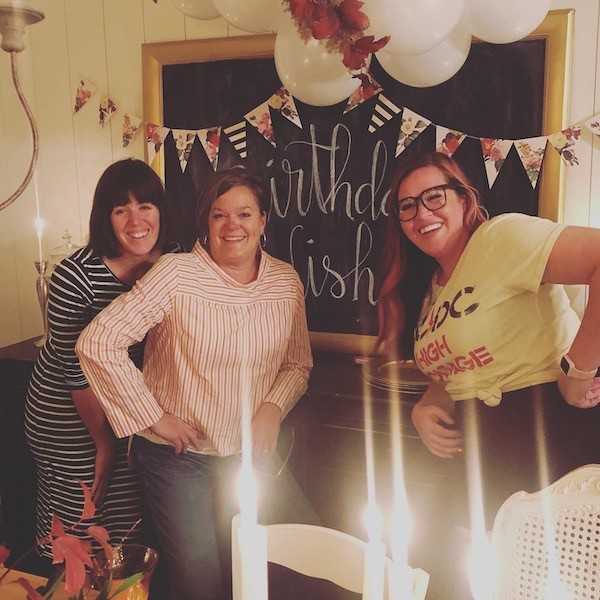 Our Birthday girl pictured on the right was so happy and surprised!
We actually surprised her with this fall dinner party and when she walked in we had all the lights off and yelled SURPRISE and she was blown away! It was so fun!
Pin This Photo For Later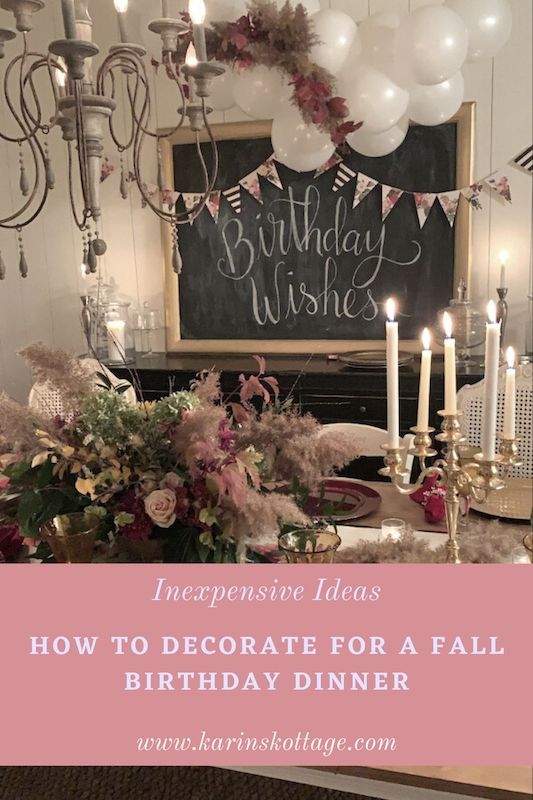 Shop This Fall Dinner Party