How to create a romantic outdoor dinner date at home for two
Inspired by the new book French Country Cottage Inspired Gatherings by Courtney Allison. I decided to try and create a romantic outdoor dinner at home for my hubby and myself.
I am so excited to share the details with you today! It was very inexpensive to do this tablescape and I think you will be amazed with how it turned out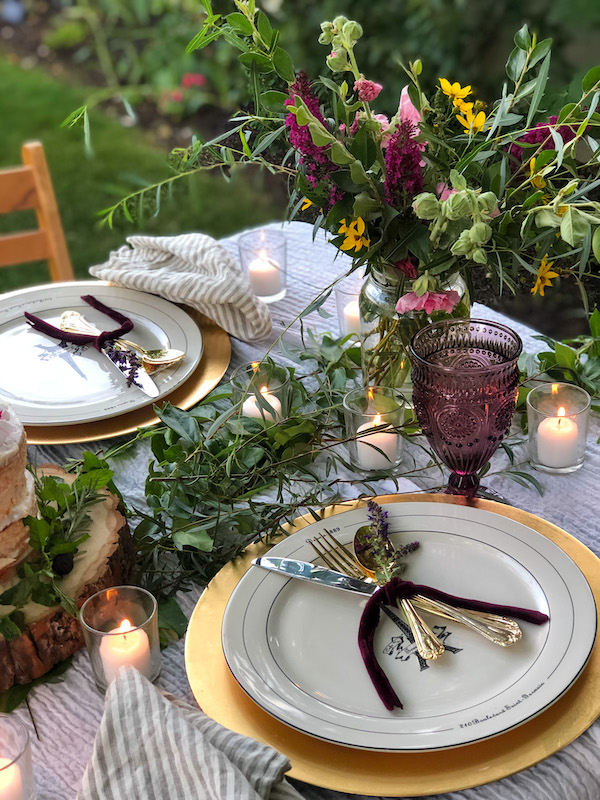 Create the Romantic outdoor setting
The first thing I did was to decide where to have this little romantic outdoor dinner. I found the perfect place in the corner of the backyard underneath a big tree.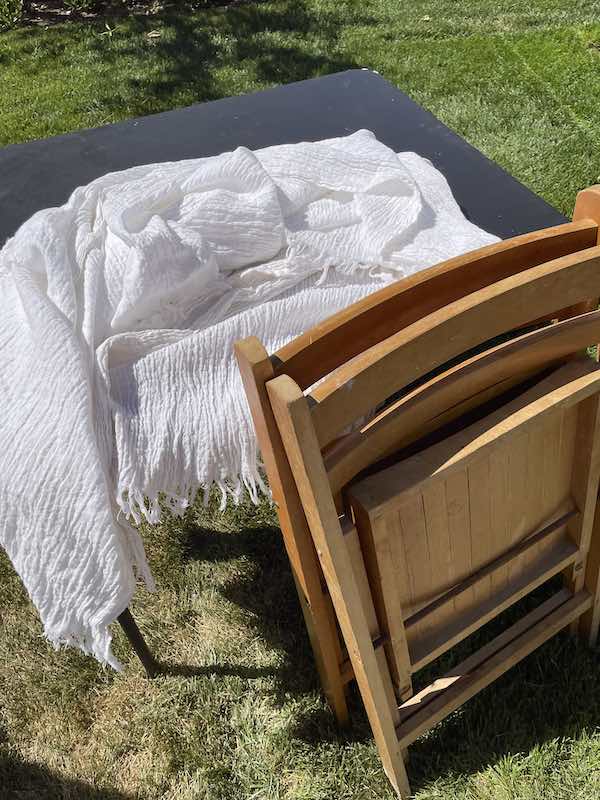 I had my hubby grab the card table from the garage and set it up.
The yard slopes quite a bit back there so he placed some lumber under two legs to make the table level.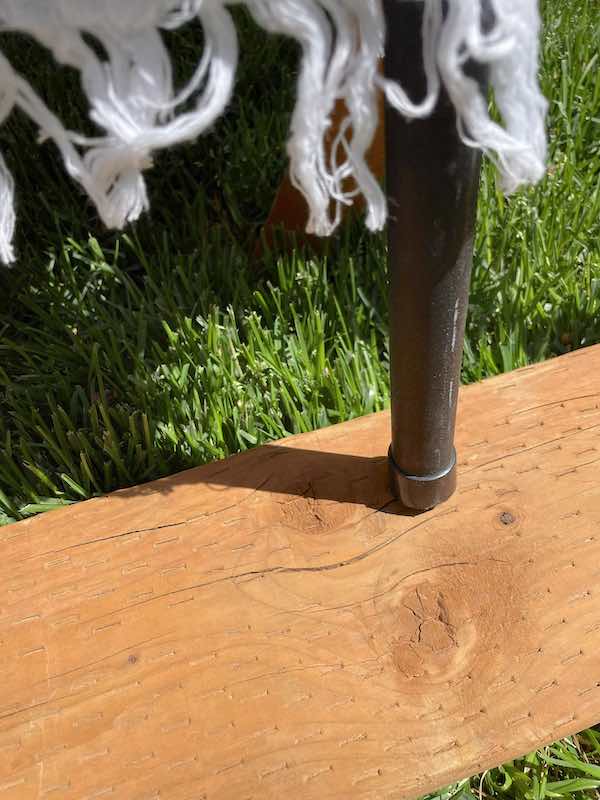 We have had these little wooden folding chairs for quite a few years and we were so lucky to find them at a garage sale for next to nothing! They just added that quaint feeling to my romantic outdoor dinner at home.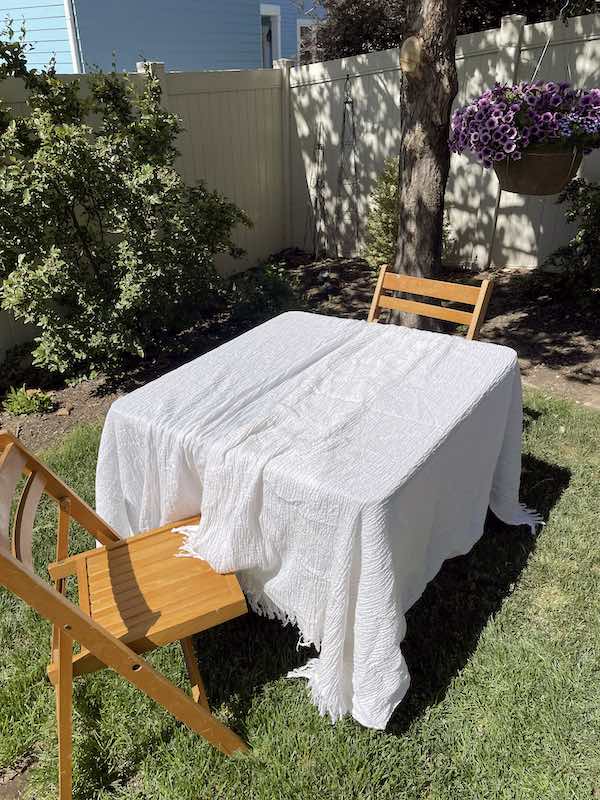 Setting the Romantic outdoor dinner table
Gathering up all the things I want to use to set the table is the most fun. Shop your house for things that you can use.
I love to use cloth napkins in my tablescapes. These beautiful striped linen napkins are from Crown Linen designs and I just love how they look!
My purple goblets that are perfect for Valentine's Day. You can purchase them here.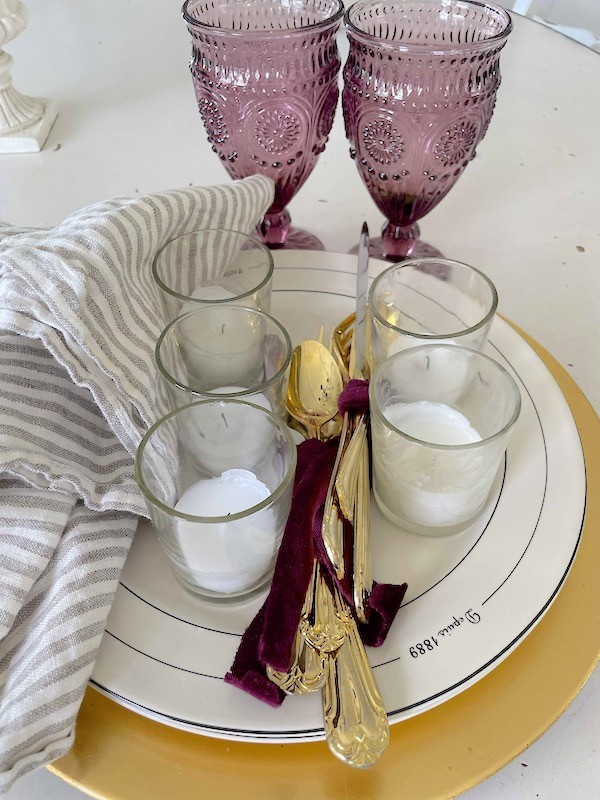 For the tablecloth I used two throws from Ikea but they don't make them any more. I will link to some similar below.
Gold chargers, Eiffel tower plates that I bought in a shop in Chicago years ago set the tone for a romantic evening to come.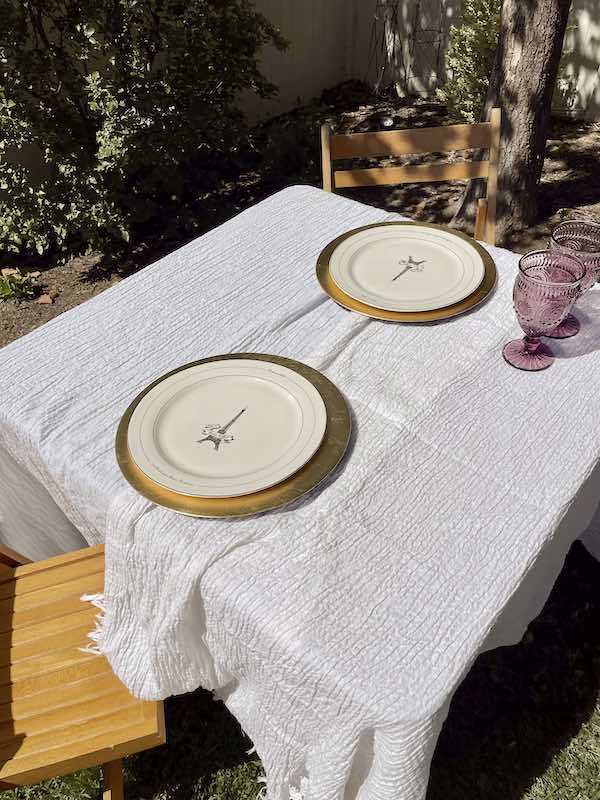 Place settings
For each pacesetting I took a cue from French Country Cottages book where she showed flatware tied with velvet ribbon.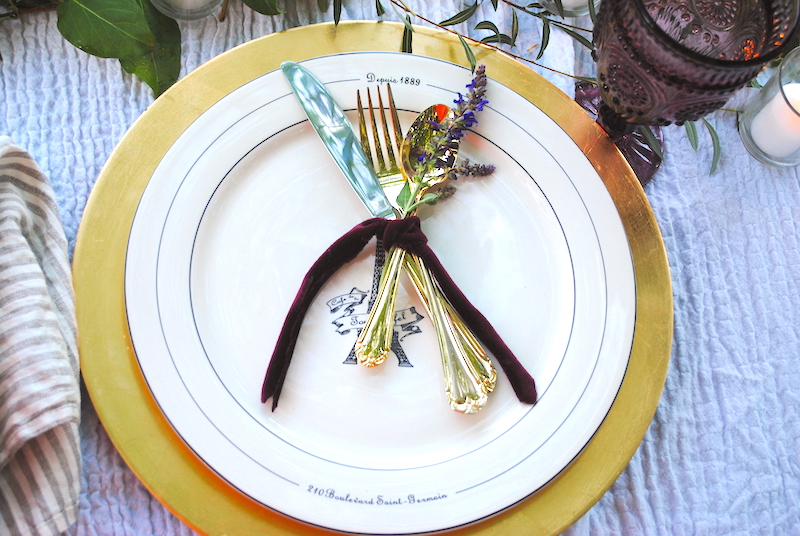 I didn't have any velvet ribbon on hand but I did have some stretchy velvet fabric.
To make some of your own cut 1″ skinny pieces and pull on each piece to get it to wrap around itself to look like ribbon.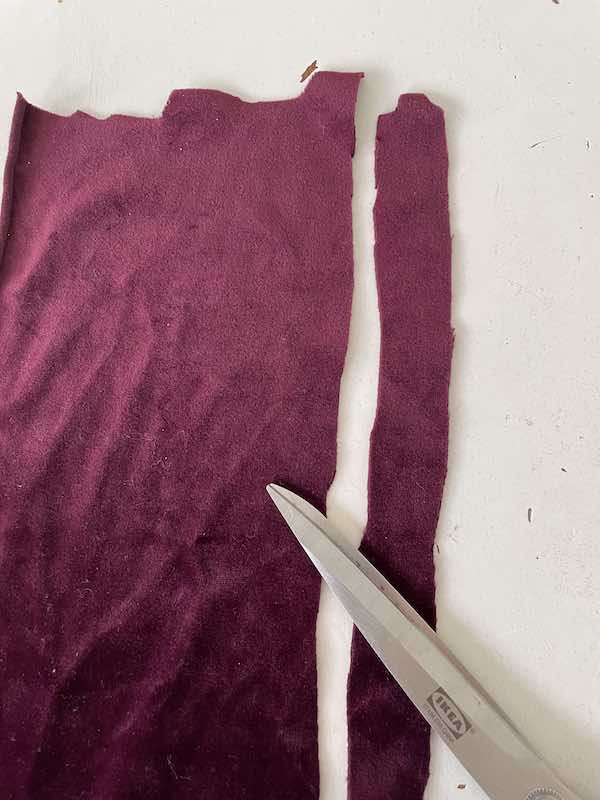 I think it did the trick!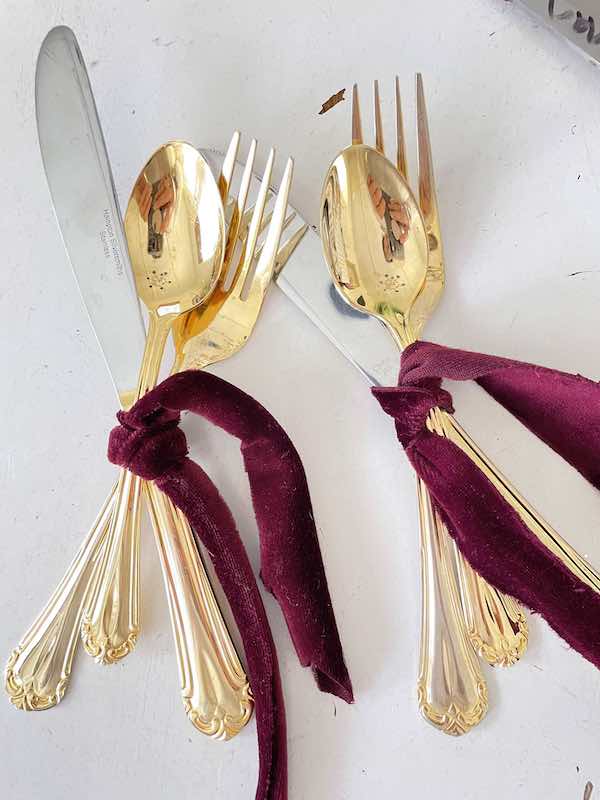 I added in some blue salvia for a little extra little touch.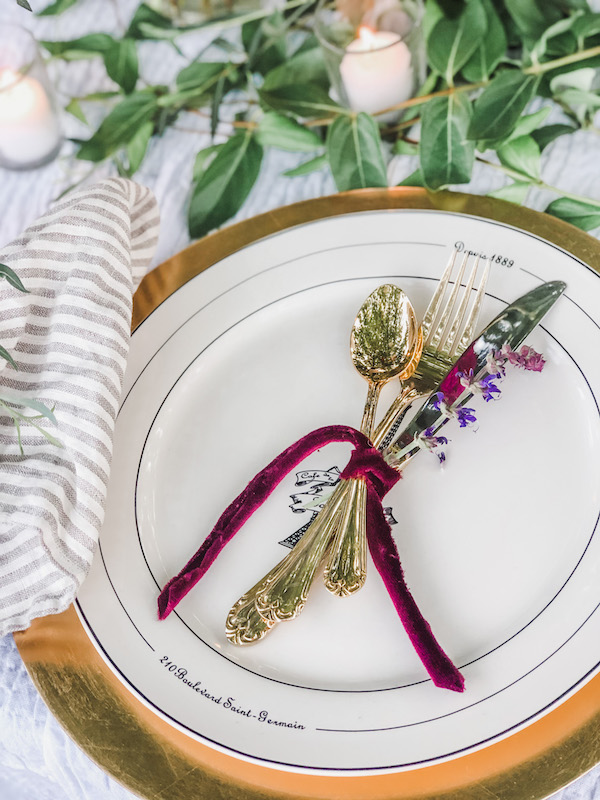 Floral Centerpiece
Don't you love it when you can create a centerpiece basically for free! I used a tall mason type jar and filled it with flowers from around my yard.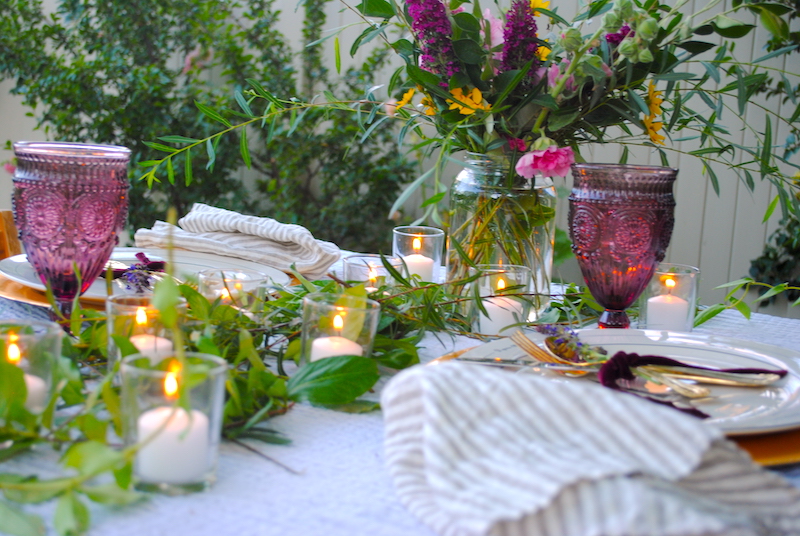 Butterfly bush flowers (deep pink colored flowers), light pink holly hocks, mini yellow daisy's and greens from a few different plants that I don't know the name of made for a pretty bouquet.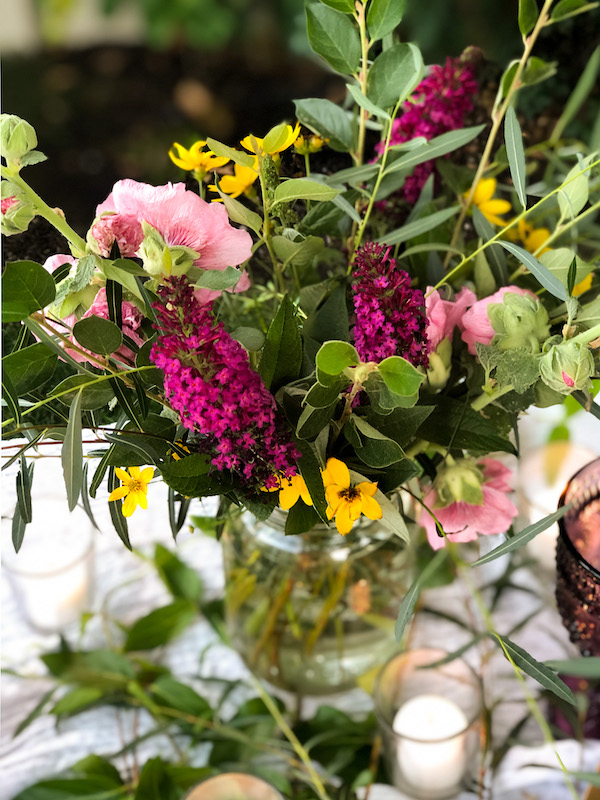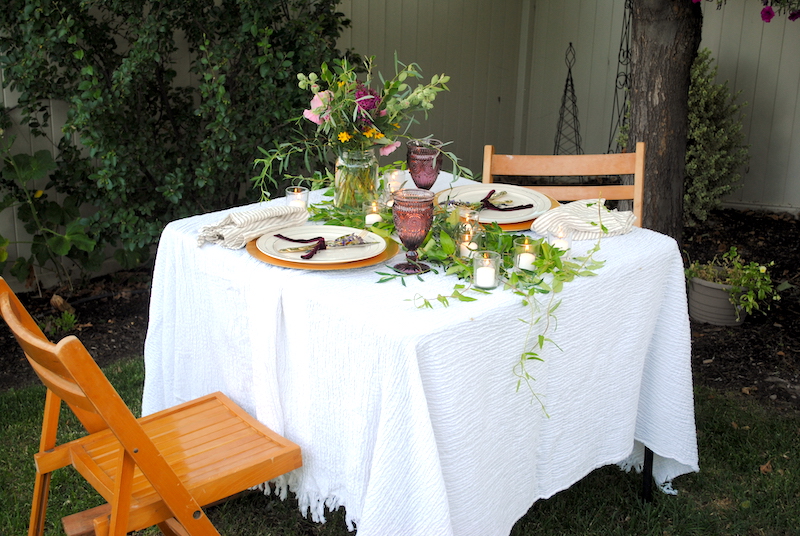 To bring in more of the outdoors to the Romantic outdoor dinner at home,
I clipped a bunch of honey suckle vines and other greens and laid them down the center of the table.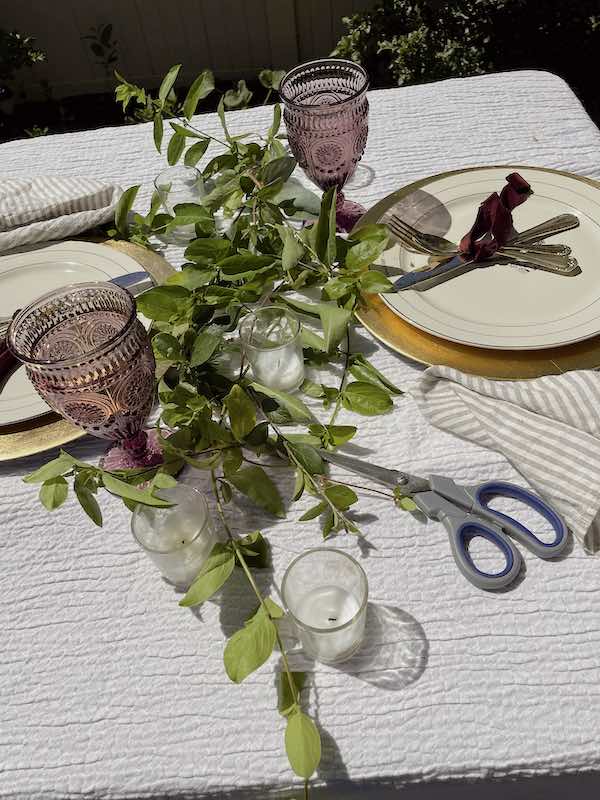 Add in lots of votive candles. So simple and yet makes a huge impact. Don't you think?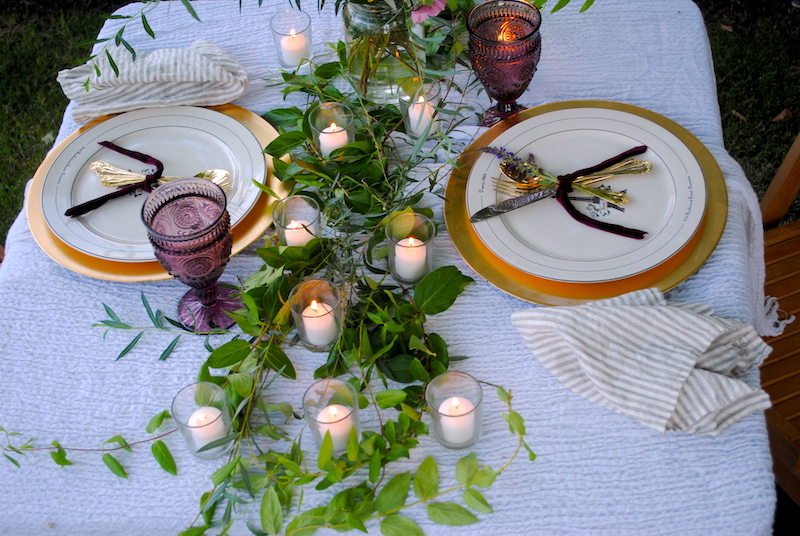 The glow of the little votives look so beautiful as the sun goes down.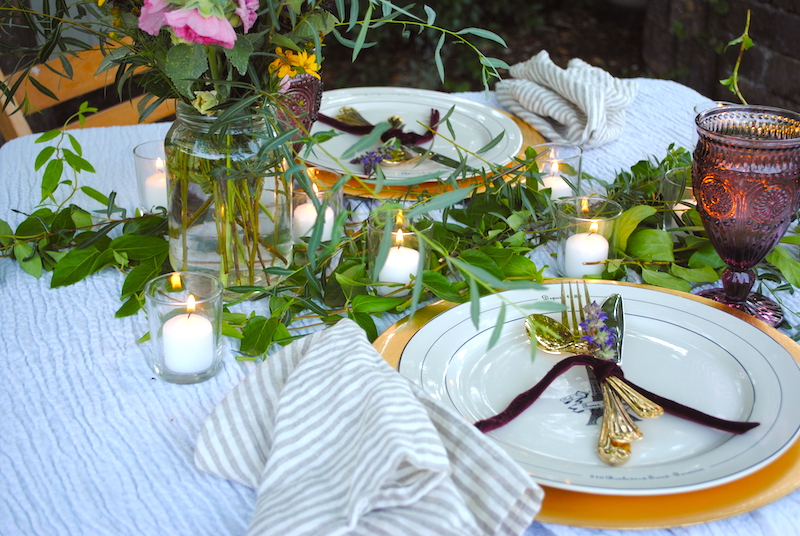 Gold chargers for a romantic tablescape
The gold chargers set off the beautiful French Eiffel Tower plates that I bought years ago while traveling in Chicago.
They really made this romantic dinner feel like we were in Europe!
I have used these gold chargers in this Elegant rustic tablescape post you may have missed.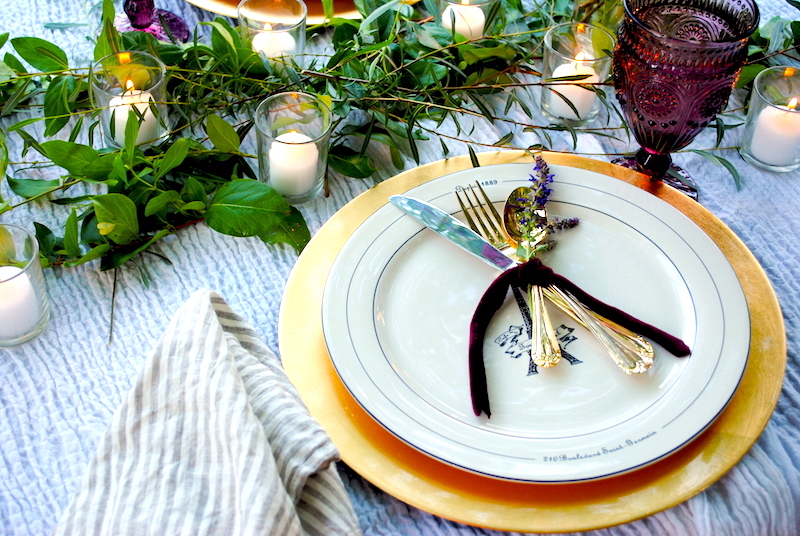 Purplish pink goblets
These purple cut glass goblets from Pioneer Woman are truly one of my staples as I am sure you might remember seeing them at Easter here and in a pretty fall Tablescape here.
They are very inexpensive but really look and feel expensive.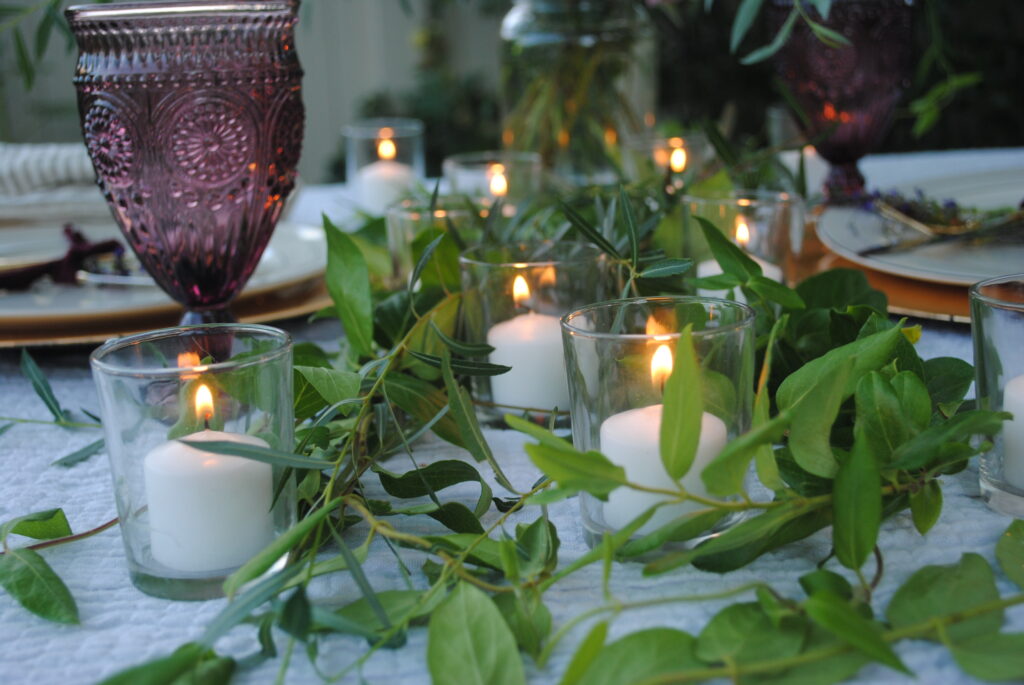 Easy way to create a romantic tablescape
This romantic outdoor dinner at home really turned out to be such a special night for us.
It is amazing when you start to think outside of the box of places to have dinner right in your own backyard.
These easy tips and tricks for setting a table for two could be perfect for an anniversary dinner or Valentine's Day dinner.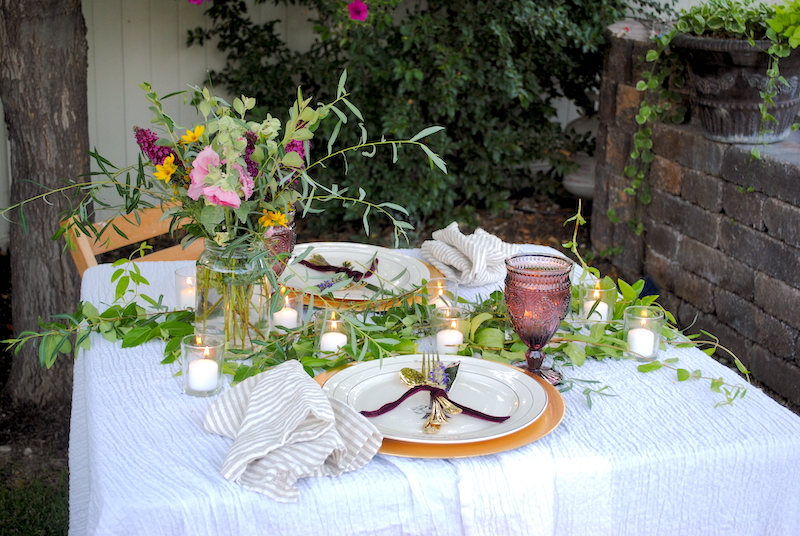 More about our Romantic outdoor dinner at home and how pretty it looked when the sun went down and the votive candles started flickering. Plus recipes that I used to create the grilled dinner!
It was truly romantic and magical.
UPDATE- I am so excited to have been one of the top 10 in the cottages and bungalows tablescape contest that was held in June.
Save this video pin for later
Shop This Post
More tablescape Ideas
How to style a coastal grandmother tablescape
Easy Valentine Table Decor Tips and Tricks