Turn thrift store chair into French Beauty..EASY WAY!!!
Yes this beautiful French looking chair came from a Thrift Store!! These chairs were rag tag looking when I first found them but I could see the potential in these chairs! Just look at the caning, the carved detail up at the top and around the seat area. I knew I could turn these thrift store chairs into French Beauties.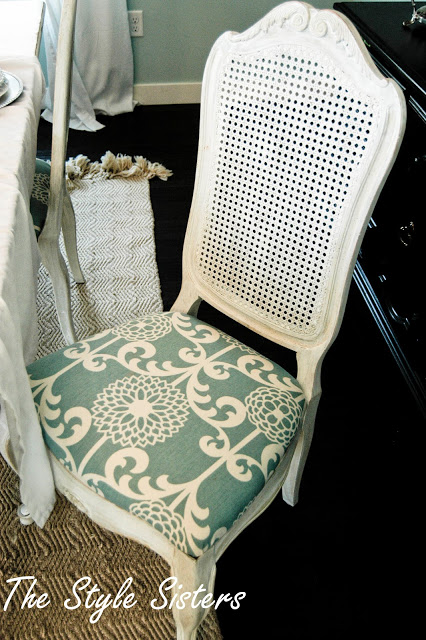 Before
Here is the before- These chairs were old and way out of date. The paint finish was an antiqued yellow blah color. Striped peach, beige and and green seat coverings were straight up 1980's.
I swear I remember seeing this chair in some of my friends houses growing up!
These Thrift store chairs were just waiting for some love!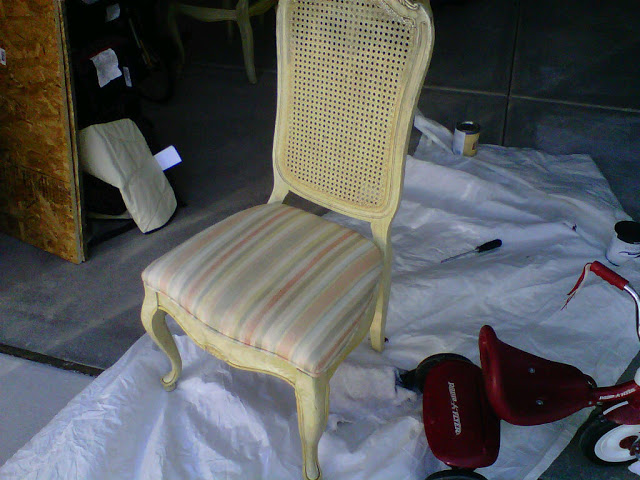 Thrift Store French Beauty Details
Notice the curve of the legs? That is French looking! Love that!
See the the little carving detail at the base of the chair. That is French looking too!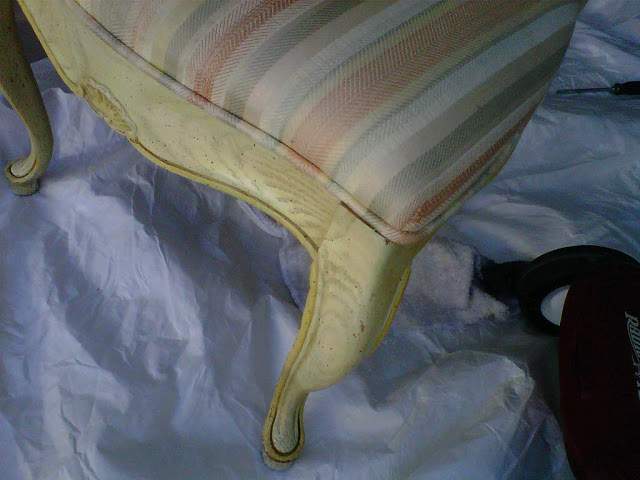 Now just look a the cane backs all in perfect condition. The pretty carving at the top and down the sides just speaks French to me!
I could just picture these chairs all cleaned up and painted white with new seat covers!
Making over dining room chairs is not new to me. Remember these thrift store chairs?
Or my all time favorite thrift store round table and chairs that we redid?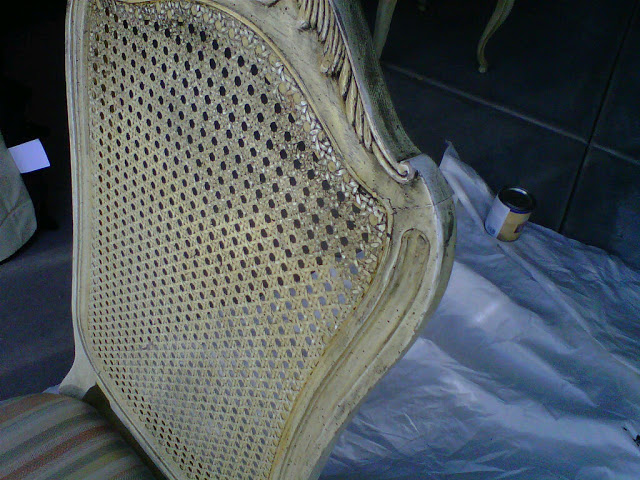 Beginning the transformation
First I enlisted the help of this cute girl! Madeline, my oldest daughter working hard to help her mom 🙂 Madeline also has a blog, Eyes of Mad Blog and she does the most amazing baby showers!! Here and Here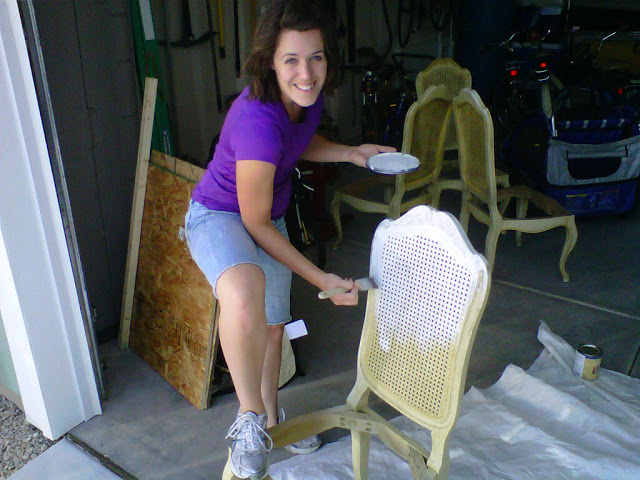 Lightly Sand and Paint
The basics of this transformation was lightly sanding and acrylic water based paint. After lightly sanding we painted and then wiped off the paint in certain areas so they looked like they had an old patina to them.
I love the difference paint can make!
Remember these chalk paint projects?
My black entertainment center to duck egg blue?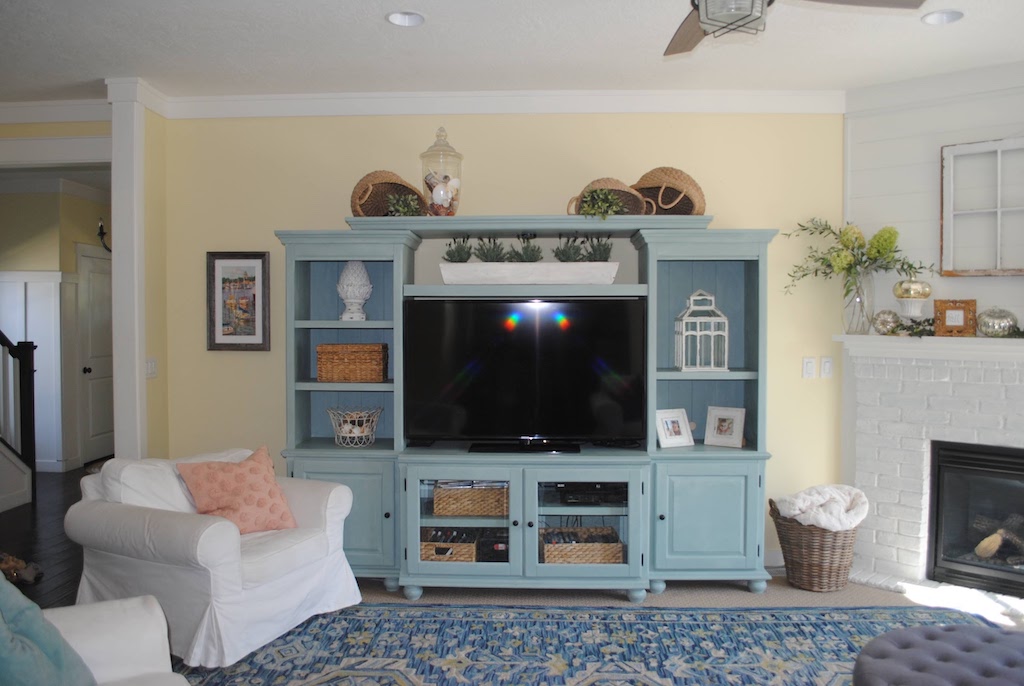 Chalk painting my moms dresser?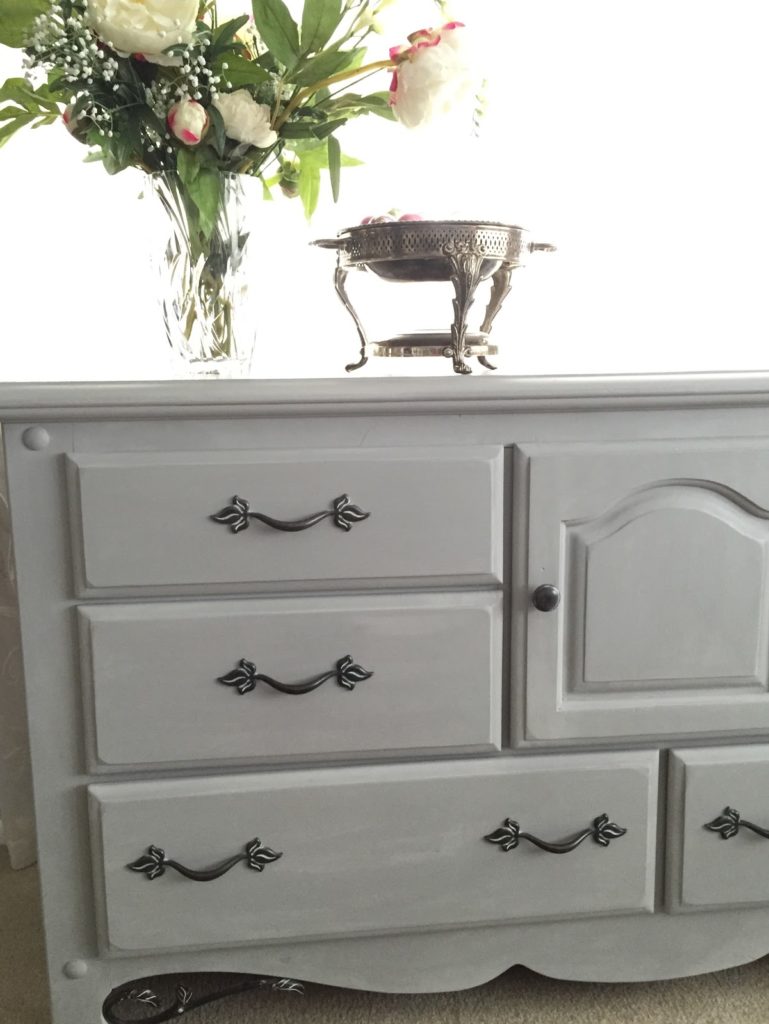 Then have you seen my latest chalk paint project- our master bathroom vanity? You gotta see the before!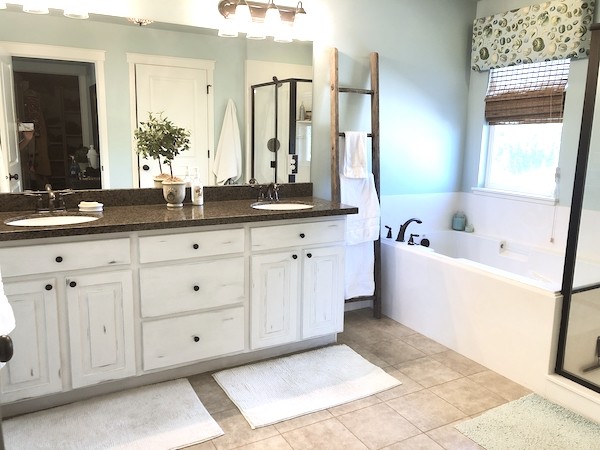 Ok back to the chairs- The cool thing about these thrift store chairs, is that the oils from the old paint came through and slightly yellowed the white paint to make them really look like they have a patina on them.
It was magic I tell ya!
Sanding to add weathered look
To create an aged or weathered look, we lightly sanded them so that they looked like we plucked these out of an old French Chateau.
I am hoping to find some cool chairs like this in our Italian Palace that we recently bought and are in process of refurbishing it! Covid slowed this down quite a bit but now things are starting to happen!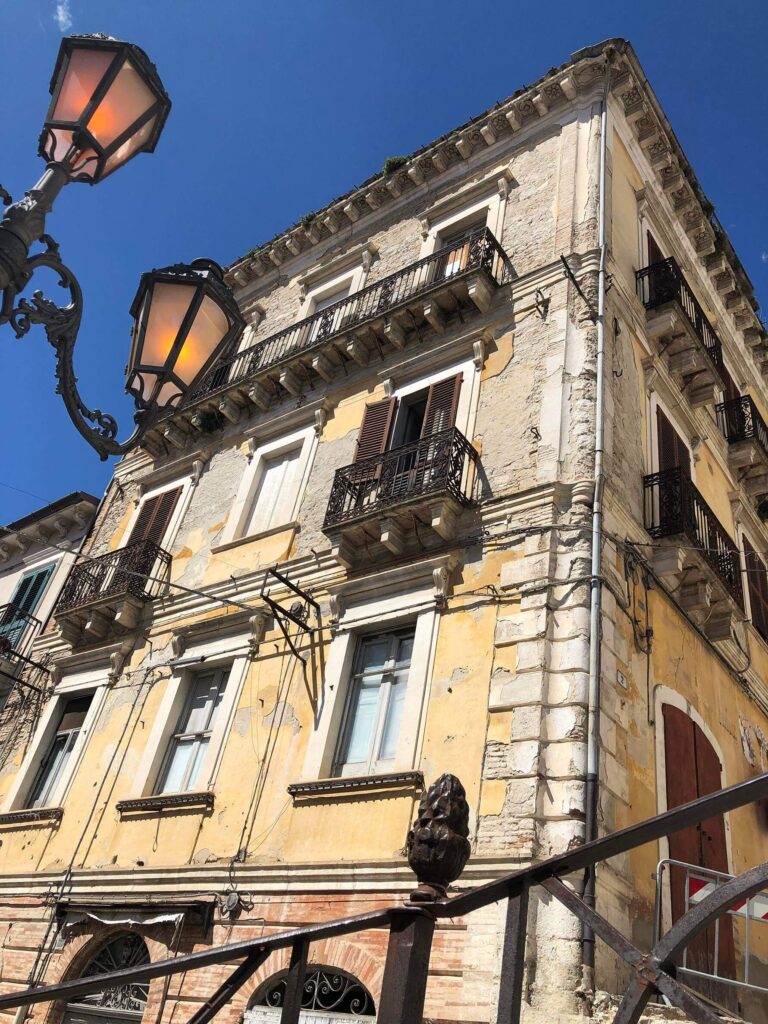 Here is my thrift store dining chair beauty all painted up. No primer! Painting the chairs was easy because we did not have to be perfect. The messier the better.
You can see how some the old oils have come through around the carved area. So pretty!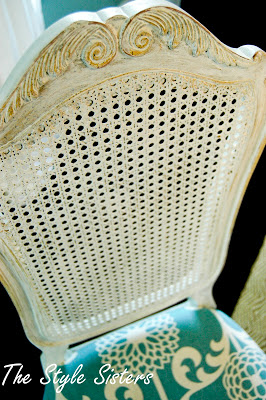 Changing out the Seat Fabric
I had to change out that rocking 1980's fabric to something a little more elegant looking. I found this gorgeeeous fabric at Joann's fabrics and had a coupon and got it for a great price.
We took off the old fabric and stapled on the new! Super easy!
Update– recently I changed out the blue and white fabric to a black and white mini check. Here is the tutorial and a video.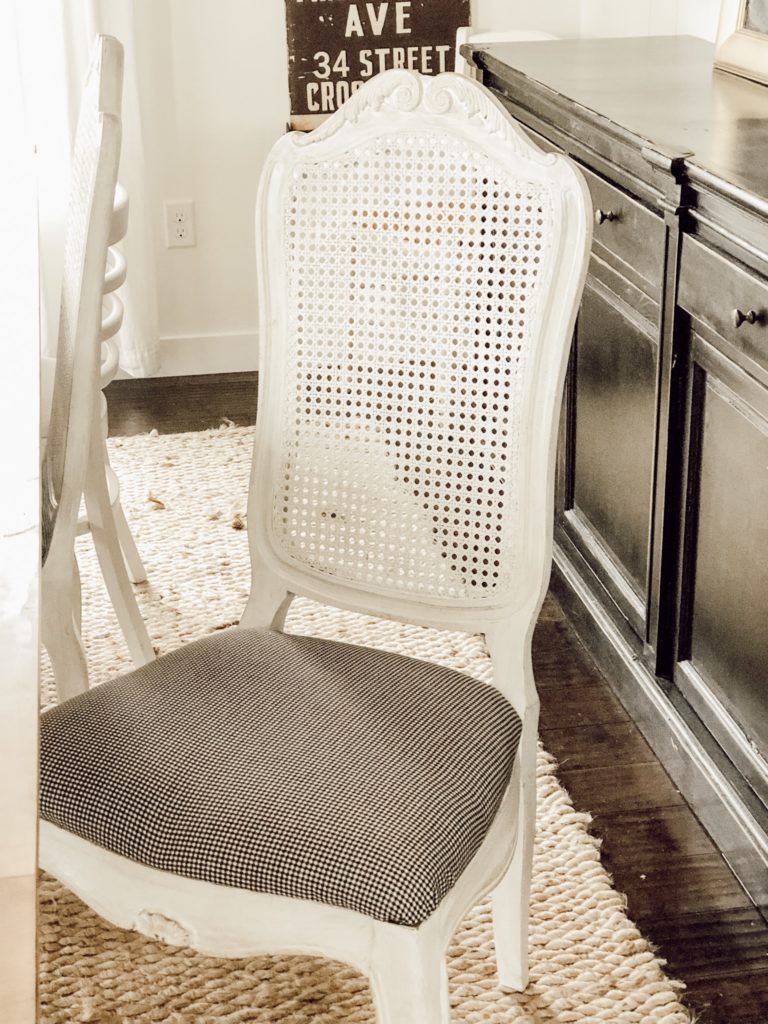 I am thrilled with how these thrift store chairs turned out! So simple! All that was need was just a little elbow grease and some free child labor he he he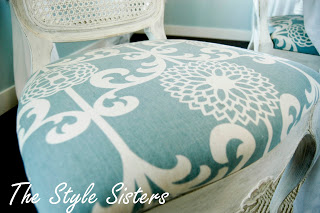 These chairs are really comfortable to sit in too. We have many Sunday dinners in this room with lots of family and friends. I think I have had up to 15 or more in this dining room at a time!
One of my favorite tablescapes in this room when it was blue was my Under the Sea themed dinner party!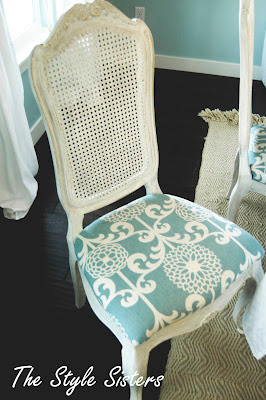 Parson Chairs
After we put the newly refurbished dining chairs back in the dinning room and oohed and aahed over how they looked, my beige parson chairs looked very boring that sit at each end of the table.
No Sew Addition to Parson Chairs
First, I simply took some of my left over fabric folded into thirds and tucked one end into the seam where the seat and back come together. Second, I brought the fabric up and over the top to hang down the back of the chair.
I decided it needed some "jewelry" so I scrounged around in my messy buffet drawers and found I had these old goldish looking sea shell napkin rings. Simply cinching flowing fabric with the napkin ring and tying on some leftover cording (stuff you use to make pipping) it looked awesome!
I have also used this cording to make this coastal wreath that I recently made and hangs in the dining room.
HELLO MY CUTENESS! NO SEWING INVOLVED!!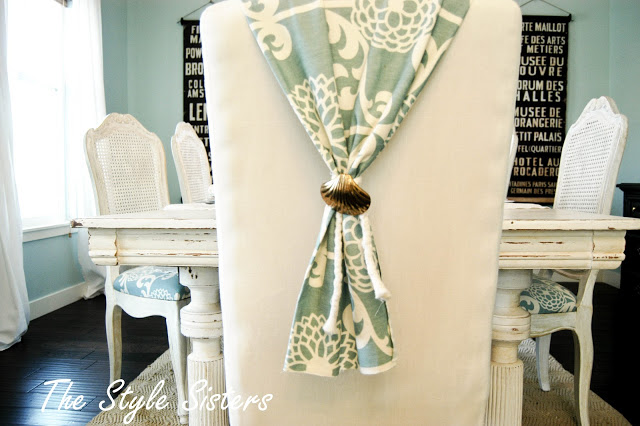 Just think, I can change out the fabric on a whim for a different look! Like I did here.
I LOVE LOVE LOVE THIS!!
(mine and my sisters fav saying…it has to be amazing to get 3 loves)
Here is my Gorgeeeous dining room all prettied up. You can read more about all the other thrift store items in this room here.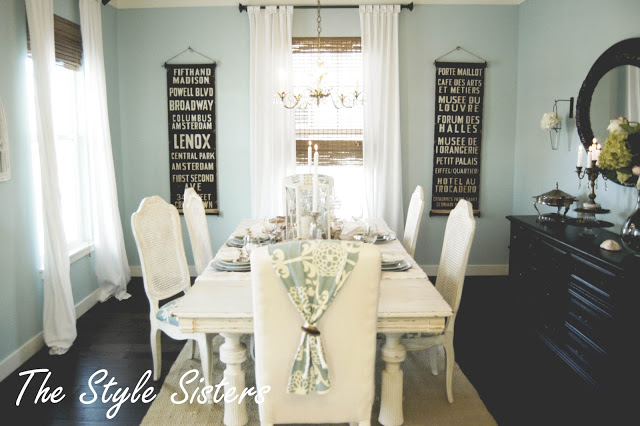 Update
I have since added a new planked table top to this dining table, painted the room white and added shiplap and added a large chalkboard above the new sideboard. The white drapes, bamboo shades that I found for cheap and black and white wall hangings have stayed.
There is always something changing here at Karins Kottage (formerly The Style Sisters)

This chair makeover was featured on The DIY Show off!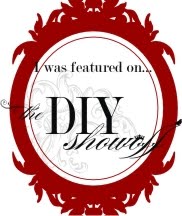 Click to Shop

Pin For Later