WELCOME TO CENTERPIECE WEDNESDAY
UNDER DA SEA PART 1
For my Centerpiece I chose to use my Ikea lantern filled with shells and a tall white candle surrounded by two other glass jars filled with sea shells and "King Triton"s Tridents" more pics of this later in the post.
The gorgeous satiny fabric that is flowing all down the center of the table is actually a $5.00 bolt of fabric from Wal-Mart! Yes indeedy cheap it the only way to go! It looks so romantic and kind of sexy don't you think?
My incredible chandelier was purchased at a consignment shop here in Salt Lake and it just adds that sparkle to the room. My hubby installed a dimmer switch so we can light it up or turn it down low for a more romantic feel.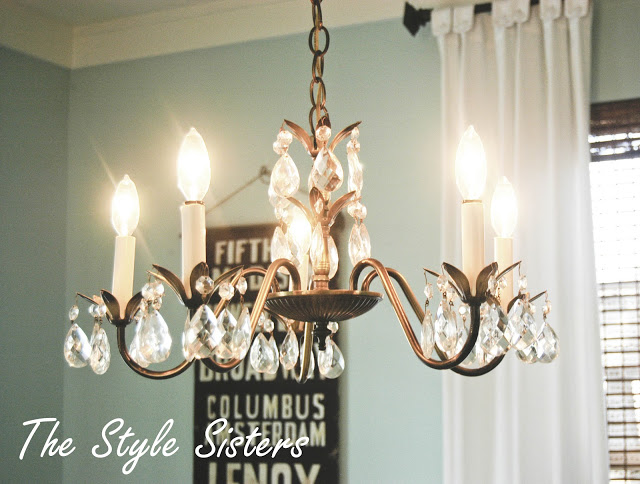 I actually found these slightly green salad plates after we shot all the pics but I just had to show you my deal! I found these beauties at Tai Pan for only .99 each!! Are they not perfect or what?!
Here is the table in all its splendor!
These blue dishes are also from Tai Pan but they don't have many left…I wish I could find dinner plates in the pattern and color! Notice the sea horse chocolates sitting in its own shell…they make such a nice gift for your guests.
More of these delectable chocolates sitting ready for me to eat! Actually I have already eaten a few ha ha!
You will notice I used silver charges, silver candle sticks, mixed with King Triton's gold Tridents and a gold chandelier but it all works beautifully. I love my white napkin rings and I wish I had more to sell but they are no longer making them 🙁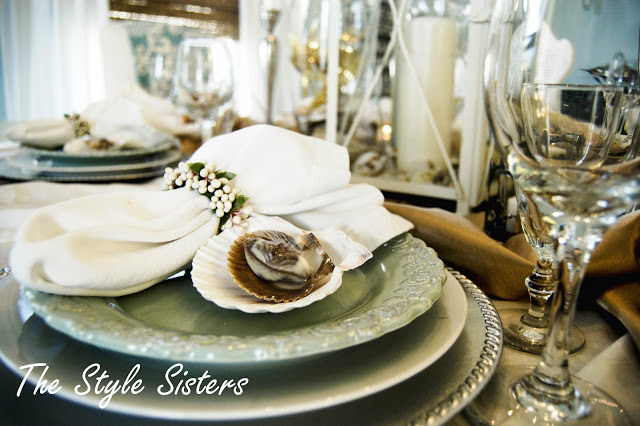 Lusciousness with the use of that fabric
Madeline came up with this idea of putting all the gold forks in the jar. I leave this on my buffet most of the time..it is so fun. By the way….those gold forks are from Big Lots..ha ha years ago!
These silver candle holders are available here on my blog a set of 4 is only $8.75!! Get them while they last!
Please link up to Centerpiece Wednesday and share your ideas with everyone!
I will also be linking up to
document.write('