This is an affiliate post and I may receive a small commission at no extra cost to you if you purchase any linked items in this post. This helps me keep my blog going.
Rose themed thrift store cloth napkins. What says coastal grandmother summer tablescape more than pink rose napkins? Have you ever used thrift store napkins? My sister gave me some that she found at a thrift store. They have the look and feel of linen.
I can't wait to share with you how to style a coastal grandmother summer themed tablescape.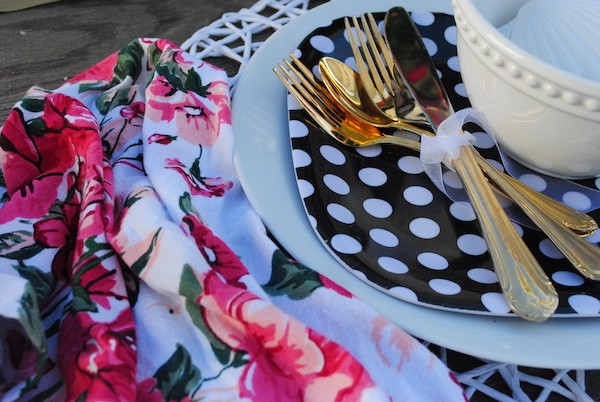 What is the coastal grandmother style?
If you are fan of that new phrase, Coastal Grandmother style, then you know that normally it is blue white and yellow. Mostly brought on by the older movie "Somethings Gotta Give" with Diane Keaton and Jack Nicholson.
The house in the movie is so fabulous in blue and white and truly stands the test of time. The perfect classic beach look! You can shop these items here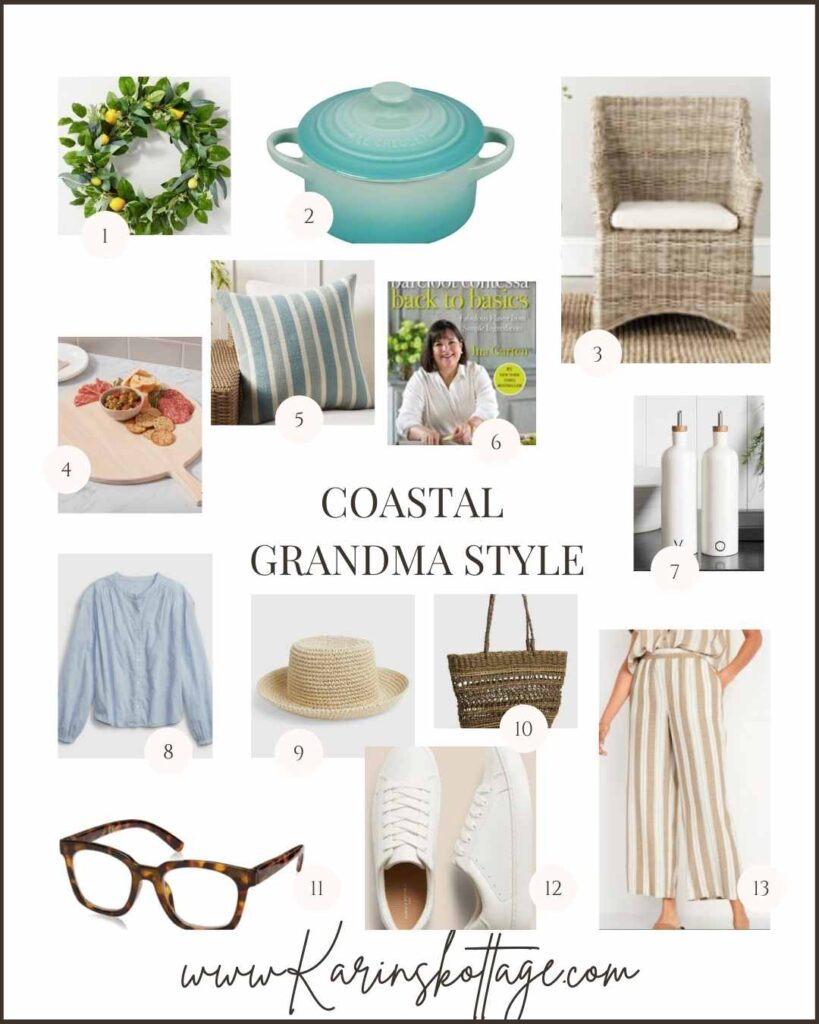 But, I think pink and white should also be included in this theme that seems to be rocking the world. It is soft and pretty and reminds me of what a grandmother would have in her beach cottage.
Don't you agree?
Rose themed cloth napkins set the tone
As you know if you have been following me for any length of time that I love to set a pretty table. Cloth napkins are a regular appearance in all my tablescapes.
Cloth napkins really set the tone especially if you don't use a tablecloth. Fabric napkins just have that cozy casual and welcome to my Kottage feel.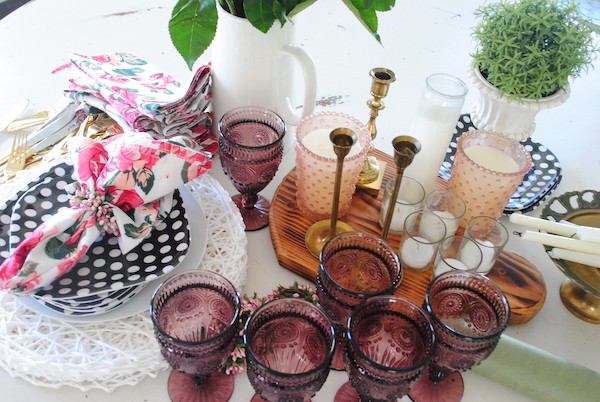 How to style a coastal grandmother tablescape centerpiece?
Can't you imagine a coastal grandmother going into her little garden and clipping some of her roses to put on her table? (None of my roses have bloomed yet so I bought mine from Sprouts grocery store)
Of course a coastal grandmother would also use her collection of sea shells on her table.
Bringing the sea shells into play was just what I needed.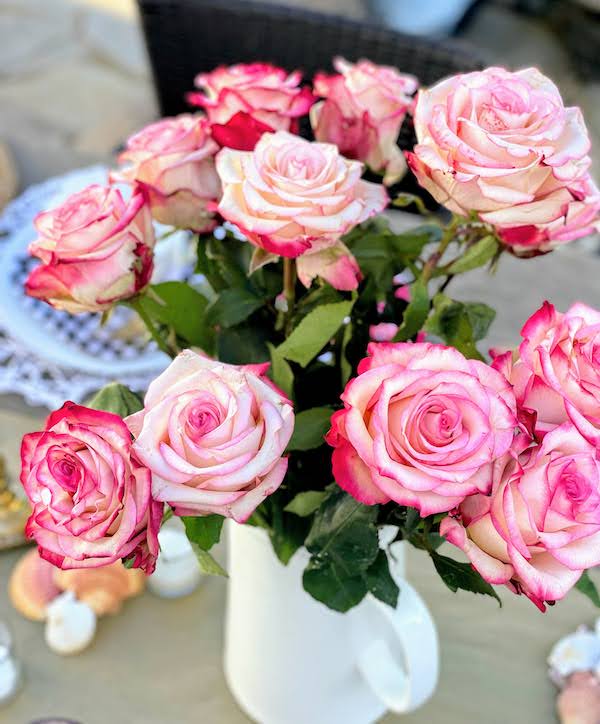 First I placed sea shells down the the center of the table but it looked kind of naked. So I added one of my favorite runners. Green masking paint paper!
Say what?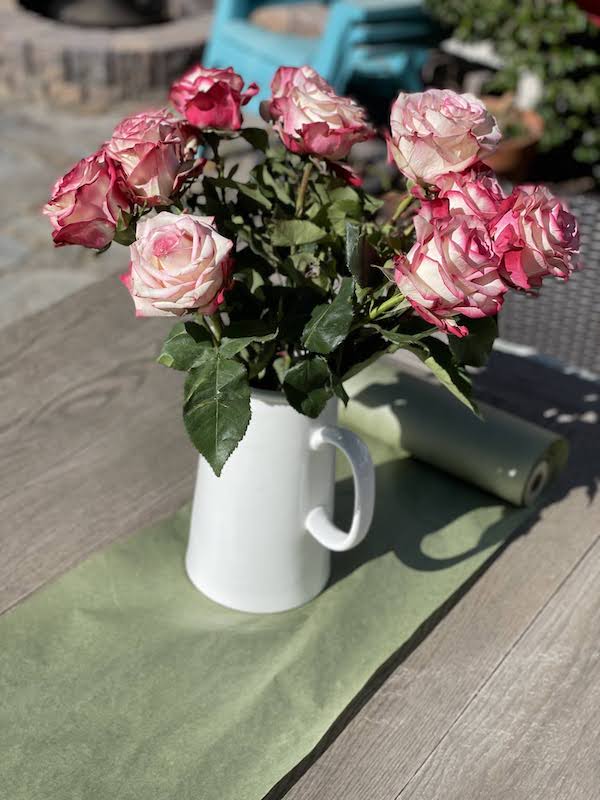 Yep it comes in a big roll and you can buy it at any paint store or hardware store. They use it when painting to protect areas. It is the perfect width to be used as a table runner. Plus is is sooooo cheap. I think I paid something like $5 for the whole roll!
TIp- It is great to use at Christmas time for large church dinners mixed with ever green boughs and pinecones!
After laying down the green paint paper table runner, I added fresh greens clipped from my yard, I always love to scout out my yard for flowers, greens and herbs to use in my centerpieces.
You can see how I used onion flowers in my centerpiece for this garden party for 20 here. Who would have thought to use onion flowers? But they are amazing!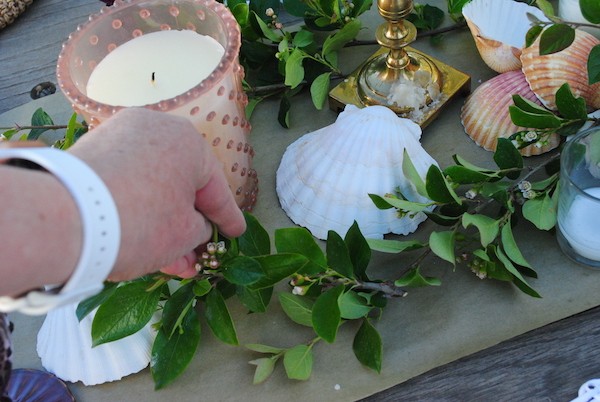 Nestled among the fresh greens are the white and creamy sea shells. In the middle is my tall white pitcher filled with those pink and white roses.
Add a little flicker
To bring in a little flicker of light, I used two soft pink candles and lots of little votive candles. You can never have enough of those little votive candles on hand.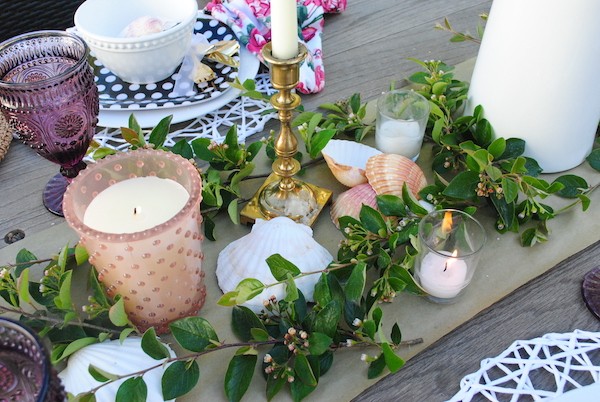 I have used them here for my romantic outdoor tablescape, and here on this Valentine tablescape and on this fall birthday tablescape.
Coastal grandmother place settings
TJmaxx had these white kind of lacy macrame looking placemats that are perfect for the grandmother Coastal look.
I decided to use my basic white dinner plates and added black and white polka dotted salad plates. So cute with the rose napkins.
Here is another tablescape that I set using orange and white polka dot plates.
Polka dots are not only cute as plates but also as pants! These are the cutest wide leg black and white Polka dot palazzo pants and I show how to style them 5 ways!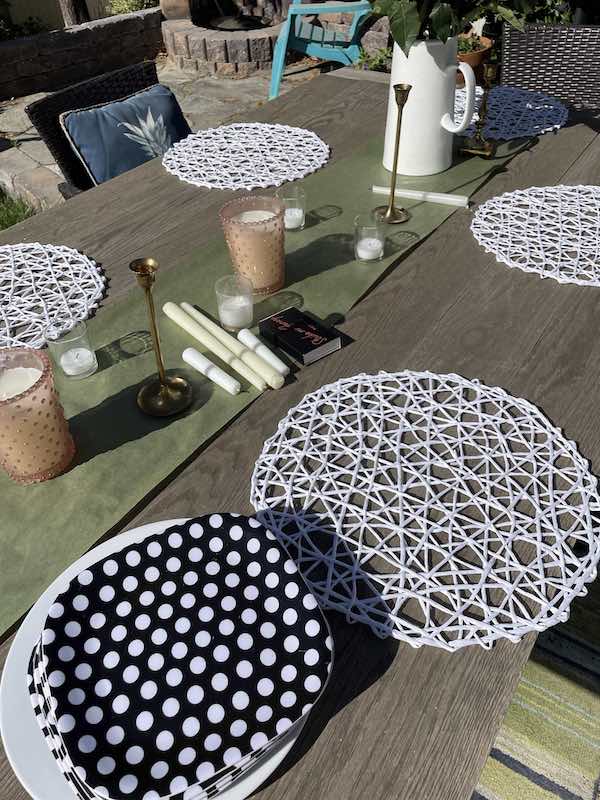 To bring in more of the coastal beachy look I added white bowls with a seashell inside each one.
I was going to put each persons name in each seashell as a placecard but never got around to doing it.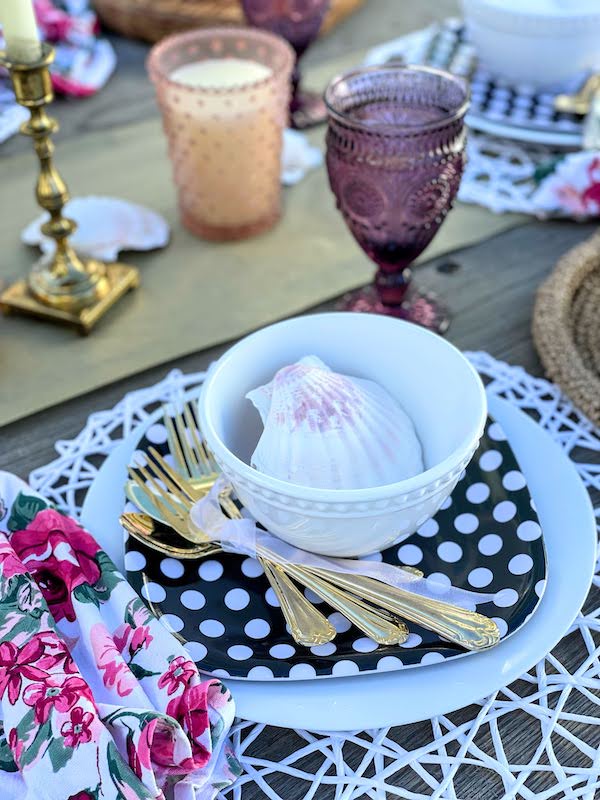 Sea shells are always a hit when setting a summer table.
Have you seen my beachy tablesape that I put together using chocolate sea shells? It really turned out amazing!

The simple addition of adding a white see through ribbon around gold flatware just brings an elegant feel to the place setting.
Don't you agree?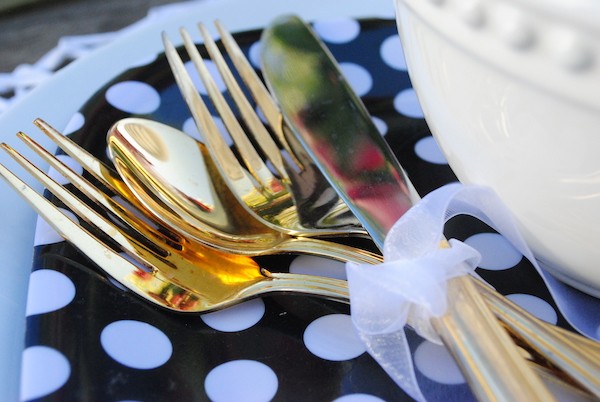 Pink goblets from Pioneer Woman are always on my table! They are so pretty and fun to use. Plus they are really sturdy and hold a lot!
They come in other colors too!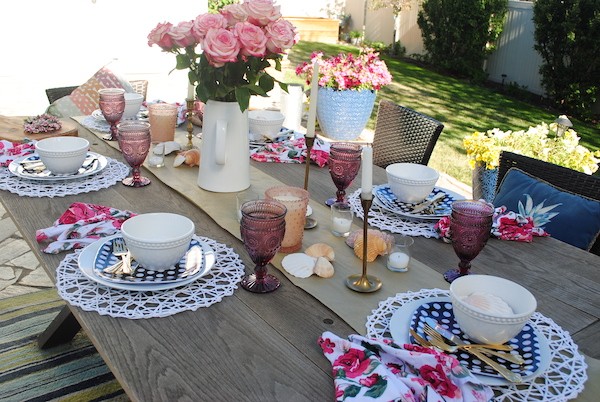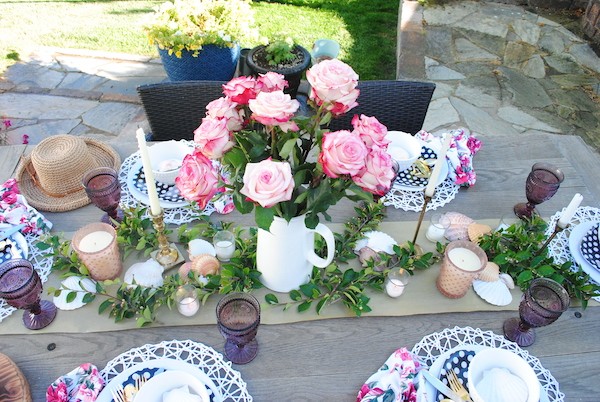 Don't you love my wooden cutting board? My SIL made it for me! He is really good at creating unique cutting boards.
Let me know if you want to order one from him by leaving me a comment below.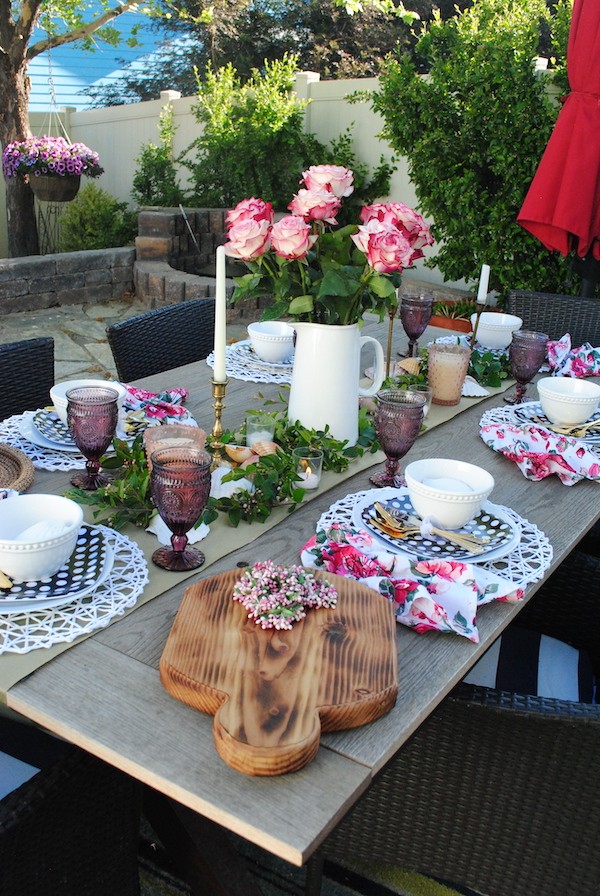 Wish you could be here in my garden to enjoy this meal with me!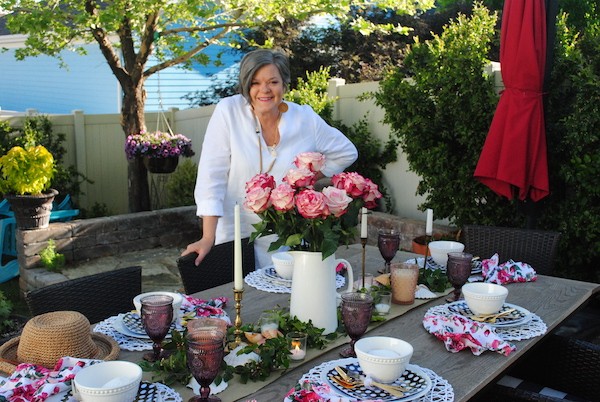 When Evening comes
i love how the tablescape changes when the sun goes down. It takes on a whole new look when the candles are lit.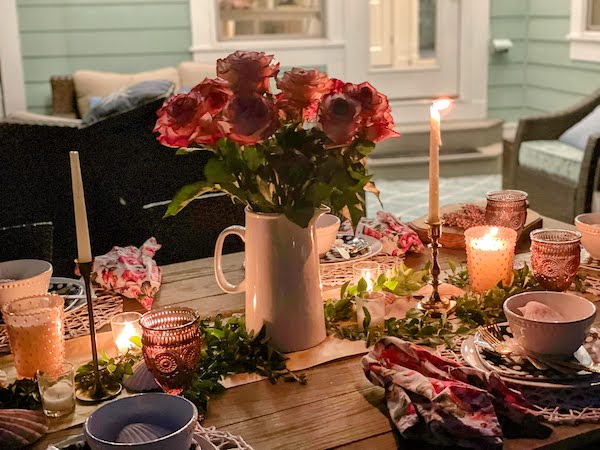 You don't have to spend a lot of money to create a pretty table.
Here is another romantic tablescape that I put together and in fact was in the top 10 for Cottages and Bungalows Tablescape contest!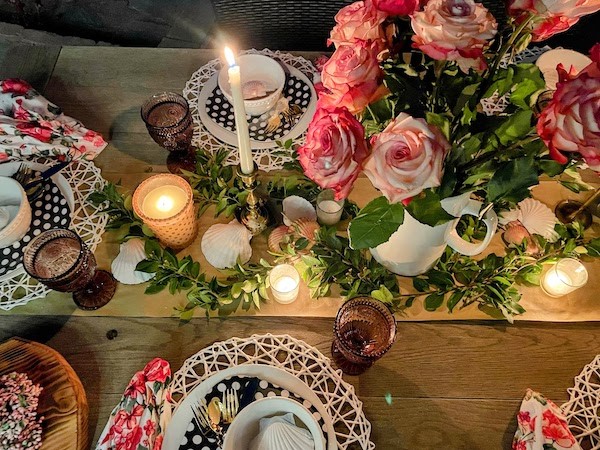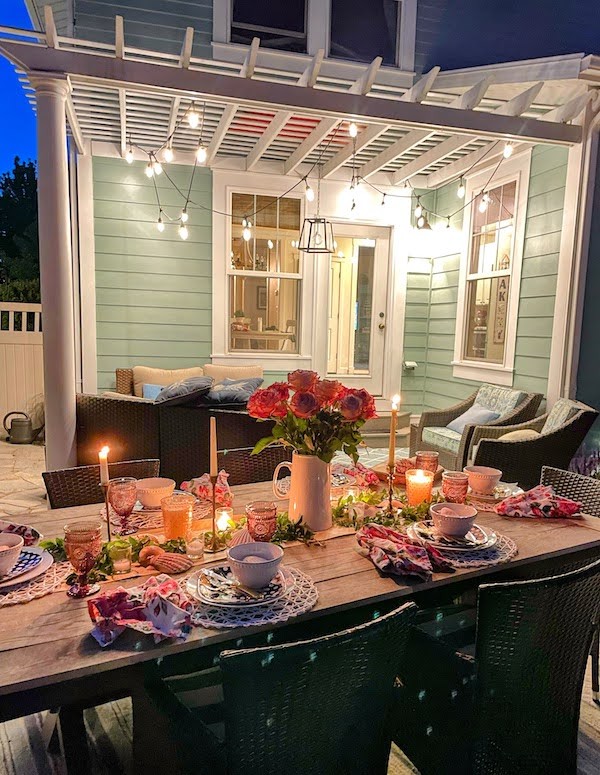 Pin to your Pinterest table setting board for later
I actually created this tablescape twice! Once indoors and once outdoors!
PIn for later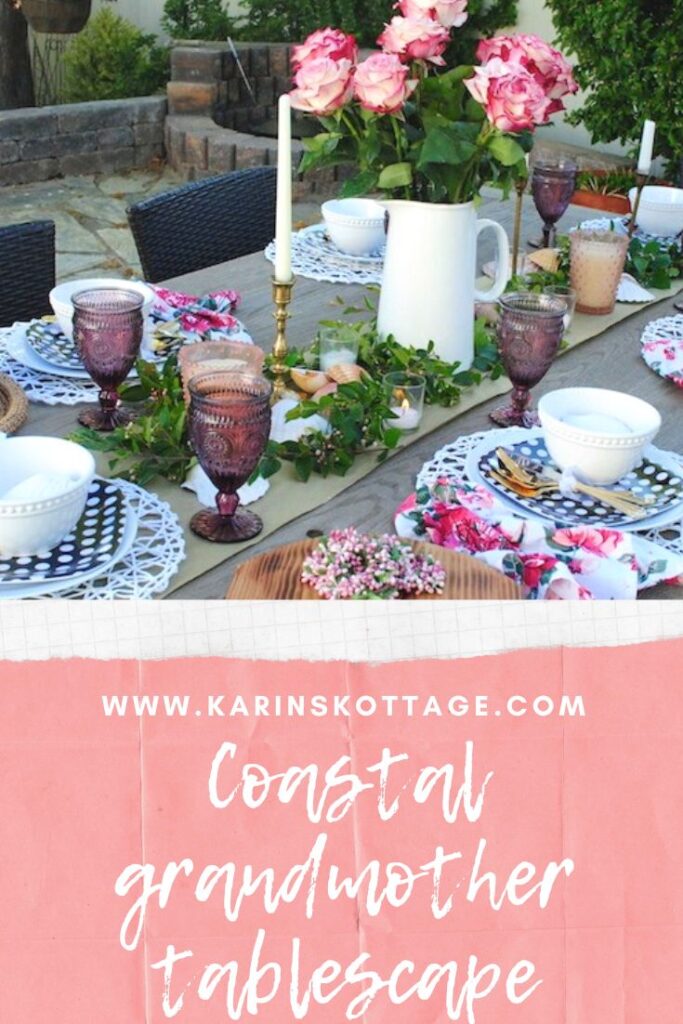 Shop Coastal Grandmother Style