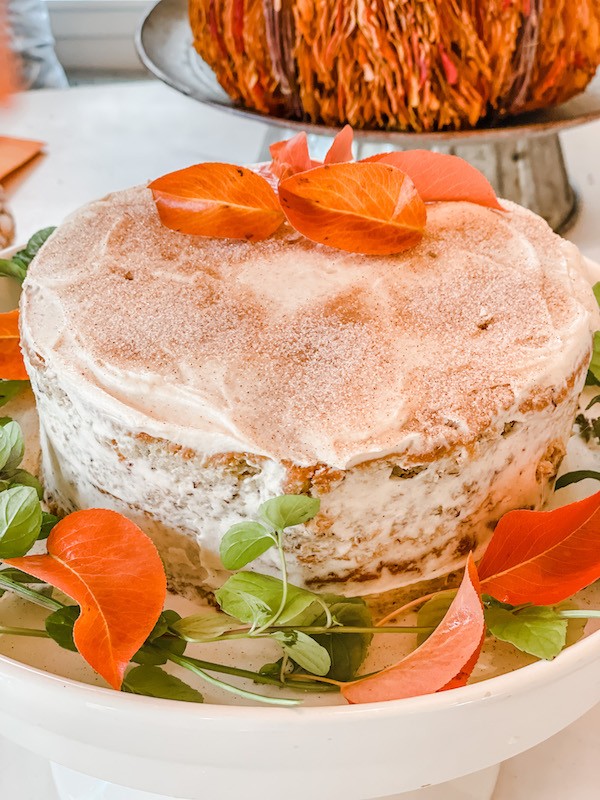 My daughter requested a simple fall banana cake with cream cheese and cinnamon and sugar frosting for her birthday. Emily is the only one in our family that has a fall birthday. It is always fun to come up with a yummy cake for her. Remember last year we held a surprise 30th birthday party for her during Covid. We came up with some pretty decorations too!
Simple fall banana cake ingredients
This cake is made from scratch but it is really simple to make.
1/2 cup butter, softened
1-1/2 cups sugar
2 large eggs, room temperature
1 cup sour cream
1 teaspoon vanilla extract
2 cups all-purpose flour
1 teaspoon baking soda
2 medium bananas
1/4 teaspoon salt.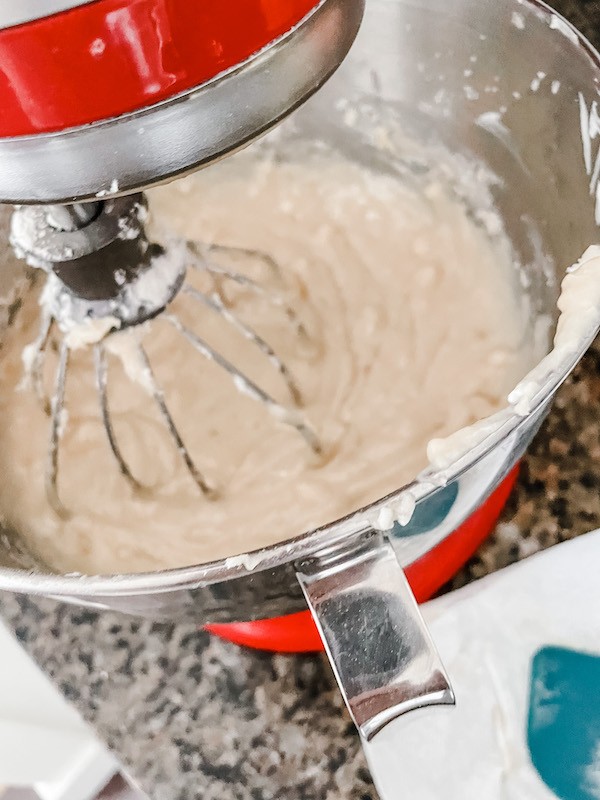 Heat oven to 350 degrees.
In my kitchen aid mixer I added, room temperature butter and sugar. Beat until light and fluffy and then add eggs, sour cream and vanilla.
Next in another bowl add flour, baking soda and salt and mix. Gradually add the dry mixture to the wet mixture in the kitchen aid.
Smoosh the two bananas and add to the mixing bowl and mix until combined.
Prep round cake pans.
I used 8″ round cake pans. I lined them with aluminum foil and sprayed them with cooking spray to make sure they won't stick.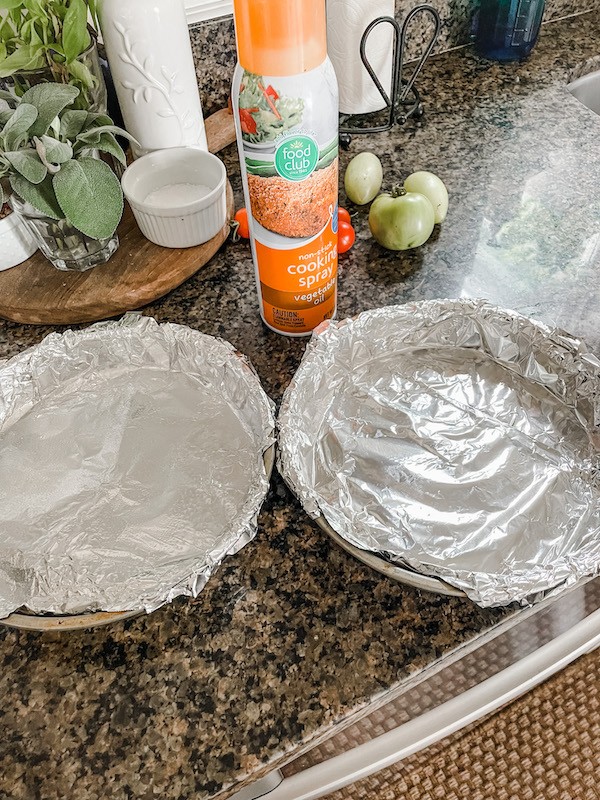 Divide batter between the two cake pans.
Bake for 25 minutes or until the cake is done.
You might remember when I made two recipes of the cake batter for my naked banana cake with fresh flowers.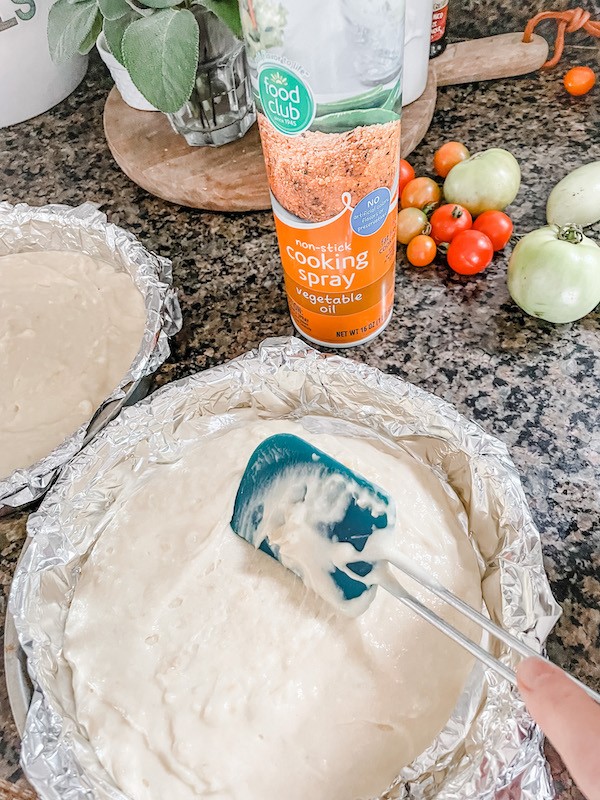 Let cakes cool and then remove them from the pan.
I love using aluminum foil because the pans stay clean and the cake is easier to remove.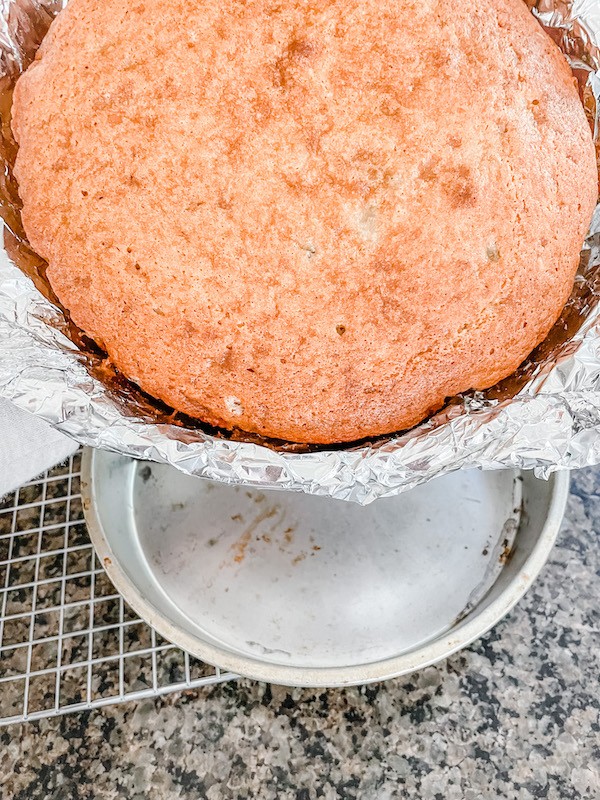 Cream Cheese Frosting with Cinnamon and Sugar
I LOVE cream cheese frosting!
For this simple fall cake I sprinkled the top with cinnamon and sugar!
It is so yummy!
3 cups powdered sugar
One stick of butter
pinch of salt
1 tsp vanilla
1/2 package of cream cheese softened
1-2 Tablespoons milk or cream
1 tsp of cinnamon
4 Tablespoons of regular sugar
Beat butter, cream cheese until combined. Add powdered sugar, vanilla and salt. Add in milk a tablespoon at a time until desired consistency.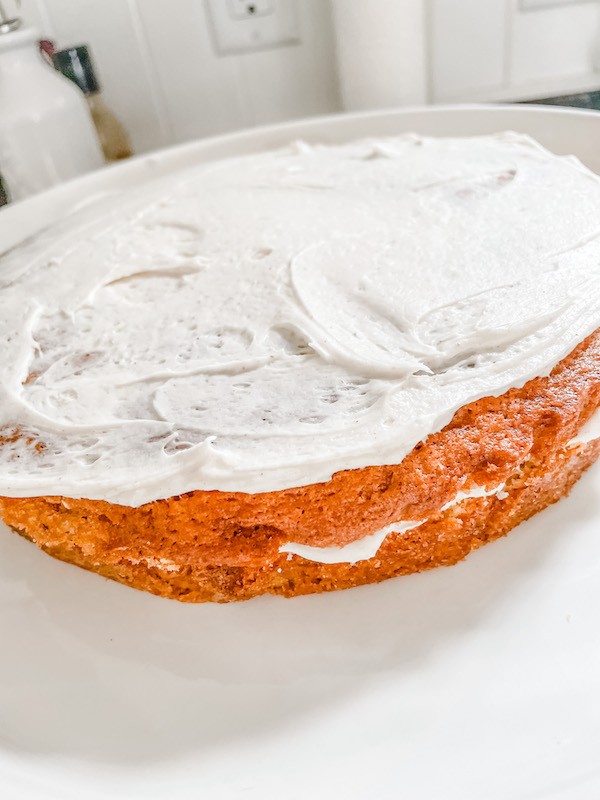 After cakes are cooled, slice each one in half with a serrated knife.
Frosting the banana cake
I wanted to create a naked banana cake but it didn't turn out exactly how I wanted but it was still amazing. I trimmed around the entire cake to have a smoother edge.
Then I frosted starting with the edges.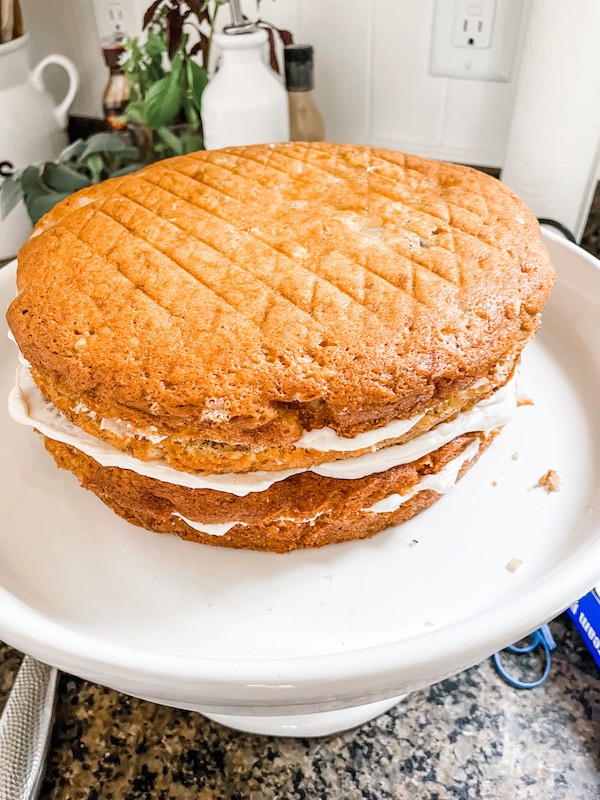 I didn't want heavy frosting all around. I wanted the cake to show through.
For the top of the cake I covered it in the frosting and then sprinkled it with the cinnamon and sugar.
It gives it kind of a rustic or fall look.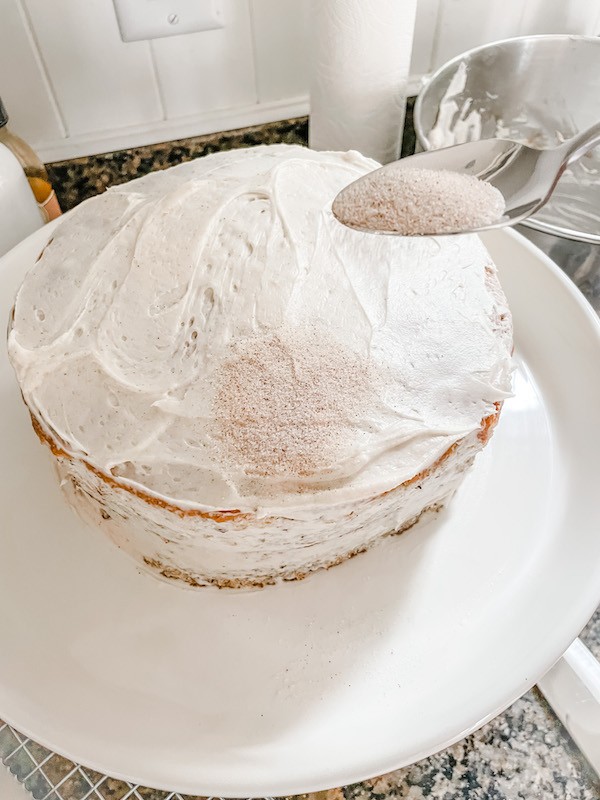 Decorating the simple fall banana cake
It looked very plain until I went out to my garden and snipped some fresh mint to go around the base of the cake.
The leaves were from my peach tree! Aren't they such a pretty orange gold color!
I just laid the on the top and all around on the mint.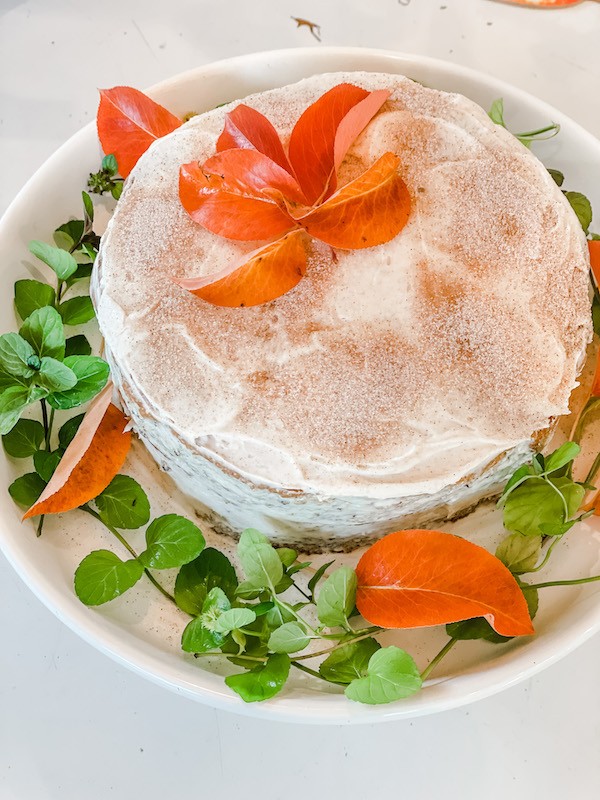 Other Delicious Recipes
Pumpkin chocolate chip cookies with glaze
Snowman punch bowl with donut topped bottles
Shop Christmas