I am a little behind in posting but I wanted to share my mother daughter pink party that we had! We actually held this party on Galentine's day. It was so fun to decorate and make the yummy food for my two daughters and my two granddaughters! We really had a such a fun time together.
Balloon Garland
Creating this fun pink, gold and cream balloon garland was super easy and fun using my new electric balloon pump! Using a balloon tape strip that allows you to simply stick the tied end of balloon into holes and then it holds the balloons in place. So brilliant! All I did was create a pattern using the pinks, gold and cream balloons.
By blowing up some balloons full size and some smaller It gives the balloon garland a little dimension. Then to add a little feminine fluff I bought one bunch of faux peonies and cut them up into separate stems and stuck them here and there in between some of the open areas between balloons. Then to hang the balloon garland I tied a piece of fishing line to each end and hung it on two push pins. It stayed up for for a week! You may remember when we made another balloon garland for Harper's 1st birthday party
Pink and Gold Heart Garland
To create the vertical heart garlands I used my cricut machine and cut out multiple shades of pink and gold hearts. Using fishing line, I taped all the hearts on six lengths of fishing lines in rows. Hanging three garlands on each side of the balloon garland really made a statement!!. They really turned out so cute and also stayed up for a week just using clear tape to hang them!

Pink Party Food
We served all kinds of pink foods at our Galentine party. Pink cookies, Pink milk, Yogurt parfaits with strawberries and a very sweet friend brought me a beautiful pink cake. My youngest granddaughter loved every minute of it as did her beautiful momma 🙂
Little gift buckets
My daughter Emily and I put together cute little white buckets filled with little goodies for both of the girls. Things like a frozen microphone and little candy for Harper (the youngest) and bath bubbles, candies and a cute turtle bracelet for Ella (she is obsessed with turtles right now) Everything we picked was mostly pink and white to go along with our Mother Daughter pink party.
Paper Goods
We chose these darling white with gold polka dot paper plates, plastic gold flatware and pink napkins with gold polka dots. I used my thrift store glass goblets to serve the pink milk in for fun.
Galentine Chalkboard
I whipped out a pink fluffy garland that I had in my stash and wrote on my chalkboard in very basic writing BE MINE VALENTINE.
Final Look
It all came together so perfectly! The ballon garland, the pink and gold heart garlands, the cute little gift buckets, pink food, the cute paper goods made it a very special party for us gals.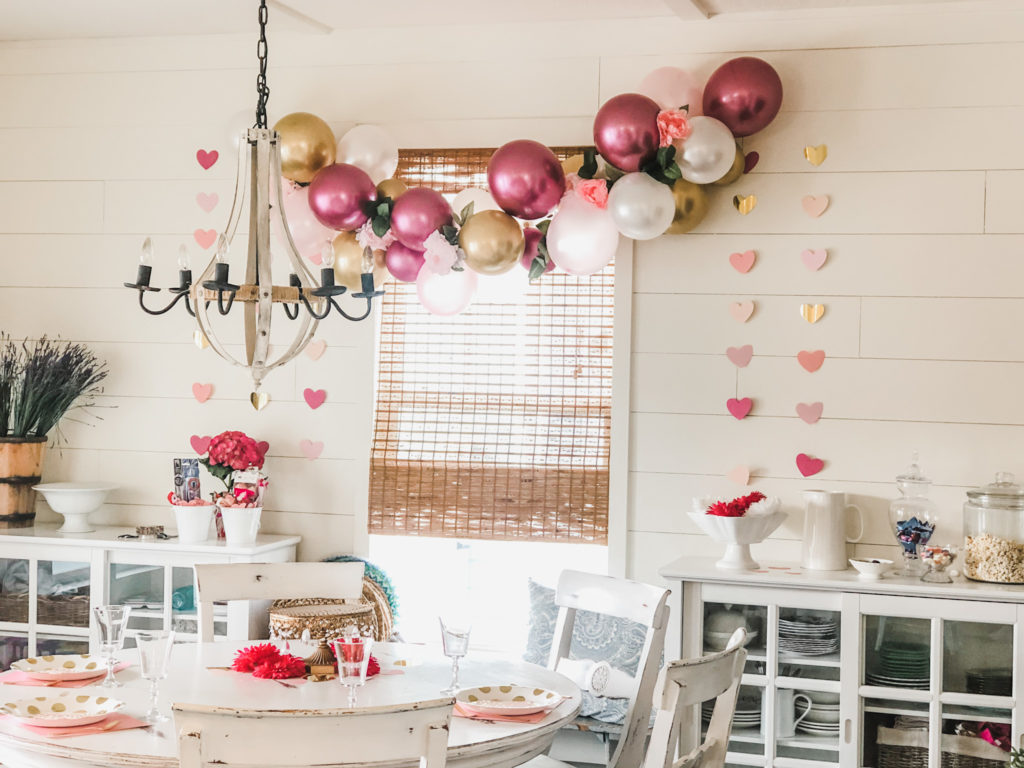 The best part was spending time with my daughters and granddaughters 🙂 This would make such a fun birthday party for any big or little girl. I love that it didn't cost a fortune either and that I was able to make all the decorations. You may remember another pink birthday party I did a few years ago here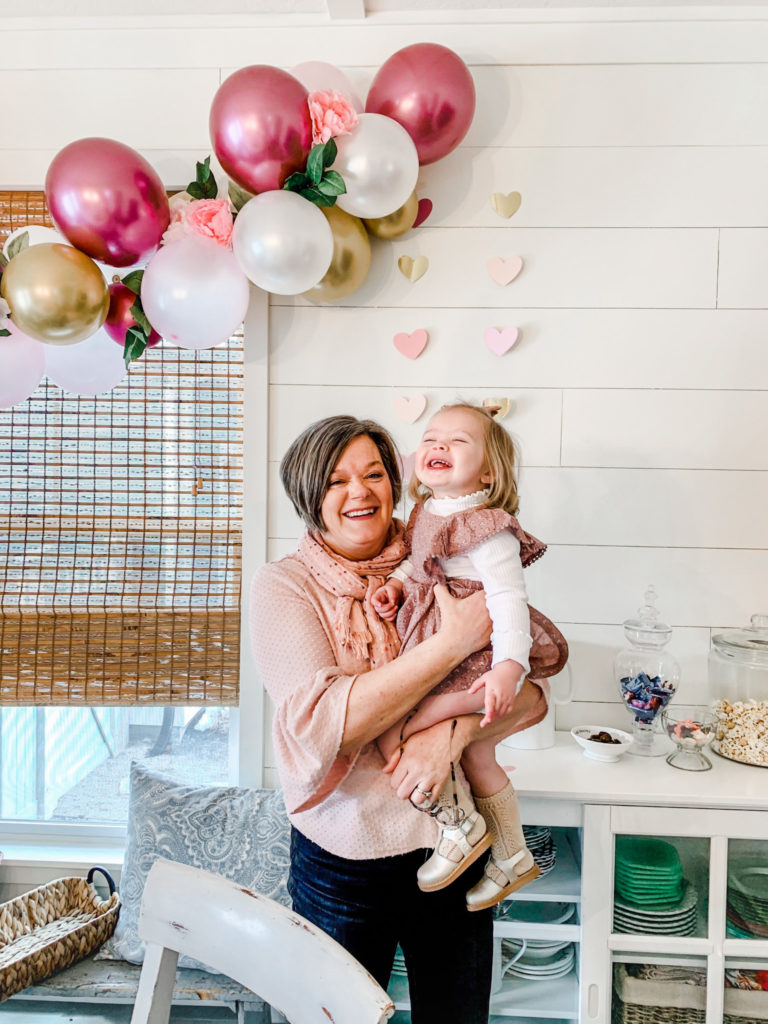 Shop This Post