I love setting a pretty spring tablescape even if it is just for the two of us. Because of the Corona virus we don't have a lot of friends or family over very often these days….just trying to keep everyone healthy. Now it seems like the only place we go to is the grocery store and even that is maybe only once a week. I picked up a few flowers and decided to create a spring tablescape using grocery store flowers.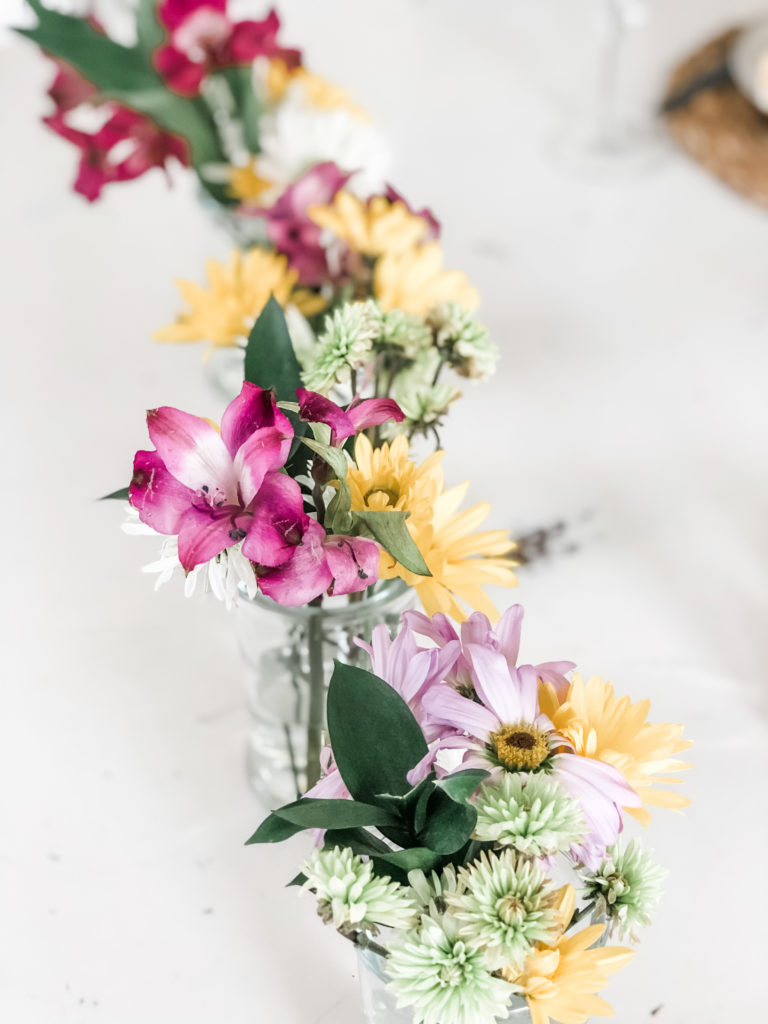 Leftover Easter flowers
I actually bought these grocery store flowers for Easter and used them in a bigger floral centerpiece and after a week they have started to die off a bit. So I cut out all the dead flowers and brown leaves and saved the better looking ones. To have them fit in these darling vases I bought awhile ago while visit St. George, Utah, I needed to cut the flowers down quite a bit. Just by doing that and placing them in smaller vases they took on a whole new look without spending a dime!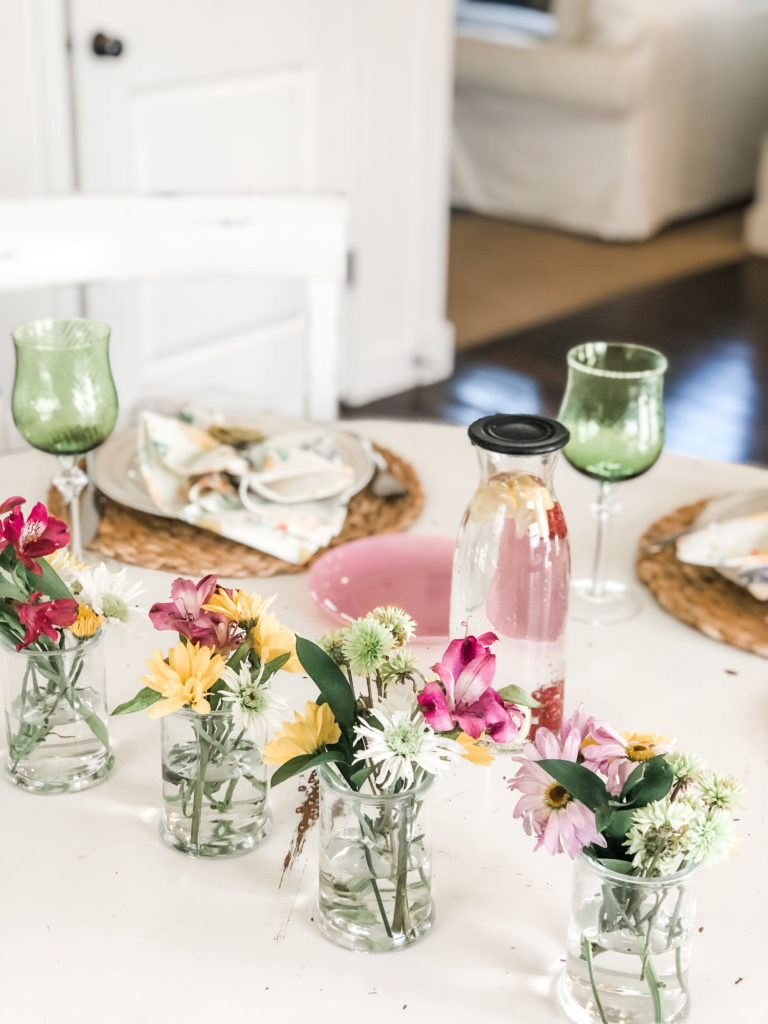 I just love having fresh cut flowers on my table as often as I can and to be able make them last for weeks is even better. Changing the water everyday is also a must because the old flowers can start to stink. Once you change the water and rinse off any old decay they continue to look pretty and have no odor.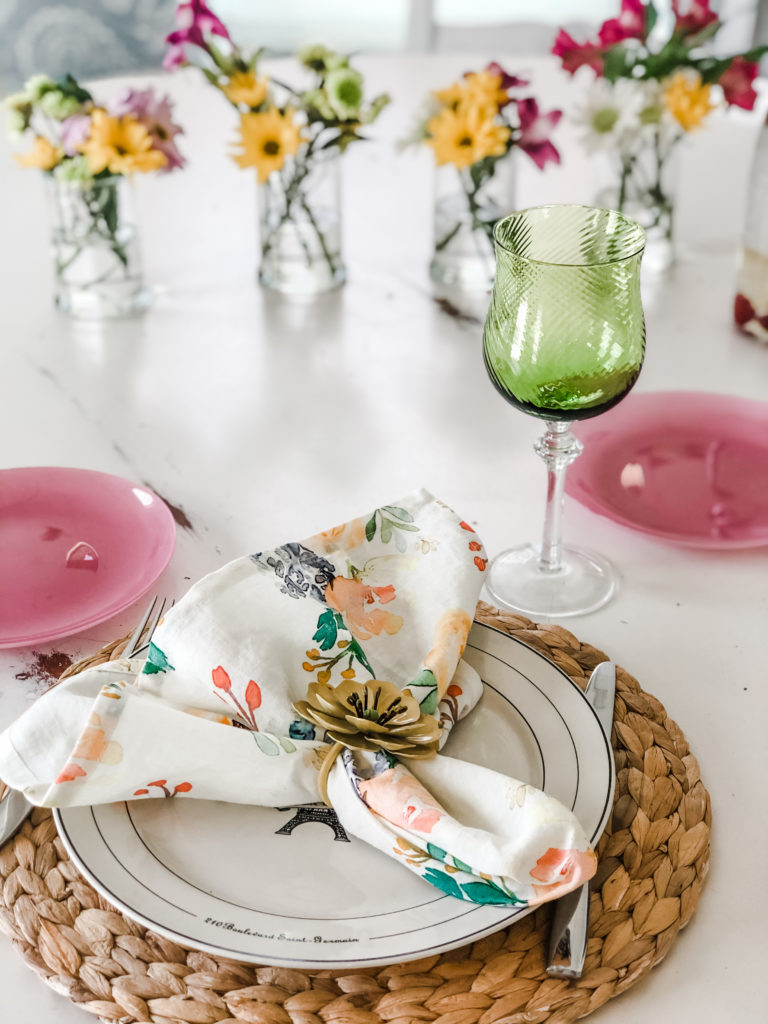 Setting the table
I started with my grocery store flowers to create my spring tablescape centerpiece, followed by my woven placemats. Then to give this tablescape a fun look I brought out these pretty French plates that I bought years ago from a little shop in Chicago. Since I only have 4 of them they are perfect for just the two of us. Usually as some of you might know, we have big dinners here with 15-20 people almost every Sunday at my awesome table that my hubby and SIL redid.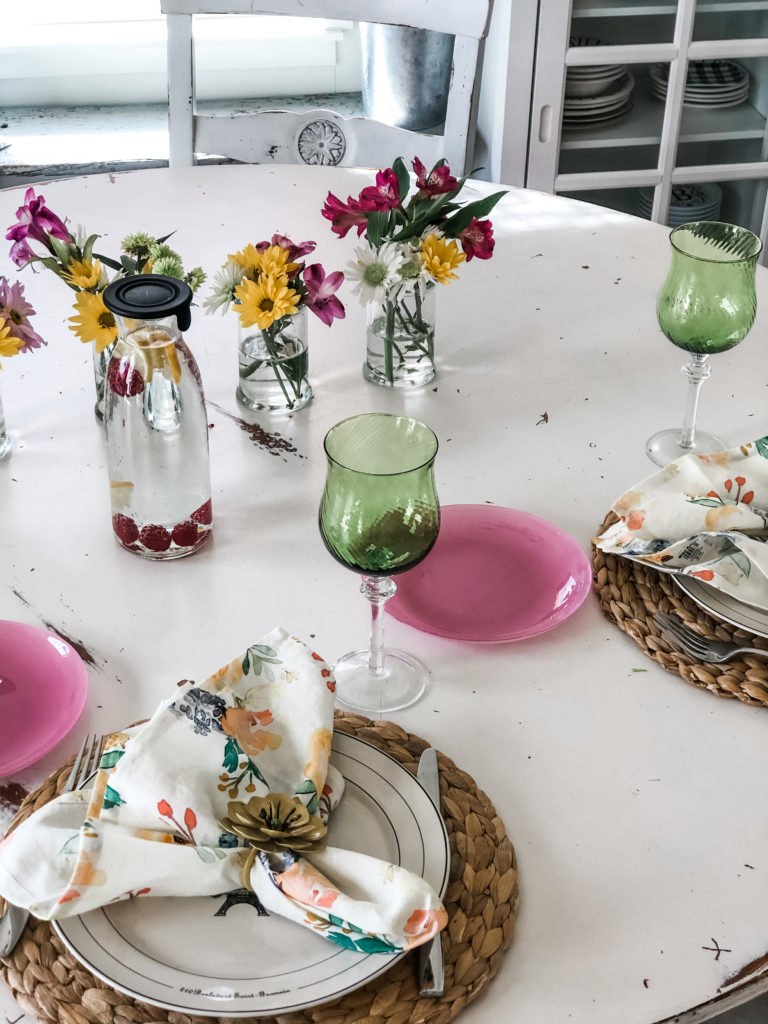 Next I brought out my favorite green goblets that I purchased from Pier 1 many years ago. I have used them many times over the years like on this St. Patrick's day tablescape. I found some similar ones below in my Shop this post section. I just love to add a little sparkle with some color. I could have used my pink ones like I did on this tablescape but I liked the fresh springy green color of these goblets.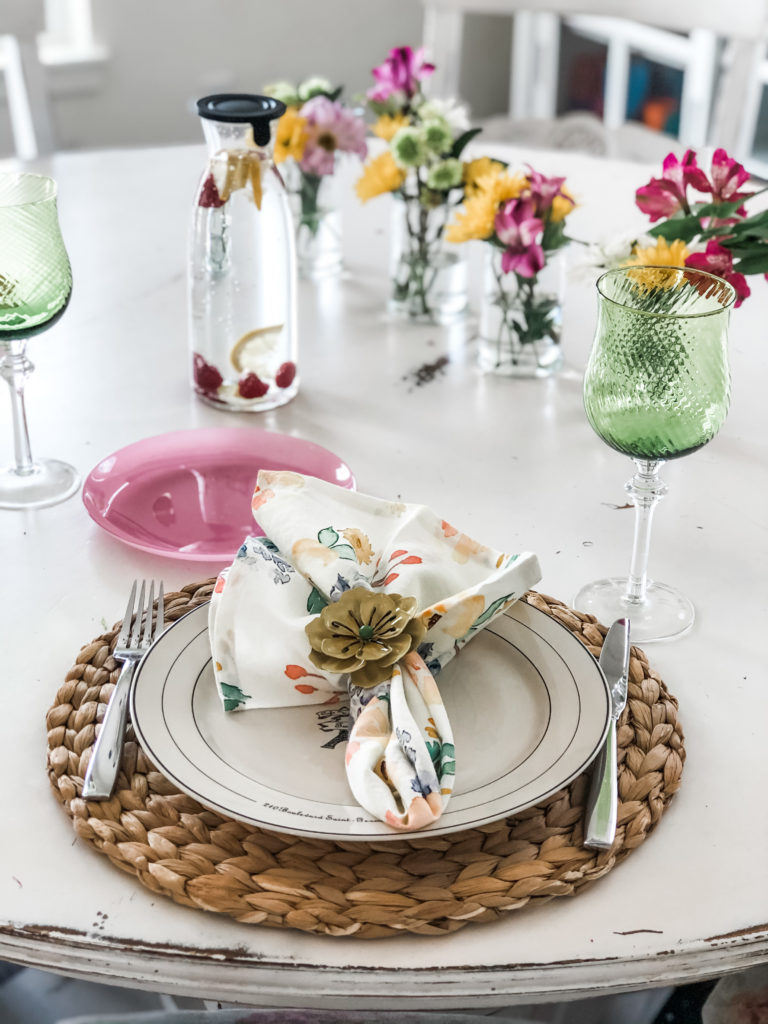 My regular silverware does the trick for me every time but I do think I would like to get some with white handles for a fresh new look at some point.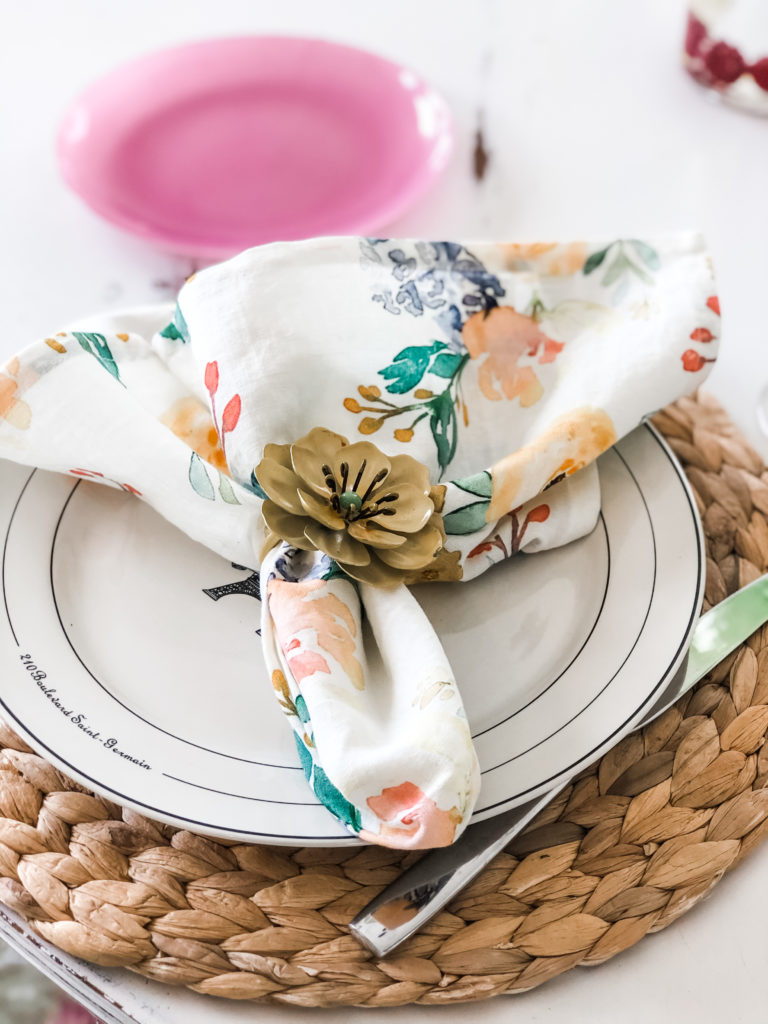 The best part of setting any table for me is the linens! They just add a feeling that something special is about to take place. They also set the color and theme for me kind of like a piece of art for the table. I recently purchased these pretty spring floral napkins from World Market. I love all the colors in them. Adding a little bling like a fun napkin ring just makes the whole placesetting come to life for me.
Fruit infused water
One other fun detail is to use a carafe filled with water and fruit. Adding fruit like raspberries and lemons infuse the water and makes it taste delicious and refreshing. Not only does it taste good but it looks pretty too!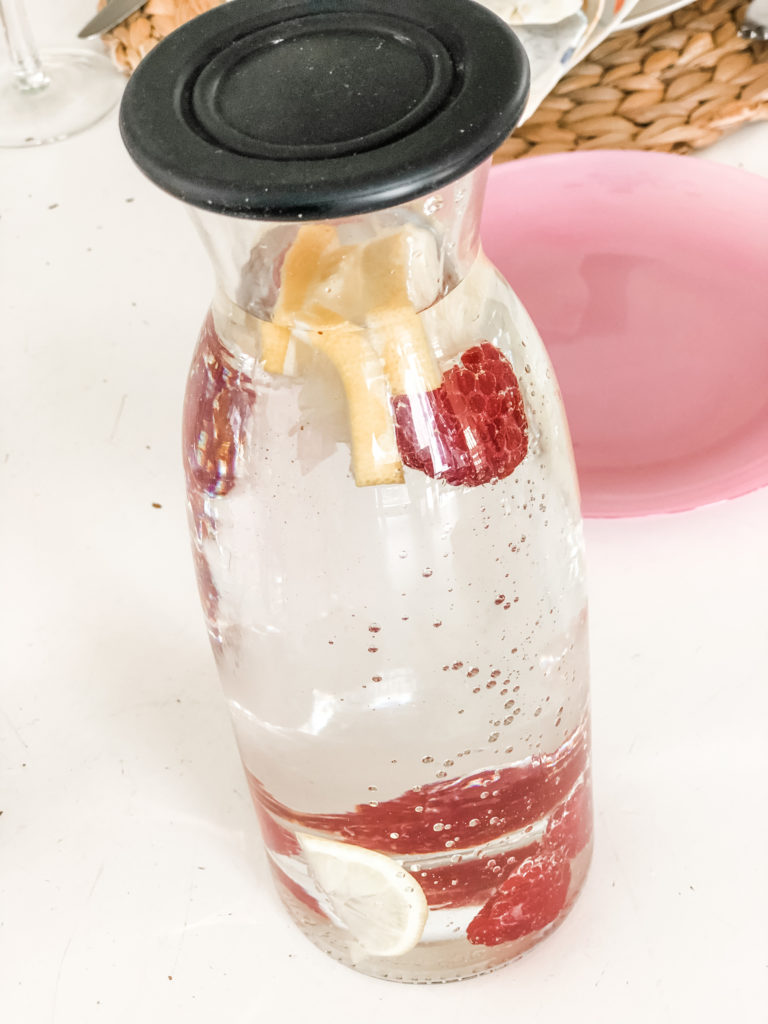 Even though we will be having leftover spaghetti tonight, it will still feel special to me by having set a springy tablescape using grocery store flowers. I would love to hear how you are setting your table these days at home.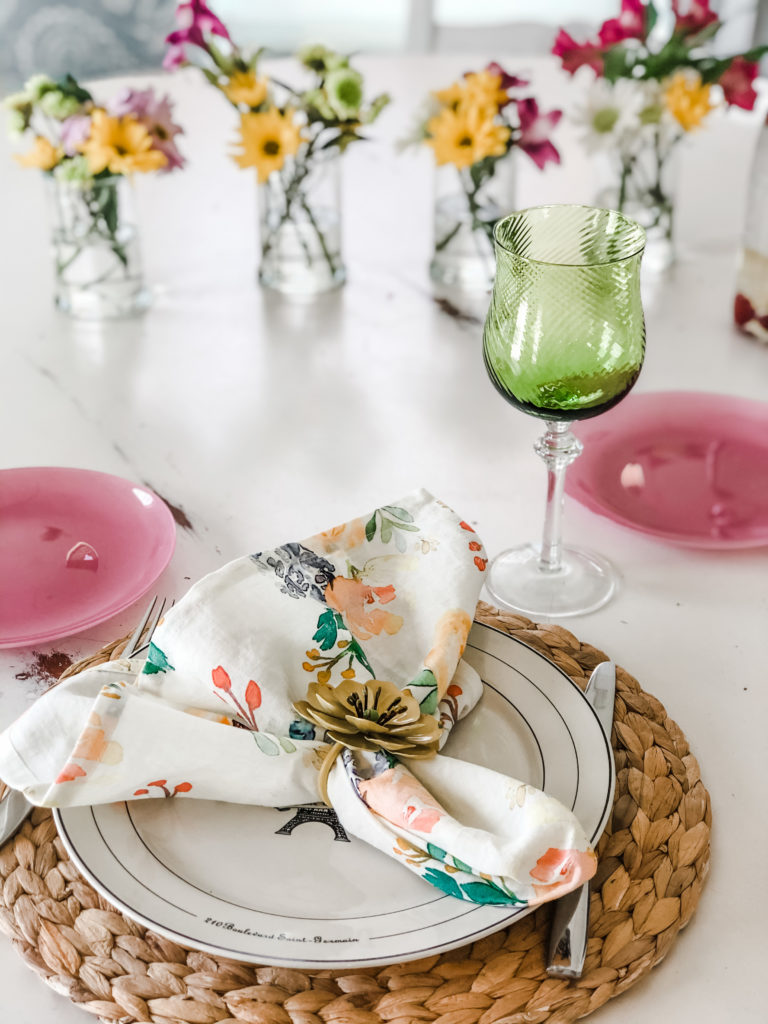 Shop This Post