Halloween is coming here is my How to create a Moody black and burgundy Halloween table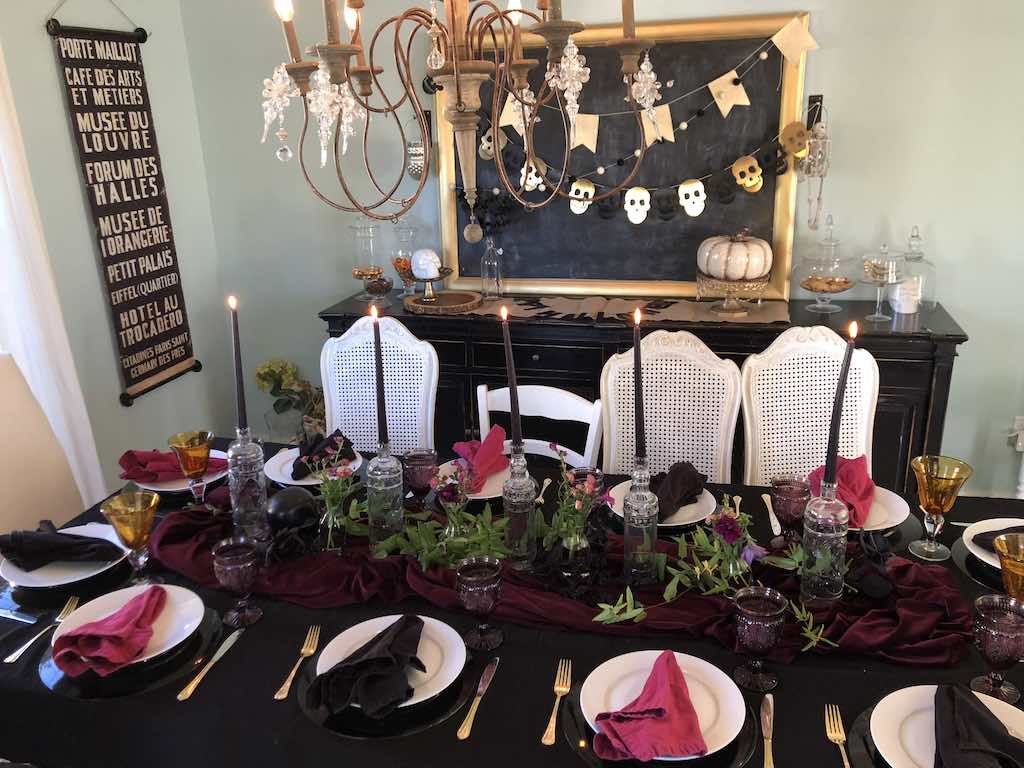 How to create a moody black and burgundy Halloween table inexpensively!
I am so excited to share my inexpensive ideas tips and tricks to help you create something fun and unique.
Moody black and burgundy colored fabrics
No need to buy a tablecloth! I used a large piece of black fabric for the tablecloth. For the runner I had some burgundy stretch velvet in my stash. Just by laying the velvet in the center of the table and fluffing it a bit created the moodiness! The soft edges and colors are so elegant and pretty.
This immediately set the tone for a spooky moody table.
For the napkins I chose black and dark pink to compliment the deep burgundy colored velvet.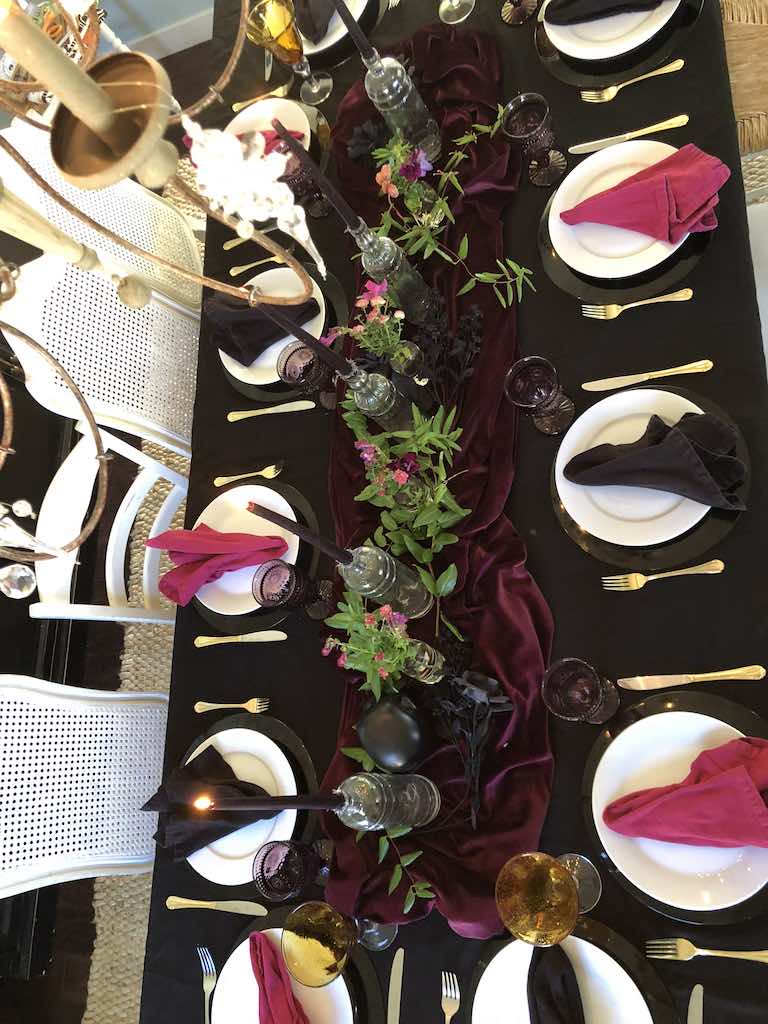 How to create a Centerpiece for the moody Halloween table
You are going to love this idea!
The vases going down the center of my table are from the dollar store! I have some in pink, green and clear. Remember when I used the pink ones here in this spring tablescape?
They are super versatile.
Because I was going for an eery moody Halloween look I put candles in them. Specifically tall black tapered candles.
When the lights go down these candles create the perfect glow!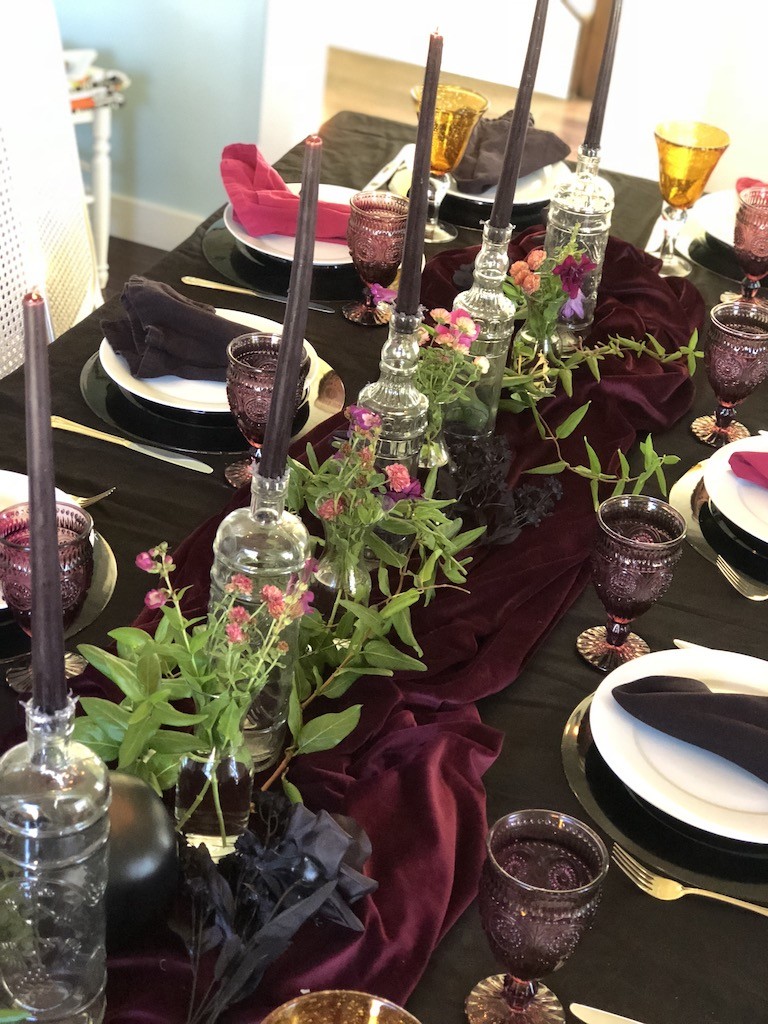 The tiny clear vases holding pink flowers from my yard are also from the dollar store!
To bring in more of the outside in, I clipped a bunch of green vines from my yard. Draping them down and around the tall and small vases added a punch of color.
To bring in more black and eeriness I added faux black flowers placed here and there.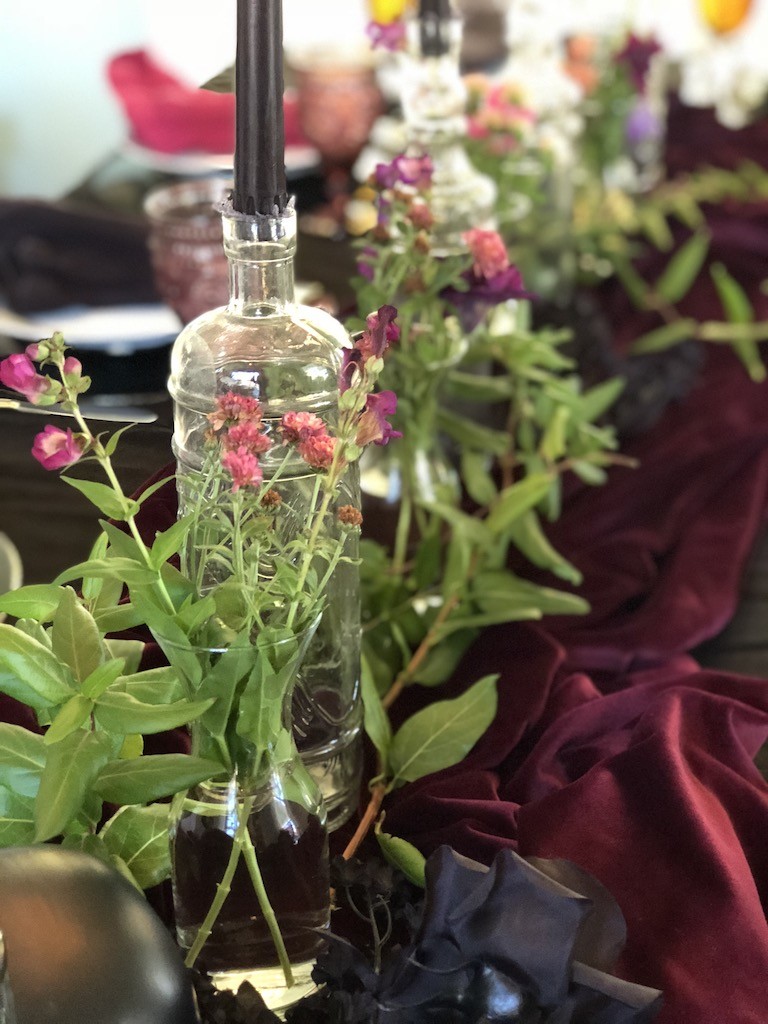 Black and white place settings
I have had these black charger plates forever but here is the thing….they are not black charger plates! Some are gold and some are silver and even red!
What? How can that be?
Here is my favorite trick… FLIP any charger plate you may have over! Most are black on the underside! By flipping them over it creates a lift. I love to figure out ways to use things in different ways to get more mileage out them.
My white dinner plates sit on them and look stunning!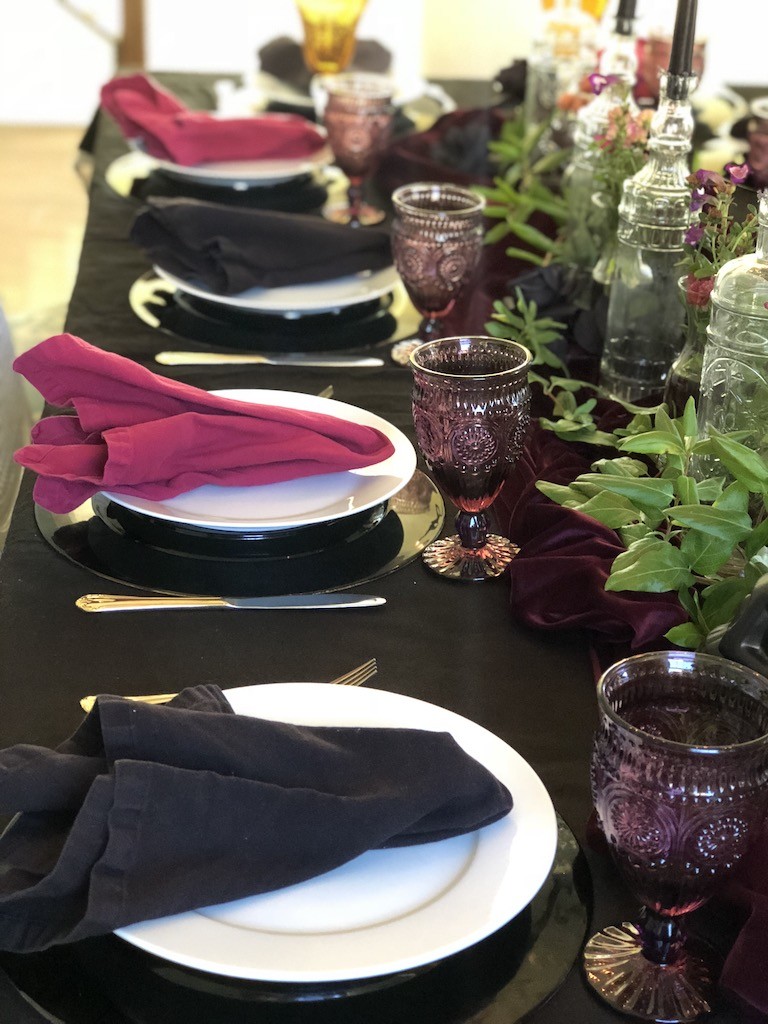 To bring in a little sparkle I used my gold flatware. I think it adds some elegance when I use gold flatware.
Don't you agree?
I love using burgundy colors in the fall/winter. I used burgundy velvet to tie some silverware together in this pretty romantic dinner for two.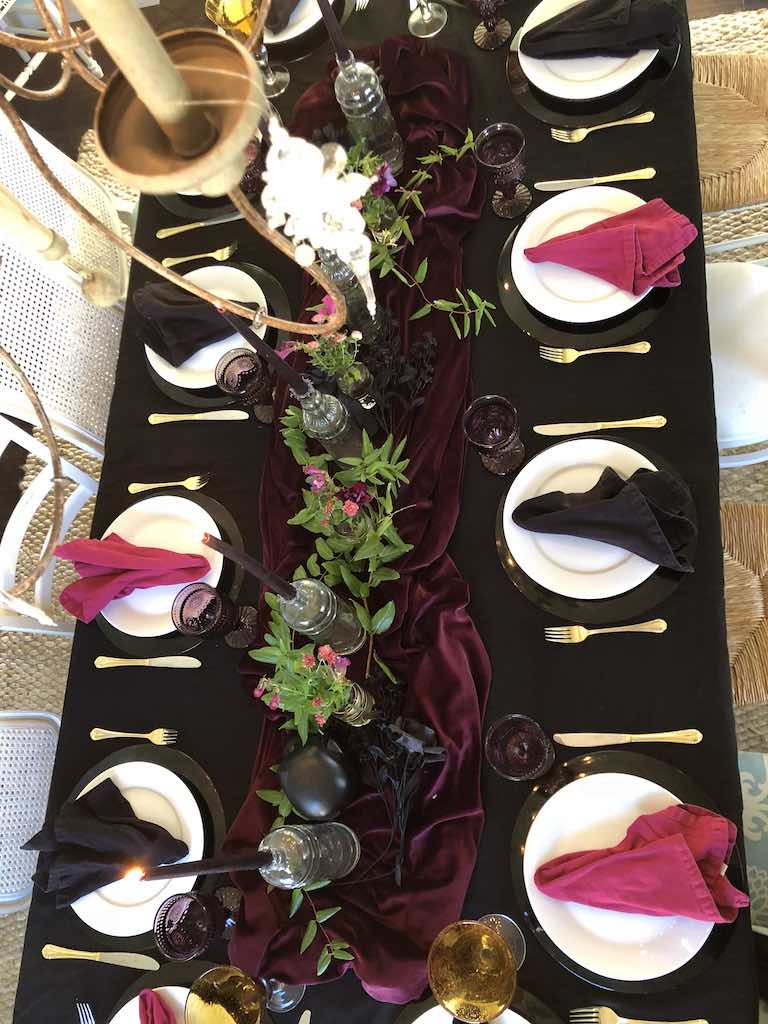 A mix of purple and gold goblets work perfectly for the tablescape. I use both of these goblets so often in all seasons too!
Here are the purple goblets on my spring tablescape and here they are again for a Christmas tablescape.
The gold goblets are so pretty on my outdoor fall table here and my Thanksgiving table here.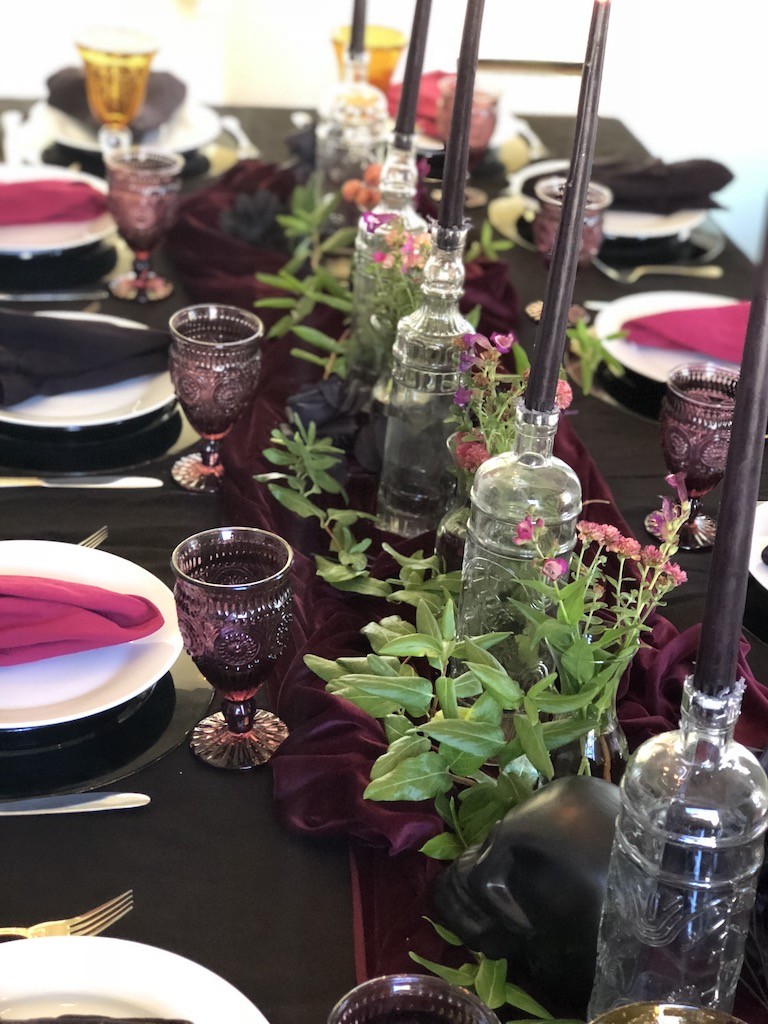 Moody Halloween decorations on chalkboard
If you have followed my for any length of time you know how much I love my giant chalkboards! This one in the dining room as been used for my daughter's wedding reception as a menu board. Then here for a fall birthday party backdrop with a floral swag on it.
The other giant chalkboard sits in my kitchen nook. Most recently I used it for a Halloween fan backdrop. But I have used it to create a Christmas calendar here.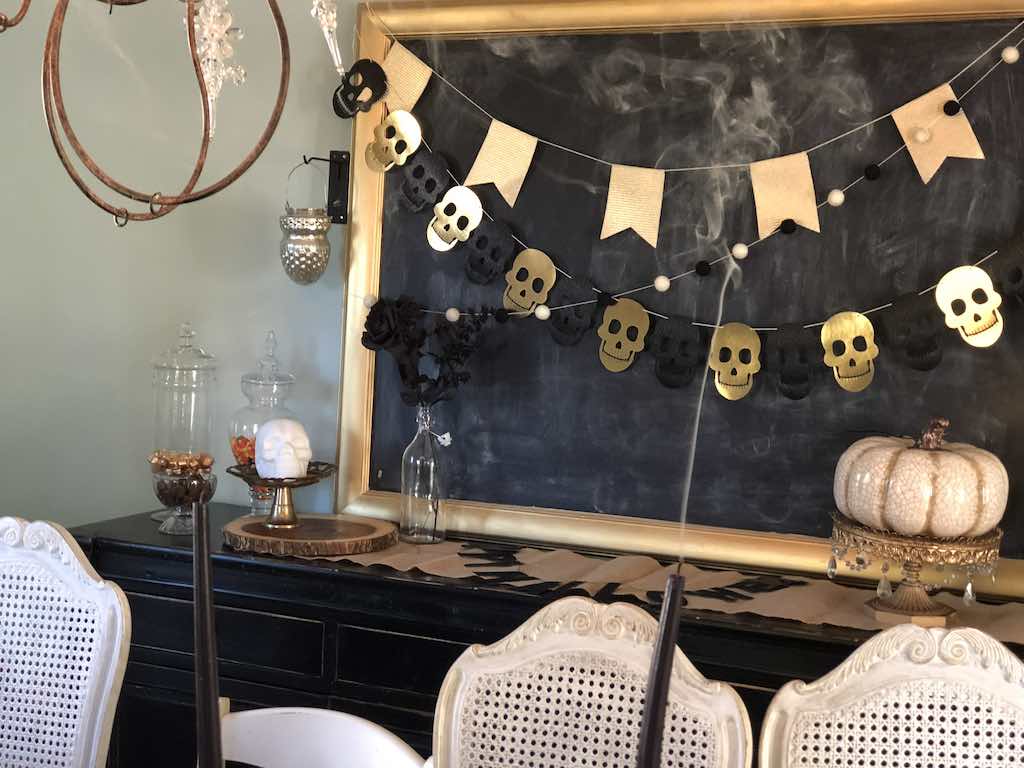 For this Halloween dinner party I used a gold and black skull garland mixed with a gold banner. Over the top I draped a black and white felted ball garland.
A skeleton hangs on one side of the chalkboard.
Underneath the chalkboard are apothecary jars filled with Halloween candy and treats and a creepy things. A skeleton hand is in one along with a couple of white skulls under glass.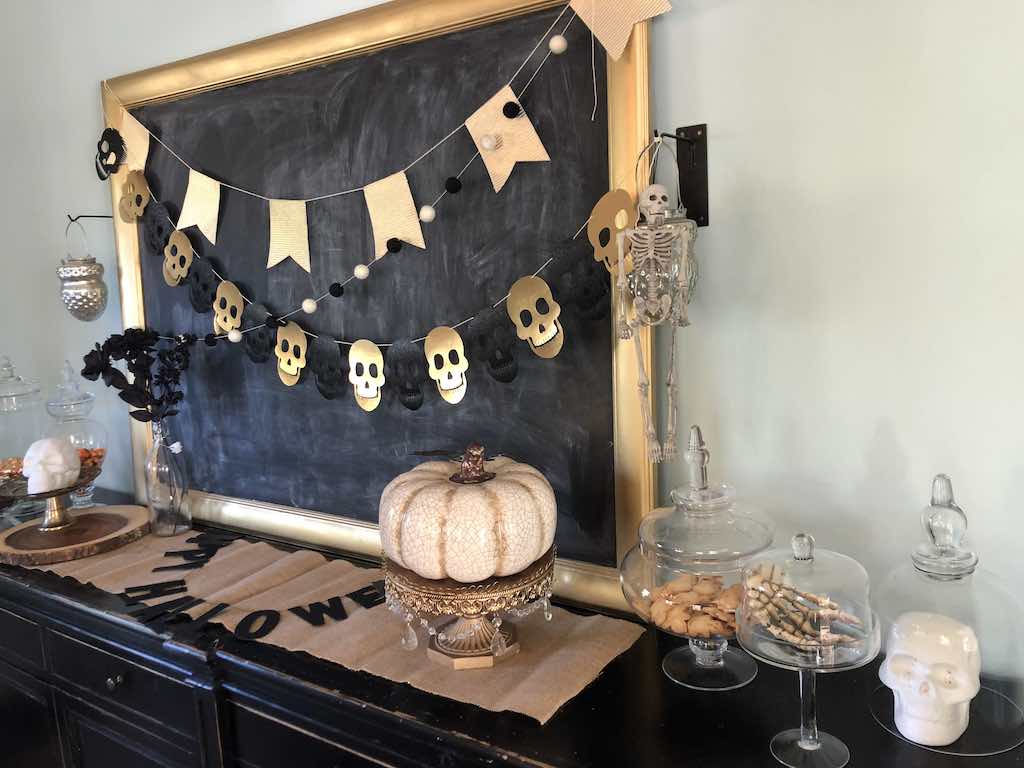 Moody Halloween Dining Room
This dinner party was held in my dining room before we painted it white and added shiplap.
I think this moody black and burgundy Halloween dinner party deserves a repeat for sure!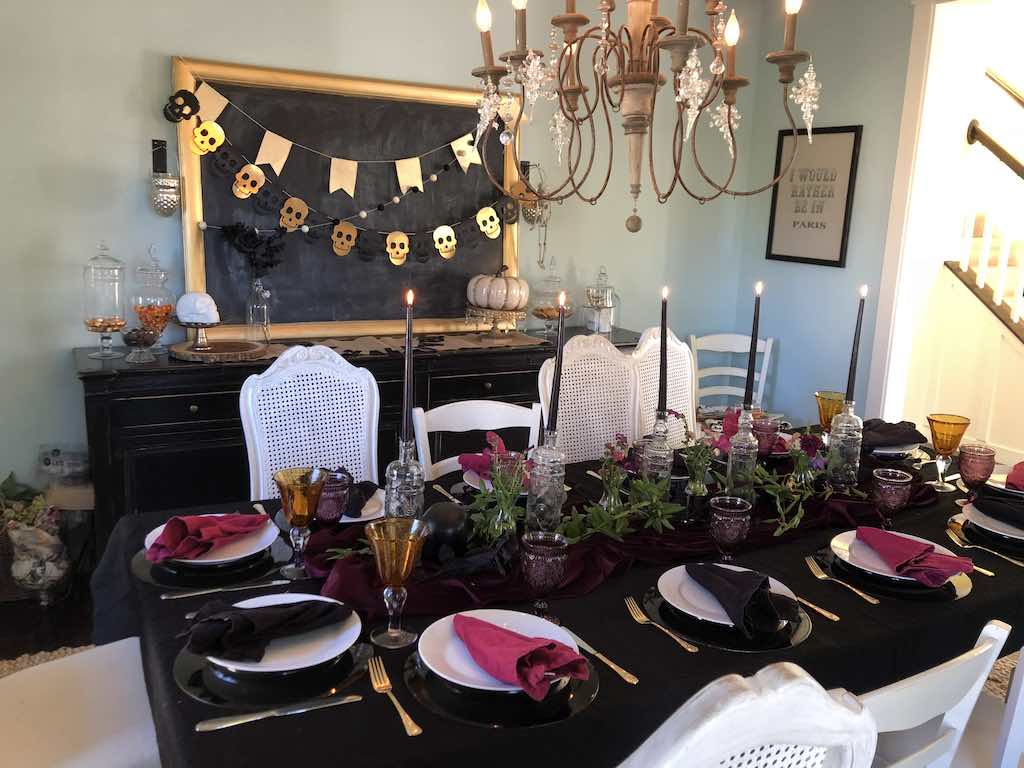 What creepy Halloween dinner parties are you planning to host?
Here is a really fun family Halloween party that you will love!
I would love to hear your ideas please leave a comment below.
Be sure to pin any of the photos here to your Halloween boards for future reference.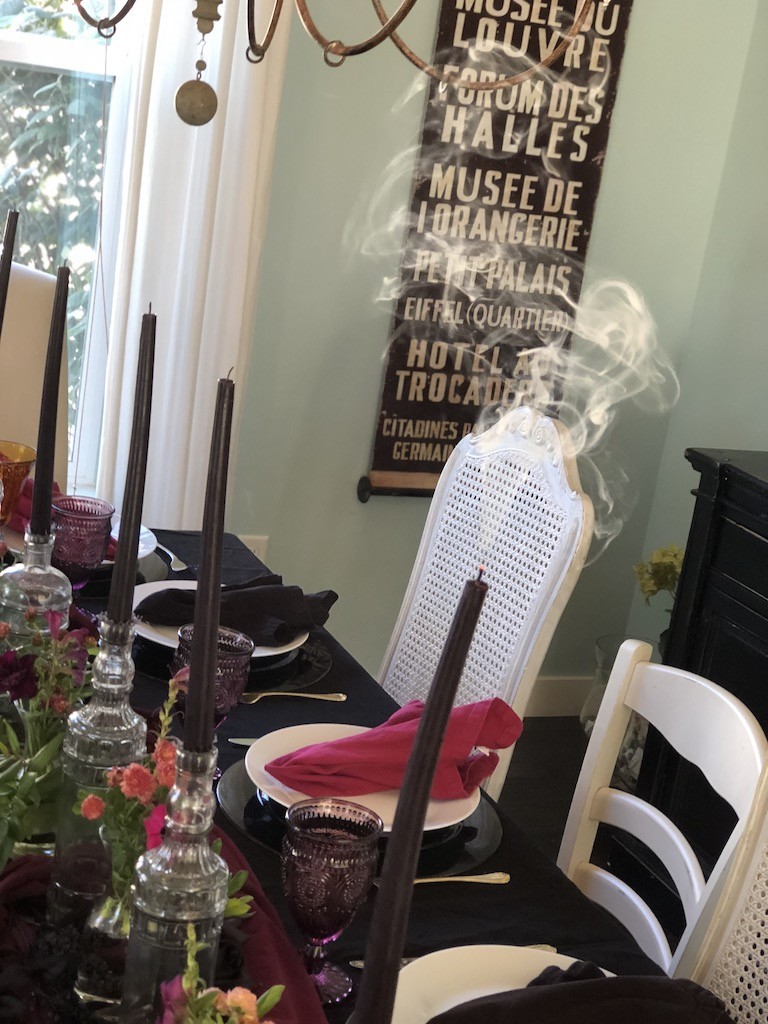 Shop This Post

Pin for Later