I cant even tell you how excited I am to share my daughter's wedding with you!
Emily and Kevin were married in the Salt Lake Temple in Utah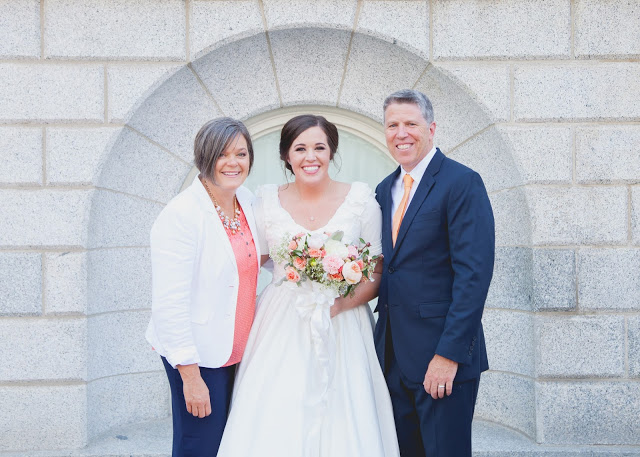 It was a magical day full of love
So many family members and friends came to share in their special day
Patio Entrance into the barn
Fun loving groom and groomsman wearing their peach colored ties and the groom in his Navy tie
 The bridesmaids in navy and the matron of honor, her sister in navy, pink and peach
 My cute husband made this chalkboard stand and Kevin's mom draped it with florals
 All along the entrance we had shepherd hooks  and mason jars filled with white roses and greens that Madeline put together.
We rented the hooks, jars, all the vintage furniture and chandeliers from
Here is the sign in table. Emily and Kevin wanted people to sign their name by their favorite scripture…such a cool idea!
 Then you entered the huge barn!
Here is the hot dog bar!! Kevin's mom did all the flowers for the wedding and they were gorgeous!
 My sister and daughter Madeline did all the chalk art menus and they turned out so cute! The hot dog bar was a smash hit with everyone!
 We served different kinds of toppings, watermelon on sticks and chips…so perfect for the 3rd of July!
 Daddy Daughter dance…always makes me tear up!