I love to entertain outdoors in the summer. When I received these gorgeous yellow and white napkins from Jayne the owner of Tablet top shop I was thrilled to be able to create a fresh new summer tablescape to inspire you. Table top shop has so many vibrant patterned table linens to choose from. Napkins, tablecloths and placemats. Plus they also have some beautiful melamine plates to choose from.
I love the fact that you can find any color combination to fit your look. There are 8, 10 and 12 seater tablecloths, round tablecloths and loads of pretty napkins. You can find Jayne on Instagram sharing lots of great ideas on setting a pretty table here.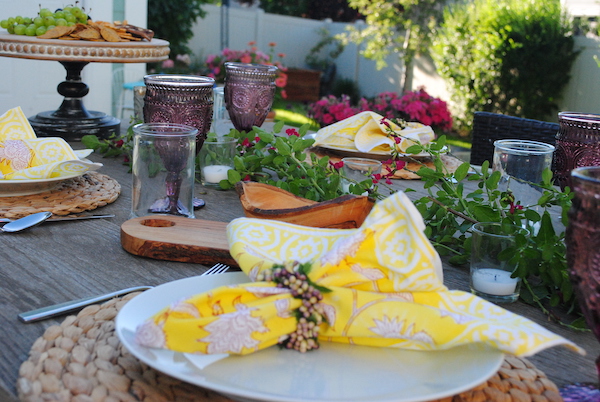 Table Top Shop Napkins
I chose these bright yellow and white napkins with a hint of purple in them. My purple goblets look amazing set against the bright yellow.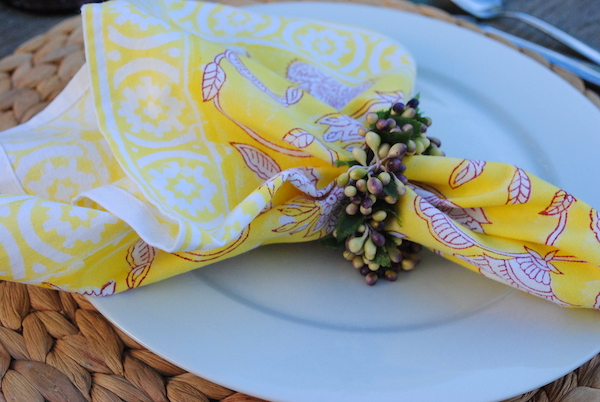 These napkins are 100% cotton and block printed linens with lively fun patterns.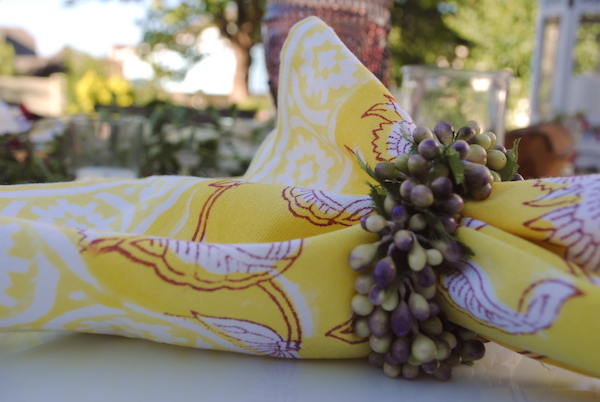 You know how much I love cloth napkins I use them every time I set the table. Napkins are like curtains in a room. They bring in color, texture and set the tone for the room.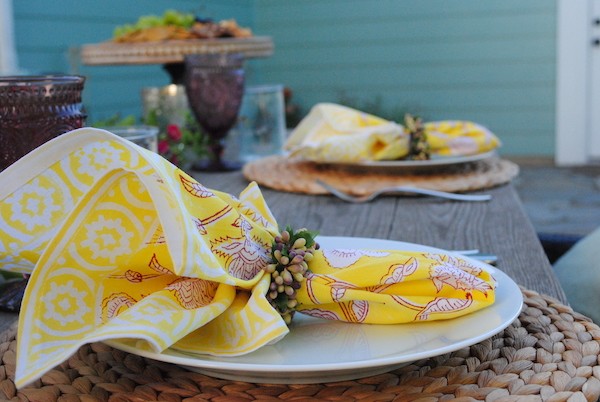 Summer Tablescape Centerpiece
Once l have chosen the napkins I decide on a centerpiece that reflects the napkin or tablecloth theme. These napkins made me think of a Bohemian theme.
Kind of a natural look. I scouted out my yard for some flowers.
Lots of things are growing right now so it's fun to pick and choose.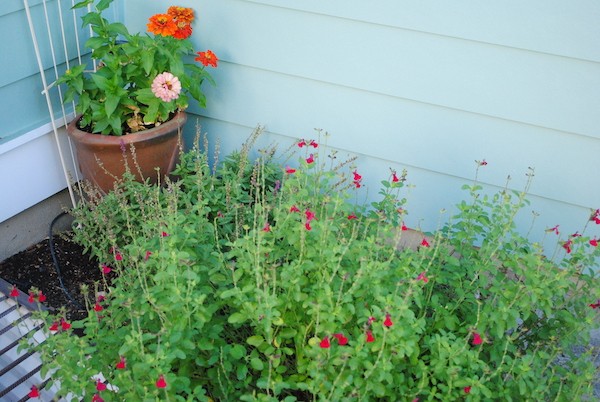 I wanted a simplistic wiry kind of flower. Not fluffy roses or hydrangeas even though those are usually my go to flowers.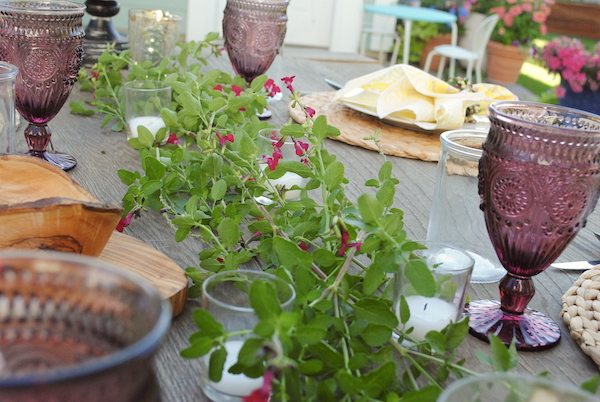 These red pinkish tall skinny flowers growing right by our house were perfect! So I snipped a bunch of long stems with lots of greenery on them. Placing them down the center of the table brought in that perfect Bohemian look I was going for. 
Sprinkling in some votive candles and a couple of taller glass votives add a flicker of light when the sun starts to set.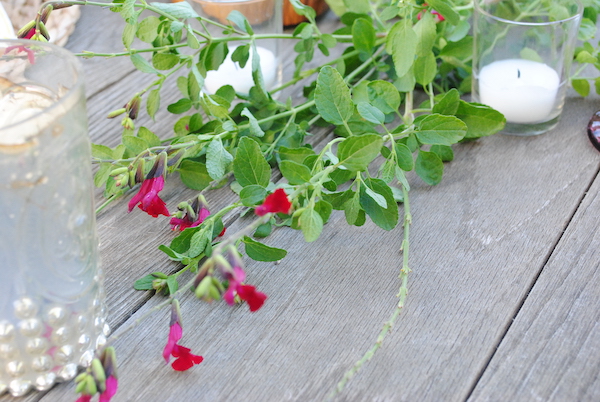 The addition of one large lantern at one end of the table adds to the look and feel.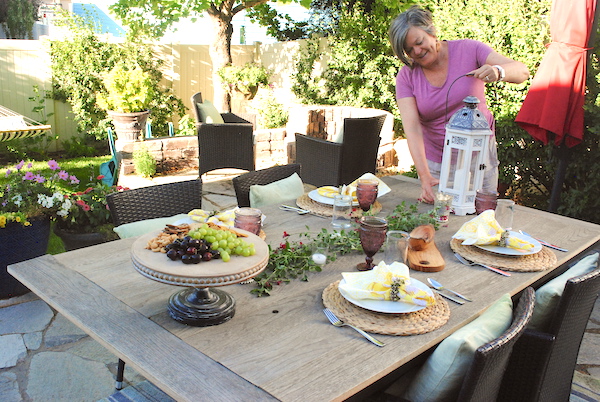 Summer Tablescape Place Settings
Of course my all time favorite bamboo placemats were a must! As are my simple white dinner plates. Because I was keeping it simple I did not need a salad plate.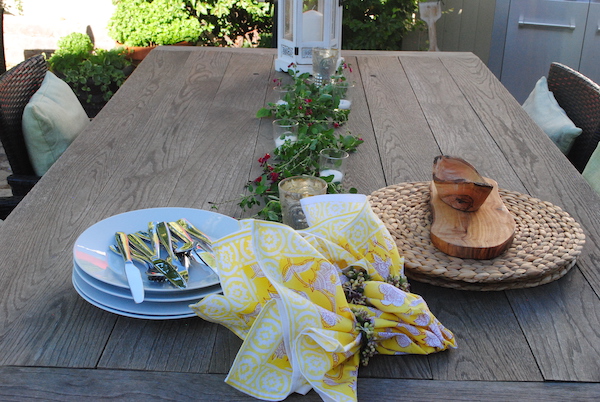 Then to finish off each place setting I used my regular everyday silver flatware, my purple pioneer woman goblets and another clear water glass beside it.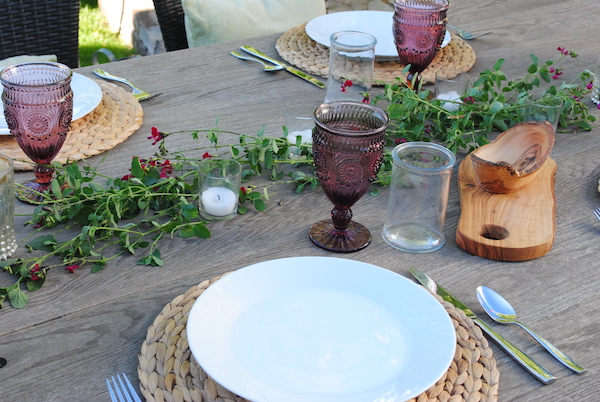 Color, texture, sparkle are the three things I focus on for each place setting.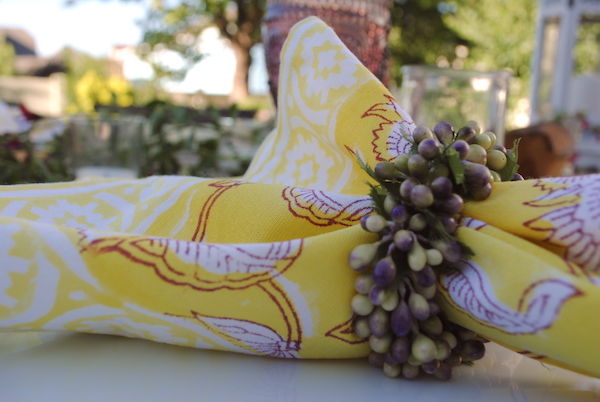 Adding the Table top shop napkin with a fun green and purple berry napkin ring on top of the white dinner plate was the perfect touch!
Summer Table Serveware
While we were traveling in Casoli, Italy we went to the open air market. One vendor was selling these small wooden cutting boards along with little wooden bowls. They are.perfect for serving things like chips and salsa or veggies with a dip.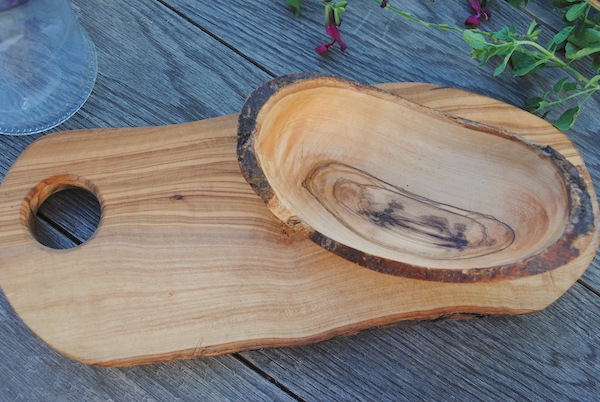 Adding these to the summer tablescape brings in more of that natural Bohemian look I desired.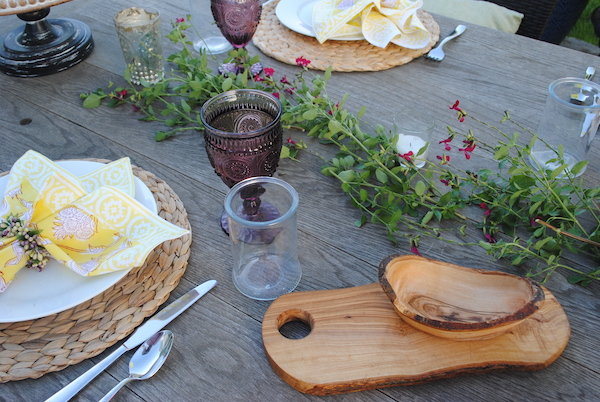 To serve some appetizers I brought out my wooden cake stand. There is something about adding a different height on your table to bring in some more interest.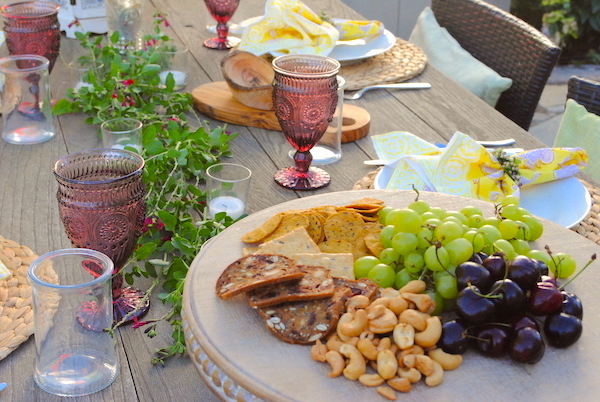 An appetizer does not need to be something that takes a lot time or preparation. I just used, grapes, crackers, nuts and some prosciutto ham.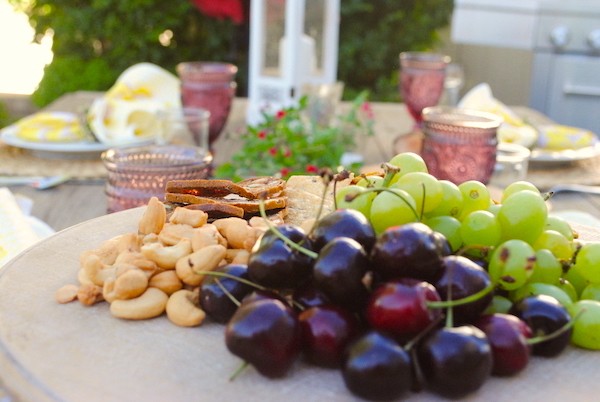 By elevating these foods on a pretty cake stand it feels a little more elegant and your guests will love it!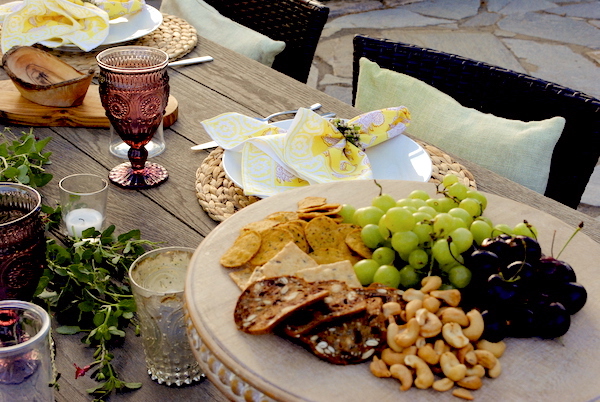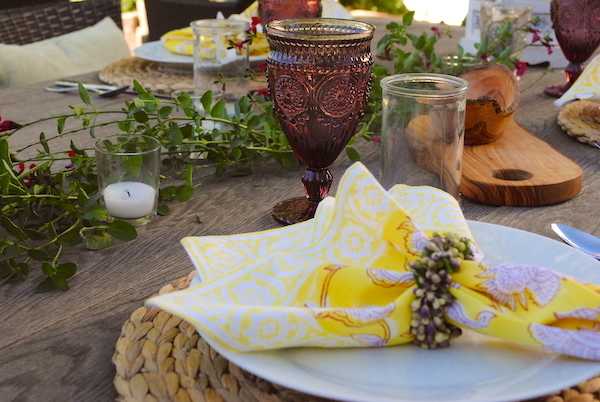 These purple goblets from Pioneer woman are my favorites! I love the cut glass, the color and the sturdiness of them. They look great next to the simple clear glasses.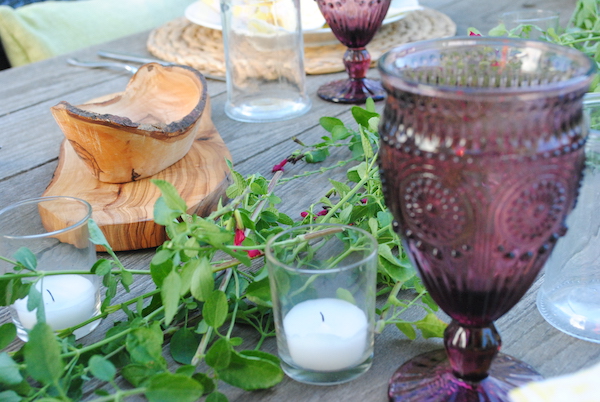 Entertaining outdoors does not need to be a big project. Using simple white dinner plates, inexpensive goblets, a fun placemat and some pretty cloth napkins makes for a nice summer tablescape.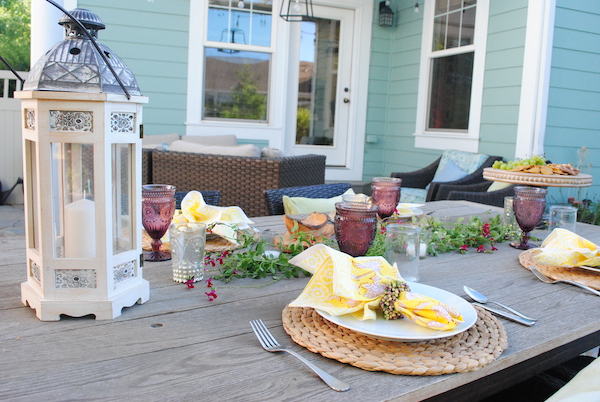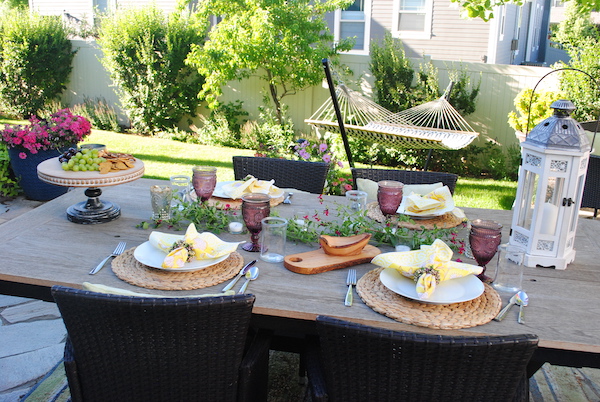 I hope my summer tablescape inspires you to create one in your own backyard.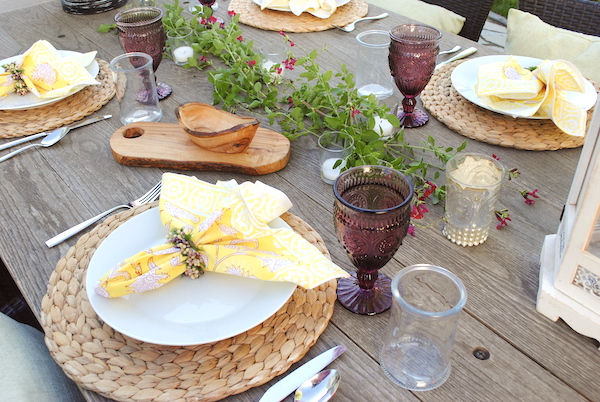 More outdoor tablescapes
Here are some of my favorite outdoor tablescapes.
Coastal grandmother tablescape
Bohemian Dinner party by the lake
Shop Similar table top Items