My hubby and I love to spend time out in our backyard as much as possible! Grilling is another favorite so tonight I created a pretty outdoor dinner for two in the backyard. I just wanted it to feel a little bit special because with everything going on in the world I wanted it to feel like we were in a little outdoor cafe.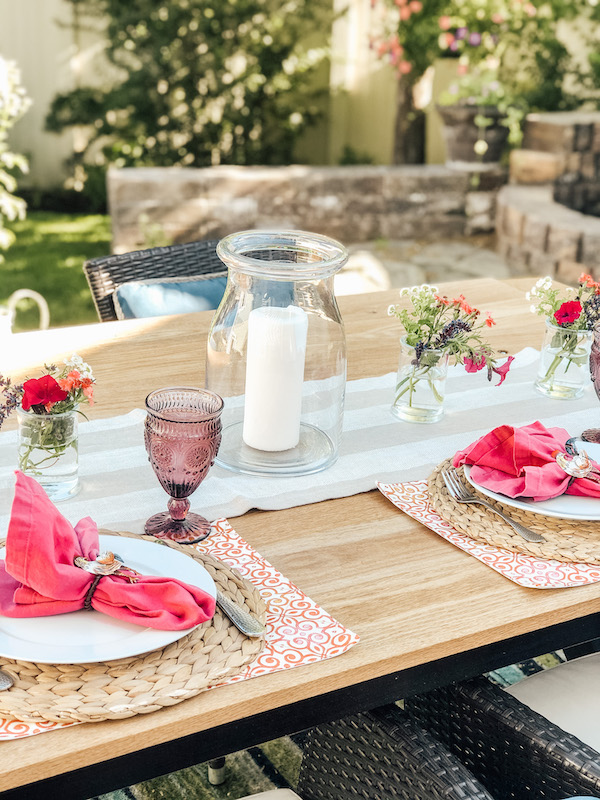 Table Linens for outdoor dinner for two
I started my Outdoor dinner for two tablescape with these pretty BOHO looking orange and pink placemats from Izy and Oly Esty shop. You might remember when I used these placements with her orange napkins Here. Keri is a fabulous seamstress and makes all kinds of very fine table linens. (her shop is taking a little break but she will be back with more new items). I decided to use pink napkins with these cute little rooster napkin rings this time to change up the look.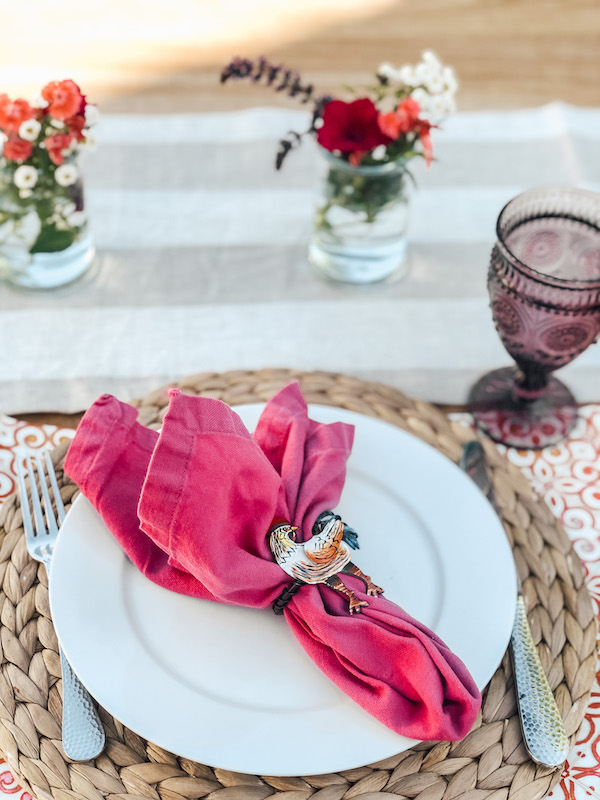 I decided to add this fun linen looking striped table runner down the middle of the table to bring in a neutral summery vibe. Here is another fun outdoor dinner tablescape that I did using creams and black around our pool when we lived in Texas.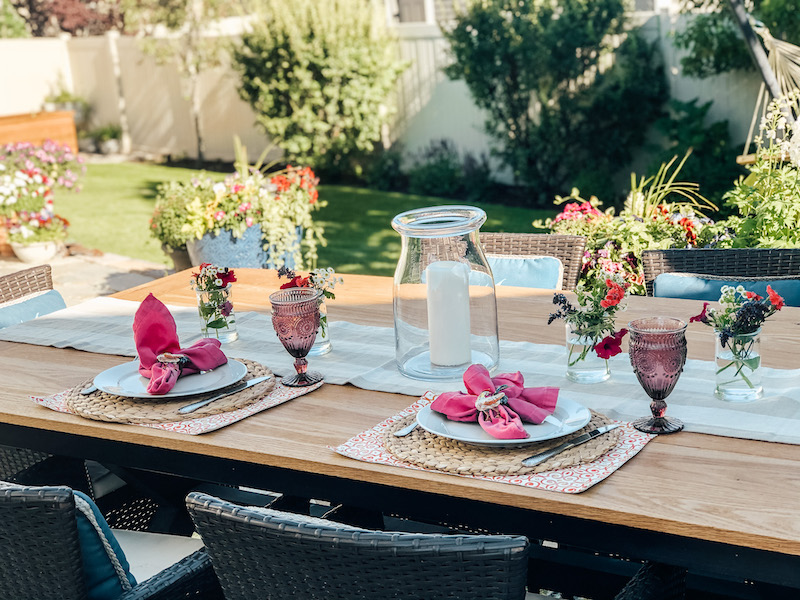 Glassware for outdoor dinner for two
These pretty purple pink goblets are from Pioneer Women's collection and I just love them! The embossed detailing makes them look and feel like they are expensive. I used them Easter and I used them again for a Mother Daughter party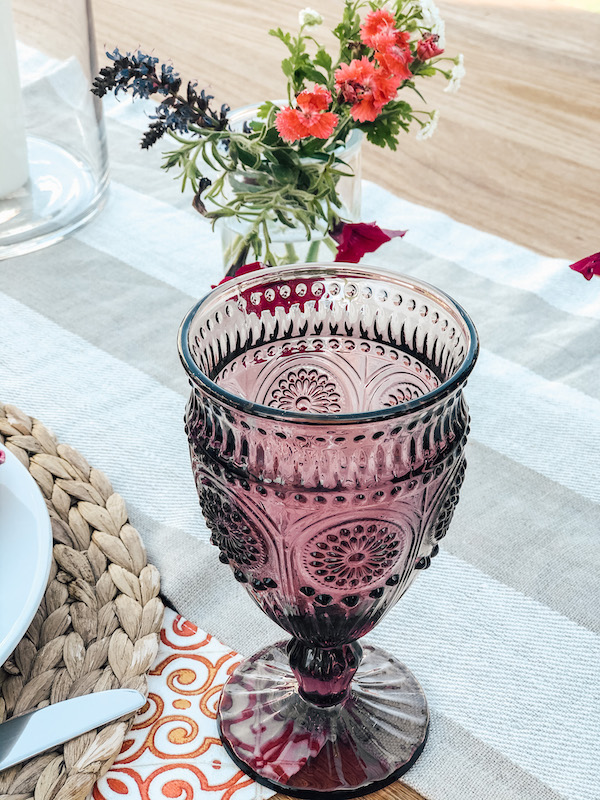 I filled small vases filled with petunias, salvia and mini white daisy flowers from my backyard garden. The vases are from a little shop in St. George called Cosy house and Gift shop. These vases are the perfect height because they won't block your view of others at the table.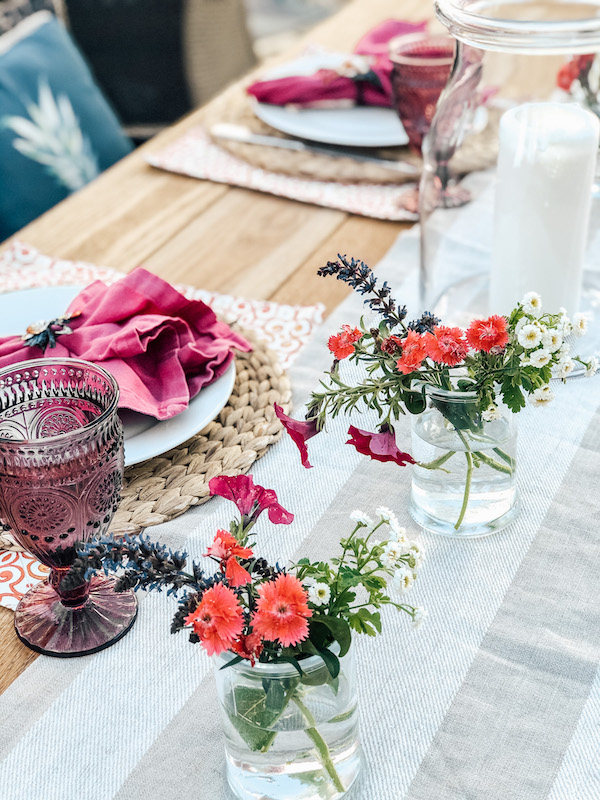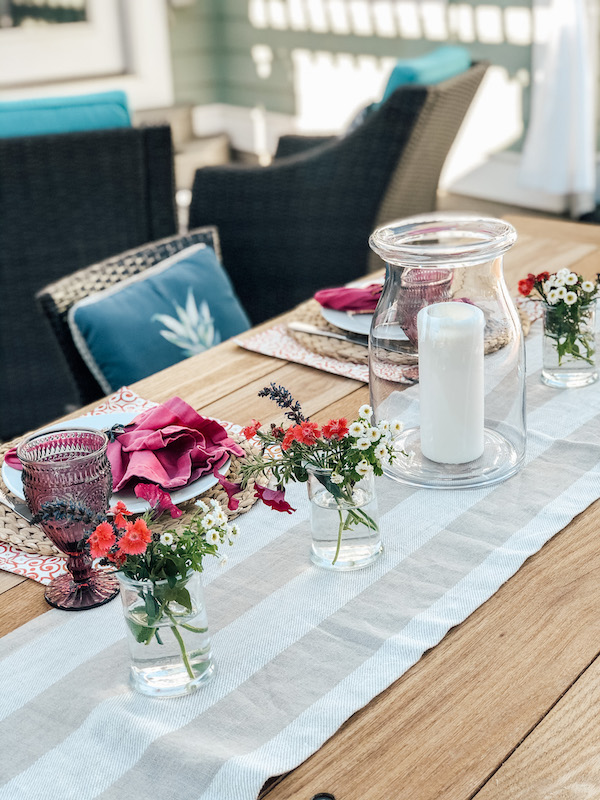 To add a little glimmer to my outdoor dinner for two. I used this big glass vase from Ikea with a large white candle in it.
Grilling for the two of us
It really feels like summer when we start grilling in the backyard. This dinner was so easy to prepare. I marinated some chicken breasts for 30 min. in Olive oil, Balsamic vinegar, Beer Can chicken seasoning, salt and Pepper. To grill broccoli, I first nuke them in the microwave for about 4 min with a little bit of water. Place the vegetables in a wire basket with a drizzle of Olive oil and salt and pepper and grill them. That way they don't over cook on the grill. For the rice pilaf I used Uncle Bens Rice pilaf and orzo pasta that you microwave for 90 seconds. So simple and easy!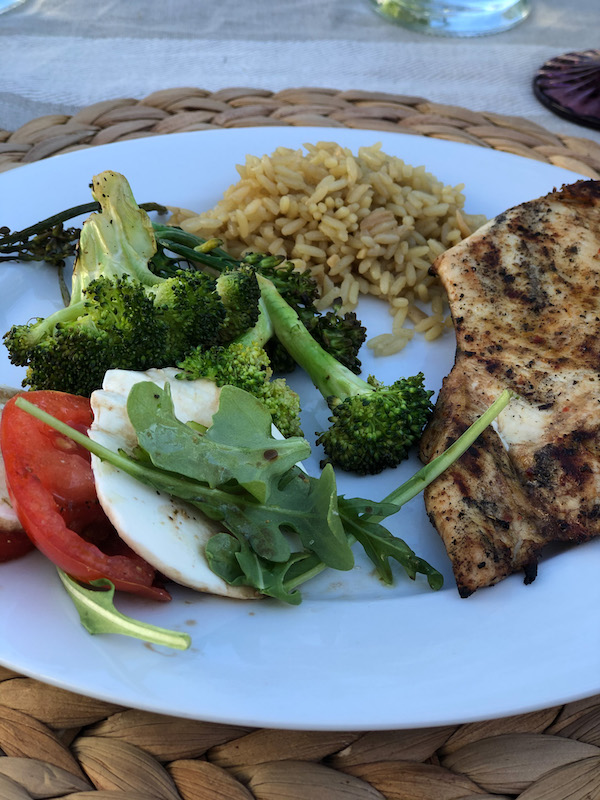 For a quick little side dish I created a caprese salad. Using 1 tomato, slices of fresh mozzarella and a few springs of arugula lettuce. After layering the tomatoes and cheese on top of the arugula I sprinkle a little beer can chicken seasoning (it is seriously my go to seasoning), drizzle a little Olive oil and balsamic vinegar over the top and voila! An amazing dinner for two is done in 30 min.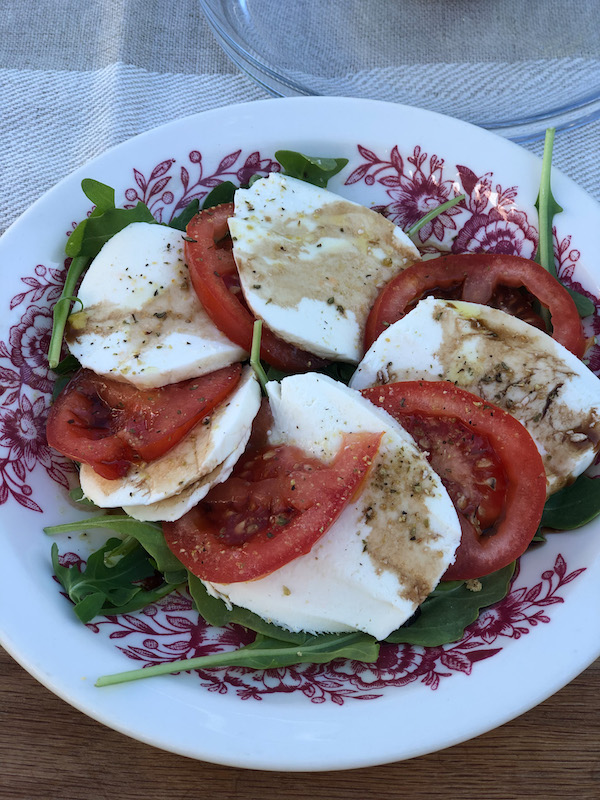 Quick Dessert
I bought some mini brownies from Target and Tillamook old fashioned vanilla ice cream. Layer them in a pretty goblet and add a few raspberries and drizzle some chocolate sauce over the top. It is easy to use things that are premade and presenting them in a pretty way makes it feel special.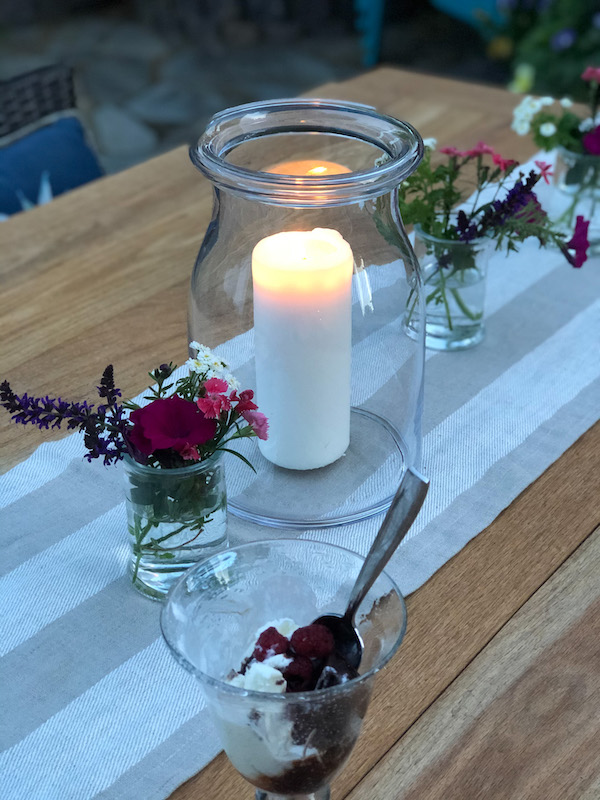 Shop This Post