For as long as I can remember, I have had a dream of hosting a beautiful outdoor garden dinner party for 20. 
At first I asked myself these questions-
How do you set up a an outdoor garden party?
What does hosting an outdoor party look like?
How do I set up an outdoor party table?
Well I finally did it!
Luckily my hubby was totally on board and did all the muscle work for me, moving tables, setting up chairs and lights to hang all around to host our outdoor garden dinner party.
I came up with the ideas and he implemented them for me.
We make a great team 😉
Tables and Chairs
We decided the best place to hold this outdoor dining experience would be in our backyard.
Two 8 foot tables allowed us to be able to seat 20 comfortably.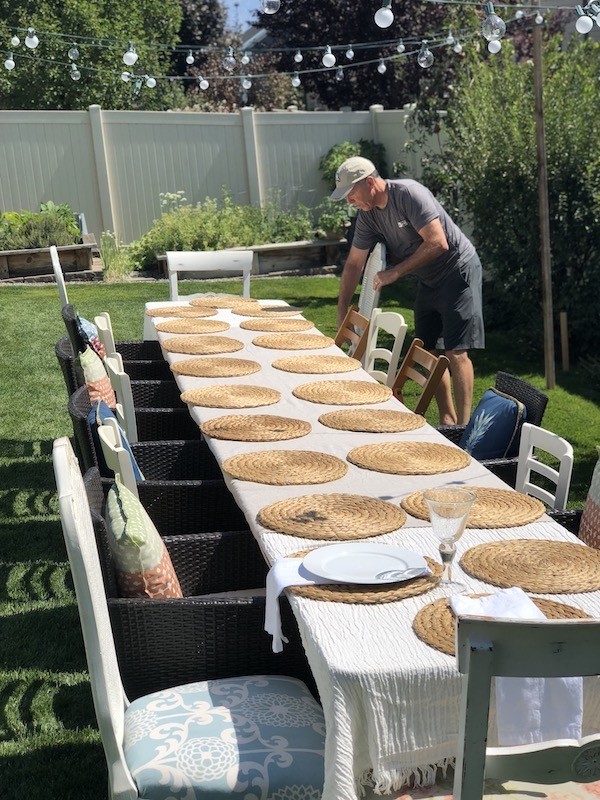 20 chairs were needed so we pulled chairs from inside and out of our house.
You can find more tips about how to set up an outdoor party on my do it yourself garden party tips and tricks post here.

Outdoor Twinkling Lights
You have got to have lighting for an outdoor dinner party!
My sweet hubby MacGyvered strings of bulb lights onto poles that just brought a beautiful ambiance to our outdoor dinner garden party.
He used 4 poles with stakes attached that he pounded into the ground.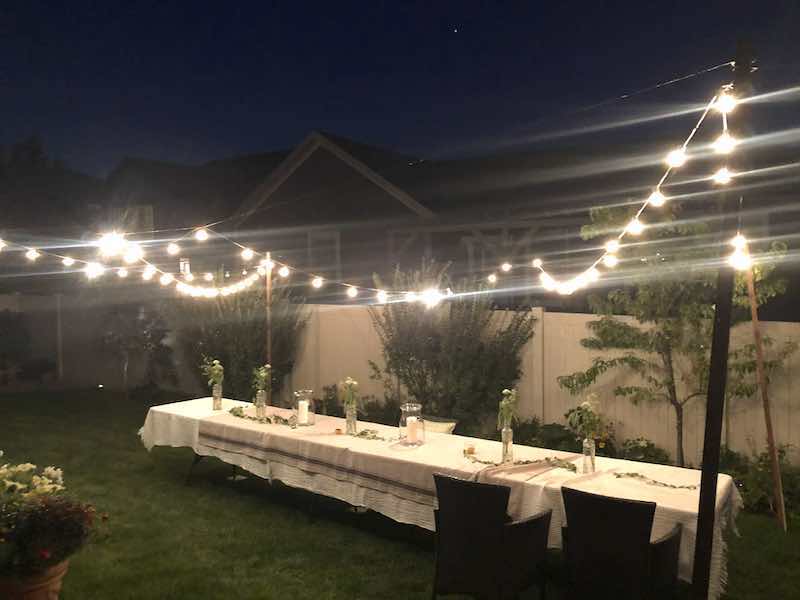 The poles were still a little wobbly especially after he used 25lb fishing line from corner to corner to create a square around the tables for the lights to hang on.
He had to string more fishing line from each pole to trees and edges of house to keep the square taught.
He totally figured everything out and it looked gorgeous!
When I put together a romantic outdoor dinner for two I didn't use strings of light I only used candles. You can see this beautiful romantic dinner here.
Table Linens
We used two folding tables and I bought 3 white textured throws called Mathea from Ikea sadly they do not carry them anymore.
I found similar ones that I linked under Shop Similar Items at the end of this post.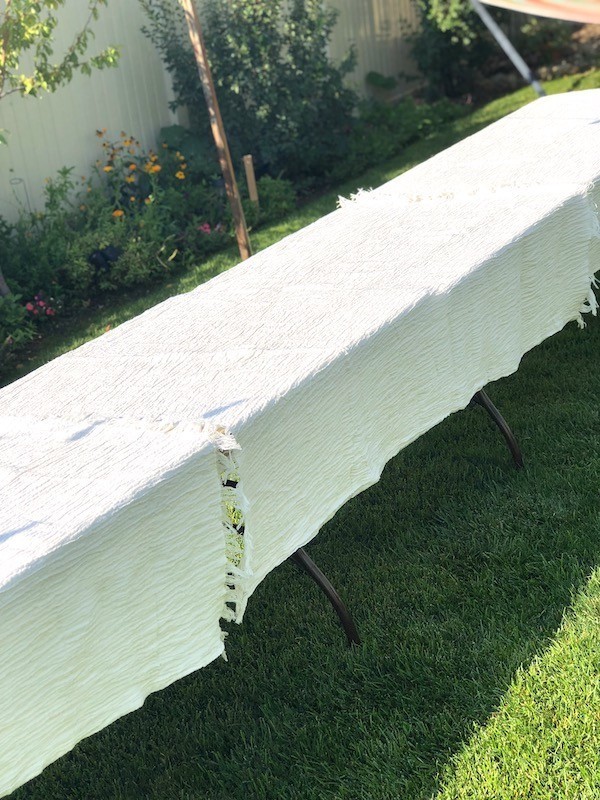 I put them on the tables with a oatmeal colored cotton linen tablecloth called Vardagen also from Ikea over the middle of the table to give it a European relaxed feel.
Dinnerware
I always like to use white dinner plates because it makes the food pop off the plate.
The placemats are a natural woven material and bring in a garden feel.
I use these placemats almost everyday!
See them in this pretty outdoor dinner for two or this outdoor fall tablescape. They look really nice on our DIY planked top dining table too!
Centerpiece
Dollar tree bottles filled with herbs from my garden make for a beautiful natural centerpiece.
I used Dollar tree pink ones here in this tablescape.
I used herbs that had small flowers blooming.
Pineapple sage flowers, Oregano flowers and the white flowers believe it or not are from my onions!
The leafy greenery going down the center of the table are honey suckle vines.
Glassware
I mixed clear glass goblets and bubble glass goblets.
These are perfect for serving lemon water.
Candle Holders
Two glass vases called Begarlig from Ikea act as hurricane lamps with tall white candles in them.
The wind can't blow them out.

Food
I served bruschetta, roasted vegetables, a yummy quinoa brown rice yam cherry salad, sliced fruit, cheese and crackers.
I asked my friends to bring something to grill.
For dessert I made individual mini peach raspberry pies that were baked in ramekins.
They are soooo yummy!
So perfect for an outdoor garden dinner party!
Fresh melons sliced on a plater with some grapes is the epitome of outdoor party food for me.
Easy and all the colors are perfect for a summer party.
Wooden slabs hold crackers, cheese and sliced apples.
Setting up a separate table to hold all of the outdoor dinner party food is the best!
Your guests can come and fill their plates with whatever delights them.
All these friends enjoyed the evening as did we!
A couple of my friends said it was just a magical night, perfect weather, delicious food and most of all good company.
My dream of hosting an outdoor summer dinner garden party was fulfilled!
Pin My Outdoor dinner party Idea to your boards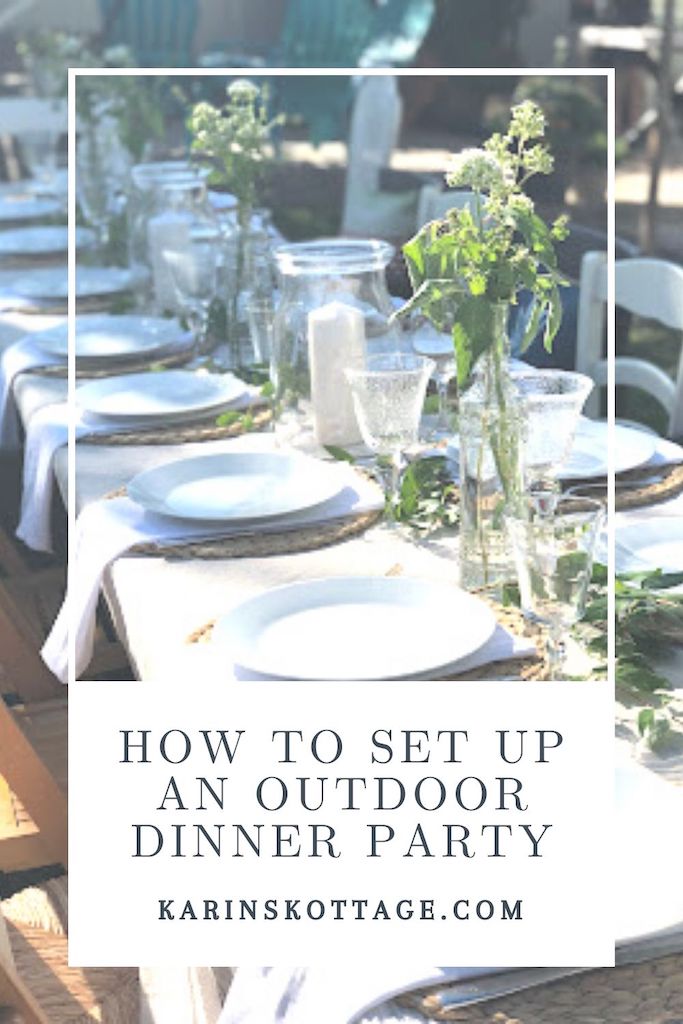 Shop Similar Items

Other Tablescapes