This post may contain affiliate links and I may earn a small commission when you click on the links at no additional cost to you. You can read my full disclaimer here.
During this Autumn season it is so nice to gather as a family outdoors to sit down and enjoy a meal together at the table. So let me show you how to create an outdoor fall tablescape easily using natural fall elements from your yard.
Where to start?
I always start with the linens! Why? because of the colors! Using a pretty patterned or floral napkin combined with a tablecloth pretty much decides the color palette for me. This is one of my favorite fall tablescapes because it uses orange, green and purple and it looks awesome! Once I have that figured out I can decide on a centerpiece, dish colors, goblets and even silverware. Of course I always have to have some texture element on my table whether it is in the placemats or even a basket to hold rolls. All these tablescape decor elements help to create something special for family and friends to enjoy a meal together.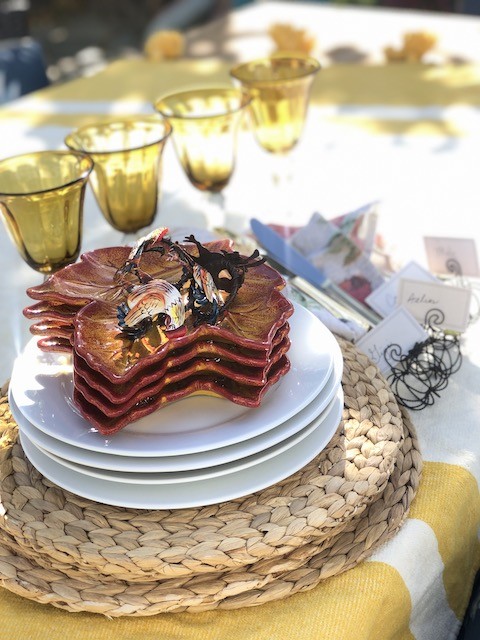 Tablecloth For Outdoor Fall Tablescape
I have two big yellow and white striped throws out on a sofa in the backyard. They are quite large and have big fluffy pom poms on the edges. I knew when I bought them that I could use them as a tablecloth one day. Don't you love it when you can use something like a throw in multiple ways? Speaking of using things multiple ways, I have a white pitcher that I hot glue different colored ribbons to it for different holidays. Red ribbon for this 4th of July table or wide black ribbon this Witchy tablescape. Back to my yellow throws, because they are so large I only needed one. Once I placed it on the table the rest of my autumn tablescape was pretty easy to put together.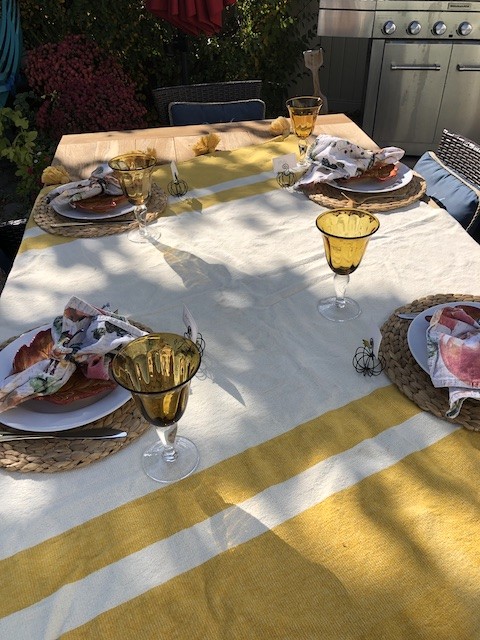 Create Outdoor Fall Place Settings
You know how much I love texture! I use these woven placemats EVERYDAY! I am not even kidding. They are the best things going! Woven placemats make it so easy to create this outdoor fall tablescape a snap! They are perfect for using indoors or out. Remember when I hosted my outdoor dinner party for 20? I used all of my woven placemats and when I did an outdoor dinner for two I also used them. Even when I had dinner party under the tree in our backyard for our grandkids I used them. I. Love. These. Placemats!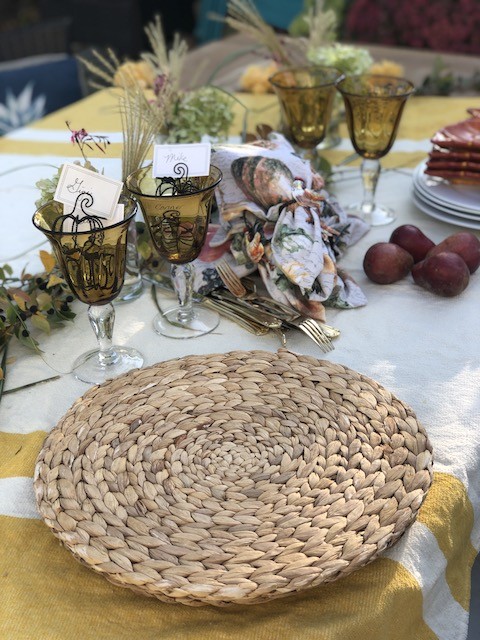 I use my plain white dinner plates because food always looks better on a white background and it creates an elegant fall table don't you agree?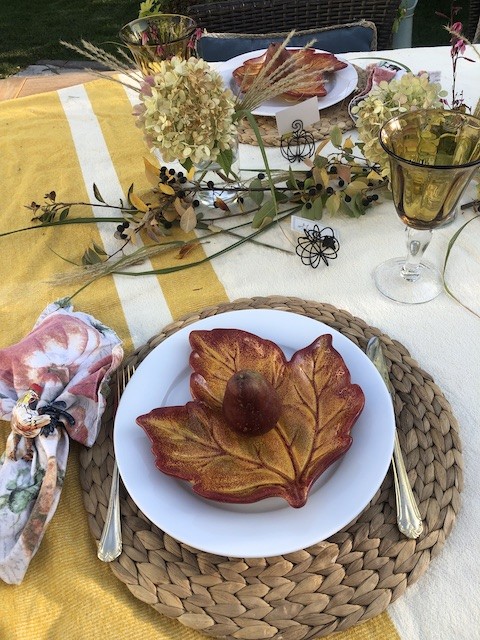 These adorable fall leaf plates are from Walmart but I don't believe they carry anything like that any more. I will try to link to something similar below in my Shop this post. Are you seeing my color palette come to life now? Yellow and orange for an outdoor fall table decor idea could not be any more perfect. Wouldn't these colors be great for an outdoor fall wedding! Remember when I helped with this outdoor fall wedding in my moms backyard? It turned out so pretty with all the pumpkins, hay bales and twinkling lights!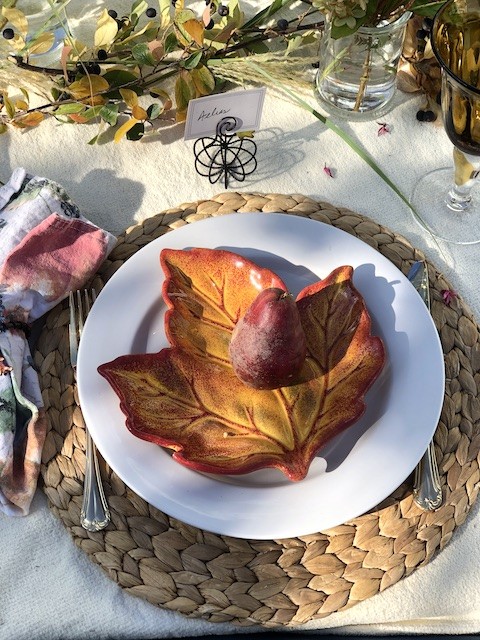 Cloth Napkins and Napkin Rings
Napkins and napkin rings are my thing! Remember when I used to sell these napkin rings? Napkin rings are like jewelry…they help pull an outfit together or rather a tablescape together. To create a little rustic country feel for this outdoor fall tablescape, I remembered I had these rooster napkin rings. They totally made me think of when we traveled to the Italian countryside and saw lots of little Italian farms with chickens running around.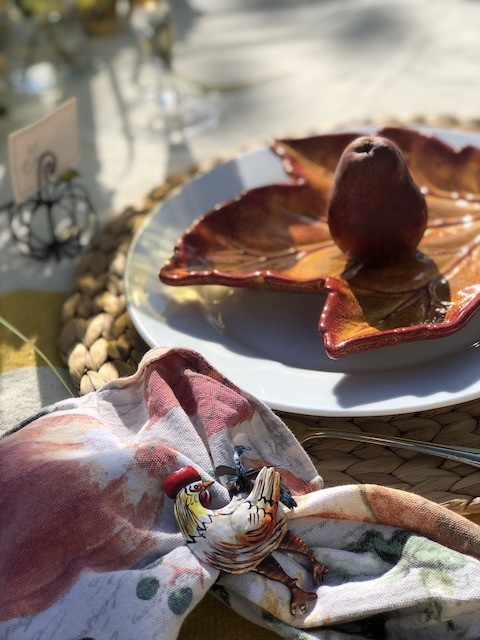 Gold Goblets
Next comes a little glam! Goblets! Even though we don't drink alcohol I still like to use a pretty goblet to serve water in. It just makes the tablescape have a little sparkle. These gold goblets have definitely been used in our house a lot! Here is just one of the fall tablescapes I used them in. When I hosted my fall outdoor garden party for 20 a couple of years ago I used my clear bubble goblets. I love the glimmer of the goblets when the lights go down and the candles light up. My outdoor romantic dinner for two really had that going on!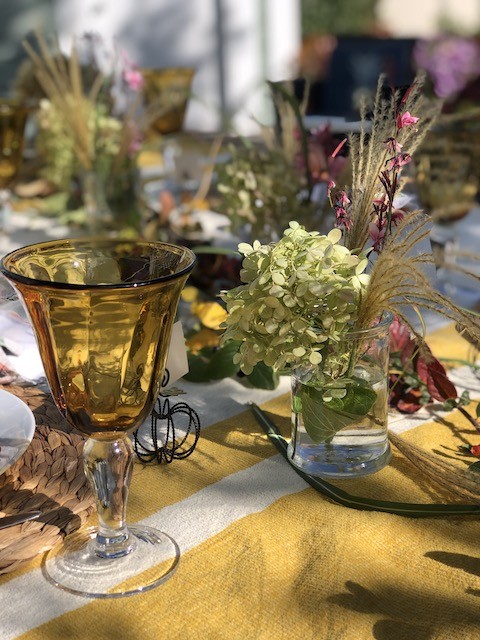 Create Outdoor Fall Centerpiece Easily
To create this outdoor autumn centerpiece was so easy! I just shopped my yard! Just look at the colors of these bushes! PERFECTO! The colors could not work any better. I snipped a few branches of these green and gold branches with almost black berries on them and laid them down the center of the table.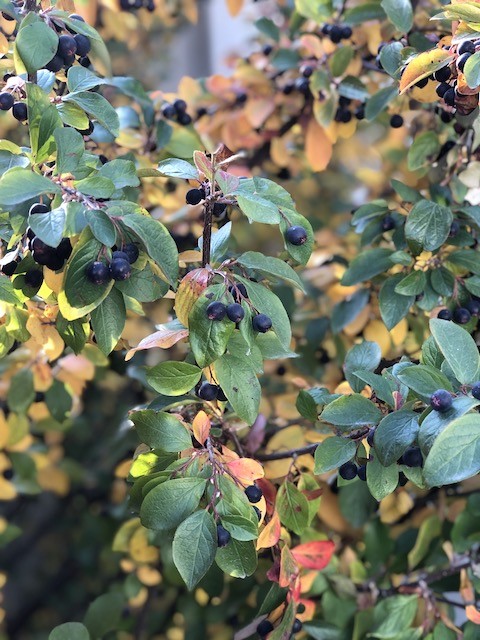 Then I snipped four of my limelight hydrangeas to put in small glass vases snuggled up next to the branches.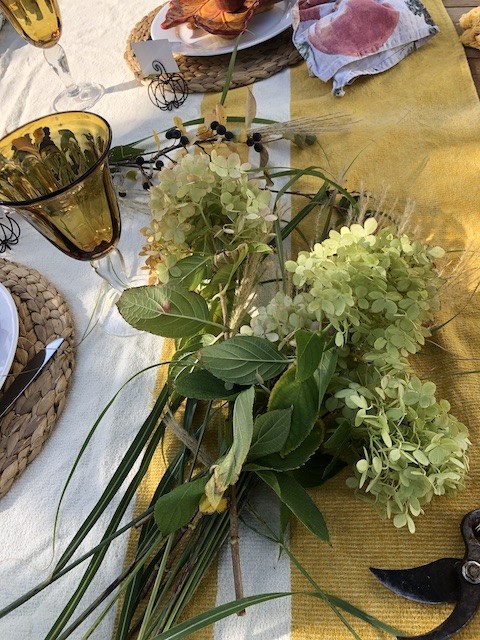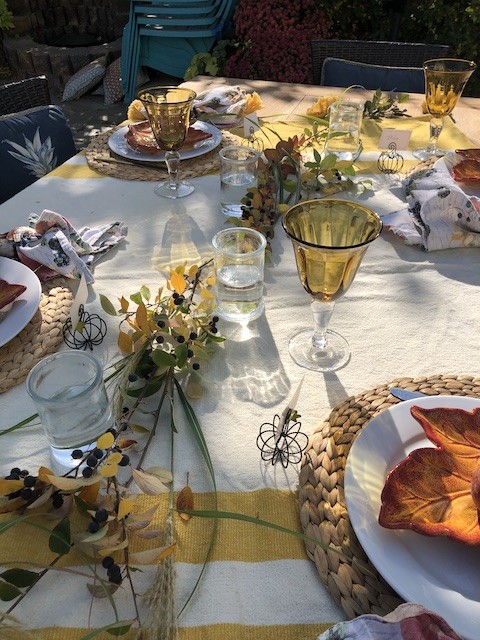 Using grasses from the yard
We have this grassy plant out in our front yard. I really like the long green fronds and the wheat like look of them. I snipped up a bunch of them and tucked them in the vases as well as down the center of the table with the branches. Then to bring in a little purple color, I cut some purple colored flowers and I placed a few of them into the little vases.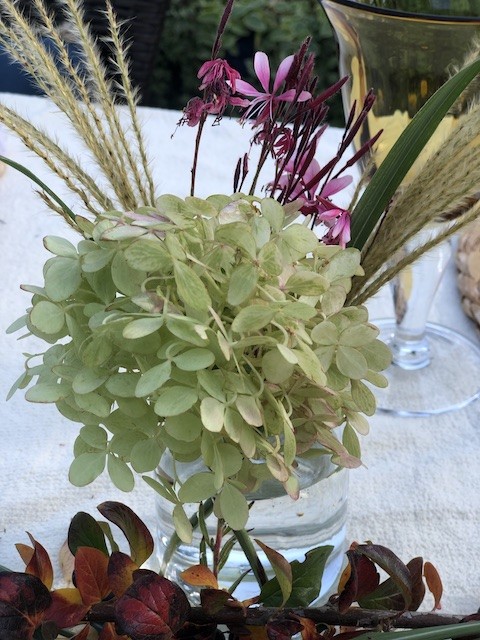 I even thought of using the fronds to tie the napkins but they seemed sticky on the backside. So I opted out of that idea but it would sure look cute.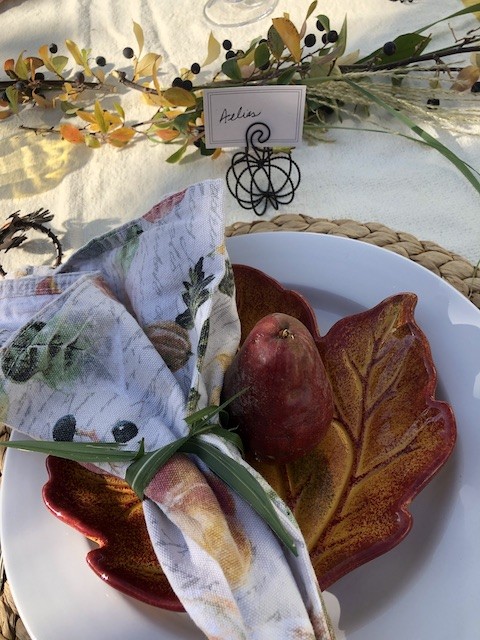 Other Fall Table Decoration Details
I added another natural element to this tablescape by adding some fresh pears from our tree onto the leafy plates. One per person to snack on before the salad would be served or they could save it for dessert. Have you checked out my fresh pear tart recipe that I recently posted? It is super easy and will not disappoint!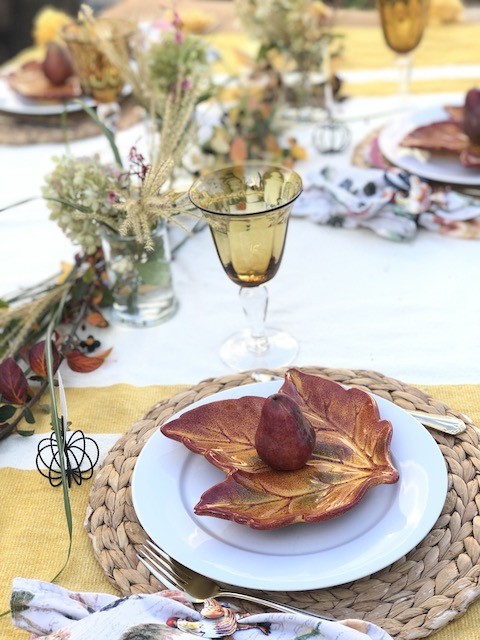 Pumpkin Place Cards
For a placecard I used these darling wire pumpkin card holders. I like the airy feeling of them and that they bring in more of that fall feeling. I used them in this fall tablescape and made them more of a focal point by placing them on an old book paper pinwheel that I made.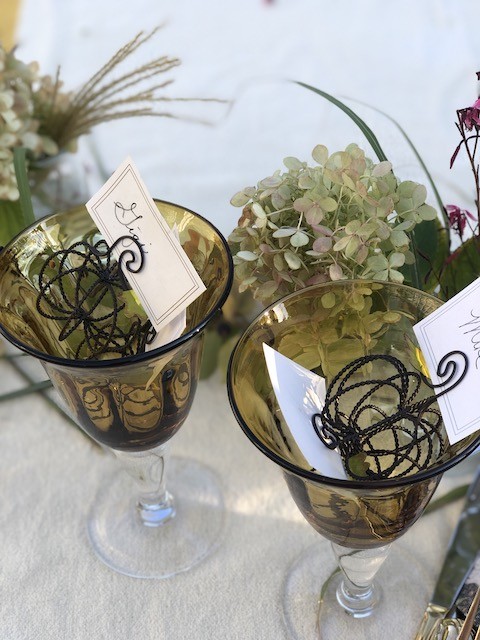 Outdoor Dining
I really cannot say enough about how fabulous it is to eat outdoors especially in the fall! I love it, my hubby loves it really my entire family loves it too!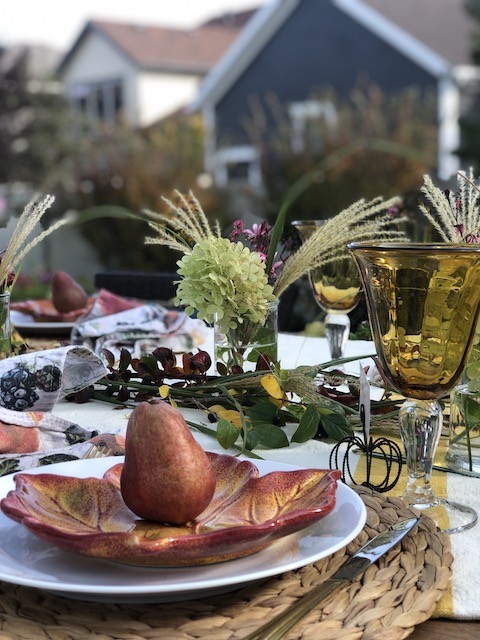 It allows you to just enjoy the moment and breathe in fresh air.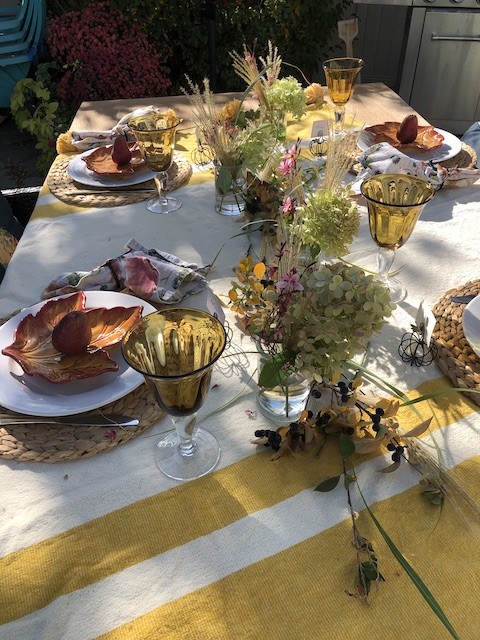 It breaks up the monotony of eating at the same table night after night and it is just plain fun! I hope this How to create a fall tablescape easily post has inspired you to eat outside soon.
Autumn Tablescape Blog Hop
I am participating in My Hubbard Home Autumn blog hop with lots of other fabulous bloggers!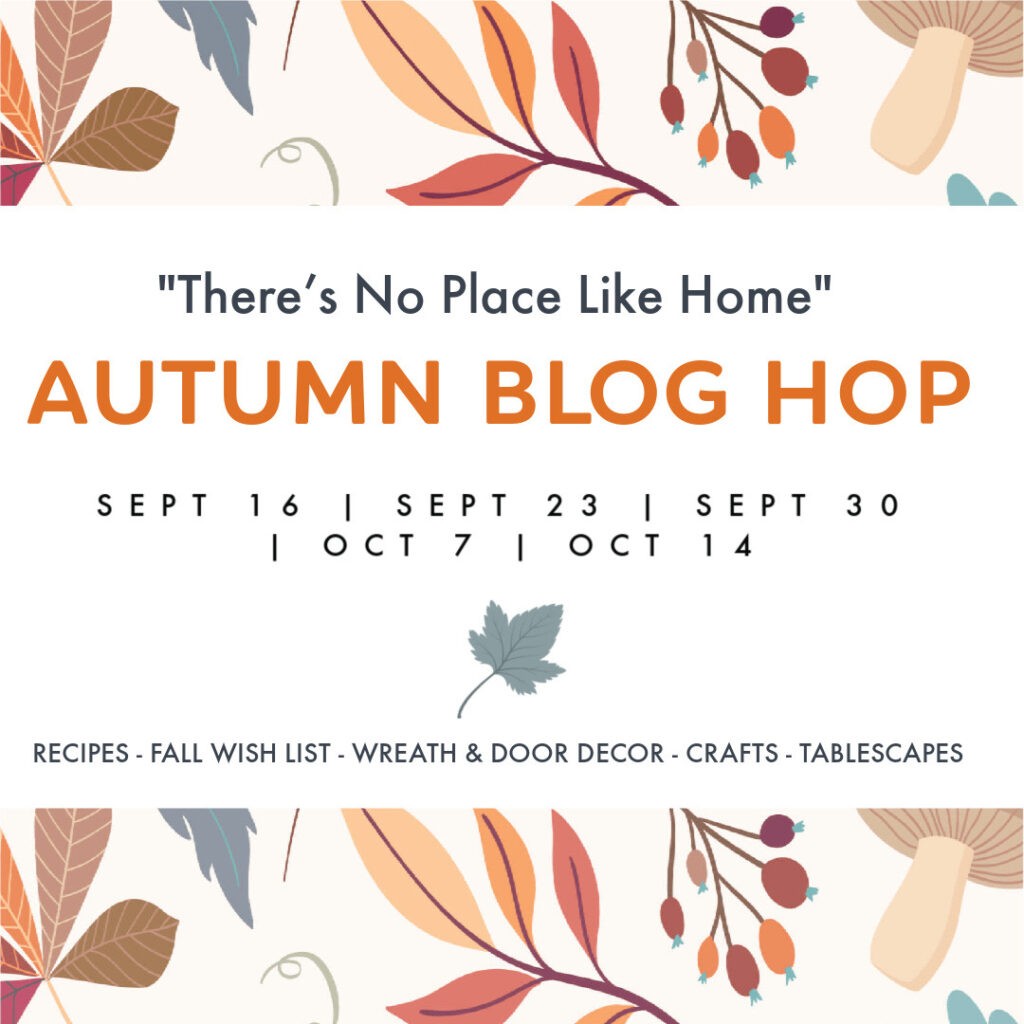 Welcome if you are popping in from My Humble Home and Garden! Next on this blog hop is The Painted Apron this is so fun to get inspiration from so many creative tablescapes! Enjoy!
Shop This Post

Pin For Later