Easter is such a beautiful time of year when everything feels fresh and new. To celebrate this time of year I like to set a beautiful Easter table. For a new and inexpensive idea, I set the table without using expensive flowers. Follow along as I go through the steps of how I go about Setting A beautiful Easter table.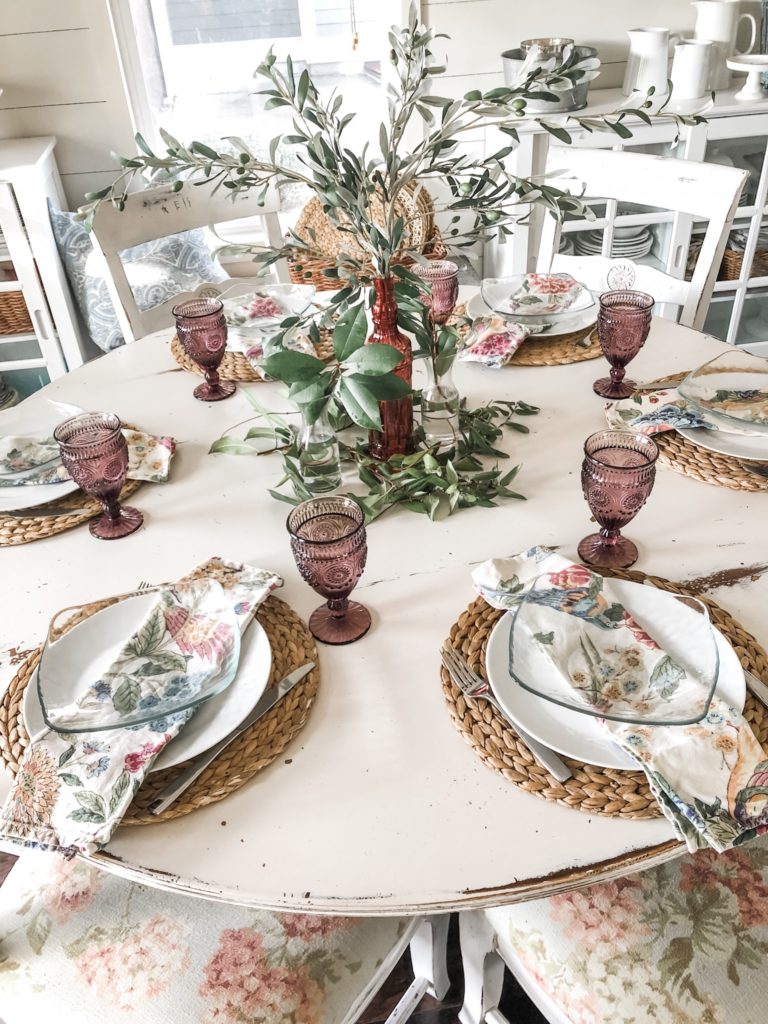 Choose a Beautiful Easter Color
The way I go about setting a table is to first choose a color. The color is chosen based on either the napkin colors, tablecloth or sometimes my glassware that I already own. For this particular Easter tablescape I chose purple and green for my beautiful table. Purple goblets and purple and green in the floral napkins.
These purple goblets are a real favorite of mine! The color just sparkles in the sunlight and I love the cut crystal look and feel, They also have a nice weight to them. How to purchase these or similar items will be at the end of this post in Shop this post.
Floral Cloth Napkins For Easter
I am a total sucker for cloth napkins! Here at Karin's Kottage I may or may not have a cupboard full of them 😉 I love to collect them in all colors, prints, stripes and of course my go to most often White. For me picking out napkins is like picking out a dress and then accessorizing it. Adding a little sparkle here or there on the table with colorful goblets, votive candle holders, or maybe a fun napkin ring. Layering white dinner plates over bamboo placemats also adds to the design with texture.
Centerpiece Wine Bottle As A Vase
For the Easter centerpiece I wanted to stay within the colors of the napkins. I found this beautiful pink wine bottle at… are you ready? The DOLLAR store! I know I couldn't believe it either. So perfect! The opening of the bottle is very narrow so I knew I couldn't use a lot of flowers. I had a couple of faux olive leaf branches (that I bought from Magnolia Farms in Waco) that I stuck in the vase and loved how they flowed over the edges of the vase.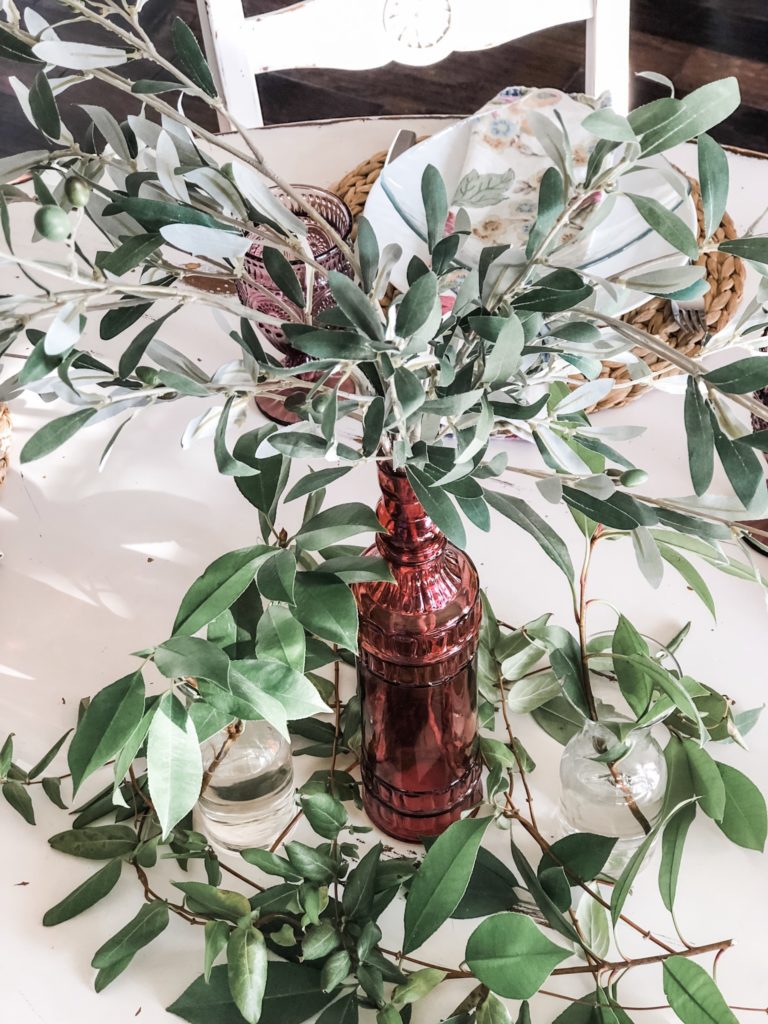 It looked a little wimpy with just those few olive branches so I grabbed my scissors and went out into my yard and cut a few sprigs of greenery to wrap around the base of the wine bottle and bam! Instant beauty to set my beautiful Easter table.
Easter Tablescape Complete
There are no bunny's or Easter eggs in this Easter tablescape but I have used Large Easter shaped boxes in the past. I really wanted a more natural and simple look for this tablescape and I think I achieved it using things I already owned and greenery from our yard. I hope this inspires you to think outside of the box and find things you may already own to set a beautiful Easter table.
Shop This Post
Wine bottle vase (Similar)
Pin for later