I shared our Romantic outdoor dinner at home tablescape yesterday and now I am sharing the details of all the food! As the sun started to set we started the grill. Our Romantic outdoor grilled dinner and dessert turned out so delicious!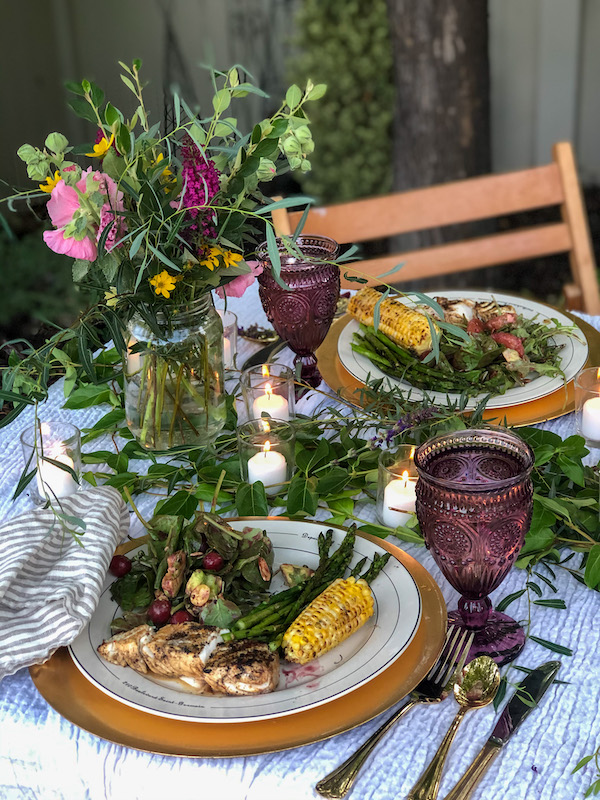 Romantic outdoor grilled dinner menu
Grilling food is our all time favorite way to cook! On the menu we had halibut, corn on the cob, asparagus and a green salad. Recipes will be at the end of this post. The veggies have such a sweetness to them when grilled over the fire as does the fish, chicken or pork. Simply sprinkle some seasonings and a little drizzle of olive oil and you've got some great grilled food. Awhile back I shared a delicious grilled Lemon Thyme chicken recipe here that you might like.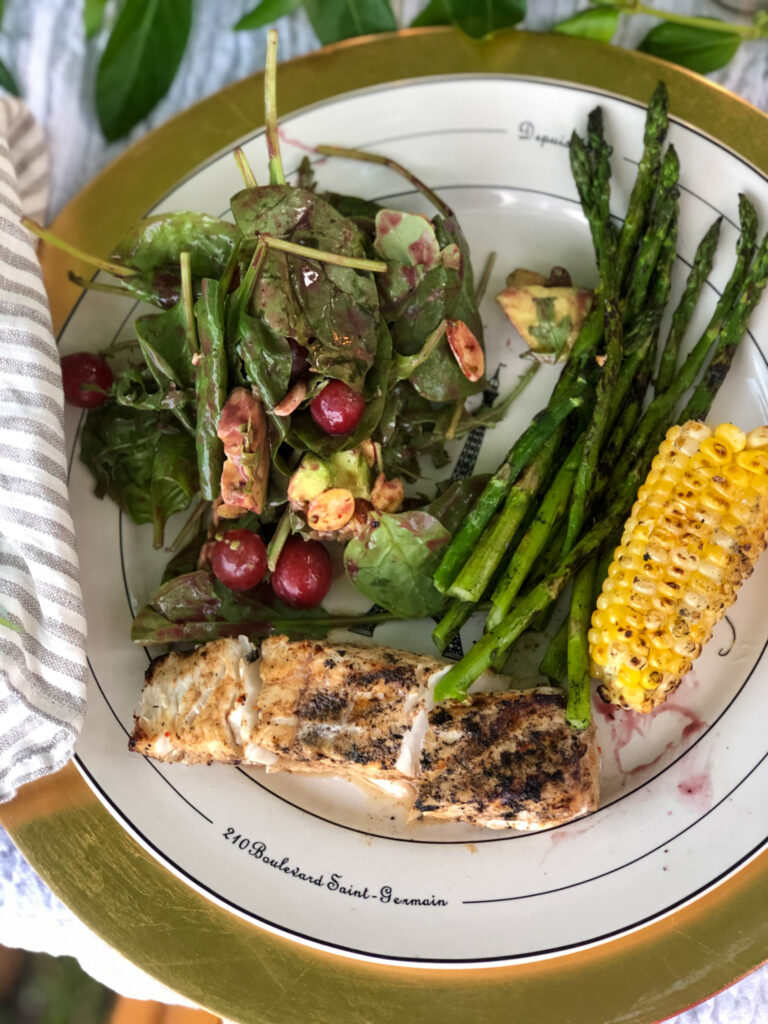 The salad is a mixture of spinach and arugula and then I added in mandarin oranges, grapes, avocado and honey roasted sliced almonds. For the dressing I used Briannas NEW blueberry balsamic vinaigrette. OH it is so good!!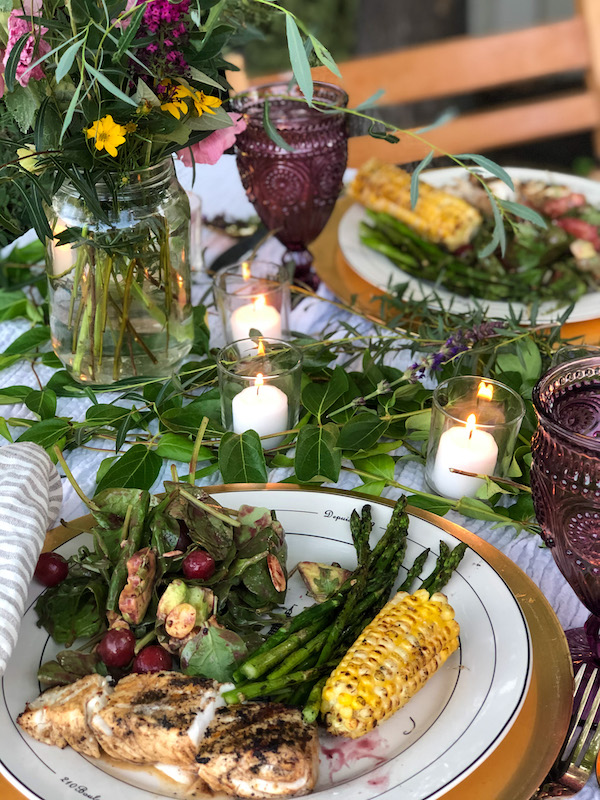 I just loved how the table looked when the sun set! Can't get enough of the glowing votive candles against my purple goblets.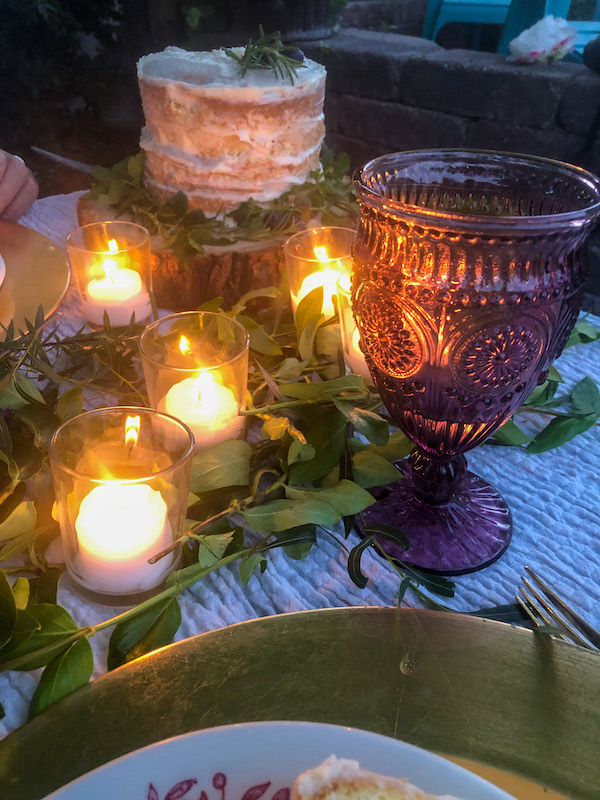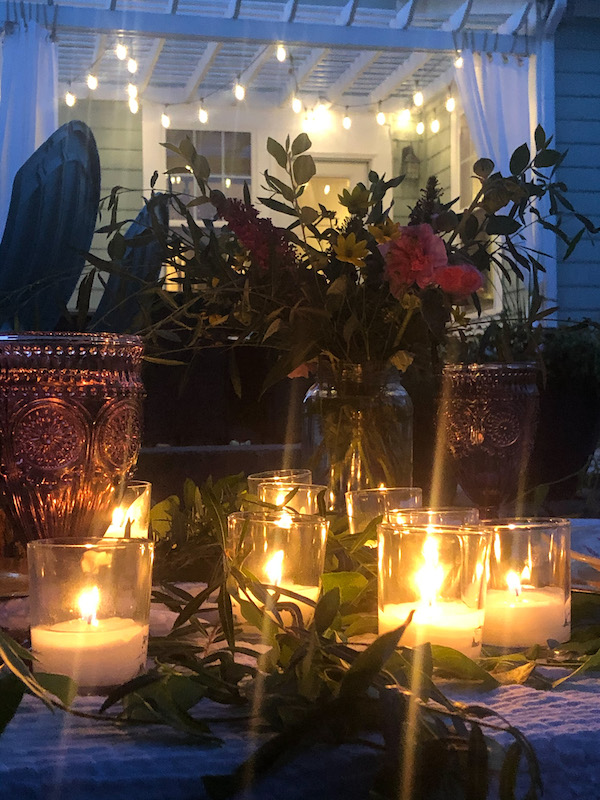 Simple details like velvet ribbon tied around flatware and linen napkins make it feel so special and romantic.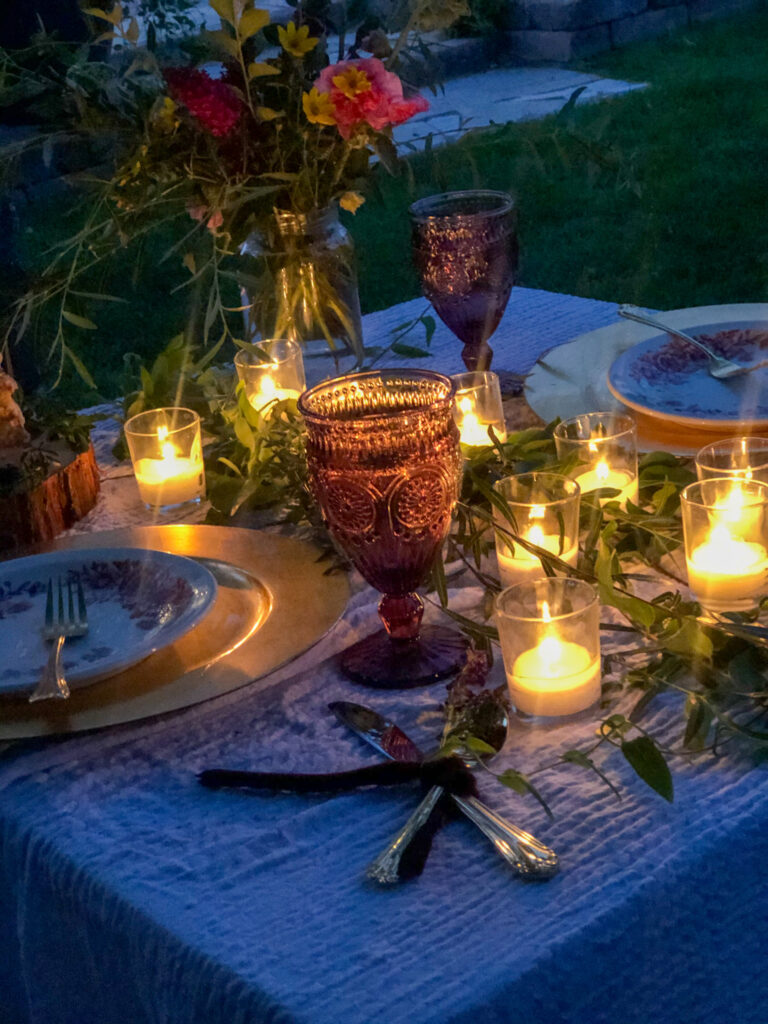 Romantic Outdoor Dessert
In Courtney Allison's book French Country Cottage Inspired Gatherings she shares some beautiful layered cakes. So I decided to make one myself. My hubby said it was one of the best I have made!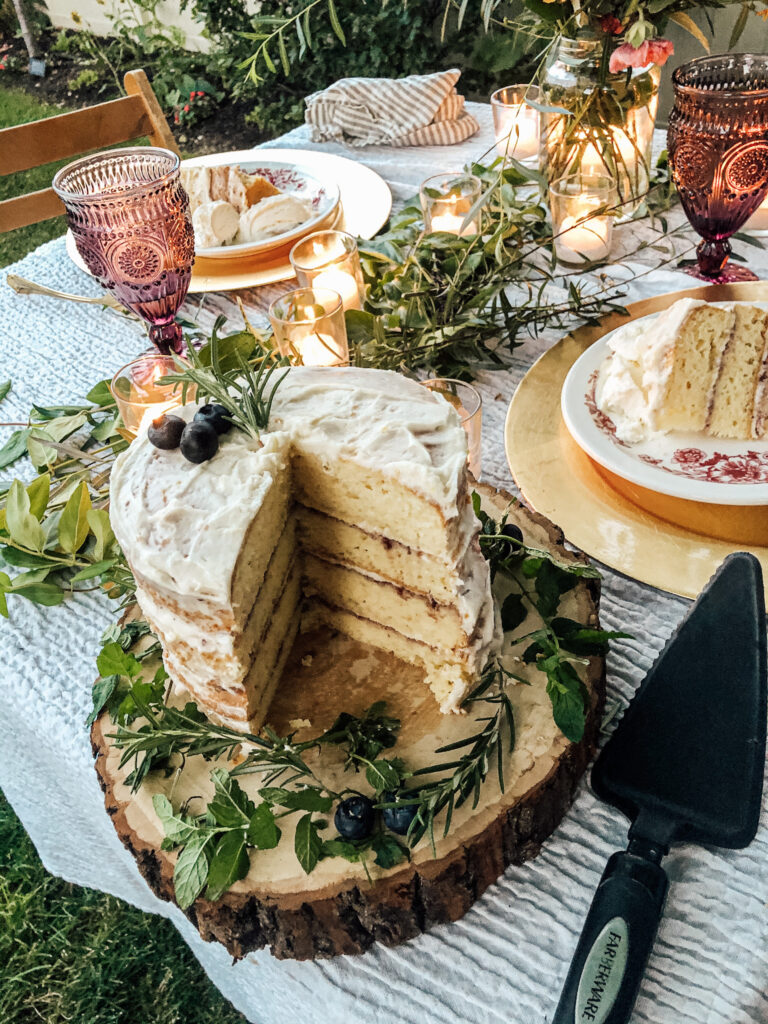 This cake is made using a box mix, pudding, sour cream, lemon water, and 4 eggs. It makes the cake mix rich and moist. In between each layer I spread raspberry jam and a buttercream and cream cheese lemon frosting. Is your mouth watering yet? The decoration on the top of the cake is a sprig of rosemary, fresh blueberries and a faux peony flower.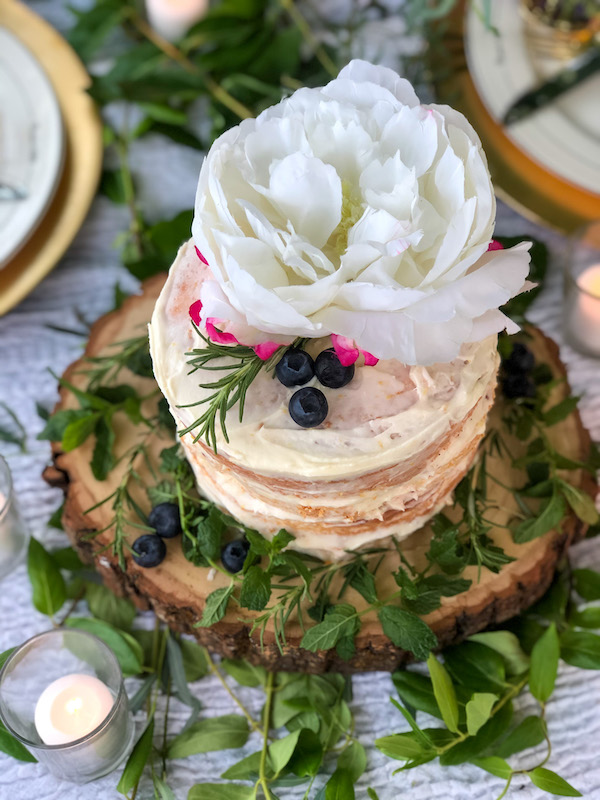 I served the cake on a wooden slab and surrounded the cake with fresh mint leaves and rosemary from my garden. Adding fresh greens of any type just makes everything look so elegant!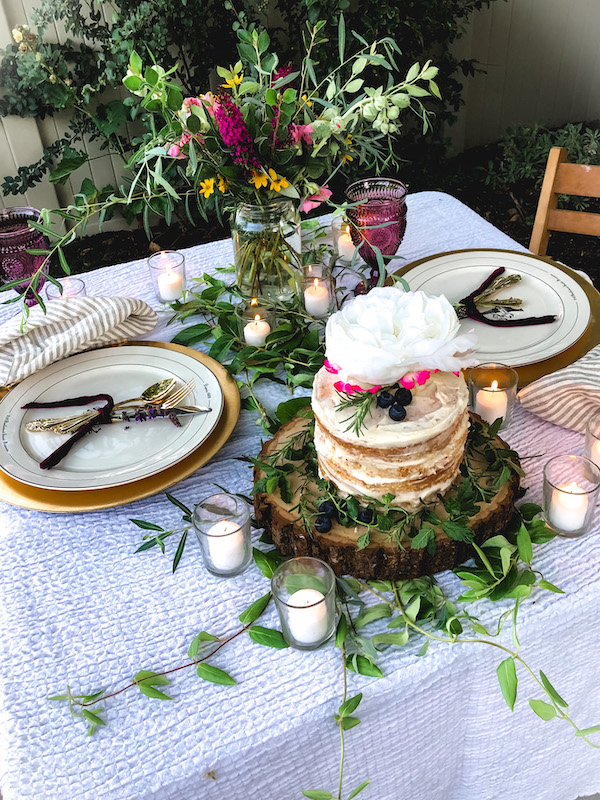 You can see the slices of cake here with the raspberry jam in between the layers. You don't need a lot just a small amount to give it a little more flavor.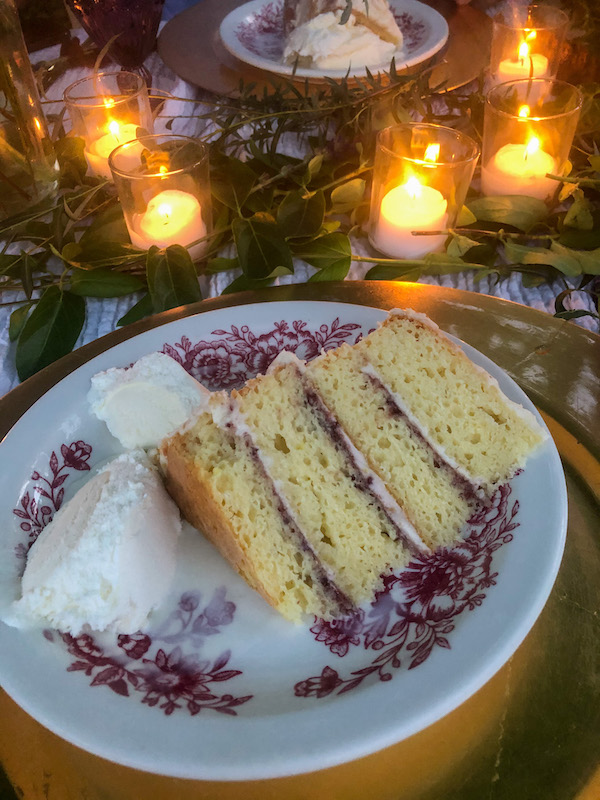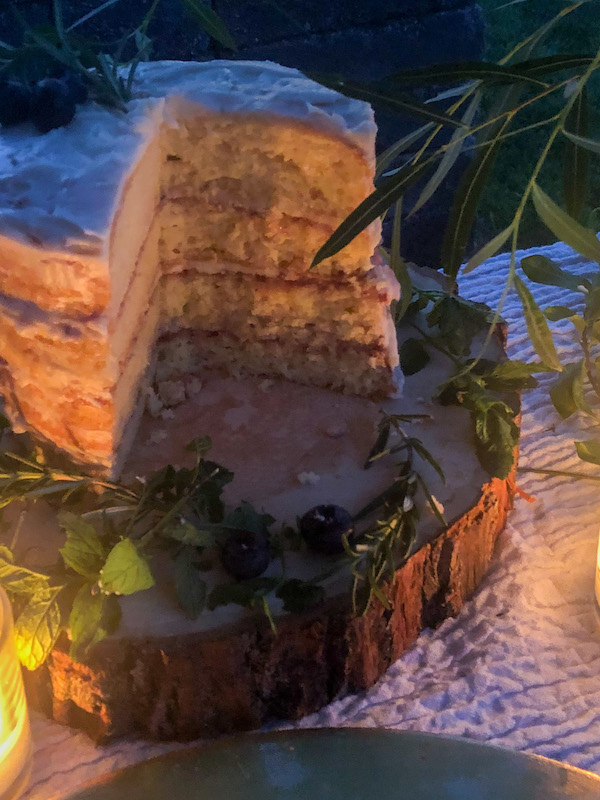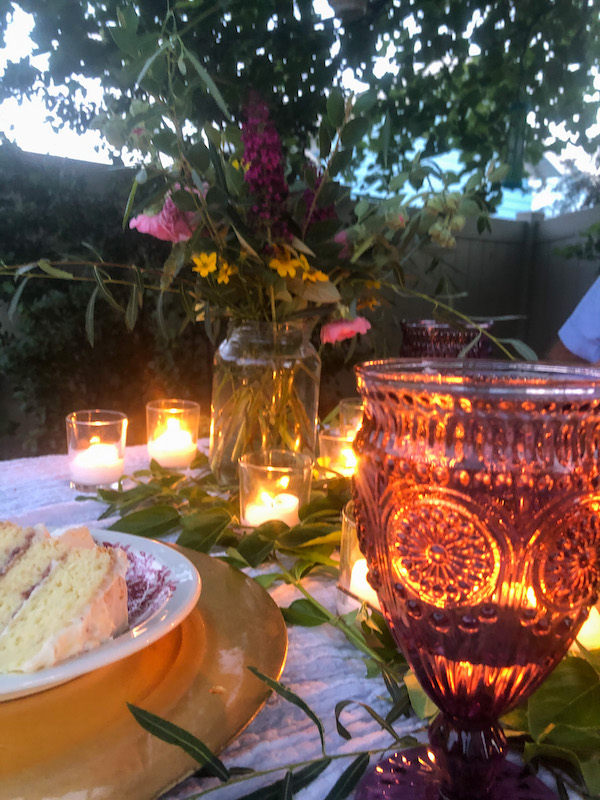 It was a perfect ending to a perfect Romantic outdoor grilled dinner 🙂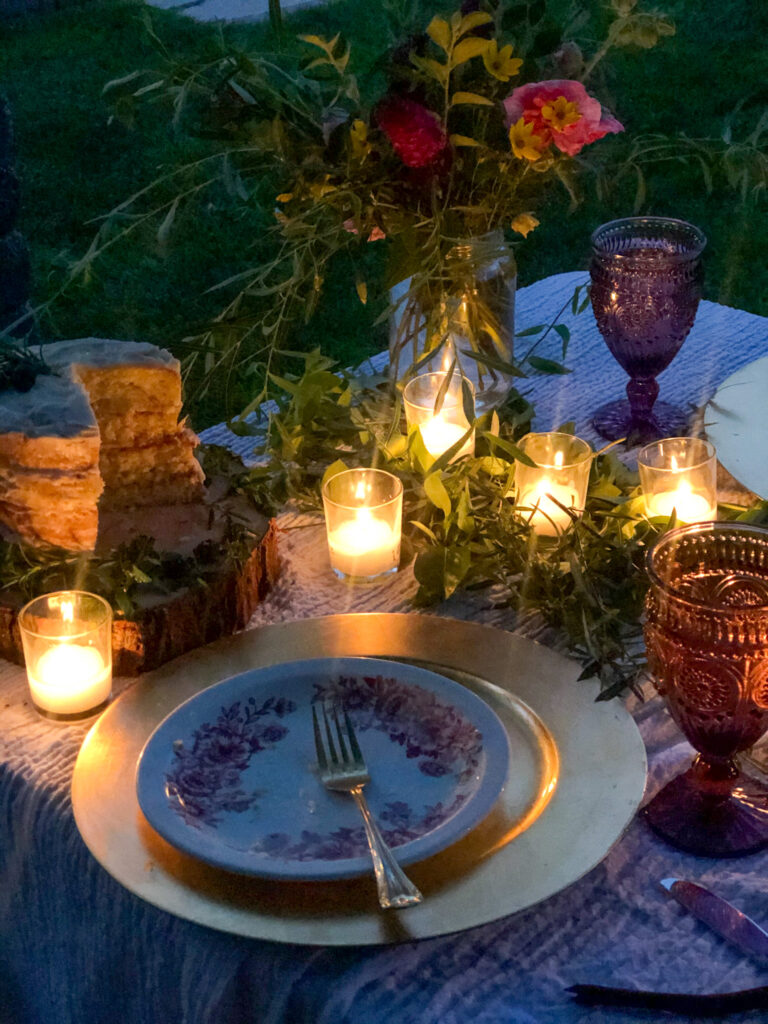 Recipes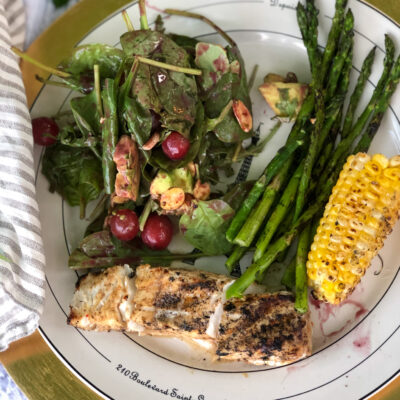 Grilled halibut and veggies
Quick and easy Grilled halibut, Asparagus and Corn on the cob
Ingredients
2

pieces

Halibut fish

Rinse off with water and pat dry with paper towel

1

tbsp

Olive oil

rub all over the fish, drizzle of veggies

sprinkle

Webers Beer Can Chicken Seasoning

sprinkle all over fish, asparagus and corn

sprinkle

McCormick Grill Mates Mesquite marinade seasoning

sprinkle all over fish (do not use entire package save for another use)

1

tbsp

balsamic vinegar

Kosher salt

Sprinkle over the fish, asparagus and corn

2

pieces

Corn on the cob

1

bunch

asparagus

As many as you would like
Instructions
Rinse fish off in water, pat dry with paper towel. Rub fish with olive oil, drizzle some balsamic vinegar over the fish.

Sprinkle with seasonings and kosher salt. Let marinate for 15 min or an hour in fridge.

While Fish is marinating prepare vegetables-

For asparagus- cut off woody ends, rinse well in water, place in a micorwaveable dish, drizzle olive oil and Beer Can Chicken Seasoning and kosher salt. Microwave for approx. 2 min. until slightly tender. (By doing this you don't need to grill very long and they won't dry out)

For Corn on the Cob- Husk the corn, rub with some olive oil or butter if you prefer, add Beer can Chicken seasoning and kosher salt.

Grilling-

Hot grill, keep the lid open/off once it is hot.

Halibut- When grilling fish it only takes a few minutes per side depending on the thickness. You don't want the fish to be dry. Grill 2-3 mintutes per side flippping once.

Place Corn on the grill and turn every so often so it gets the dark grill marks on each piece. approx 4-5 min total

Asparagus- Put on the grill and turn once or twice 3-5 mintues depending on how thick the asparagus are.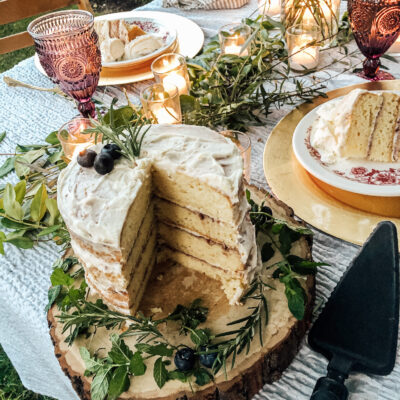 Layered Lemon Raspberry Cake
Delicious moist Layered lemon raspberry cake with butter cream and cream cheese frosting
Ingredients
1

box

Pillsbury vanilla cake mix

1

box

Jello instant cheese cake pudding mix 3.4 ounce

4

eggs

3/4

Cup

sour cream

1/2

Cup

vegetable oil

1/2

Cup

lemon water (fresh squeezed lemon mixed with water)

3

Cups

Powder sugar

1/2

Cup

Butter Softened

1/2

Cup

Cream Cheese softened

1

tsp

vanilla

1

tbsp

cream or whole milk

Add more or less depending on desired consistency

3

tbsp

raspberry jam

spread between layers of cake

zest

zest of one lemon
Instructions
Making the cake
Preheat oven to 350 degrees and prepare cake pans with baking spray oil or oil and flour.

In a mixer add the cake mix, pudding mix, eggs, oil, lemon water and sour cream. Mix well.

Pour into prepared pans. Bake for 35 minutes or until cake springs back when touched.

Let cool for 15 minutes. Flip cakes out of pans onto aluminum foil.

Once cakes are fully cooled, cut each cake in half to make four layers.

Place one layer on cake stand, spread raspberry jam and follow with frosting adding another layer of cake and repeating until top layer. No jam on top layer. Frost entire cake, scraping off sides to look like a naked cake.

Top cake with a few fresh blueberries, a sprig of rosemary and a faux flower or real roses (Make sure flowers are not poisinous.)
Frosting
In a mixer add 3 cups powdered sugar, butter, cream cheese, vanilla and milk or creama and zest from one lemon. Mix until light and fluffy. You can add more milk or cream if it is too stiff or add more powdered sugar if it is too runny.

Removing cakes from pans. Brush off any loose crumbs as best as you can. Cut each layer in half so you end up with four layers.

Spread frosting in between each layer.

Tip- Place pieces of aluminum foil around base before you place cake so when you frost it does not get on plate.
Shop This Post