How to Chalk Paint Entertainment Center
My black entertainment center has bothered me since day 1! It made my family room feel claustrophobic,
like a big black hole on the wall 🙁
So for Christmas my sweet hubby bought me Annie Sloan Duck Egg chalk paint and we set about
how to chalk paint our entertainment center! 
This Annie Sloan Chalk Painted Entertainment Center turned out better than what I hoped for!
I absolutely love it!
How to start chalk painting entertainment center
The best thing about using Annie Sloan chalk paint is that there was NO PREP!
No sanding, no removing any of the finish…nothing! 
Just open the can of paint and start painting! Dip you brush in, and apply paint straight onto your piece of furniture. Paint in every direction and all over the piece. You should wait for the first coat to be touch dry. Depending on where you live, this could take 1-3 hours. Ours dried super fast! Once it is dry, apply the second coat in the same way.
There is so much to paint in this entertainment center- underneath each shelf, inside and outside every square inch of needed to be painted. 
We took all the shelves out and painted them one by one. Luckily this paint dries super fast. We also removed the cabinet doors and taped off the glass area and then painted them too. 
Waxing after chalk painting
There were so many pieces to this Entertainment center…Inside, outside, top and bottom of every shelf and every outside surface. Once the paint was on and dry (every square inch of it) it was time to wax it all. 
Next, apply the Annie Sloan wax in the same manner as the paint. Use can use a brush or lint-free cloth to apply in all directions. Work in sections so you know where you've been! It kind of gives the piece a patina as well as protect the paint finish. 
Once applied, use a lint-free cloth to remove any excess wax. Do not rub too hard, as you could remove the wax all together.
We waxed ALL OF this piece using 1 can of Annie Sloan wax and some rags.
A little goes a long way. You can use the piece of furniture as soon as the wax is touch dry, but note it will take up to 2 weeks to reach its full hardness (known as the 'curing period'). During this time be careful with the piece.
UPDATE- We do not have any chips or issues and it is has now been 6 1/2 years since we painted this entertainment center.
It takes time to do all of this, about 15 hours. I would say it was totally worth every ounce of effort and time.
Chalk painted coffee table
Notice the black coffee table? Yep I decided to paint that too!
I actually painted it Paris grey first but I did not like how it looked against the duck egg blue…
It looked purple 🙁
So I painted it with Annie Sloan Pure White and roughed it up a little with some sand paper and then waxed it.
The great thing about this paint is that even after you paint and wax, you can re-paint it immediately if you don't like the color.
Paint right over the wax! Seriously this paint is magical! I really hope this how to chalk paint tutorial will inspire you to try this out! 
What a huge difference some paint makes! I love love love how this room looks now 🙂
I just love using chalk paint because it is so easy and you can't make a mistake.
Our other chalk painted projects
Here is a dresser that we painted with Annie Sloan Chalk paint here 
and a bedframe and another bedroom piece of furniture.
Then my hubby and I tackled our master bathroom vanity and it turned out amazing as well! 
Below is how our family room looks today! The chalk painted Entertainment center just continues to make me happy every time I look at it. I think this year we will be painting the walls white 🙂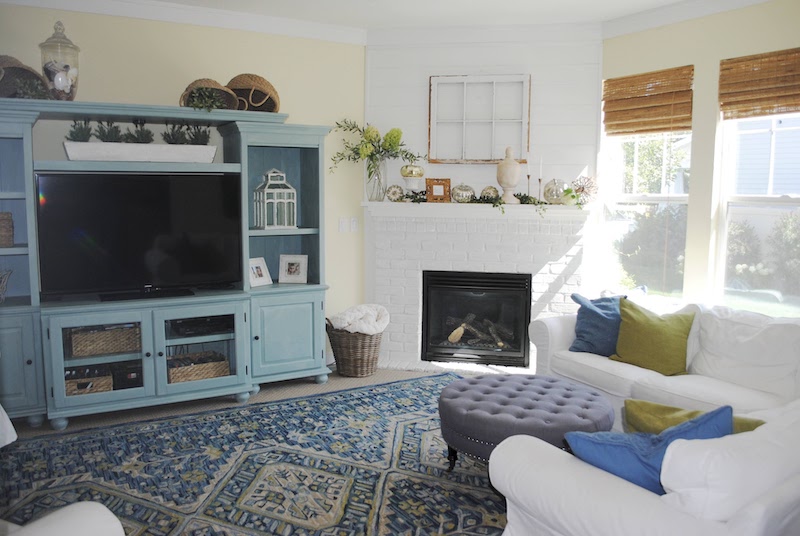 Shop Similar Items

Pin For Later