I just can't begin to say enough good about Annie Sloan Chalk Paint.
The directions for how to paint a dresser with Annie Sloan chalk paint is seriously so easy!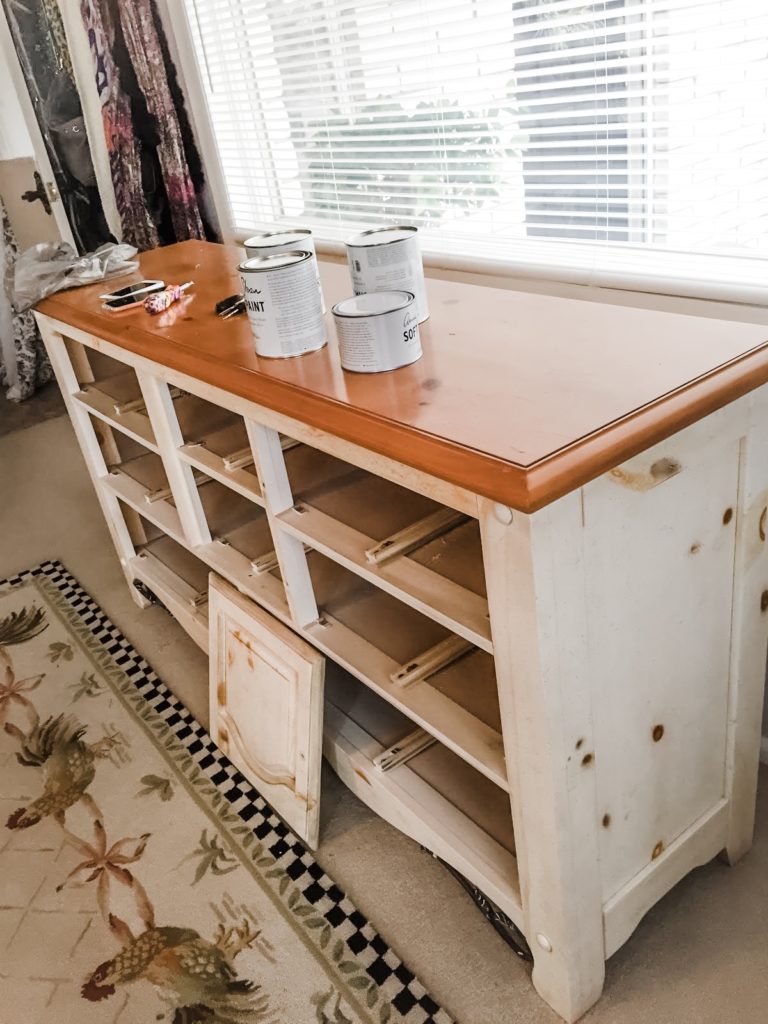 This chalk paint is worth it's weight In gold. So easy, no fumes, no priming, no sanding, super fast and yes I am having a love affair with it!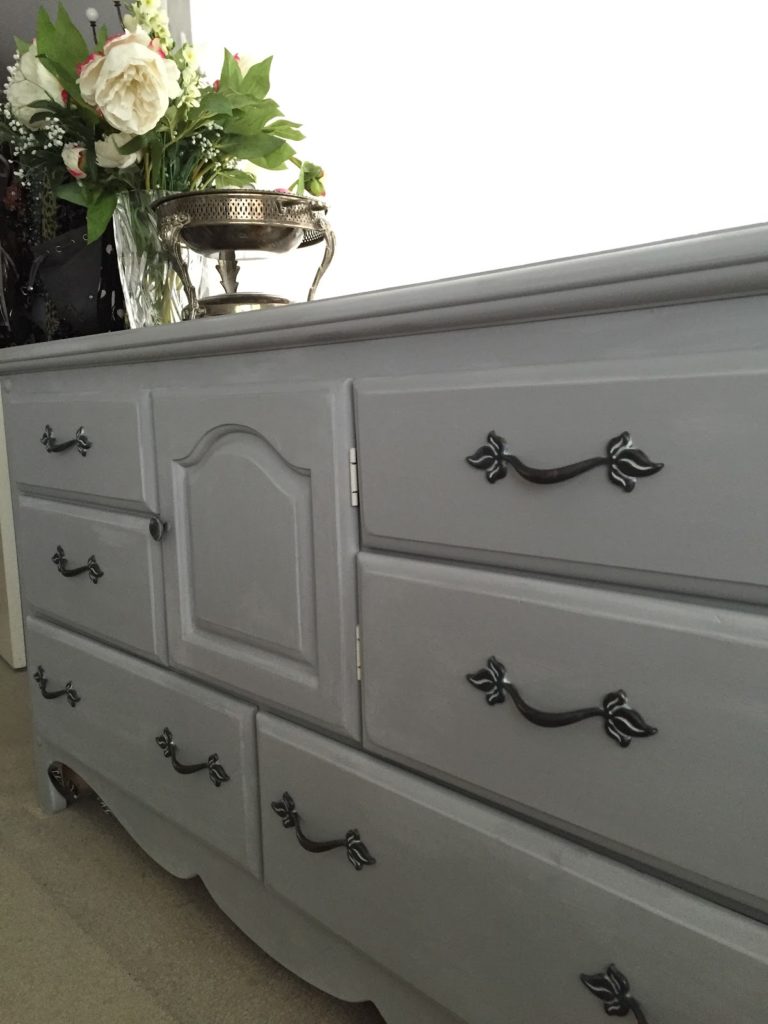 We have painted multiple pieces of furniture with chalk paint.
My master Bathroom vanity, Entertainment Center and the rest of the furniture in my mom's master bedroom. My daughter chalk painted her countertops too!
How to begin
The dresser had a creamy beige finish on the base with a natural looking wood top. Mom wanted more of a French look for her dresser and the way this dresser looked before…. was definitely not French looking.
Because the dresser had a nice shape to it and was in really good condition we knew that once it was painted a soft grey it would really take on a French look.
So we got to work!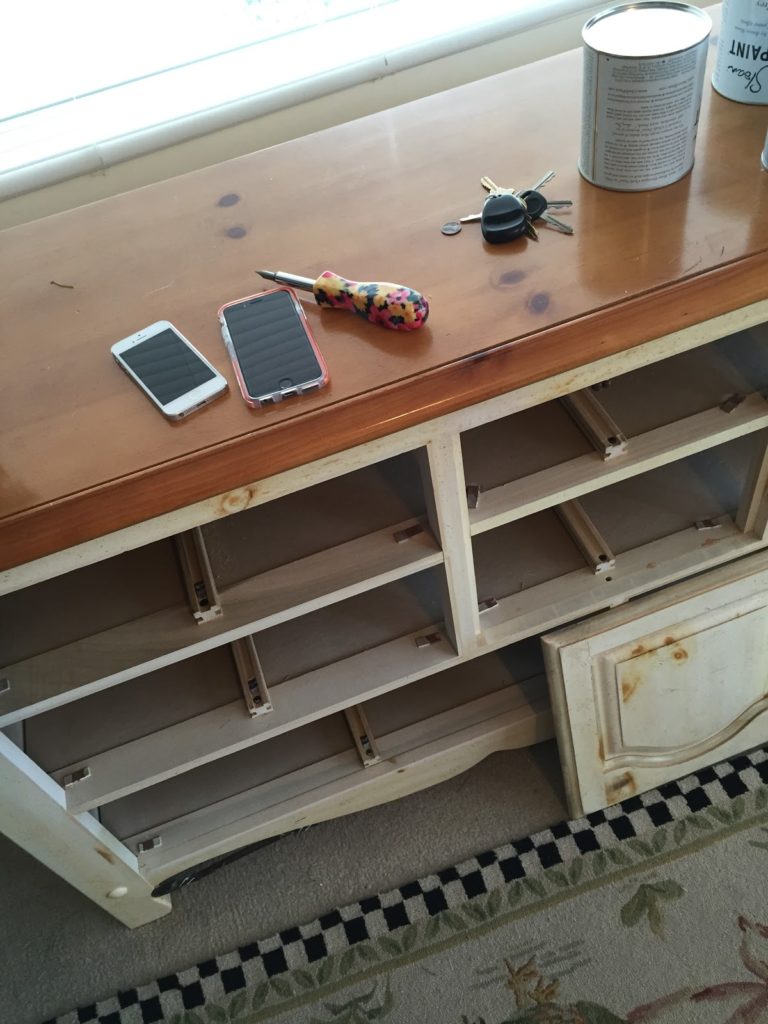 We took all the drawers out and removed all the handles including the center door and its hinges.
Supplies Needed to Chalk Paint Dresser
Paint brushes- Mom had a few in the garage and they worked pretty good but next time I would probably spend a little money on some nice brushes. It is just so much better to have brushes that do not fall apart or leave brush hairs on your wet paint.
Annie Sloan does make a specific brush for chalk paint but we were on a tight budget and did not purchase one for this project. Below is a chalk paint brush on Amazon that is compatible with Annie Sloan Chalk paint.
Chalk Paint- Annie Sloan chalk paint is the best in my opinion but here is some chalk paint made by Rustoleum that has great reviews
Chalk paint wax to finish and protect the paint
You will need some rags when it is time to wax to finish the piece of furniture
Screw driver to remove any hardware.
Drop cloths for protecting floors if you paint inside your home.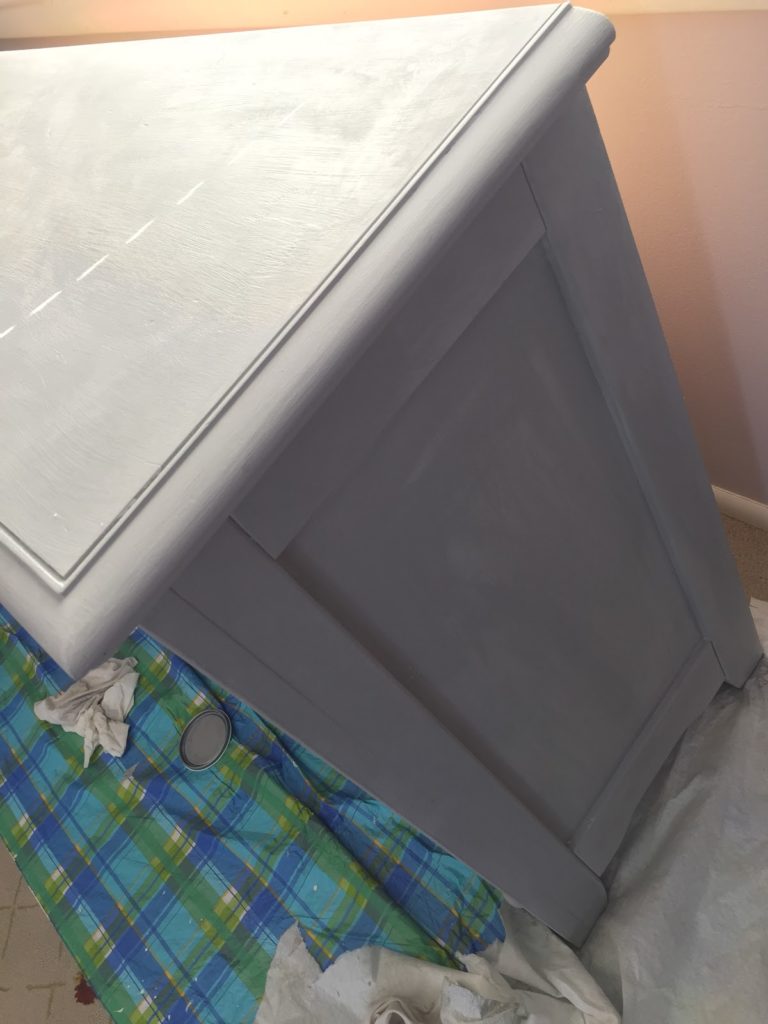 Begin to paint
Just use some drop cloths or old blankets placed under the legs and start painting! We painted this dresser right in my moms bedroom.
The paint dries super fast especially here in the West where we have really dry air.
One coat could actually have been enough but we went with 2 coats but it hardly took any paint.
See that ruffled lamp shade? Mom wanted a French looking lamp so I made ruffles and attached them to it.
You can see my lamp shade tutorial here.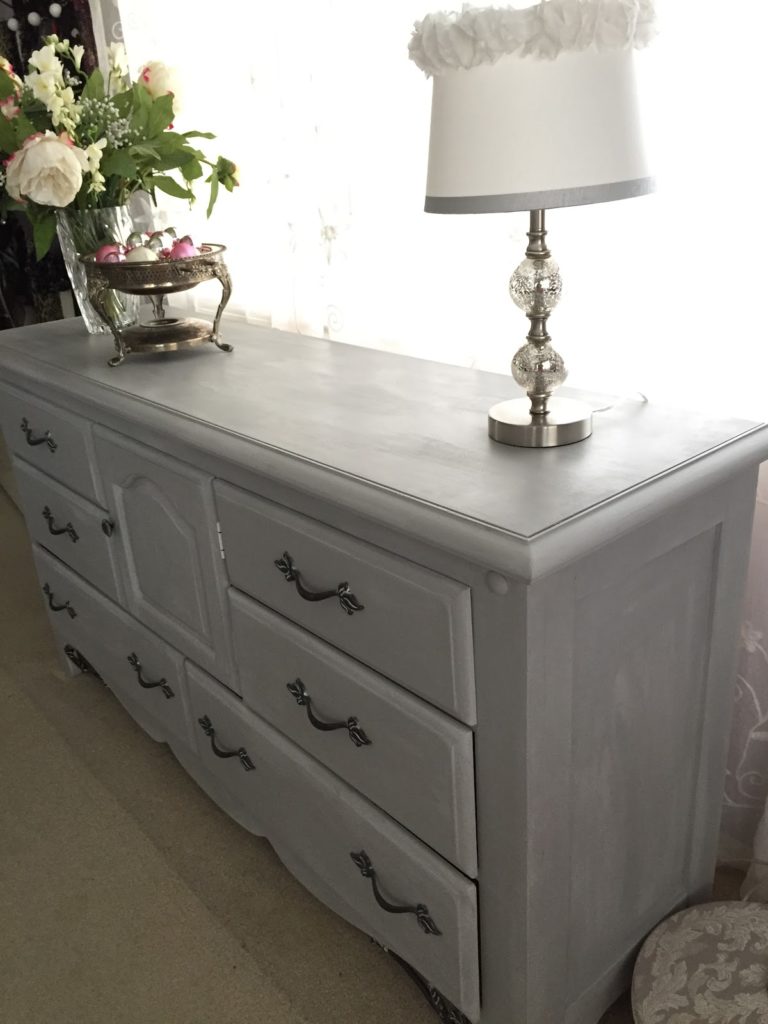 Wax the furniture
Once the paint is dry…in like 10-15 minutes you can start waxing the piece with Annie Sloan Wax. Using a rag to wipe on the wax was easy and then you simply wipe/buff it off leaving a nice patina.
You can use a Chalk paint brush to get into the small crevices and Annie Sloan makes some beautiful brushes that work great but I used a rag for this dresser.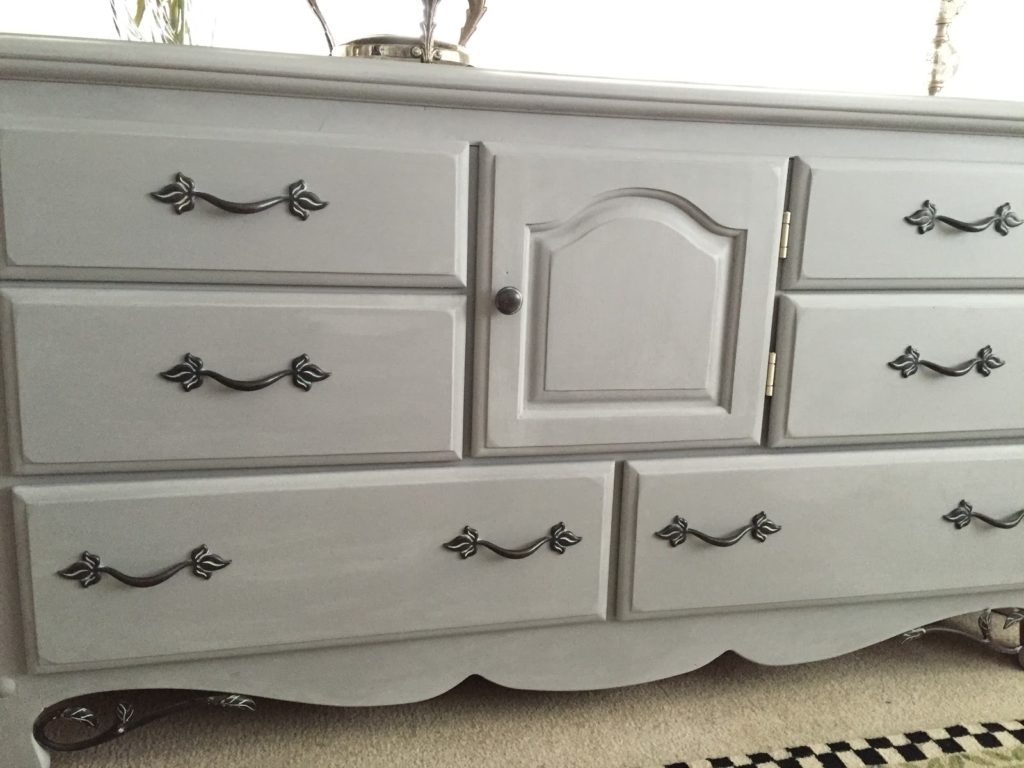 This dresser turned out so beautiful! You can see more of the of the Master Bedroom reveal Here
Note: We purchased chalk paint brushes and wax brushes when we chalk painted our entire Entertainment center. You will be amazed how the paint covered a black entertainment center in duck egg blue! I love how it turned out! You can see the before, during and after chalk painted entertainment center here.
For my mom's headboard we painted outside on the driveway so we could lean it up against the garage door.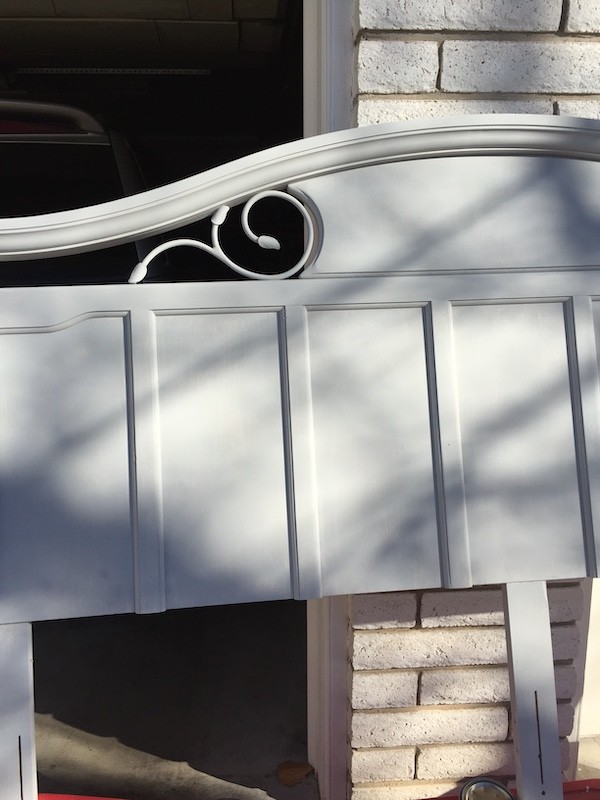 The sun dried the paint super fast! It totally took on a whole new look once it was completed!
I made that fluffy Anthropologie knock-off wreath hanging above her bed. Here is the tutorial for that.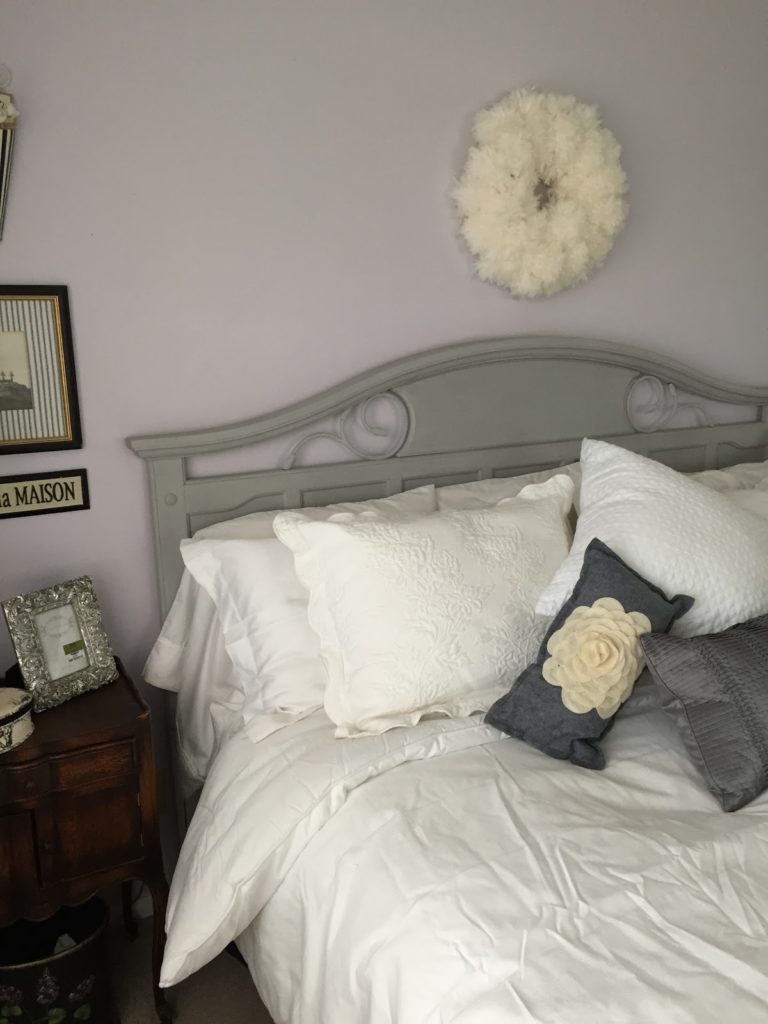 Isn't it amazing what a little bit of paint can do to make an old piece of furniture look new again?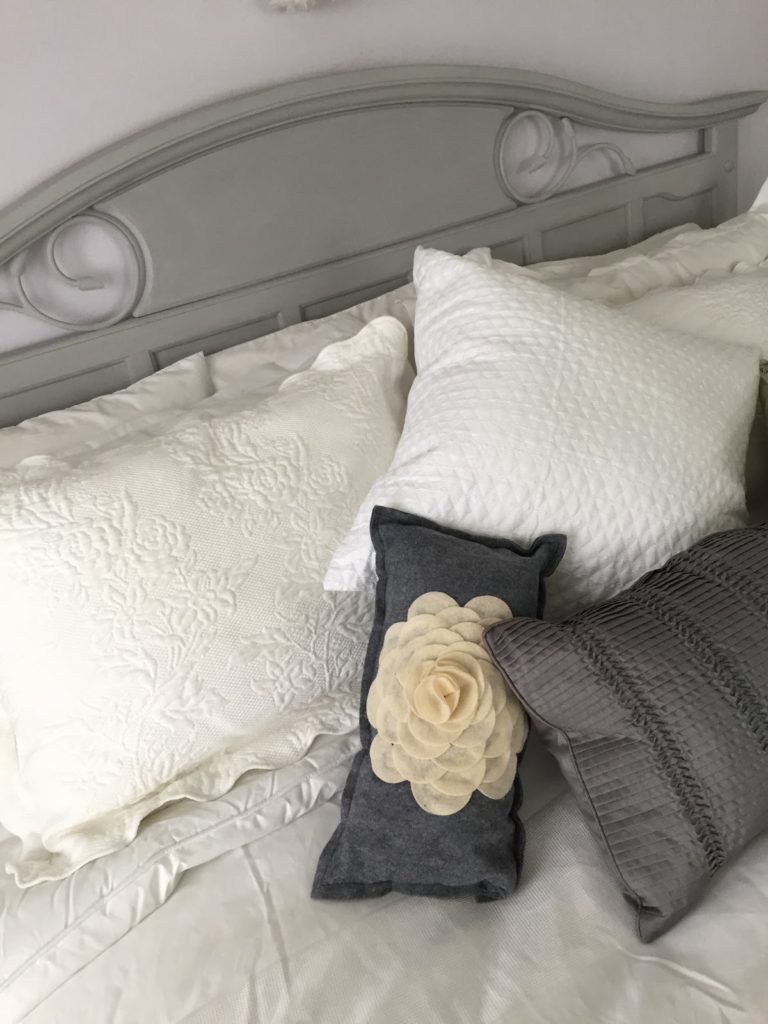 Without spending any money I found unique things from around my mom's house to put in her room that would bring in the French look.
You can read my post about the decorative details here.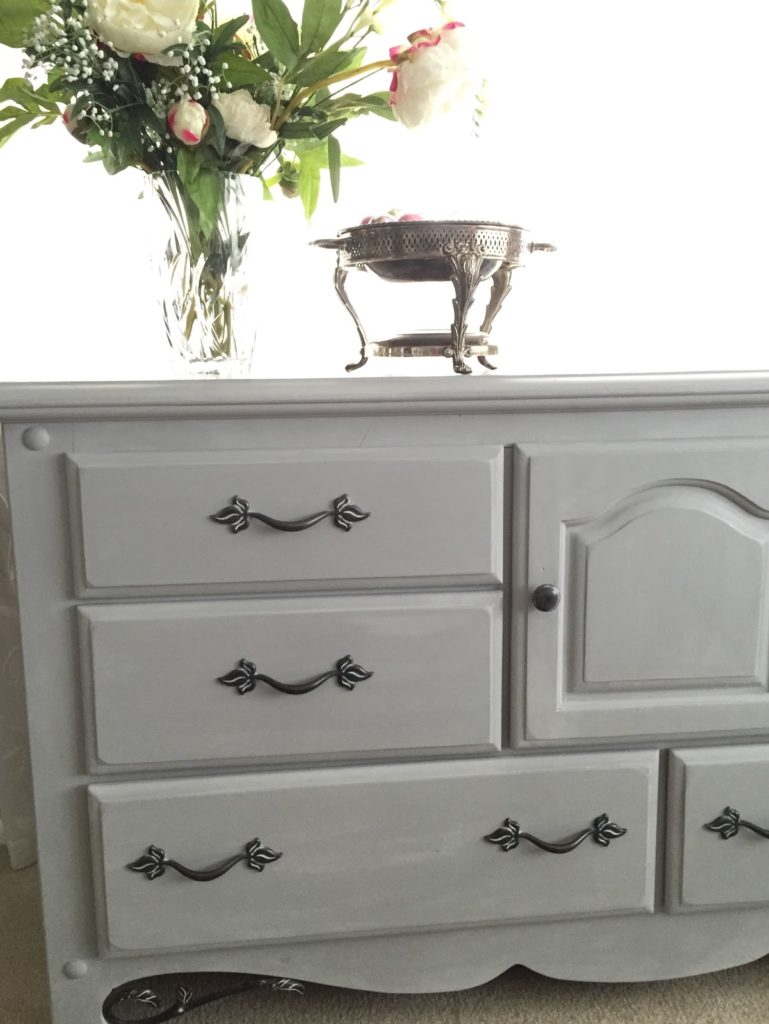 Pin for later

Shop Similar Items