You may be planning a trip to Europe in the fall and wondering what to pack. Today I am sharing what I packed in carry on luggage for 17 days. Packing is always a stress isn't it? Especially when you are going to be doing different activities that require different types of clothes. Trying to make it all fit in carry on luggage is truly a test!
For this trip I knew there was going to be some colder temps and most likely some rain. Plus I needed to pack for possible warm weather on Capri (bathing suit, cover up, casual linen type items). To top it all off, I needed to pack business type clothes and clothes for nicer dinners. How was I going to make this happen all in carry on luggage?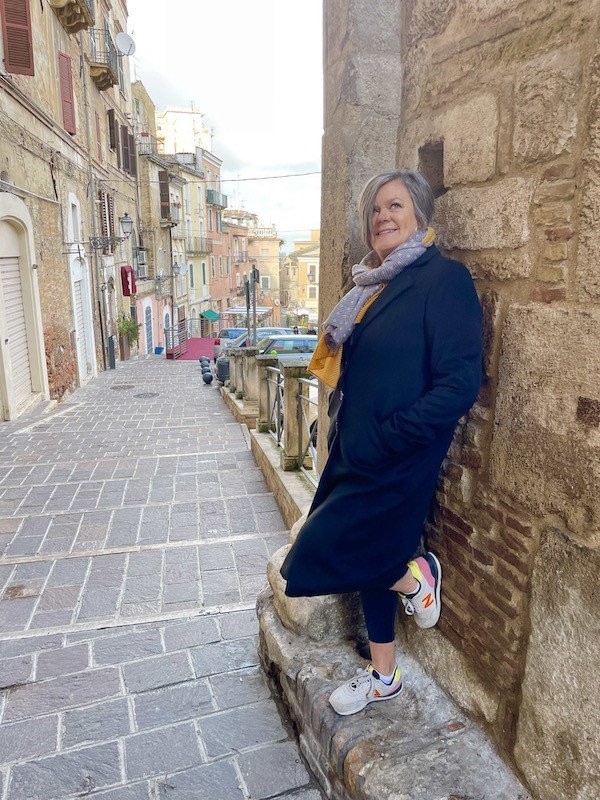 It is always stressful trying to figure out how to pack for 17 days with just carry on luggage!
But I did it! Here are my tips.
Bring multiple jackets
You are going to think I am crazy but I brought 6 jackets! I know a bit too much but I will explain why.
My list of jackets consist of these jackets. Light weight denim jacket, faux tan suede jacket, lightweight casual pink rain jacket, short black puffer coat, a quilted cranberry longer coat and a nice double breasted black jacket.  
We do so many different types of excursions when we are in Italy that warrants my crazy amounts of jackets.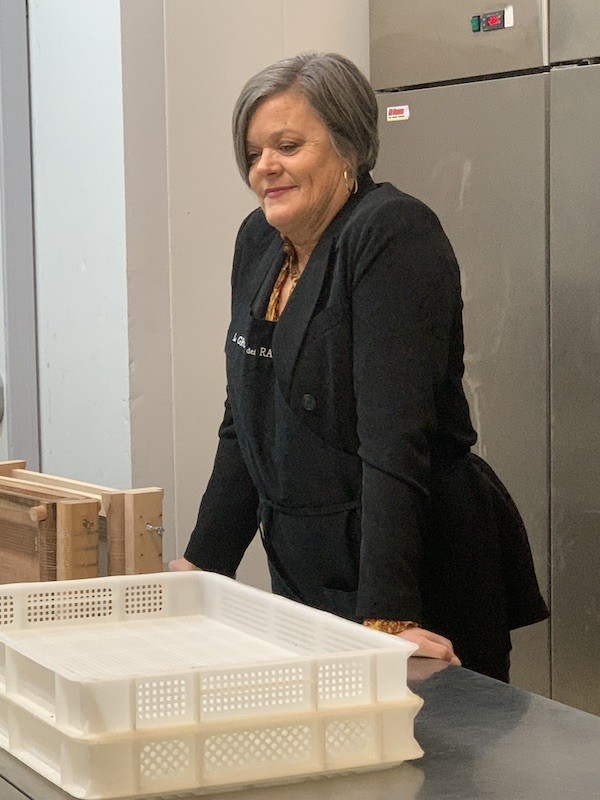 The black double breasted jacket is perfect for nicer dinners after our cooking class and business meetings that we have going on. My suede jacket is used for business meetings and nicer dinners or when we take people on tours of Casoli. I actually never needed to wear this one so I could have done without this one.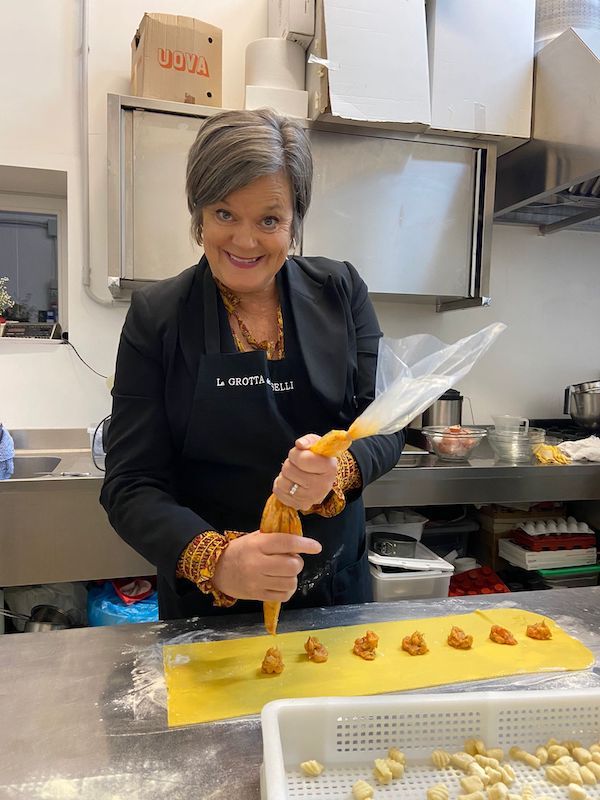 The black puffer jacket is lightweight and smooshes down to nothing so it doesn't take up much space. It keeps me really warm when we go on hikes or bike rides when it's cold.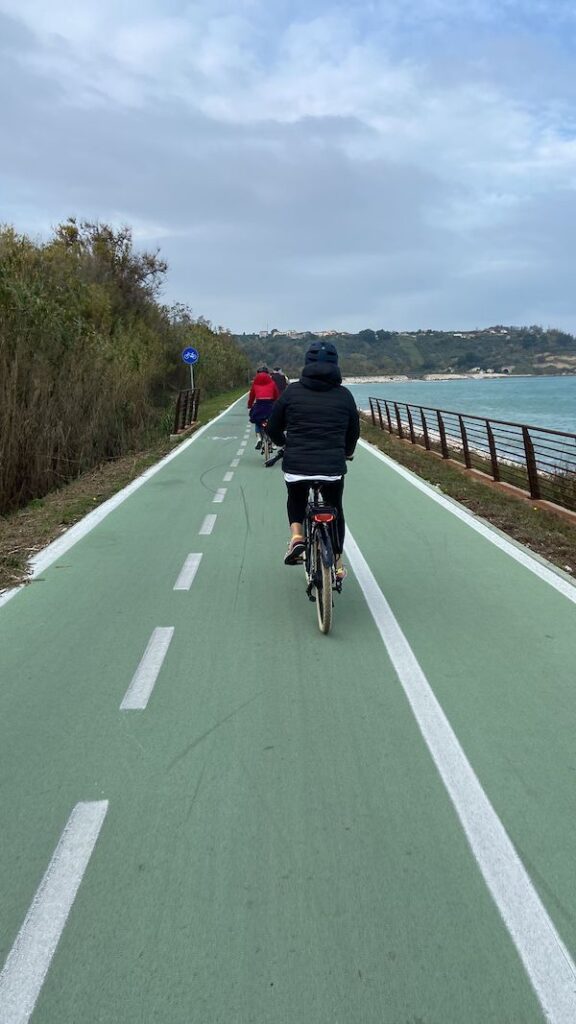 If it's not too cold I can get away with wear my lightweight rain jacket. I only wore it once but, one of our friends on the trip did not pack a rain jacket so she was able to use mine 🙂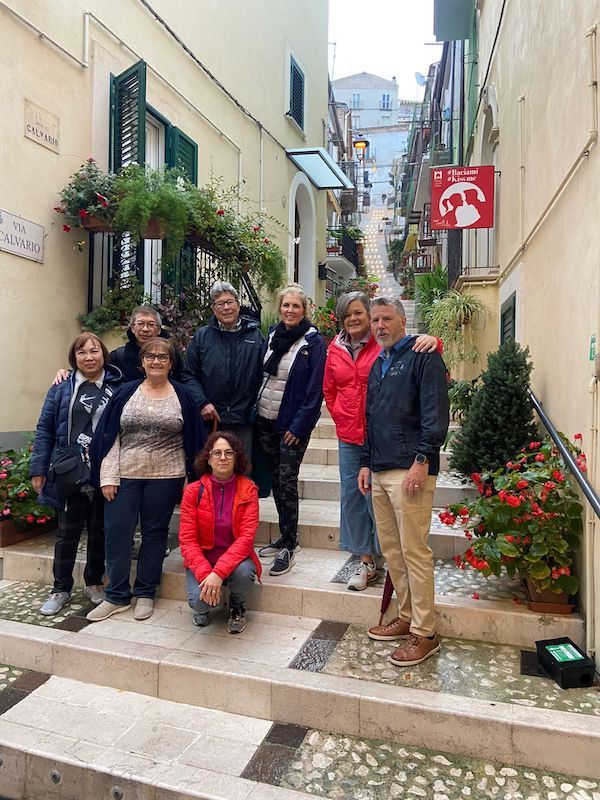 My trusty denim jacket is great for milder temperatures. In Capri the temps were in high 60's so it made for be a perfect layering option.
Layering it over a sweatshirt with a scarf is great for warmth if it's chilly.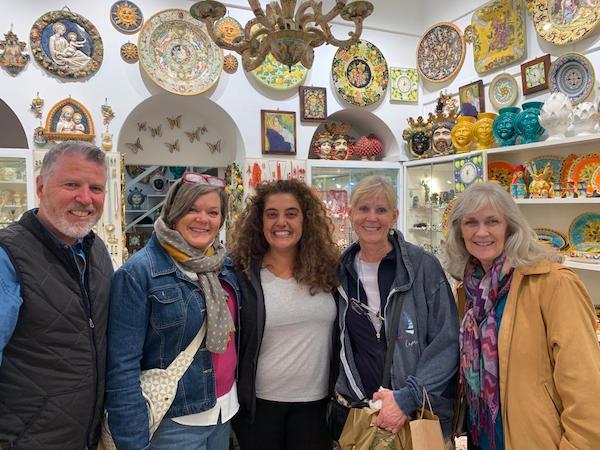 It did get chilly at night so I was glad I brought it. There was no need for heavy coats in Capri. We actually left our heavy warmer clothes at the Villa in Casoli because we were going to be back in a few days.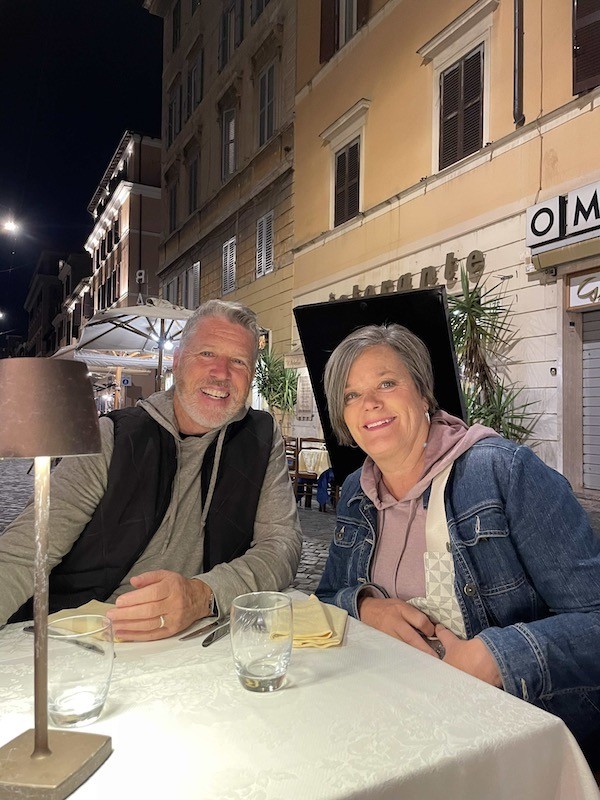 Lastly, my quilted cranberry and grey longer jacket that I brought to wear to nicer dinners and in London. It is lightweight so I thought it would be perfect but it wasn't warm enough.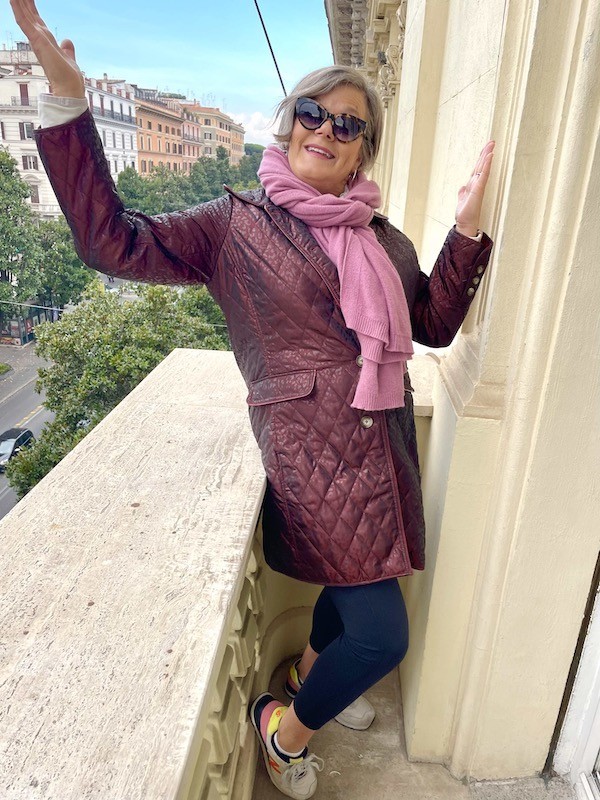 I ended up buying a long black coat in Italy because it was quite cold. The quilted coat was just not enough to keep me warm. I did wear it a couple of times.
I am so glad I got the long black coat it was perfect to keep me warm!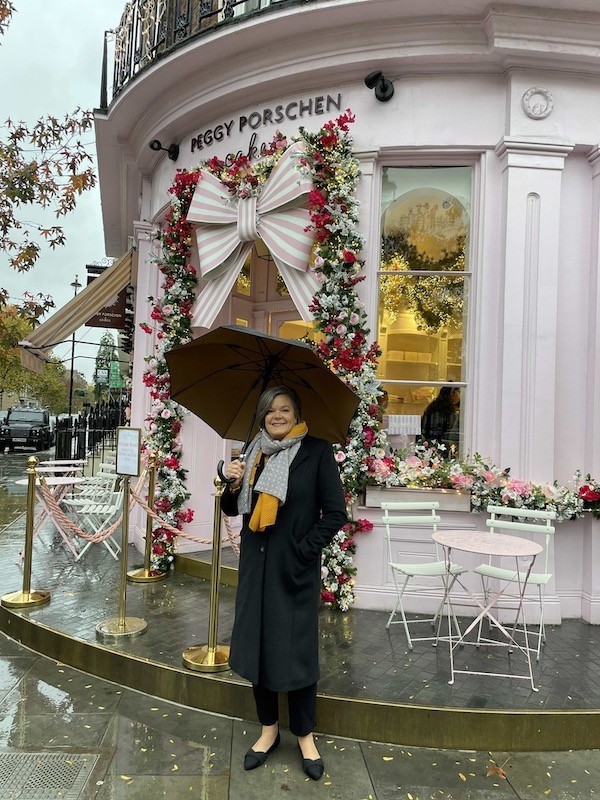 Tops and blouses
I brought 4 blouses, 3 t-shirts and 2 lightweight sweatshirts. Three silky blouses were for nice dinners and business meetings.
An oversized long cotton white blouse I used as layering under sweatshirts or t-shirts. (I wore that over and over)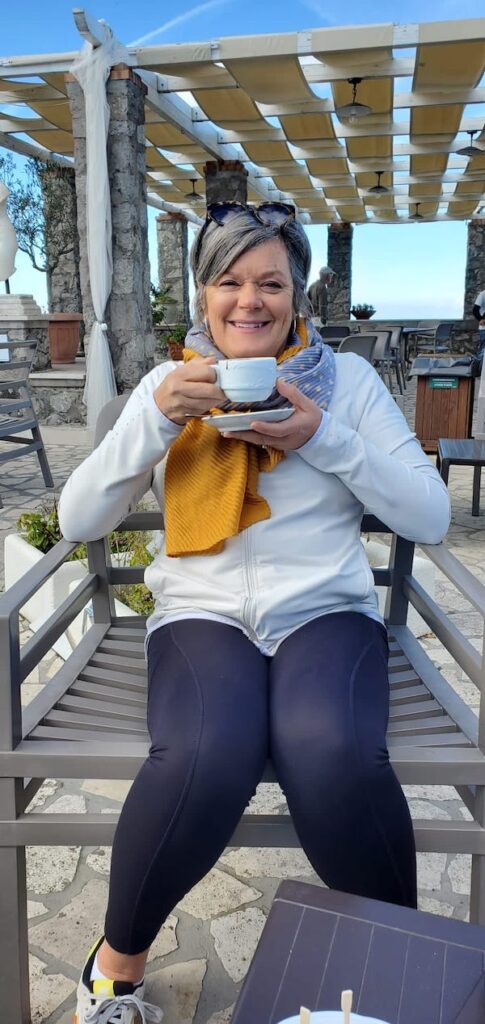 3 casual t shirts were perfect for bike riding and hikes.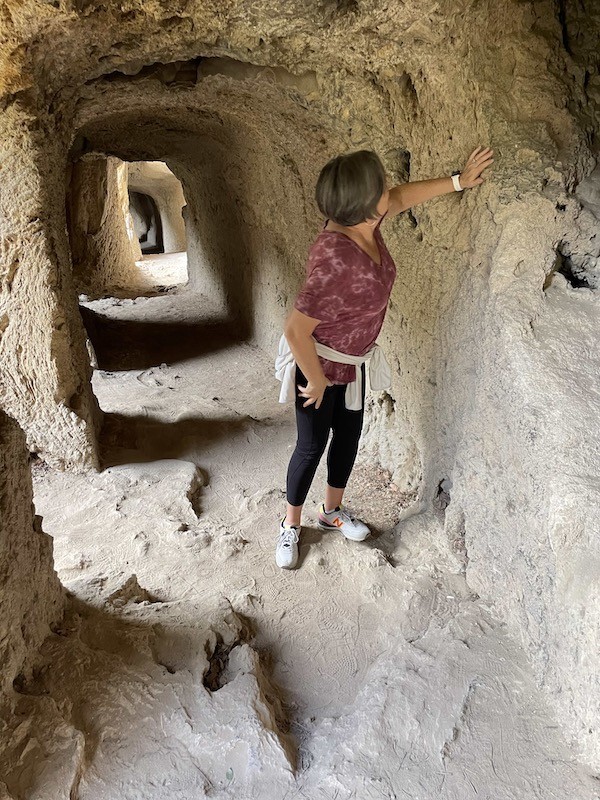 I also wore them under light sweatshirts when we were in Capri. Thinking it would be warmer while in Capri I also brought one white linen top. It was too chilly for that top.
Because it was so cold I did end up buying two sweaters. A turtleneck and a pullover.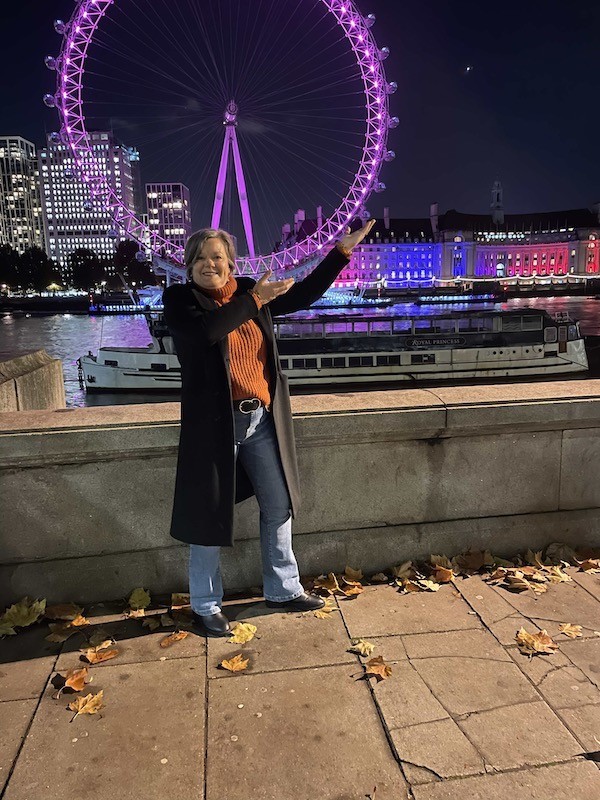 Pants for traveling to Europe in the fall
Black leggings are a must for bike riding and hiking and for flying. Plus they don't take up much space in the suitcase either so I brought 2 pairs. I wore a pair with my oversized white blouse and either a sweatshirt or sweater to dress it up a couple of times.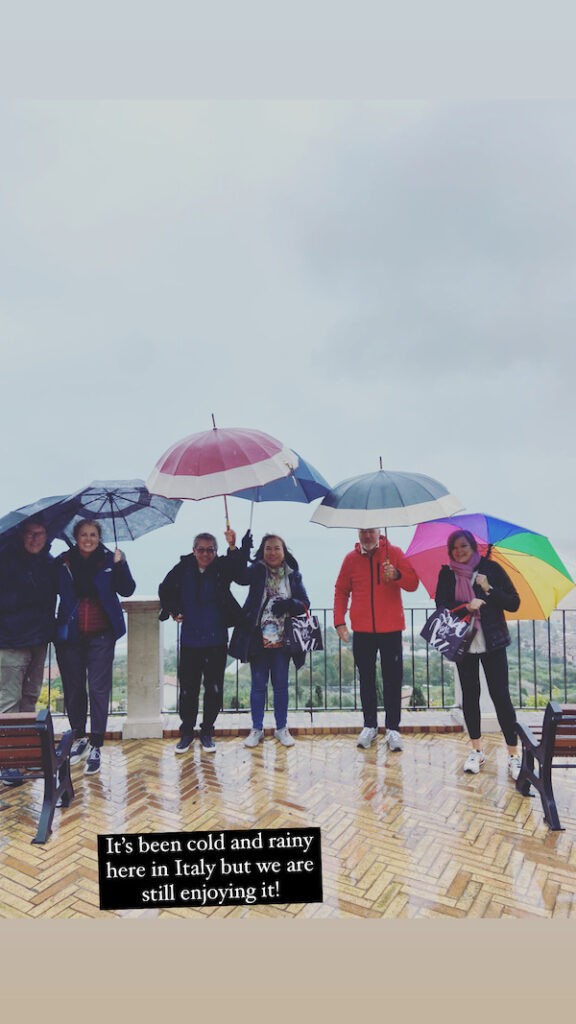 Bringing one nice pair black pants for dinners and business meetings that don't wrinkle was a lifesafer!
I also brought two light weight flowy pants for Capri but it ended up being too chilly.
To keep warm I brought 1 pair of skinny black jeans, cropped blue jeans and one pair bootleg wide jeans.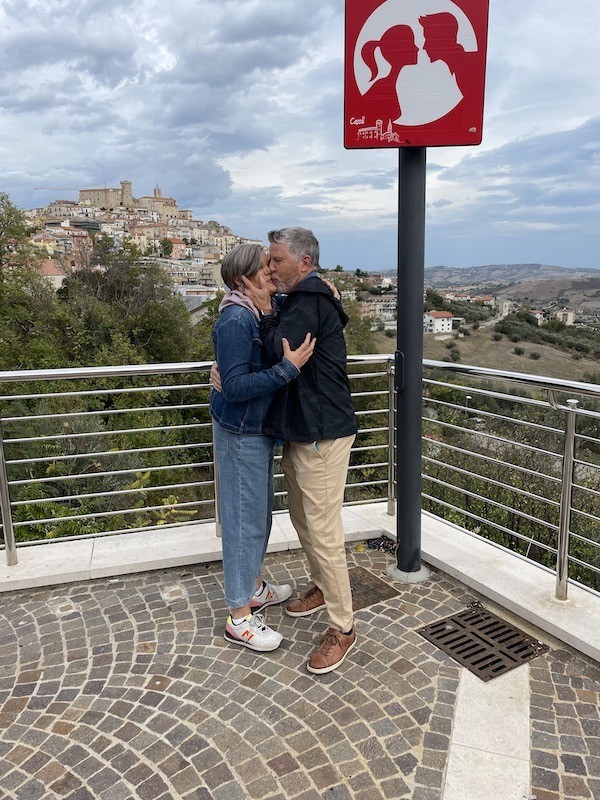 How to pack a carry on for 17 days
Here is my packing plan. On the way to Italy, I packed my denim jacket, suede jacket and black double breasted jacket in my suitcase. I wore the black puffer jacket over a lightweight sweatshirt and I carried the longer quilted one with my luggage. The pink rain jacket is in my back pack because it is super lightweight and smooshes down to nothing.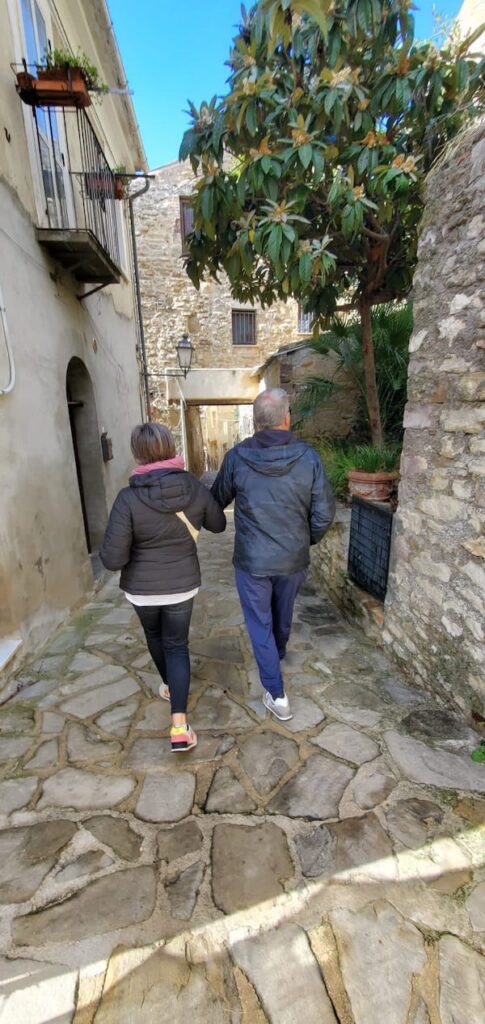 Everything else gets rolled up tight to fit in the suitcase. I learned a great trick on the way home. Lay your pants inside the suitcase with legs hanging out from one side. Lay another pair going the opposite direction with pant legs hanging out. Then fill in the suitcase with folded tops, sweaters, jackets etc. when it full pull legs up over the top of everything. This worked great! I even put a pair of shoes in the suitcase.
On the way to London our extra suitcase was filled with gifts for our business associates so we had to get creative with wearing a lot of bigger clothes.
I am wearing leggings, t-shirt, sweatshirt, long black coat, turtleneck over over the top with the cranberry coat on top of my luggage haha! Gotta do what you gotta do right?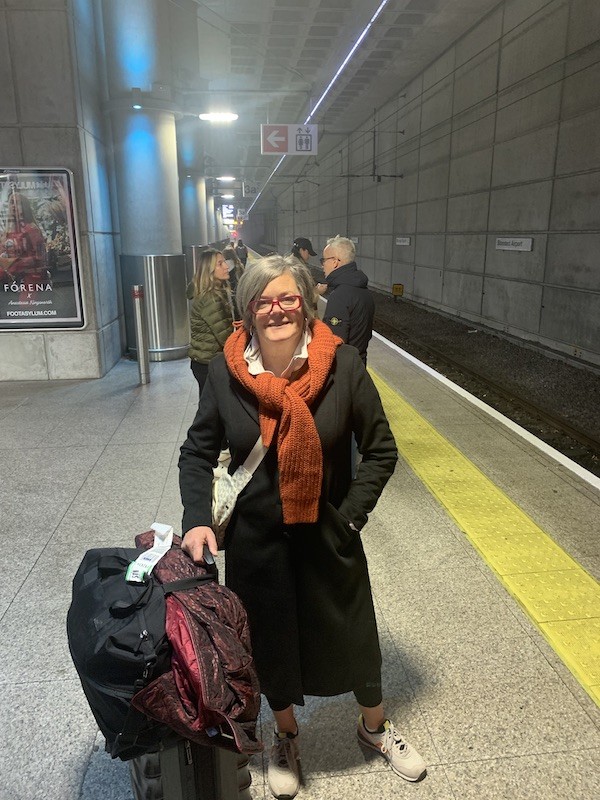 Where do we put our shoes? We bring a large duffle type bag and we put all our shoes, gloves, hats, etc. in that.
My hubby's backpack gets put in there just so we can get it on the plane. We end up having 2 carryons each. One rolling suitcase each, a large duffle bag and my backpack. He is carrying my backpack… Isn't he an angel!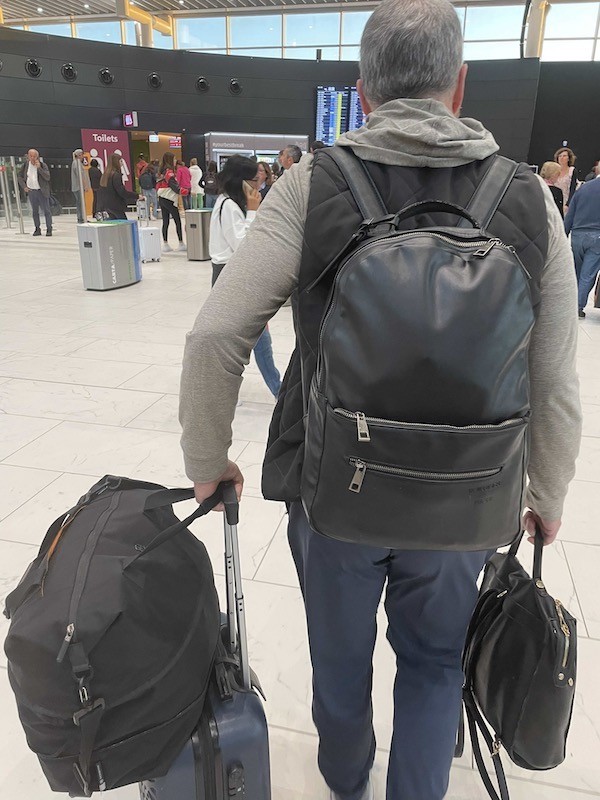 On the way home, we seem to come back with more stuff because we buy the grandkids gifts and we each bought warmer coats and sweaters. We checked 2 suitcases and the duffle bag. We kept one rolling suitcase to carry one and our backpacks so we can plop one of the backpacks on the rolling bag. It really saves my back!
Hope this helps anyone trying to pack for a long trip with carry ons. Leave your tips and tricks in the comments as I am always looking to minimize each time I go.
Shop Similar looks
These are affiliate links and I make a small commission at no extra cost to you but it helps keep my blog running. I really appreciate you help 🙂