It's Fashion Friday! You might be asking what do you wear with a blue coat?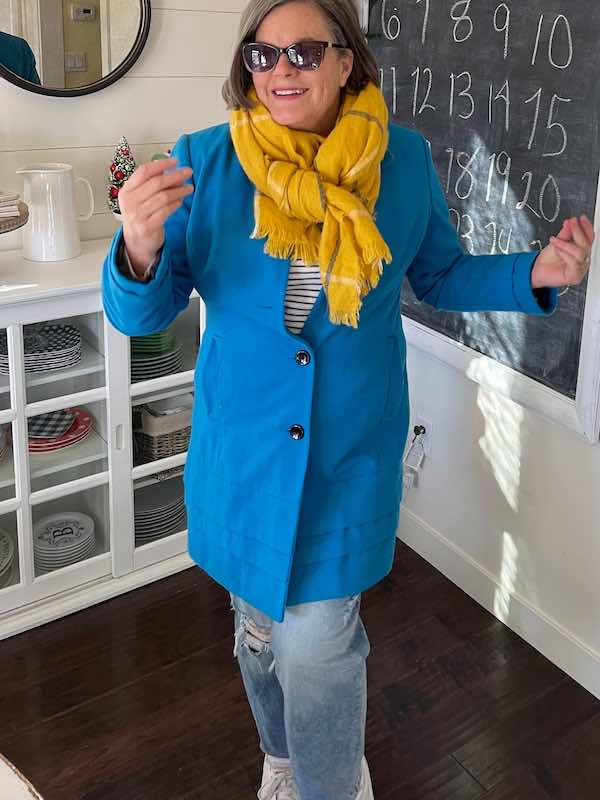 Well I can tell you lots of things! Blue goes with just about anything.
Think about it like you would a pair of jeans. Black, green, creams, white, yellow, orange I could go on and on.
This Bright blue coat is just a fun happy color don't you agree?
Don't mind me dancing in these photos haha.
Another great thing about a blue coat is that it can be casual or dressy like how I styled it here.
Pairing blue coat with jeans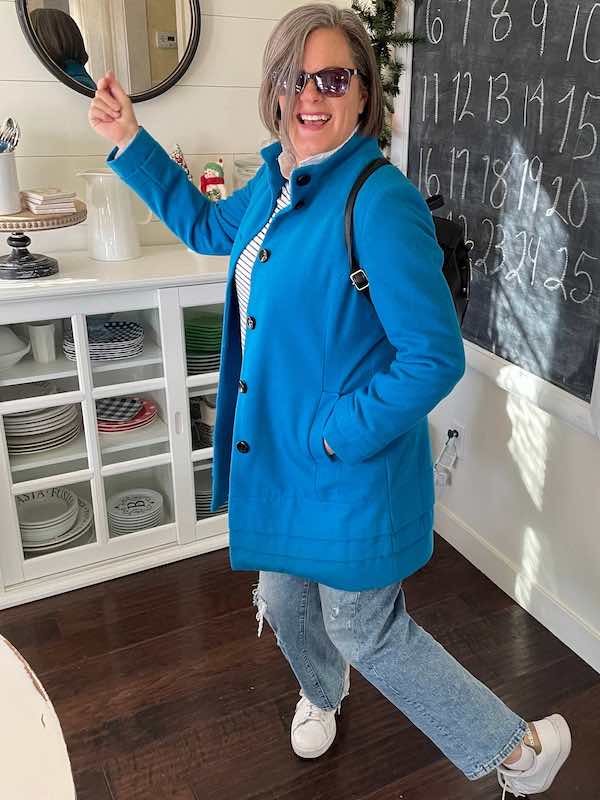 But of course my favorite way to style this blue coat is with jeans!
I am wearing my distressed old navy high waisted wide legged jeans (on sale 40% off with code TREAT) with white adidas sneakers. This has become my go to look this winter unless it is snowing then I wear these snow boots.
Don't forget to check out my latest post 5 ways to style girlfriend jeans..I even made a video too!
I don't know if you would call this street style fashion but all I know is that it is comfortable.
The coat is from Old Navy a few years ago but here is a similar one.
Favorite blue and white striped sweater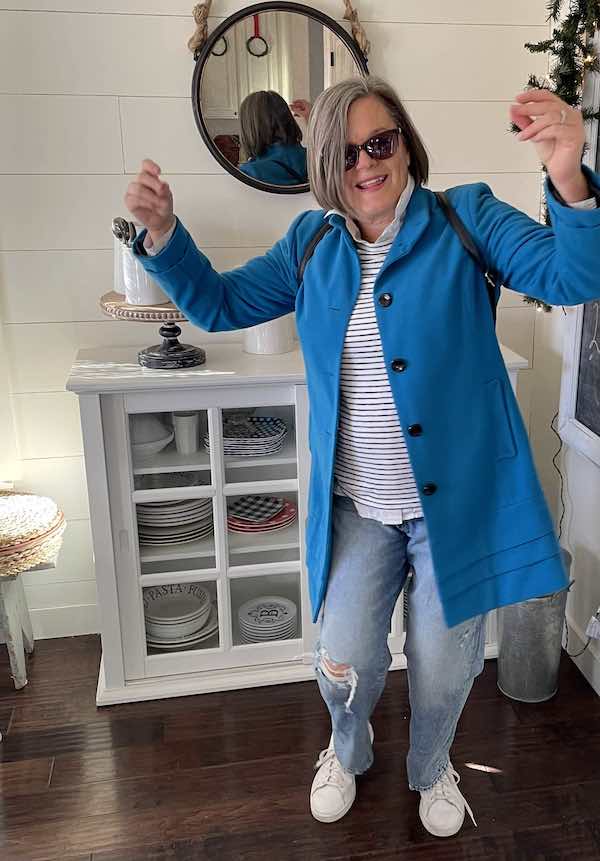 Along with my casual jeans I have on my favorite striped blue and white sweater. Underneath is a classic white blouse.
I just never tire of the white blouse. I like it to be long enough to hang out under the sweater.
You can see how I styled this sweater 5 different ways here.
Here is a similar striped sweater
Adding a bright scarf to the blue coat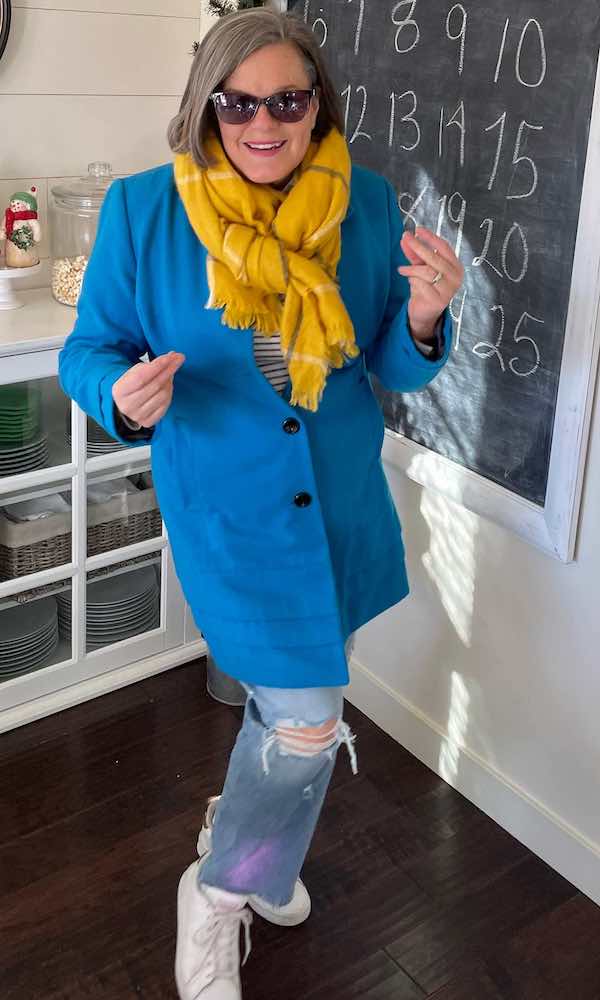 What to wear with a blue coat? How about a bright yellow scarf for contrast. It is on clearance right now!
Doesn't it just make you happy to see these two colors together?
The long coat can make you feel totally pulled together when you are out and about running around. No matter if you just have a sweatshirt on underneath.
Just by adding a scarf it makes look chic plus it will keep you nice and warm.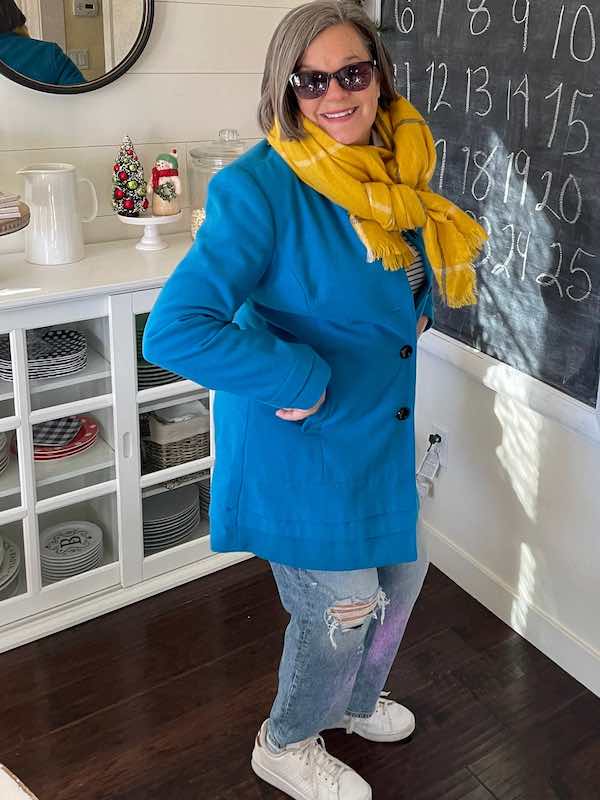 I see all these amazing young bloggers wearing long tan coats with black leggings and a cream or black top. It does look pretty but I just love a pop of color.
It really lifts my mood!
I noticed that Boden has a beautiful pink coat on sale now! I think I might have to have that 😉
Adding a backpack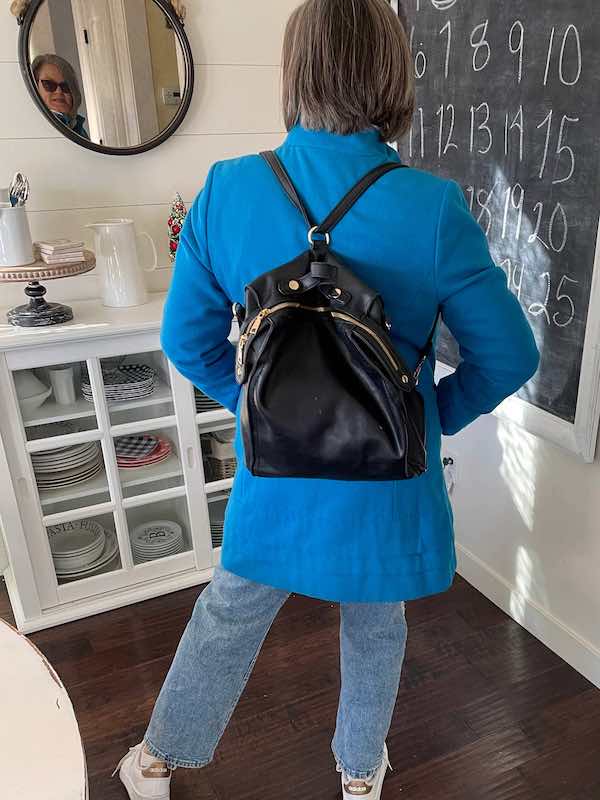 When going out and about I want to keep my hands free. A backpack is the thing that works perfectly for me.
Plus it looks really cute and holds all my stuff.
The older I get the more I want to make sure my purse is not too heavy or bulky to hold.
Anyone else feel like this?
More Fashion Posts
My new Jcrew Willa Blazer and how to style it
My outfit with straw hat
Traveling to Cancun and my favorite bathing suits
Tiered skirt with white belted blouse
My favorite cropped plaid pants
Long Tunic over distressed jeans
Leopard crewneck sweat shirt 3 ways
Shop Similar Clothes