When my girls were little I would make my favorite quick Halloween dinner recipes and they have become a tradition!
I don't know about you but trying to get kids ready in their costumes and out the door to go trick or treating plus dinner seemed impossible! These recipes will make your life super easy!
Plus they are great for adults too and you can serve them as appetizers!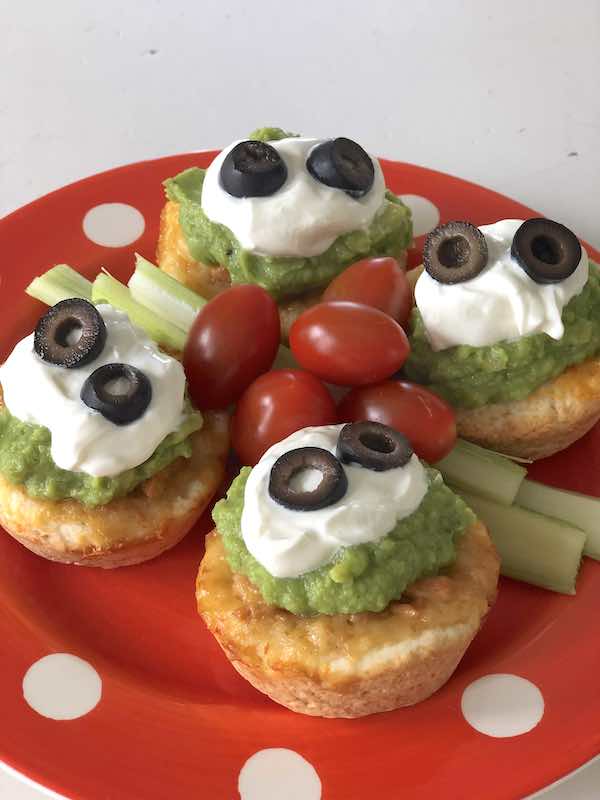 Start Halloween night off with a fun chili puff made from pop n fresh biscuits! Have the kids decorate them to look like monsters! I did some really cute fun Halloween DIY decor that was a huge hit!
Another favorite Halloween dinner is my super easy Frankenstein pasta! Also a favorite with adults too! I served it at this other fun family Halloween party. The kids were heaven creating their monster pasta.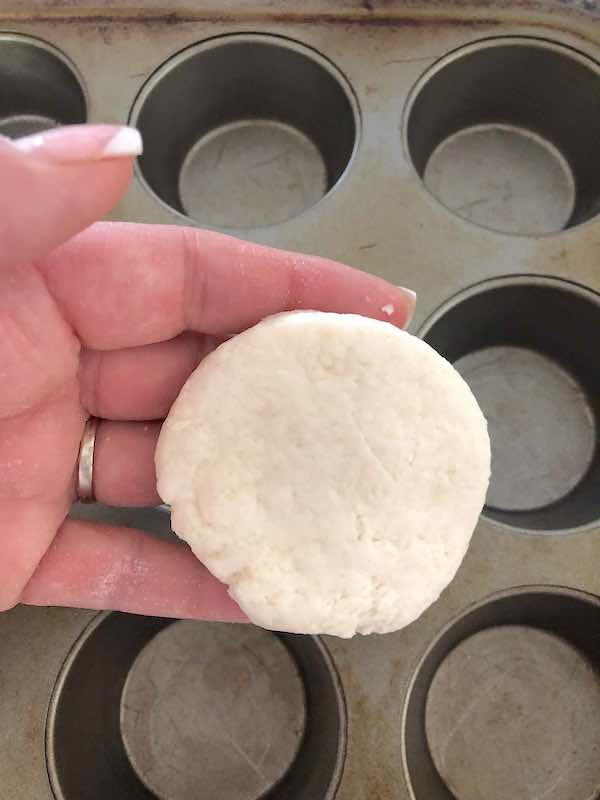 ]/I wanted to make sure my kids would eat something healthy and filling for dinner before running out the door to get lots of candy!
These quick, fast and filling Chili Puff Creatures are perfect!
Don't forget to check out my family Halloween party! We went all out making these decorations, this food and these super cute party favors.
We even created this Jack Skellington!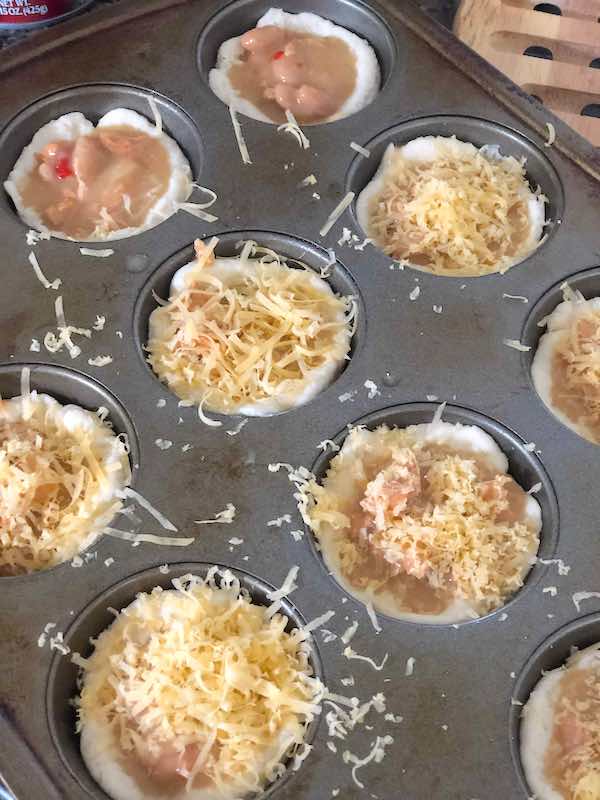 You can also make these as appetizers by using a mini muffin pan.

Chili puff Recipe
Ingredients
Canned turkey chili or your favorite type of chili

The biscuits are quite large so I cut them in half and formed them into round disks and fit them into the greased muffin tins.
Spoon chili into biscuits cups, top with shredded cheese.
Bake at 400 for 12-15 minutes or until edges are golden and cheese is melted.
Top with guacamole, sour cream and sliced olives
Freaky Halloween tomato eyeballs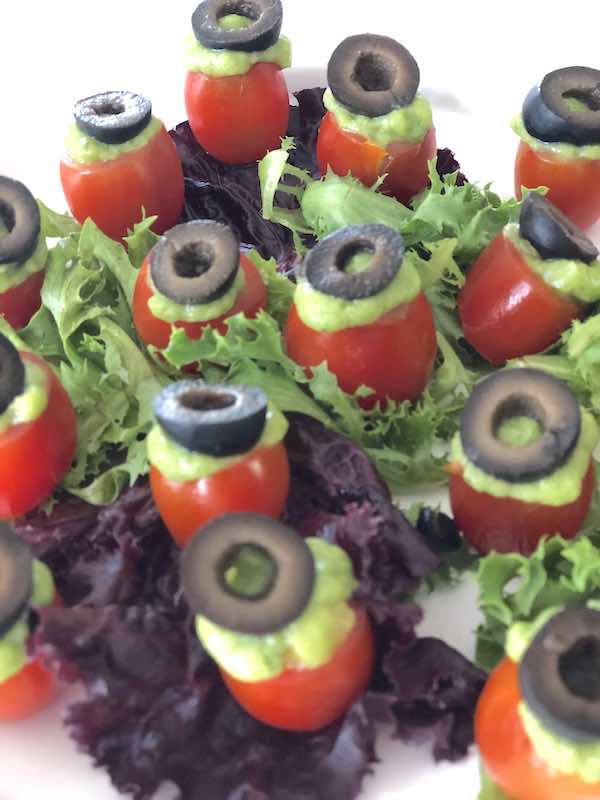 These eye balls are creepy but fun and easy to make.
This is a great way to get kids to eat vegetables by serving food in a creepy way.
Plus letting them in on the fun by letting them create the eyeballs themselves.

Ingredients:

Small tomatoes
Guacamole
Sliced olives
Lettuce for garnish
Start by slicing off a small portion on one end of the tomato so that it will stand on end.
Slice off another section from the other end.
With a sharp knife or tiny spoon scoop out the seeds and a little of the flesh to create an opening for the guacamole.

Fill a small ziplock bag with guacamole, snip off the corner and squeeze the guacamole into each of the tomatoes and top with a sliced olive.
Tip: Make sure guacamole is smooth or the chunks will get stuck when you squeeze it out the ziplock bag.
Serve on a bed of lettuce.
Mummy Hot dogs for a Quick Easy Halloween dinner
Hot dogs wrapped in pillsbury crescent dough is just about as easy as it gets! Plus you don't have to make them. Let the kids do the work!
I taught the kids to make these when I had kids cooking classes and they loved them!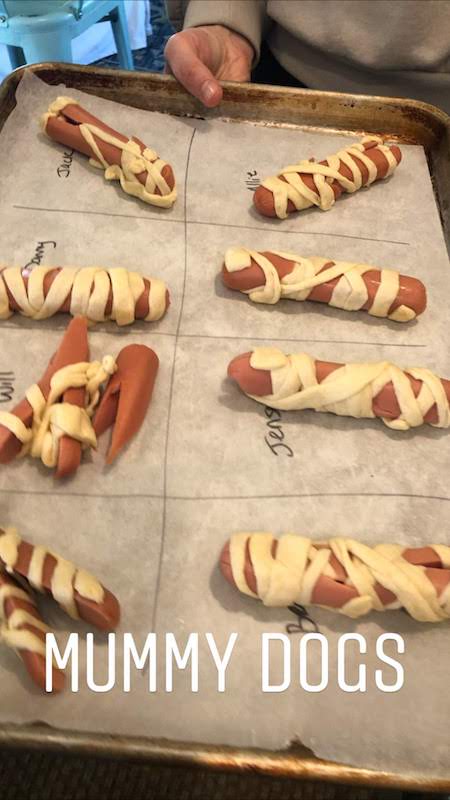 Ingredients
Hot dogs (my favorite are Nathans hot dogs)
Unroll the dough. Press perforations together to create 4 rectangles. With knife or kitchen scissors, cut each into 10 skinny pieces, making a total of 40 pieces of dough.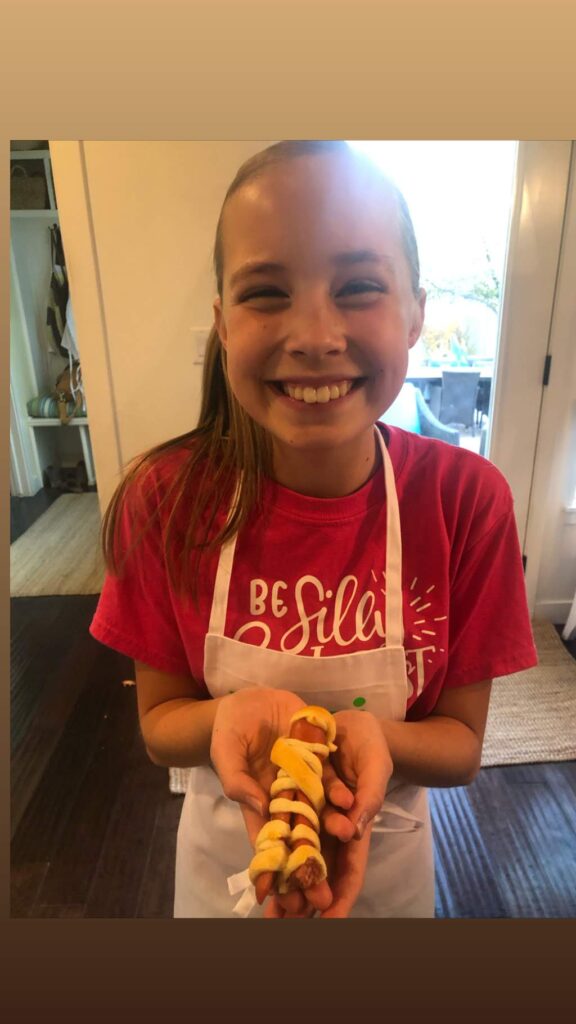 Wrap 4 little pieces of dough around each hot dog to create the mummy affect. (we made slices in hot dogs for arms and legs)
Some of the kids used long pieces of dough to wrap their hot dogs.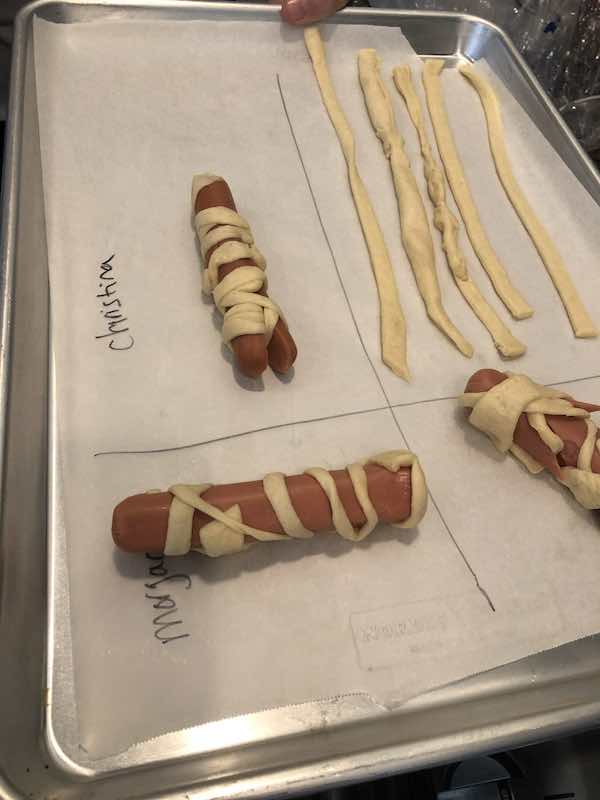 Optional- Add cheese and slice cheese slices into quarters (1/2 slice cheese, cut in half). Place cheese on top of hot dog before you wrap the dough around.
Bake on a cookies sheet at 375 degrees or until dough is golden and hot dog is cooked.
Create faces with mustard or ketchup.
Witch finger cookie recipe
These creepy looking cookies are my favorite! They are basically the same as these Christmas cookies but you shape them like witch fingers!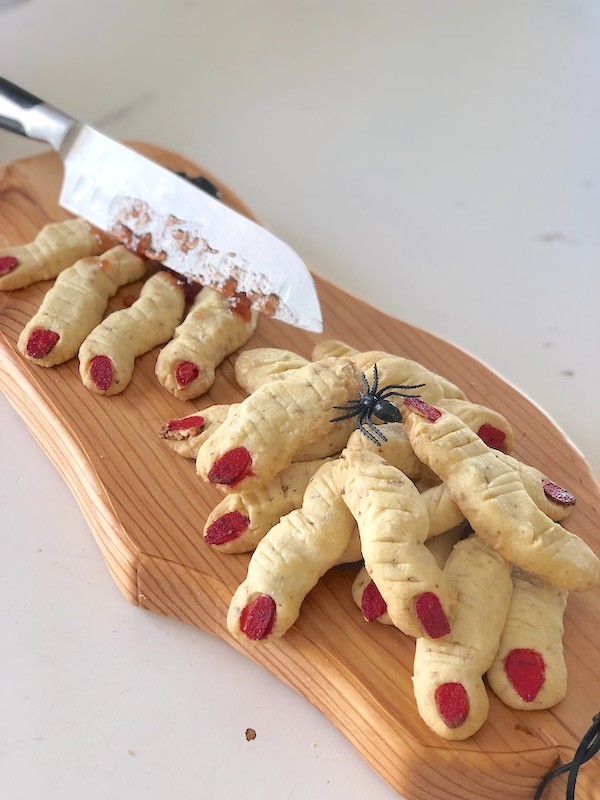 Kids love making them look bloody with red jam and sliced almonds painted with red food coloring!
Witch Finger Cookies
Ingredients
1 C Butter softened
3/4 C Powdered sugar
1 tsp. Vanilla
1/2 tsp Salt
1 C Finely chopped almonds or pecans
1 3/4 C Flour
Slivered almonds and red food coloring for finger nails
Preheat oven to 300 degrees.
Beat butter and sugar until light and fluffy. Add vanilla and salt.
Add flour a little at a time blending after each addition. Stir in nuts. Dough will be stiff.

Use 1 heaping tablespoon per cookie. Shape dough into skinny fingers about 3 inches long and 3/4 inches wide. Judge it by your own fingers.

Place cookies on cookie sheet that is lined with parchment paper.
To create lines in fingers use a knife. Paint almonds with food coloring.
Bake for 25 min or until lightly brown.
Makes around 3 dozen
SHOP FALL FASHION

More Halloween FUN
Haunted Barbie Halloween Tablescape in Pink and Black
Best way to host Family Halloween Party
Halloween treats and food ideas
Spooktacular Family Fun Halloween Games