On Tuesday a bunch of gals from church and some neighbors all got together to share Fall/Halloween ideas!
I made these Guacamole Ghoul Eyes out of Cherry tomatoes and Wholly Guacamole topped with a sliced olive. So deeelish!!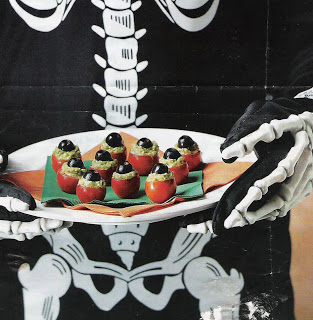 How about this cute Bat lamp!! You can find directions here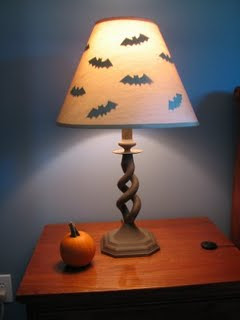 You can buy this headstone at the dollar store! Then modge podge the areas you want to add glitter to and sprinkle away!! Marsha's daughter Mindy brought this. Plus the fake pumpkin painted black and she added glitter to the polka dots. So adorable.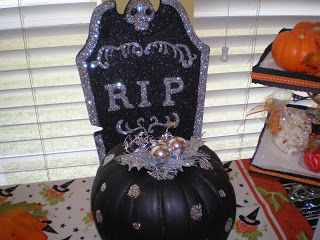 Sandi brought all these great food ideas that she has done with her little boy. Monster cupcakes made from all kinds of candies and "brain cupcakes". (Martha Stewart) Then she served carrots and celery from science beakers. Such cute ideas!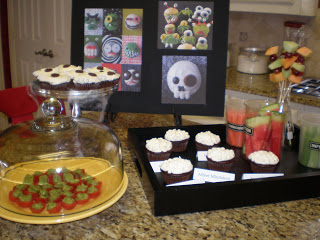 Virginia made these adorable ghost cookies from Nutter Butter cookies and dipping them in white chocolate.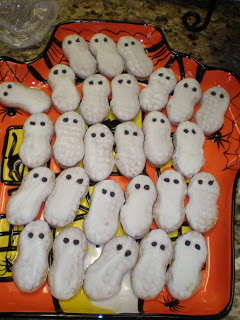 Here is a picture of just some of the gals that came.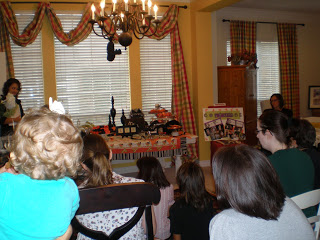 We also learned about some important health tid bits from Michelle who also happens to be a nurse on how to combat our families from getting the flu.
WASH YOUR HANDS. SNEEZE INTO YOUR ELBOW.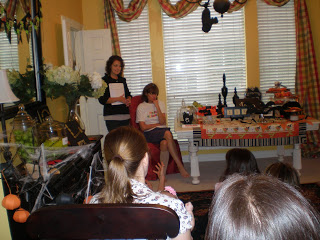 Those green balls fell from a tree in the park and I added some fake spiders to make it creepy!
Sandi made these cute
"crackers" (Martha Stewart)
filled with Halloween Kisses.
Tanya made the cute
Sock Bats
with her kids and showed us how to do it too.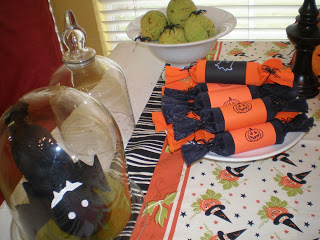 Rainie made these yummy treats from
Bakerella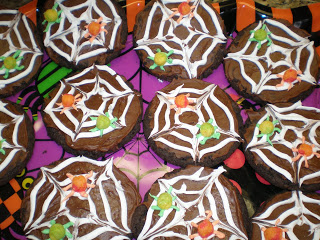 Allison made these adorable
Marshmallow mummies
with marshmallows and fruit roll-up. Are they just so cute or what!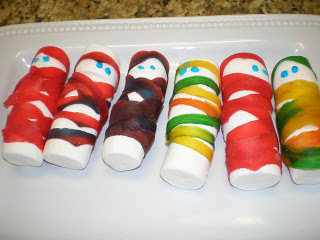 Michelle made these adorable bats from tiny orange pumpkins and painted them black and added wings cut from black foam sheets that she attached with toothpicks. Make sure you make a hole in the pumpkins with something sharp as these pumpkins are very hard!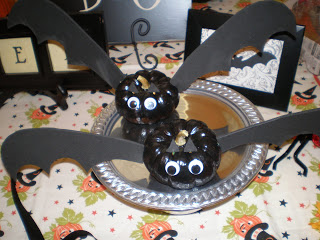 Rainie also got recipes from
Bakerella
on how to make
"cake pops"
that look like mummies. They turned out perfect!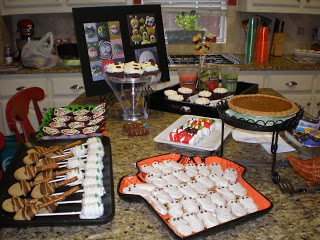 I hung up one of my lime green Halloween banners that I made and we placed the jar of "Brains" (cauliflower in tinted water) and the Pasta Skeletons on my side board.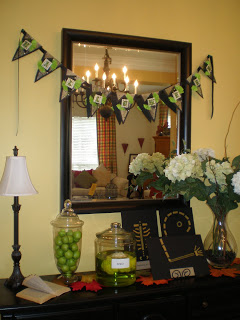 A Boo Banner enhanced with glitter! So Easy to make!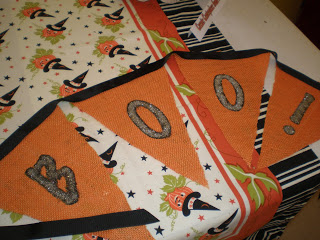 Bug Stew!! (Martha Stewart) Sandi also brought this cool "bug stew" that she made. Using a witches cauldron and reindeer moss, white pipe cleaners, bugs and spiders glued and glittered! It was amazing.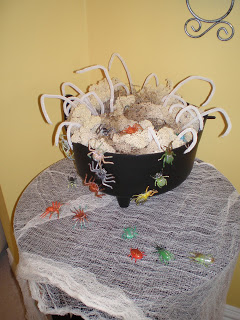 Another fabulous idea from Sandi and
Martha Stewart
. Twigs from her yard painted black and then you make the paper ornaments from a pattern on Martha Stewart.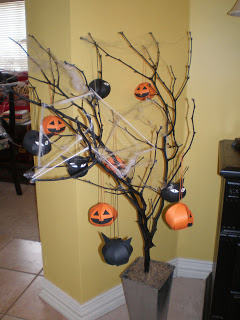 Pasta Skeletons (Martha Stewart)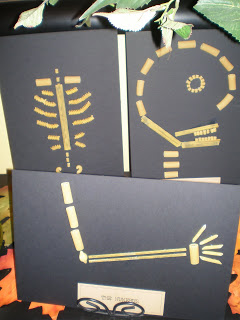 Service Idea for families: Secretly leave a treat and this poem that asks them to do the same thing…secretly pass on some special treats to someone else and so on and so on….. So fun to do with your kids and this allows them to think of someone else through the Halloween holiday instead of just what they will be getting.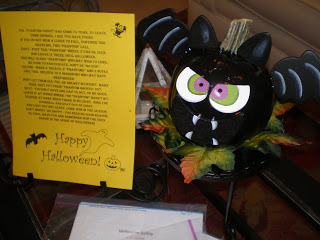 There was even more ideas and fabulous food but this is all the photos I have.
What fun ideas can you share with us?
Put a link to your ideas when you leave a comment.
Happy Halloween!!
Make sure you go on over to see what everyone else has shared.