Howdy, pardners! Saddle up because we're taking a wild ride into the stylish world of a spooky Western Barbieland Halloween tablescape! You may be asking why Barbie for Halloween? We were inspired by Barbieland that has taken over a section of our Daybreak community for Halloween! Here is our inspiration mood board showing the colors and and fun ideas.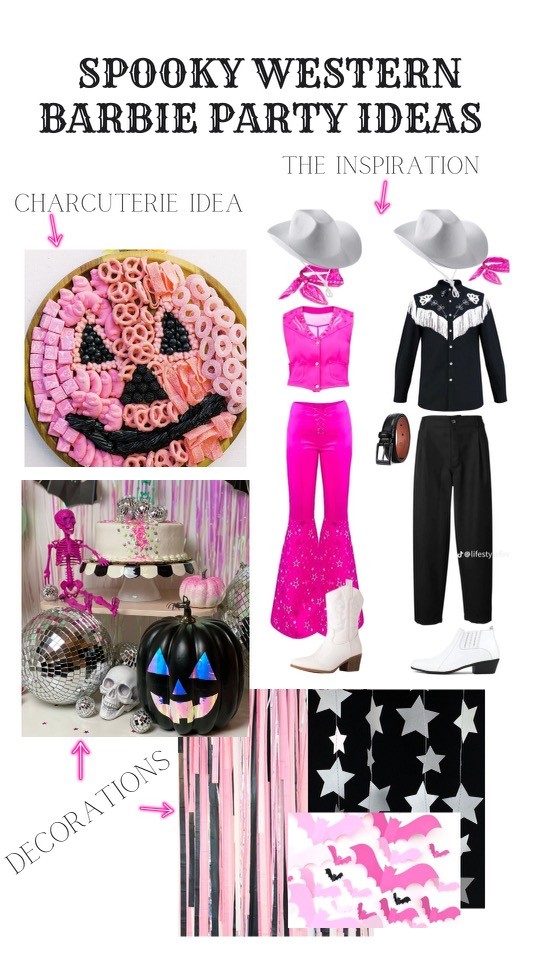 Barbieland here in Daybreak is not just a few houses but 20 houses all completely decked out in Barbie stuff. Each one has a different theme.
There is Astronaut Barbie,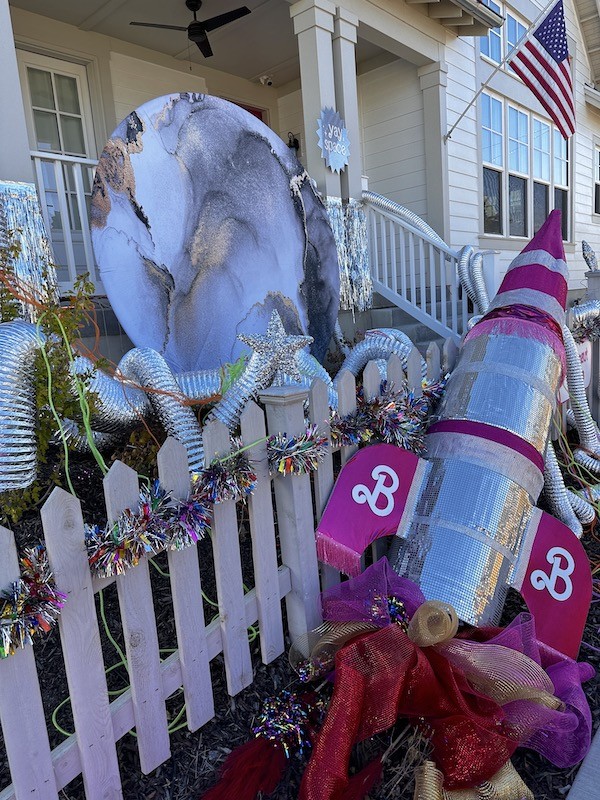 Beach Barbie complete with pink and white beach chairs.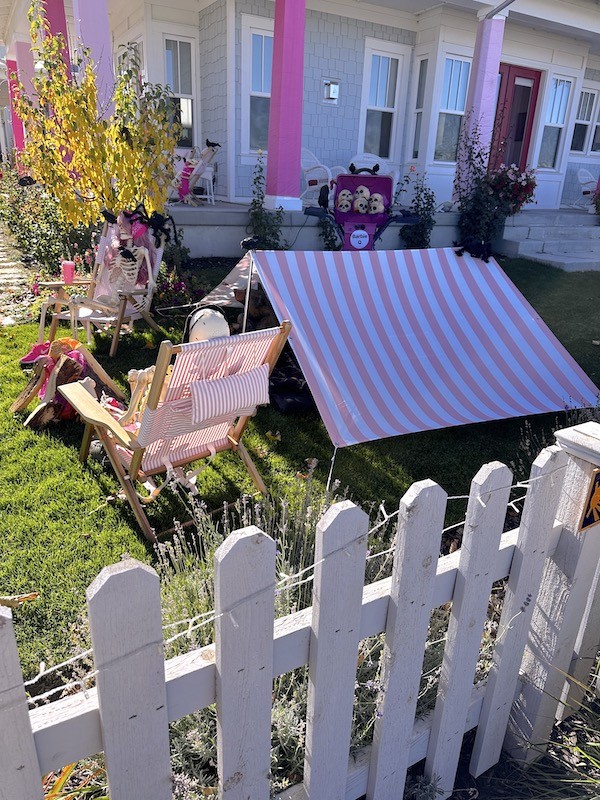 Barbie's dream house comes complete with a pink closet filled with pink clothes!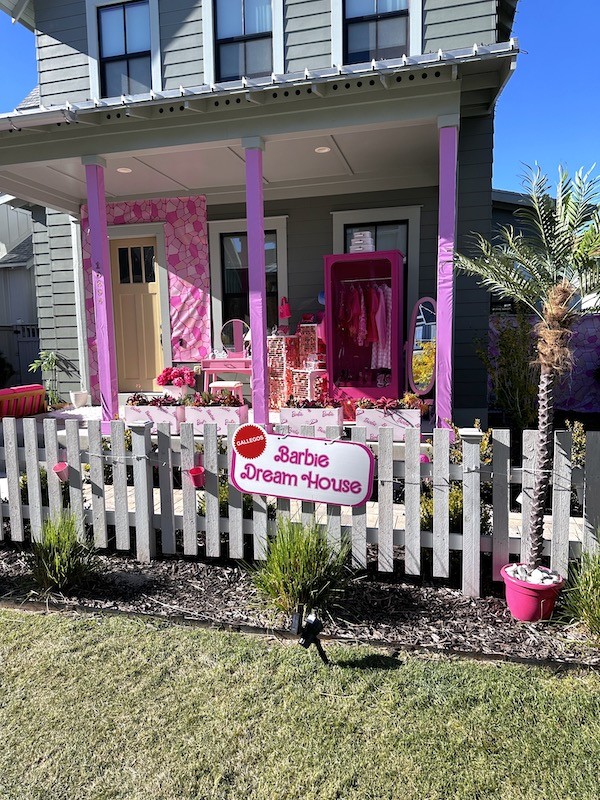 Another house in "Barbieland" is Ken's Mojo Dojo Casa House. A third is the Barbie Graveyard.
This Western Barbie house inspired our tablescape.
So grab your cowboy hats and put on your spookiest smile, because this tablescape is about to wrangle your senses.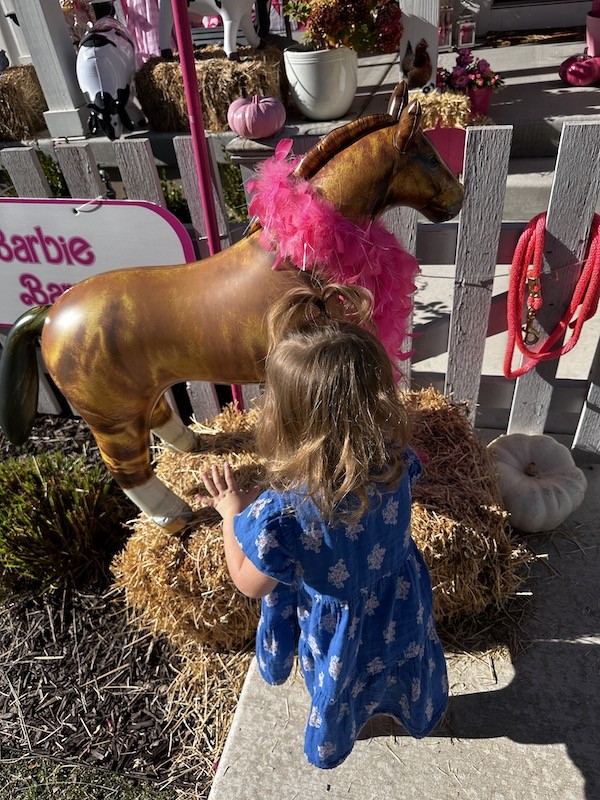 Setting the Stage for my Barbieland Halloween tablescape:
First things first, let's talk colors. First we thought about using denim fabric down the center of the table but decided black would be better because of black and pink backdrop.
The pink and black backdrop is simply a Dollar Tree plastic tablecloth! You just fold it and cut it into strips leaving the top uncut so you have something to hang on the wall.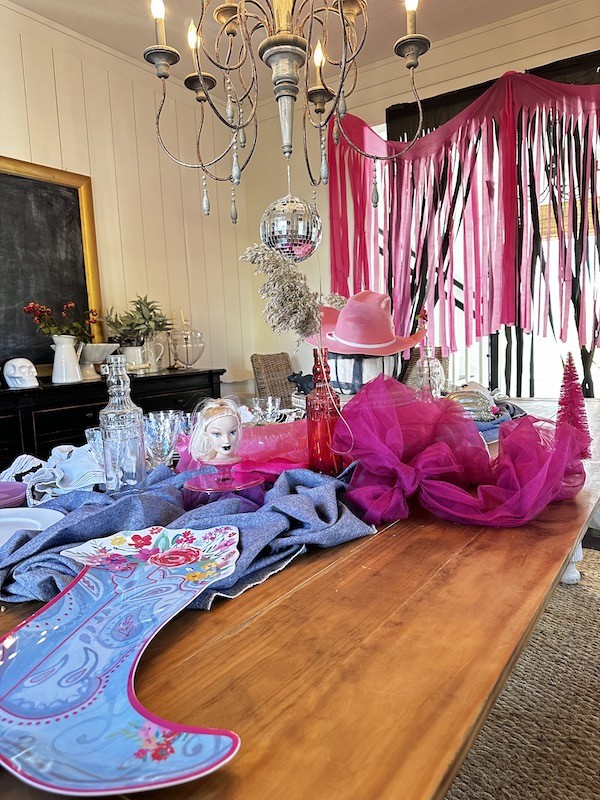 Picture this: a vast desert under the bewitching moonlight, dressed in shades of pink and black.
To begin we placed black fabric as the base down the center of the table. Two different types of pink fabric layered over the top for a fun vibe.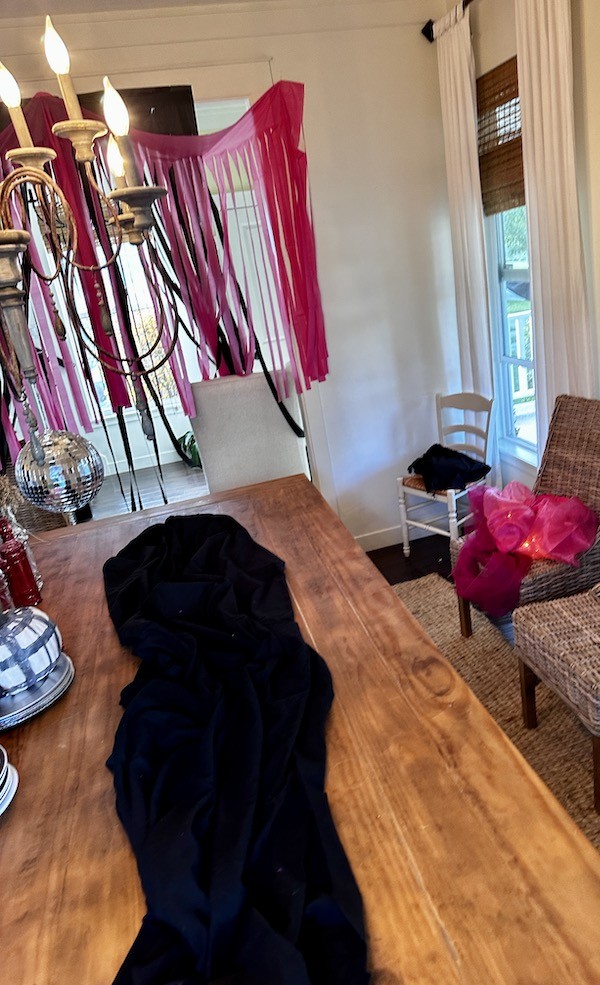 It's like Barbie herself waved her magic wand and transformed the Wild West into a whimsical wonderland!
Place Settings:
At each place setting, silver charger plates set the stage, their metallic gleam catching the haunting moonlight.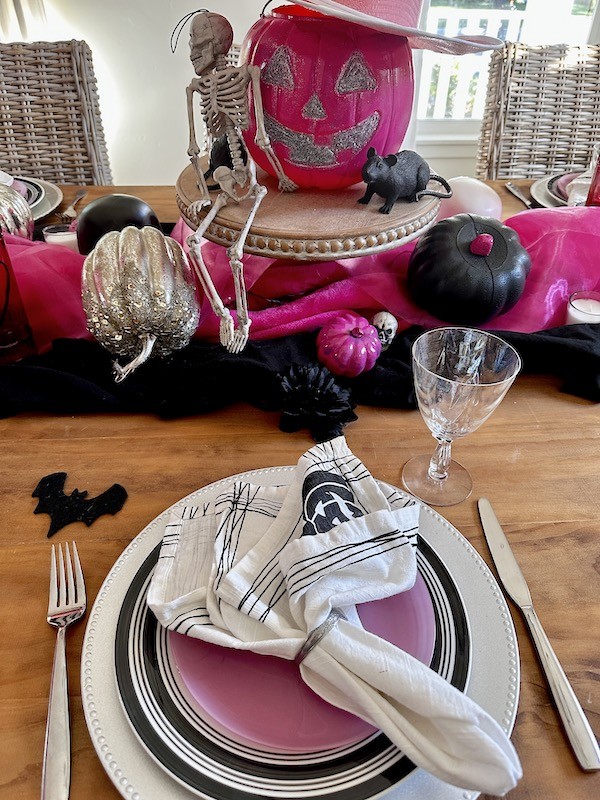 They're layered with white dinner plates boasting bold black stripes around the edges, adding a touch of modern chic to our spooky soirée. On top, a delicate pink salad plate adds a pop of Barbie-approved color.
Western Barbie Spooky Tablescape Details:
The napkins, oh, the napkins! White as ghostly apparitions, each one has a black spider, black pumpkins, or the word "BOO" on them. They're the perfect blend of eerie and elegant, adding a touch of Halloween mystery to the table.
Each napkin is cinched with a Western touch with either a fork or spoon bent into a ring to hold the napkin.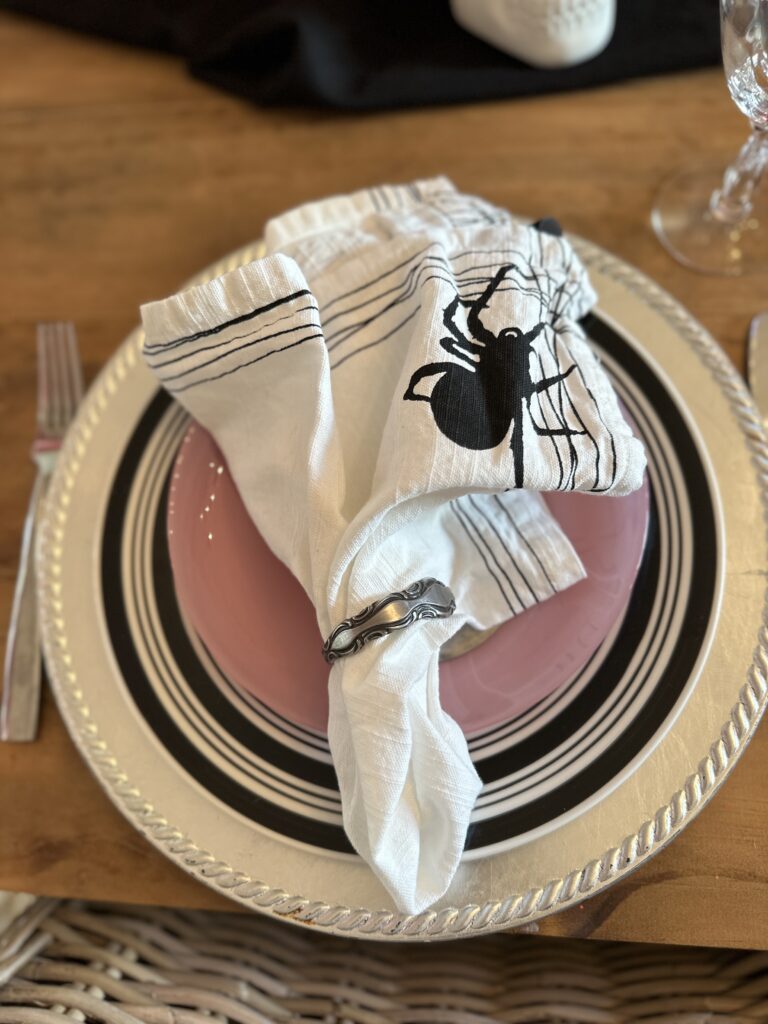 And what's a Western Barbie Halloween without a hint of sparkle?
Enter the iridescent goblets, catching the moonlight and sprinkling the table with a touch of magic.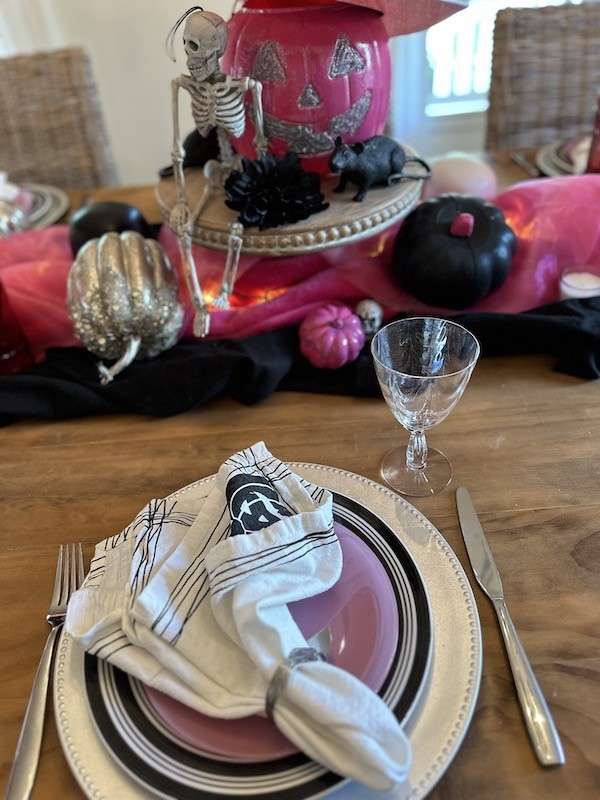 The Centerpiece:
In the heart of this haunted prairie sits our centerpiece, a true showstopper. Perched on a wooden cake stand is a pink, spray-painted dollar store pumpkin, adorned with a matching pink cowboy hat.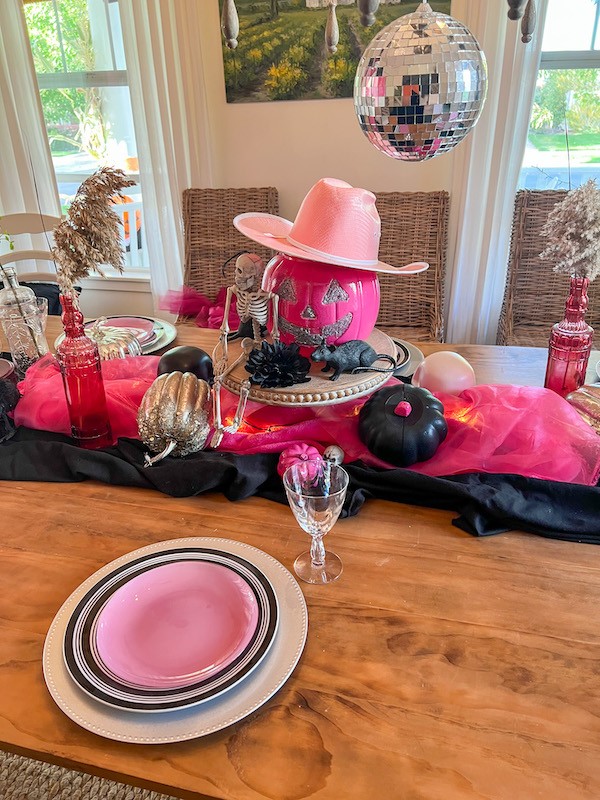 We used this spray paint from Walmart to spray the dollar store foam pumpkins and the orange trick or treat pumpkin.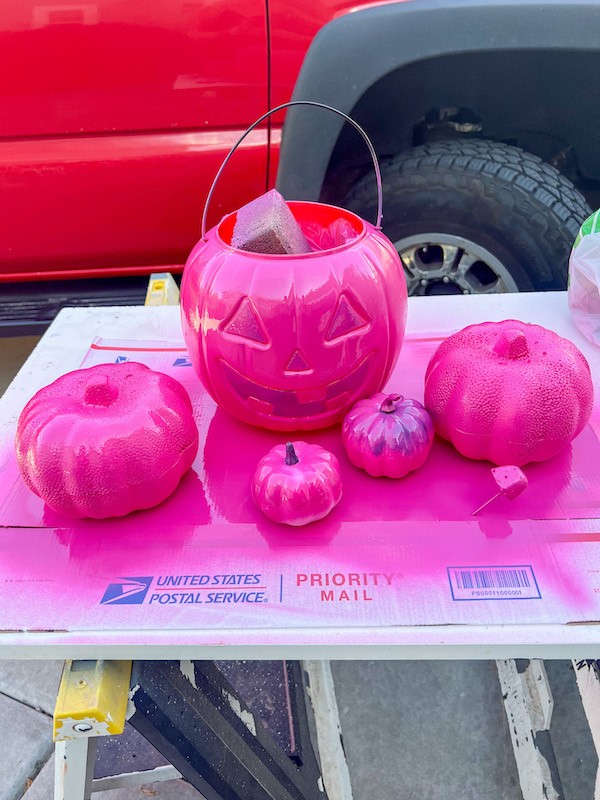 It's Barbie gone wild, y'all!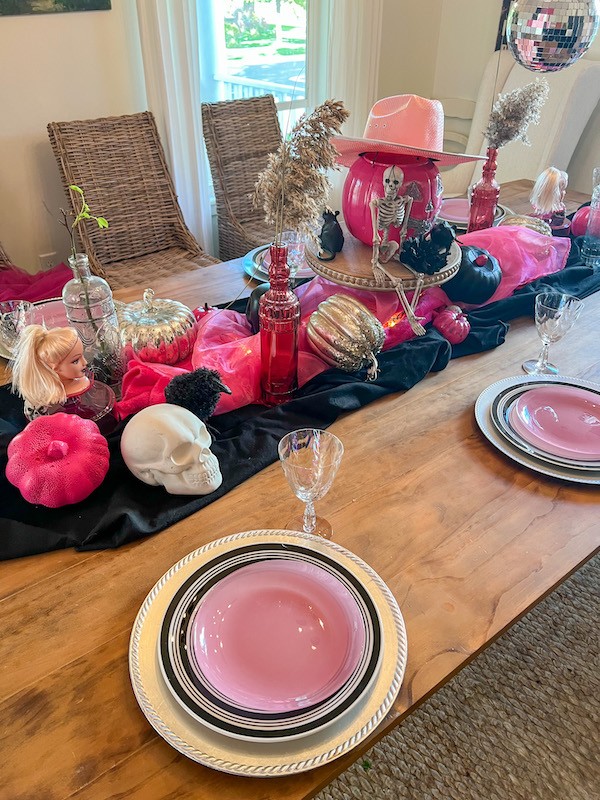 Surrounding this dynamic duo are black plastic rats and crows, setting the stage for a Halloween hoedown. And, oh my bones! A skeleton friend joins the party, adding a spine-chilling touch.
Scattered Barbie Pink Elegance:
I placed dollar store pink and clear bottles down the center of table. Adding in black faux flowers gives the table a spooky feel.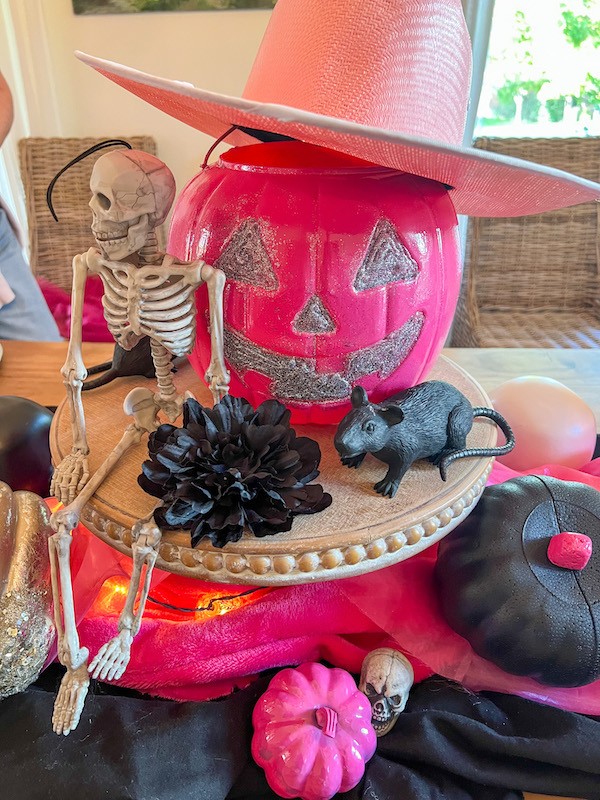 It's like wildflowers blooming in the moonlit desert – spooky and beautiful all at once.
A Spooky Touch:
Now, let's talk about the spookiest part – the tableware! Picture this: plastic pink-stemmed dishes holding none other than dollar store Barbie heads.
My daughter used marker to darken her lipstick to make her look more eerie.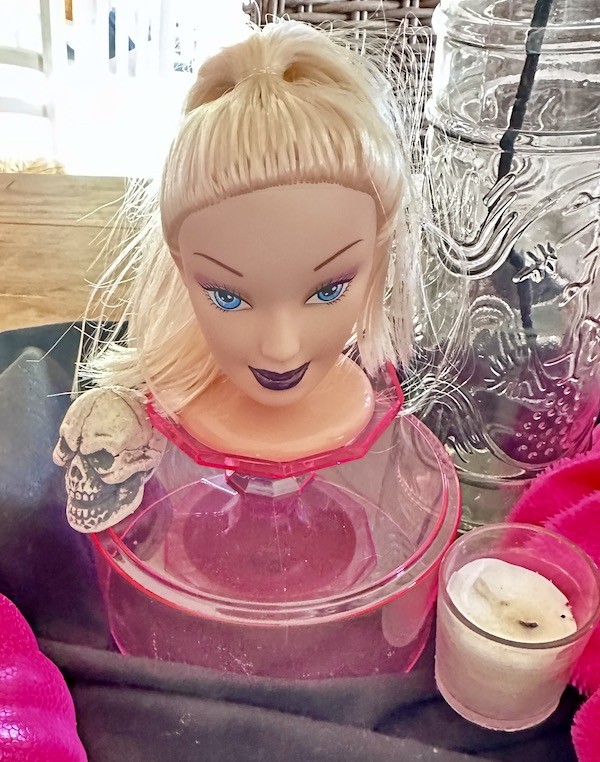 It's eerie, it's unexpected, and it's downright delightful.
Barbie might be smiling, but there's a ghostly vibe in the air that'll send shivers down your spine.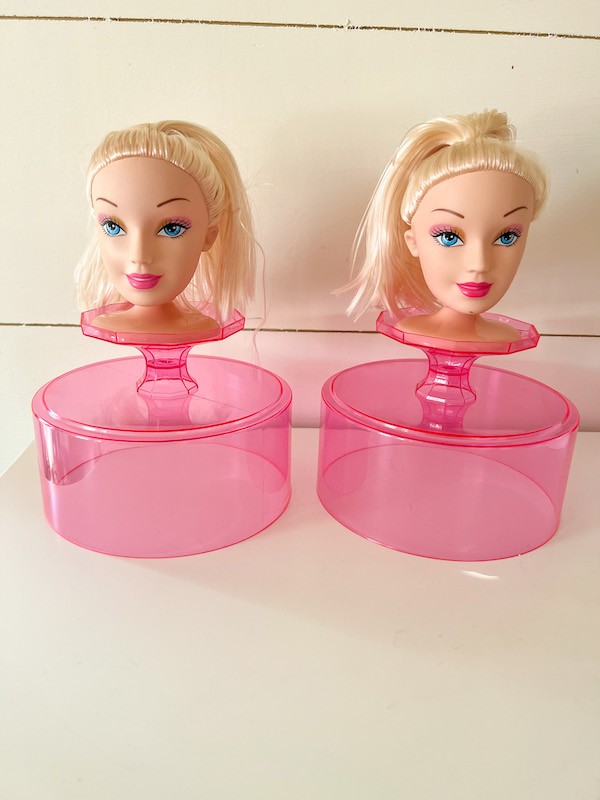 The Final Flourish:
Here is our fun pink and black Halloween tablescape. transport you to a Western Barbie Halloween party.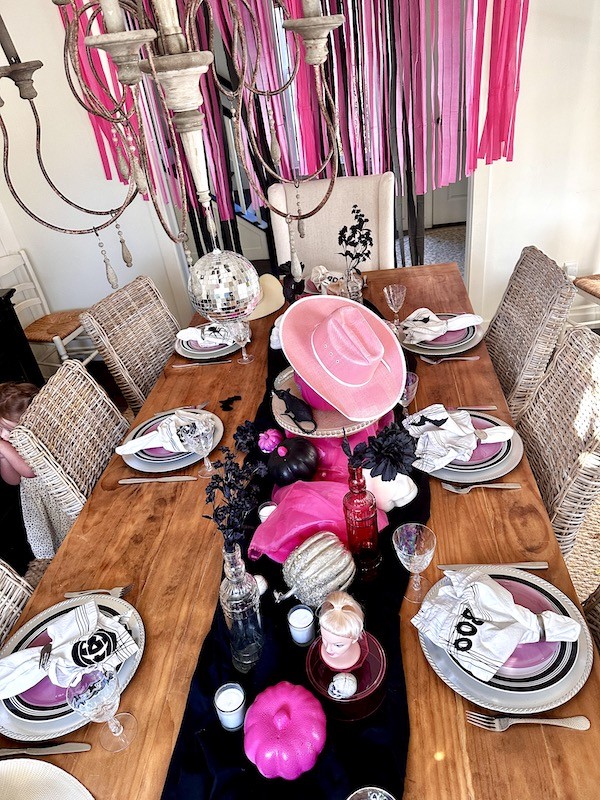 So, my dear friends, grab your lassos and enjoy this Spooky Barbie Western Halloween adventure! With a touch of pink, a dash of black, and a whole lot of imagination, we've transformed a regular tablescape into a haunted hoedown that Barbie herself would be proud of. Happy haunting, y'all! 🎃👻🌵
Shop Items for the Halloween table