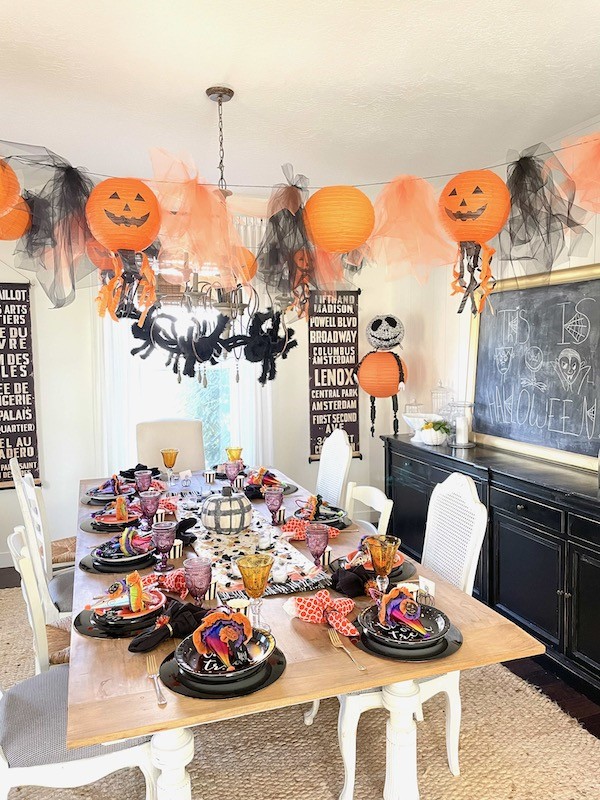 The best way to host our family Halloween party was to enlist the help of my oldest granddaughter.
Ella who is now 12! How do they grow up so fast?
Ella is very creative and really enjoys helping me put together crafts and food art.
I can't wait to share all the fun details that went into our Halloween family party!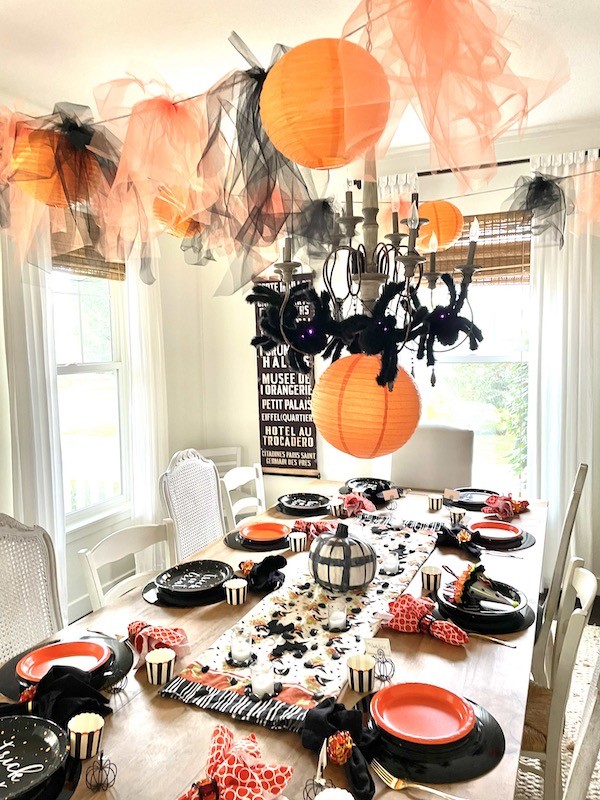 We had so much fun putting this party together! I also put together a Bewitching Halloween black and white tablescape with a witchy chalkboard that turned out so cool!
From making lots of paper decorations, to carving oranges into pumpkin faces, we were soo busy!
Inspiration for my Family Halloween Party
I was inspired to create this Halloween party from an old 2008 magazine.
Mary Engelbreit's Home Companion magazine highlighted a Glitterville party in a greenhouse. I have been dying to create a similar look and feel.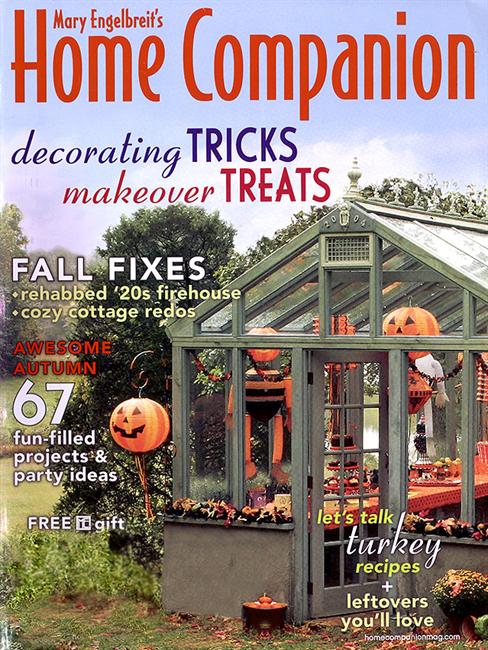 Lots of orange and black! The one thing that really caught my eye is the large hanging paper pumpkin guy. It is made from paper lanterns and crepe paper.
I knew we could re-create something similar for my party.
Orange and black Halloween tablescape
Starting with the tablescape, I used two different Halloween paper plates. I bought the black Trick or Treat plates on Amazon. You should buy some now to have on hand.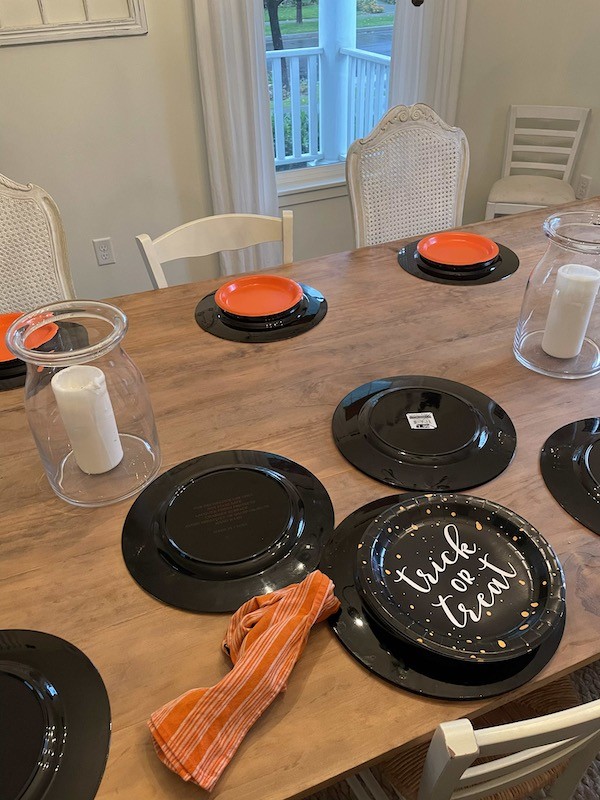 Nothing worse than wanting to have cute Halloween plates but can't find them later.
I wanted a pop of color so I mixed in some plain orange paper plates. These are great to keep on hand for Thanksgiving or even for a tablescape in the summer!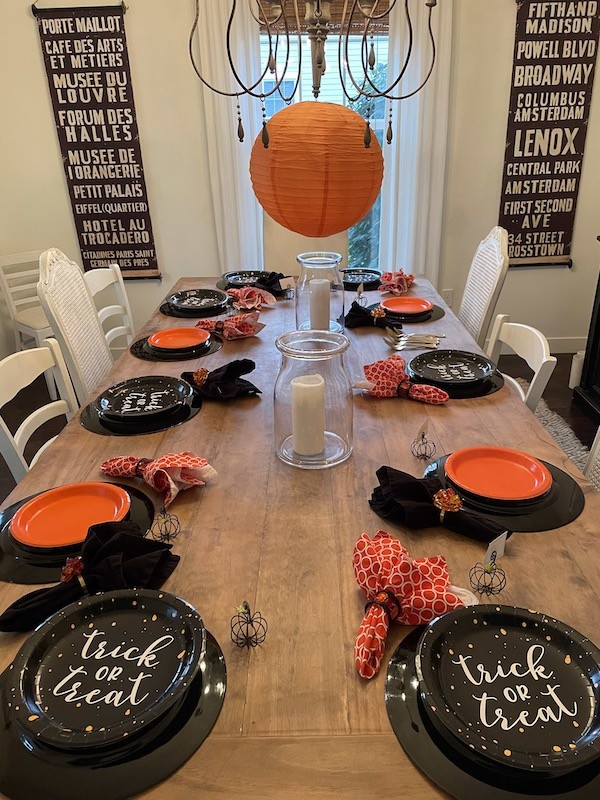 You will notice I am using my favorite trick of flipping my charger plates upside down. They are black on the underside and they look great as a raised charger plate. Such a great way to get more use of your chargers!
I did the same thing here for my moody Halloween tablescape here.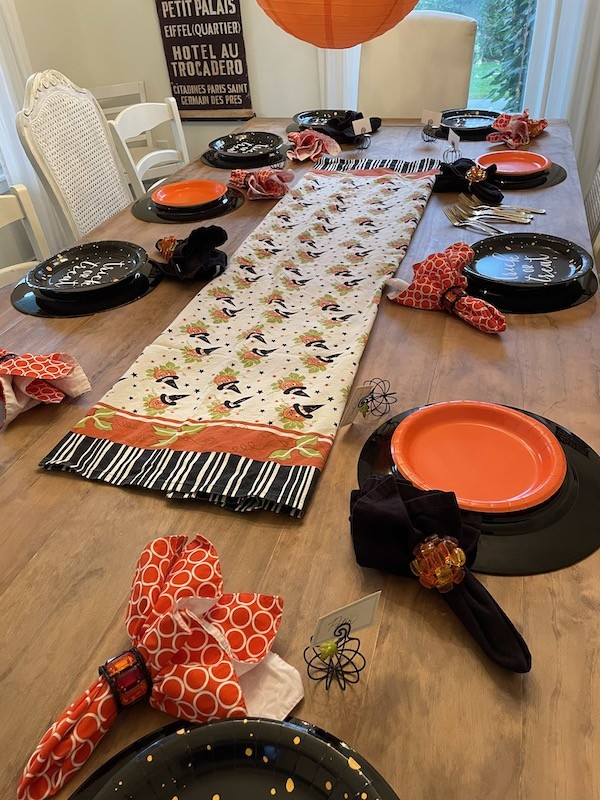 Halloween Napkins and Goblets
Next I added black napkins and orange and white napkins that are handmade and reversible by Izy and Oly. I added a sparkly napkin ring to each napkin.
The Halloween table runner brings in more of the Halloween look and feel.
A mix of gold and purple goblets perfectly match our super cute Halloween party favor cones that we made.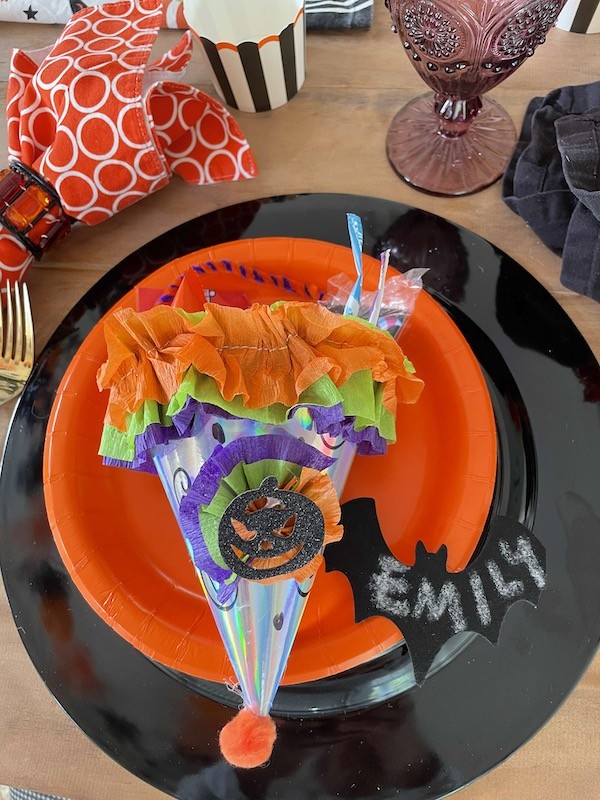 Halloween Party Favors
Here is the tutorial on how I made these party favors.
Notice my cute buffalo checked pumpkin that I painted last year is at the center of the table?
Ella thought it would be cute as the centerpiece along with some black stones sprinkled around.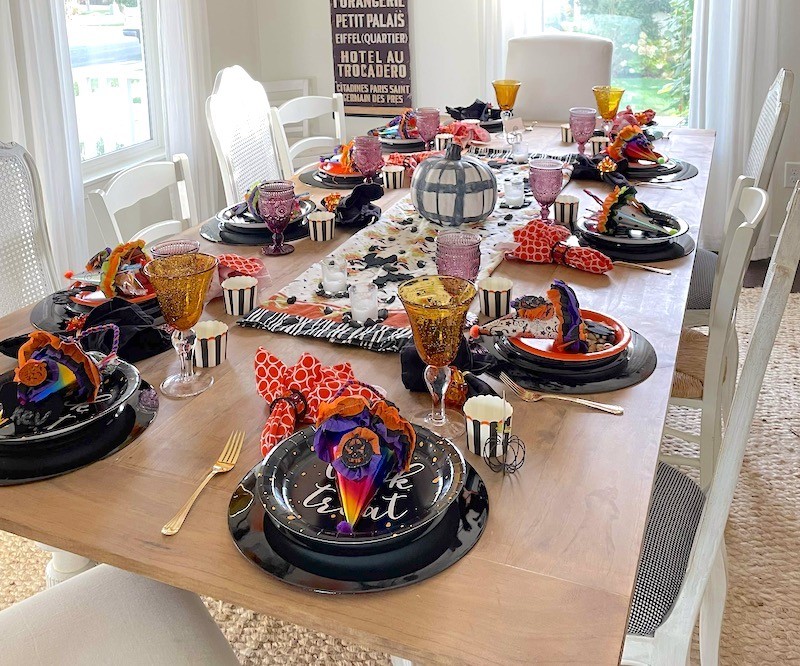 Orange and black tulle garland
I really wanted a fun look for the ceiling so I created this fun orange and black tulle garland. Here is the tutorial on how to make the garlands.
It is really easy and fun to do.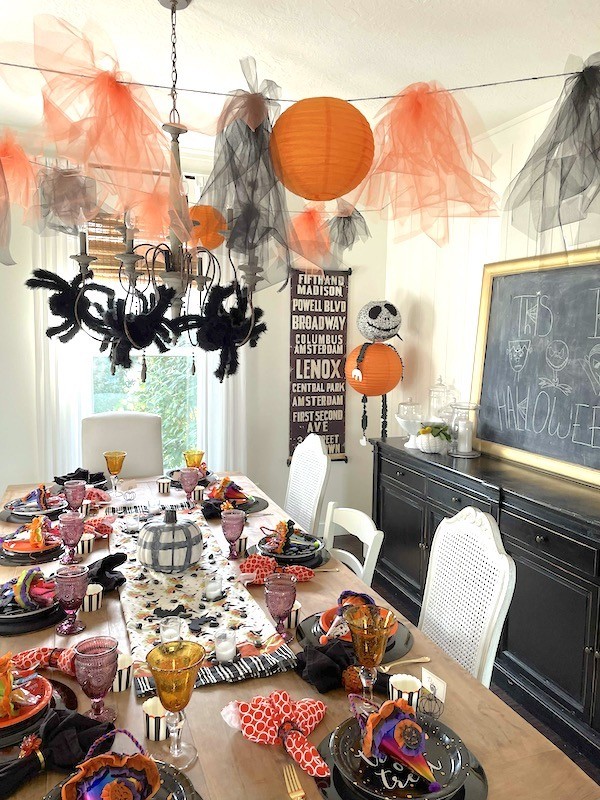 I added plain orange paper lanterns and then later added Jack O lantern faced paper lanterns.
I ordered the plain ones here from Amazon and they came the next day!
The cute jack o lantern faced lanterns with crepe paper tails are also from Amazon and they came in two days.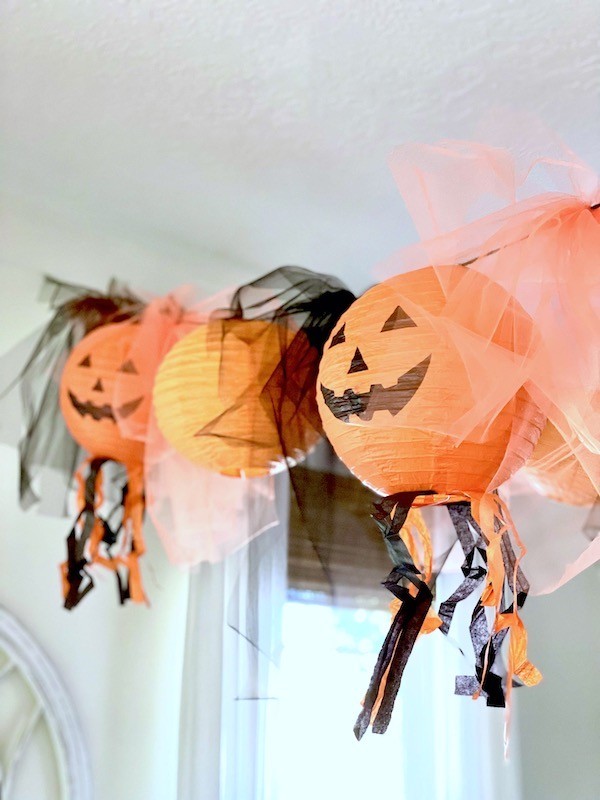 They are super inexpensive but well made and really added a lot to my family Halloween party!
Jack Skellington look alike
Ok so he was our favorite decoration by far!
I wanted to hang a fairly large pumpkin man in the corner of the room like my inspiration picture above.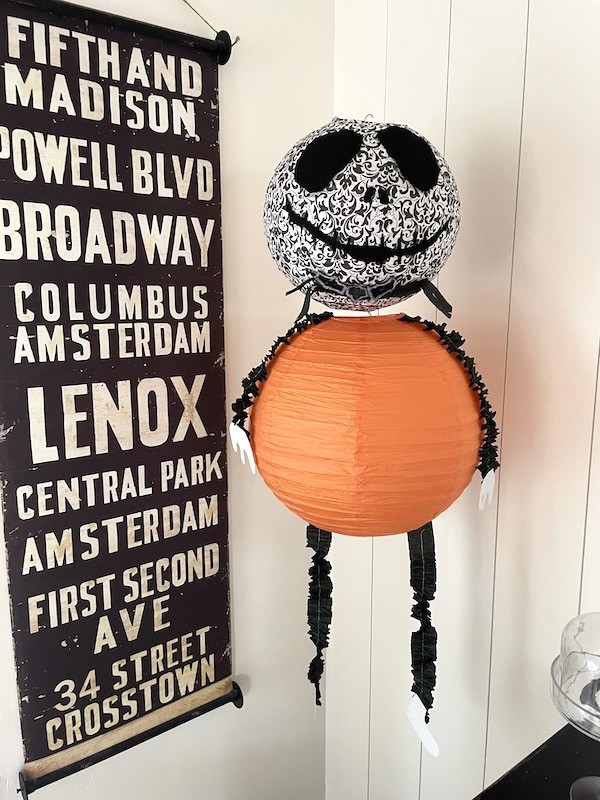 We used a large orange paper lantern and a black and white paper lantern to create our pumpkin man.
My granddaughter thought it would not work because his face was not pure white, you know like the character from the movie Nightmare before Christmas.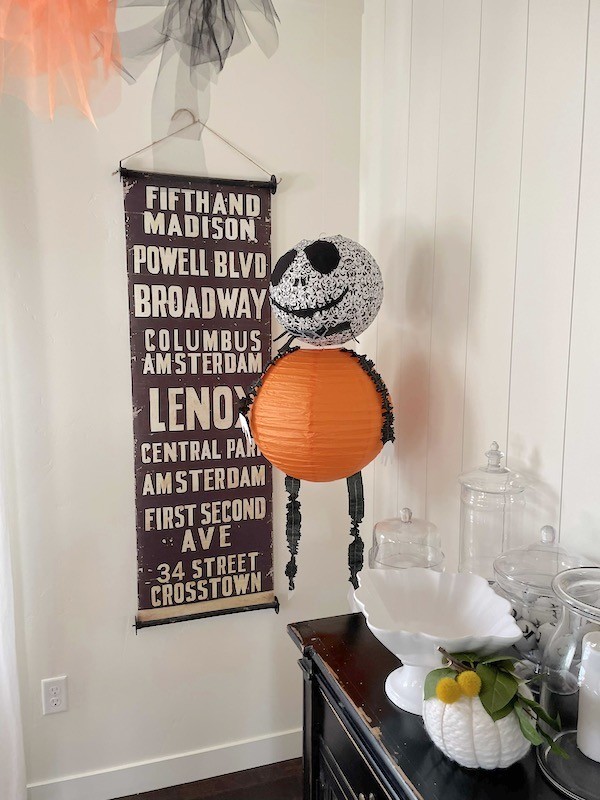 But we got creative and ended up loving how he turned out! After attempts of trying to use black paper for the face we ended up using black fabric.
Here is the tutorial on how we created our cute pumpkin man!
Bats in the Chandelier
I added my furry black spider garland to my chandelier.
Can't remember where I bought this garland of spiders but they look so cool because their eyes glow purple. Here are some similar looking spiders.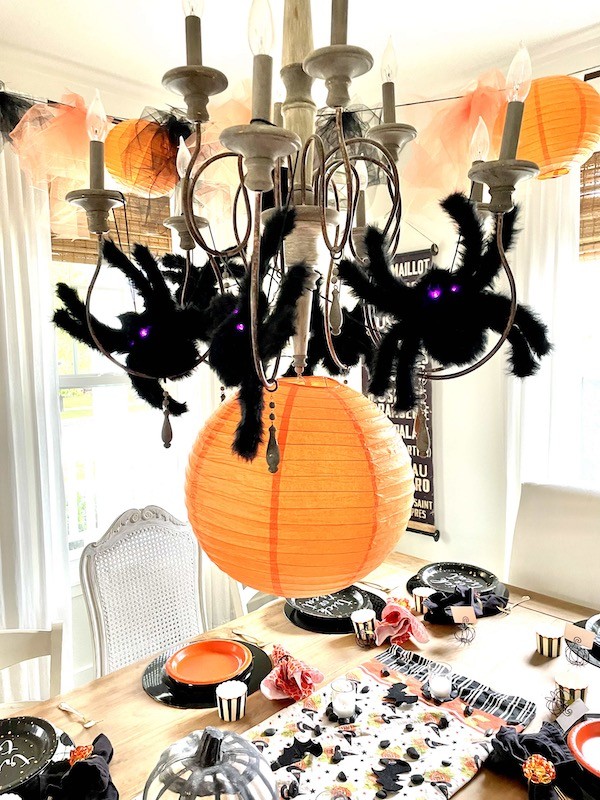 Remember when I did a Harry Potter tablescape with one large spider and it started to catch on fire!
You can read about it here.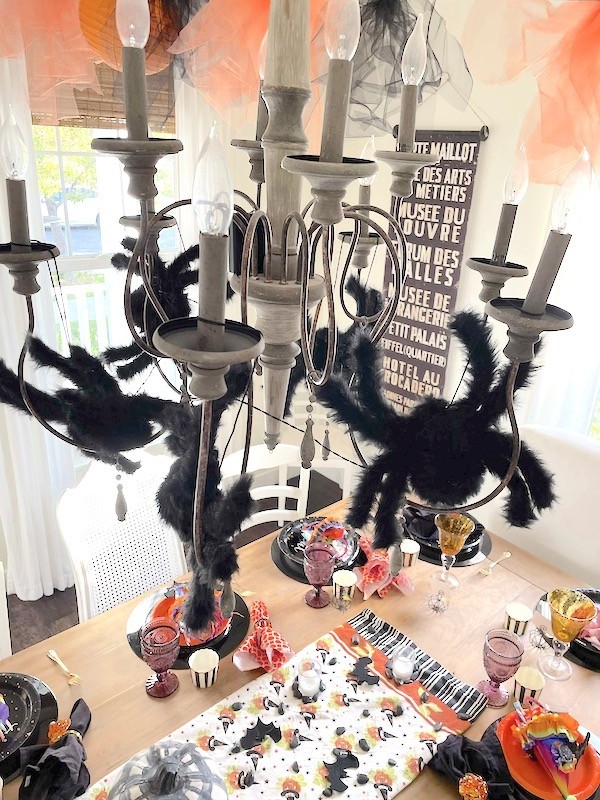 Halloween chalk art
Ella is so creative and created this Halloween chalkboard! I love to see my granddaughter share her creativity with the family like this.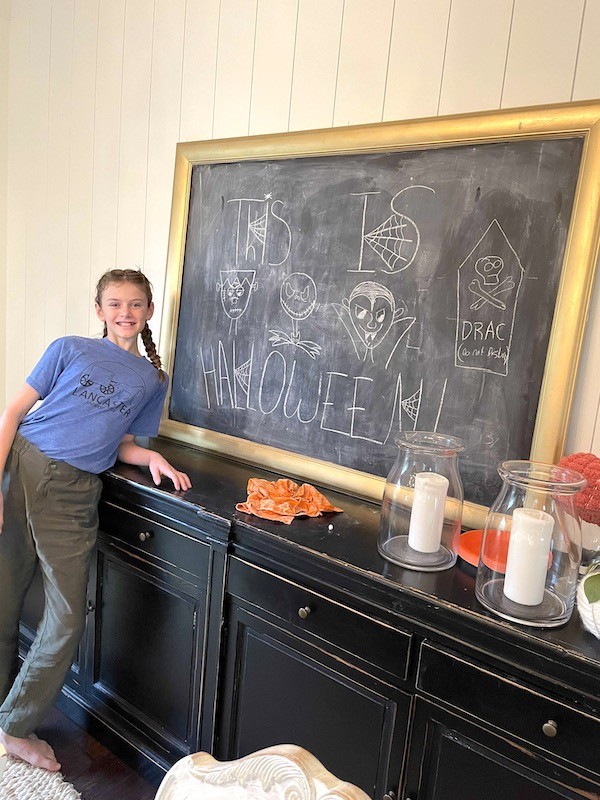 I love making memories with my granddaughter and our entire family.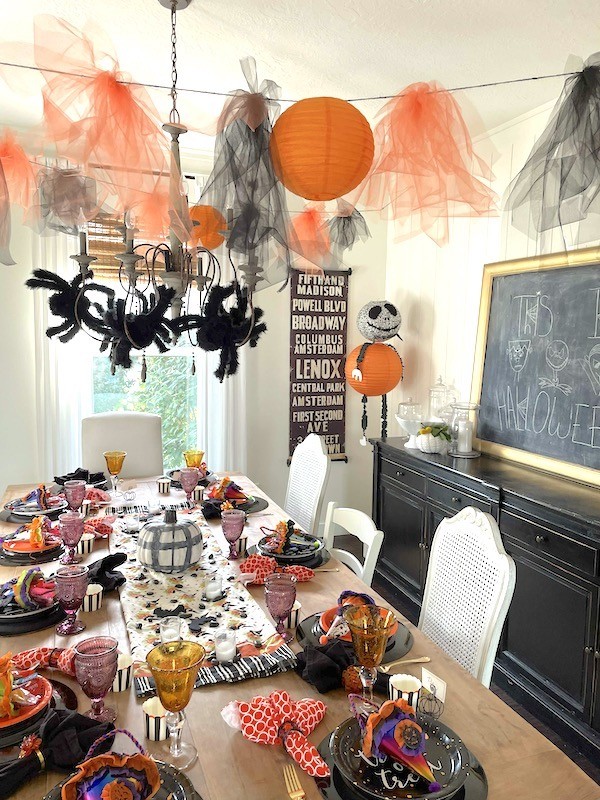 Everyone had so much fun!
Here is the link to my easy creative and fun Halloween dinner menu and recipes!
Click here are the fun Halloween games that we played.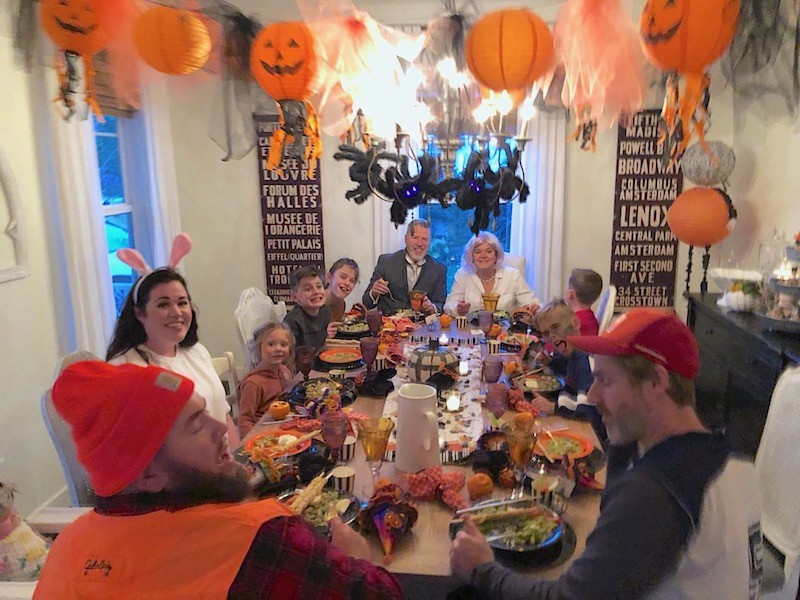 Other Halloween Family Party Posts
Haunted Pink and Black Barbie Halloween Tablescape
How to make Halloween treat cones
How to make orange and black tulle garland
Creative and fun family Halloween dinner
How to make Jack Skellington lantern Look alike
Shop Similar items