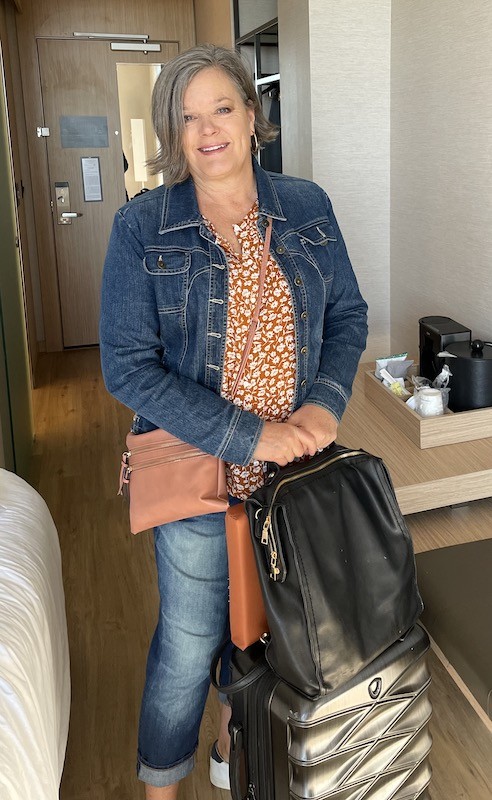 A couple of weeks ago we flew to Texas and I thought I would share my favorite cute comfy outfit to wear when flying for 3-4 hours. Fall in Texas is actually quite nice and fairly mild.
Layers are the answer! It is often chilly inside restaurants, malls and on the plane so I always have a light weight jacket or sweatshirt at the ready.
Cute and Comfortable Denim Jacket Outfit When Flying
I can't tell you how much I love this denim jacket!
It is such a staple in my wardrobe. I totally agree with Beth over at Style at a certain age about a denim jacket as a staple in her wardrobe.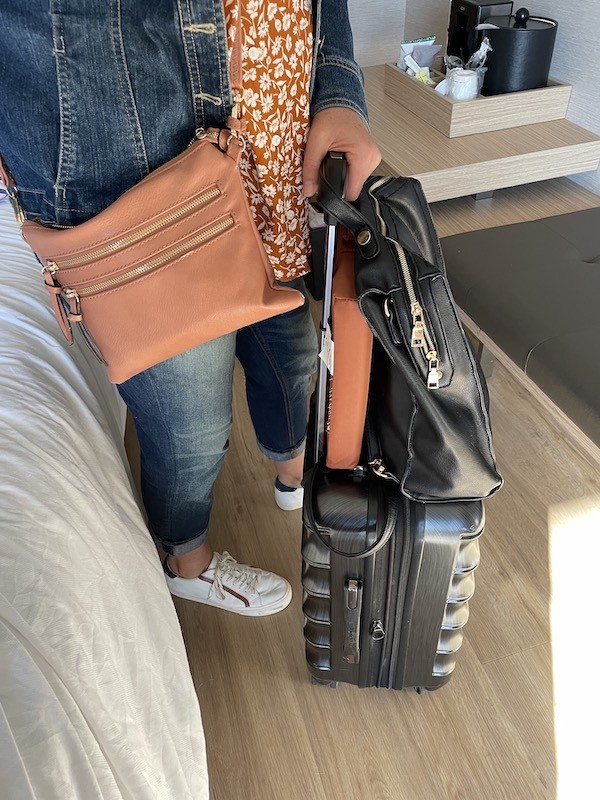 Denim jackets are so perfect when you are thinking about what to wear when flying. They provide warmth, look cute, can be mashed into a backpack or suitcase and still look great!
Tip- If I do a long haul flight I usually wear a t-shirt or light sweatshirt underneath the denim jacket so I don't have to pack the jacket.
A denim jacket can make you feel pulled together right when you get off the plane. This particular jacket has seams down the back that are very flattering especially because they create a "waist" look. Denim jackets are comfortable especially with a little spandex in them.
As for my jeans they are from Gap. They also have some spandex in them which is a must for flying!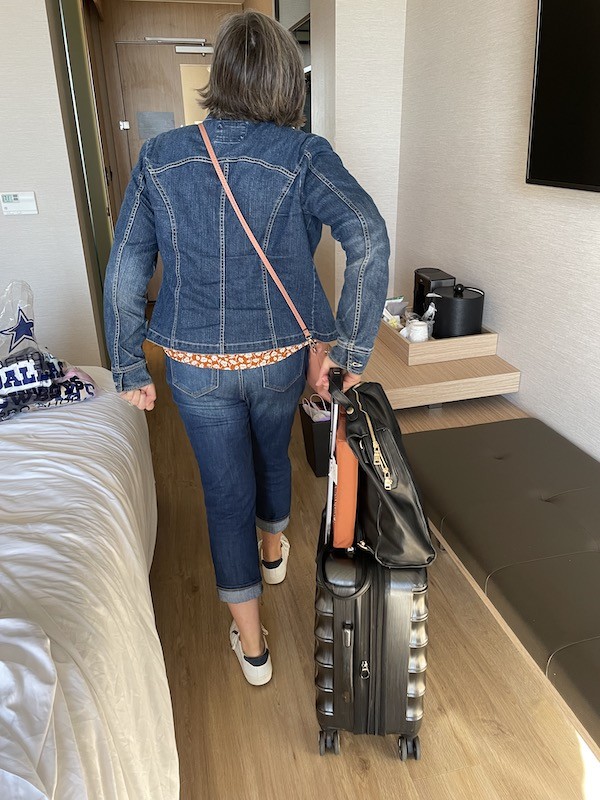 I often wear the denim jacket with different colored pants that you can see here and here.
The denim jacket also looks great with skirts. You can see how it looks with this tiered skirt here.
You can also wear it tied around your waist if you get a little too warm.
Fall swing top
Remember when I shared my post about this super comfortable fall swing top here? It is so versatile!
Today I am wearing it with my denim jacket and getting ready to head to the airport.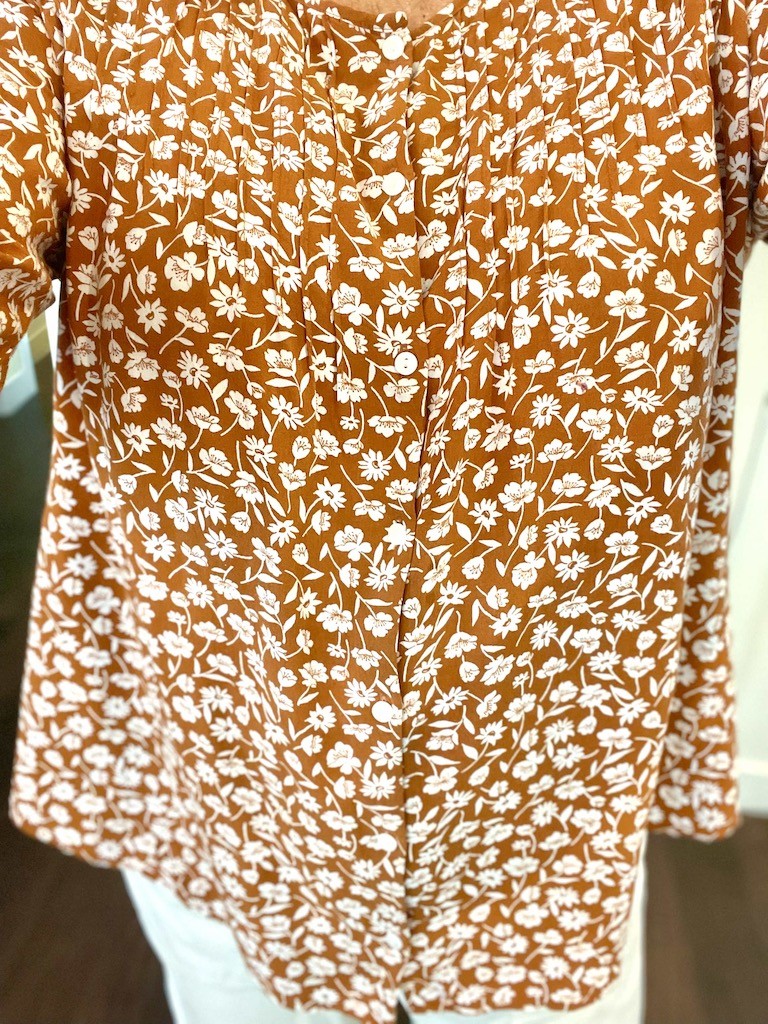 The trick for me in wearing denim on denim is to have a longer top that hangs out underneath the jacket. It breaks up the denim colors.
The denim color in my jeans and my jacket work well together. They don't completely match but I like how the jeans have a little darkness mixed in with the worn lighter areas.
This fall swing top is shorter in the front and long in the back and I just love the print. I will link similar tops at the bottom in my SHOP FASHION link.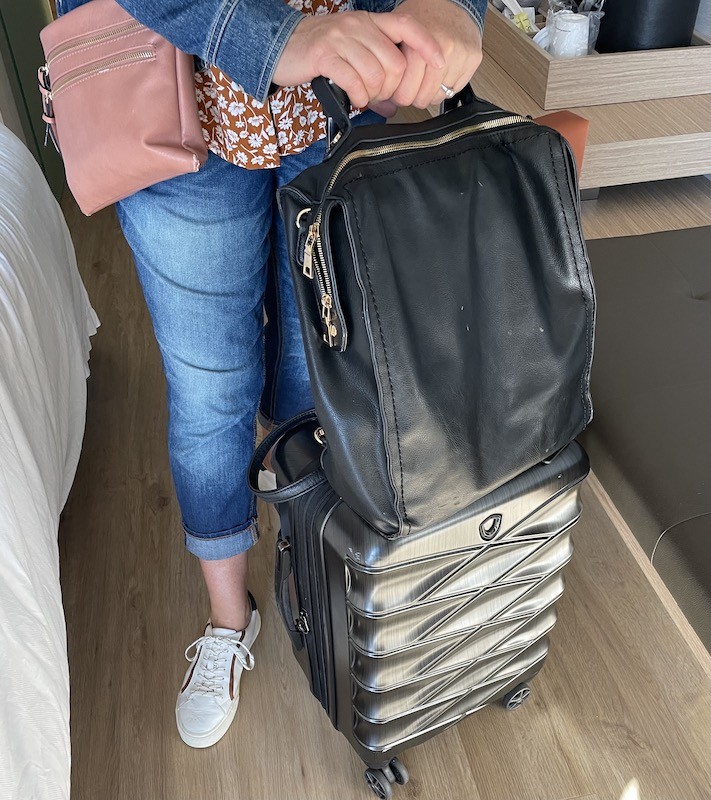 Cute and Comfy sneakers for flying
I have really loved these Madewell sneakers. At first I thought they felt a little clunky because I wasn't used to the all leather feel. Most of my sneakers are breathable fabric but these have now become an absolute favorite! They are perfect for walking through airports and being ready to sight-see right off the plane.
Rolling suitcase, backpack and crossbody purse when flying
Because I have back issues I travel as light as possible. A simple small crossbody purse to the rescue. It holds just enough of the important things and keeps my hands free.
To hold my lap top, snacks, ear phones, chargers, magazine, a scarf and other things I also use a larger leather backpack.
I just attach it to my rolling suitcase. Along with my back pad in between the backpack and the handle.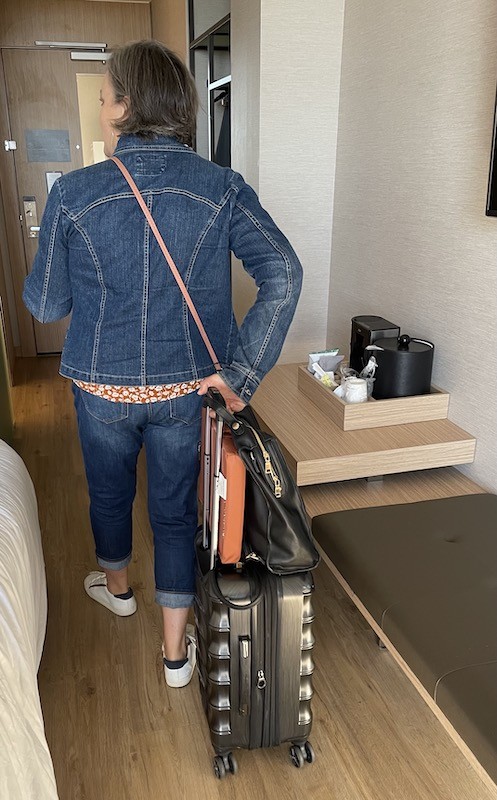 I cannot imagine having to lug around a suitcase that does not roll! I have seen some suitcases for kids that have a skateboard attached so they don't have to walk.
If I could skateboard I would totally have a suitcase like that! Can you picture me doing that through the airport? At least I would look cute and be comfy haha
More Karins Kottage Fashion
This is such a classic fall look Long tunic over distressed jeans
Best striped shirt with jeans tucked into boots A striped shirt is always a mainstay for me!
Super comfy and fun to wear is this Leopard crew neck sweatshirt styled 3 ways
I love these colors together Eggplant and olive green outfit
I have had this Black jacket with gold buttons for years! It goes with everything from jeans to dresses and skirts!
SHOP FASHION