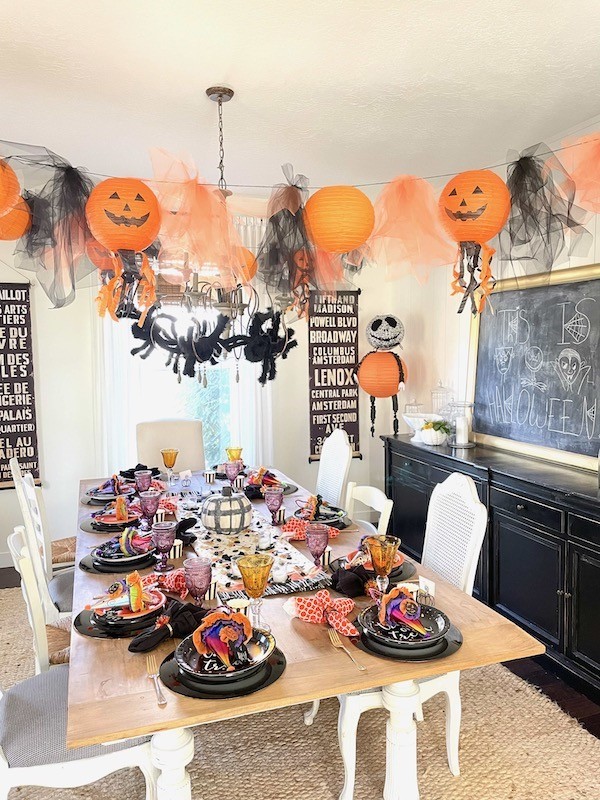 Today I am sharing how to make a Halloween Orange and black tulle garland with paper lanterns.
I made this fun easy Halloween garland for my Family Halloween party that we just did the other night.
You can see more details of it here.
Making a garland like this brings in lots of color and takes up visual space in the room for cheap!
Materials needed to make Halloween garland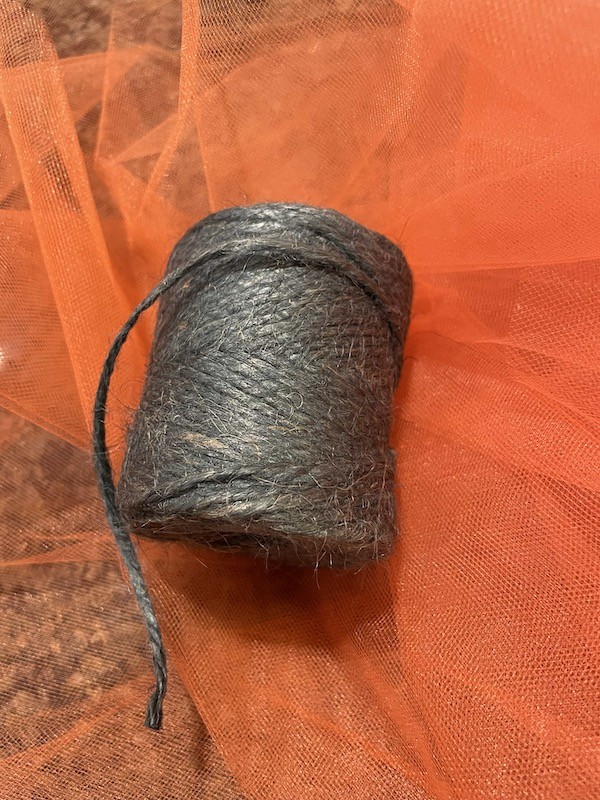 Tulle is super in inexpensive by the yard and you can find it at most fabric, craft stores, Walmart and Amazon.
I like the tighter weave tulle better than a more open weave type of tulle.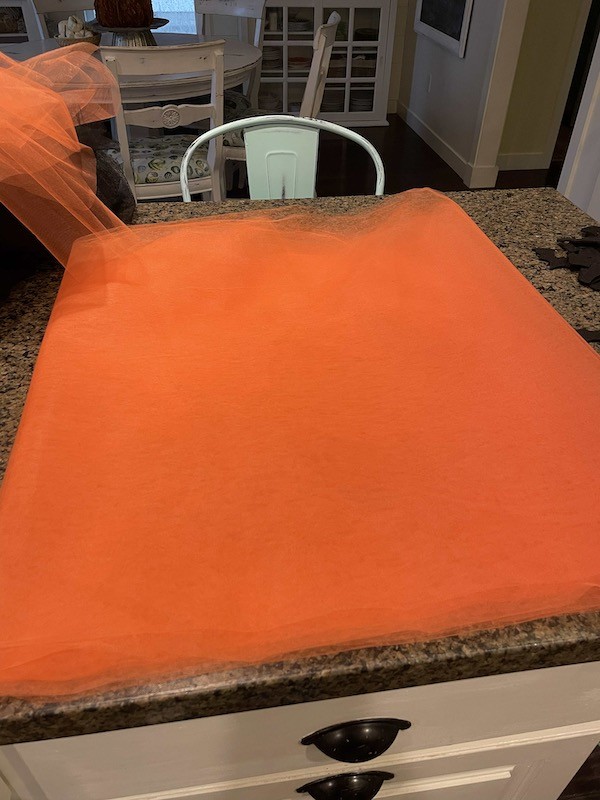 6 yards of black tulle and 6 yards of orange tulle was what I used to make mine.
5 orange jack o lantern face lanterns
Twine (cut to the size of your room or area you will be hanging your garland)
Create Orange and Black Tulle Halloween garland
Fold the tulle into a manageable size to cut strips.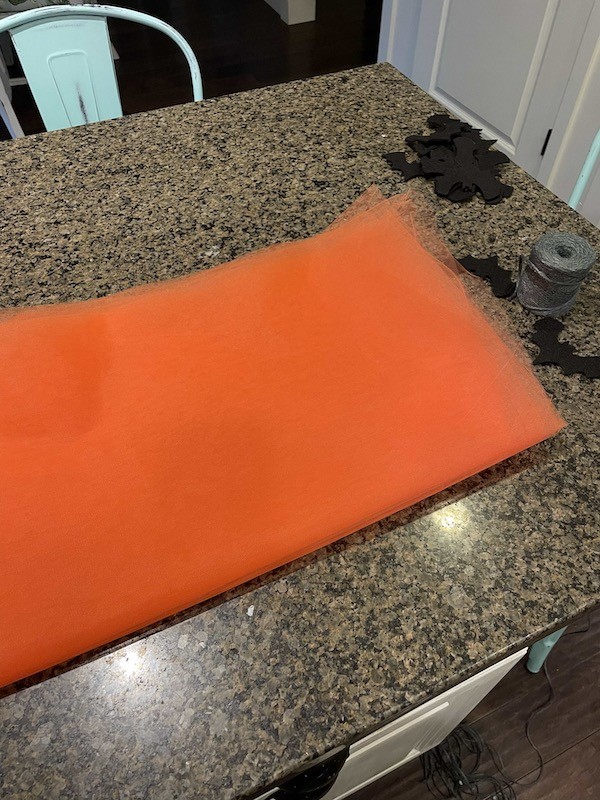 Cut tulle into 5″ and 6″ inch wide strips by 20″ and 30″ inches long. I varied the widths and lengths to give each bundle a fluffy look.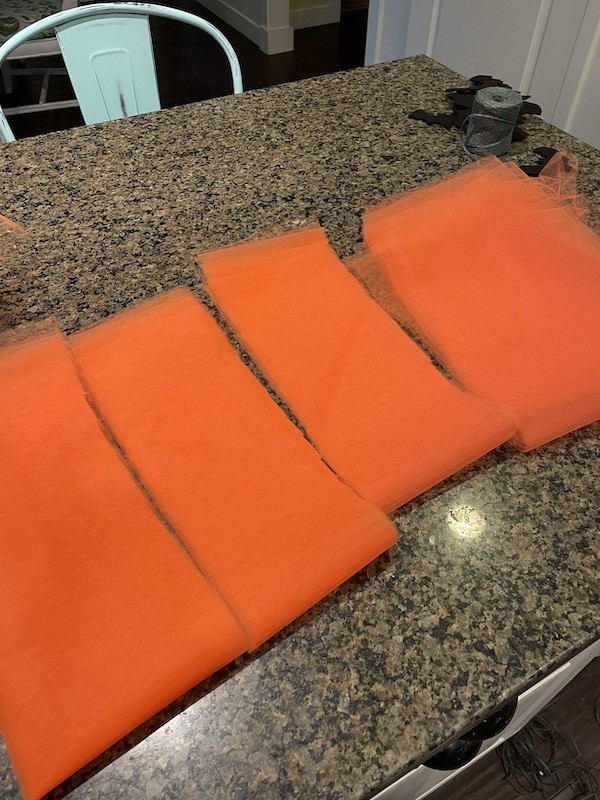 You can play around with the sizes depending on how long you want the tails to hang down.
You don't have to be perfect with this at all.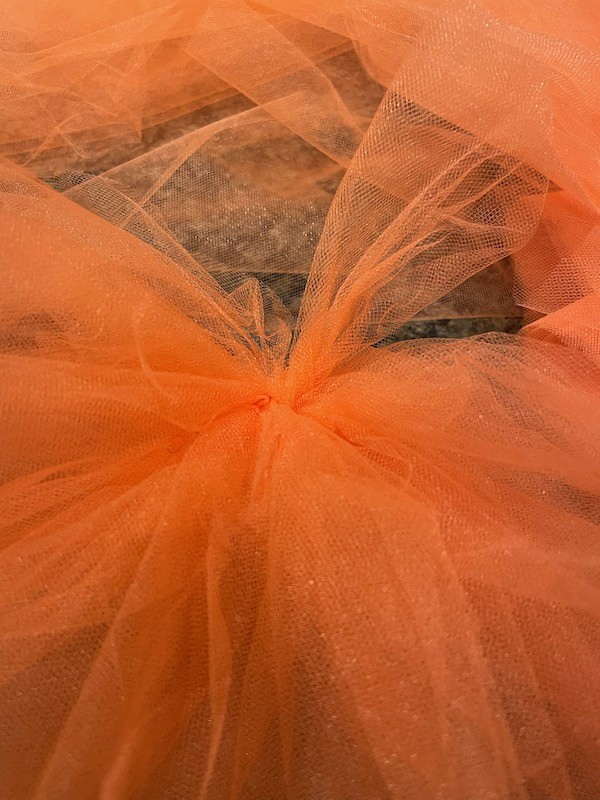 Next- take 7-8 strips into a bundle in your hand and tie each bundle with a little piece of tulle.
I just used scrap pieces. It stretches so a 5″ long piece works great.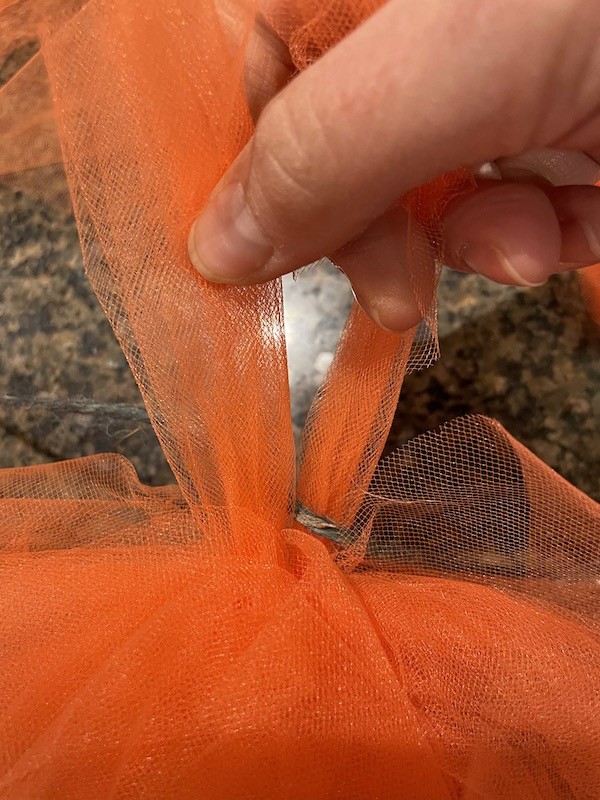 Then tie a bundle onto the long piece of twine.
I just roughly measured how long my dining room is and used that as my guide when I cut my pieces of twine.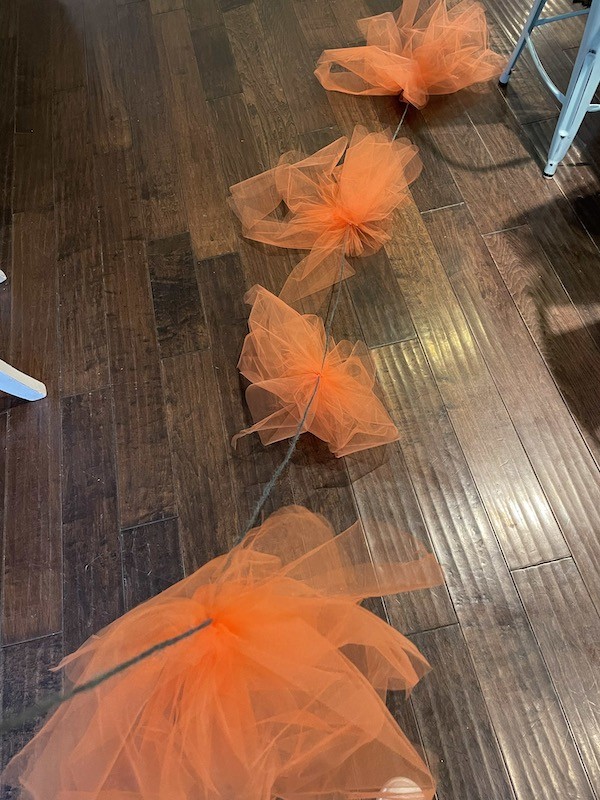 Alternating orange and black bundles of tulle all along the twine creates a fun look.
I made 8 orange bundles and 10 black bundles for two garlands.
I made the black ones a little shorter to get more bundles out of the fabric.
Adding orange paper lanterns
In between some of the tulle bundles I hung plain orange paper lanterns that I ordered here on Amazon.
The plain ones came the next day!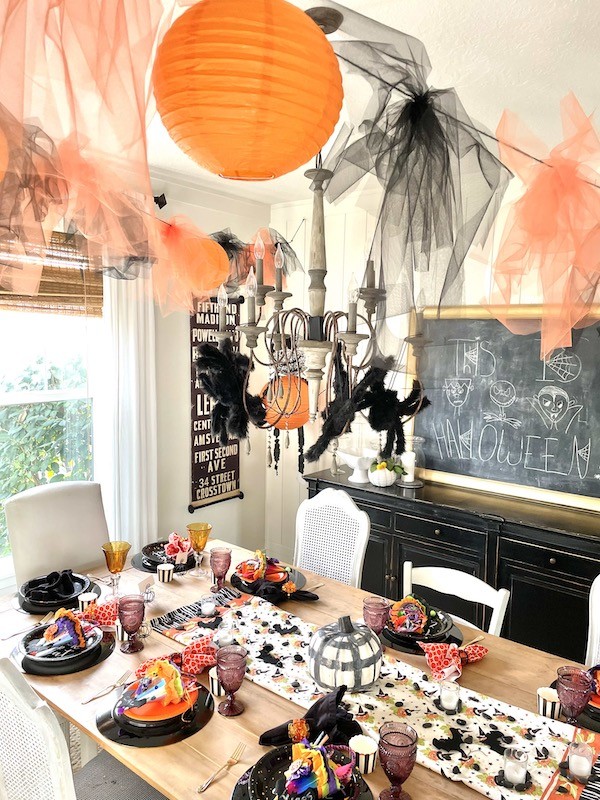 I also ordered some jack o lantern pumpkin faced paper lanterns with orange and black crepe paper streamers hanging from the bottom.
These are also from Amazon and they came in a day in a half.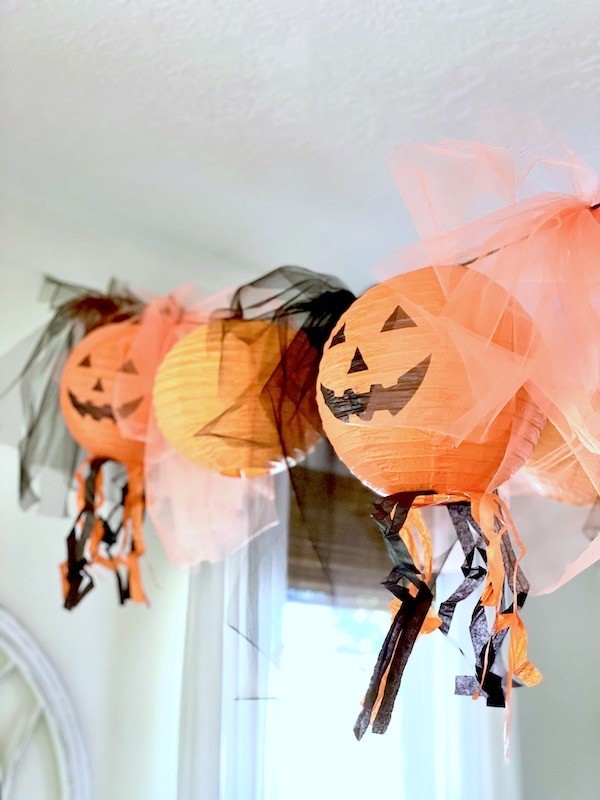 It was perfect timing for me!
How to hang the orange and black Halloween garlands
We hung each garland in a V shape across the ceiling of our dining room just using push pins.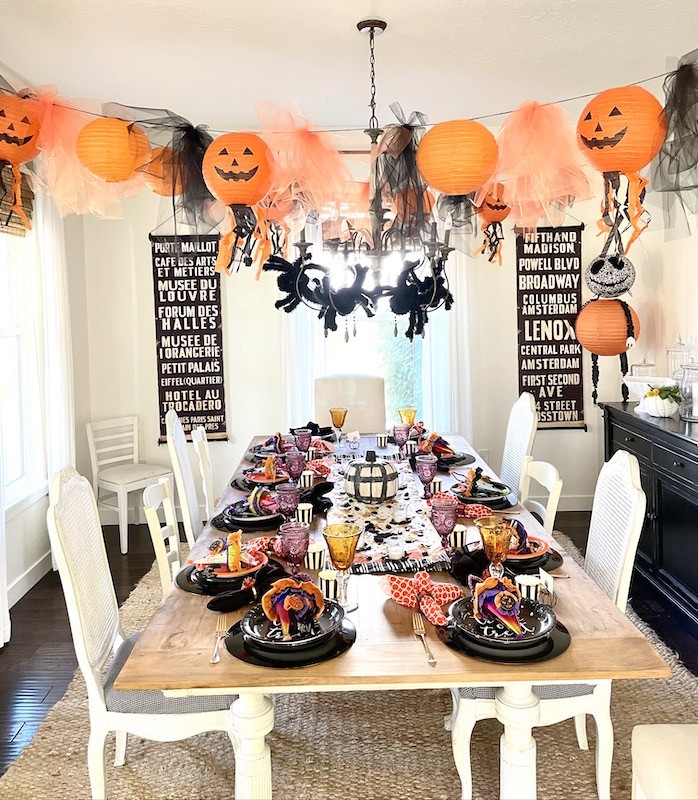 The tulle and paper lanterns are so light that it held with push pins easily.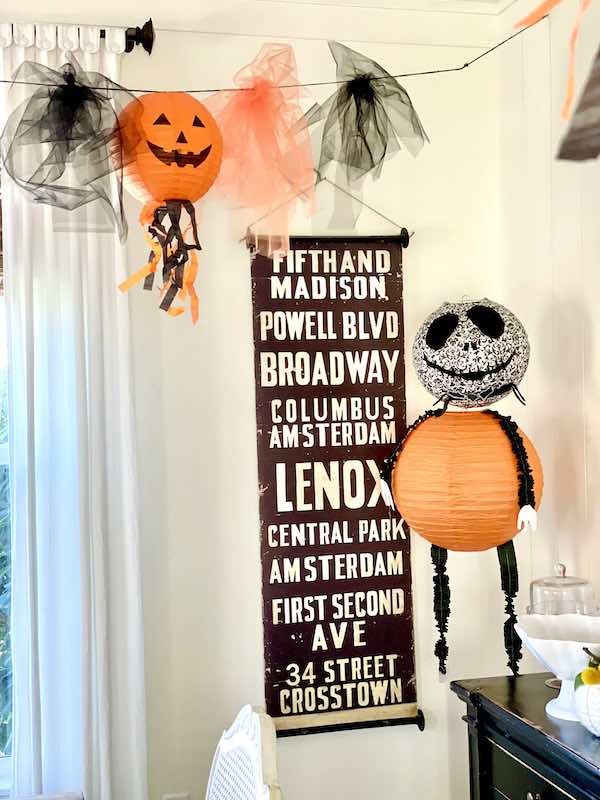 It really made a HUGE impact in the room and really brought in my Halloween theme.
Plus everyone was blown away when they walked in.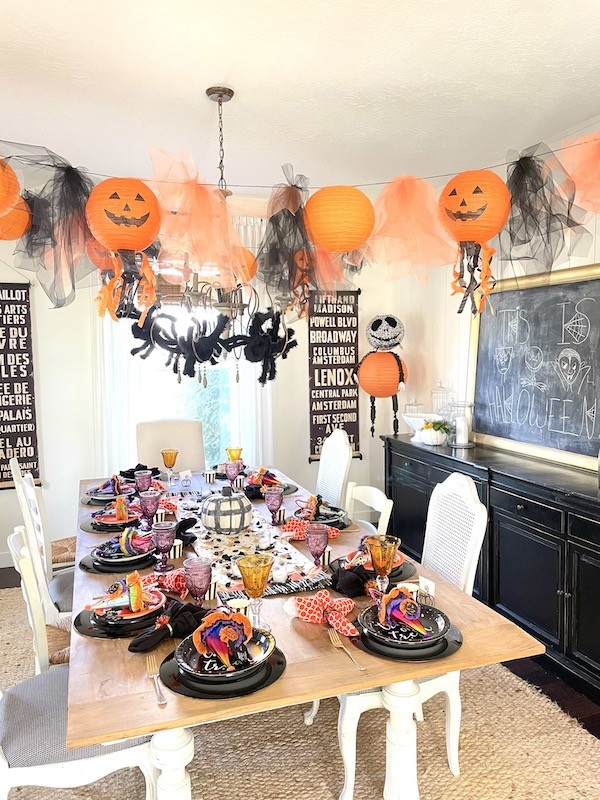 More Halloween family party info
Here is the link to my Halloween family party if you want to see more of the details from the party.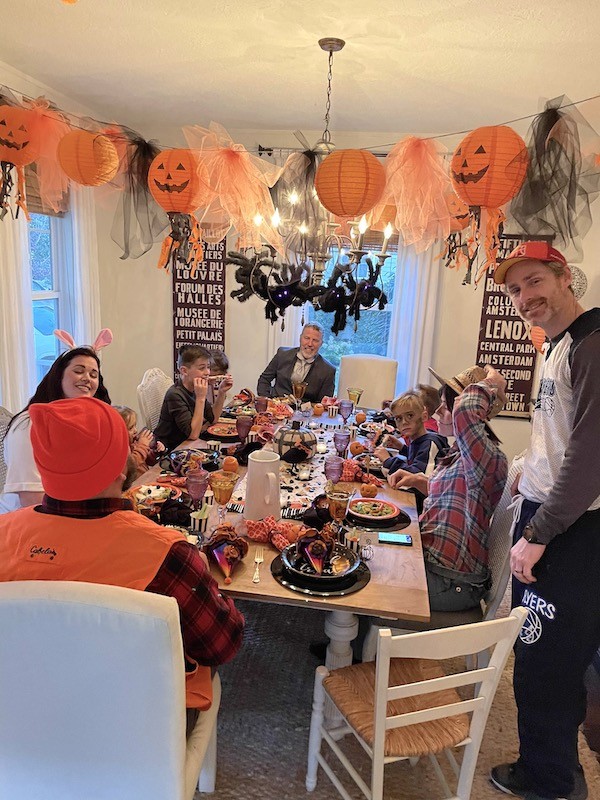 The link to my Frankenstein pesto pasta, Slithering snake bread sticks, carved orange fruit cups and my vanilla cupcakes with Nutella frosting post is here.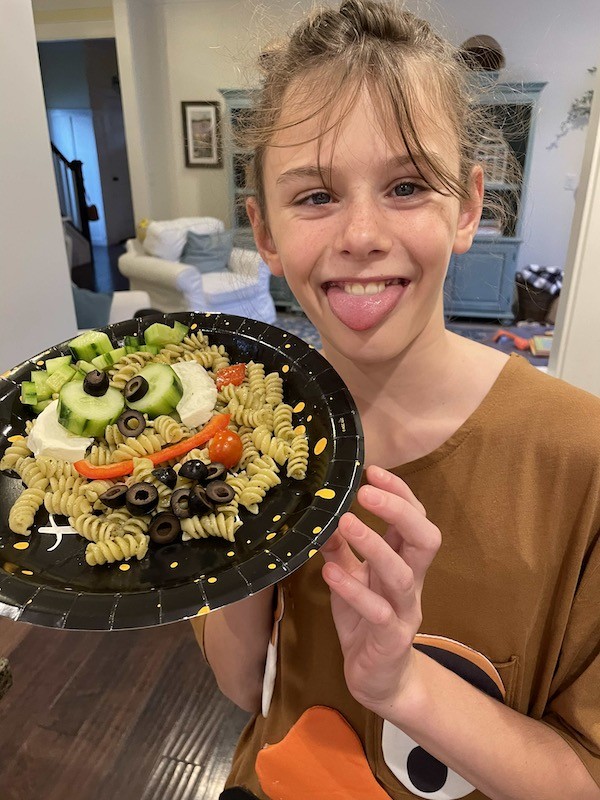 The kids and adults loved making the food at the party!
More posts about our family Halloween party
Best way to host family Halloween Party
How to make Halloween Party favor cones
How to make orange and black tulle garland
How to make Jack Skellington paper lantern
Shop This Post