Two years ago I started teaching kids cooking classes but then COVID struck!
We were having so much fun and the kids loved it!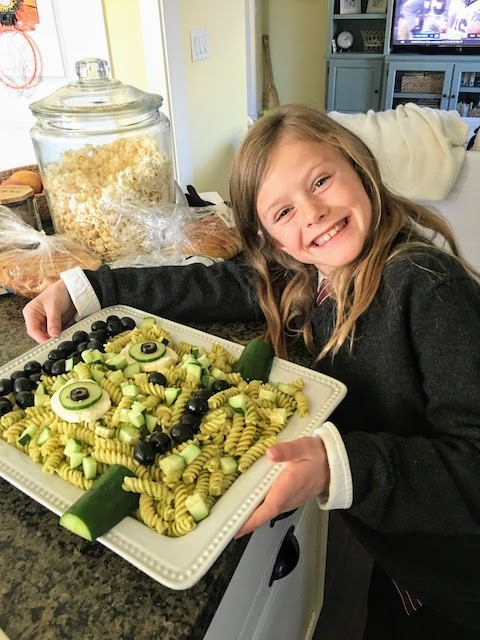 During Halloween I found some super cute Halloween meal ideas on Pinterest.
I first made this recipe with my granddaughter and she totally approved of it 🙂
So I knew this Frankenstein Pesto Pasta For Halloween by Super Healthy Kids would be a hit with my kids cooking class.
UPDATE- Wait until you see how I used this dish for our family Halloween party we just did! See the post here. We had a blast!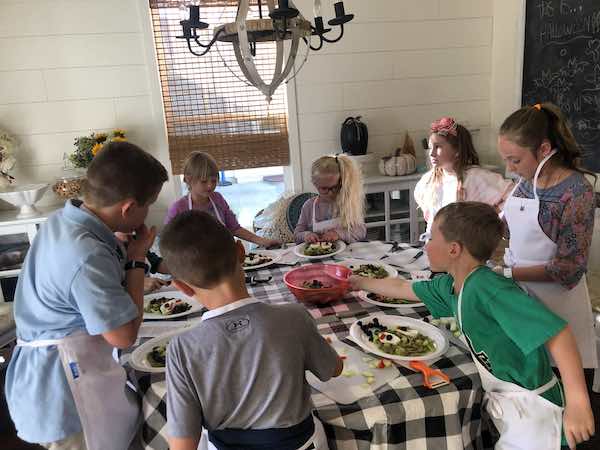 All my students would learn lots of cooking skills, like chopping, measuring, using a Cuisinart food processor and how to cook with herbs just by making this recipe!
Making the Homemade Pesto for Frankenstein Pasta
The first thing I taught the kids how to do was to chop fresh garlic.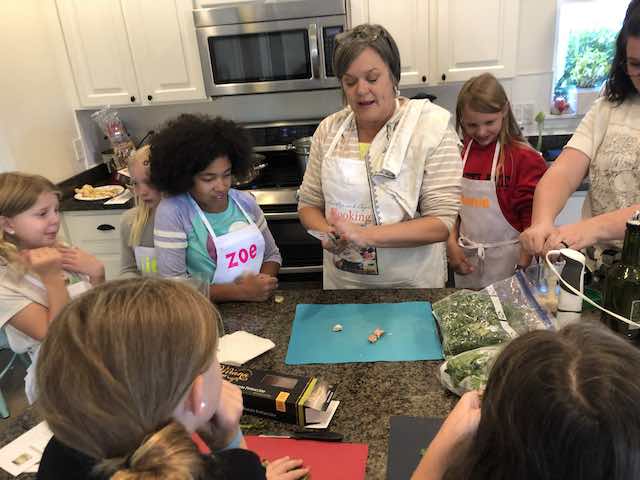 I showed them how to do this by laying the flat side of the knife against the clove of garlic and pounding on it with your other hand to smash it.
Once you do that the skin is easy to get off and the garlic is somewhat smashed and easy to finely chop.
They loved the smashing part as you can imagine haha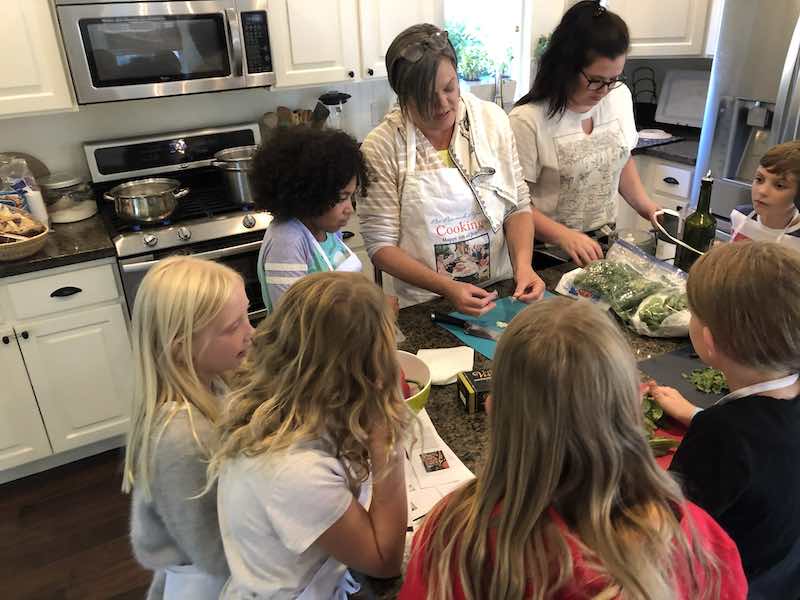 Tip- Don't you hate the smell of garlic on your fingers even after washing with soap? This is the best tip ever! While washing your hands rub your hands on the sink faucet…the metal somehow pulls the smell off your fingertips. After I showed the kids the trick and had them smell my fingers they were amazed!
Next I showed them how to add spinach, basil, pine nuts or sunflower seeds (we had a few kids with allergies to tree nuts so we used sunflower seeds in one), parmesan cheese, a pinch of salt and of course olive oil into my Cuisinart food processor.
They loved seeing the the spinach turn into a paste.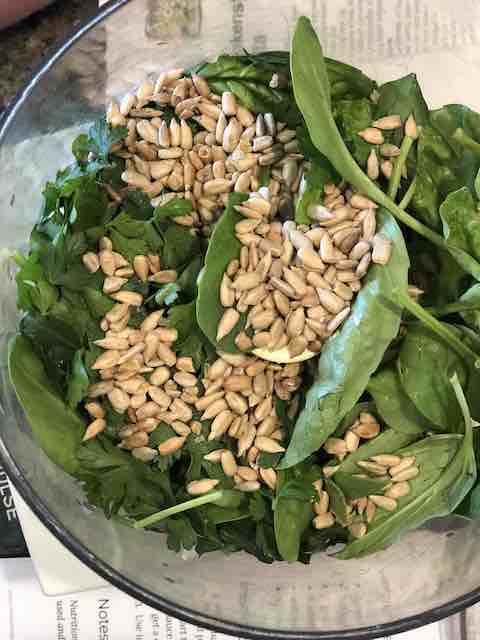 For some classes we used all basil instead of spinach or even some fresh oregano worked great to make pesto.
Tip- You can use different nuts…like pecans or cashews!
You should try my Asparagus pesto pasta it is so good!
Boiling Pasta for the Frankenstein Face
I boiled the water in my stock pot with a strainer and and showed the kids what boiling water looks like before we added the rotini pasta.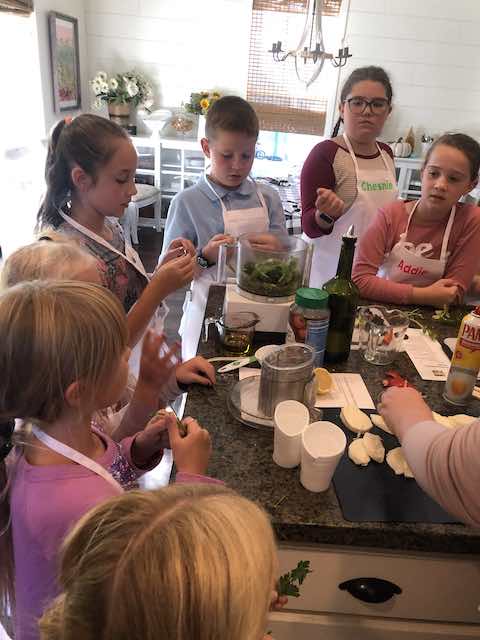 We cooked it until it was al dente (cooked but still firm when bitten into).
Then we added the pesto sauce to the hot pasta. It gives it an nice Halloween green color 🙂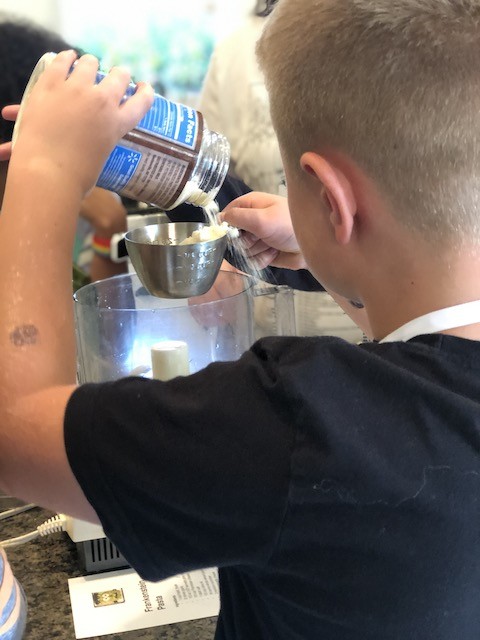 Then the kids got to use their knife skills by cutting up olives, cucumbers. For the eyes on the Frankenstein we sliced mozzarella into round circles and added black olives for the eyes.
I found these cool wavy knife cutters that are much safer for younger kids to use when first learning.
These would make great Christmas stocking suffers for young chefs!
If you love mozzarella and parmesan cheese you have got to try my white lasagna recipe!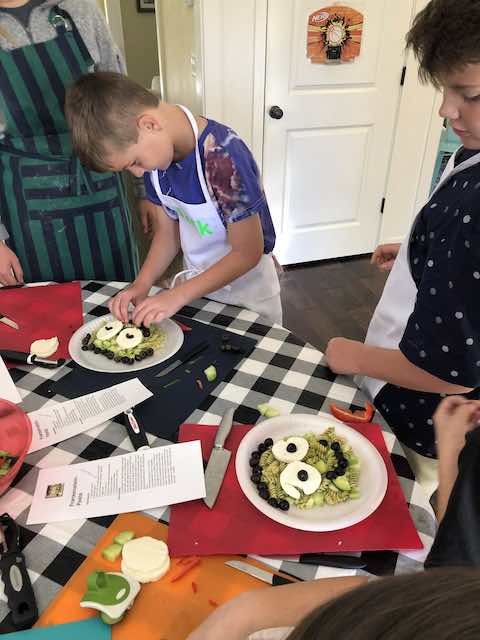 Creating Frankenstein Pesto Pasta Faces
I love to see kids use their imaginations to come up with their idea of a Halloween Pesto Pasta Frankenstein face.
I am sure you can tell that one of my older boys created this guy with a knife sticking into the eye haha.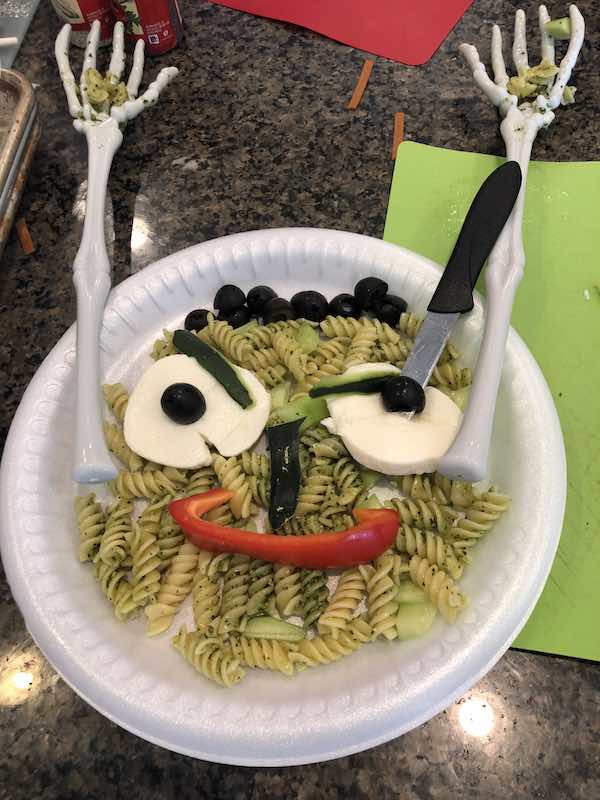 Some looked like cats with whiskers.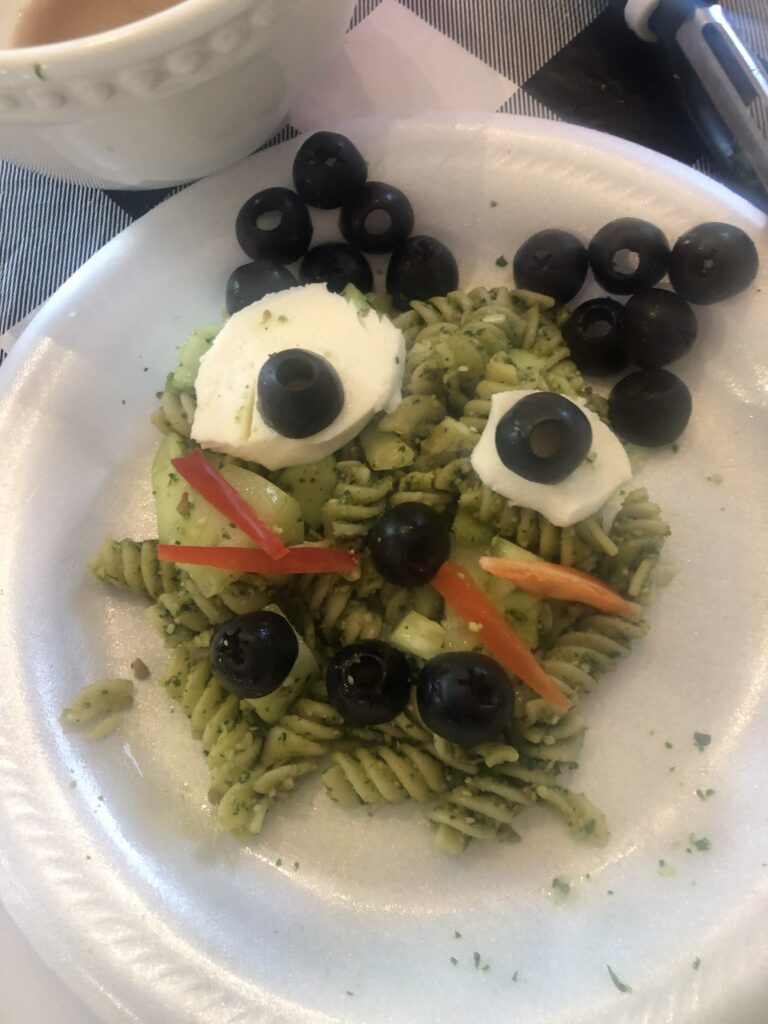 They loved making this dish and using things like peppers, olives and cucumbers to create a creepy monster face.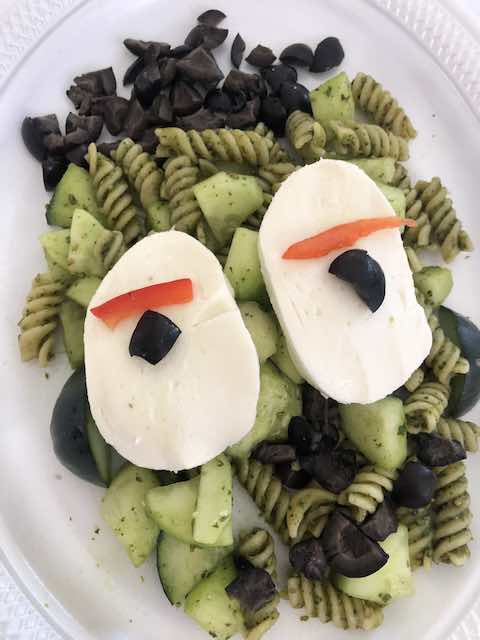 Watching the kids faces after they created Frankenstein faces was the best part!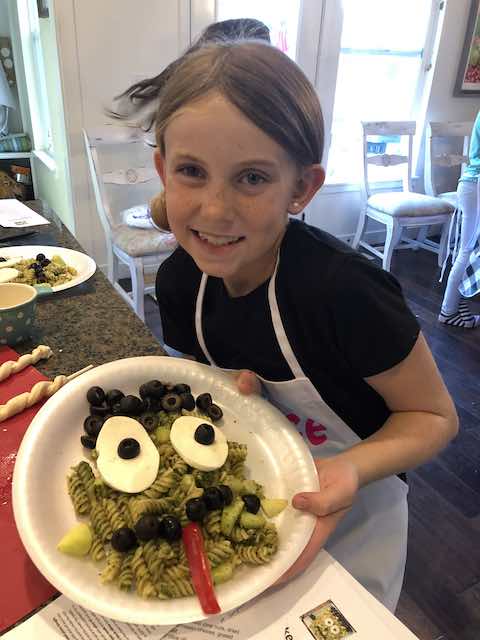 They were so proud of what they accomplished.
You should check out how I taught these kids how to make chicken tacos here.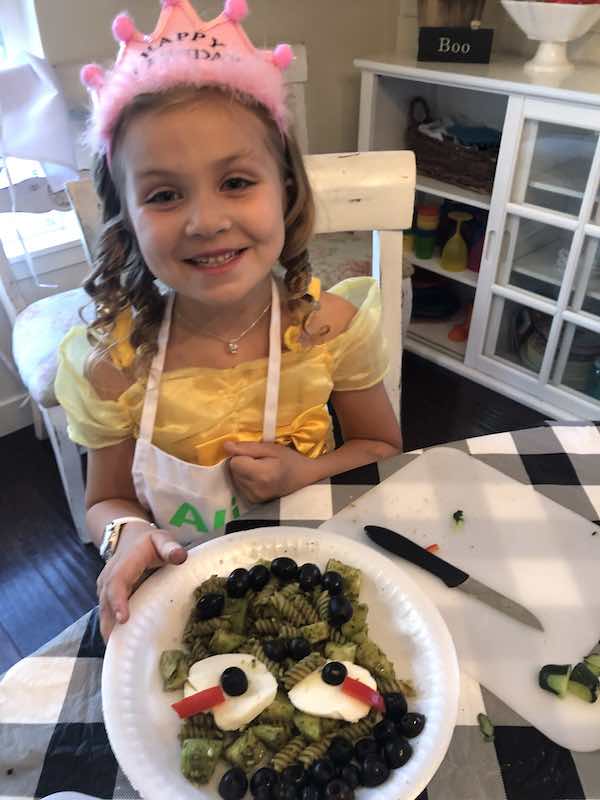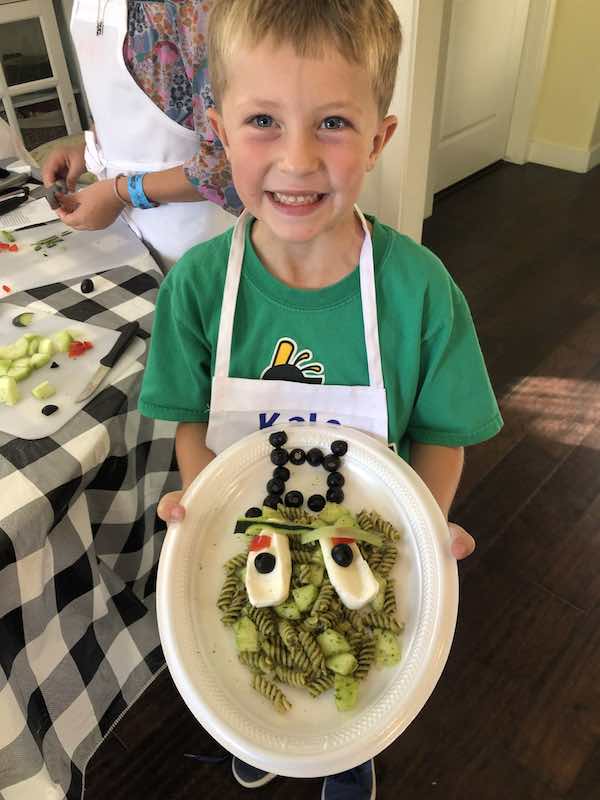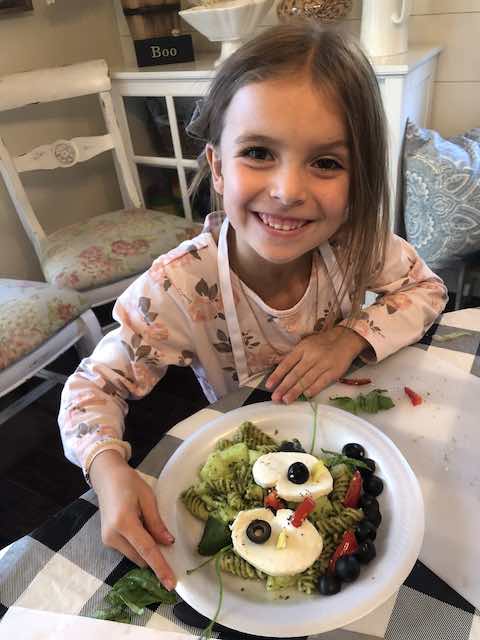 Even my class with older boys loved making and eating this dish!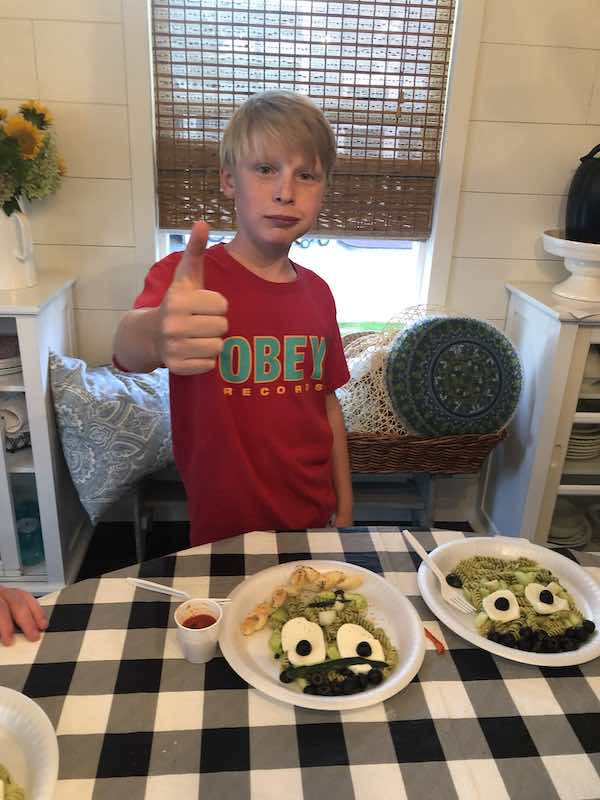 Slithering Snake Breadsticks
To go along with our Frankenstein pesto Pasta dish we had the kids make some slithering snake breadsticks!
They got a kick out of these.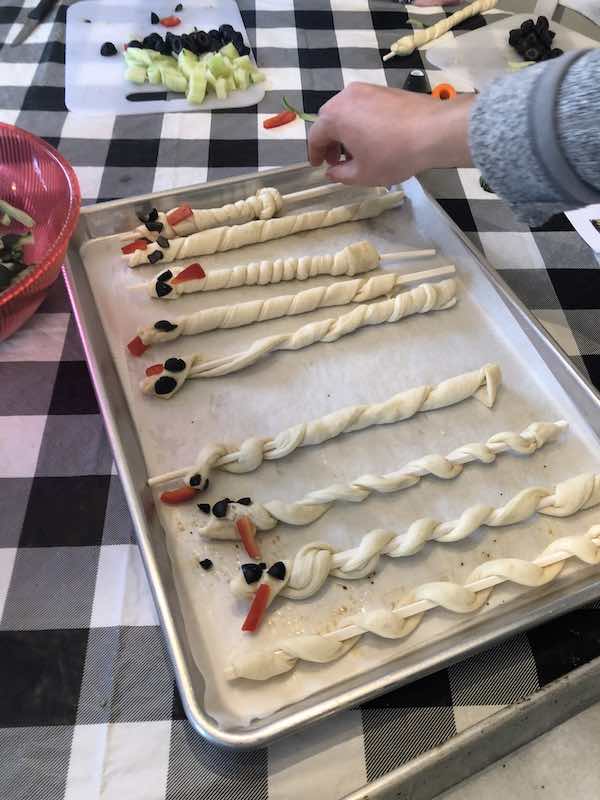 Simply using Pillsbury breadstick Pop N Fresh dough and cut them into skinny strips.
Twist them around a greased chop stick, this creates the body.
Add red pepper pieces for the tongues and little pieces of black olives for the eyes.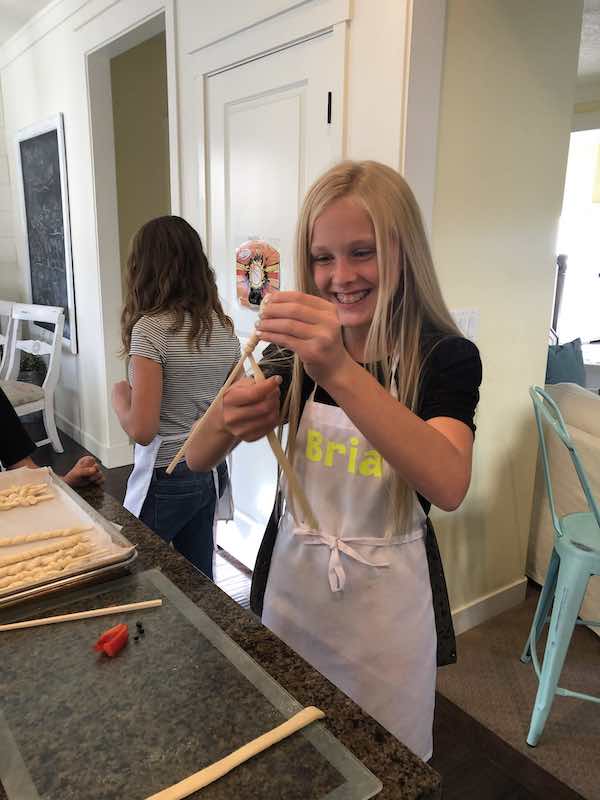 Brush them with some melted butter and sprinkle poppy seeds on them.
Bake them for about 15-20 min. in a 350 degree oven.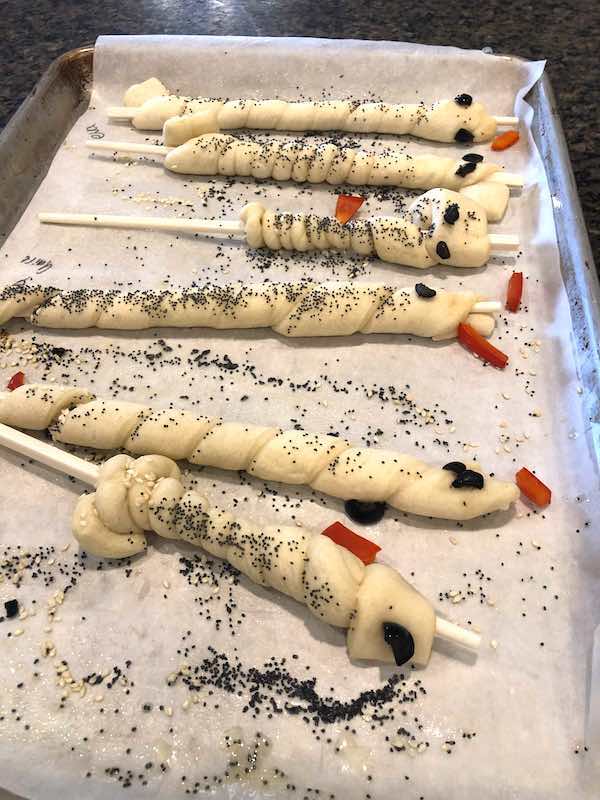 I hope you are inspired to try out this recipe for Halloween with your family. It tastes amazing and the kids really get into creating some fun Frankenstein pesto pasta faces!
More Halloween Recipes and party ideas
NEW!! Best way to host a Family Halloween party
Best Pumpkin chocolate chip cookies
Halloween Watermelon Pirate Ship
18th birthday Fear Factor Halloween party
Invitation Ideas
Family Halloween Party with game ideas
Shop This Post

Pin For Later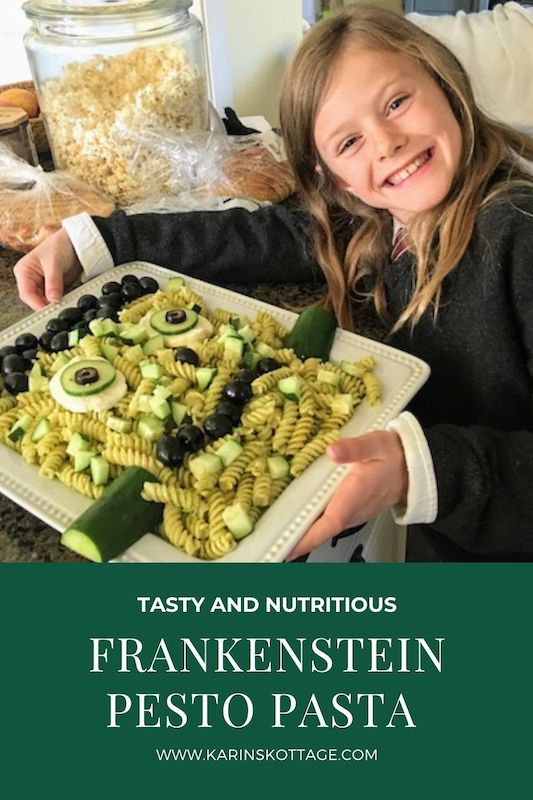 Frankenstein Pesto Pasta Recipe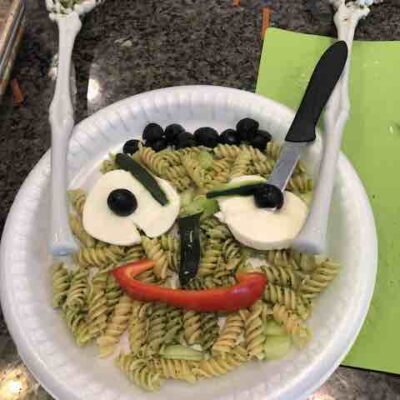 Frankenstein Pesto Pasta
Delicious homemade pesto made with spinach! Super easy to make and kids will love creating their own Frankenstein pasta faces with their pasta, cucumbers, olives and fresh mozzarella cheese!
Equipment
Pot with strainer

Cuisinart
Ingredients
Spinach Pesto
2

C

Spinach or a mix of spinach and basil

1/3

C

Sunflower Seeds or Pine nuts

1/3

c

parmesan cheese

2

Cloves

Garlic

1

tbsp

lemon

Salt and Pepper

To taste

1/3

C

Olive Oil
Pasta
16

ounces

Rontini Pasta (cook according to directions)
To create Frankenstein Face
1

English Cucumber

4

oz

Fresh Mozzarella

sliced into circles

1

can

black olives

1

red pepper

Cut into small pieces for snake tongue
Instructions
Pesto
Add basil, sunflower seeds or pine nuts, parmesan cheese, garlic, lemon juice, and salt & pepper to taste to a cuisinart food processor.

Pulse until combined.

Slowly drizzle the olive oil into the food processor tube until a sauce forms.

You can add more olive oil or less depending on desired consistency

Pour on pasta and toss.
Pasta
Follow directions on box to cook the pasta
Create Frankenstein Face
Cut cucumber in half. Peel and chop one half to be used in the pasta dish

For the other half create the Frankenstein bolts.

Cut small pieces of red pepper into long skinny tongues.

Cut olive pieces into small pieces for eyes

Place two slices of mozzarella on the pasta for eyes and olive slices for the pupils.

Take olives and create Frankenstein hair, one olive for nose and a few for a smile.