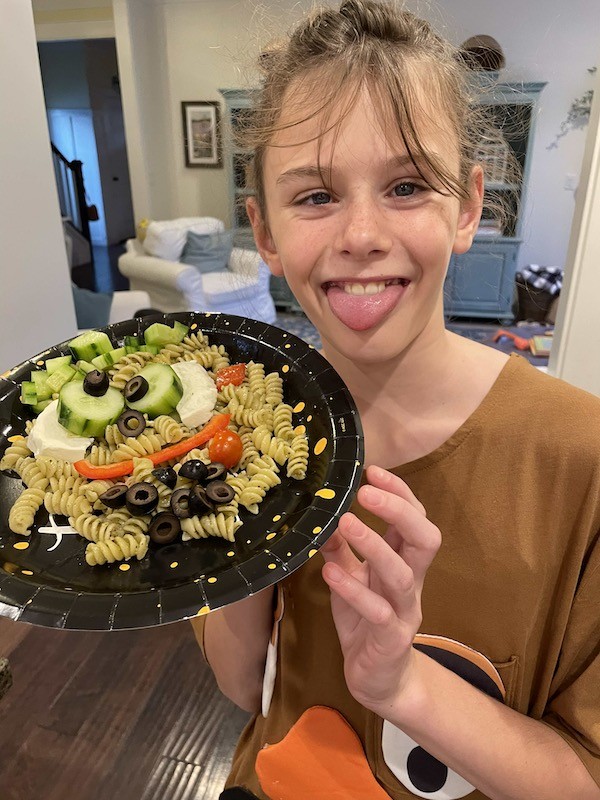 You are going to love this easy creative and fun family Halloween dinner!
We celebrated early and had the best family Halloween party filled with yummy food that everyone got to make!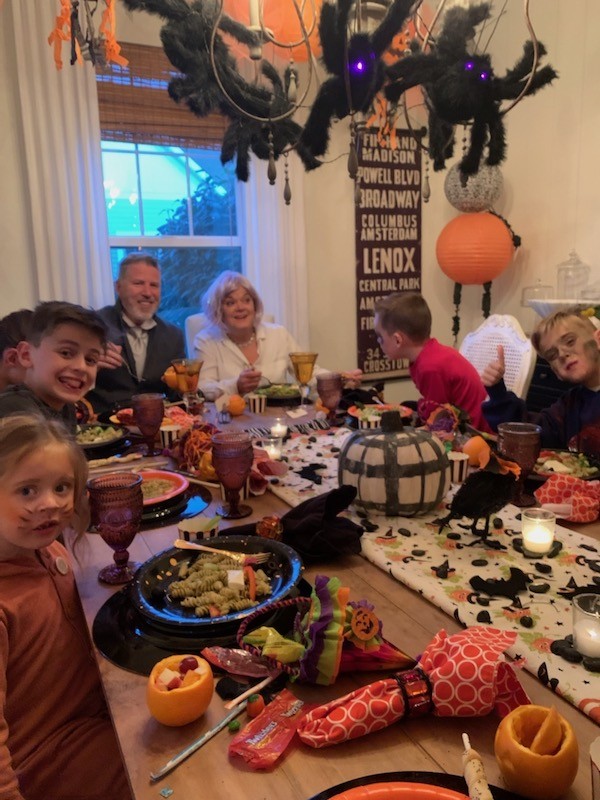 I love it when I can involve the whole family in making the meal.
Frankenstein pesto pasta
You might remember when I taught this recipe to my kids cooking class here.
It allows kids and adults to be creative and playful with their food 🙂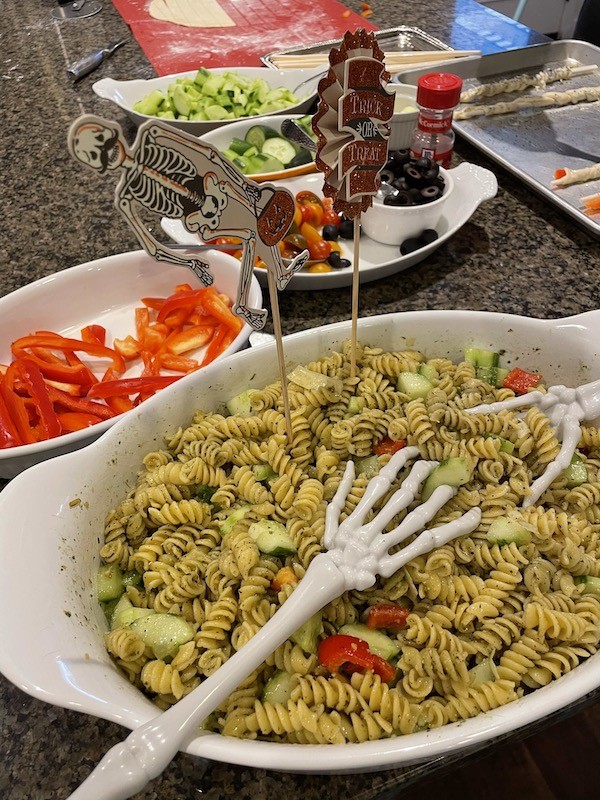 Curly pasta and cucumbers are covered with pesto.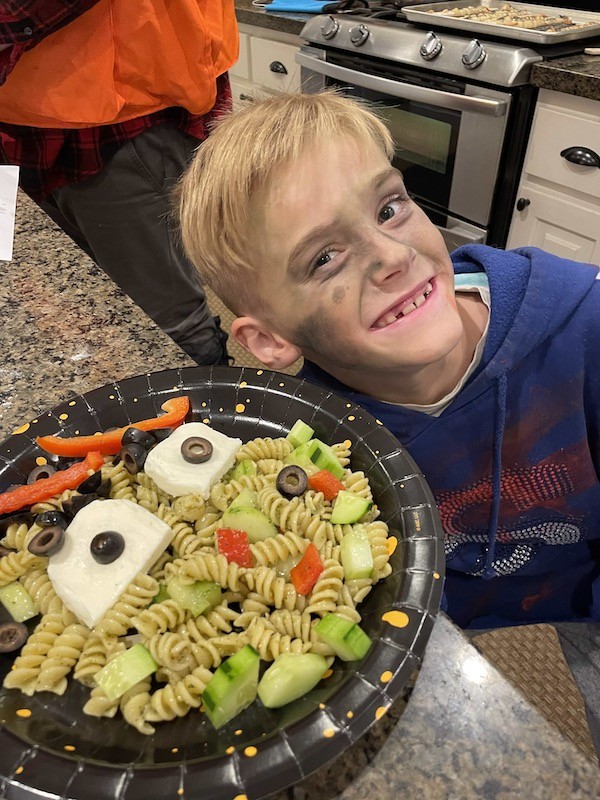 Once the pasta is made the fun begins.
Using more cucumbers, olives, slices of mozzarella and red peppers to create a monster face.
This is such a fun and easy family Halloween dinner that kids and adults love to be a part of!
Plus I think it helps kids want to eat healthier when they get to help make it.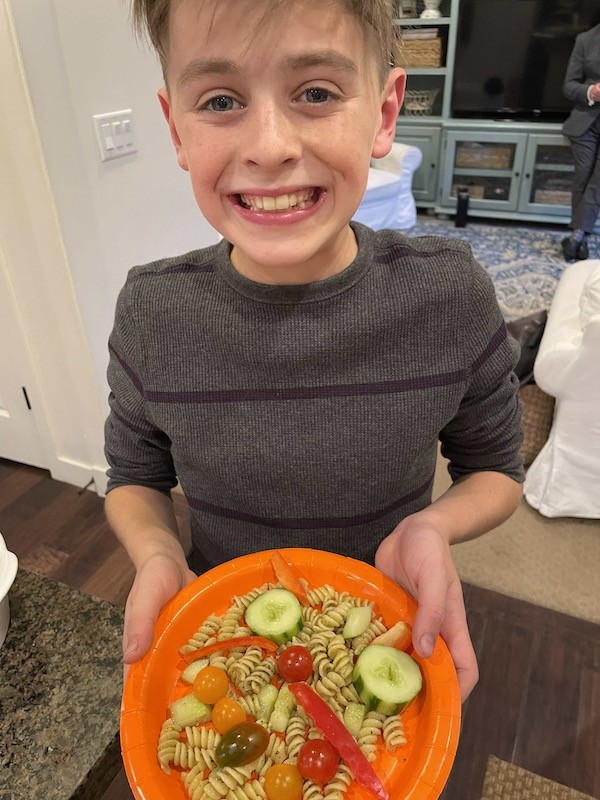 Even the adults got into making the funny monster faces!
My hubby is dressed as Jack Frost in case you were wondering why he is in a suit.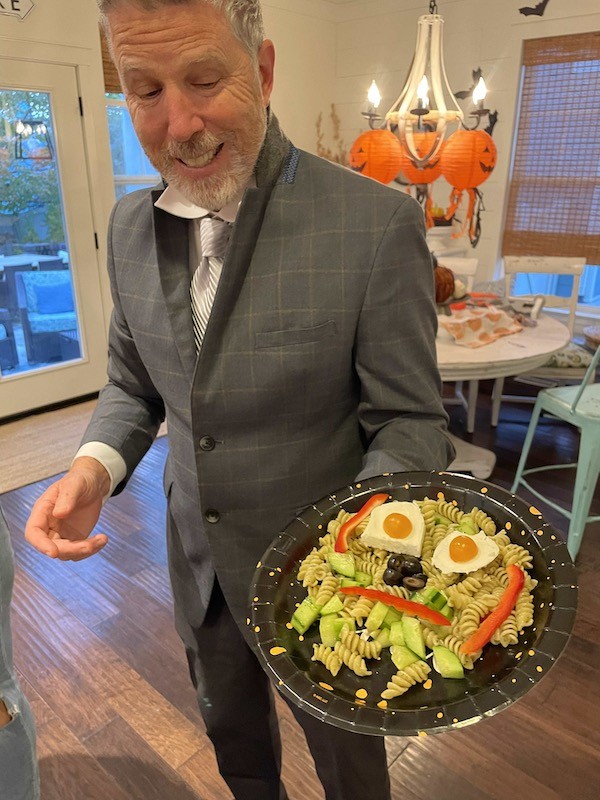 The littlest grandkids needed a little help from the "Hunter" (aka Son in law #2) in putting together their monster faces.
You can find the pesto pasta recipe here.
Tip- You can always use bottled pesto if you don't want to make fresh.
Slithering snake breadsticks
This is another super fun thing to make with a group!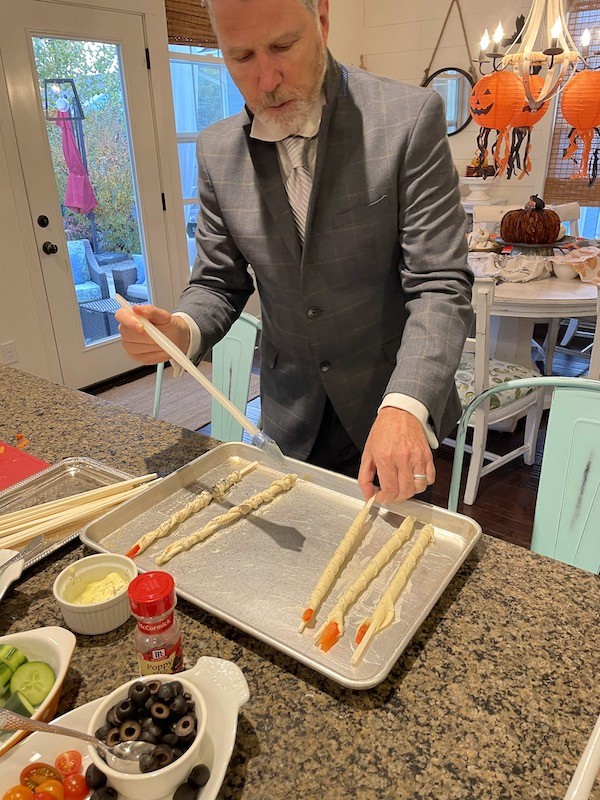 Use refrigerated thin pizza dough from the grocery store!
Open the package and using a pizza cutter, slice skinny long pieces of dough.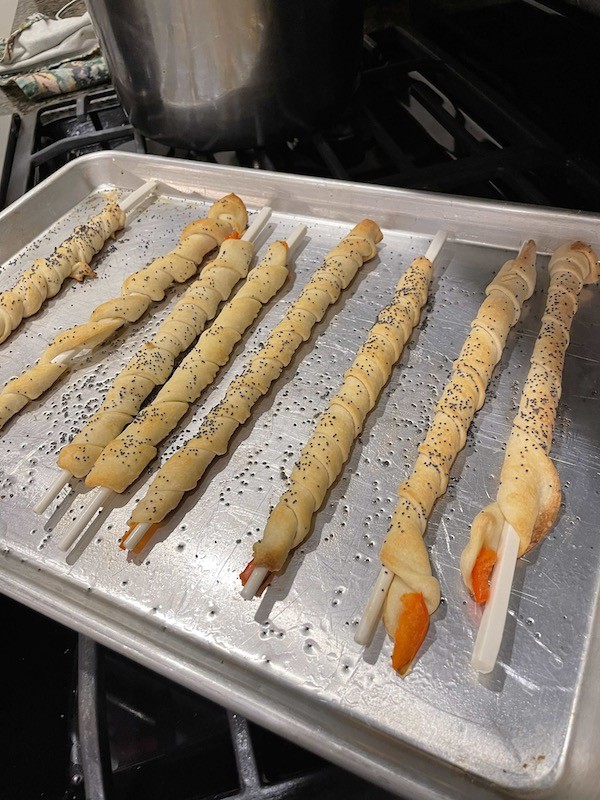 Wrap the dough around hard resin chop sticks or wooden skewers. On one end snip an opening for a skinny piece of red pepper for the tongue.
You can add little pieces of olives for the eyes but we skipped that part.
Brush melted butter over all the snakes and sprinkle with poppy seeds.
Bake at 400 for about 15 min or until golden.
Orange O lantern fruit cups
These little cuties are super easy to make!
My granddaughter carved 11 of them for our family Halloween party!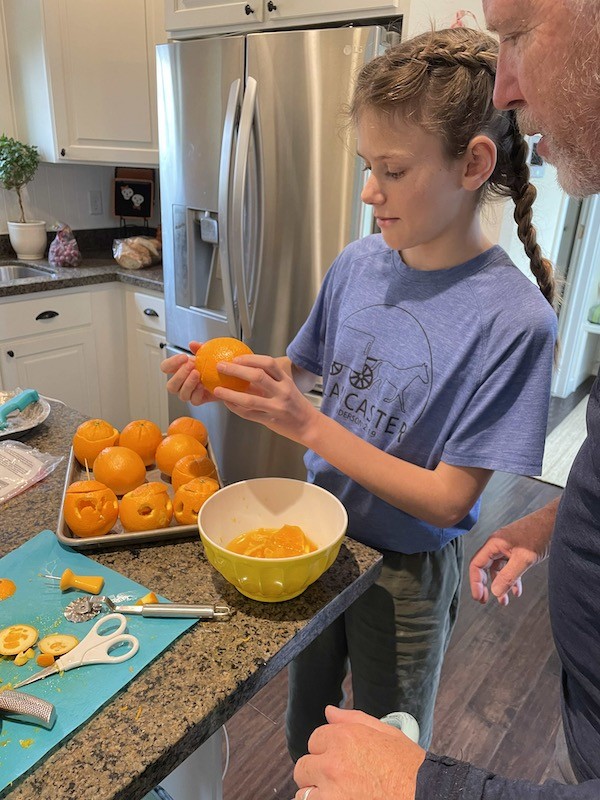 How to make the Orange O lanterns- Take an orange and cut off a little piece on the bottom so that it will sit on a flat surface and not rock n roll around.
Next cut off a section on the other end, this will be the lid. Tip- make sure the opening is big enough to get in there to scoop out the orange flesh.
Scoop out all of the orange flesh and set aside. (chop it up to use in the fruit salad)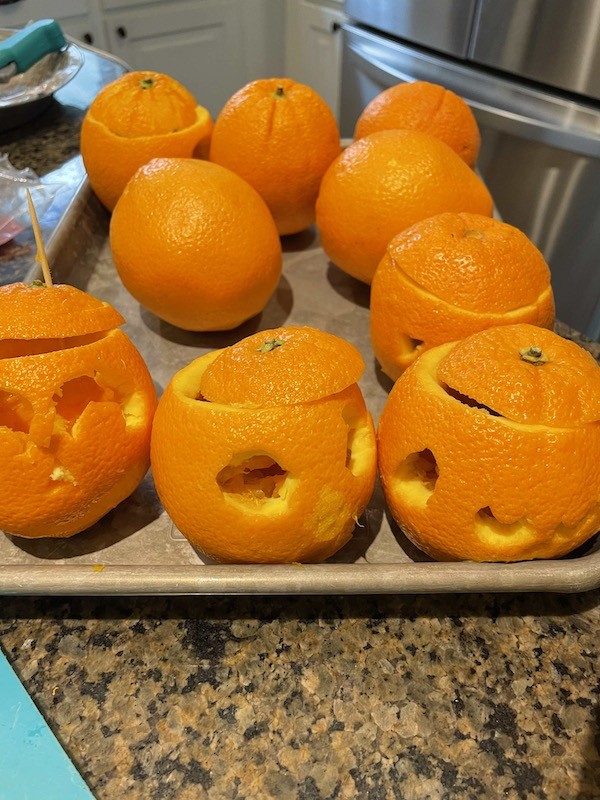 Begin carving your oranges in fun ways. You can use small scissors or a sharp small knife to carve your Orange O lanterns.
Once they are carved fill them with small chopped fruit of your choice. I used apples, grapes, strawberries and oranges. I forgot to take a picture of the oranges filled so you will have to use your imagination 🙂
They really turned out so cute!
Vanilla cupcakes with Nutella frosting
Last but not least was our dessert. I made vanilla cupcakes with chocolate Nutella frosting.
Scrumptious!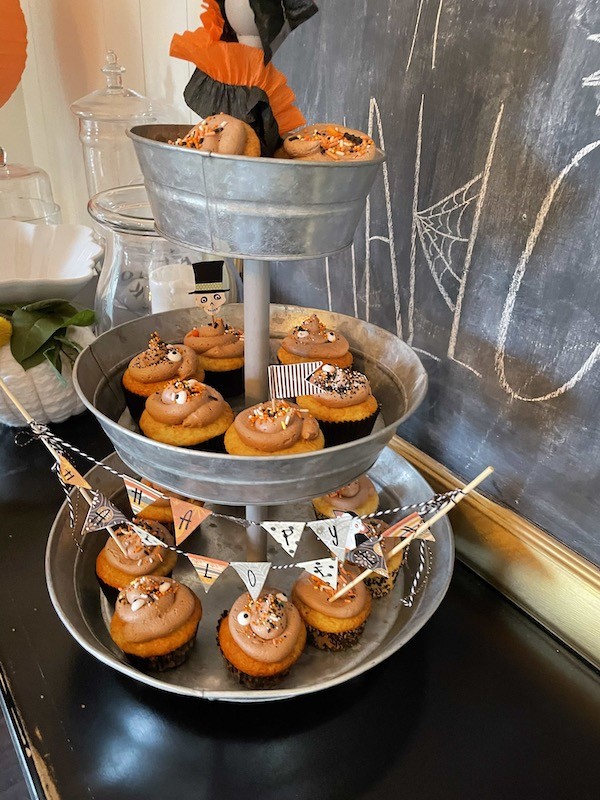 This is my basic cupcake recipe-
Start with pillsbury cake mix, 4 eggs, 1/2 cup water, 1/2 cup oil, 1 cup sour cream and 1 small box of pudding. For these cupcakes I used white chocolate vanilla jello pudding.
Mix all ingredients in a mixer. Scoop into paper cupcake liners. Bake at 350 for 15-20 min or until done.
Nutella Frosting
1/2 cup softened butter, 1 tsp vanilla, 1-2 tablespoons cream or milk, 3 Cups powdered sugar, 1-2 tablespoons cocoa powder a pinch of salt and 1/4 cup of Nutella.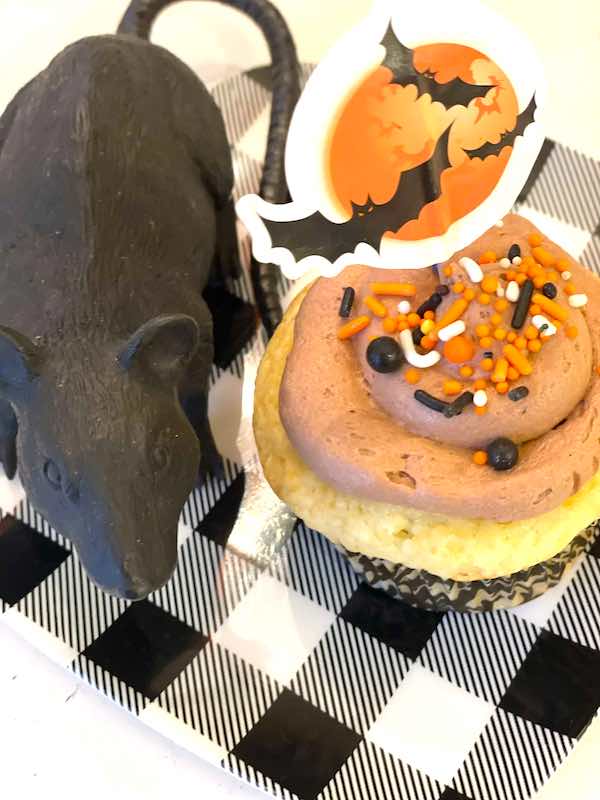 Beat the butter until it is almost white, add in the Nutella and beat until fluffy.
Add in powdered sugar and pinch of salt. Beat slowly at first to avoid the powder sugar going everywhere. Add in vanilla and cream or milk.
Beat until desired consistency.
Pipe onto cupcakes and sprinkle with Halloween sprinkles if desired.
More details about our Halloween family party
You can see all the details of my Best way to host a family Halloween party here on this post.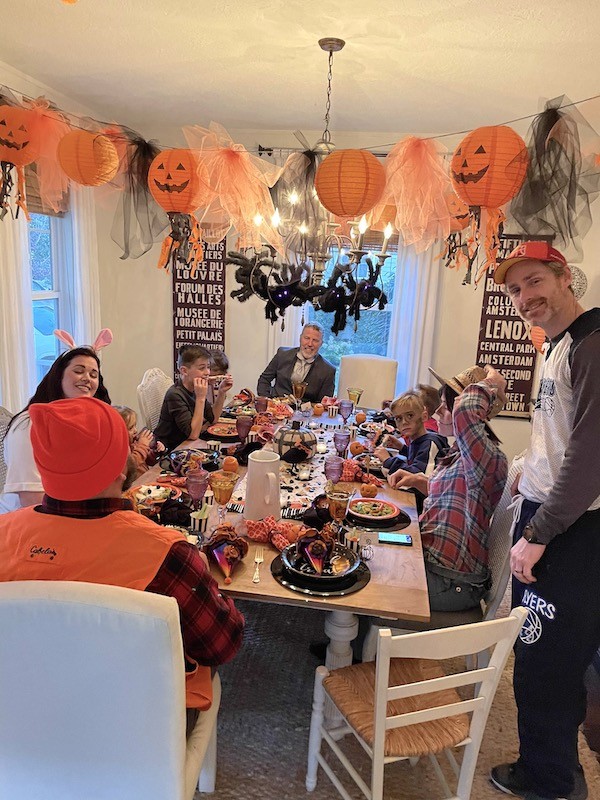 More Halloween Tablescapes
18th fear factor birthday party
Moody black and burgundy Halloween tablescape
Orange and black Halloween table
SHOP