I am so excited to show you how to style this long red flowy skirt 3 ways!
This is one of my favorite flowy maxi skirts. I bought it here on Amazon!
You will see me wearing it ALL THE TIME!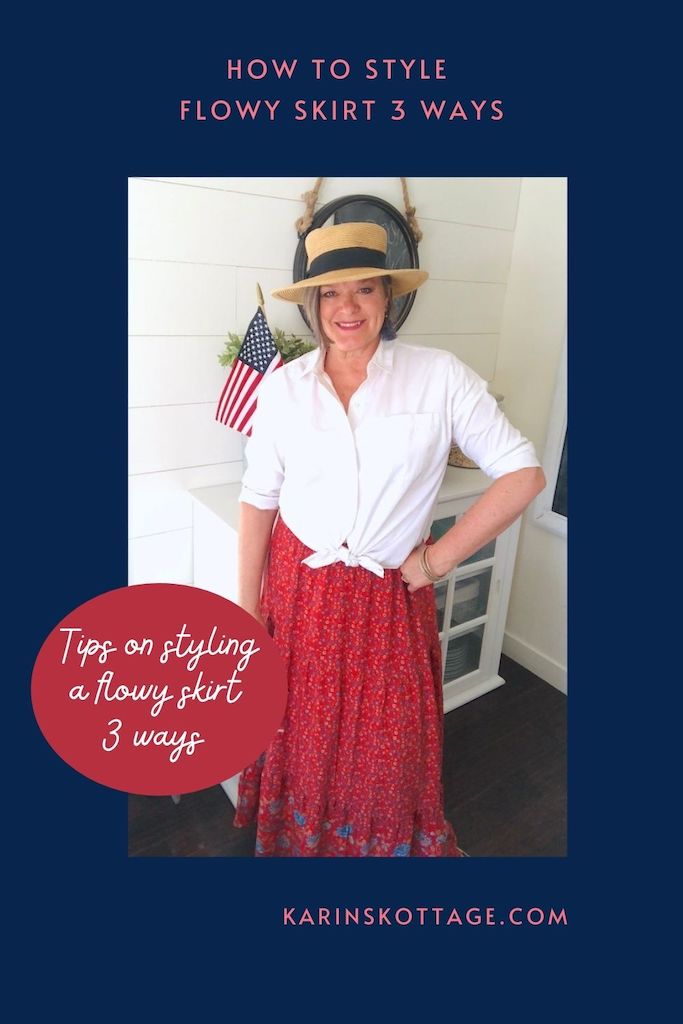 It has an elastic waist with drawstrings. I love that it has pockets too!
This particular red flowy skirt is definitely a maxi skit as it has three tiers and is to my ankles.
If you are on the shorter side you might have to hem it up a bit. I am 5'6″ and I wear a large and it was perfect for me.
You might remember the soft pink one that I bought from the same Amazon shop.
You can see how I styled that one with a creamy prairie top and a blush colored denim jacket here.
How to style flowy skirt with white linen top
This summer I am all about comfy clothes that are light weight and cool.
I found this white linen top from Crown Linen Designs and I am wearing it all the time!
I love the length not too short and not too long. It pairs with the skirt perfectly.
Not sure if they still carry this exact top but they have beautiful linen clothes.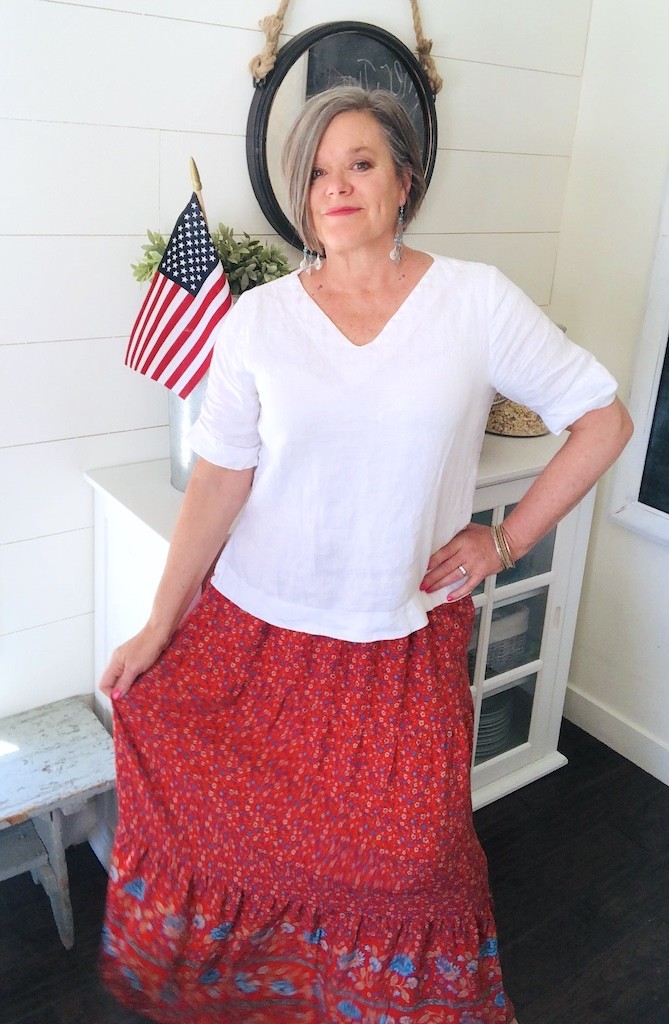 This skirt is perfect for any summer BBQ don't you think?
It kind of matches my red white and blue tablescape that you can see here.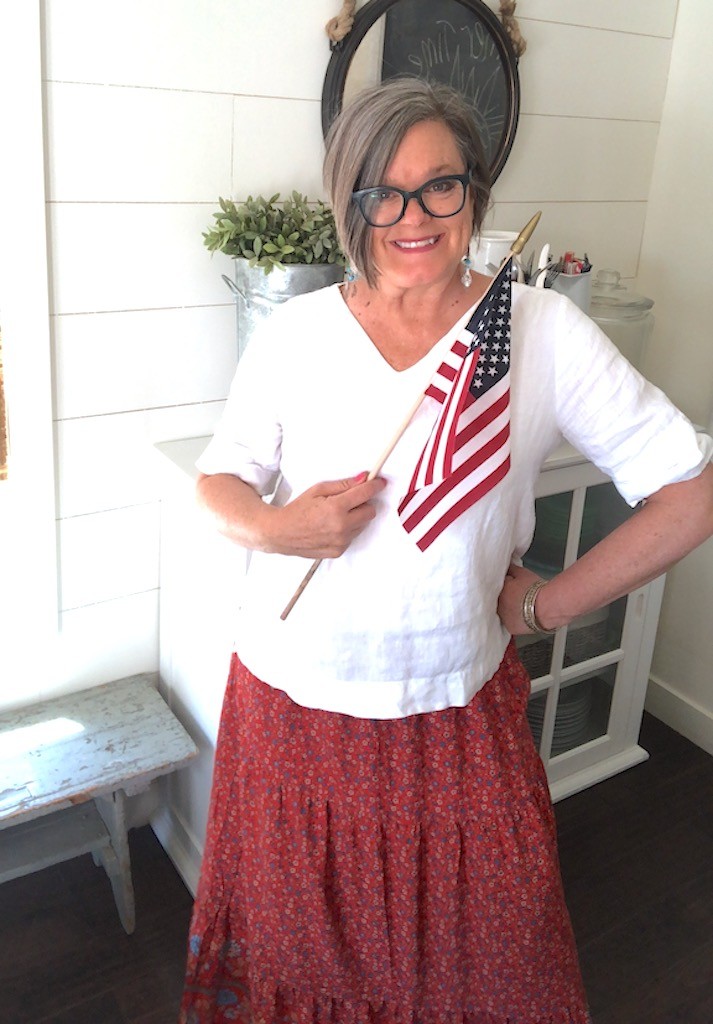 Accessories
Accessories for this outfit are simple.
I chose some boho silver and turquoise drop earrings.
Plus I added a few silver bangle bracelets that just make this outfit complete.
On my feet I am wearing some strappy flat sandals similar to these.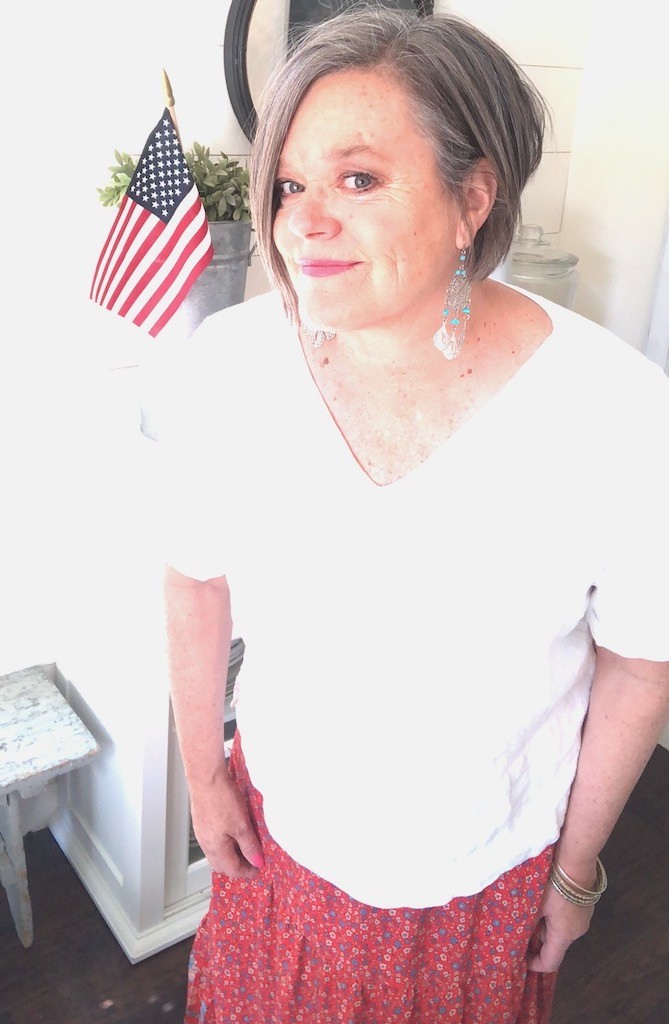 Style Flowy skirt with tied up white blouse
How fun is this look!
Take a white blouse and tying it in a knot at the waist. Easy peasy!
Even with my short waist this seems to work at camouflaging my thick waist.
I love white blouses! They are a staple in my wardrobe.
I have worn one with this olive green maxi skirt and plum jacket here and another with my red tartan plaid pants and lime green/yellow sweater here.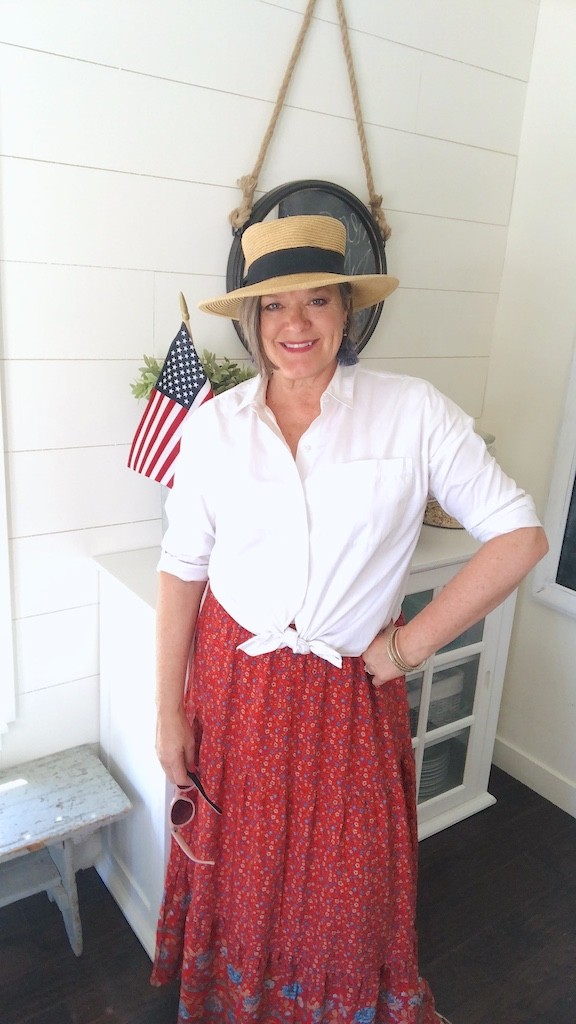 Straw hat and tassel earrings
Adding a straw hat like this one just makes me feel like I am on vacation in Italy!
If you are new here, we bought a 250 year old Italian palace in Casoli, Italy!
I will be bringing this on our next trip to Italy in September!
You can follow along on our Italian project here.
My earrings are cute fluffy blue tassel earrings that I adore! They come in lots of fun colors too!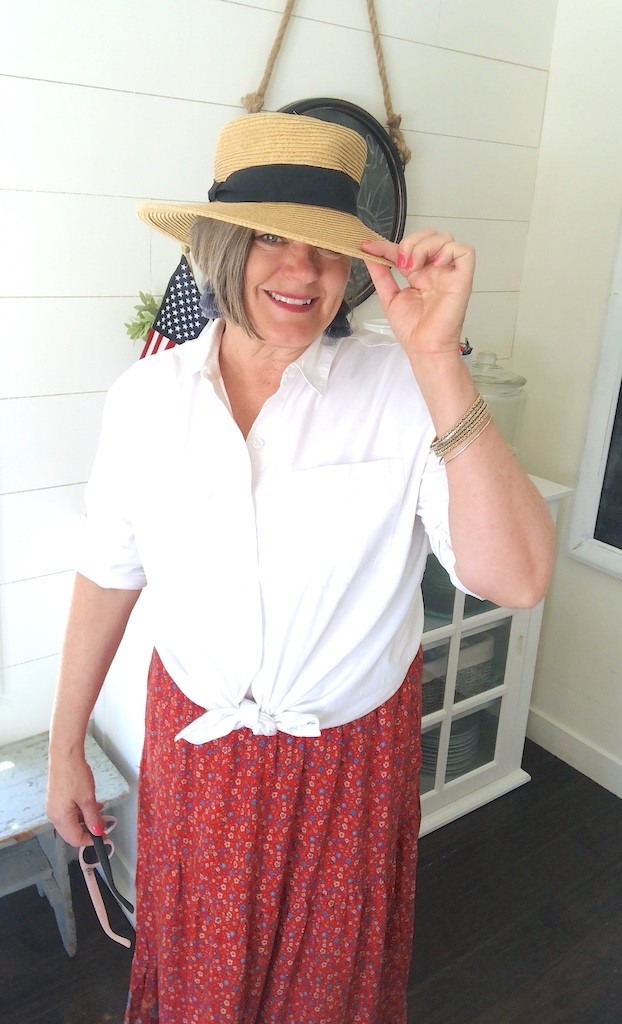 This red print bohemian skirt is so so comfortable, breathable and just flows!
Isn't that what us ladies want? Breathable and comfortable!
I feel maybe even a little sassy in it hahah!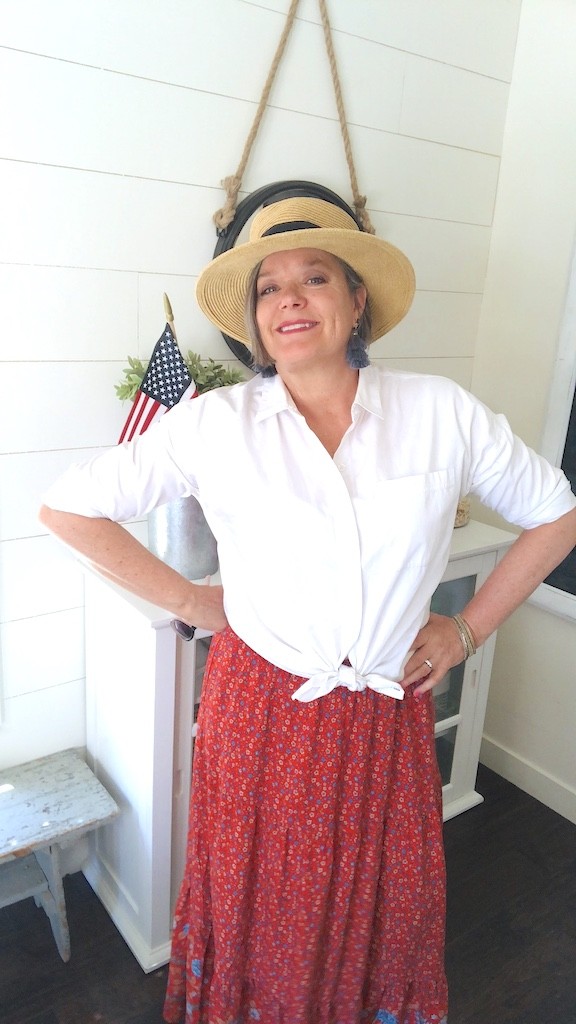 Jean Jacket with flowy skirt
Last but not least is my third style of this skirt.
Putting on a shorter jean jacket over the knot tied white blouse changes the whole look!
It is perfect for when it get a little chilly at night.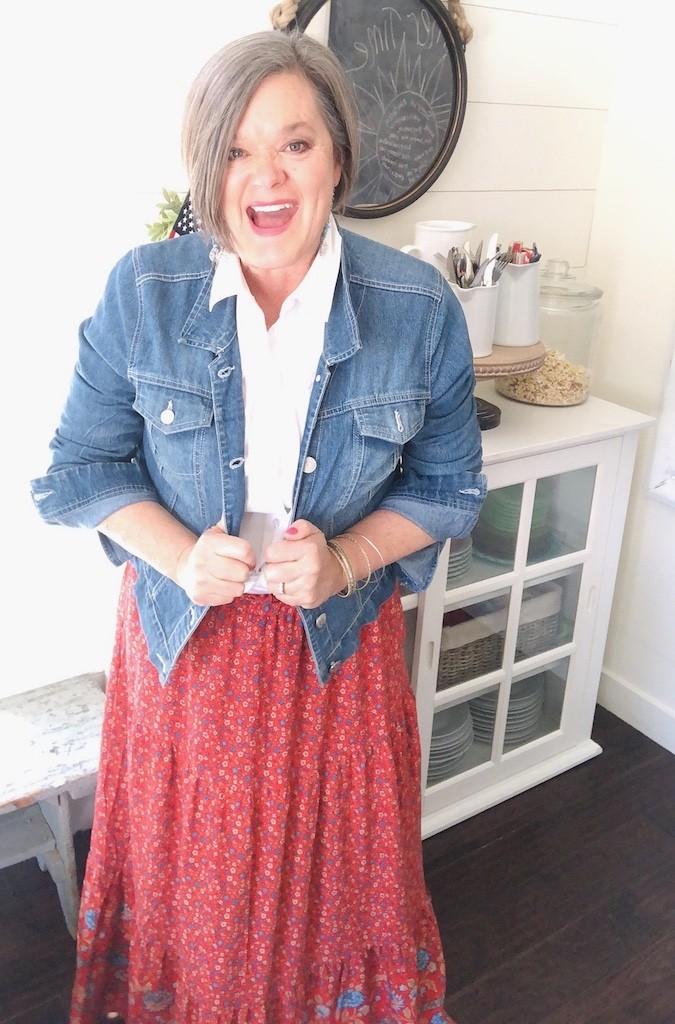 I added a cute crossover leather bag, white adidas sneakers and some sunglasses for a casual look.
You could wear this out to lunch, date night or just running errands.
I think it is also perfect for sightseeing while on vacation!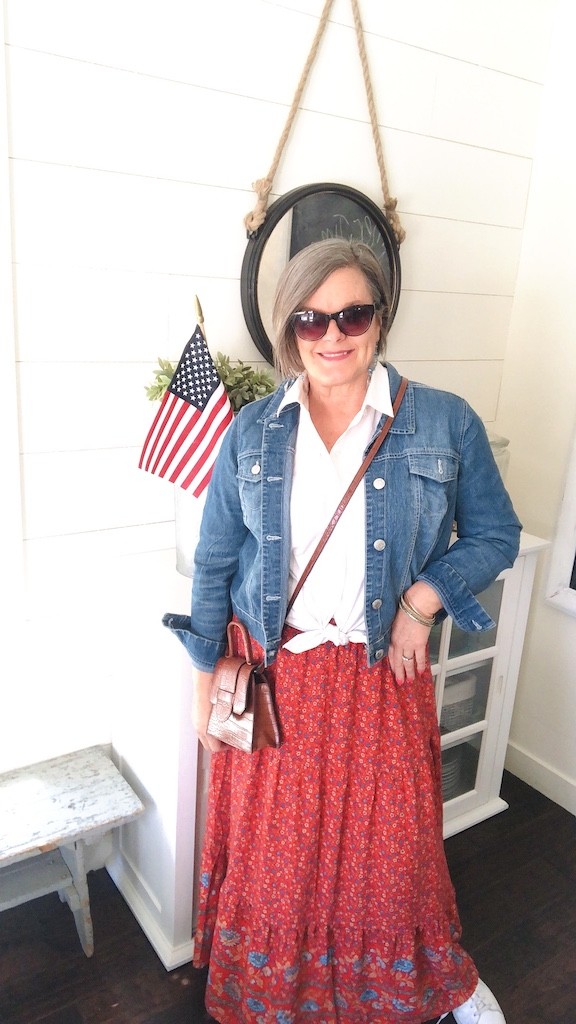 Fashion is meant to be fun don't you agree?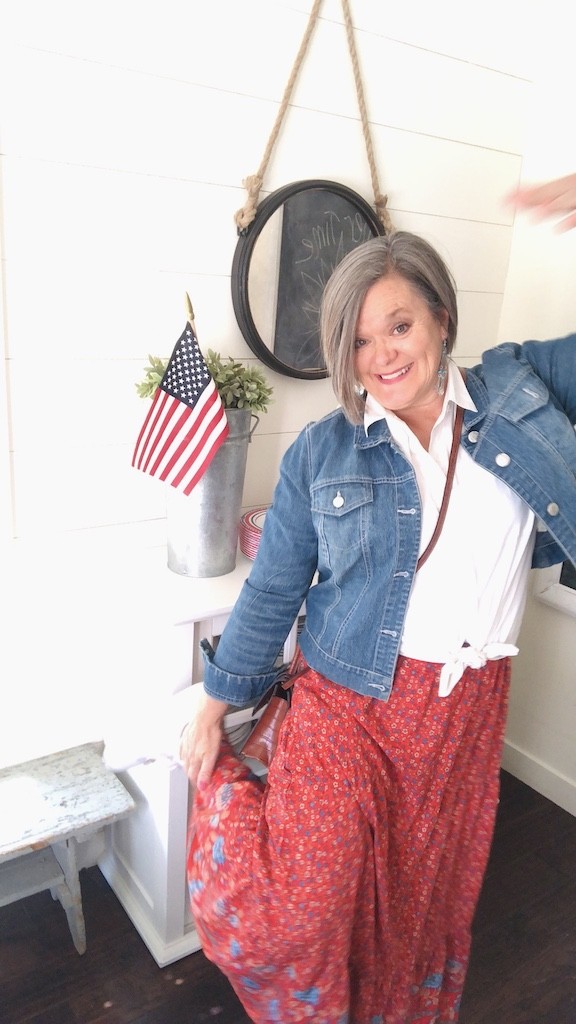 I hope this post inspires you to try these three different ideas with a flowy skirt.
This outfit can be worn in summer, spring, fall and maybe even winter depending on where you live.
I always love finding ways to wear one item in multiple ways.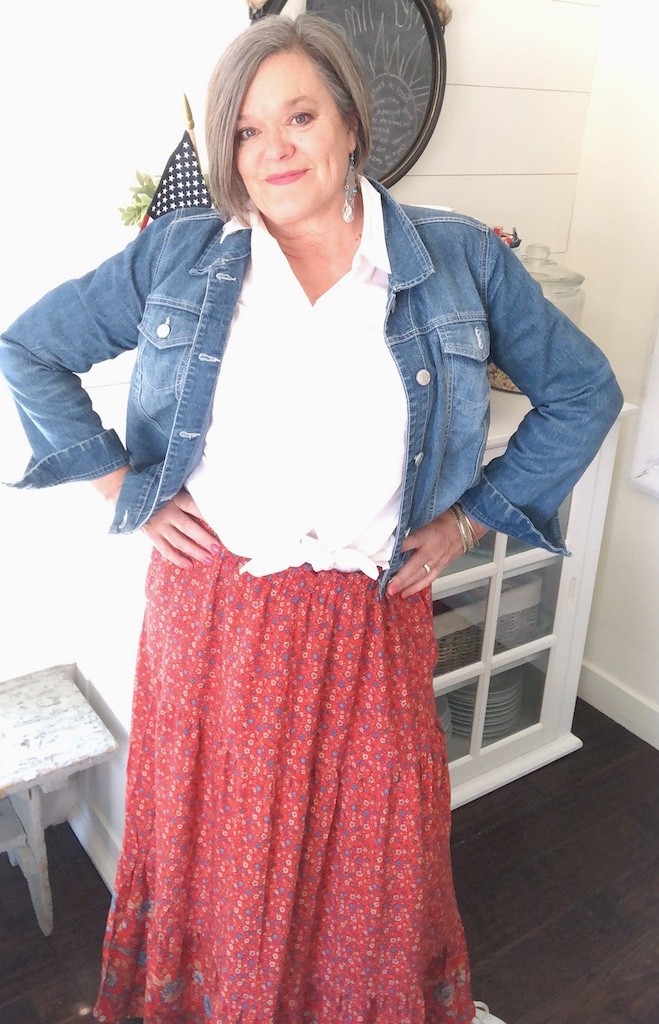 Other Fashion Posts
If you like this fashion post here are a few others that are fun
How to style long flowy tunic with jeans
Styling cream and tan camo pants
Long grey cardigan with pink floral top and button fly jeans
Best long sleeved striped t-shirt with jeans
Shop This Post

Check out my Fall Tablescapes