I have always loved the style of a peplum jacket with a pencil skirt. The peplum jacket is so stylish and works well for us short waisted gals. Remember back in the 50's the peplum jacket was all the rage especially over a longer length pencil skirt. Many famous women have worn this look. Jackie Onassis, Audrey Hepburn and currently Kate Middleton (Prince Williams wife) The look is classic elegance.
Mixing a floral pencil skirt with a peplum jacket creates a casual classic elegant look. Don't you think? If I wore all the same color I think it would feel a little more dressy. Especially if I wore higher heels. I want to look put together but not stuffy when I go to church or out for dinner.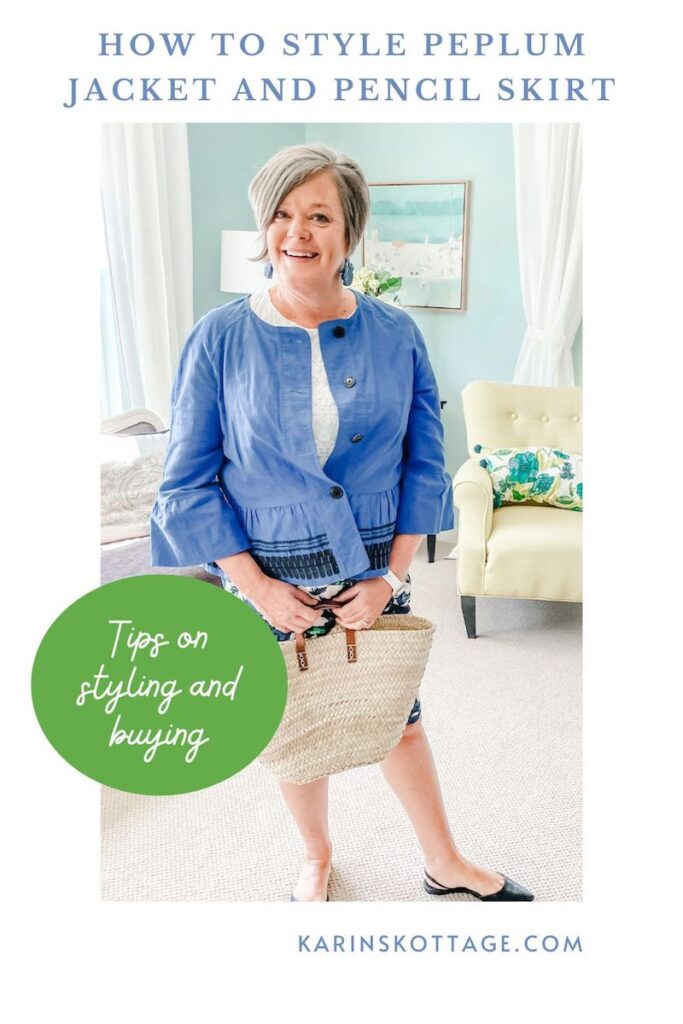 Floral pencil skirt
My floral pencil skirt was purchased from Jcrew 3 or 4 years ago and is a cotton linen mix. I really love the bright bold colors in it. It has a summer look and feel to it. The skirt was actually a little on the short side for me so I let out a bit of the hem. How to style a Pencil skirt is really easy especially with a peplum jacket. Styling a pencil skirt with the peplum jacket helps create the hour glass figure #forthewin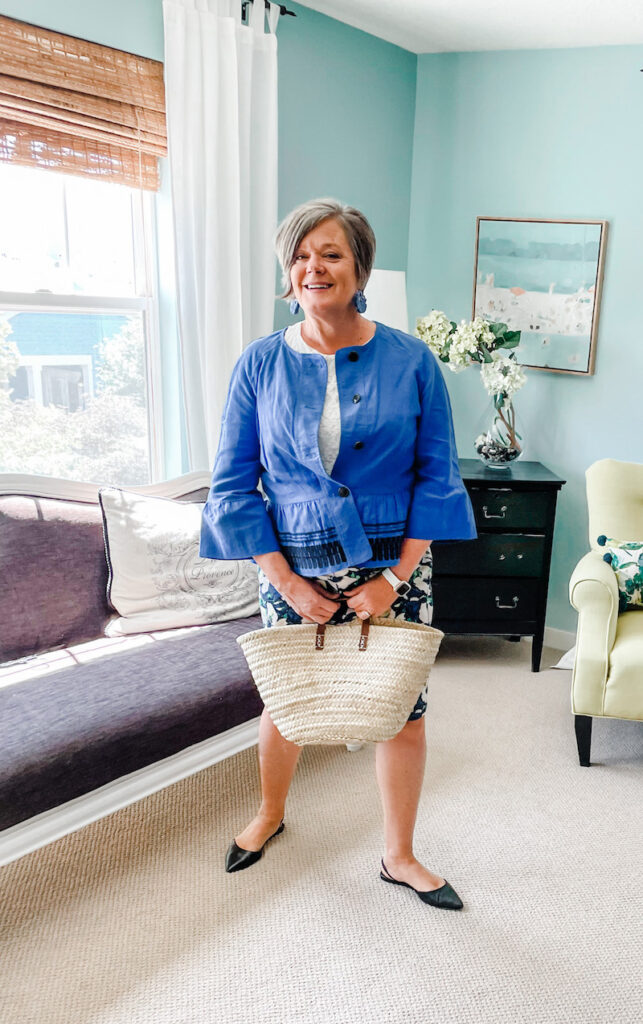 Here are a couple of other outfits I styled a pencil skirt-
A green and black stretch skirt.
Pink pencil skirt and black jacket.
Black and white polka dot pencil skirt with green sweater.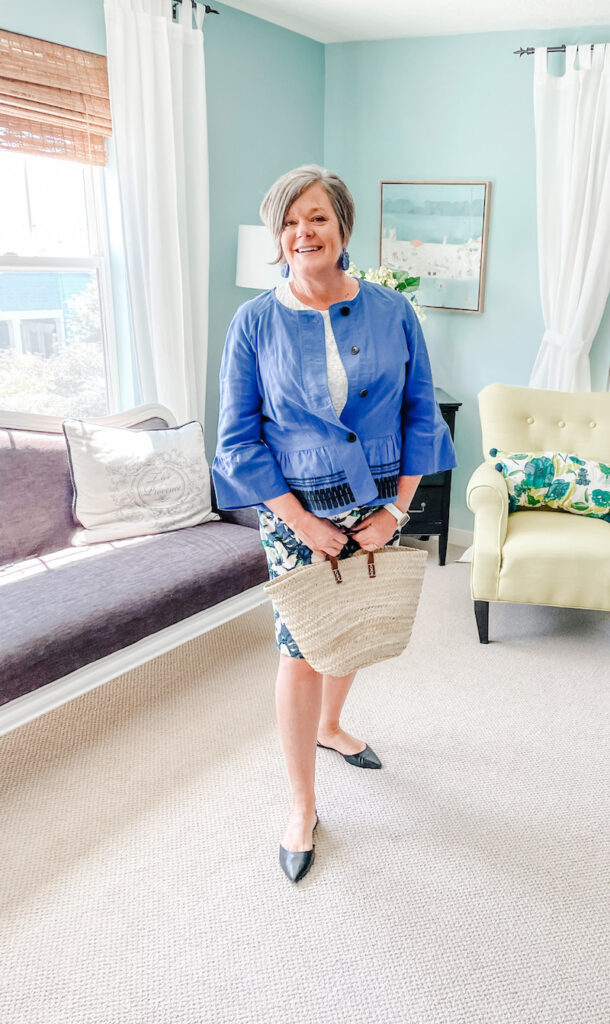 Pencil skirts are very slimming too! That is one of my favorite things about this type of skirt. Especially across the tummy area. A maxi skirt is also great way to get a slimming look. I wore this cute red maxi skirt with an elastic waist with a jean jacket you can see here.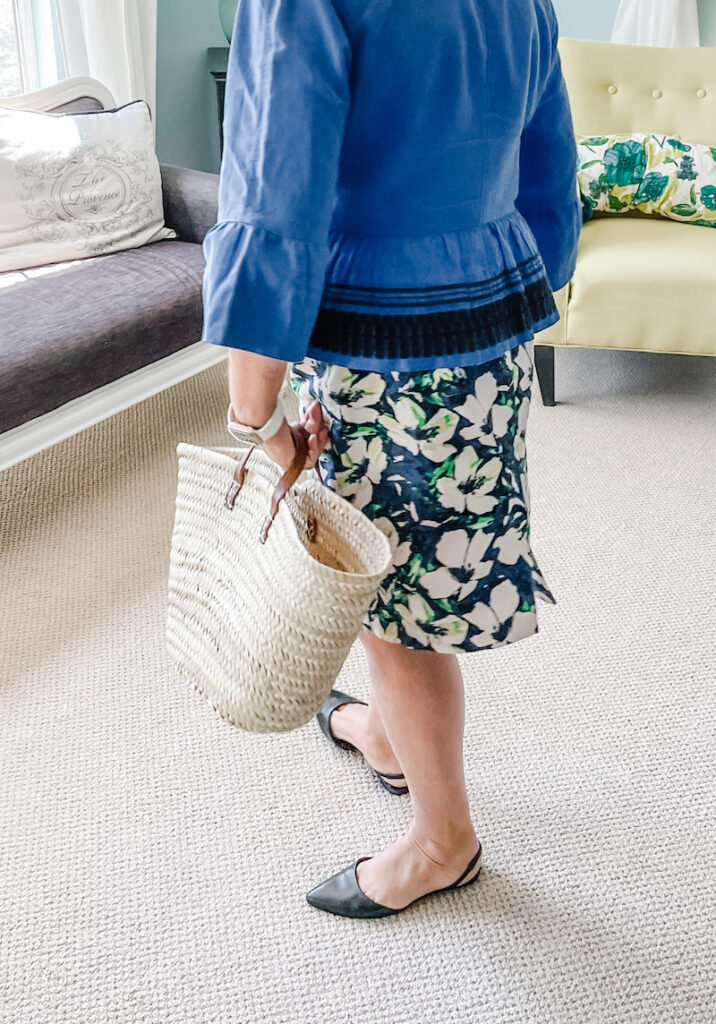 A couple of tips when buying a pencil skirt- always do a sit test before you buy. Sometimes they are too tight around the hips and don't have enough give. Or they hike up quite a bit when you sit down. The latter is what happened when I wore this skirt before I let the hem down.
Blue peplum jacket
Peplum jackets are seriously the most flattering jacket in my humble opinion. They create a waist when there is no waist and that is huge for short waisted and thick waisted ladies like me.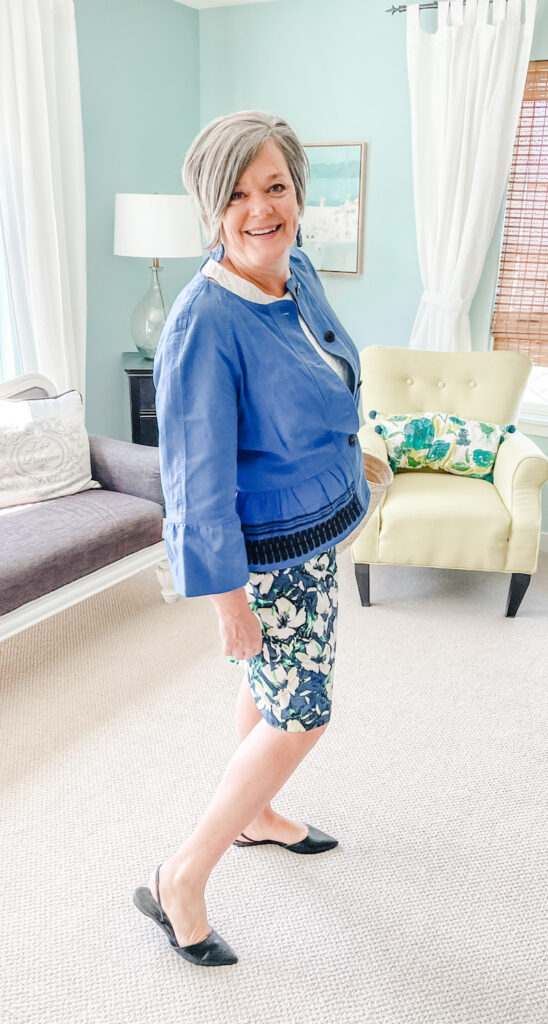 Peplum jackets are also great for hiding a pooching tummy because they camouflage the belly area with a ruffle at the end of the jacket bodice.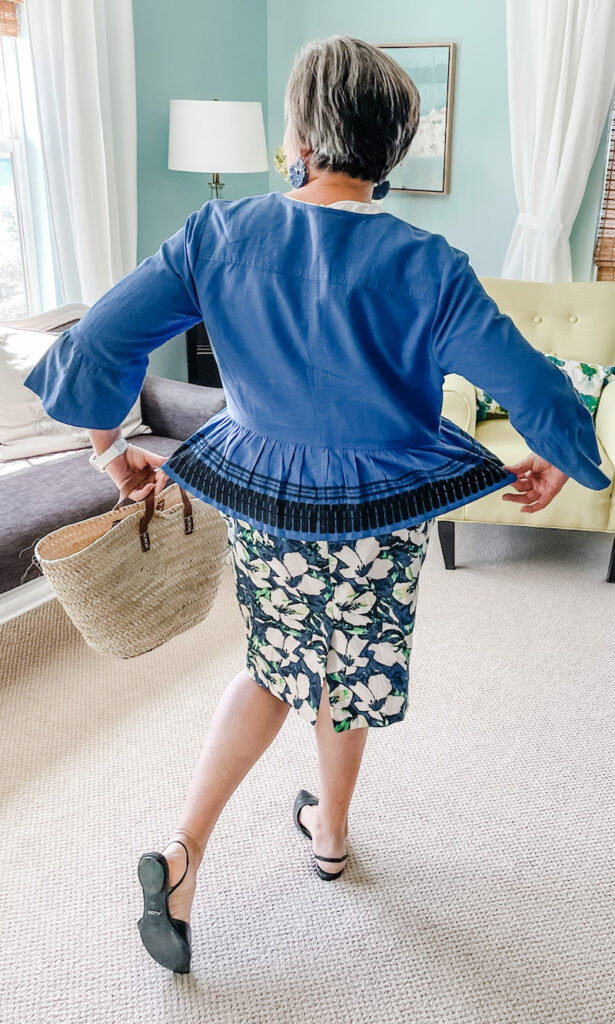 This particular blue peplum jacket is very feminine and just pretty! I have another blue jacket that I like to wear but it is not a peplum. It's actually a longer blue blazer and is great to wear with jeans, skirts or dresses. Having multiple lengths and styles of jackets is key to stretching your wardrobe.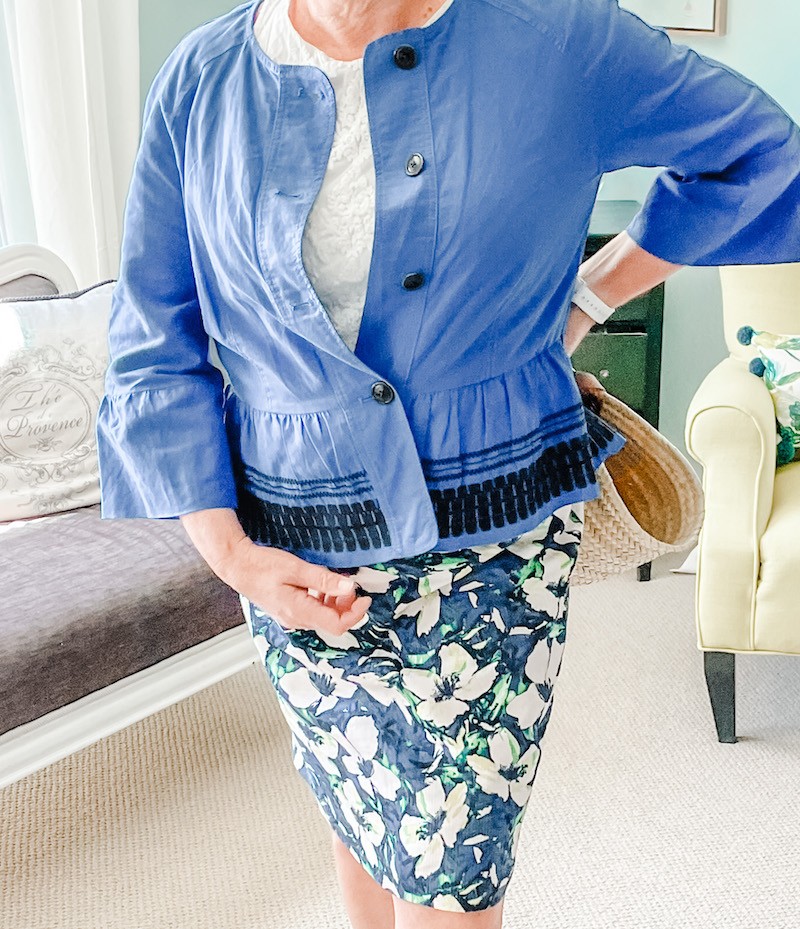 I bought my peplum jacket last year at TJmaxx and I love the black detail at the bottom of it. I have linked a few similar jackets below.
Straw bag and fan earrings
To complete my outfit I brought out my darling straw bag that I bought while traveling in Italy. It was handmade by a guy selling them on the street. I love the color and texture of the bag and it can go from the beach to church and even to a casual dinner. It also packed up quite nicely when I brought it back from Italy.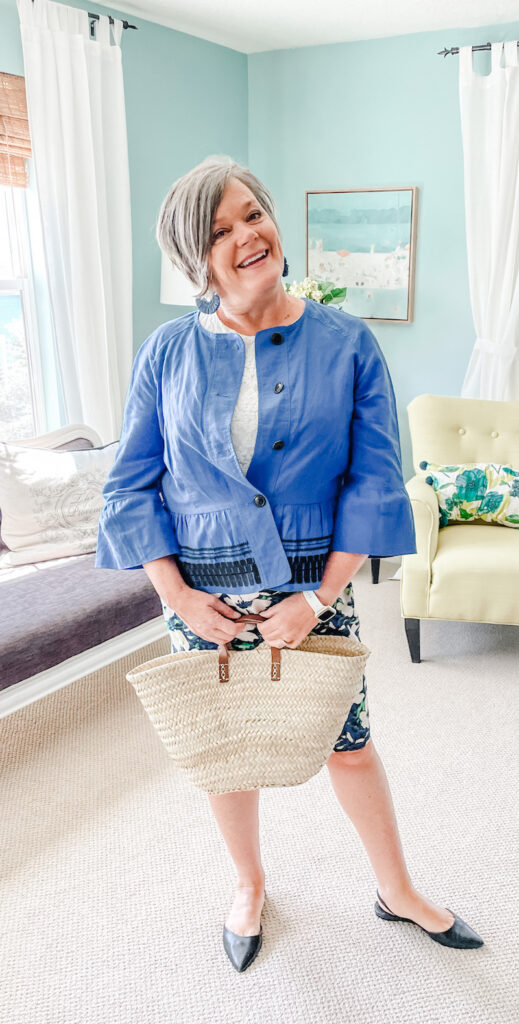 I tried different necklaces when I was styling the peplum jacket with the pencil skirt but because the jacket has a mandarin collar look to it I decided not to wear a necklace. Instead I decided to wear my statement bright blue fan earrings. They are lightweight and fun to wear especially in the summer.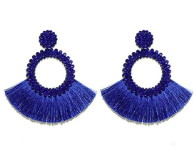 What do you all think? Did I need to add a necklace or do you agree with my styling advice?
Shop Similar Clothes

More Karins Kottage Fashion
Fashion Friday Sweatshirt and jean capris
Fashion Friday Workout Clothes in Moab Utah