Our first visit to Casoli, Italy was truly magical. This beautiful historic town set up on a hill over looking beautiful green rolling hills.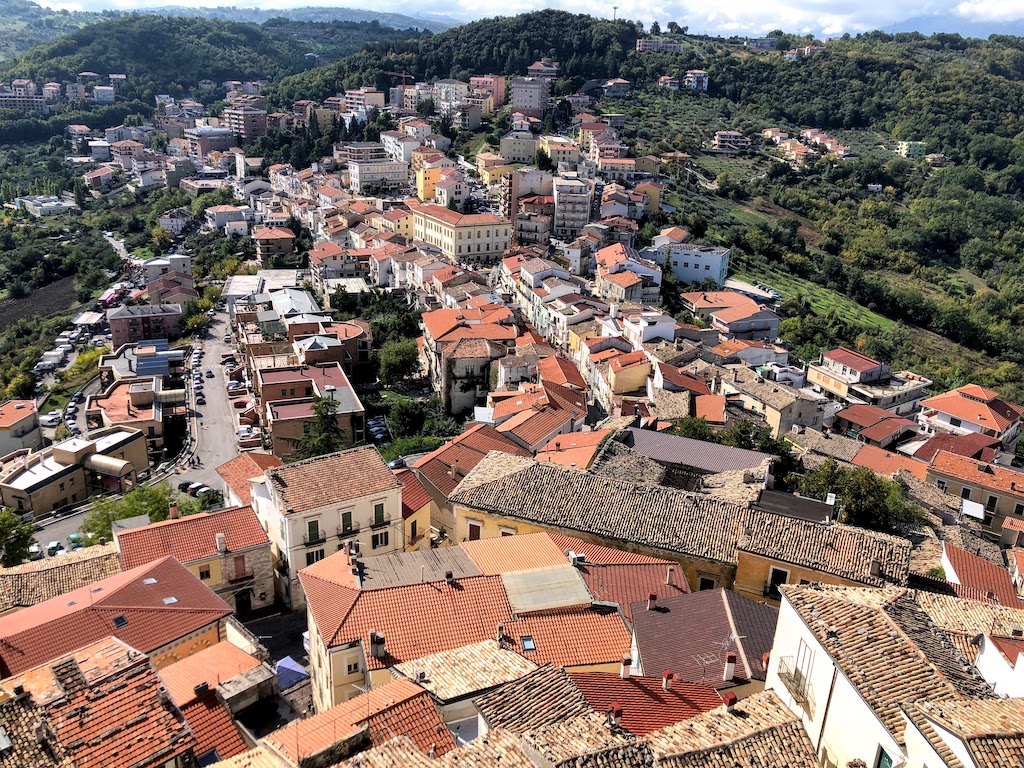 Red and orange tile roofs speckle the lush green landscape. Everywhere you go it just feels like you are in a movie.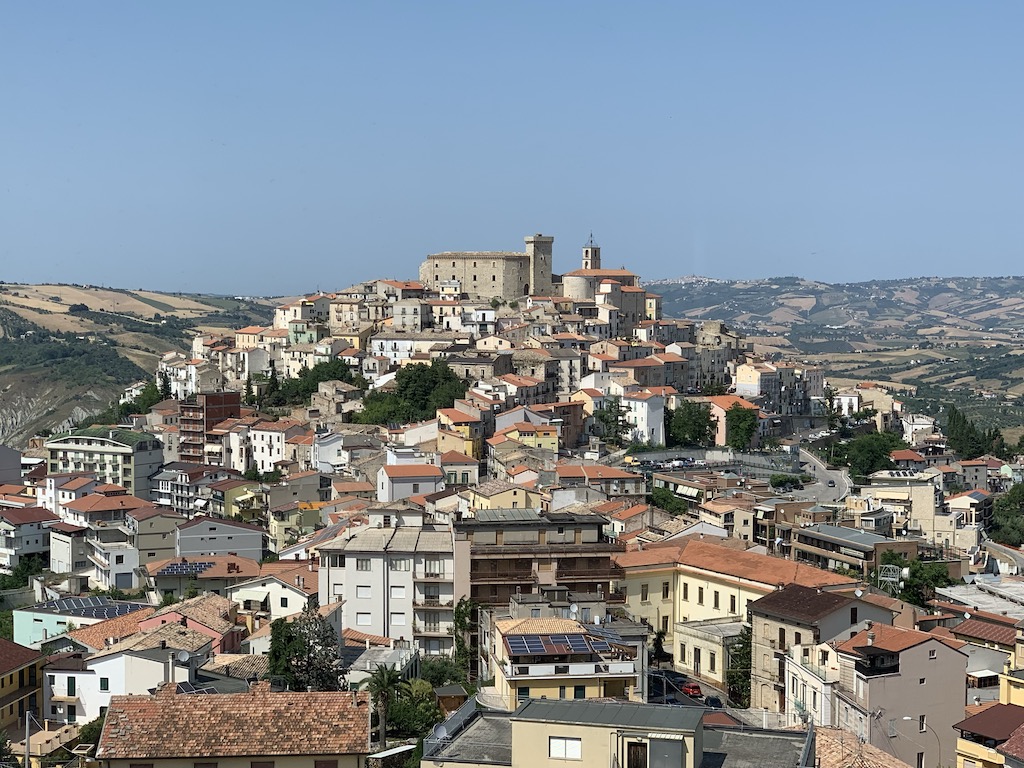 Casoli Castle – Castello Masciantonio
When visiting Casoli, Italy you will notice a beautiful castle at the top of the hill. You can go inside and see a museum. Wigram Hall is an exhibition room of the Castle of Casoli in Italy. The exhibition room is dedicated to Major Lionel Wigram, a British officer who played a major role in the training and actions of the Majella Brigade. This room features the permanent exhibition 'The unexpected Alliance', which examines the cooperation between the British Paratroopers and European populations who sheltered them during WWII. Learn more about this castle here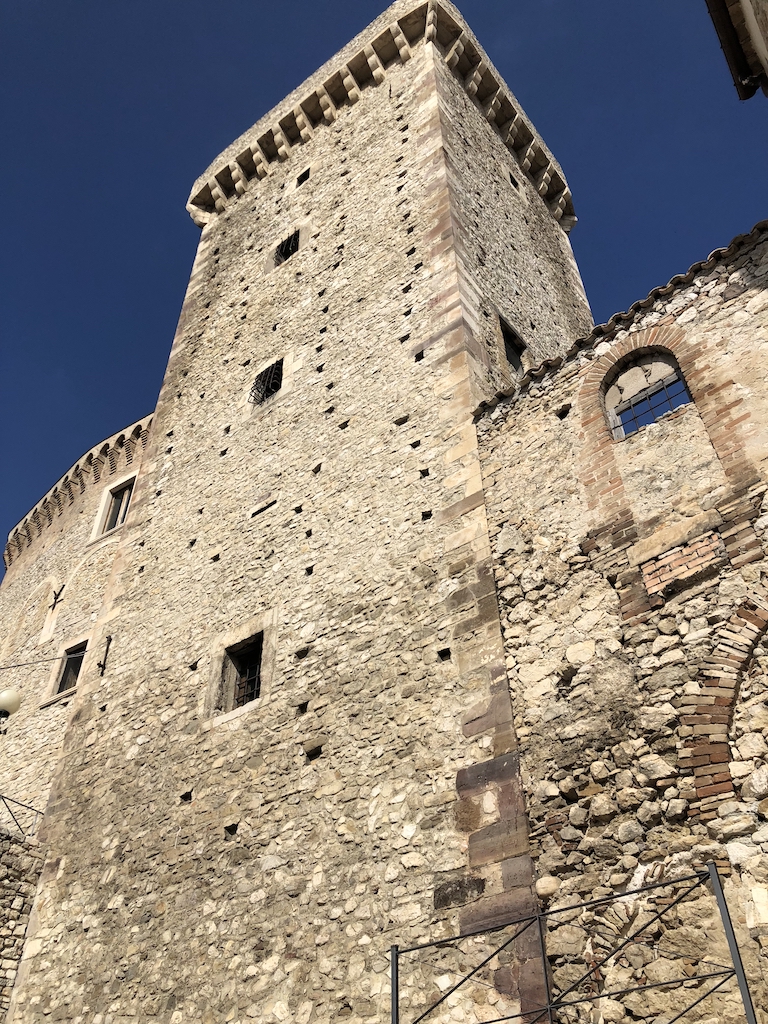 After climbing up a narrow winding staircase you can go out on the turret and look out over the entire town of Casoli. It is absolutely stunning as you can see below. If you look out towards the South East you can see the Adriatic Sea! Casoli, Italy is only 30 min to the Adriatic Sea and 30 min to ski resorts in the mountains. If you are interested in owning a little piece of the REAL Italy you can check out my husbands website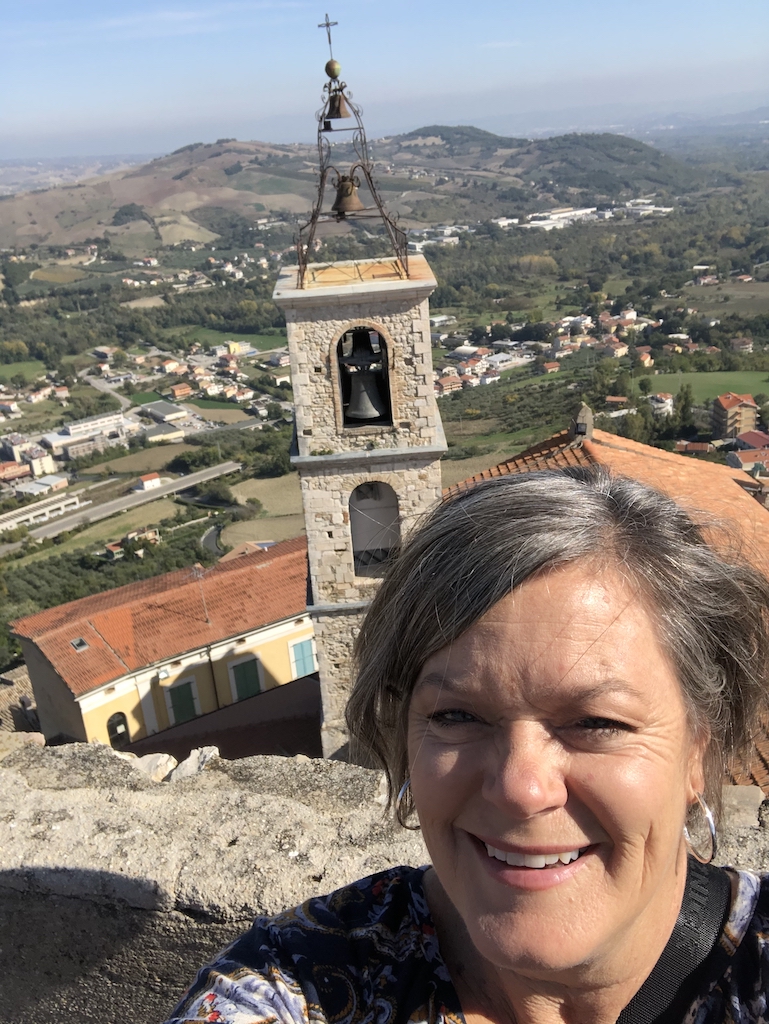 The Green Lung of Italy
Casoli of Abruzzo is known as the "green lung" of Italy because it is the most famous agricultural area in Italy. It is little known and almost undiscovered part of Italy. It really represents what you would expect from an Italian vacation experience and that is why we call it the REAL Italy. No touristy places and no crowds! If you have ever traveled to Italy you know how hard it is hard to find these kinds of experiences in more well-known parts of Italy.
We loved walking around the town and finding little nooks and crannies of beautiful scenes of old homes with shutters, pots of greenery and flowers.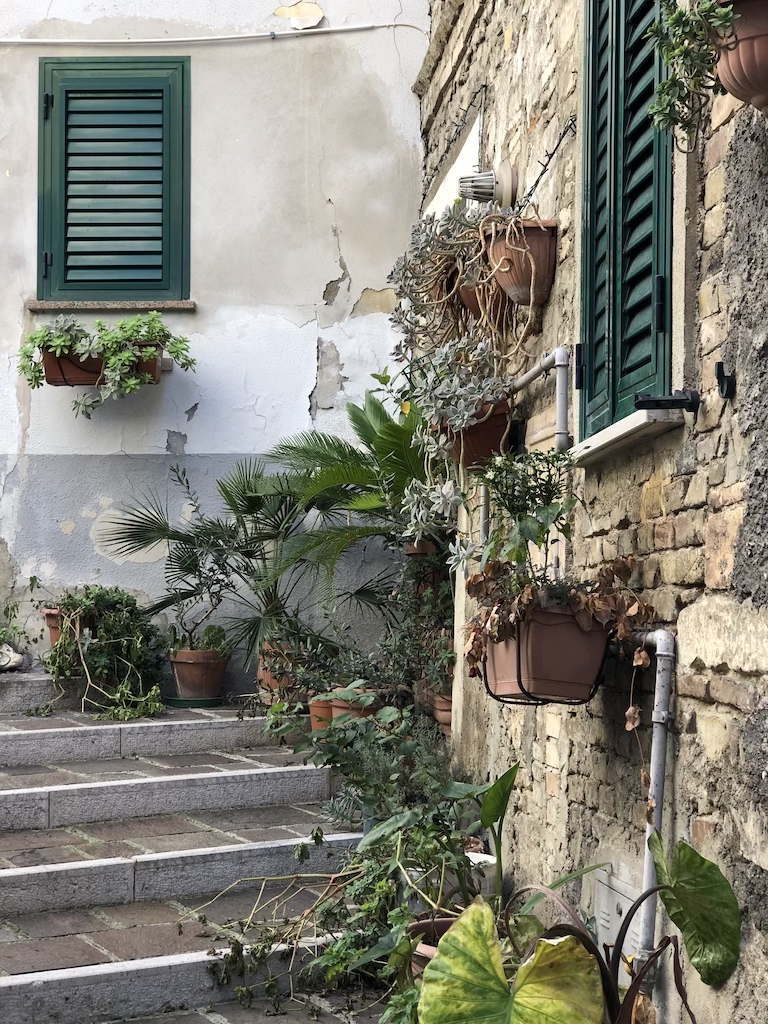 We always bring our walking shoes to explore these charming cobblestone streets and stairways.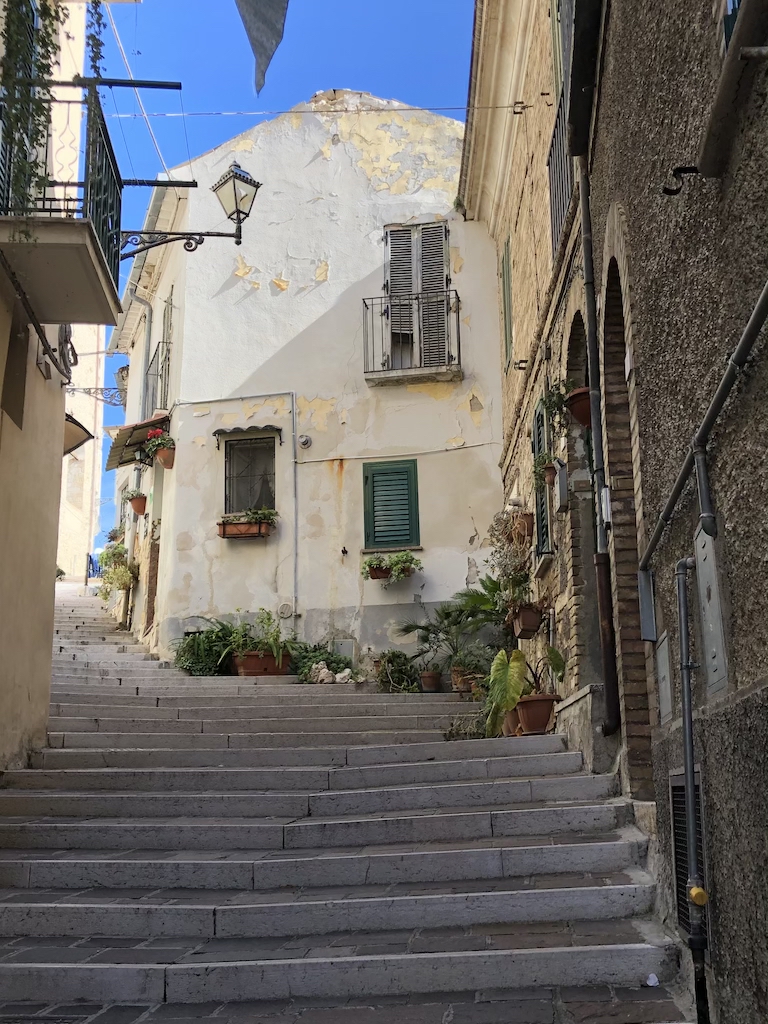 Shops in town
There are delicious bakeries, pizza shops, and of course little sidewalk cafe's through out the town. Just look at these pastries!! I think I need a cannoli right now.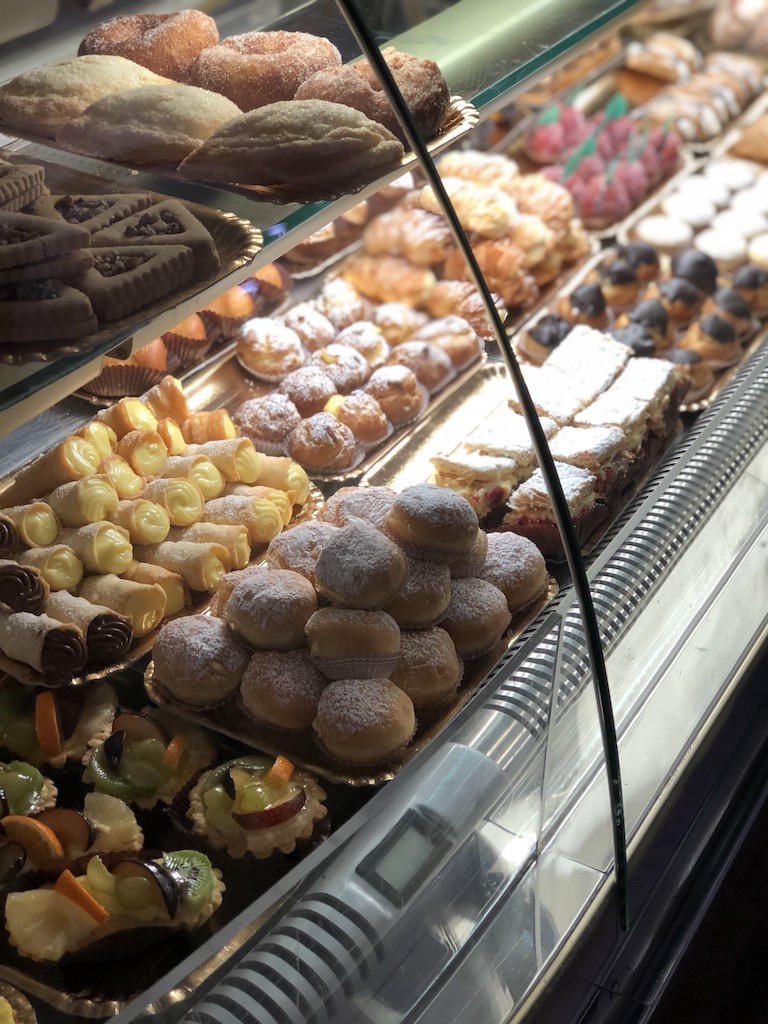 There are also lots of darling little boutiques filled with gorgeous clothing.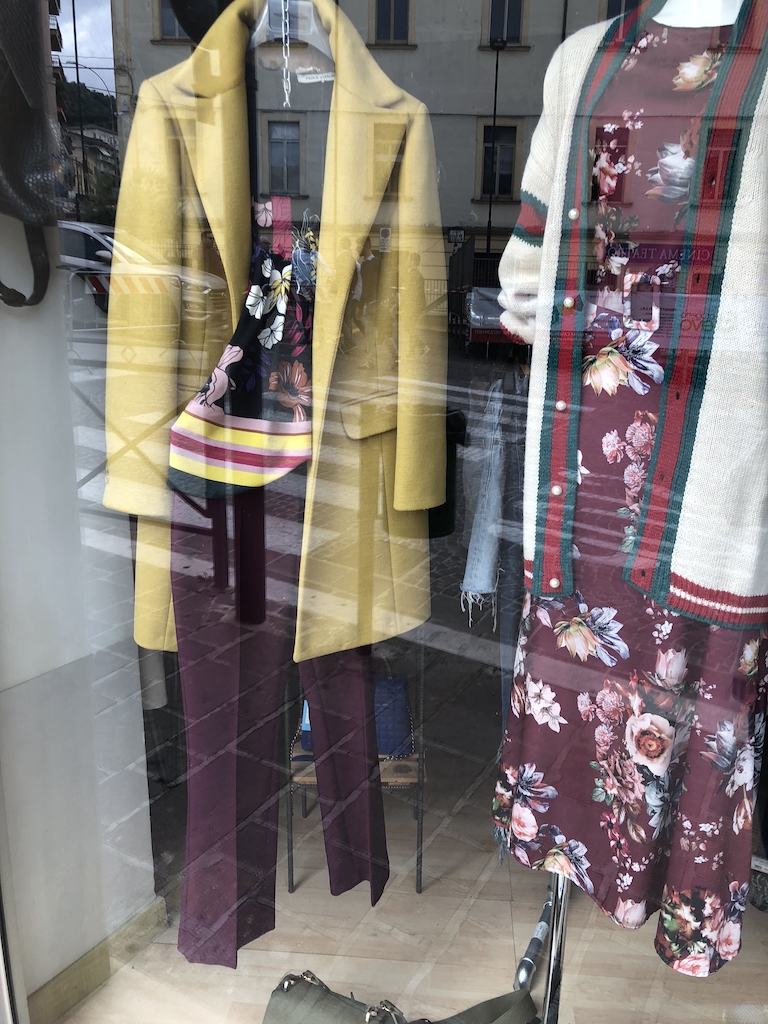 Friday Street Market
Every Friday there is an outdoor street market right through the middle of town. As you stroll through the street, you will see vendors selling lots of fresh fruits and vegetables, cheeses and meats. They have the best Porchetta, It is soooo good! They also sell clothing, shoes and housewares. You name it they sell it.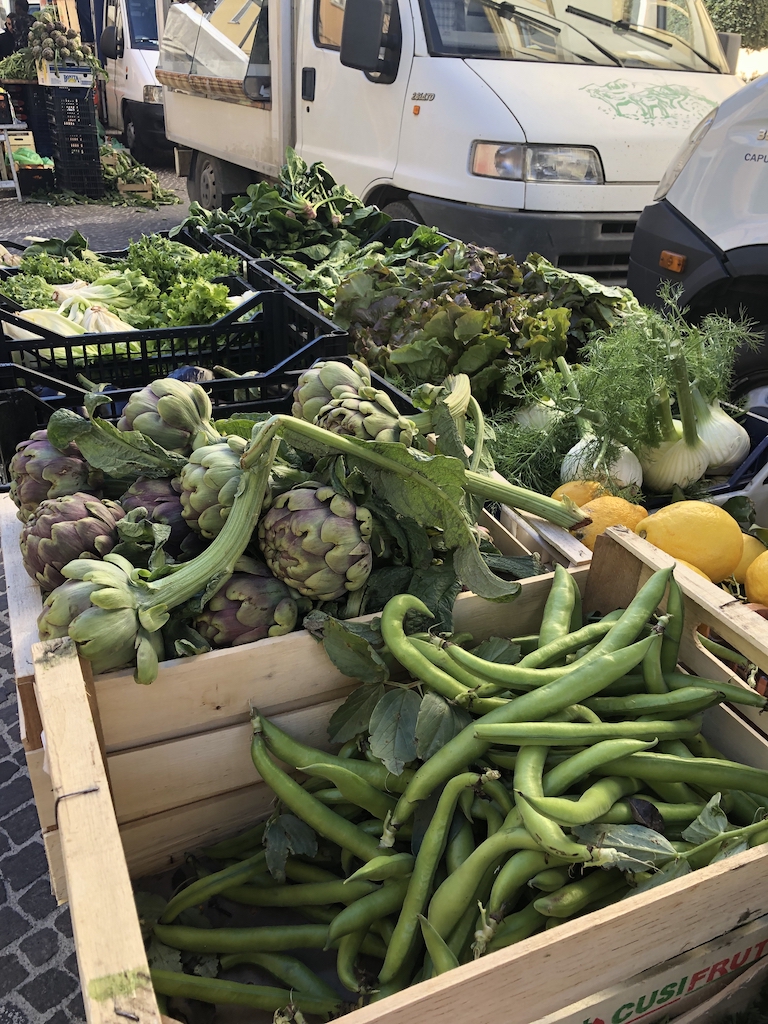 I loved this traditional Abruzzen fabric and bought a yard of it from this darling Italian man. They commonly use it to make aprons or dish towels and even curtains. I need to make an apron out of it soon.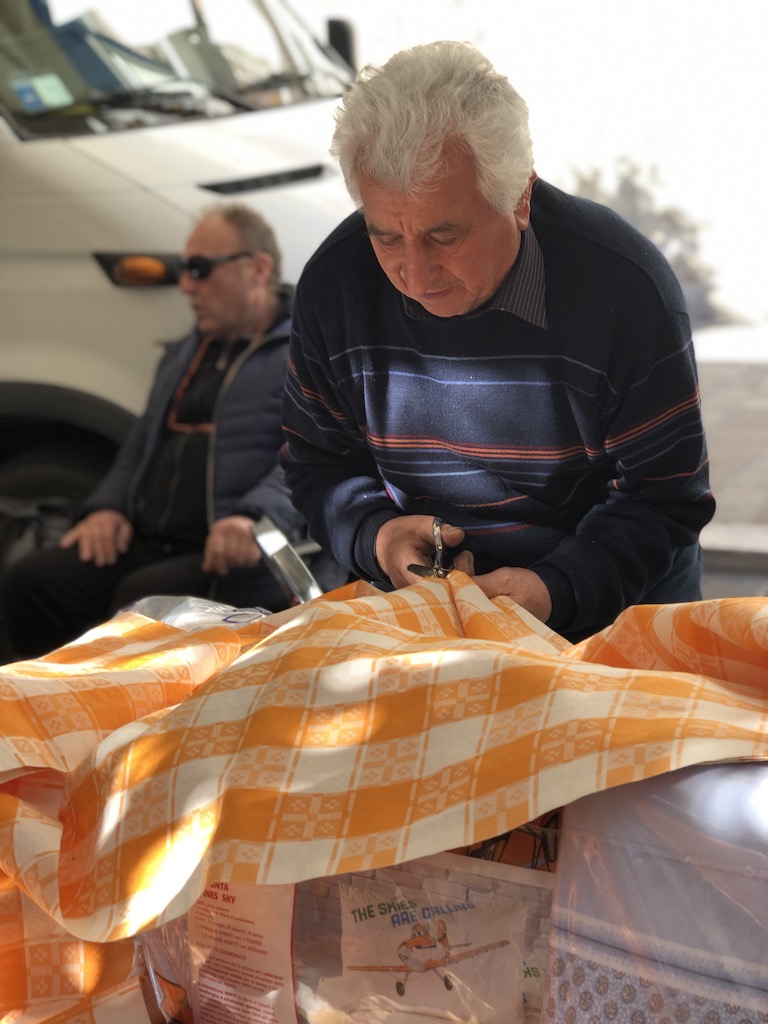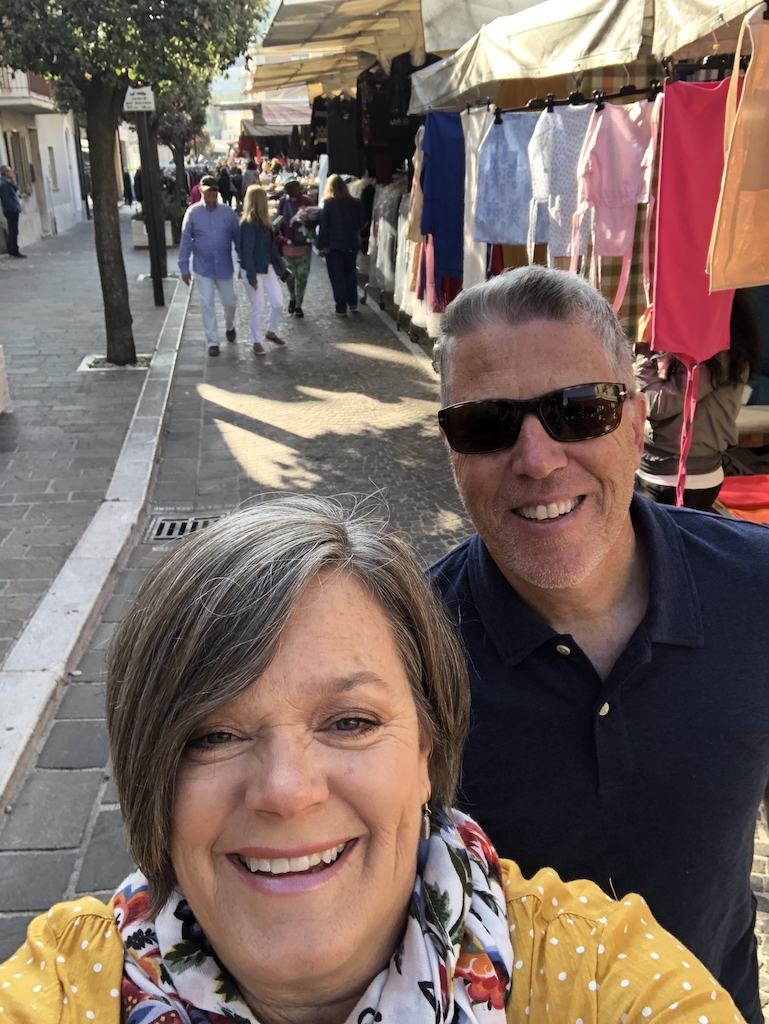 Dining Out
Our sweet friends took us out to dinner at a restaurant called Agnello D'Oro. Holy cow we had so much food! Our friends even told them to hold back because we were Americans haha but the chef just kept bringing out more food! It was amazing.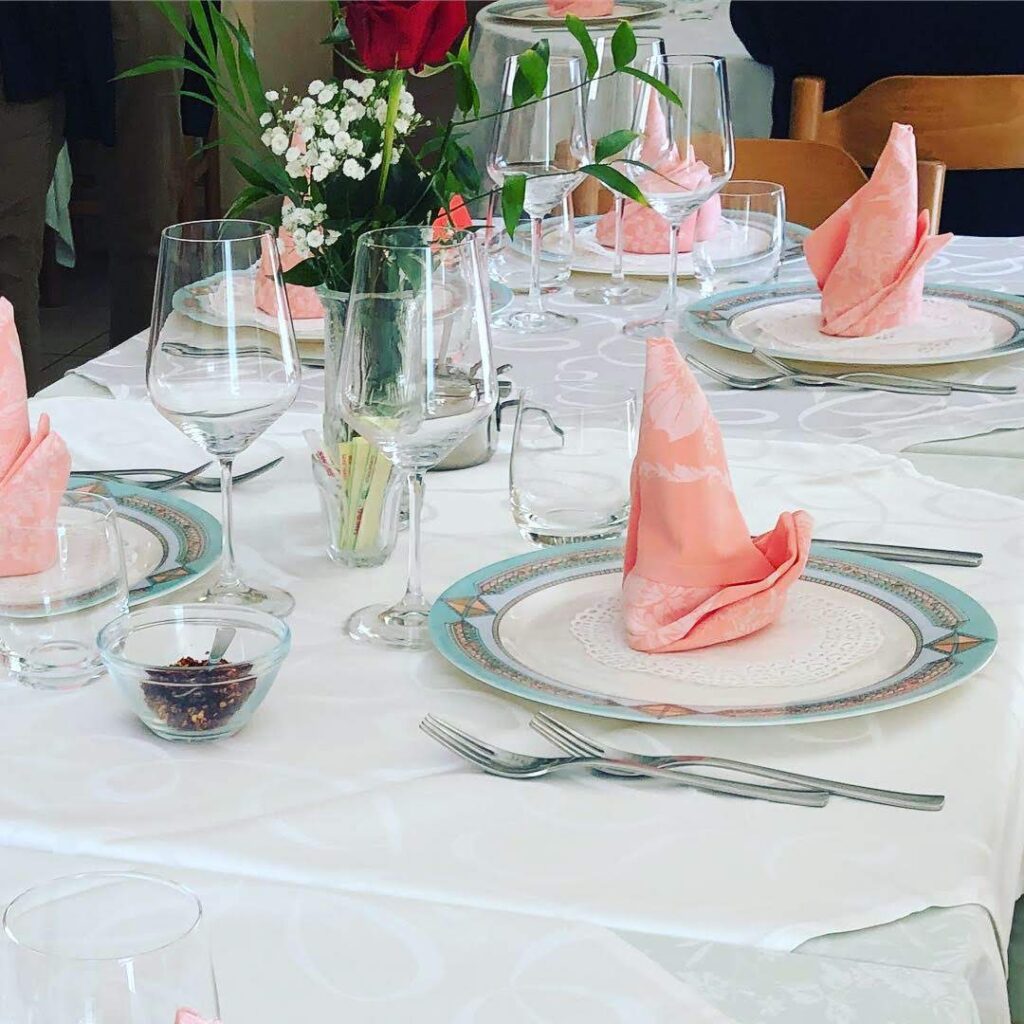 This is the owner and chef and he treated us like family.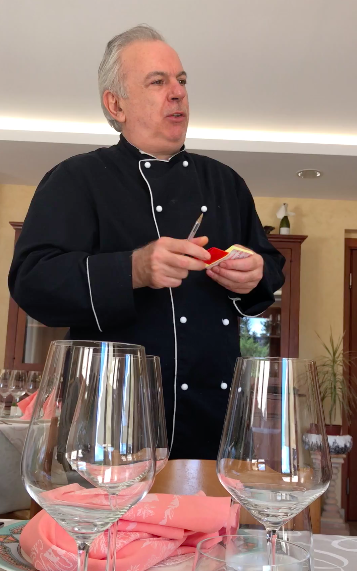 On our first visit to Casoli Italy we found out very quickly that every restaurant always start with an antipasto dish.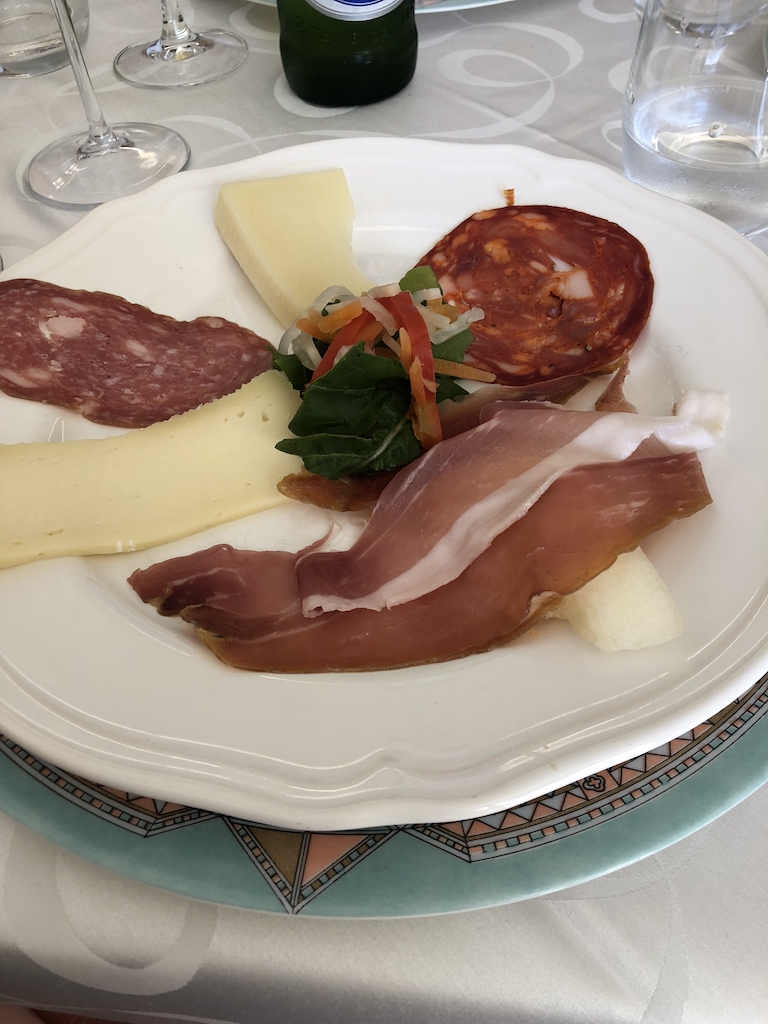 Then they brought out this cheesy vegetable dish filled with potatoes, zucchini, mushrooms and did I mention cheese! So rich and delicious.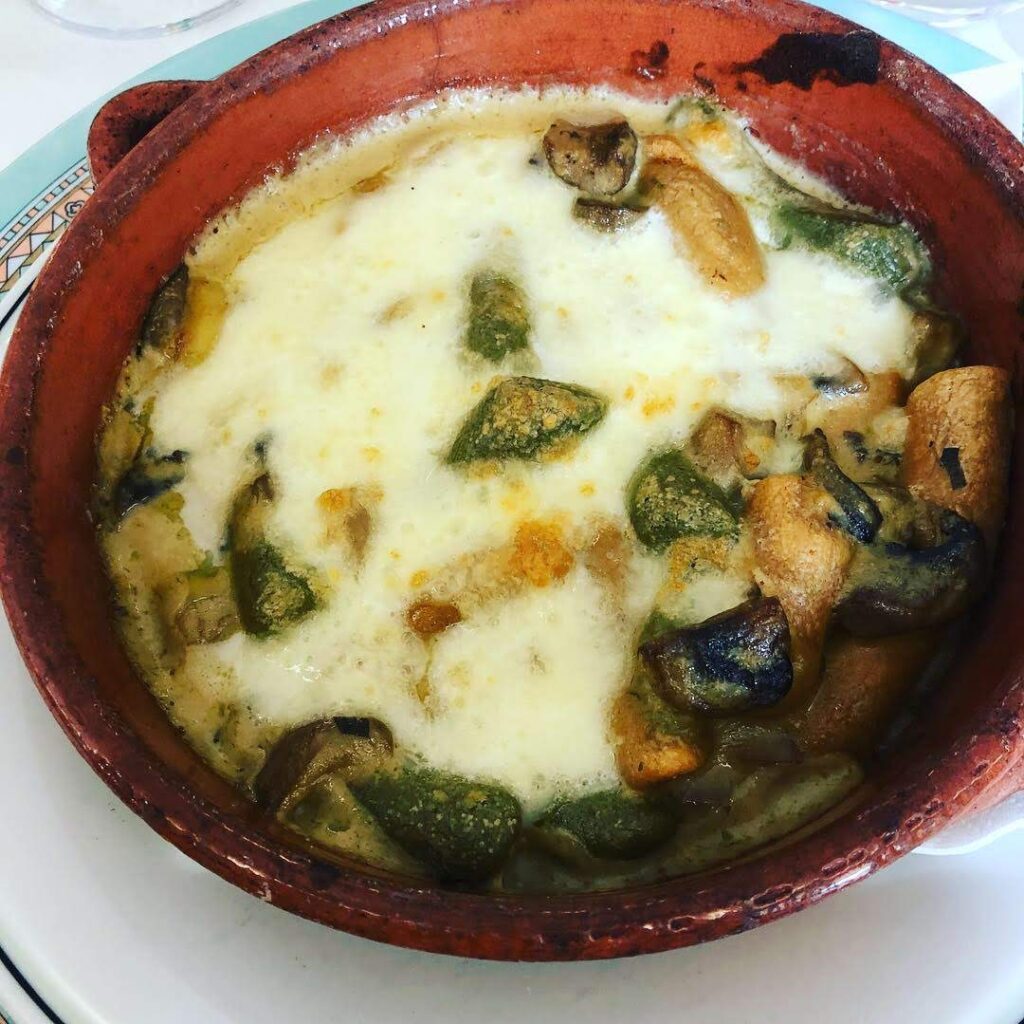 I think we also had creamed spinach and then they brought out the main dish Porchetta. I made a really yummy pork loin roast at home that is really quite delicious the recipe is here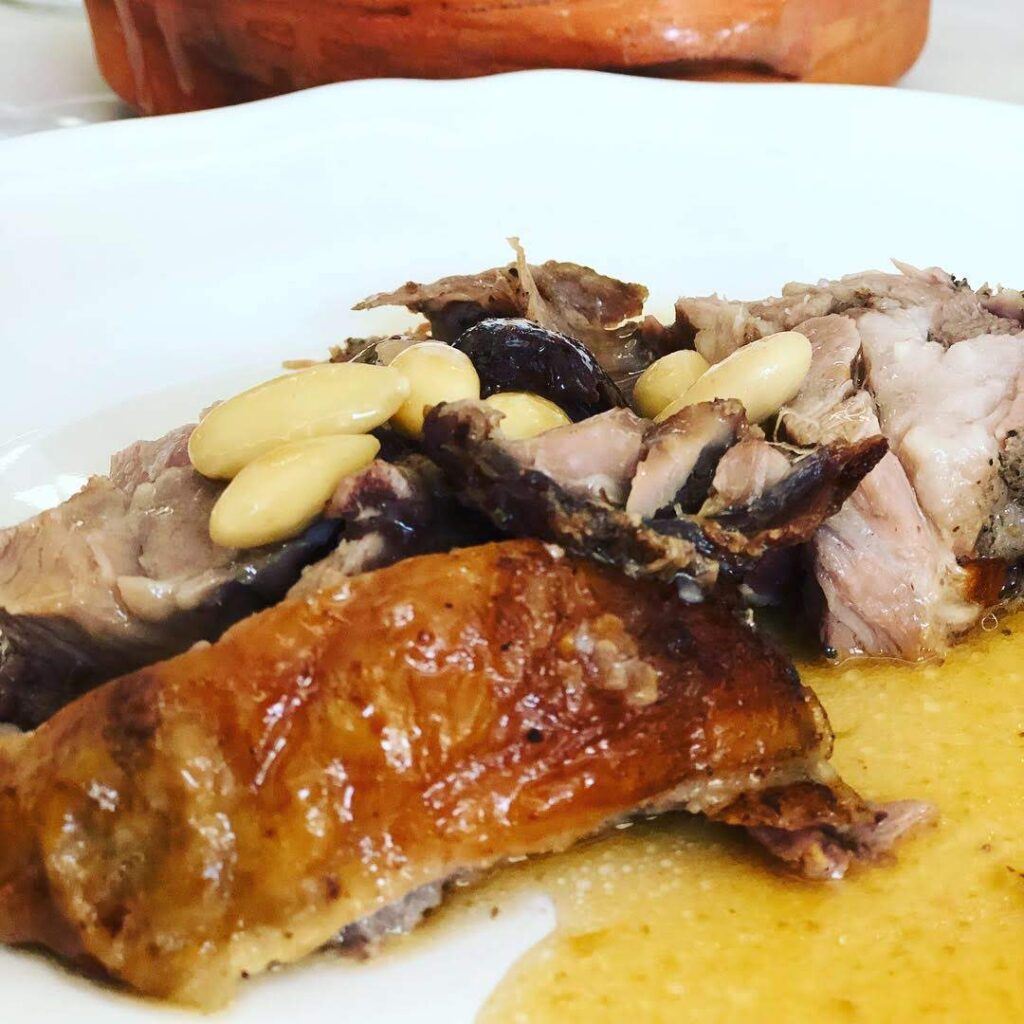 We were so full and just could not think we could eat another bite and then they brought out dessert!! A huge dish of fruit with gelato on it. We were rolling ourselves out the door!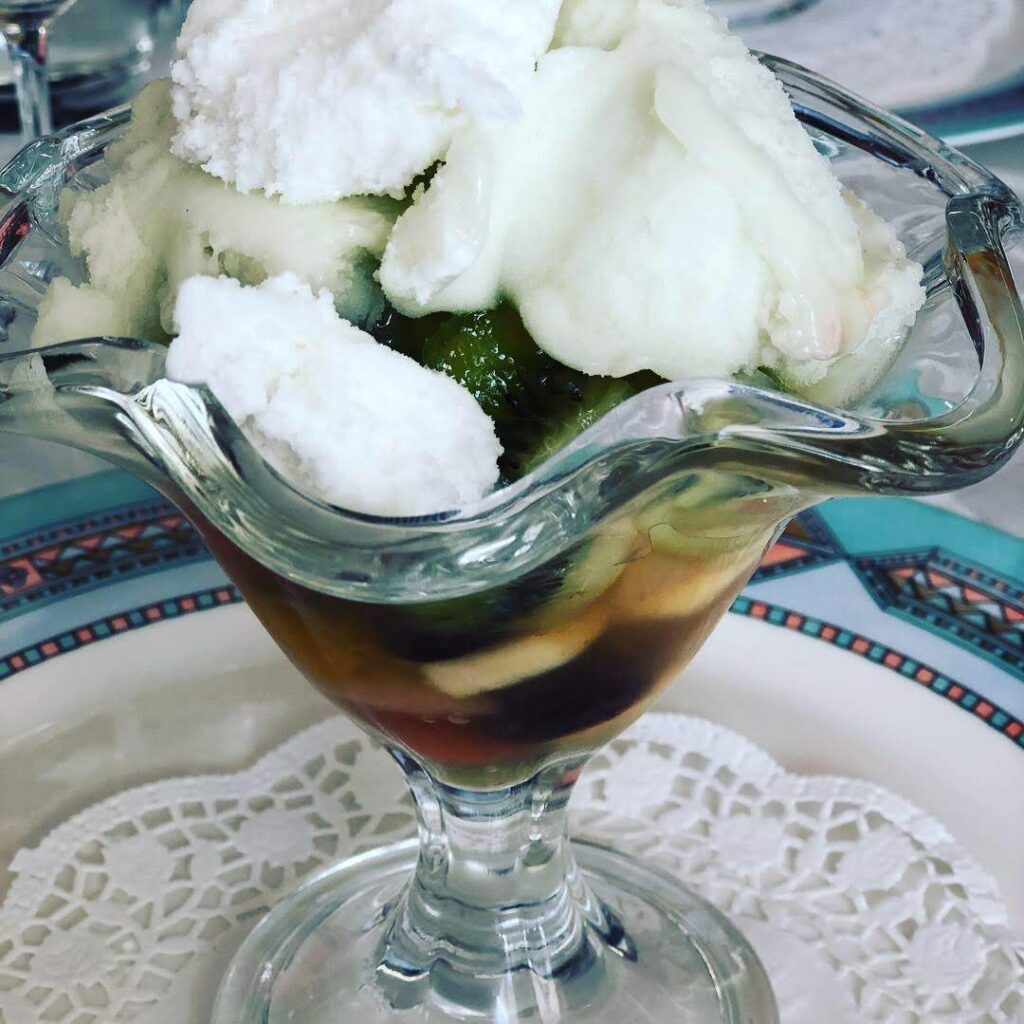 I can't wait to share more things about Casoli! We attended a beautiful festival there where everyone was dressed in traditional costumes and had a huge parade.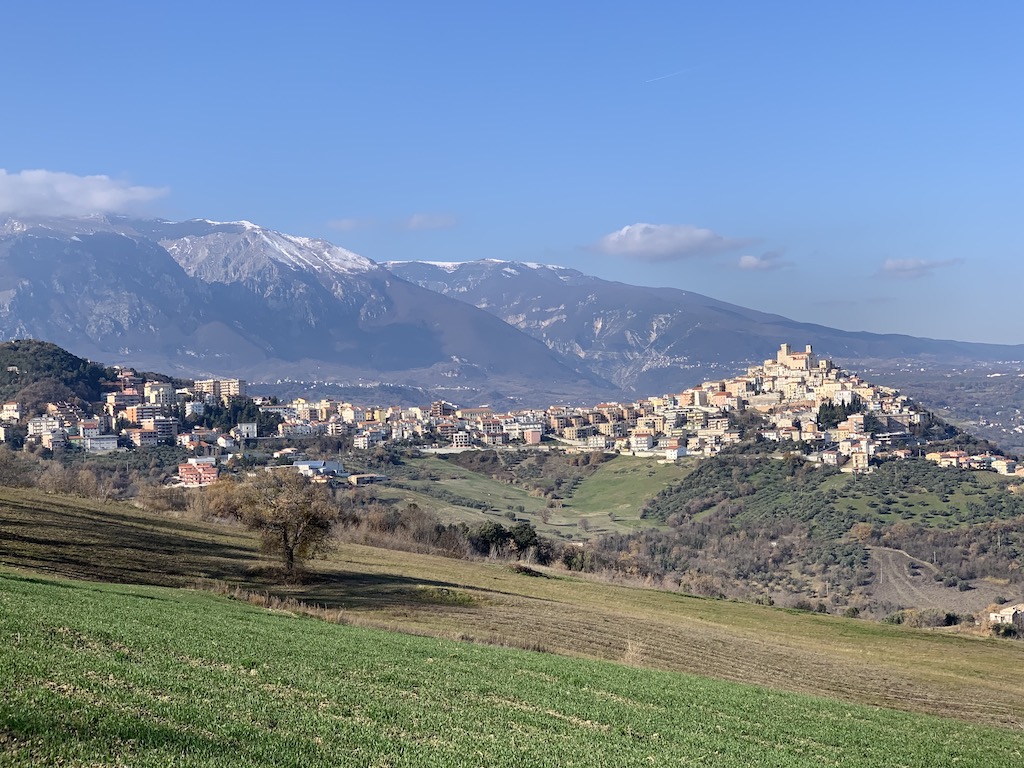 If you missed my first two posts about How we ended up owning a Palace in Casoli and stepping inside the palazzo.
Travel to Europe for the first time Tips
I just wanted to leave you with a few of my travel tips for long flights.
I wear comfortable sweats on the plane because you are flying as much as 12 hours at a time depending on where you are flying from. I also bring a lightweight scarf to stay warm on a cold airplane or if it gets chilly at night in Italy. My absolute favorite tennis shoes are New balance (fresh foam lightweight) I have high arches and these have great support and are extremely comfy!
I have back issues and I bring 2 tennis balls so I can place them under my bum to release my tight hips or behind my back to roll on while I am sitting on the plane.
Of course you need a rolling suit case that measures correctly for carry on. We only do carry on (thanks to my world traveling husband). The other must have item is a cross over light weight travel purse with lots of sections. This is a MUST for me because of my back issues. I have linked many of the items we use while traveling below.
Travel Items