Today for Fashion Friday I am showing off my favorite denim shirt that is very versatile and so comfortable with a really nice cut to it that is flattering for anyone.
Denim shirt
This particular denim shirt works like a tunic for me because I am short waisted and it covers my derrière 🙂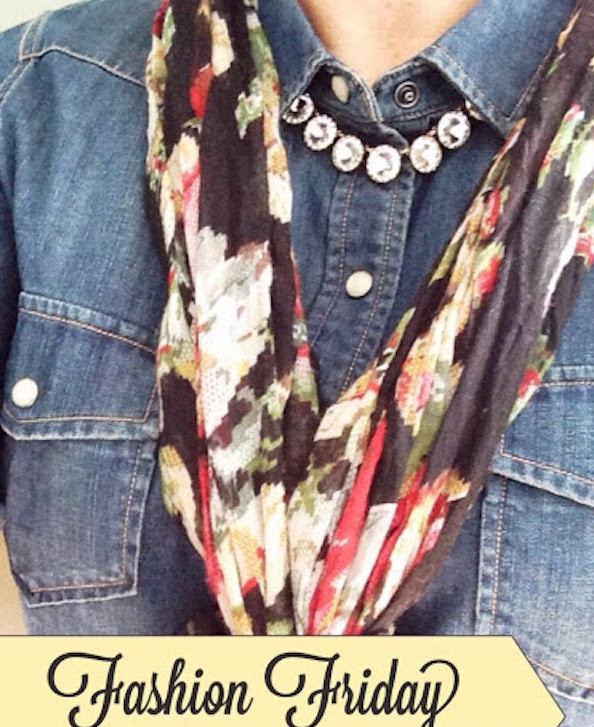 Wearing it over some black leggings is such a comfortable way to wear them. Adding in cute flats or boots can really change the look.
Rhinestone Necklace
I chose to wear the large rhinestone necklace also from jcrew. This necklace is so fun to wear because even though it is fancy it looks great with casual outfits like this one.
This rhinestone necklace looks so cute peeking out under the button up shirt.
Adding scarf to denim shirt
I added a scarf here to create a longer look to my torso.
Being short waisted you need to do some tricks. You can read a couple of my other fashion posts about being short waisted here and here.
Don't you love my Forever 21 blue purse that I got for only $6.00!!! I love me a deal!!
This blue purse goes with everything.
Adding layers to denim shirt
Since it is a bit cold out today, I borrowed my daughters mustard/gold colored jacket. It is really a bit snug for me but I don't button it up. I leave it open and just use the belt to tie around my waist.
The warm color mustard/gold is one of my favorites to wear. You can see how I paired a soft gold scarf with this black and white skirt here.
This multi colored black, blue, gold and red scarf ties in all the colors colors of the denim shirt, black leggings and gold jacket. Using a pattern scarf with solids is a nice way to bring in texture and interest.
Photo shoot 🙂
Asking my hubby to help me out by snapping a few pics… is always a scary proposition. As he cannot take good pics!
They turn out blurry or he takes it when I'm not ready, too close or too far away, does not mention my hair needs fixing…etc…hahah
Well he got into it today pretending to be a "photographer" but most pics are somewhat blurry.
I couldn't stop laughing because he just kept snapping tons of pictures and would say things like…
"pretend your a butterfly..
Now think of a volcano..
Let's see some anger..
Work it" the pictures were horrible…my face looked so contorted I promptly removed those!
I did keep a few. This laughing one below…even though it looks like I have 3 neck rolls…. LOL oh my gosh I am dying laughing as I write this!
He is a nut!
Do you love denim shirts and if so what is your favorite way of dressing it up?
Here is another post where I style a light blue denim shirt
Shop Cute Fashion