Our granddaughter just turned 12 and she wanted to have a Ratatouille Paris French themed birthday party!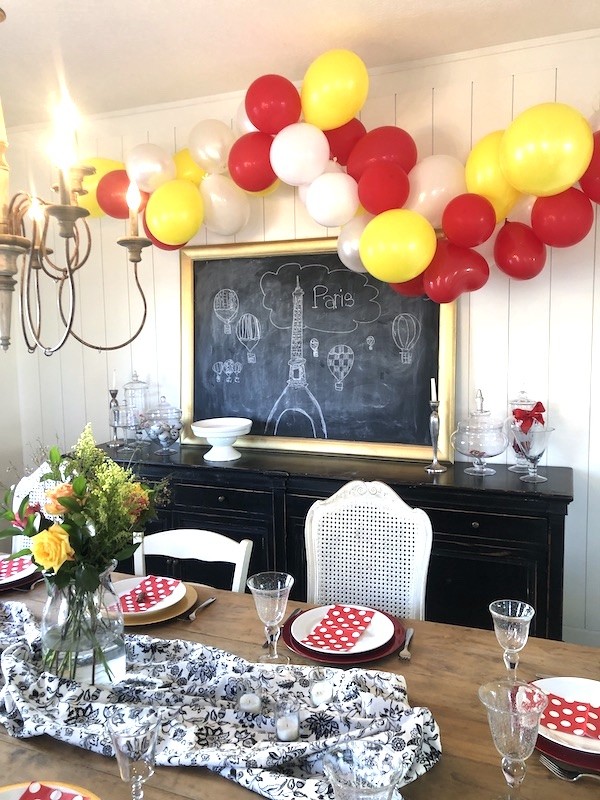 Ella watched the movie Ratatouille and fell in love with all things French!
Luckily I like French things too!
Choosing colors for the Ratatouille Paris French themed birthday party
Some of the Young Women from church and I made a Valentine balloon arch for a Valentine's Day mask-querade party. (I need to post about it) It was pink, white, red and black. We hung it over the X and O photo backdrop that I made.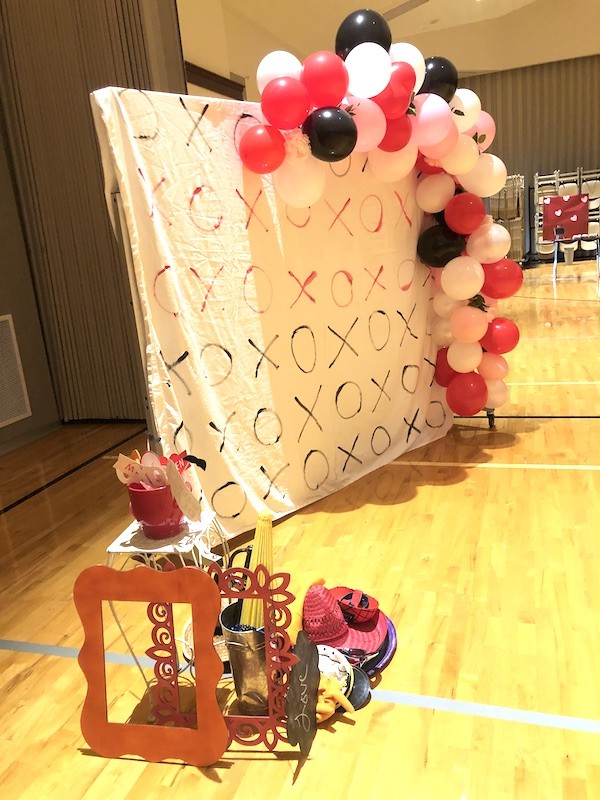 The two keys to making these balloon arches are 1. balloon tape and 2. a balloon inflater!
Total game changer!
I popped all the pink and black balloons and replaced them with yellow ones that brought in the French feel for me.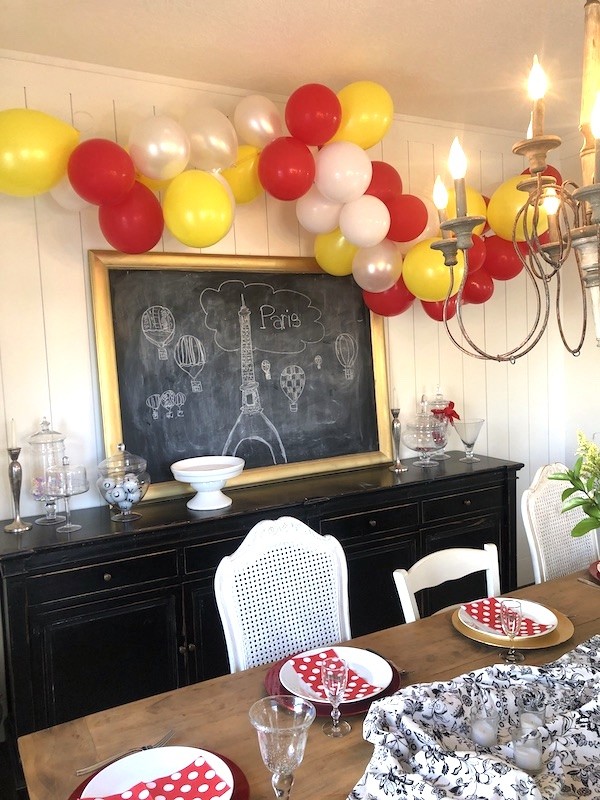 I love it when I can re-use a balloon arch over and over. In fact I used it one other time for another party that I will be posting later this week.
3 times I was able to use it over three weeks!
Hanging the balloon arch in my dining room over my large chalkboard, kind of created a French awning feeling.
Chalkboard French Eiffel Tower artwork
On my chalkboard I drew a cute little Eiffel tower with hot air balloons.
My cousin made a huge cookie Eiffel tower a few years ago for my mom's 75th Birthday party and I should've made one for this party!
Found it on Pinterest and copied it as best as I could but I am not an artist by any means as you can probably tell 🙂
I think it turned out pretty cute!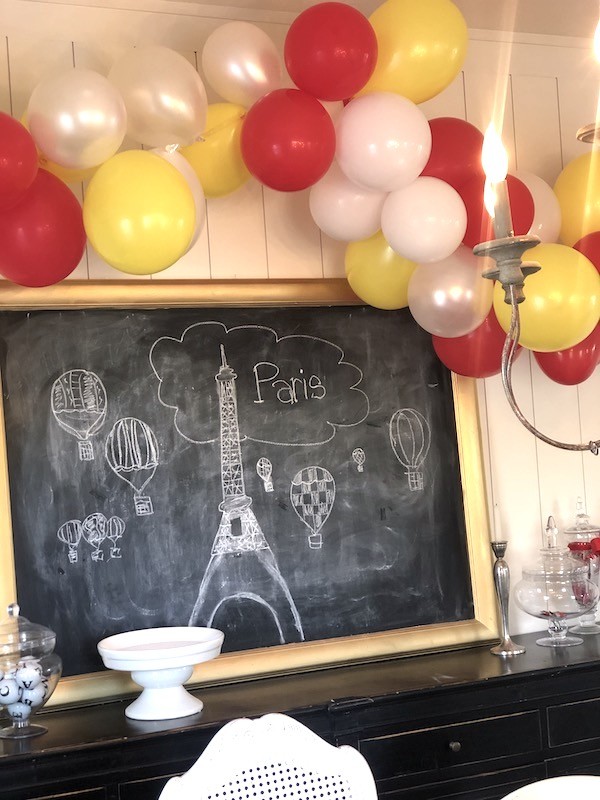 You may remember how I used the chalkboard for my daughters wedding reception here or when I used it here for a fall birthday celebration here.
Ratatouille Paris French themed tablescape
For the Paris French themed tablescape I had a black and white toile type looking curtain and laid it down the center of the table as a runner.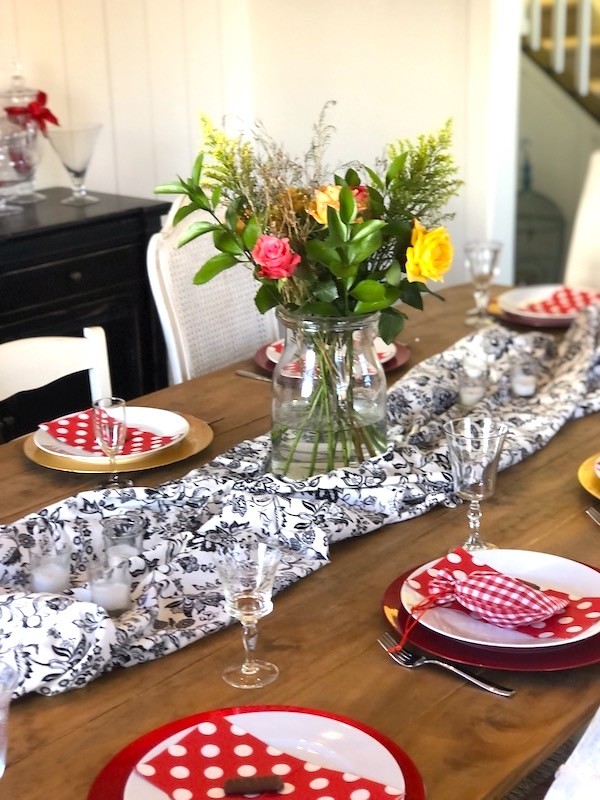 I added 6 votive candles and a large bouquet of roses left over from Valentine's day. I use these votive candles all the time.
Remember this outdoor romantic tablescape I put together for my hubby in our backyard under a tree?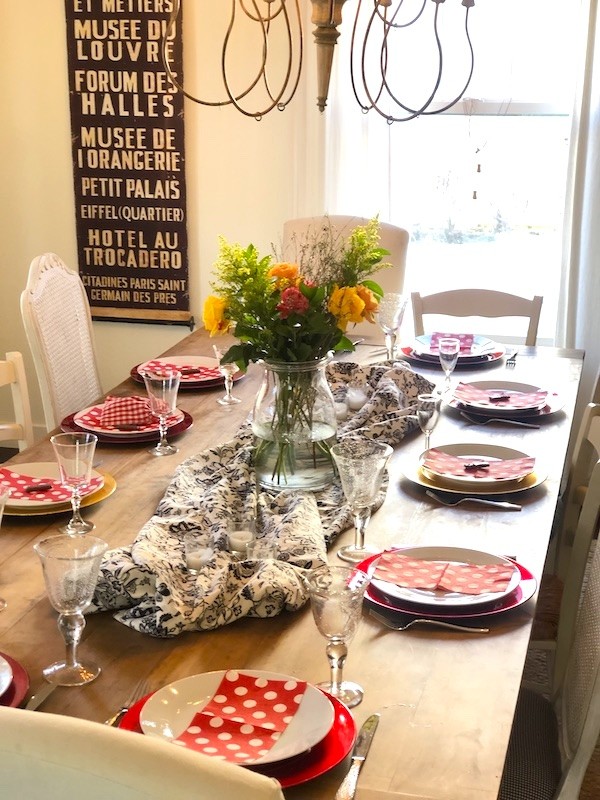 For the place settings I brought out my red chargers, white dinner plates, red and white polka dotted paper napkins and clear bubble glass goblets.
If you love polka dots you will love this!
Here is another tablescape you will love!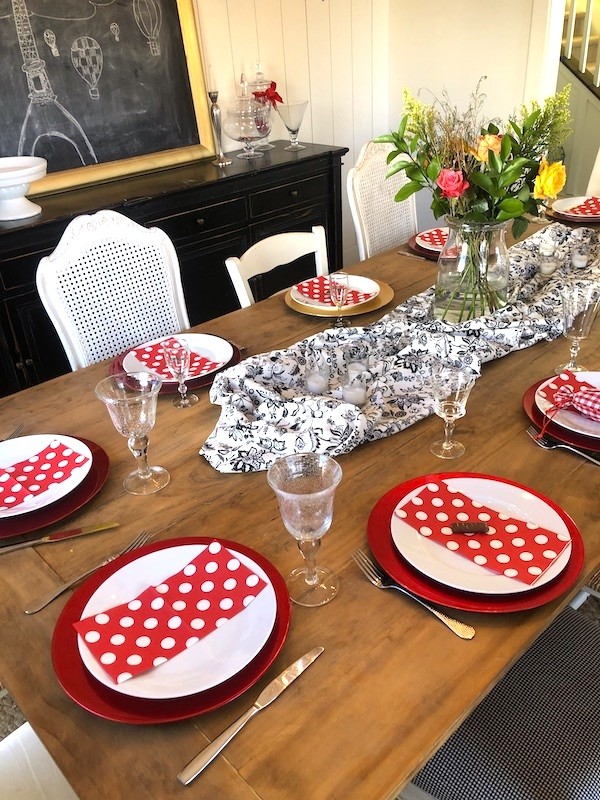 Ratatouille recipe
After my granddaughter watched the movie Ratatouille she decided that she wanted to have Ratatouille for dinner!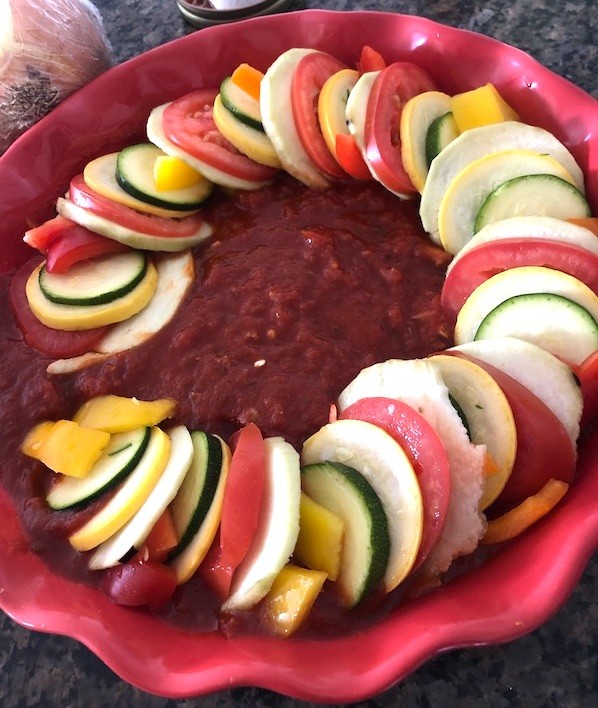 I had never made it before.
I found a simple recipe from Disney but I changed it up quite a bit!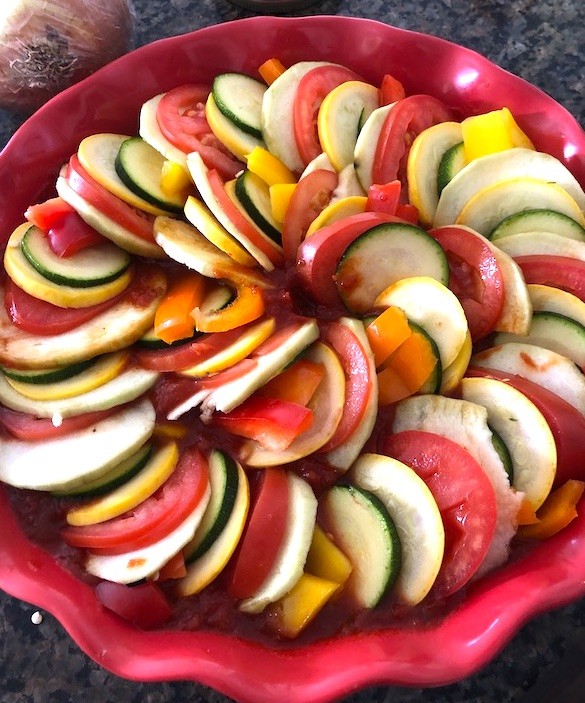 It is basically a marinara sauce with sliced zucchini, eggplant, yellow squash, tomatoes and orange, yellow and red bell peppers!
When you bake it you cover it with parchment paper.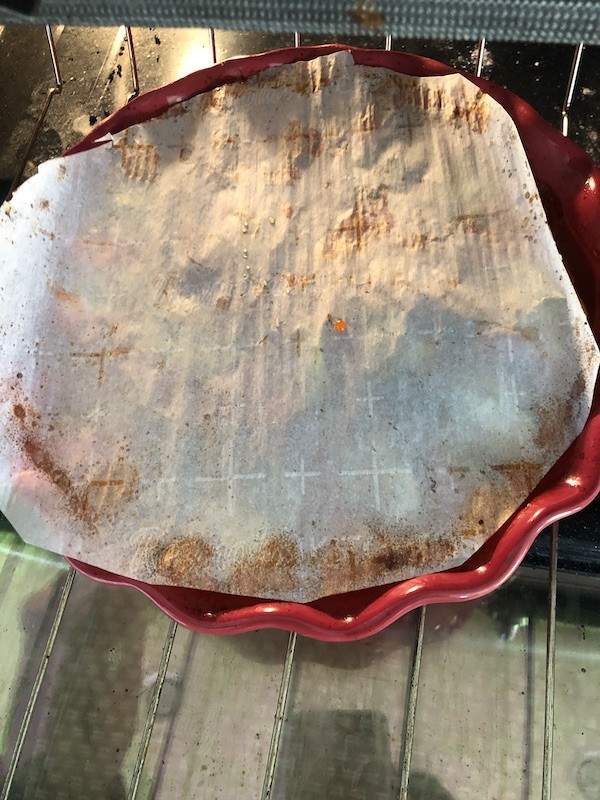 Such an easy French dinner! Super easy to make and so yummy!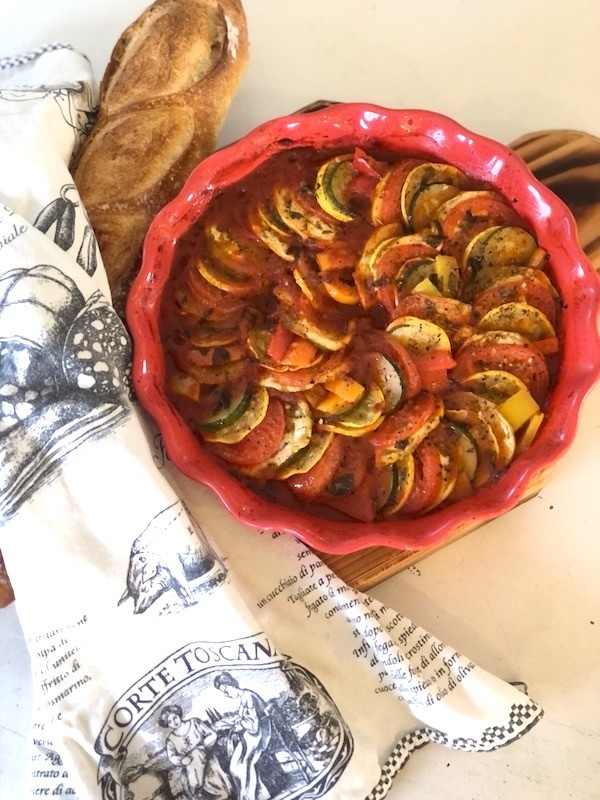 Brownies for dessert
Ella decide that she wanted brownies…just plain brownies. I just used Ghirardelli box mix and made them in my brownie pan.
I served it on my cake stand that I made using no glue!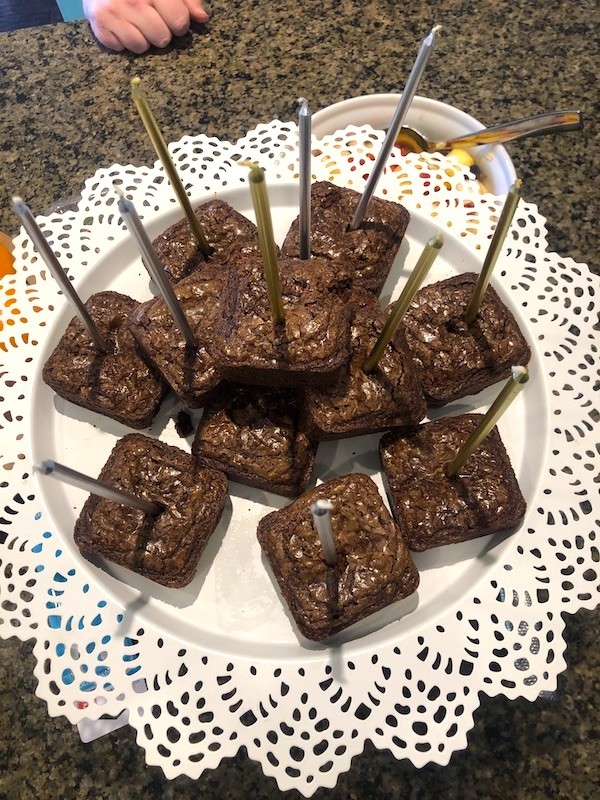 Shop for items from this post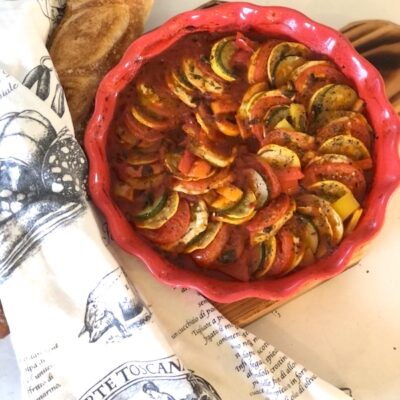 Easy Ratatouille
Delicious sliced vegetables baked in marinara sauce and topped with mascarpone cheese
Ingredients
1

bottle Michaels's of Brooklyn Marinara sauce

salt and ground black pepper to taste

4

roma tomatoes

1

small eggplant

peeled, and very thinly sliced

1

zucchini

trimmed and very thinly sliced

1

yellow squash

trimmed and very thinly sliced

1

red bell pepper

cored and very thinly sliced and cut in half

1

yellow bell pepper

cored and very thinly sliced and cut in half

1

orange bell pepper

cored and very thinly sliced and cut in half

3

tablespoons

olive oil

or to taste

1

tablespoon

fresh basil leaves or to taste

3

tablespoons

mascarpone cheese
Instructions
Step 1

Preheat the oven to 375 degrees F (190 degrees C).

Step 2

Spread marinara sauce into the bottom of a 10-inch round baking dish.

Step 3

Slice all the vegetables thinly. Arrange alternating slices of eggplant, zucchini, yellow squash, tomatoes, red bell pepper, and yellow bell pepper, starting at the outer edge of the dish and working concentrically towards the center. Overlap the slices a little to display the colors. Drizzle the vegetables with 3 tablespoons olive oil and season with salt and black pepper. Sprinkle with basil leaves. Cover the entire dish of vegetables with a piece of parchment paper cut to fit the inside.

Step 4

Bake in the preheated oven until vegetables are roasted and tender, about 45 minutes. Serve with dollops of mascarpone cheese.
How to serve
We served this over angel hair pasta. But you could also serve it over rice or quinoa. You could even serve this as just a side dish. The mascarpone totally makes this dish!
Pin for later