I cannot wait to show you how to set a Buffalo Plaid Christmas Table.
This post contains affiliate links. "If you use these links to buy something I may earn a commission at no extra cost to you"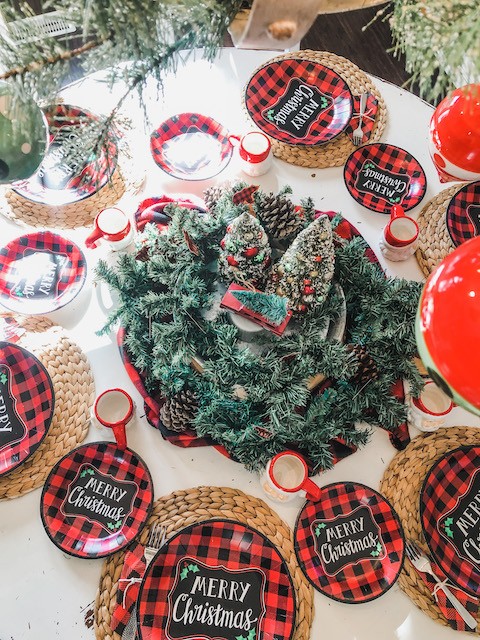 I bought these darling buffalo plaid Merry Christmas paper plates on Amazon to set my Christmas table. There are so many adorable Buffalo checked paper goods to choose from.
They look like real plates.
Everything from black and white to red black and white. I loved these because they say Merry Christmas on them.
How I Start to Set the Buffalo Plaid Table
I set this up in my kitchen nook on my white round table.
You might remember that we got this table at a thrift store and painted it white.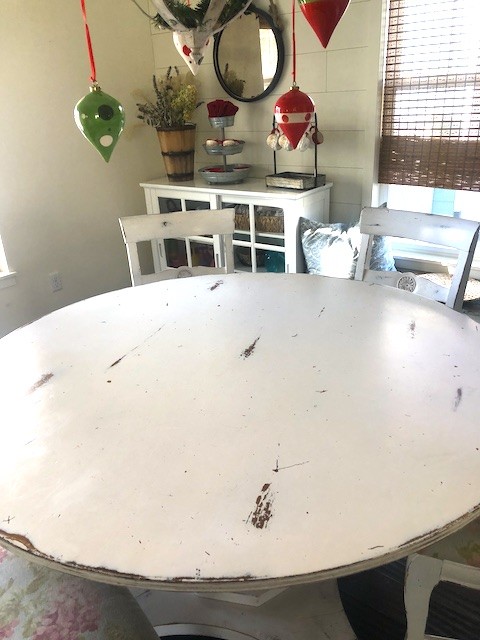 Then I gather all the items I think I might use to create the Buffalo plaid table.
I like to shop my house to find unique things like a galvanized cake stand, buffalo check blanket, wood slab platters, pinecones and even a red tin coffee pot.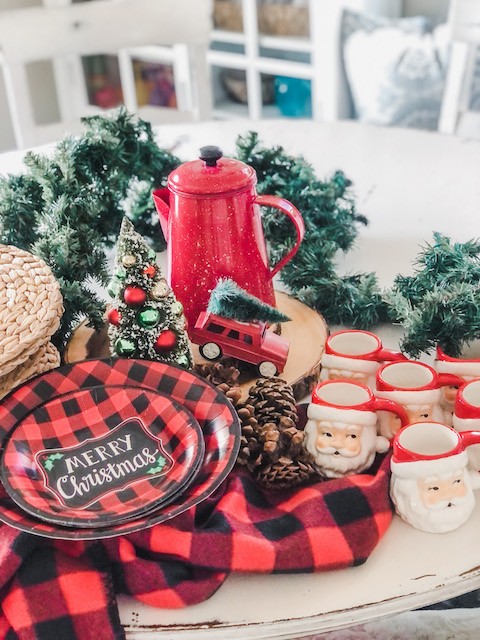 To add color the to center of my white table I added the lightweight red and black Buffalo Check blanket.
To bring in texture to the table I love using my woven placemats even when using paper plates.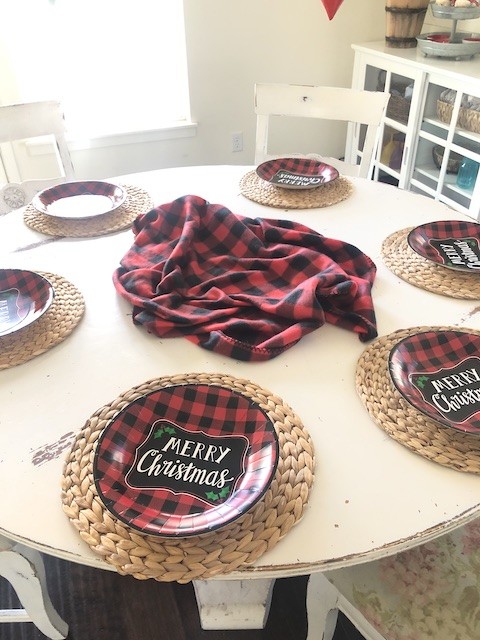 Create the Buffalo Check Plaid Centerpiece
Once I have the texture and color figured out I can begin to figure out the centerpiece. I decided I wanted the centerpiece to be lifted up off the table a little bit so I used my galvanized cake stand. Placing the cake stand on a wooden slab and layering it with a green garland and pine cones all around created a rustic look.
In the center of the cake stand I added two bottle brush trees and a darling red truck with a Christmas tree on top.
Who doesn't love little red trucks with Christmas trees on it!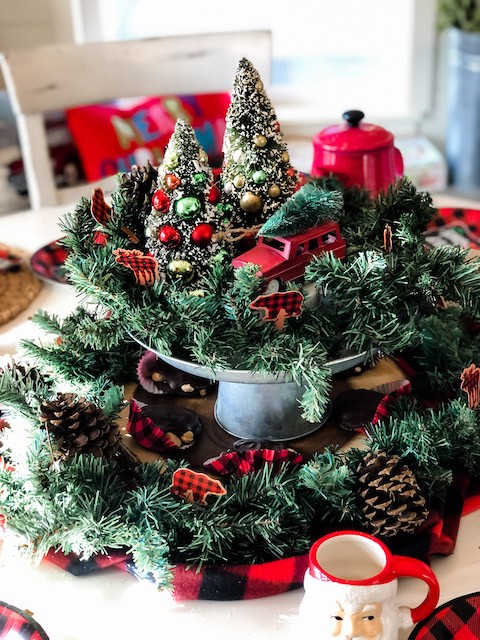 In the centerpiece I used the darling Buffalo Check woodland party cupcake sticks!
They are so dang cute I can't even take it! They come in bears and moose cutouts to add that rustic Christmas feeling.
You could use obviously use them on a cupcake but I decided to have them wandering in the woods. hehe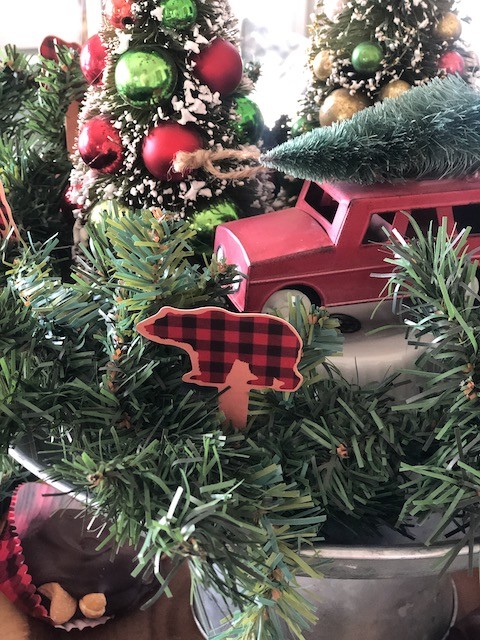 The cute Buffalo plaid cupcake liners were perfect to hold my moms chocolate turtles which she sells.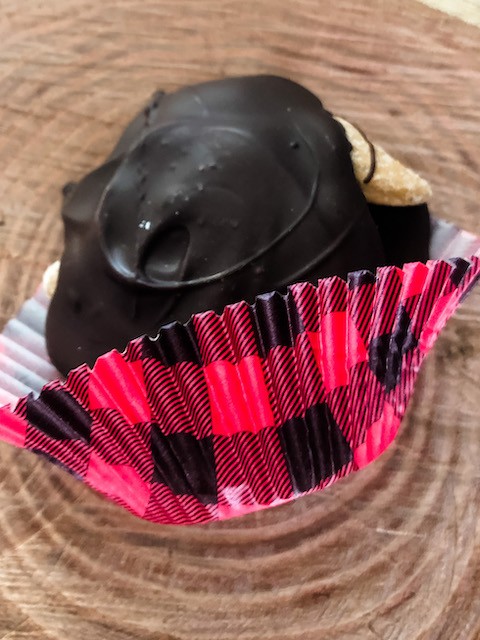 Buffalo Plaid Place Settings
My sweet mom gave me these Santa Mugs a few years ago and they are my favorite things!
I created a Hot Chocolate bar using them and my grandkids went crazy for them!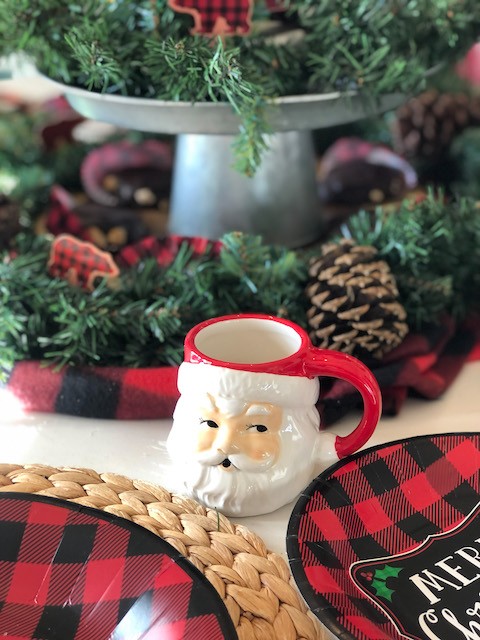 These paper plates just make this tablescape!
Matching napkins complete the place settings.
I simply tied the napkin with a little string and placed a fork in between the string and napkin.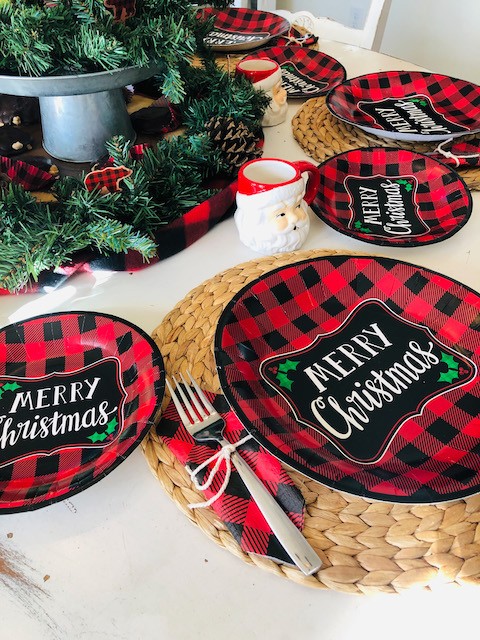 Chandelier Christmas Decorations
To bring in more of the red and green color I added tear drop ornaments hanging by a ribbon off the chandelier.
In the center of the chandelier I placed a little bit of greenery to bring in the wood look and feel.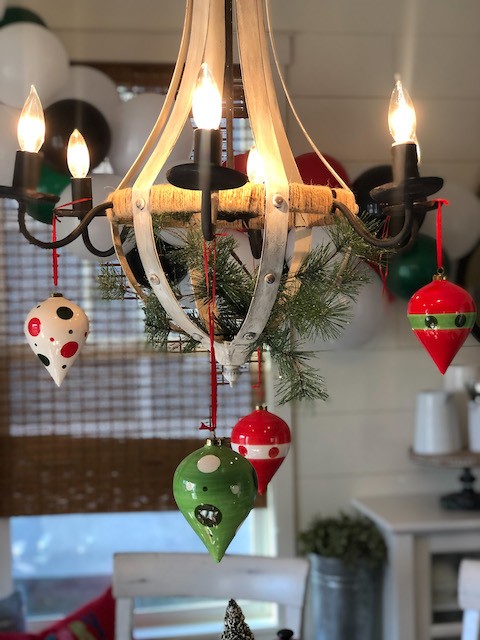 Christmas Balloon Arch for Buffalo Plaid Table
These red green black and white balloons match the Buffalo plaid perfectly.
To make the balloon arch feel more like my woodsy Christmas theme, I stuck in a few greenery picks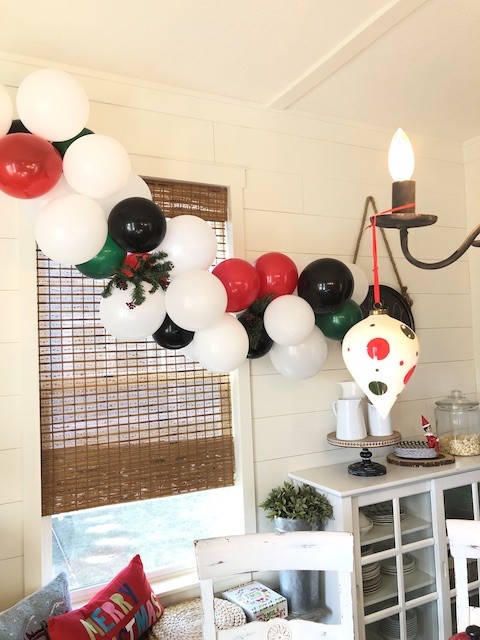 If you don't have one of these balloon pumps you need to get one today!
They are the best things going and make creating a balloon arch easy peasy!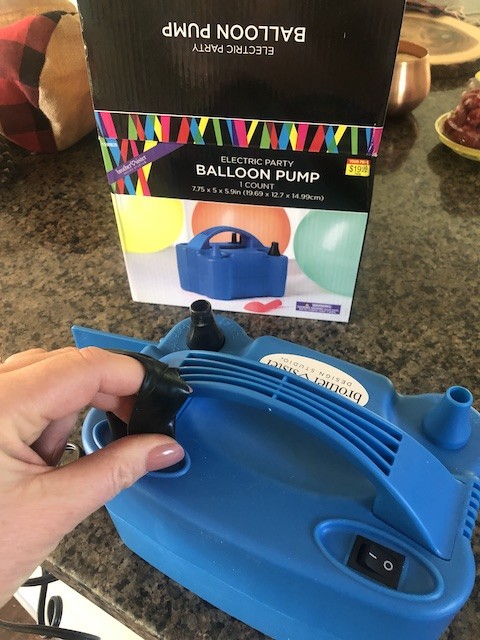 One of the easiest ways to create a balloon arch is to use a needle and thread. You simple take a long piece of thread and feed it through the tied part of the balloon. Then slide each balloon down the thread.
But balloon arch kits like this one are amazingly simple!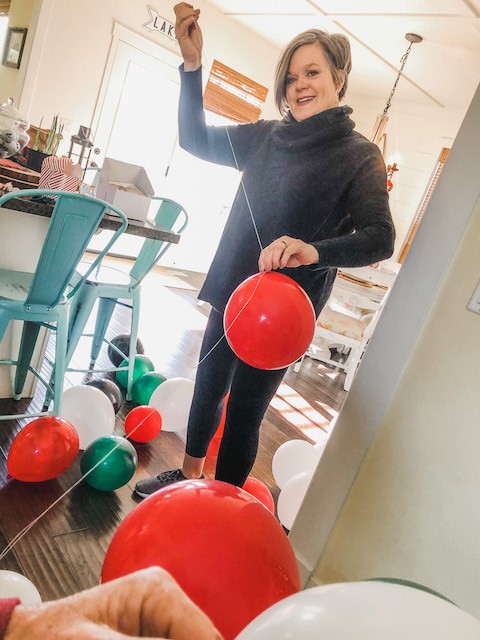 To create a fun look to the balloon arch blow up the balloons in different sizes.
Some large, medium and small.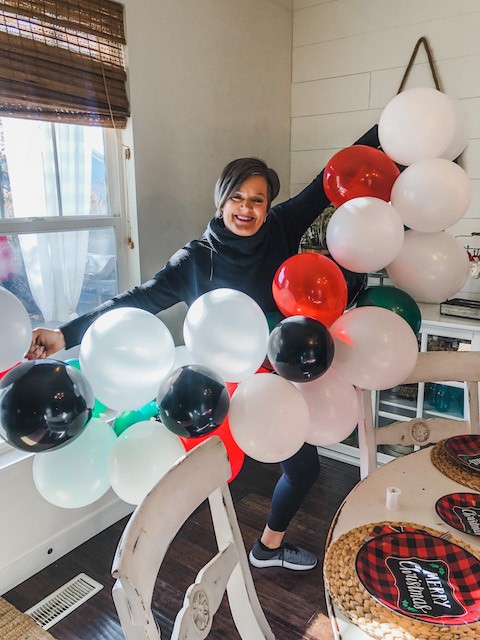 Here you can see the faux Christmas greenery stems in between some of the balloons to again bring in the woodland look.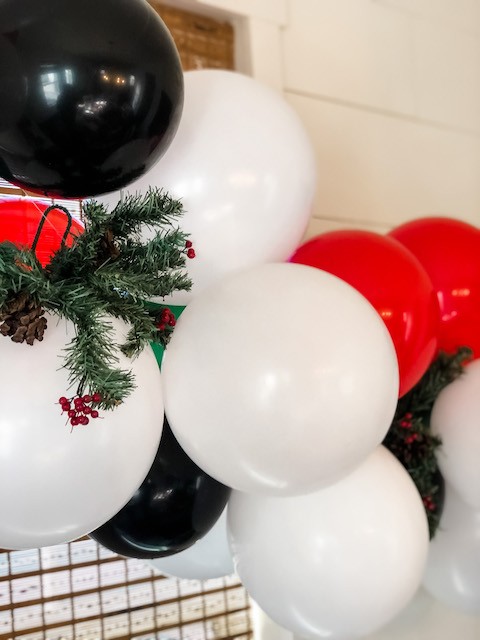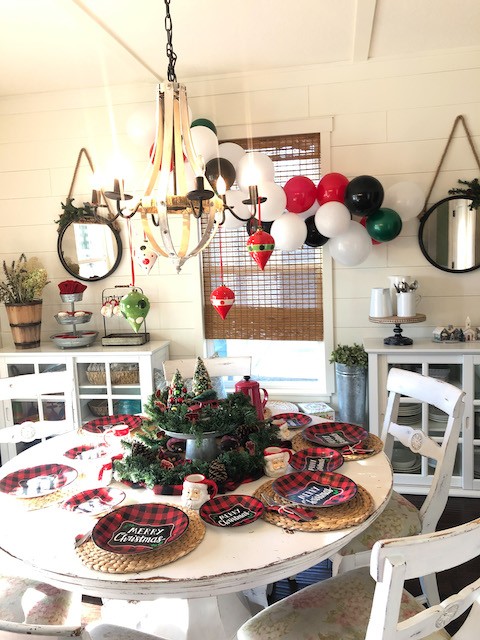 Other Fun Christmas Decorations
On one of the sideboards I have a little stack of black and white polka dot plates with a little elf sitting atop. He is so cute!
The grandkids love playing the musical elf finding game.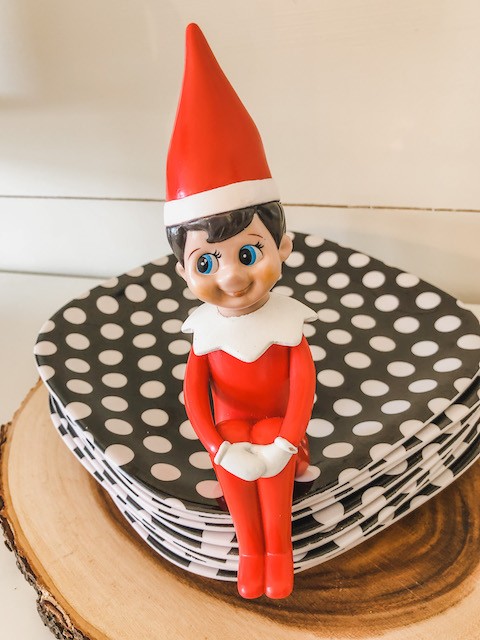 On the bench below the window I have these super cute bright colored Christmas pillows that just add to the fun of the kitchen nook.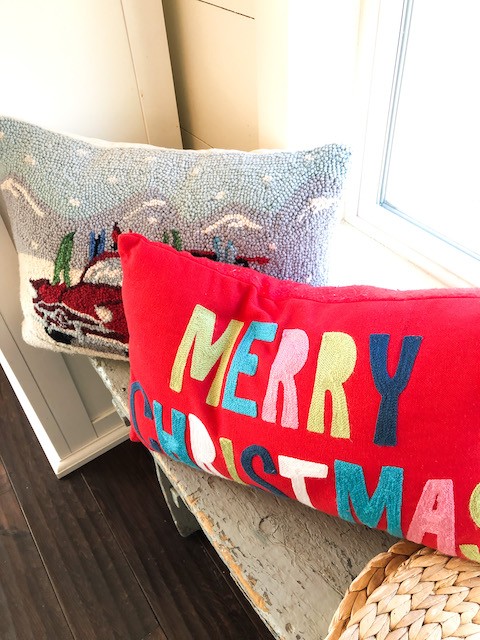 Here is the complete Buffalo Check Christmas table in the kitchen nook.
Do you remember this other red and lime green Christmas tablescape I did in the kitchen nook?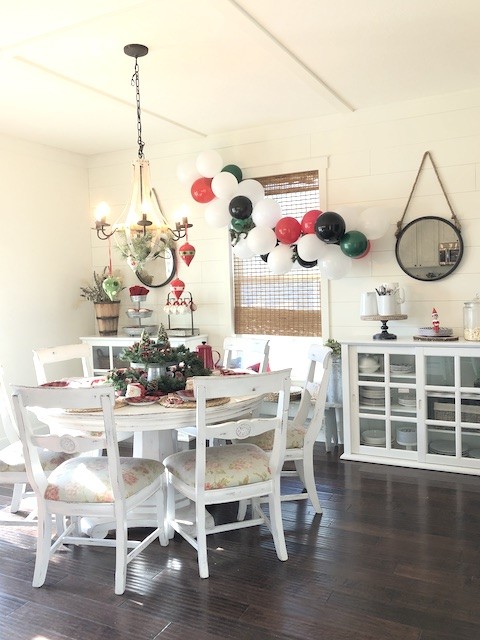 Other Christmas Posts You Might Like
Coastal Christmas Napkin Rings and tablescape
Karins Kottage Christmas Home Tour
Christmas with the Kranks Ugly Sweater Christmas party
Anthropologie Inspired Christmas Kitchen Nook
Visions of Sugar Plum Fairy Tablescape
Sparkly Silver and Blue Christmas Tablescape
Shop Woodland Christmas tablescape Items