Welcome to Fashion Friday!
I have had such a desire to wear some spring clothes with a nautical look.
I bought this fun red and white skirt from a darling boutique by my house called
The Nest
a year or so ago and I just love the flow and feel of it!
I paired it with my light blue button down blouse and a "kind of" periwinkle blue linen jacket for fun!
I love tailored linen jackets… I can't remember where I purchased this jacket from but most likely it was JCrew. I love their tailored looks.
If you liked this Fashion Friday you will love this one too!
Houndstooth capri pants with black vest and yellow sweater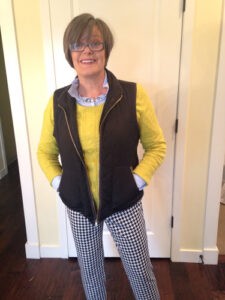 Hope you are enjoying your Friday… I am working on some
home decor projects
over at my daughters house
Plus you have got to see my basement makeover with shiplap!