How to decorate front porch for fall using cornstalks and pumpkins!
Fall is my favorite time of year because of orange pumpkins and cornstalks!
My husband on the other hand is not a huge fan of cornstalks.
He likes how it looks but he hates getting them in the car and the clean up once the holiday is over.
He loves me and puts up with the mess every year until now!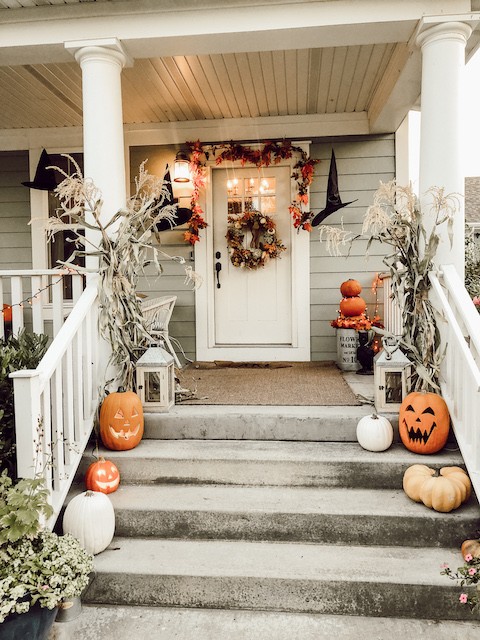 This year I found a young gal selling them on Facebook and she even delivers! Yeah!
That takes care of one of his issues. Then of course once the holiday is over I will clean them up so he won't have to 🙂
Hydrangea Pumpkin Recycled Wreath for Front Door
I think you gotta start with your front door!
Don't you agree?
I wanted a full wreath with fall leaves, pumpkins and hydrangeas.
I took apart an old wreath and created this fall wreath complete with a burlap bow. So fitting for fall!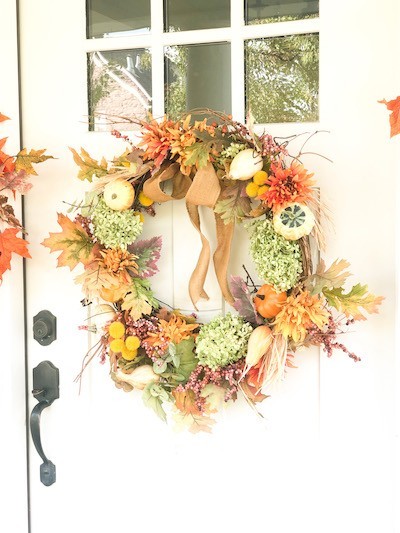 You might remember my tutorial on how I made this wreath?
It is 15 years old and I revamp it almost every year.
You can see my Hydrangea Pumpkin wreath tutorial here
Corn Stalks On Halloween Front Porch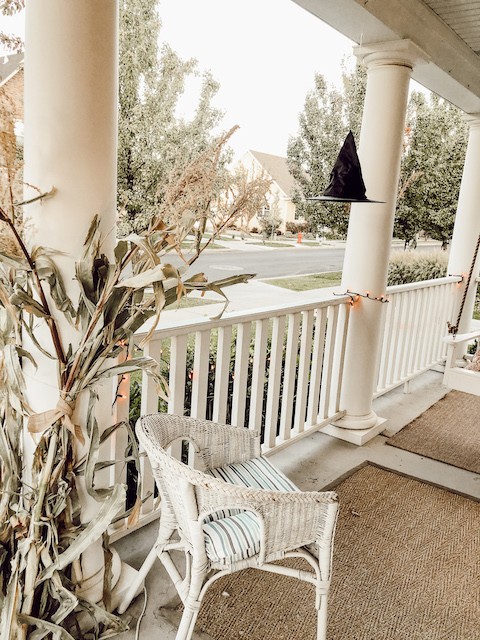 The cornstalks just complete my Halloween Fall look every year!
Even when we lived in Texas I had cornstalks on our porch along with some homemade scarecrows!
A few years ago I had multiple cornstalks on our porch as you can see below before our landscape was fully grown and I loved how it looked.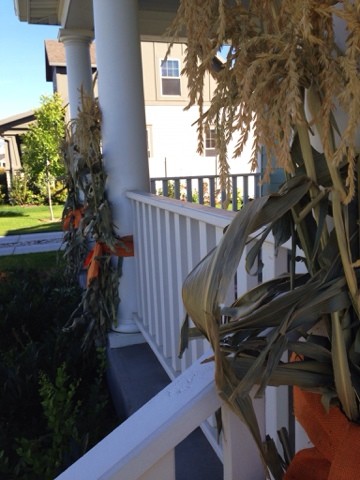 Hanging Witch Hats On The Porch For Halloween
To bring in more of the Halloween look I hung two large witch hats on either side of my front door and three other smaller ones from the porch ceiling above the sitting area.
So spooky seeing witch hats fly around on a windy day!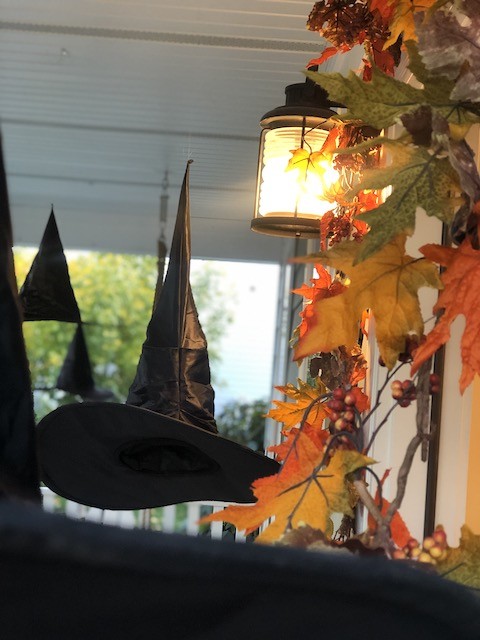 I love these witch hats hanging over the porch swing.
You can see how my porch looked on the 4th of July before we had our swing and when I had an old sewing machine cabinet there as well as red and white striped fabric banners here.
Old fashioned front porches!
There is nothing else that says welcome in my book.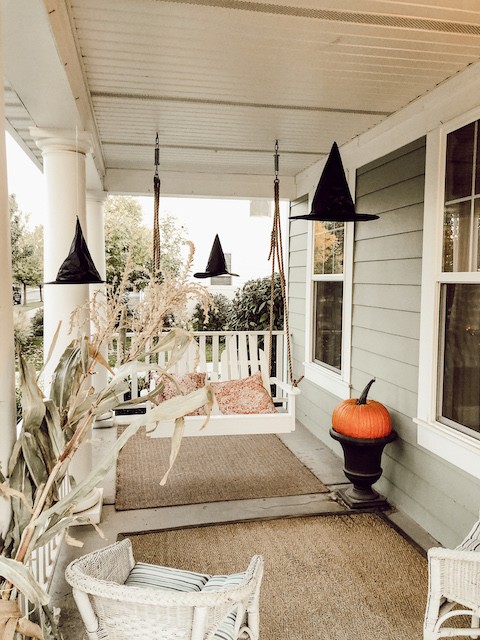 Pumpkin Topiary Tutorial
I almost always create pumpkin topiaries every year for my fall porch too!
If we use real pumpkins, we simply cut the stems off the two bottom pumpkins and stack them on top of each other.
The weight of the middle and top pumpkin helps keep the topiary in place.
You can see more of my pumpkin topiaries here.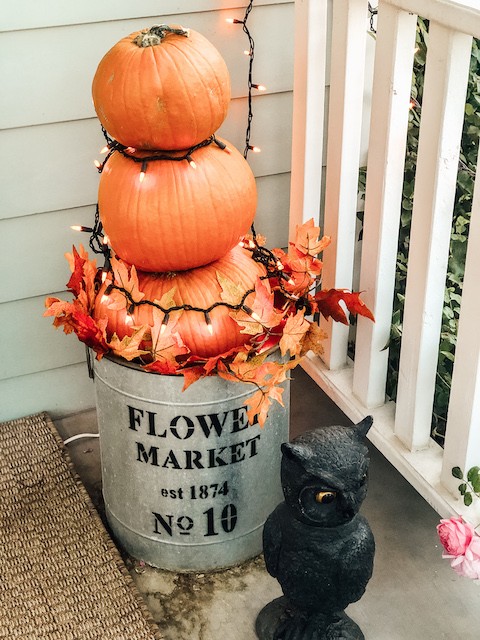 Adirondack Porch Swing
I love our Adirondack porch swing so much!
Swinging in it is one of the favorite things for our grandkids to do with us.
To just sit and chat and watch the neighbors passing by. Y
You can see how my porch looked when I used lots of yellow mums and pumpkins for a fall look.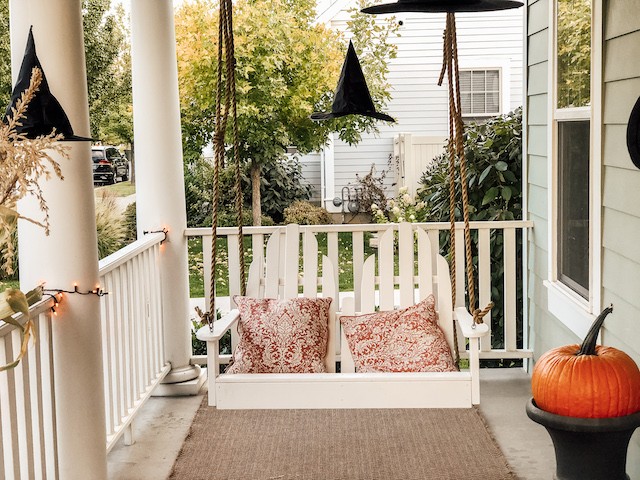 It is beginning to look more like Halloween now
We carved pumpkins with our grandkids last night and they had a blast!
They did a great job even the youngest who is only 5 carved a lot by himself and was so proud of what he was able to do!
The cute little punkins!
If you are are looking to paint your pumpkins rather than carve them this year, you might like my tutorial on how to paint a buffalo checked pumpkin here it is super easy and turned out so cute!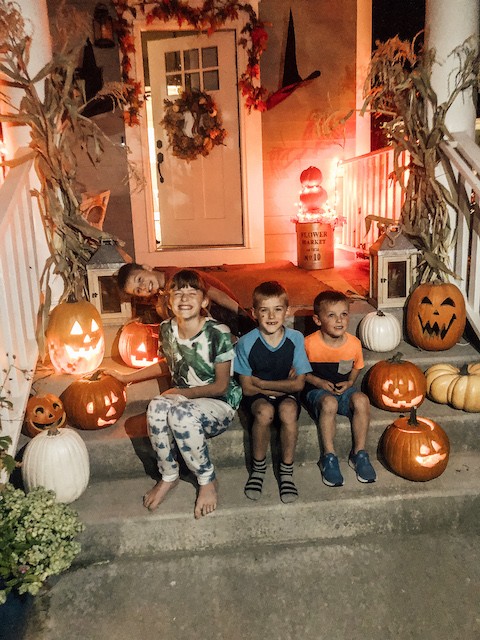 I hope this How to decorate a Fall Front Porch post gives you some ideas and inspiration.
One more thing I love about this look is that after Halloween all I have to do is remove the witch hats and turn the Jack o Lanterns around and it is perfect for Thanksgiving!
Here are a few other Fall posts you will love!
Easy to make fluffy yarn pumpkins (no knitting)
Caramel Apples with drizzled chocolate
Outdoor fall tablescape in backyard
Shop Similar Looks

Pin For Later