Asparagus Pesto Pasta
I made this tonight and it was so delicious it is from BHG Special Interest Heart-Healthy Living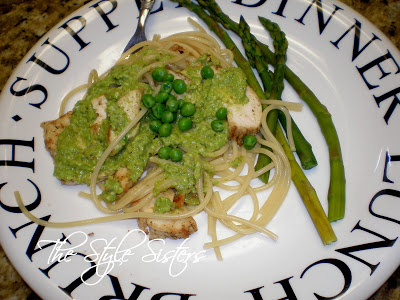 Here is the recipe:
1 Pound fresh asparagus trimmed, cut into 2-inch pieces
1 cup frozen peas, thawed
1 ounce parmesan cheese
2 Tbsp pines nuts, toasted
1 tsp finely shredded lemon peel
2 cloves garlic
3Tbsp olive oil
10 ounces dried fettuccine
1. In a large sacuepan, cook asparagus and peas in boiling water 3-5 minutes or until tender. Drain
2. For Pest, in a blender or food processor, combine half of th asparagus and peas, parmesan cheese, half of the nuts, the lemon peel, garlic, 1/4 tsp salt and 1/4 tsp pepper. Cover and blend with several on and off turns until a paste forms, stopping machine several times with scraping sides.
3. With machine running slowly, gradually add olive oil and blend to the consistency of soft butter.
4. Cook pasta according to package directions. Drain, return to pan. Toss pasta with pesto.
5. Serve pasta topped with remaining asparagus, peas and pine nuts.
6 Servings (2/3 cup pasta and 1/2 cup vegetables)
ONLY 301 cal!!!
This recipe has such great flavor and is so healthy for you!
I used all the nuts when I processed it and it tasted great!
Oh and lots of you have asked about these plates in the past…..the plate is from TJMAXX a couple of years ago the name on the back is Quadrifoglio made in Italy.