Last Summer I started teaching kids in my area cooking classes and they really seemed to love it! I was so surprised by the response of kids wanting to learn how to cook! I taught kids ages 6 to 14yrs and it was crazy and wild but super fun! I am going to start sharing some of the experiences I had along with the recipes and tips to help anyone that might enjoy teaching kids how to cook.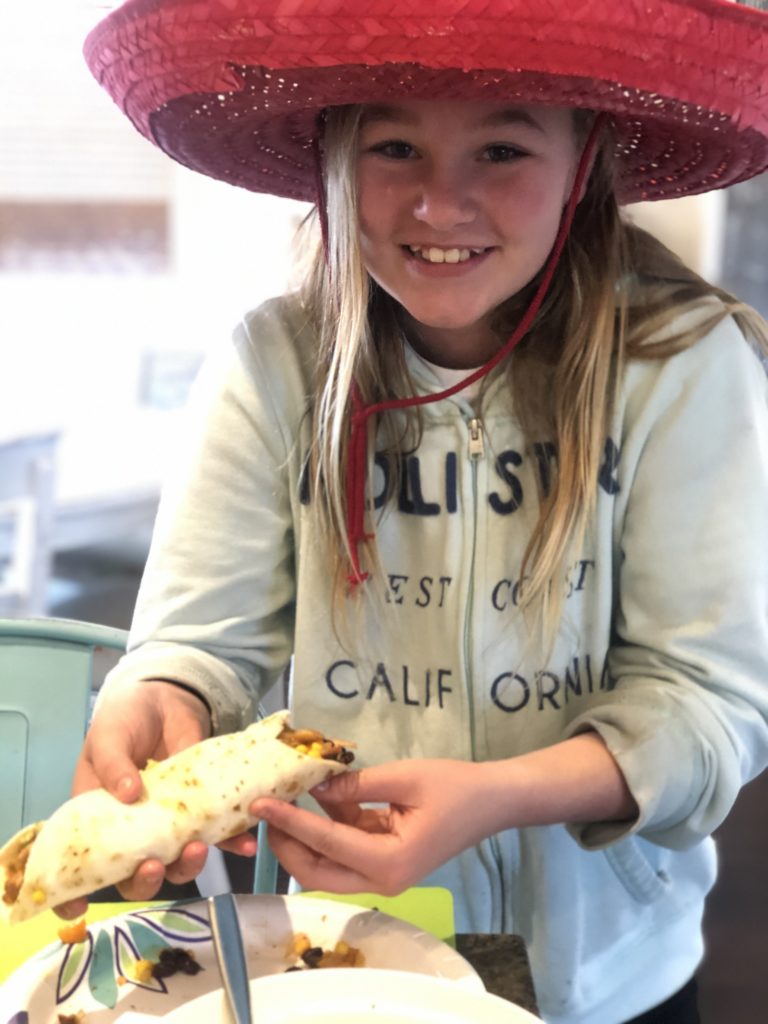 Teaching kids how to cook tacos
The kids absolutely loved learning how to make tacos! I mean really who doesn't love a taco? I started out by having each kid wear a sombrero to set the tone. I love to make it fun for them!
I taught them how to prepare and cook some chicken for their tacos. It is so funny to see some of the kids reactions to raw chicken, "Do I have to touch that?" haha Yes…Yes you do! An easy way to prep the chicken is to have them rub olive oil all over their piece of chicken, sprinkle with kosher salt, plus I always use my favorite seasoning, Beer can chicken seasoning from Weber. I should own stock in this product I use it so often! Then we placed the chicken on a cookie sheet and roast it in the oven for about 45 min. Once it is cooked to the temp of 165F or cut into it and there is no pink, it is done. Next we shred the chicken so it is all ready for their tacos!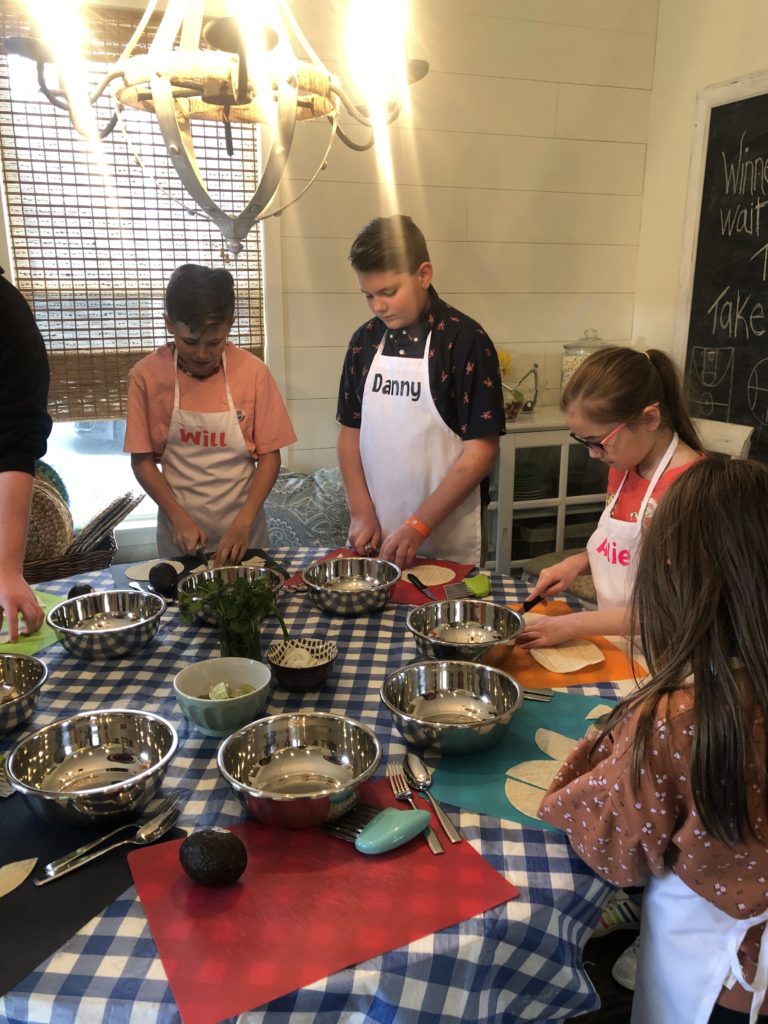 Making Guacamole And Corn Chips
While the chicken is roasting we moved onto making guacamole! I showed them how to cut open an avocado and remove the pit. Then they got to put their avocado in their bowl, add a little salt and pace picante mild salsa and a squeeze of lime. That is my fast go to guacamole. It seriously turns out perfect everytime plus it is so easy to make! They loved that!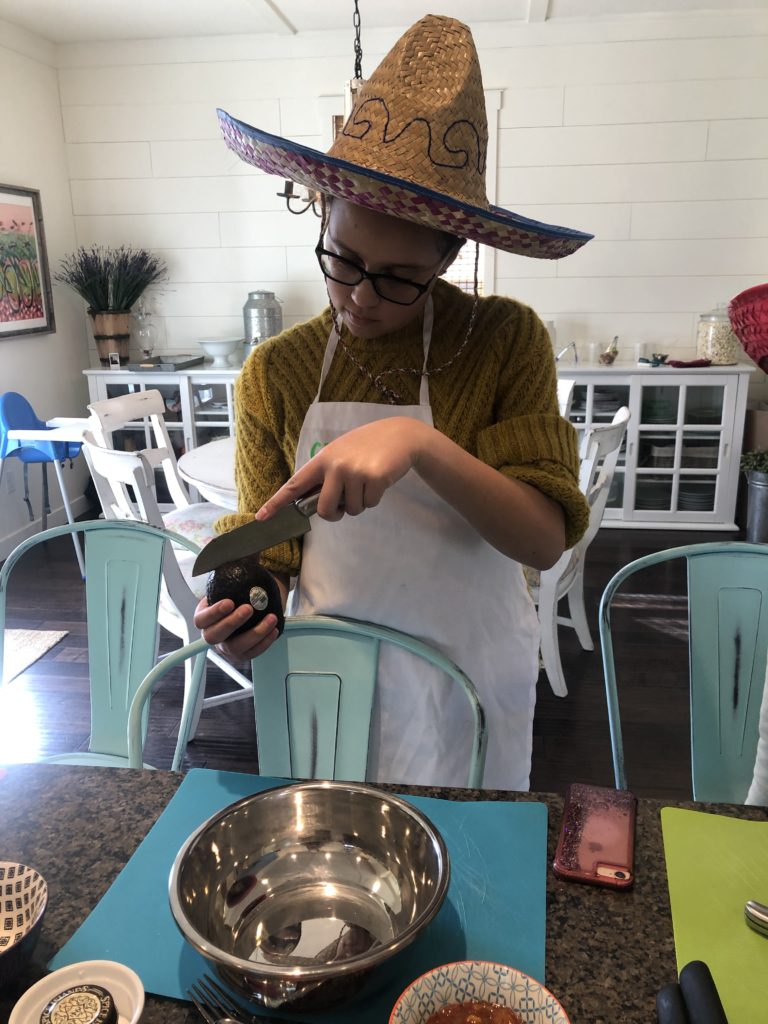 I also showed the kids how to cook homemade tortillas chips. We cut corn tortillas into strips, sprayed them with some pam spray and a sprinkle of kosher salt and baked them on the cookie sheet at 400 until they were golden in color. They used their homemade chips to dip into their guacamole. I told them to save some for their tacos but most didn't they ate up all their chips and guacamole.
Prepping Fresh Taco Ingredients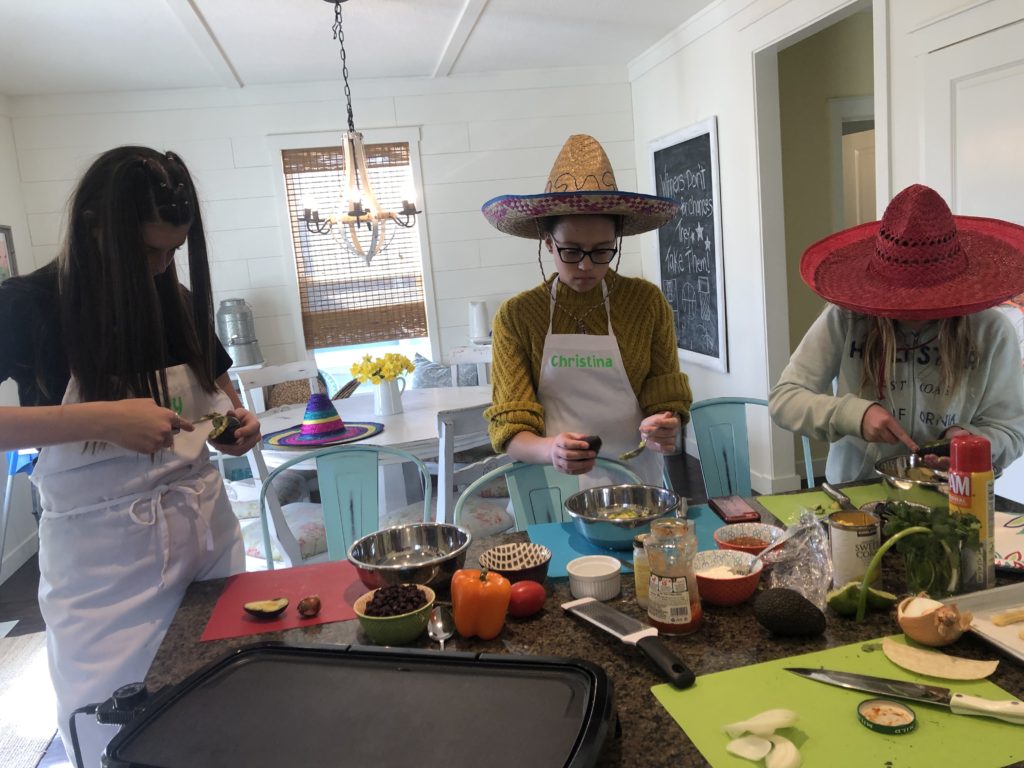 Teaching the kids how to prep fresh ingredients for their tacos with things like onions, peppers, cilantro, tomatoes and olives allows them to use their knife skills. They didn't really like chopping onions because it made their eyes tear up but hey you gotta learn how to cut up onions. Some of the kids would not use the onions in their tacos but that's ok..It is all about the experience and learning how to use a knife and chop or slice. I had them use canned corn and black beans in their tacos so they could use my hand can opener. So many kids did not know how to use a can opener so that was a fun learning experience for them too!
Teaching the kids how to use the griddle
Finally they kids got to take all their ingredients to the griddle and heat things up! First I had the spray their flour tortillas with pam spray and cook them until they bubbled and then flip to the other side and do the same. Along side the tortilla they could put their onions, Black beans, peppers, corn, and tomatoes to cook those things until the onions and tomatoes had a little golden color to them. Adding a little salsa and the shredded chicken last makes sure the chicken does not get dried out.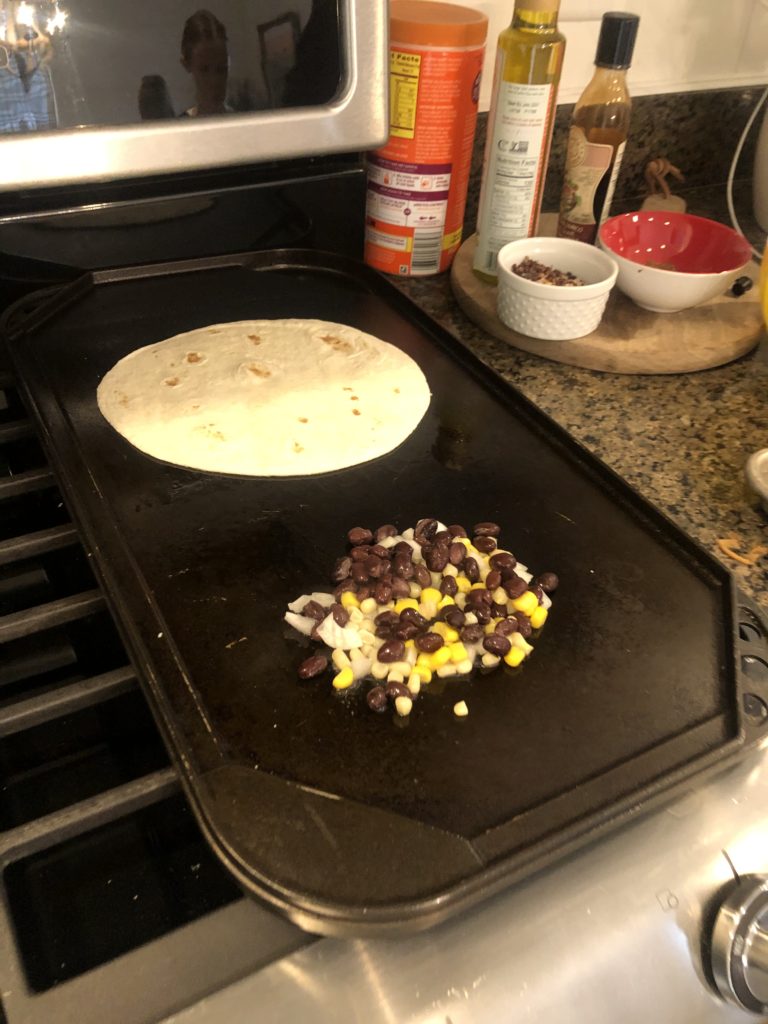 I think in hindsight I would have have had them cook their ingredients in a frying pan so it would have been easier fo them to scoop their taco filling into their tacos but they were able to learn how to use a spatula. Teaching kids how to make tacos is really fun and they come away with some great kitchen skills.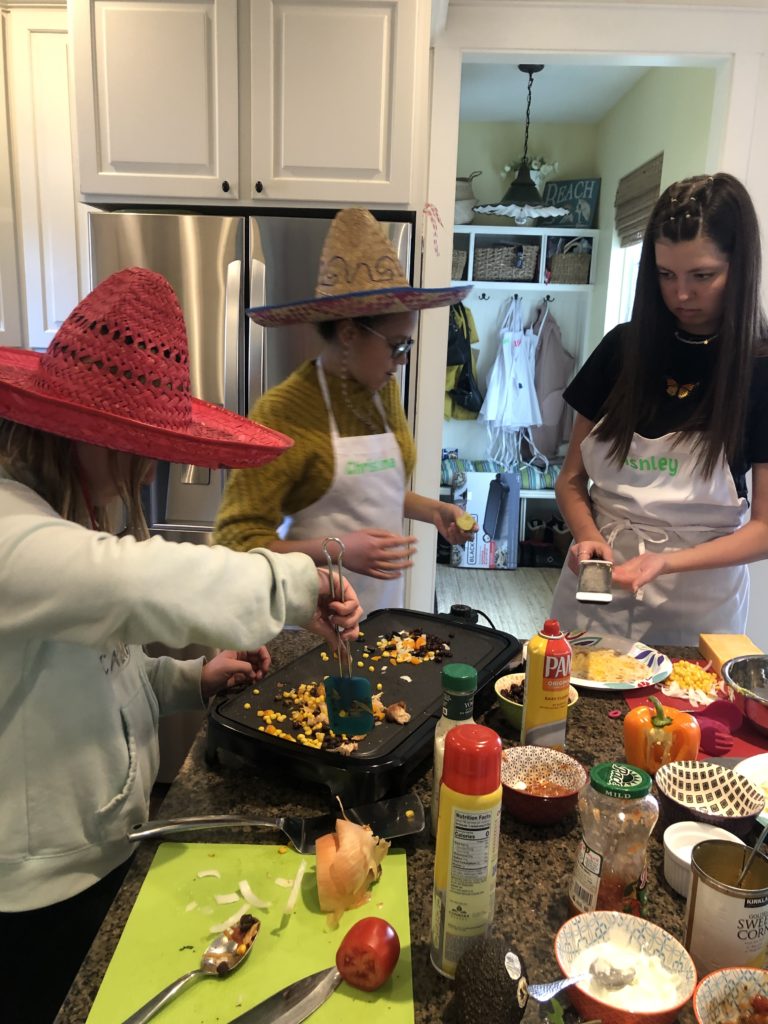 Teaching kids how to cook homemade churros
For dessert we made homemade churros! I had the dough premade because I knew we wouldn't have time to make the dough, press them out and bake them so it saved a little bit of time. They turned out so good! The kids really got into using my press and making the mini churros. Here is a link to the recipe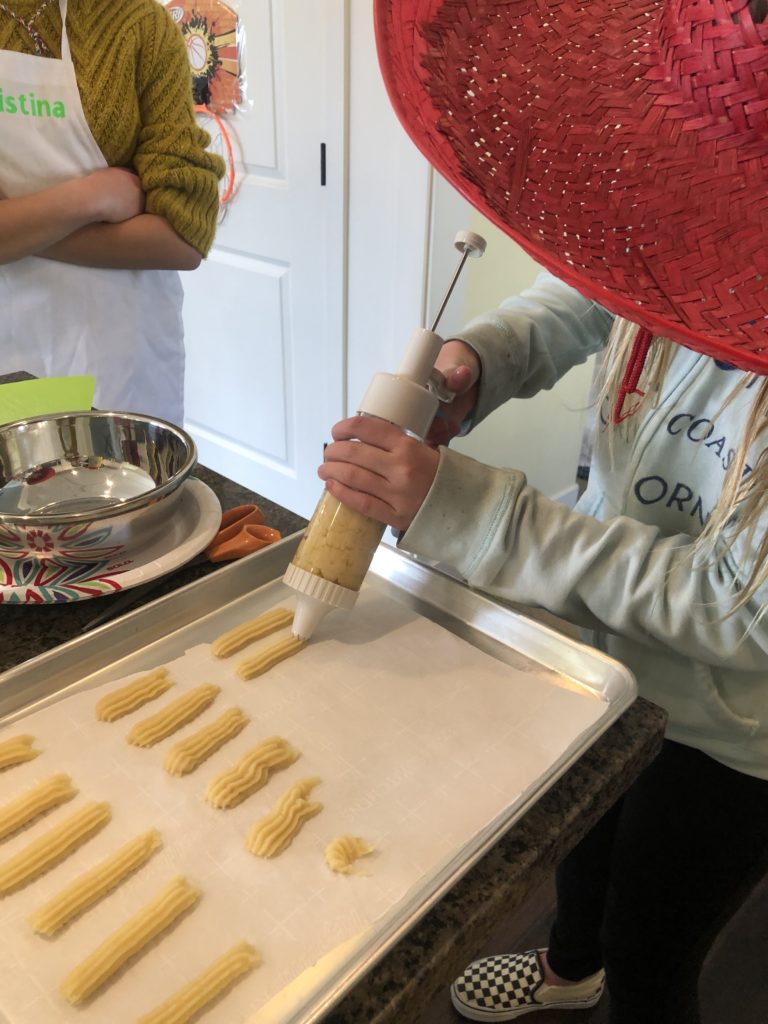 I have links to a similar press and some of the other things we used in my cooking class down below under Shop this post.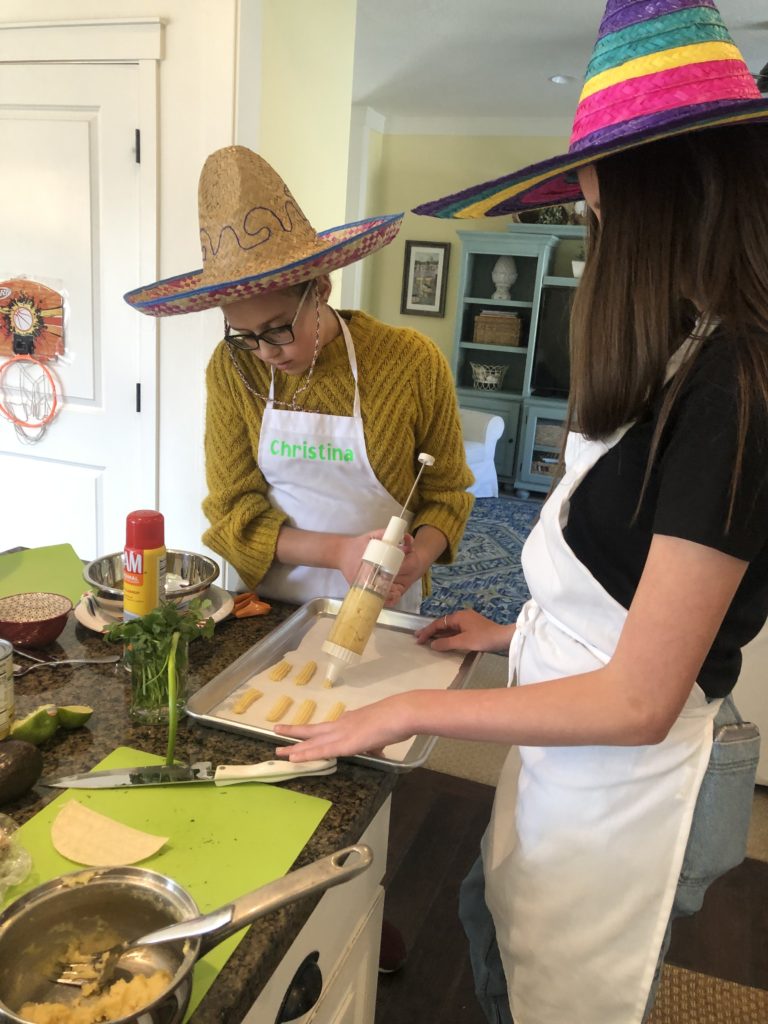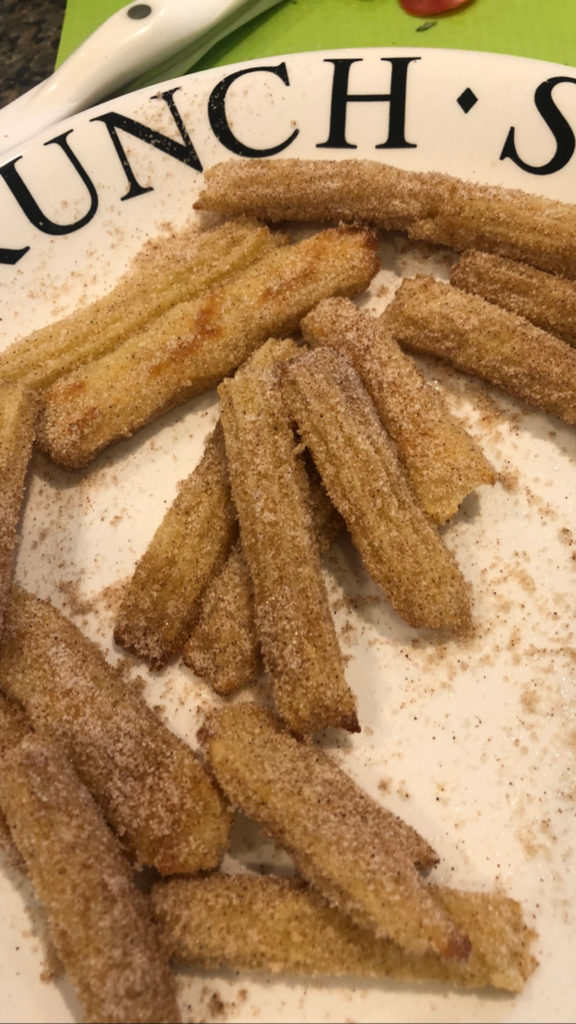 I just loved watching the boys in my classes really get into cooking! Some of them really have a passion for it and they were always willing to try all the ingredients in their tacos.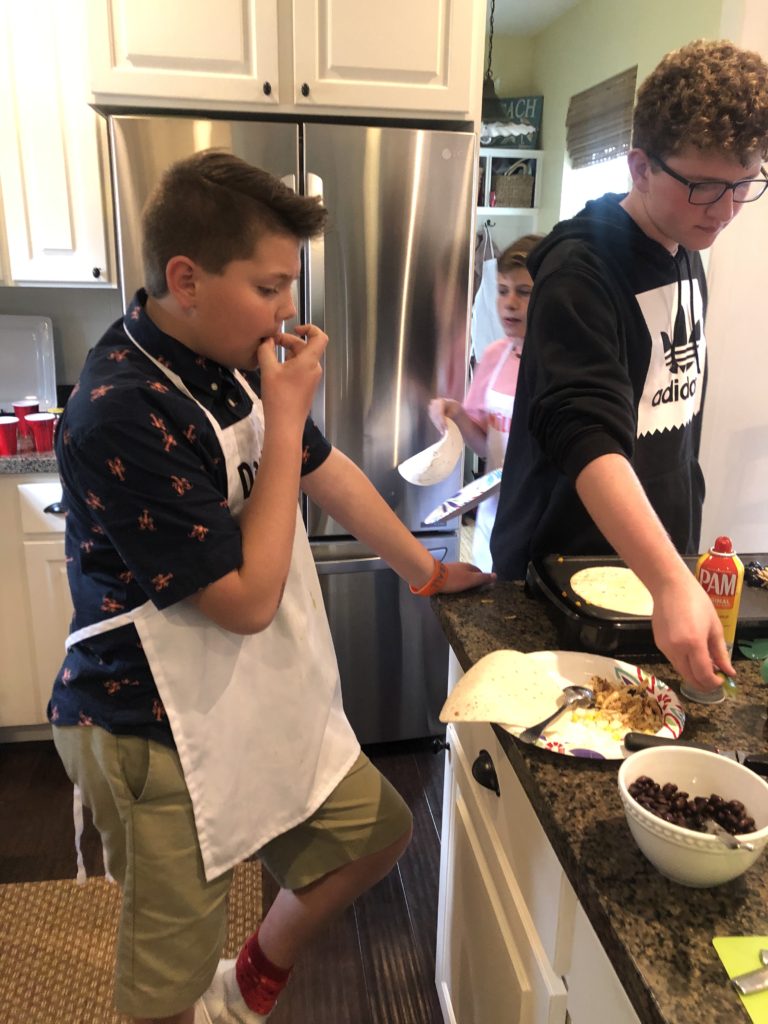 All of the kids in every class loved chatting, laughing and making new friends while learning how to make cook. Sometimes it would get really loud and crazy but always super fun! You might remember this fun Mexican party for my Step Dad's 70th birthday were we used all these fun colorful sombreros. It is really fun teaching kids how to cook.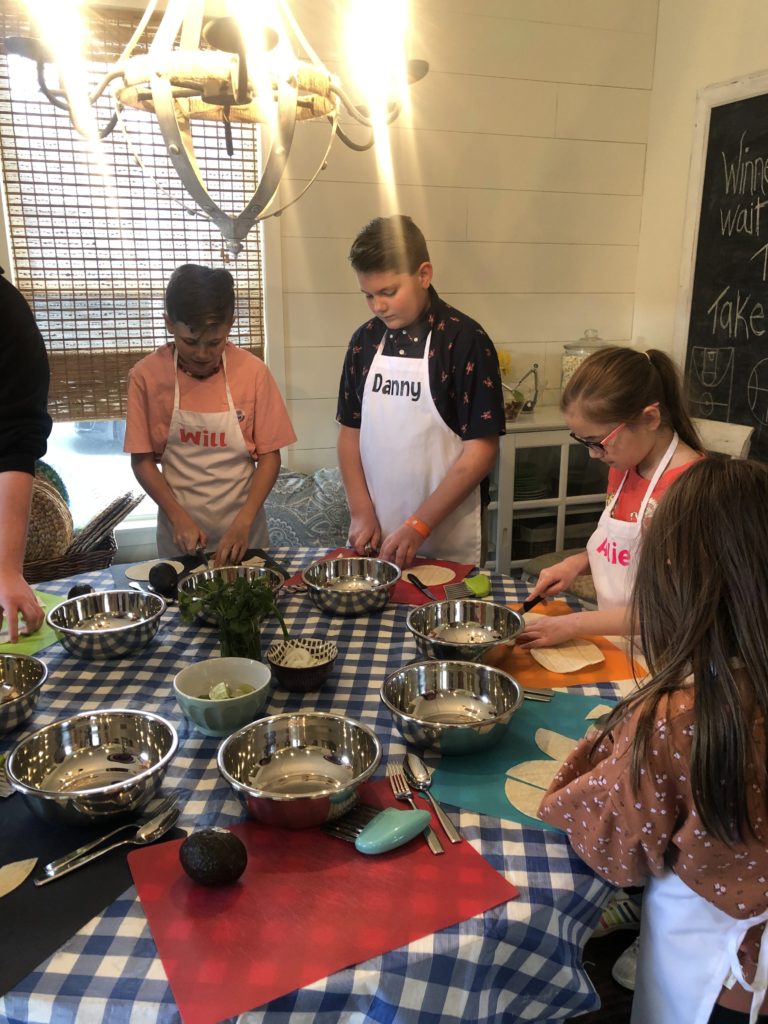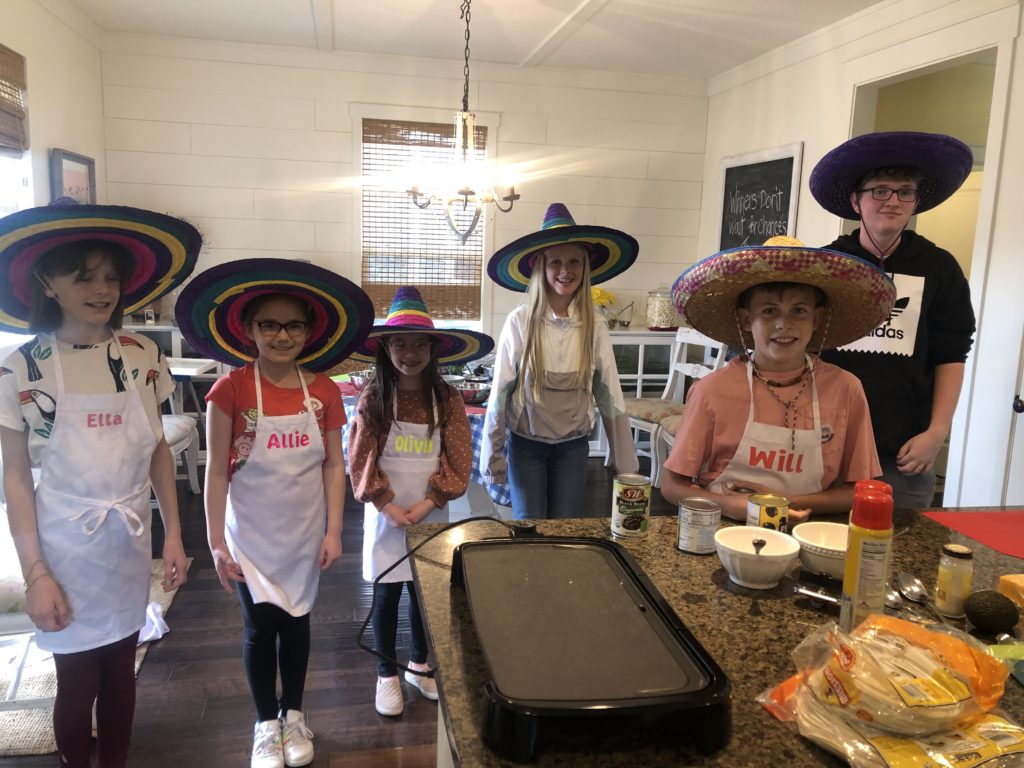 Such adorable kids in every class!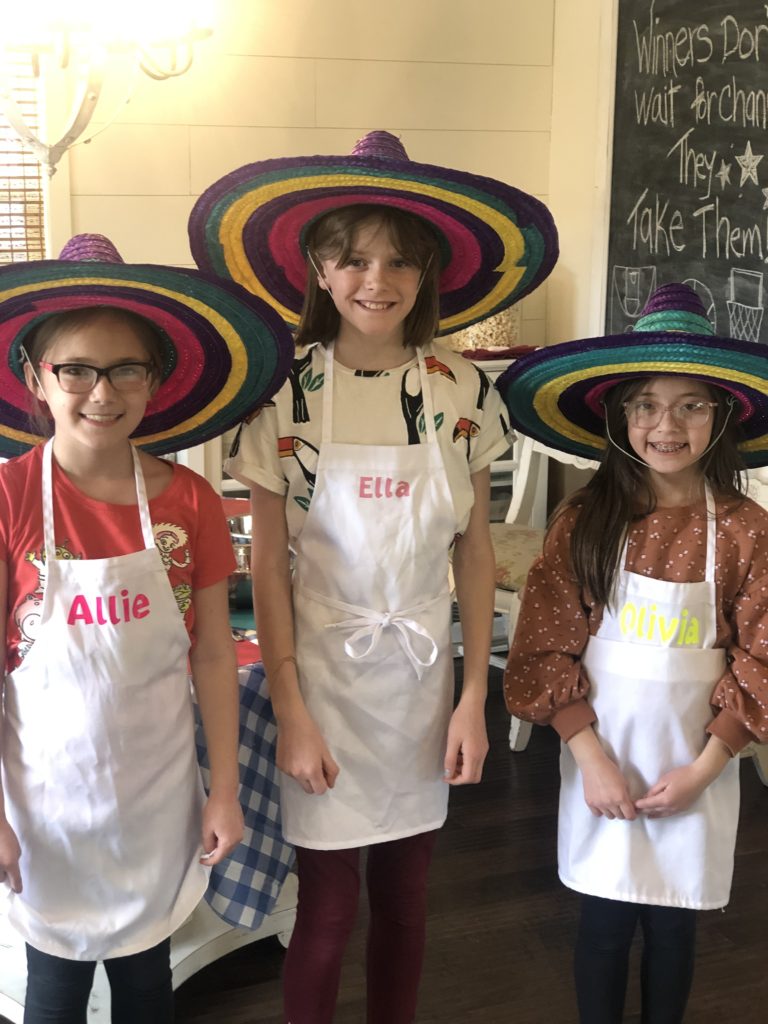 They ate every bite of whatever they made. I was so proud of them and all that they learned while teaching kids how to make tacos. #teachingkidstocook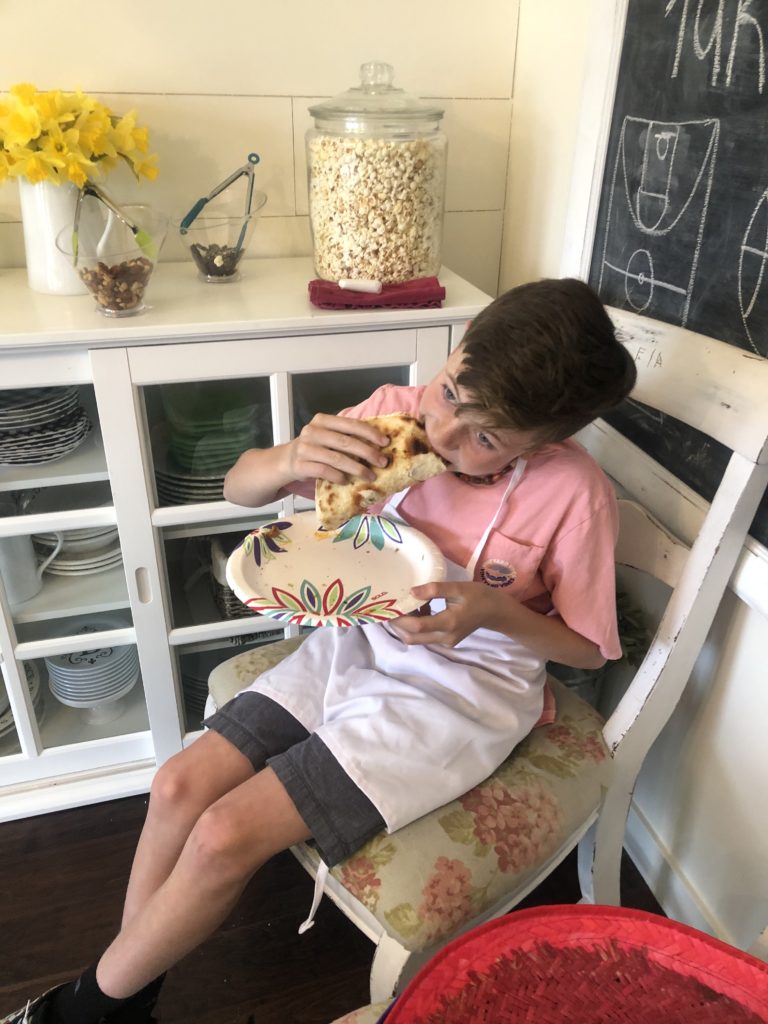 Shop This Post