When Halloween comes around I can't wait to decorate in fun ways! Today I am sharing my bewitching Halloween black and white tablescape complete with hanging witch hats! You will love all the fun tid bits that my daughter and sister came up with for this Halloween witch tablescape. Oh and make sure to check out the Halloween tablescape blog hop at the bottom of my post. Tons of ideas!
If you have followed me over the years you know I love to set a Halloween table. Last year I did an orange and black family Halloween table. I made tulle garlands, made a Jack Skellington hanging paper lantern, fun party favors out of dollar store party hats and more! Click on any of these links to see the details.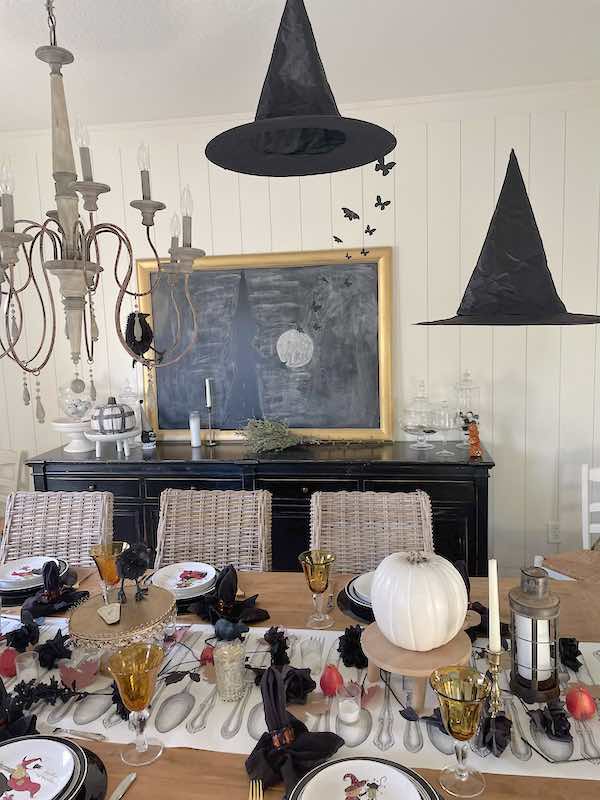 How to set a bewitching tablescape
I started setting this Halloween bewitching tablescape with a black and white silverware paper runner. I have had this paper for years now and I just love it. It comes on a roll and really sets the tone for the look I was going for. Thanks heavens for my daughter and sister because my back has gone out and they did all the work!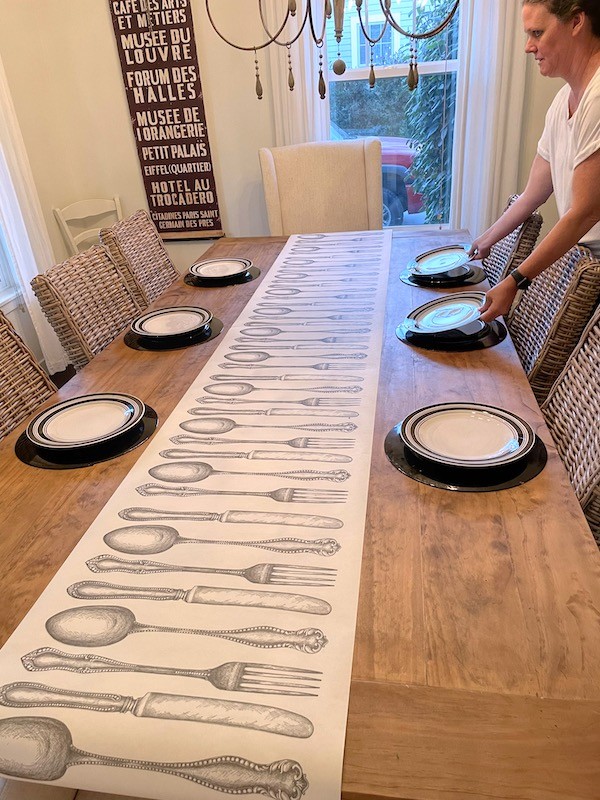 Next we used my plastic chargers but we flipped them upside down so we could use the black side. This is a great way to get more use out of your chargers.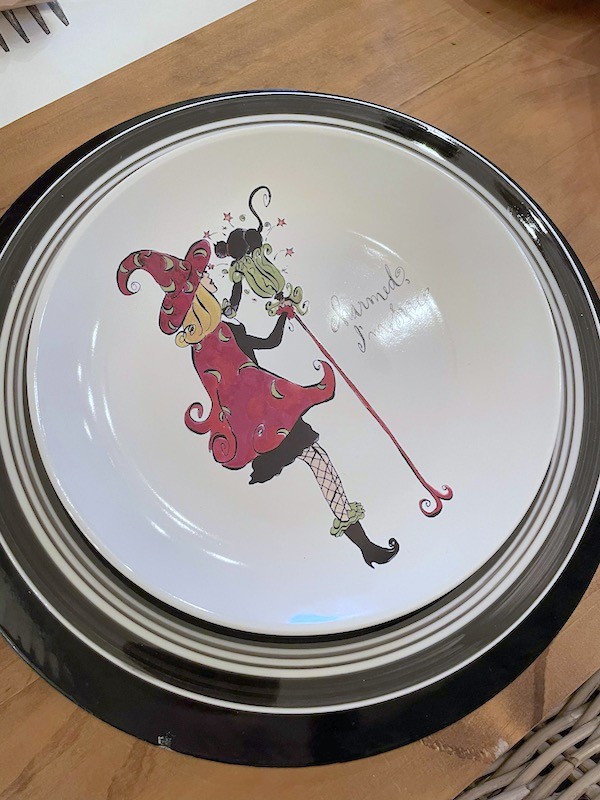 My sister found the black and white striped plates at a thrift store! SCORE!
I have had these darling bewitching salad plates for years now. The colors are so unique for Halloween. Burgandy, green, black and white.. not your typical black and orange.
I used these witchy plates in this black and yellow witchy tablescape here.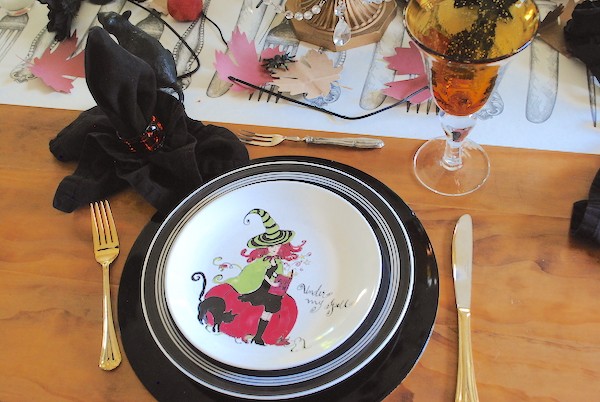 To bring in a little bling I added my gold goblets and gold flatware. You gotta have a little sparkle on your table don't you agree?
Bewitching centerpiece
To create a spooky black and white centerpiece we lined the paper with all kinds of goodies. I used black faux flowers like I did on this moody black and burgundy spooky tablescape.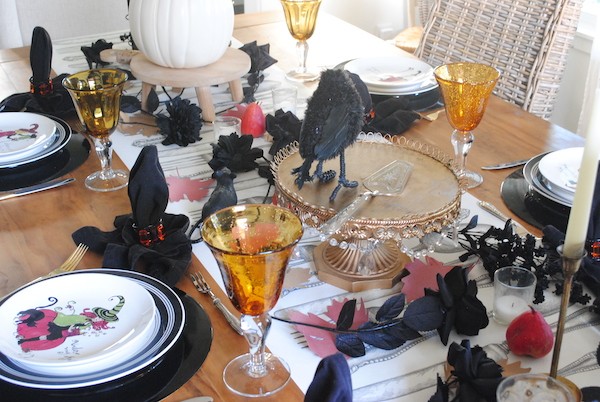 Whenever I do a tablescape it just sort of evolves I go along.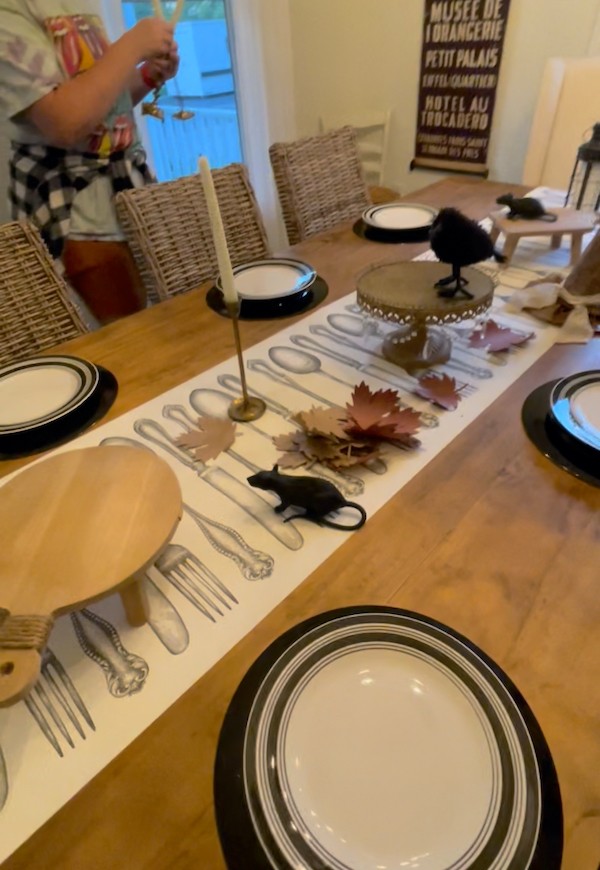 We used a gold cake stand with a little black bird sitting on top right in the middle.
I bought the beautiful silver cake server when we were in Casoli, Italy at a darling antique shop right by our Palazzo.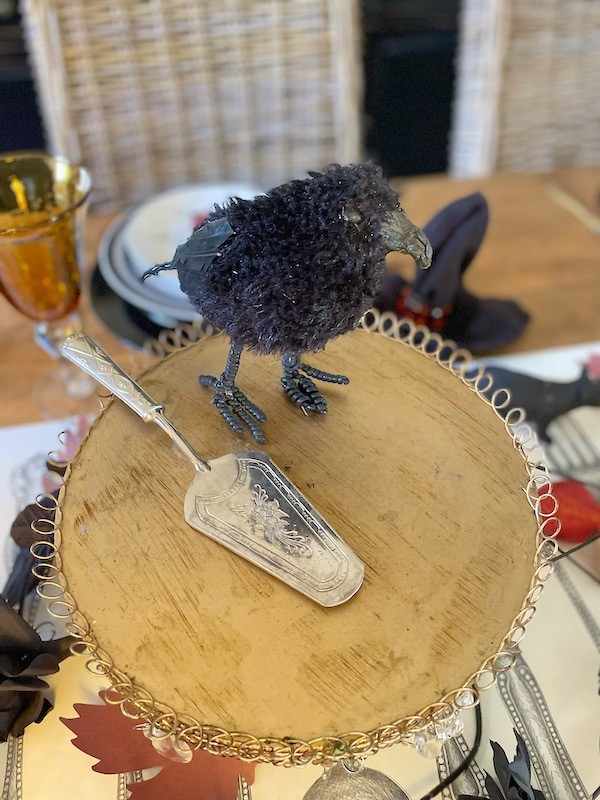 We also used two wooden serving stands with white pumpkins on top.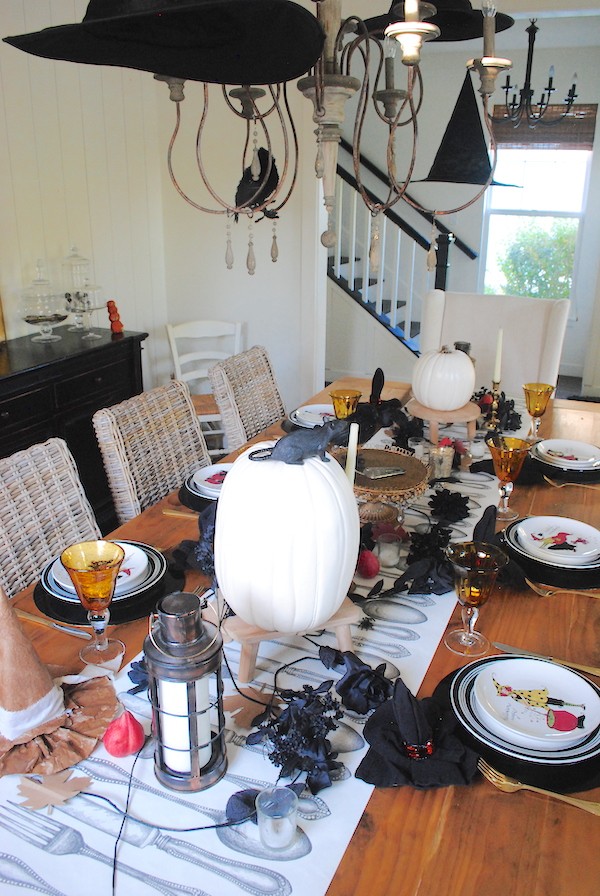 Lots of black faux flowers strewn down the middle of the paper runner mixed with some black rats, beautiful little red pears from our tree in the backyard and little votive candles.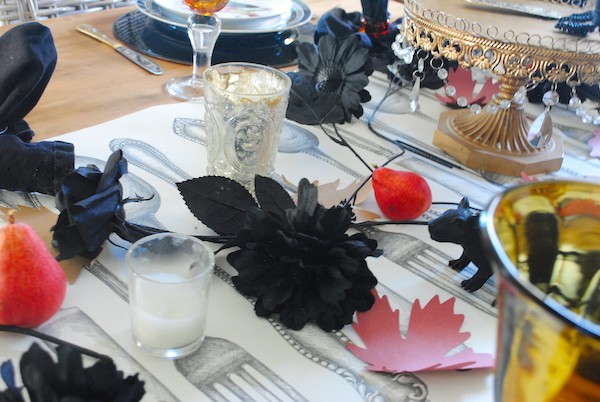 I also used two of my skinny gold candle holders with white candles in them.
To add even more interest and to bring in that fall look I cut some fall leaves with my Cricut machine out of paper sacks!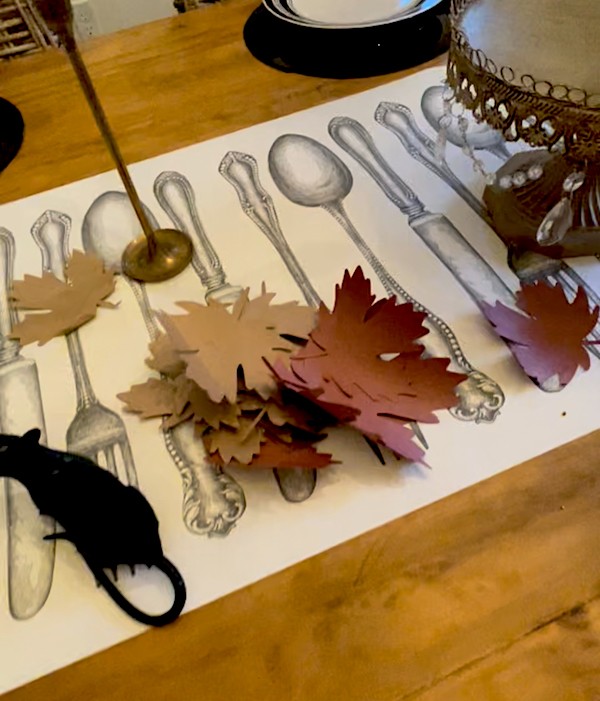 The brown colored leaves are from grocery store paper bags and the pinkish colored ones are cut from painting paper that you can find at Lowe's.
(I don't know the actual name of that paper but it is found in the paint department and it comes on large rolls)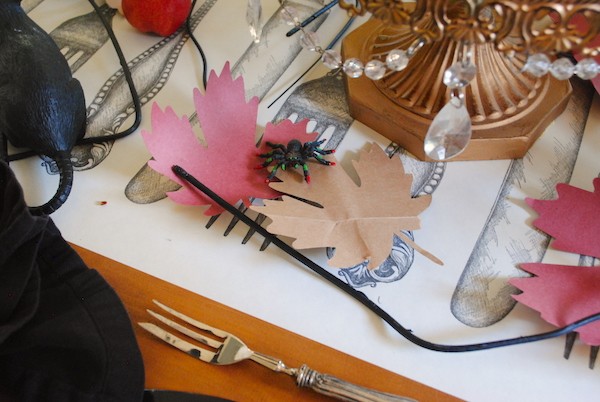 Hanging witch hats above the table
Usually I hang my witch hats on my front porch as you can see here. We brought them in and hung them from the ceiling using command hooks.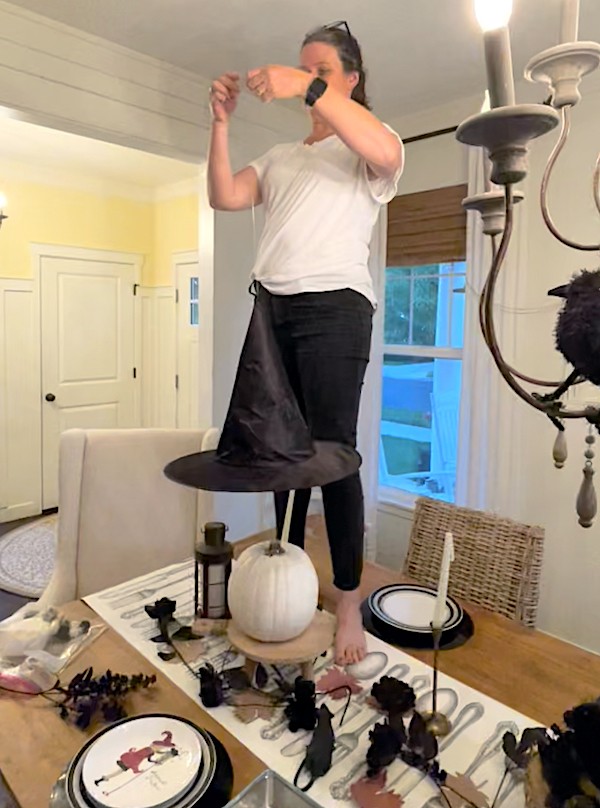 I have found that using the space above the table is an unexpected surprise. It is so fun seeing everyones faces when they walk in the room and see things hanging from the ceiling.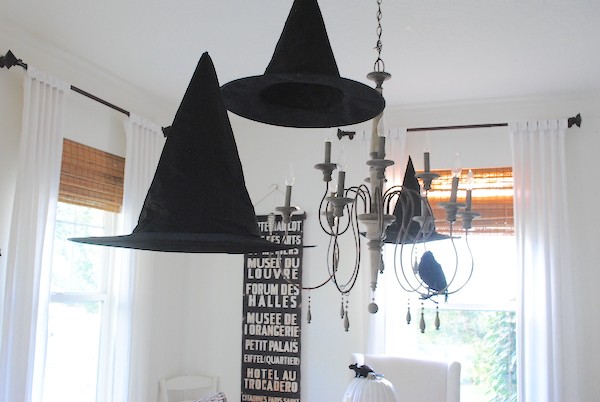 The witch hats dangling above my guests is just the best!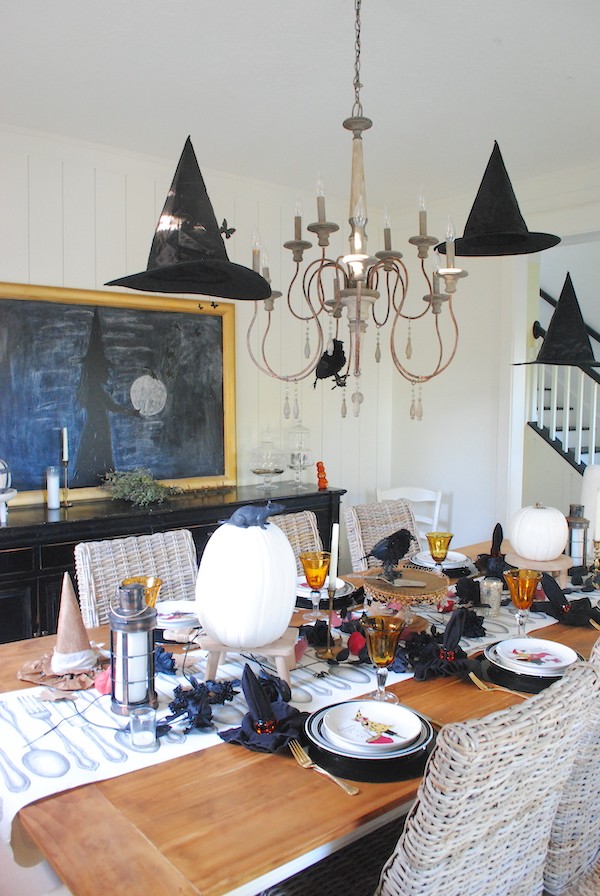 Witchy chalkboard art
My daughter found a really cool chalkboard idea on Pinterest so I asked my sister to try and recreate it. I had some black contact paper that I used here for my hubby's 60th birthday party as a table runner.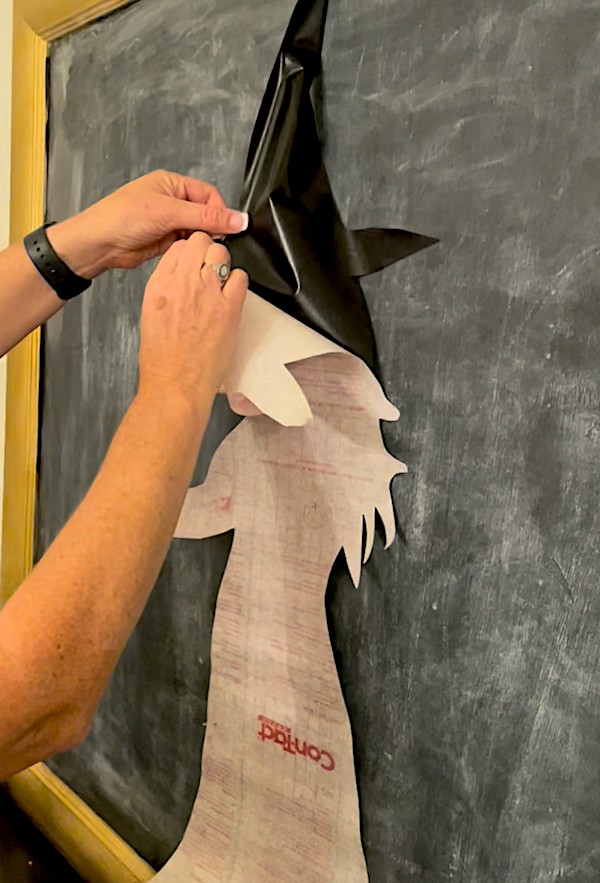 Tiff drew an outline of a witch and we cut it out of the contact paper and stuck it right onto the chalkboard. Then Tiff added some chalk details and a big white moon! AMAZING!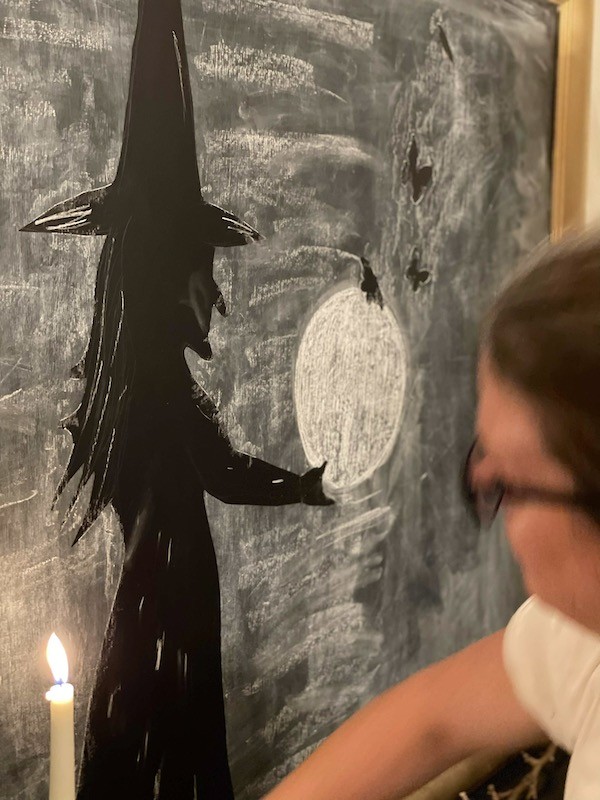 Then my daughter Emily found some butterflies and moths and we cut those out using my Cricut. So easy and they look amazing on the chalkboard and up the wall.
Plus they are removable!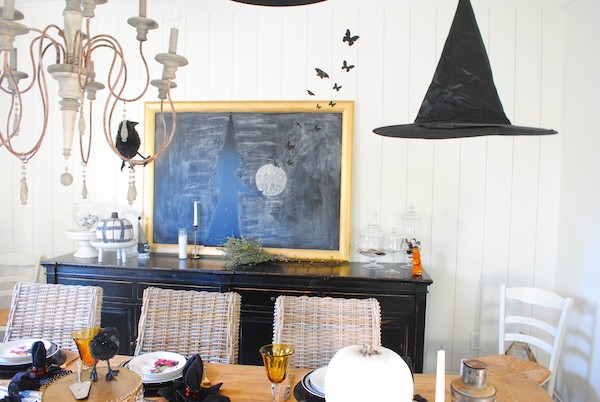 Bats and brooms hanging around
On the wall opposite of the chalkboard we taped some black paper bat cutouts. You might remember how I used them here in my Halloween kitchen nook last year.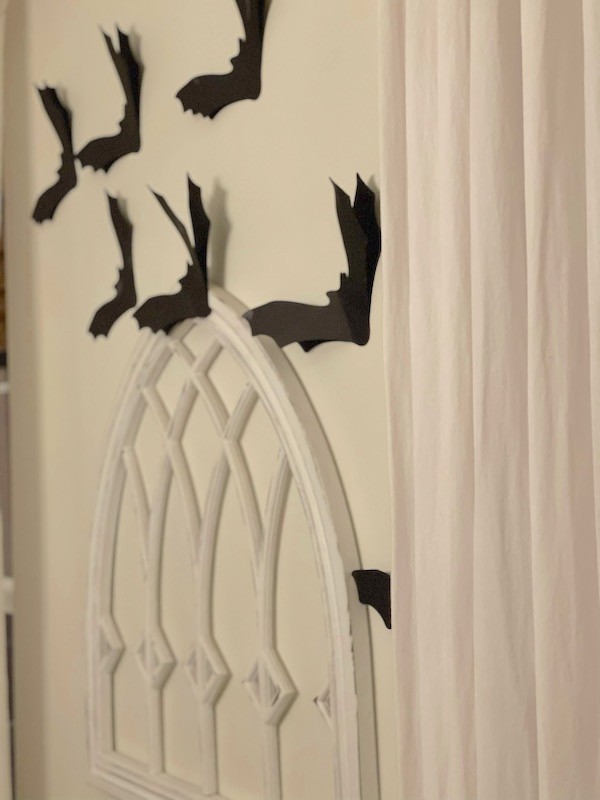 These paper bats are so fun to use and reuse every year!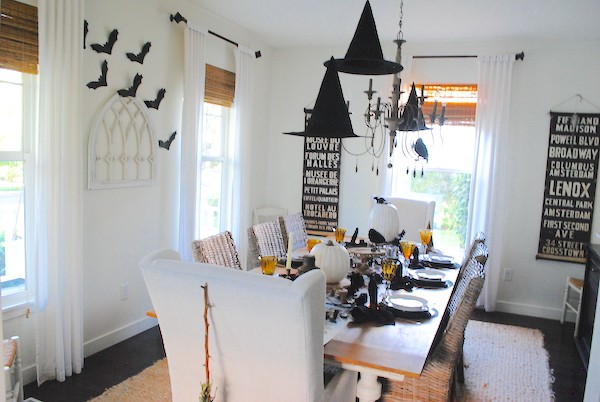 I created some brooms using some of my dried herbs from my garden tied in bundles. Grabbing a few sticks from the yard and tying the herbs to the stick with twine makes for some cute witch brooms!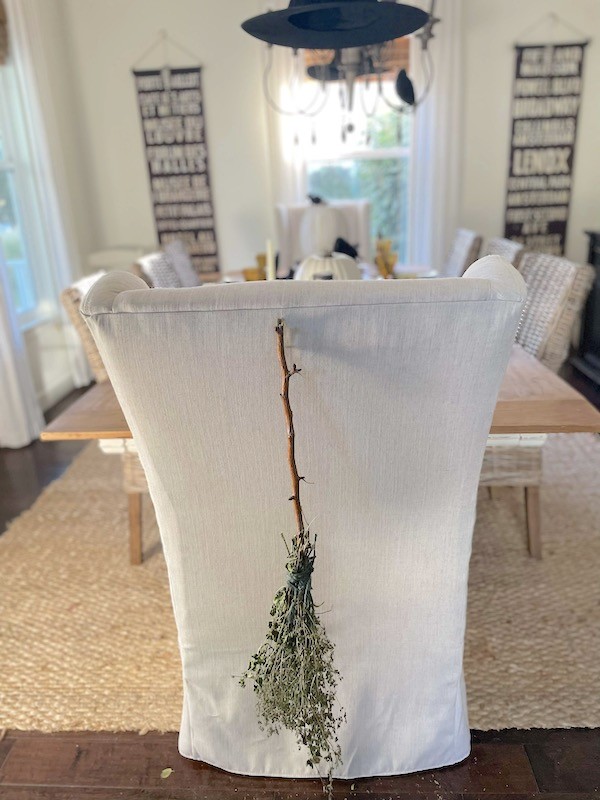 I attached one to the back of the head chair and laid one on the side board. They look so cool but they are a bit messy because when someone knocks them the dried leaves fall off.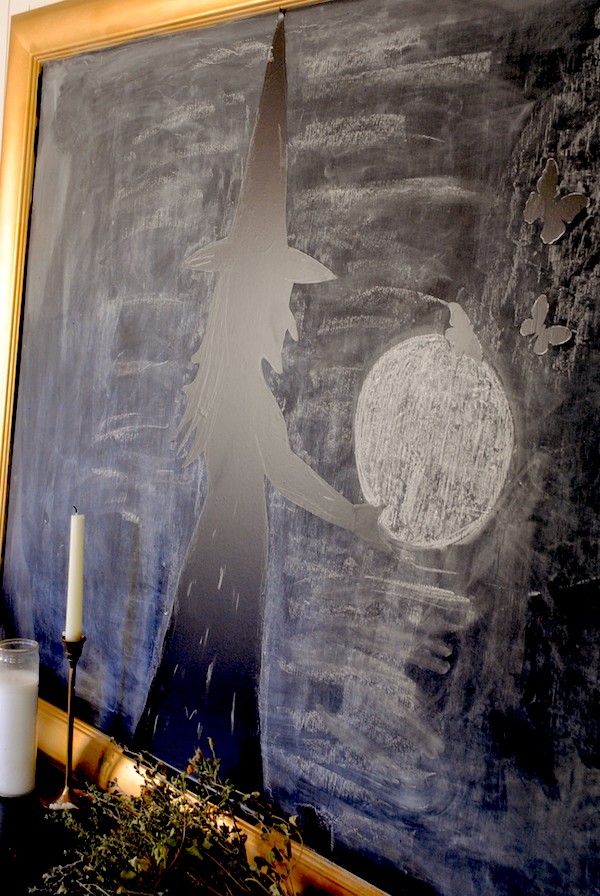 The finished Bewitching black and white tablescape
Here are a few more pics of the entire tablescape. What do you all think? I just love how it all turned out!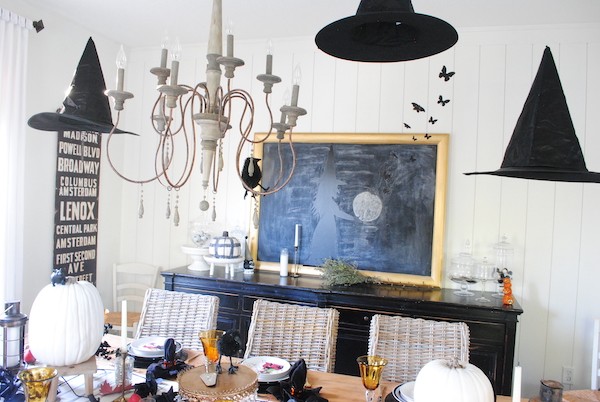 It was really fun to incorporate my paper bag witch hat into this tablescape too. You can find the easy paper bag witch hat tutorial here.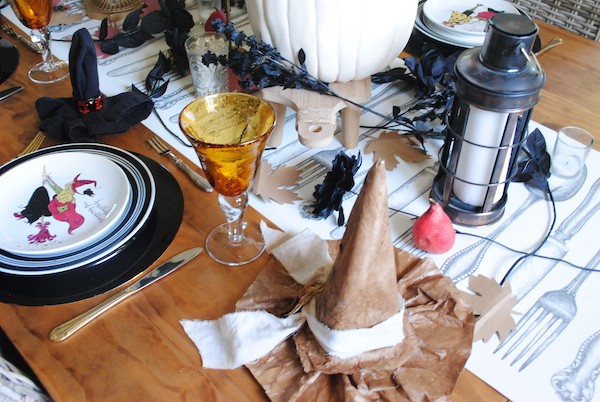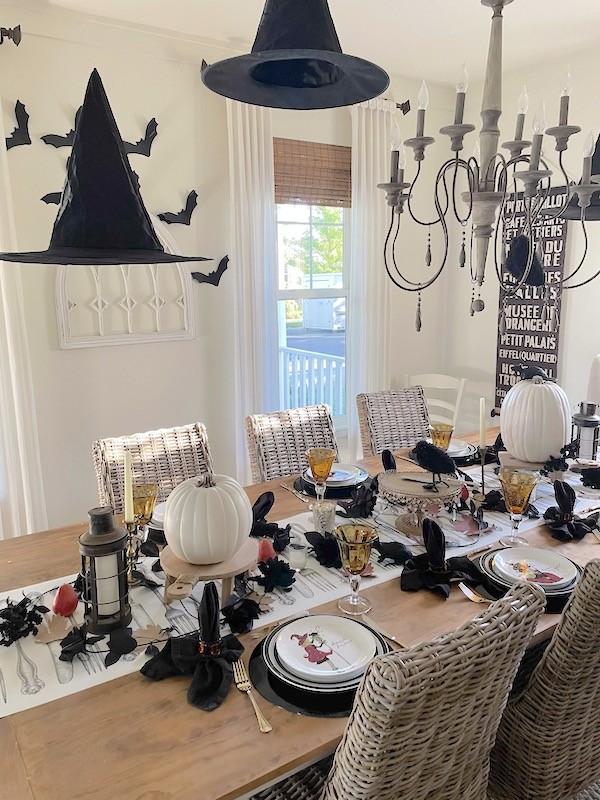 Watch my video and pin it to your Halloween Pinterest board
Halloween Tablescape Blog Hop
I am thrilled to be part of Panopoly's Halloween tablescape. Make sure to visit all these great bloggers and see all their amazing ideas.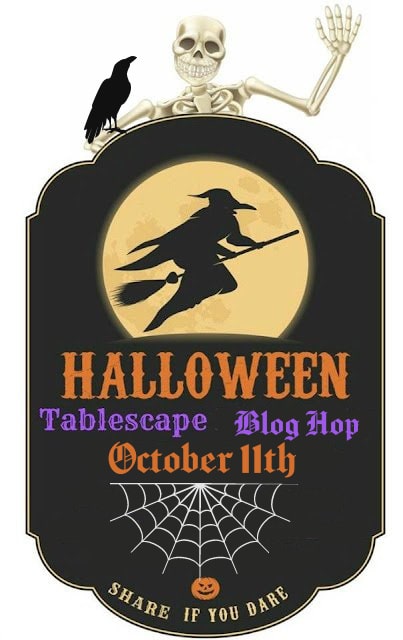 Pandora's Box – Snack Hour Portable Tablescape
Bleu Belle Interiors – A Sweet Halloween Table
Me and My Captain – And the Band Played On
Everyday Living – Halloween Critters and Treats
My Hubbard Home – Halloween Inspired Fall Tablescape – The Best of Autumn
Panoply – Apothecary's Mystical Halloween Laboratory
Debbee's Buzz – Spooky Spellbound Halloween Centerpiece and Table
Home Is Where the Boat Is – Black Cat Trading Company
Thrifting Wonderland – Practical Magic Halloween
Red Cottage Chronicles – How to Set a Halloween Tablescape Fit for a Princess
Life and Linda – If the Shoe Fits
The Little Yellow Corner Store – The Debonair Vampire, Leonard
The Bookish Dilettante – Halloween Tablescape: Midnight at the Ball
My Thrift Store Addiction – Jadeite Whimsy: Seasonal Tray and Table Setting
The Painted Apron – Slightly Spooky Halloween Tablescape
Bluesky at Home – How to Set Up a Sweet Halloween Buffet
Corner of Plaid and Paisley – Table of Vexing Vermin
Zucchini Sisters – Halloween Table Top Decor with Skeletons
Celebrate and Decorate – Halloween Tablescape in Gold and Black
Dinner at Eight – Welcome to Ghostly Hollow!
Karins Kottage – A Bewitching Black and White Tablescape
Pin to your Halloween Pinterest board for later