I am so excited to share my caramel apples with drizzled chocolate tutorial with you! Years ago for a cub scout pack meeting we had a theme of farm animals going on with games and skits about farmers. It was decided that the treat would caramel apples.
Not just plain caramel apples but caramel apples drizzled with chocolate. Since I had never made these before I called my mom who happens to be a chocolatier to get some tips. Mom shared some great tips and I am sharing all of them with you today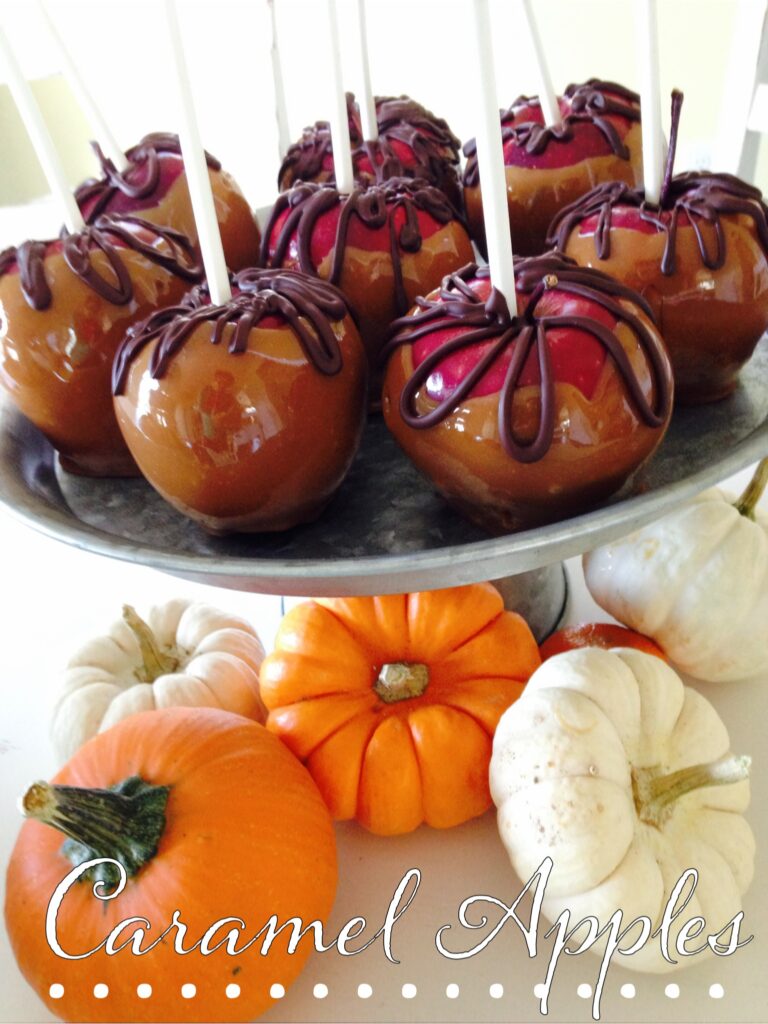 Ingredients to make caramel apples
40 apples washed and dried
3 packages caramel tid bits
Wooden sticks
3 Tbsp Cream
1/2 tsp Vanilla
Pinch of salt
Semi sweet chocolate chips
60% caco chocolate chips
Wash apples and dry them
I asked my mom what was the best way to make 40 of these babies and she told me first you must wash them in hot soapy water to get some of the waxy stuff off.
This will allow the caramel will stick to the apple.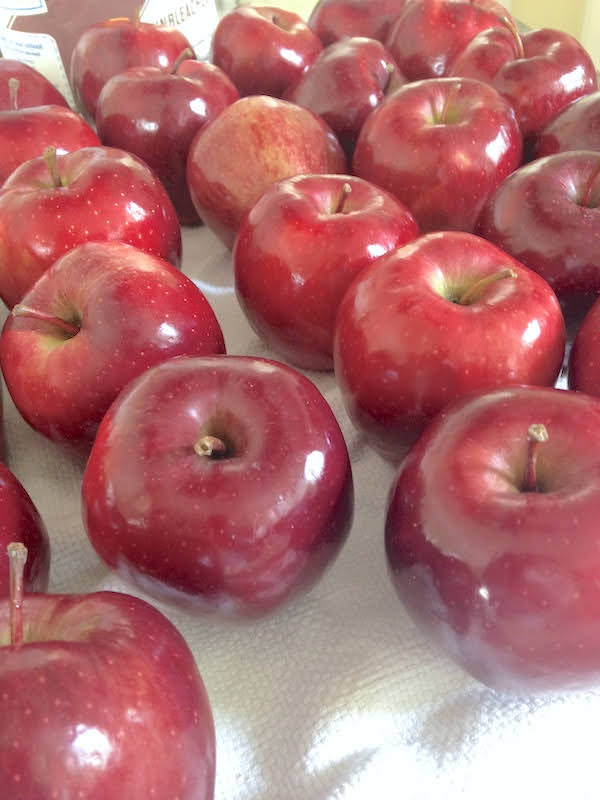 After you wash and rinse them, dry every speck of them. If water gets on them the caramel won't stick.
How can such sticky stuff not stick? it sticks to my fingers wet or dry, my clothes the counters and to my stomach and thighs haha
Next you need to poke the apples with some candy sticks to be able to hold them in the caramel.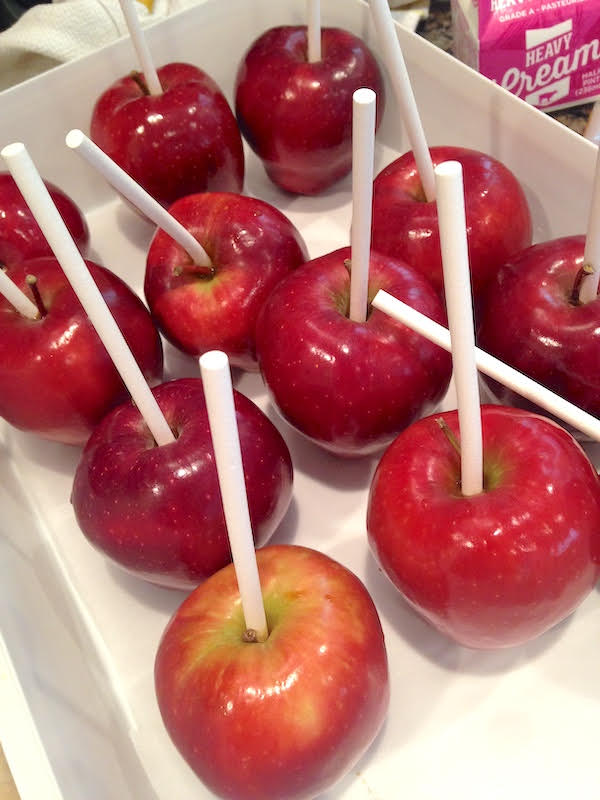 Melting caramel tid bits
If you haven't used caramel tid bits you are missing out! You don't have to unwrap a zillion little square caramels! Yeah!!
These caramel tid bits come in a bag all ready to go. I found mine at Walmart where they sell chocolate chips.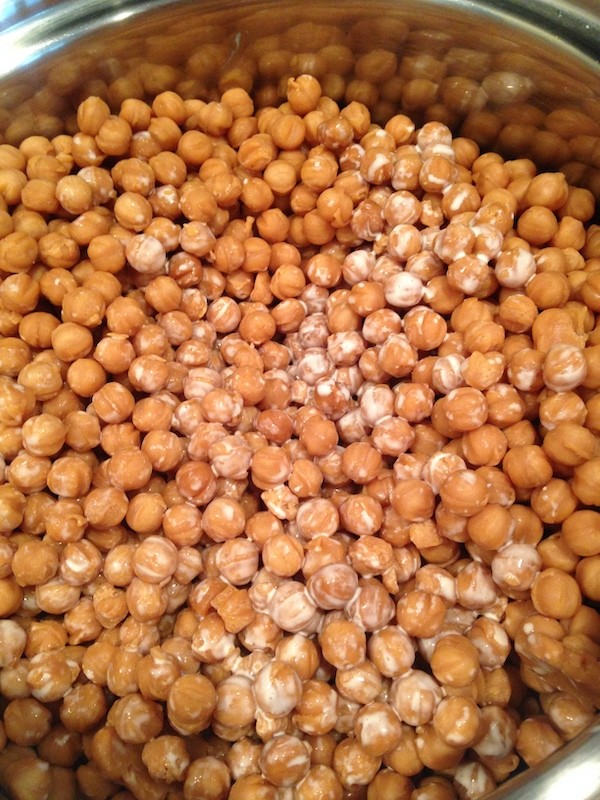 Place the caramel tid bits into a pot and heat them on medium low you will see that they start "melting…melting…..I'm melting" (said in a witch voice)…..you know the witch from Wizard of Oz.
Stir often so that it does not burn. Then add 3 tbs of cream to three bags of caramels.
A pinch of kosher salt and probably about 1/2 tsp vanilla. Make sure you don't use too much liquid because it can get to runny.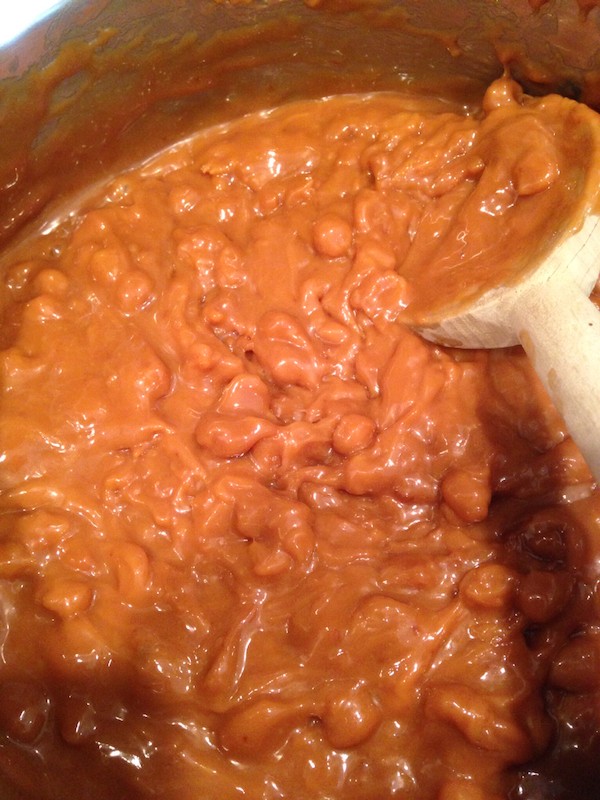 Caramel dipping tips
Here are few tips when you start to dip the apples. –
No dipping, I'd call it more like twirling to get it evenly all around the apple.
2. Have some patience and take your time or you will have caramel all over the place. Ask me how I know this. Uuurrghh!!
P.S.- Do you know how hard it is to take a picture yourself of twirling an apple while holding the hot lava pan of caramel?!!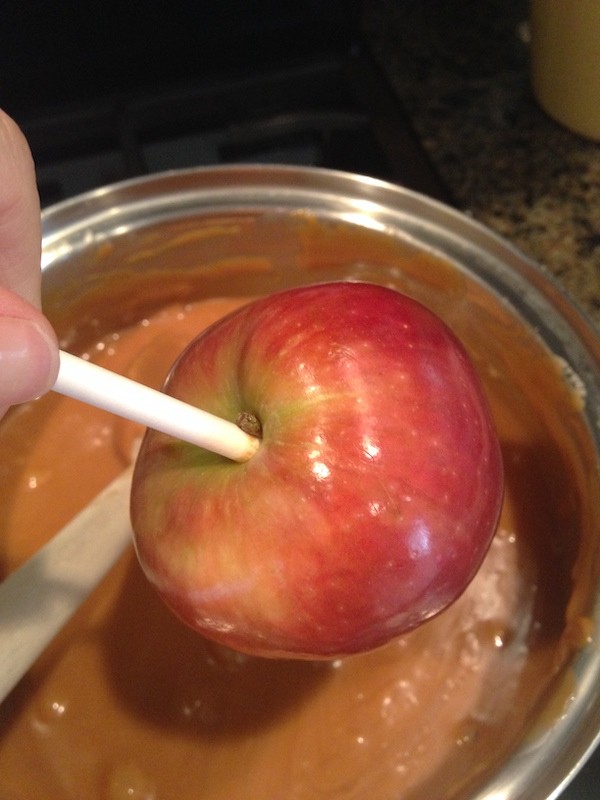 I'm amazed that I did not drop the phone into the hot lava caramel! Twirl the apple in the caramel but don't cover the entire apple. Leave some of the top of the apple exposed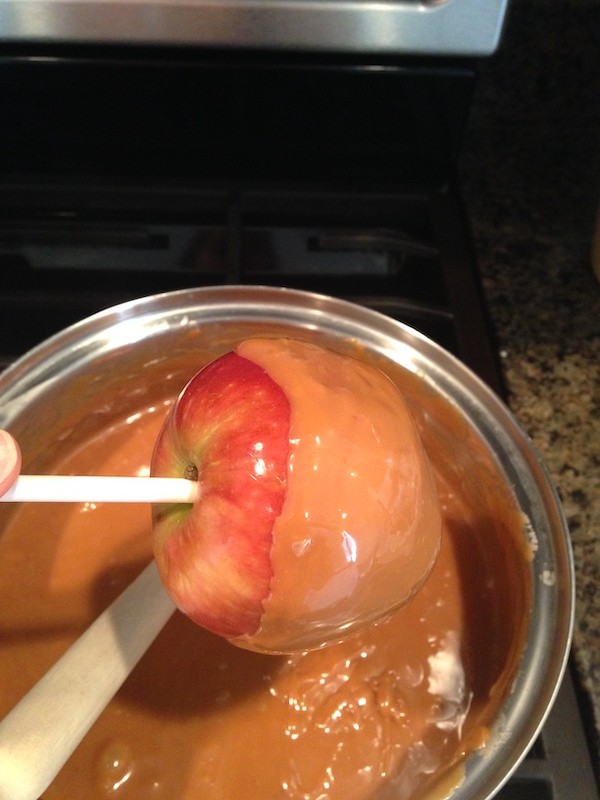 TIp- Here's the trick I found….I lean the pan on its side and dunk the apple while slowly twirling it so it will be evenly coated.
I am not the best twirler while trying to take a photo. I needed another pair of hands!
Once it is covered to the amount you'd like, hold it over the pan while the excess drips off.
Use a knife to cut off some of the extra dripping from the bottom so it won't puddle too much.
You will notice that there are not huge puddles at the bottom of the apples but just enough.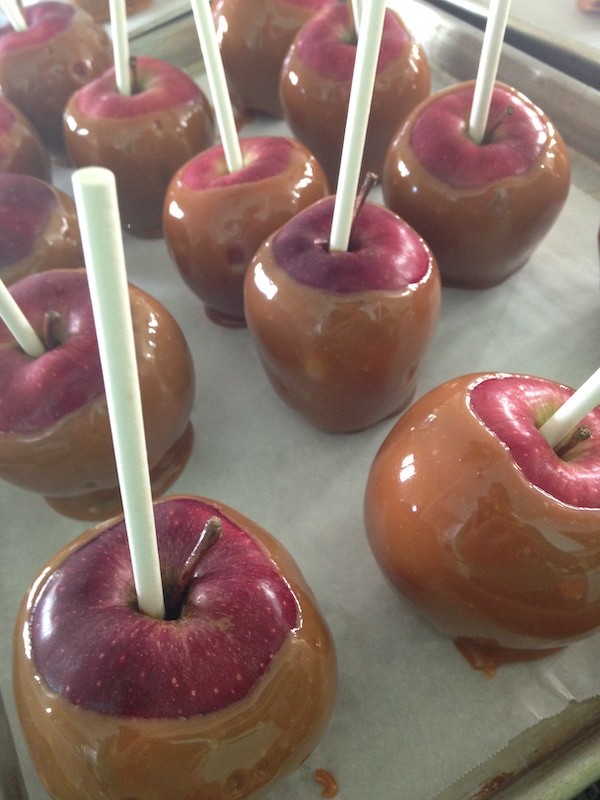 The other very important secret my mom told me about was USE PARCHMENT PAPER. Not wax paper, Not aluminum foil but parchment paper.
Once they are set, they easily come right off the paper! No stickiness at all but you gotta let them set.
I put mine in the fridge and they were perfect!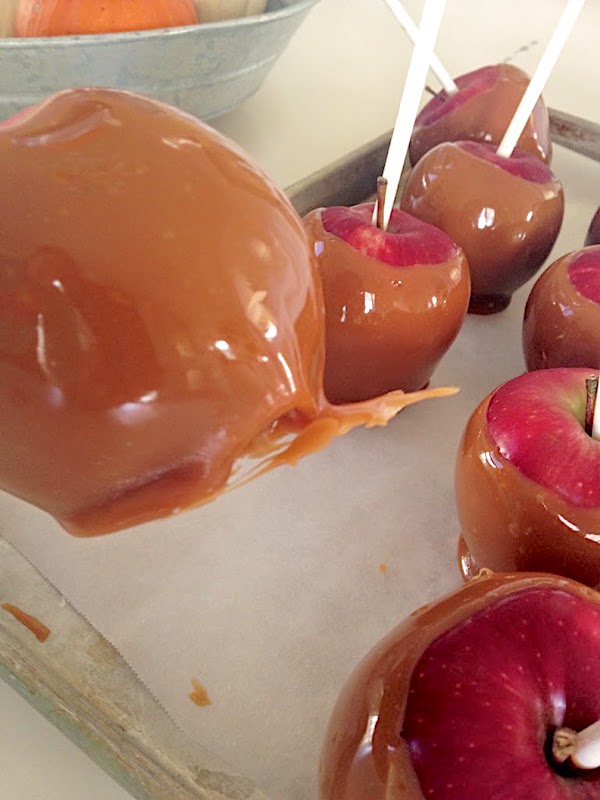 So here is one of my scary Halloween looking caramel apples. I don't know what happened here 🙁 Some had lots of air bubbles in them. But hey they look "gnarly dude"! Creepy caramel apples.
Once they are done I refrigerated them overnight and then I added the chocolate drizzle.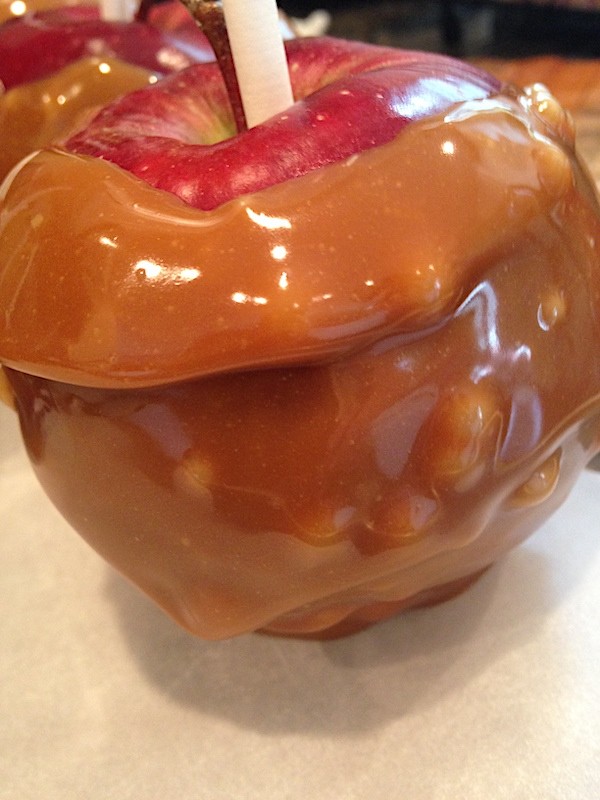 How to drizzle the chocolate over the caramel apples
I melted 1/2 bag of each of the chocolate chips in a glass measuring cup. Then I poured it into a pleated ziplock bag.
I used a combination of these two chocolate chips. You may ask why? Because I had them and they are my hubby's favorite. Plus a more rich chocolate flavor.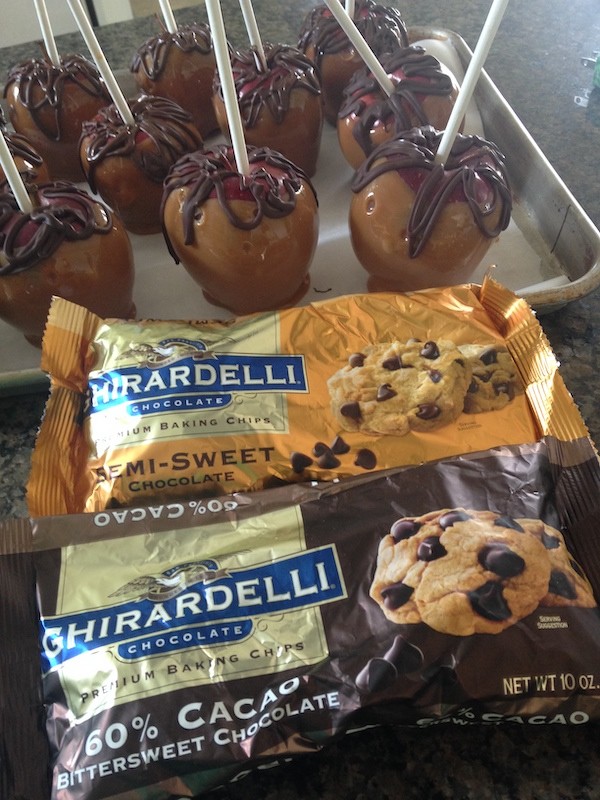 By accident when I snipped the bottom edge of the ziplock bag, it created two holes.
When the melted chocolate came squirting out, it came out in 2 streams and it turned out so cool looking!
A happy mistake!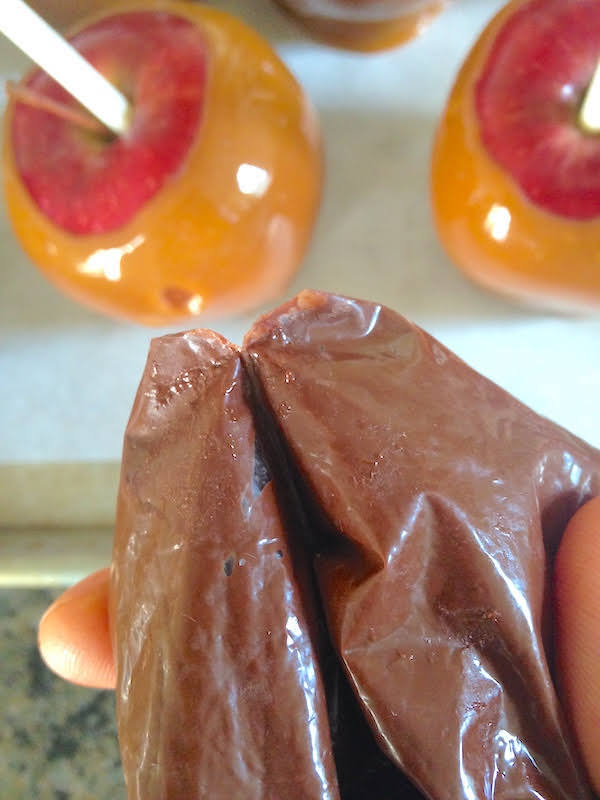 Just drizzle in an up and down motion to create a type of loop look. YOu can see how I did it in my video below.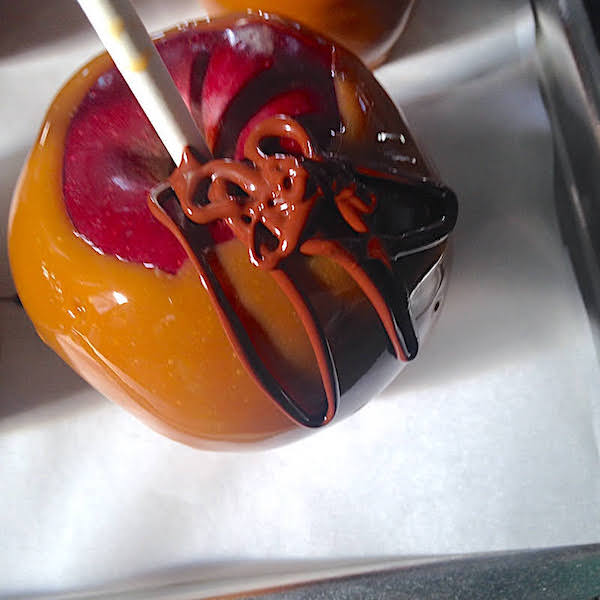 Here is my video tutorial of adding the chocolate drizzles.
I brought these caramel chocolate drizzled apples to a scout meeting. Here is just one picture from our pack meeting…they looooved them and wanted more than one!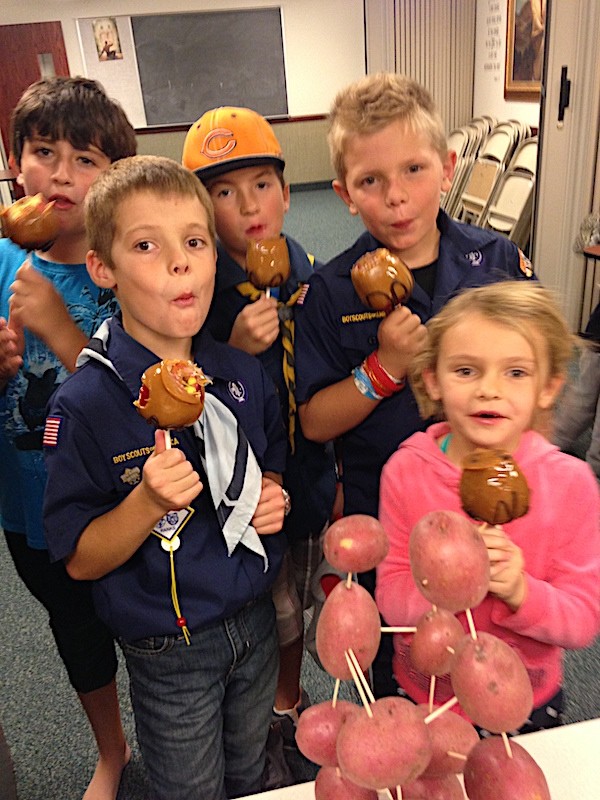 Update- these kids are now 18 and older! Time flies by way too quickly.
A fun way to serve your caramel apples is in a galvanized 3 tier stand mixed with mini pumpkins.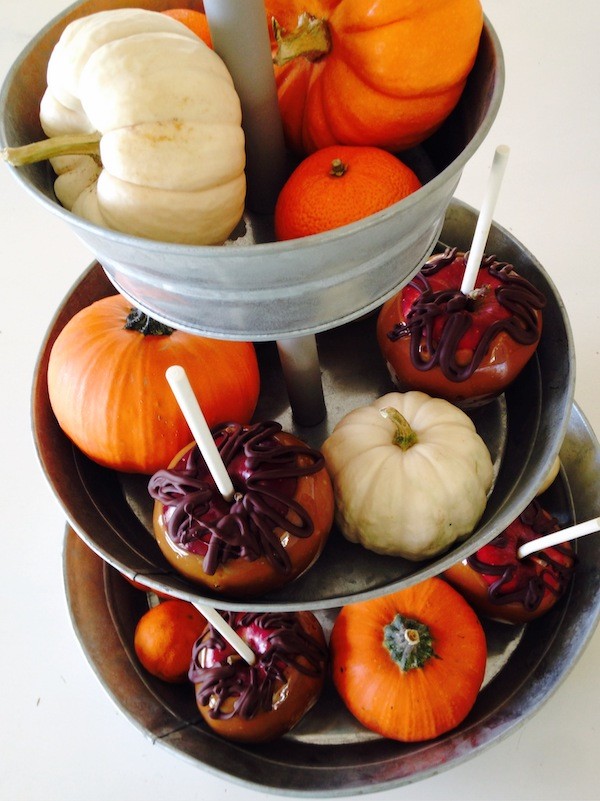 More Halloween Posts
How to decorate porch for Halloween
Kitchen nook decorated for Halloween
Best Way to host Family Halloween party