How to create a Fall tablescape Idea using Gold, Peach and Purple colors!
When my daughter Emily turned 26 I decided to have a nice Fall Sunday dinner for the family and there ended up being 17 people when it was all said and done.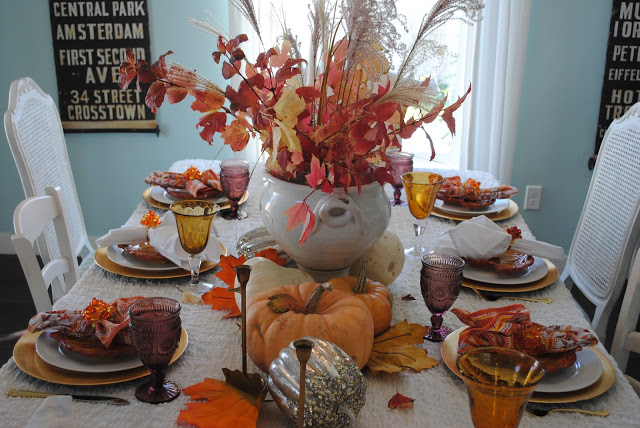 Start With The Centerpiece
How to create a fall Tablescape starts with the centerpiece! Outside I noticed peach gold and red fall leaves from the trees and bushes around the yard. I thought they would look so pretty as a centerpiece for the table. Cutting branches and placing them in a large cream colored urn along with some fluffy grasses really made it look stunning! Then I surrounded the urn with lots of peach and white colored pumpkins. I am seriously in love with the peach colored pumpkins!!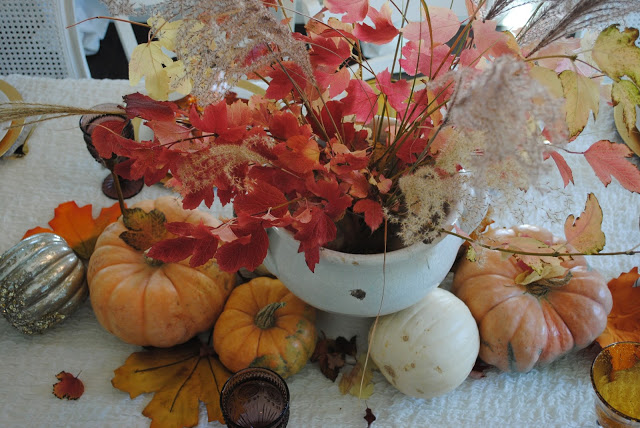 The leaves on some of our trees and bushes are just so spectacular this year!
The colors are so brilliant and really create a stunning fall centerpiece for free!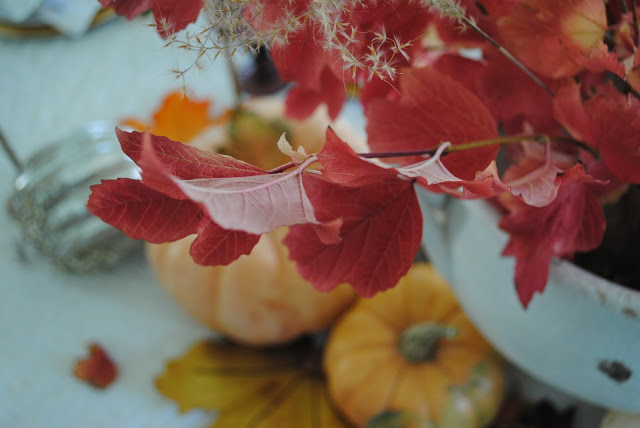 Tablecloth
For the tablecloth I used a textured throw from Ikea..I love the nubbiness (is that a word?) of it! It is kind of a creamy white color so I think it lends itself to fall.
Placesetting
A little sparkle is always fun to add to any tablescape. I love bringing out my gold chargers and gold flatware to bring in that sparkle. I've had these pretty fall leaf salad plates from Walmart for many years now and I just love them! I will link similar looking plates below.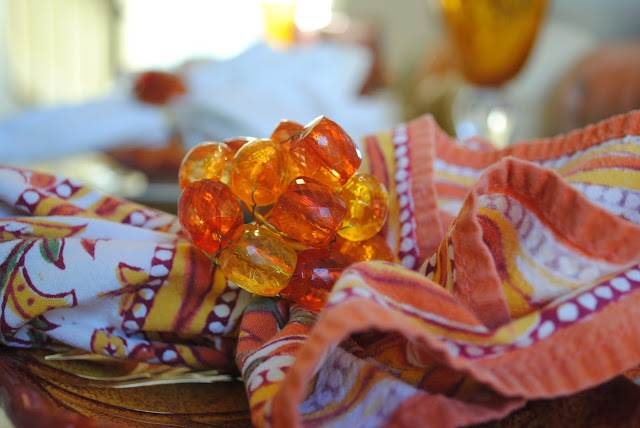 The napkins have all the colors of I was looking for to create this peach and purple tablescape. The goblets that I chose to use are my favorites colors gold and purple. You can see how I have used the gold ones in the this tablescape and the purple Pioneer woman goblets in this tablescape here.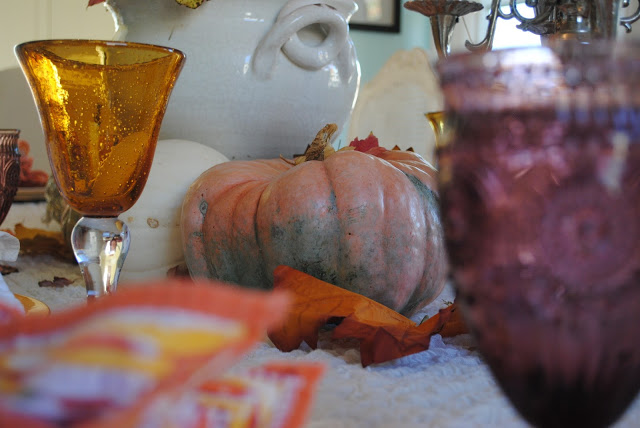 Chalkboard Menu
I decided last minute to spray paint the frame of the chalkboard gold…you may remember I used this chalkboard and matching twin one at my daughter's wedding a year ago and the frames were white. Do not laugh at my feeble attempt to write out the menu on the chalkboard. LOL My other daughter is a pro at this and does a beautiful job…. this is not so great but it was ok.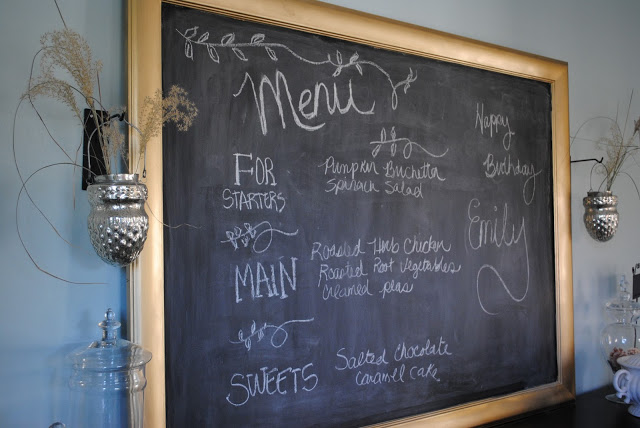 I served Pumpkin bruschetta, 2 roasted chickens with potatoes, yams, carrots and onions, and a spinach salad. Madeline made creamed peas and two different kinds of amazing overnight bread! Then for dessert I made my Salted caramel chocolate cake!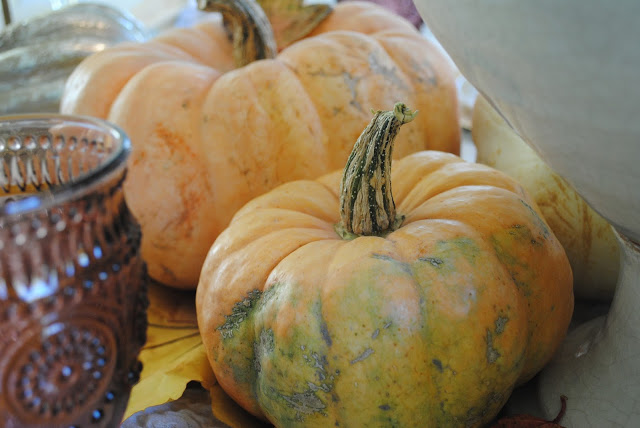 Here is the tablescape in full glory with all the colorful leaves, colorful goblets and gold chargers.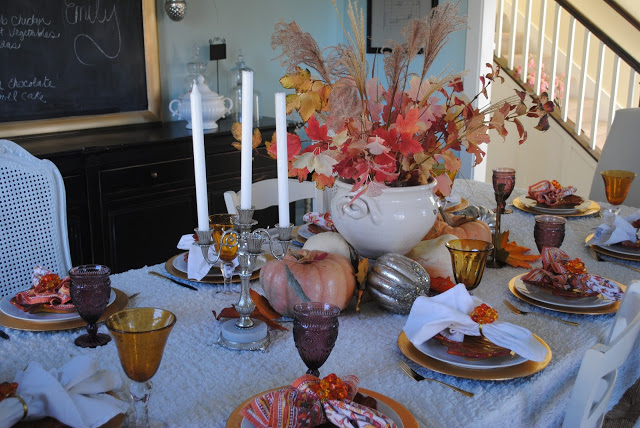 Here is the gang! There are 3 little grandkids not in the photo…they had their own little table in front of the big table but I forgot to take a picture.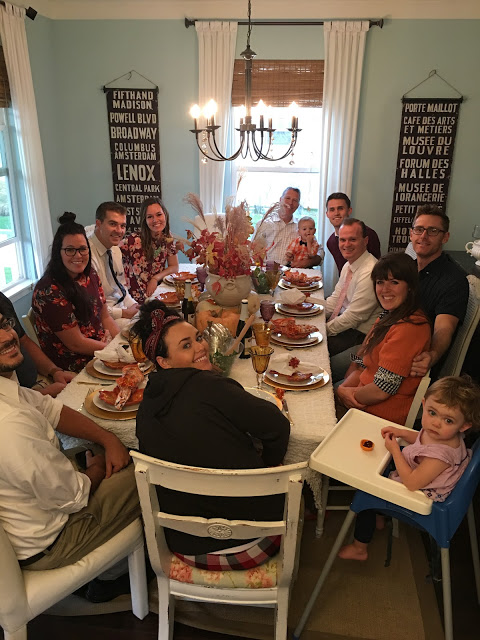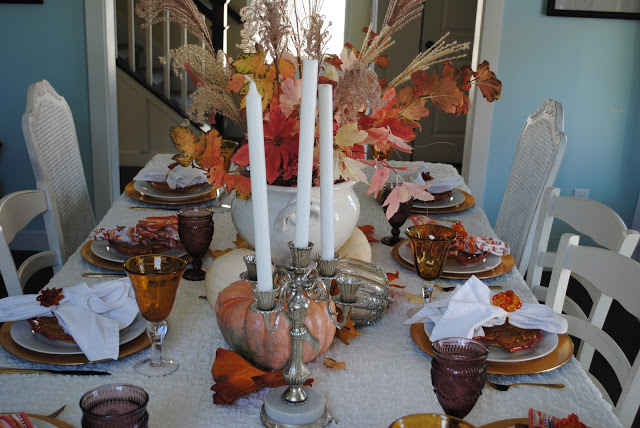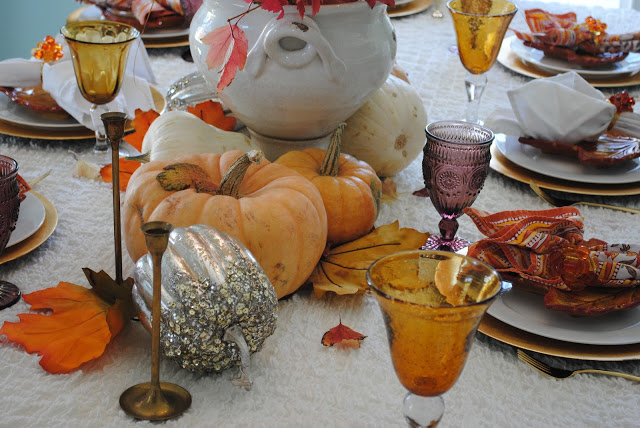 Hope this gives you a few ideas on how to create a fall tablescape using peach and purple for a large crowd.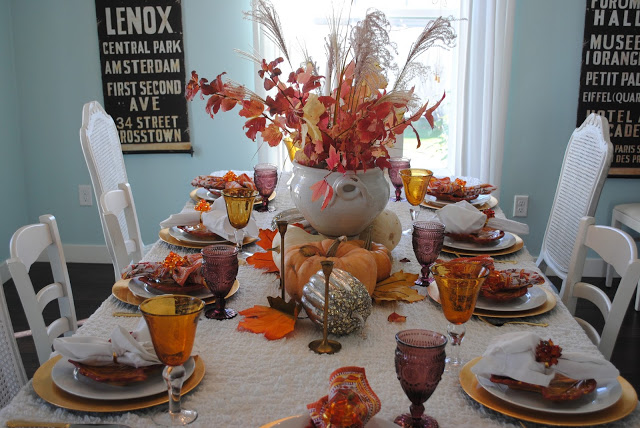 Pin For Later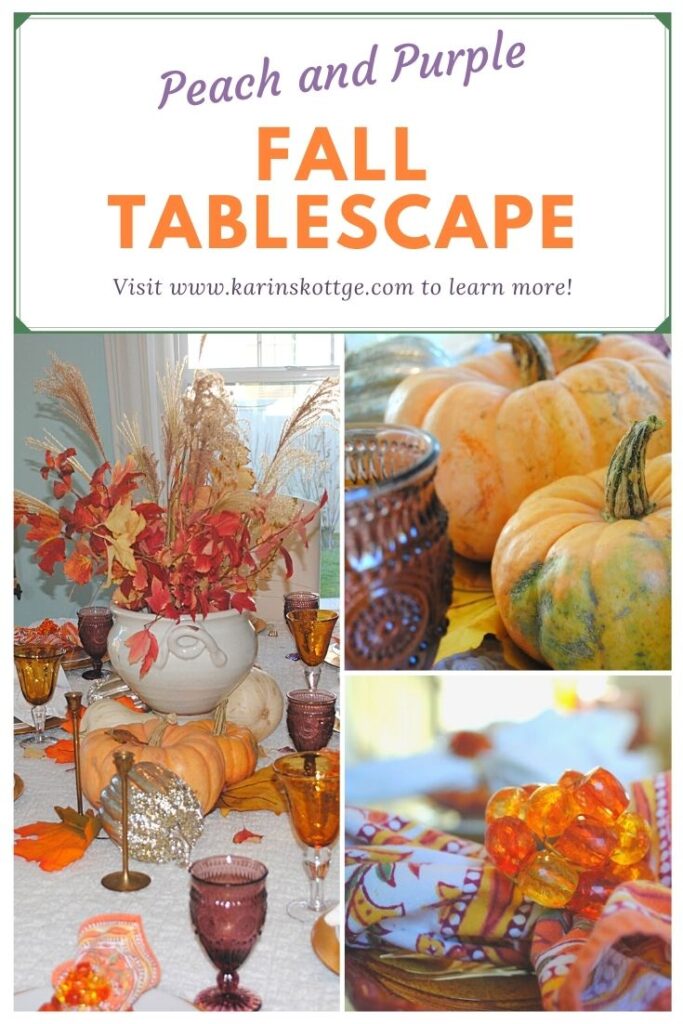 Shop This Post