Last Sunday we had the family over for Sunday dinner. We decided to eat outside because it was so nice. We set up a dinner party under our backyard tree for the grandkids.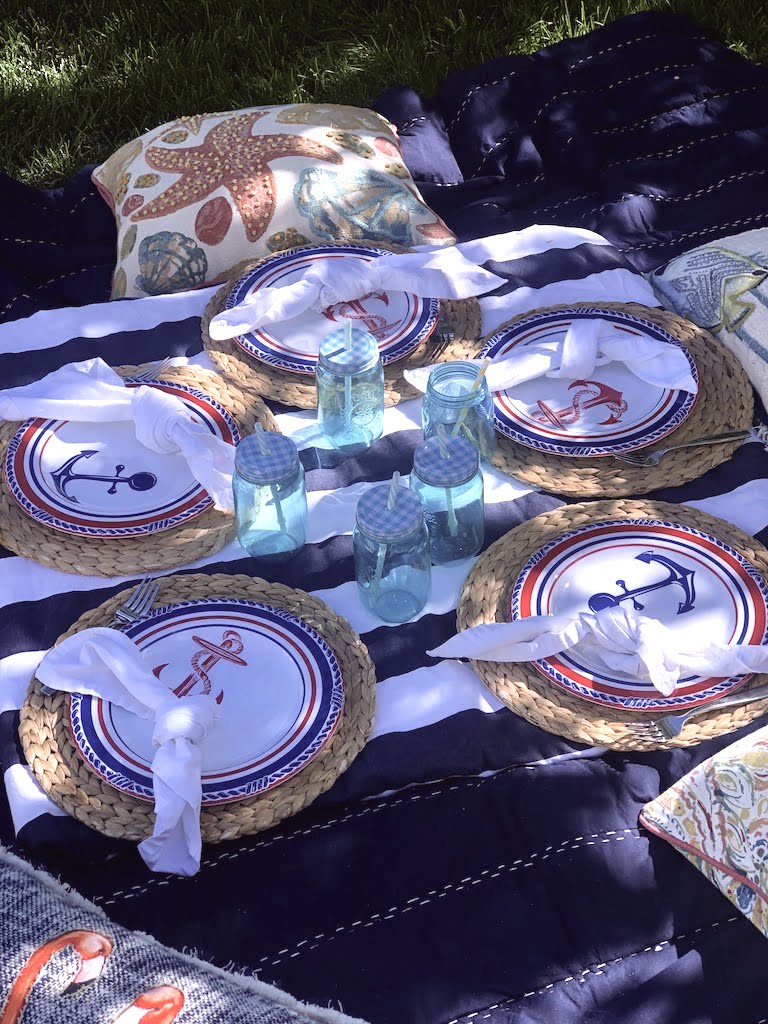 Creating the table area
We used a big navy blue blanket and laid it on the grass under the tree. My hubby grabbed the card table from the garage and placed it on the blanket. He left the legs folded up so that it would lay flat. I wanted to create a cute little bohemian look.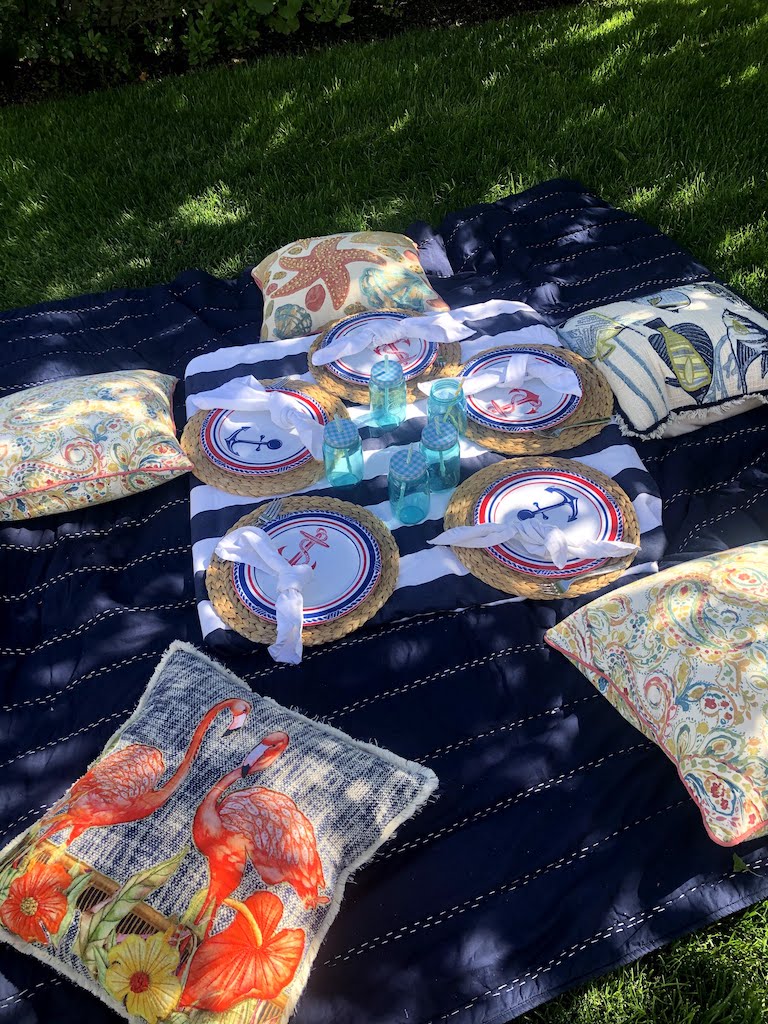 Add in softness
To create the bohemian look for the dinner party under the tree we added pillows! I had a bunch of pillows in the basement that I knew the grandkids would love to use as a seat cushions on the grass. They could lay or sit on them and just enjoy some softness while they ate their dinner. I think it would be fun to make outdoor pillows to match your look using my easy envelope pillow tutorial here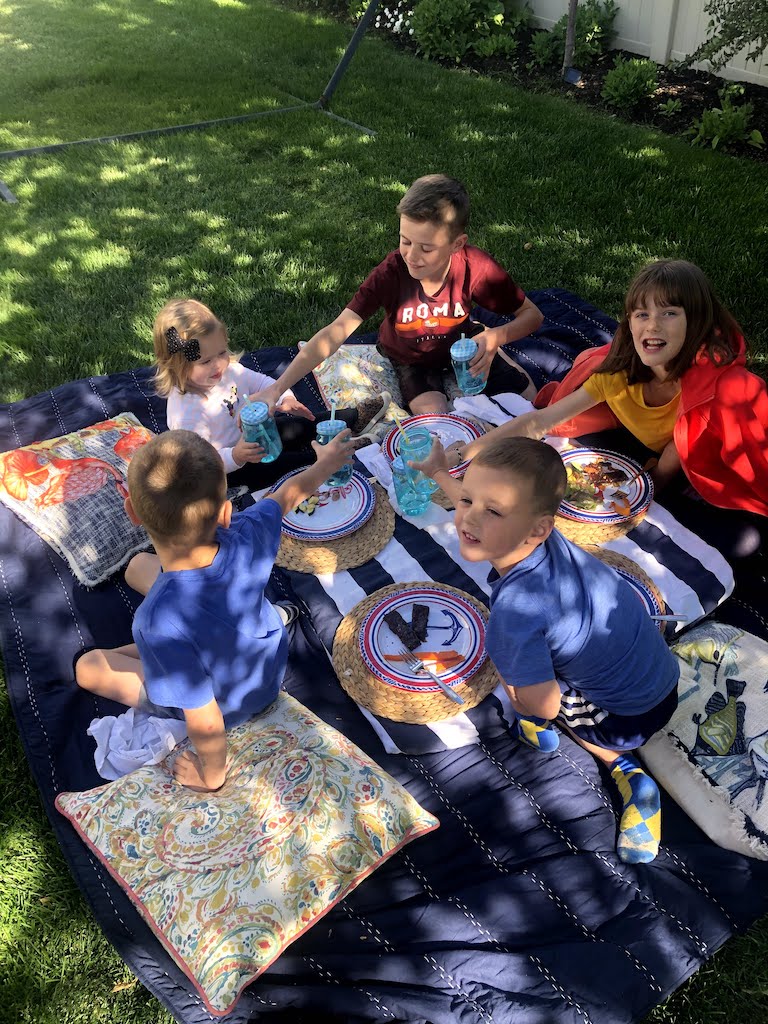 Place settings
For the place settings I used my red white and blue melamine anchor plates that I bought last year at TJMax on clearance! I was so thrilled to find them so cheap, I bought 12! My jute placemats and a white napkin tied into a knot kept my nautical theme. I guess I kind of went with a nautical bohemian look 🙂 This dinner party under our backyard tree was so easy to pull together and the kids totally loved it. I love creating fun tablescapes for the grandkids. You might like this bright colored flamingo themed tablescape I did here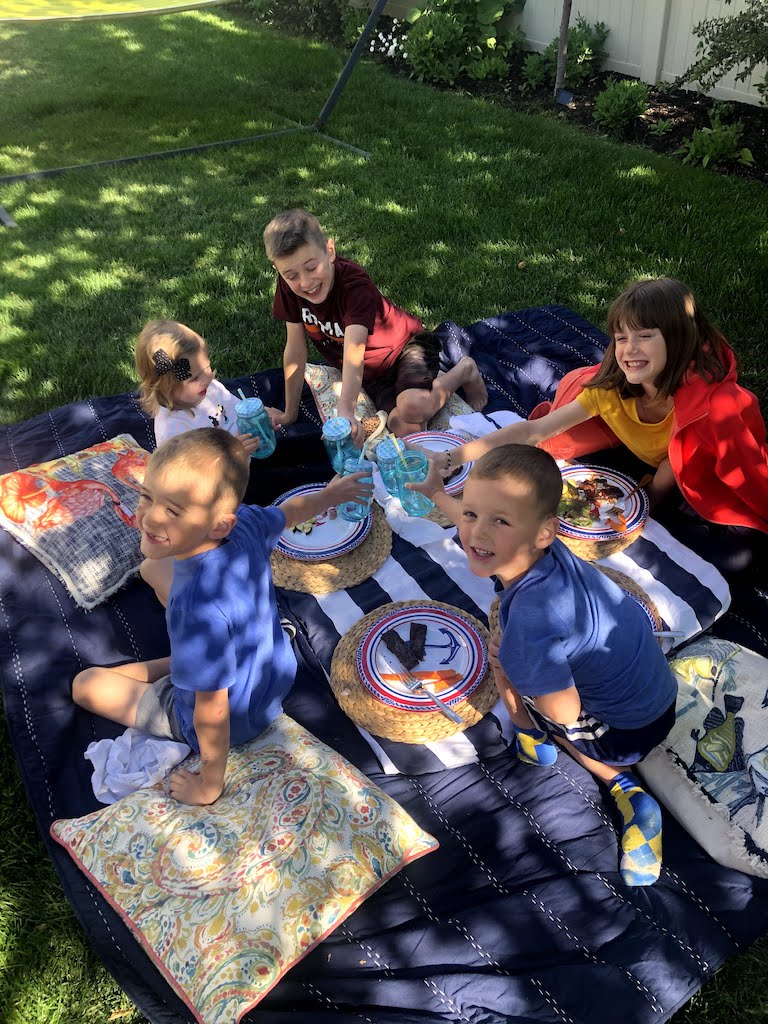 Adult table
I set the adult table under our big red umbrella for ambiance. For the place settings I used the same red white and blue anchor melamine plates, jute placemats and white napkins tied in a knot. Using bubble glass goblets always makes me feel like I am sitting in a cafe near the beach. My beachy tablescape that I did a few years ago really makes me crave the beach.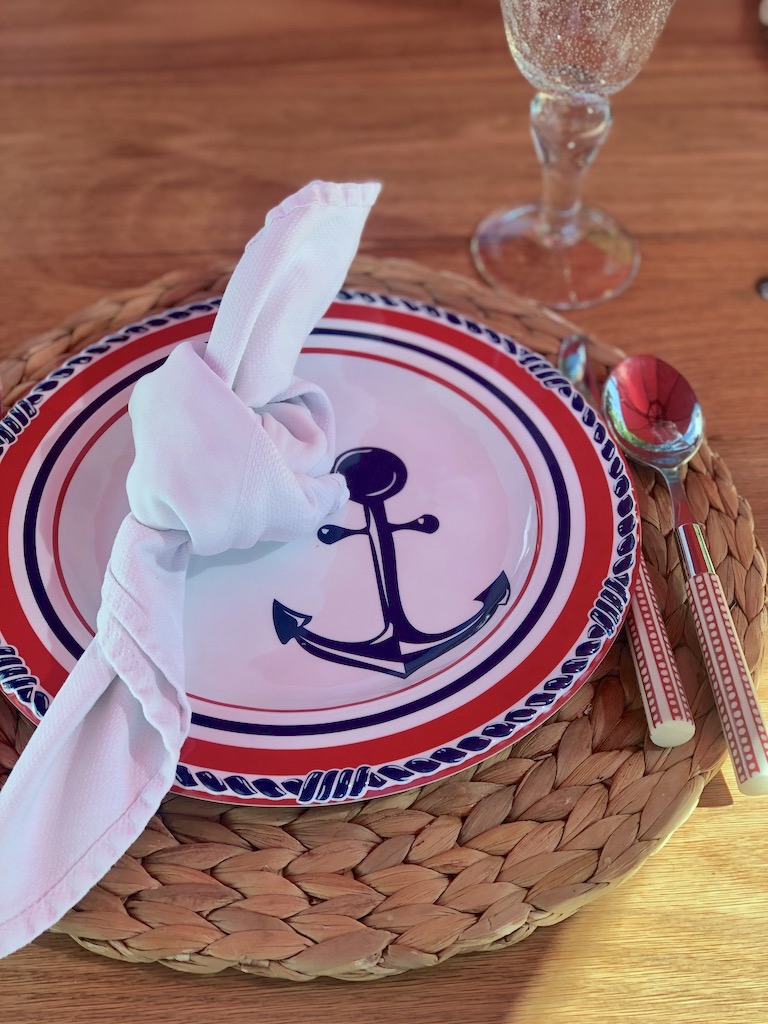 This darling red coffee pot holds some of my gorgeous peonies from my garden. Simple and yet elegant for our little dinner party.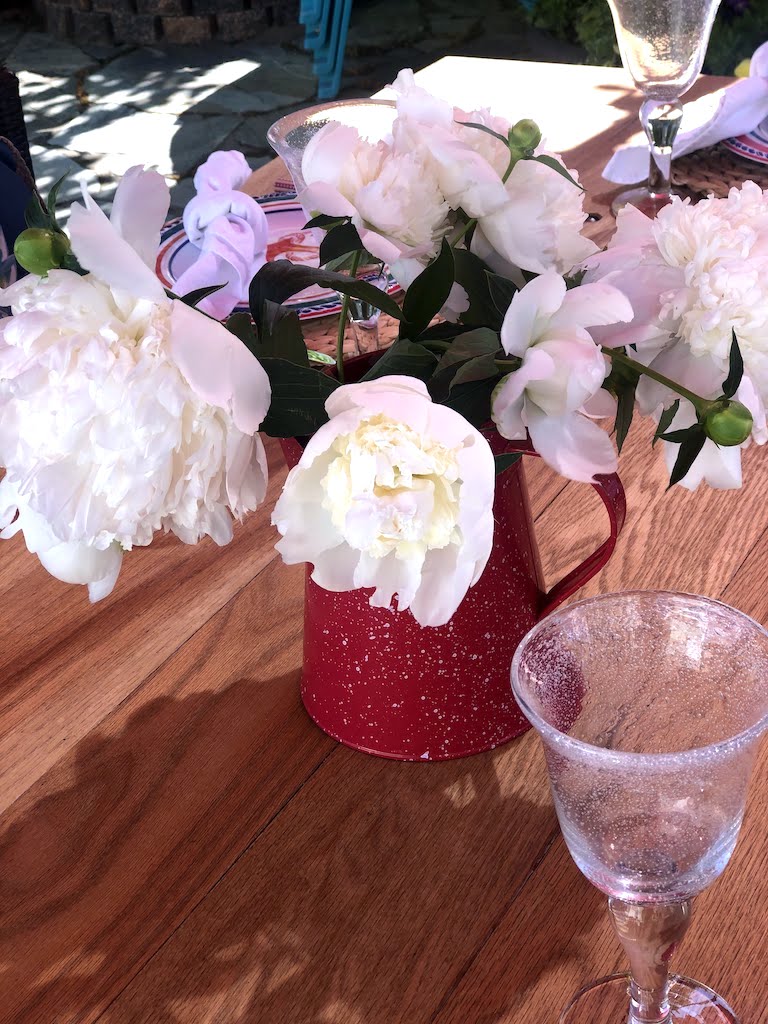 Gathering the family on Sunday evenings to have dinner is seriously one of m favorite things to do! Now that my sweet hubby put a new table top on outdoor table it looks absolutely gorgeous out here! He used the same process to add a new planked table top to our existing table as he did to our indoor dining room table. He is magical!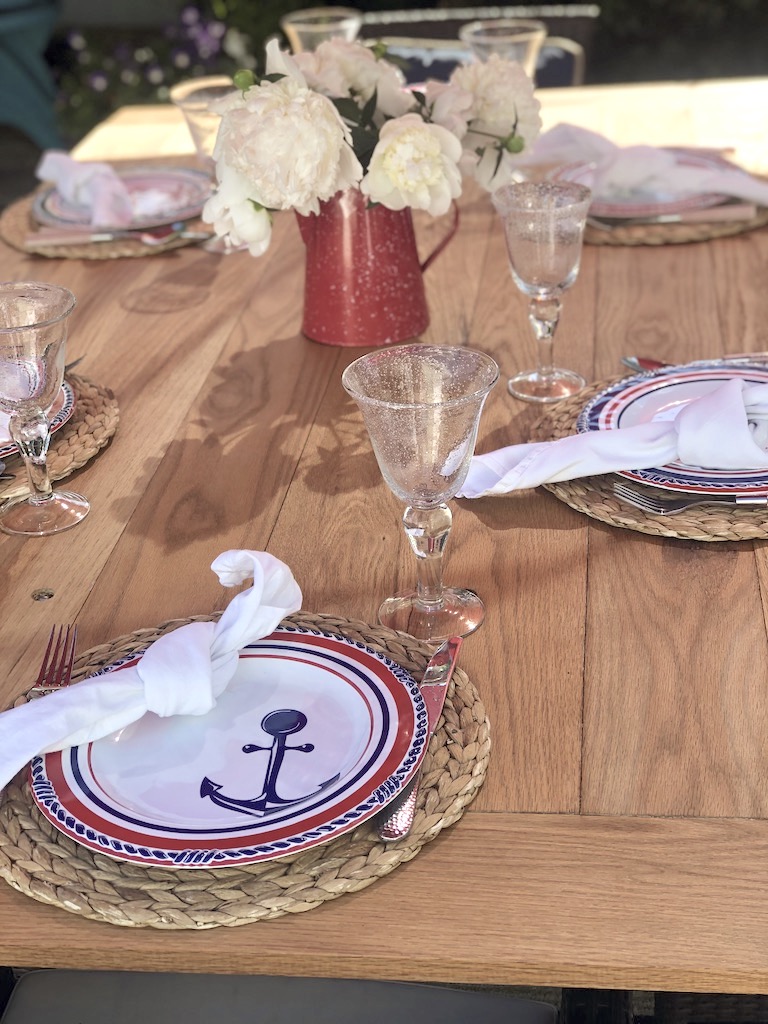 You should look at this spectacular outdoor dinner party that Leslie at My 100year old House just posted! It is so dreamy! I hope you all enjoyed your Memorial Day weekend!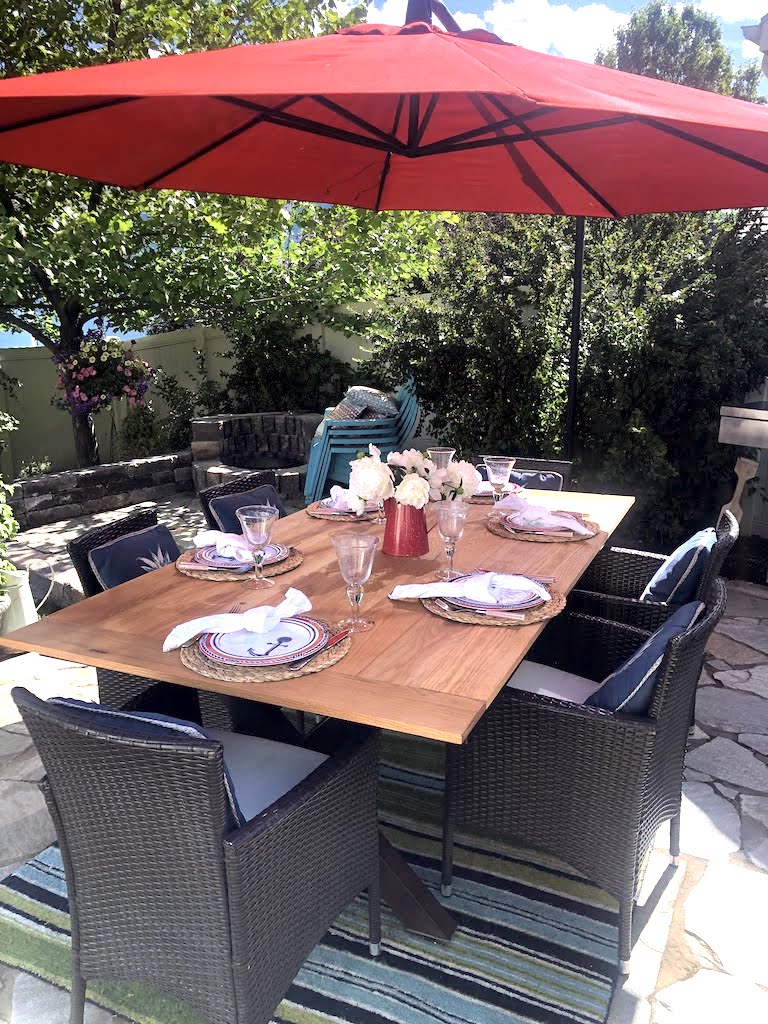 Shop This Post